This blog post contains affiliate links. As an AirBnB associate we may earn a small commission to fund our coffee drinking habit if you use these links to make a purchase. You will not be charged extra, and you'll keep us supplied with caffeine. It's a win for everyone, really. Check out our Disclosure policy for more.
Eating Vegan in Italy is pretty easy as long as you don't mind cheeseless pizza and pasta with tomato sauce! Although, we were surprised at how hard it was to find vegan food in Positano given how popular it is.
Hopefully, in the future, Positano will become more vegan friendly but until then there is only a handful of places with good options! So yes, we did struggle BUT, after much exploring and research, we found the following Vegan Food in Positano…
Tips for Eating Vegan Food in Positano
Our recommendation would be to book all of the places you want to eat at before you head to Positano. Especially if you are booking during peak season it is defiantly worthwhile making all your reservations ahead of time. We would also recommend letting all of the restaurants know you are vegan in advance so they can prepare any options for you, to avoid any disappointment!
Ask for a nice Table
When making a reservation make sure to ask for a nice table… when we did this we actually ended up with the best seat in the house at Faro Bar (included below). So why not ask?
Breakfast Options
What to Order
Smoothie Bowl and Avocado on toast! Their avocado on toast was next level!! They use the best olive oil and therefore it makes there avocado on toast that extra bit delicious. We also loved there smoothies as they were incredibly fresh and made a healthy change to drinking a ton of coffee. Although when it Italy how much coffee is too much coffee really?
Why we love it
Vegan options clearly marked, cute decor and full of plants and beautiful things to buy in there cute shop!
Romantic Dinner
Faro Bar
What to Order
Call up and speak to them before you go to design a menu with them! They are a fish restaurant but they were really accommodating for us and the views are so worth it.
Why we Love it
INSANE views, impeccable service and delicious food! This place on gets more beautiful as the night goes on and the atmosphere oozes romance and elegance.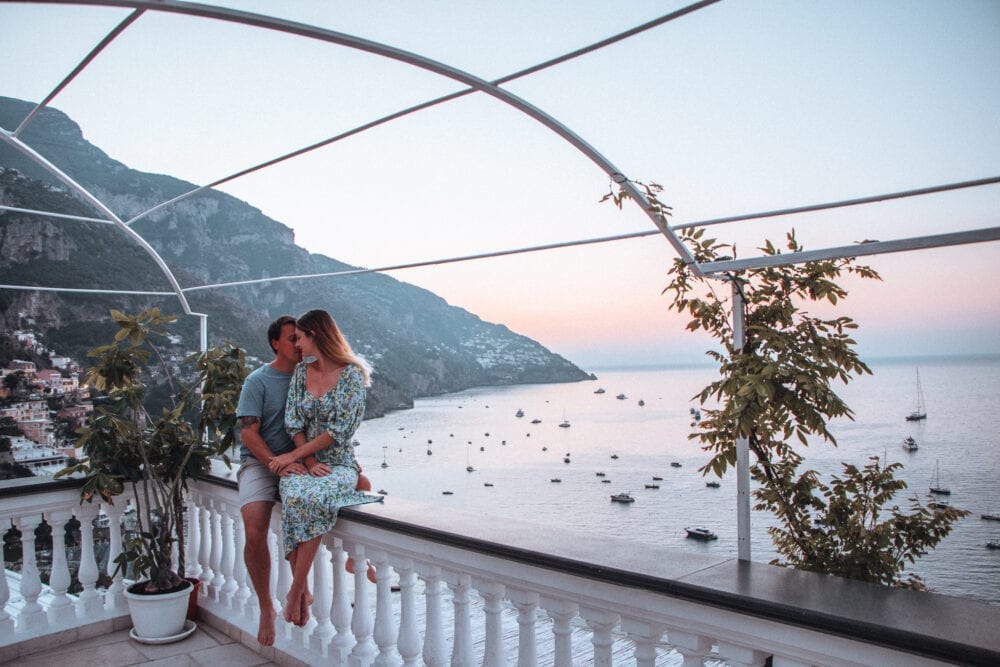 Check out our 20 awesome things to do in Positano here.
What to Order
Vegan croissants and vegan sandwiches but above all, great Italian coffee!
Why we love it
They have a cute terrace that you can sit at to eat and drink coffee! We loved to go and get fresh pastries and take it back to our Airbnb for breakfast with a cup freshly brewed coffee (if you haven't realised by now our whole Amalfi Coast trip was fueled by coffee).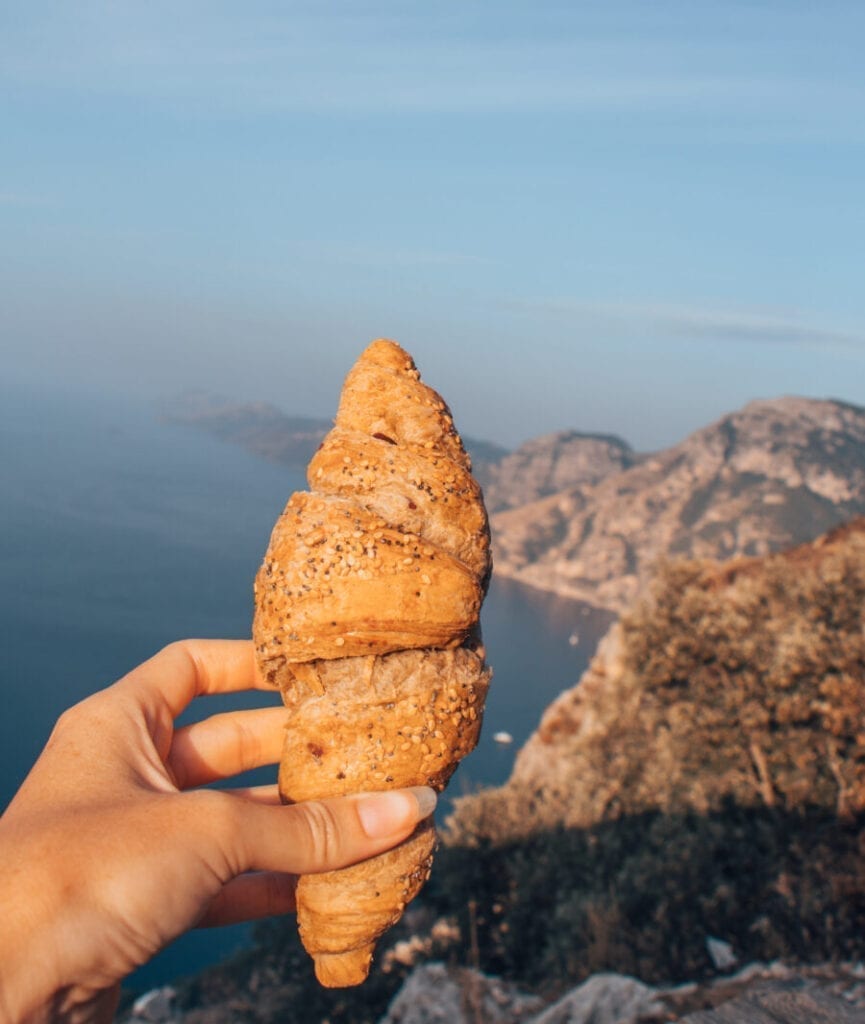 What to Order
Their menu changes a lot so check out their website to see what they have.
Why we love it
They do have a vegan menu, although when we went it had been reduced, thanks COVID! But the food we did have was delicious and the views incredible. Make a reservation to be here before sunset and have a cocktail on the terrace as the sun goes down!
What to Order
Linguine pasta with fried courgette and most importantly, vegan raspberry cheesecake!
Why we love it
Dedicated vegan menu with great choices and a beautiful terrace with amazing views! Perhaps the best places to offer dedicated vegan options in the whole of Positano. Above all the views are swoon-worthy and create a romantic dinner setting!
Main Beach
Out of all the restaurants on the main beach we loved to grab marinara pizza and eat on the beach.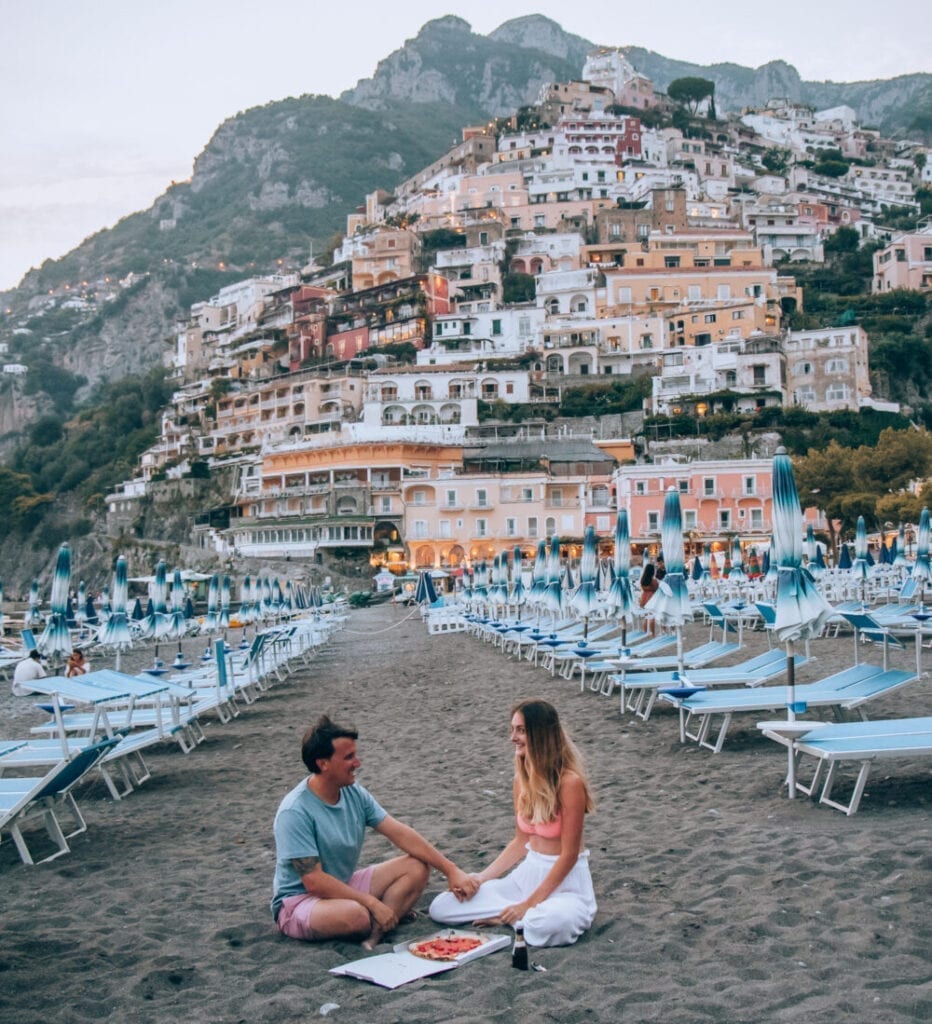 Fornillo Beach
What to Order
We loved the fresh Bruschetta and Pizza without cheese! Whilst they may not have specialist vegan options they were so accommodating and came up with some great vegan options on the spot.
Why we love it
We loved sitting by the beach people watching and chilling, it was so great to be so sitting on the beach eating and drinking!
What to order
There offerings change with the seasons to ensure the freshest of ingredients, so check out there menu.
why we love it
They won the travelers choice award 2020, known for their incredible salads. I know what your thinking SALAD?! probably the last thing we want to see as an offering, BUT these salads are pretty awesome. There is something especially nice about having a refreshing salad in the hot Italian heat!
Vegan Ice cream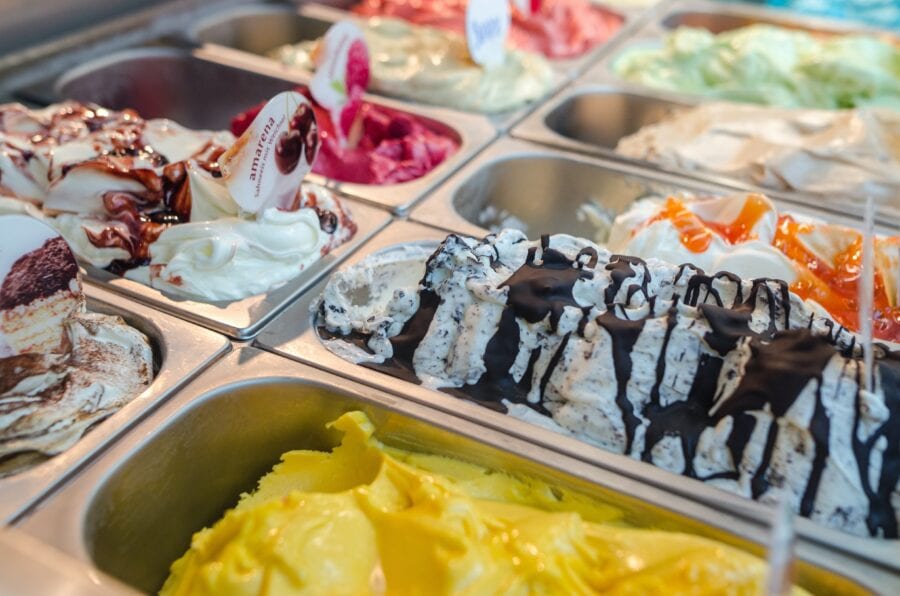 Although Positano doesn't have loads of vegan options, those that do offer vegan food have amazing offerings with incredible views so it is still worth while making the most out of what they have to offer.
We have a whole post dedicated to 20 awesome things to do in Positano, but here are our top 5 things to do!
Visit Fornillo Beach
Hire a Vespa or classic car and drive along the Amalfi coast
Go to Arienzo beach club for the day and eat amazing food and chill on the beach.
Hike the Path of the Gods
What's Next?
Check out our things to do in Positano Post, best Airbnbs in Positano and our guide to the best photo spots in Positano!
Planning a trip to the Amalfi Coast?
Check out our Amalfi Coast Posts here: