This blog post contains affiliate links. As an AirBnB associate we may earn a small commission to fund our coffee drinking habit if you use these links to make a purchase. You will not be charged extra, and you'll keep us supplied with caffeine. It's a win for everyone, really. Check out our Disclosure policy for more.
Kefalonia is full of so many quaint towns and villages, this is certainly one of the prettiest! The village of Assos in Kefalonia is a charming village perched on the waters edge. The village is full of Venetian ruins most notably the ruins of an old venetian castle. Assos is made up of pebbled beaches, traditional buildings and colourful houses. It is a beautiful village with narrow alleys full of flowering foliage and old churches. Here is our guide to exploring the town of Assos Kefalonia.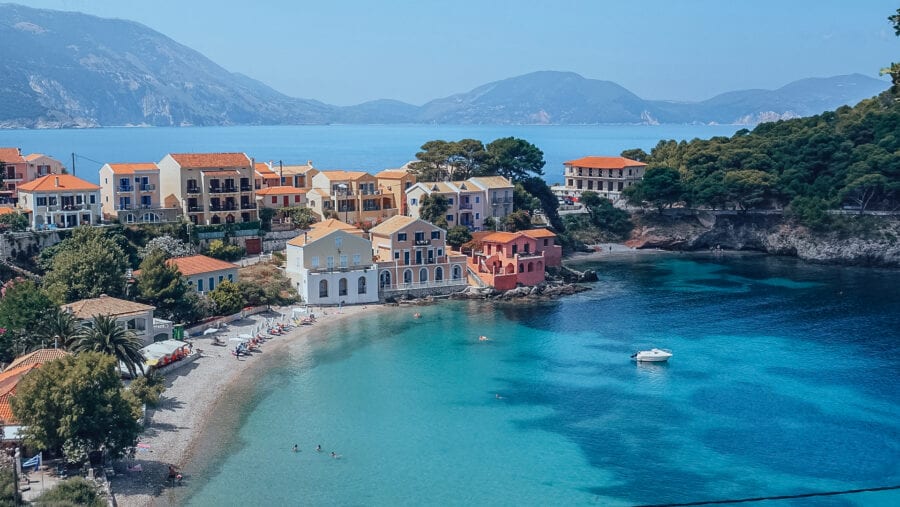 Contents:
Things to see and do
Important things to know about Assos
Where to eat
Places near to Assos
Top Airbnbs in Assos
What to see in Assos Village
The Castle of Assos
This castle is a stunning example of venetian architecture. Visiting this castle requires quite a long walk. The route will take you through stunning olive tree forests to the arched entrance. Fortunately the arch itself is one of the most preserved part of all the ruins.
Assos Beach
There are two beaches in Assos. A large one with umbrellas and loungers and a smaller one without. The smaller one tends to be less busy. They are both pebble beaches, have great views out over the bay and share clear calm waters making them great spots for snorkelling.
Enjoying our guide to Assos. check out our guide to the top 10 things to experience in Kefalonia.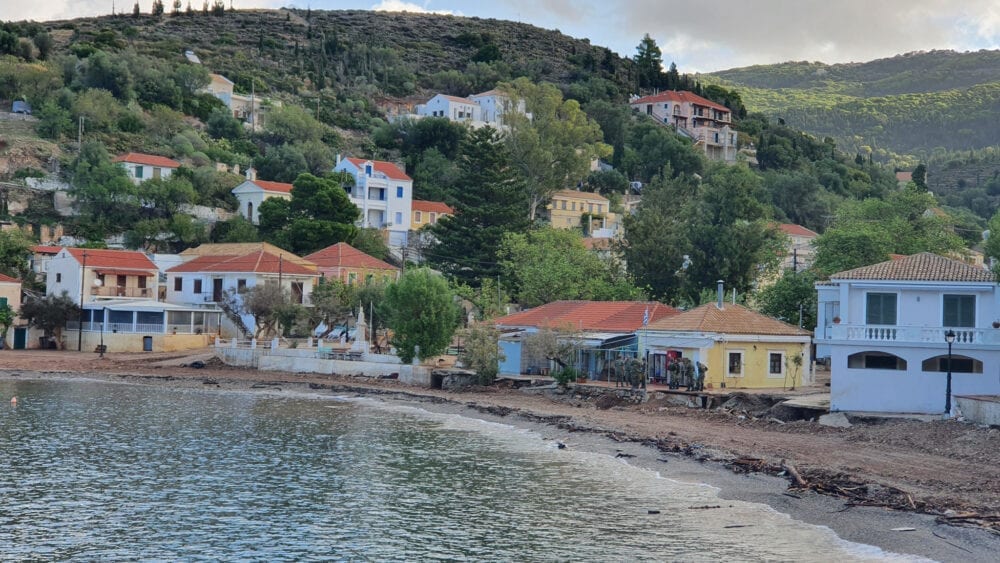 Boat rental in Assos
There is only one boat rental in Assos. It is called Conteco and it sits right on the edge of the pier in Assos. Renting a boat allows you to explore the surrounding private beaches that are only accessible by sea. It is such an incredible experience. They have a fleet of highly maintained boats as well as bigger luxury options. They also have some great tour options if you do not feel confident to sail.
Mytros beach
This beach is the most stunning beach on the whole island and certainly not one to be missed. The beach sits inbetween mount Agia Dynati and Kalon Oros, this is what gives it such a dramatic coastline.
The colour of the water is bright turquoise. At the end of the beach there is a cave and loads of rocks to jump off. You could easily spend a whole day laying on this beach and swimming in the sea.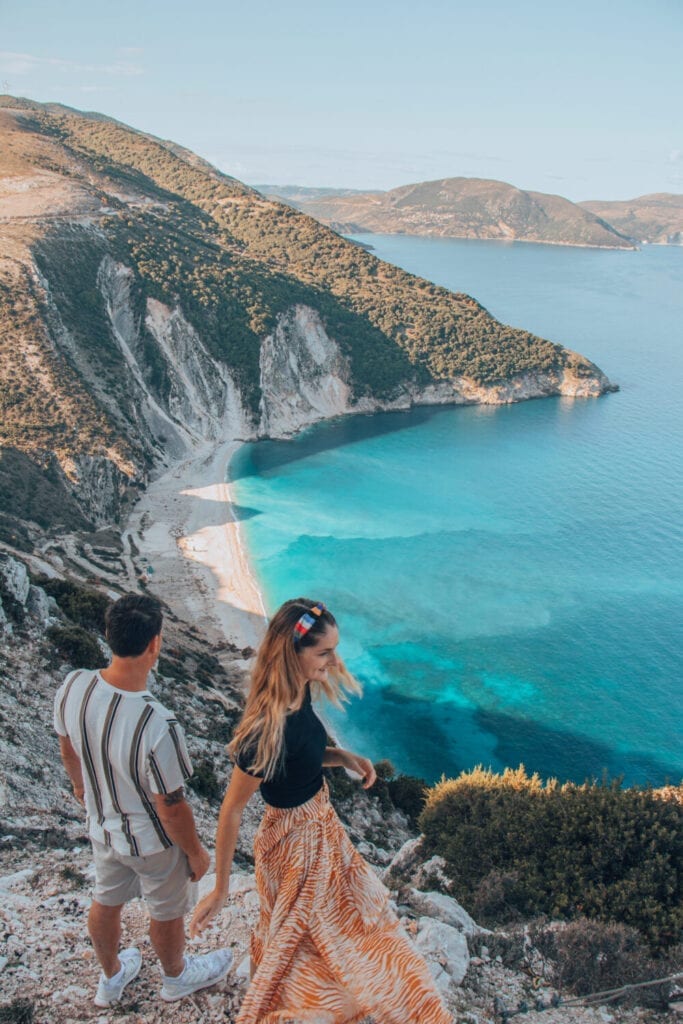 Important things to know about Assos Kefalonia
Because of Assos' popularity for a day trip on the island. Prices here are slightly more pricey than other places on the island. Assos is truly picturesque and although it's popular its beautiful scenery and tranquil atmosphere more than make up for it.
Where to eat in Assos Kefalonia Greece
A restaurant with incredible views of the sunset. Authentic greek cuisine and friendly service, this is definatly a must visit when you are in Kefalonia.
This restaurant has amazing food and is great for vegan and vegeterian options.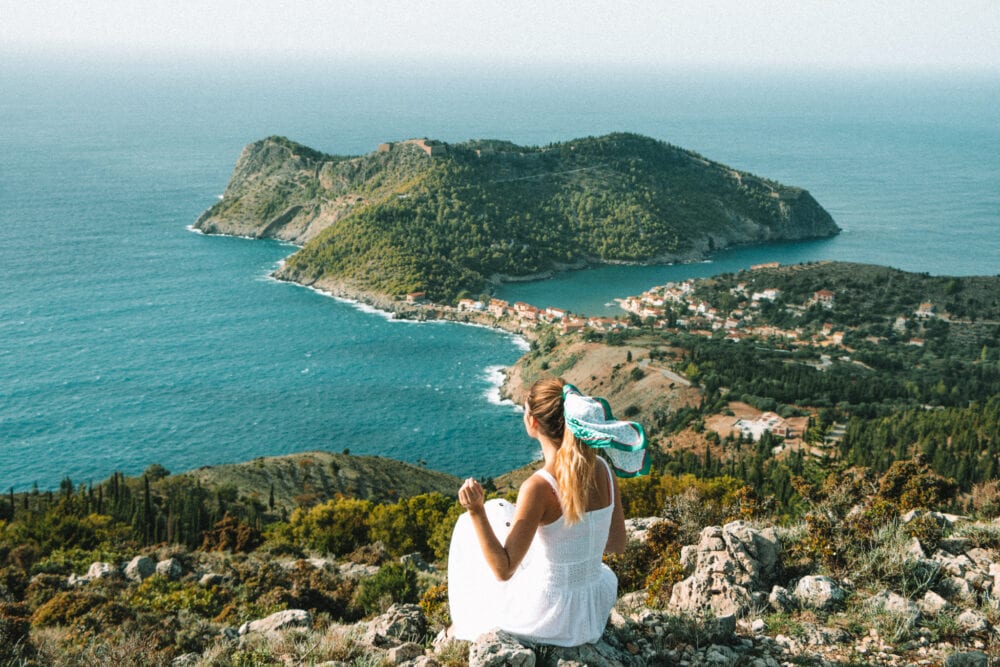 Fiskardo village is situated on the northernmost part of Kefalonia. This village is around a 30 minute drive from Assos. Fiskardo is an incredible bay lined with pastel coloured houses and tall pine trees. This bay is one of the most popular ports in the Ionian islands of Yachts and boats. There are so many beautiful restaurants and cocktail bars to enjoy and makes for a great place to explore.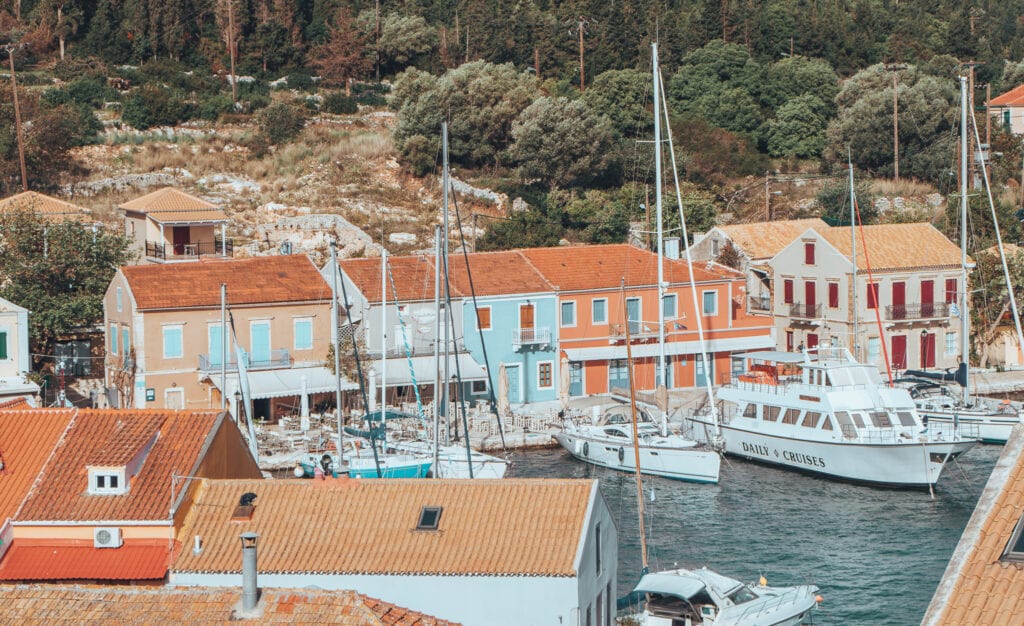 Argostoli Town is the Capital of Kefalonia and the main port, it is situated on the south-west coast of the island. This town is a busy harbour right on the water's edge. It is not far from Assos and takes you through the main coastal road that offers the most incredible viewpoints in Kefalonia.
Argostoli is well-known for its turtles that frequently visit. Check out wildlife sense to find out about there awesome conservation efforts in this area. Turtles can be frequently sighted early in the mornings when fishermen return to the harbour after night fishing. Head to the waterfront than to be in with the chance of spotting one.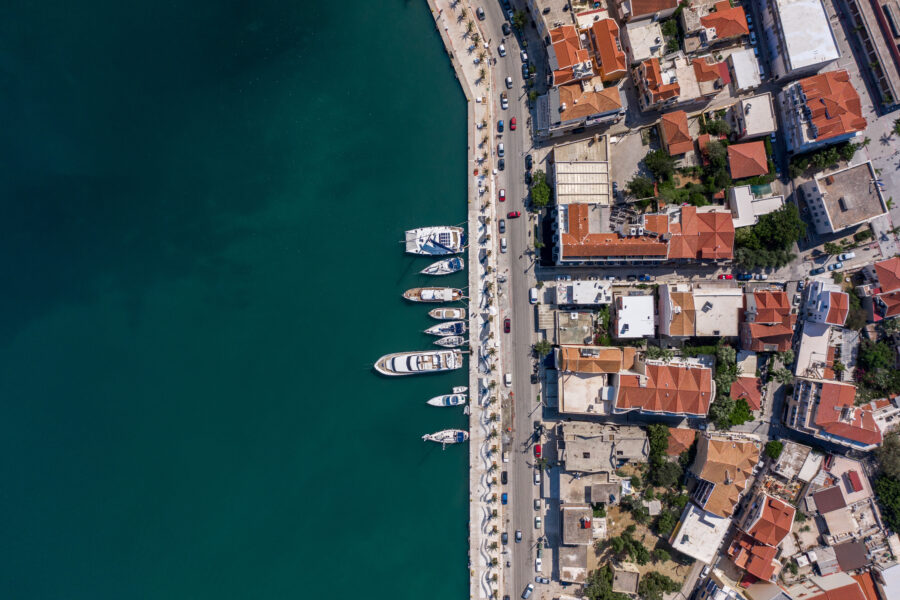 Heading to Kefalonia? Check out our guide to the top 10 things to do.
Where to stay in Assos Kefalonia Greece
The Best Airbnbs
This villa has a beautiful swimming pool terrace with panoramic sea views over the Bay of Assos. Every room is full of incredible details and is simply stunning. This Airbnb has the most beautiful outdoor space perfect for the most romantic candlelit dinners on the terrace.
Unique Features about this Airbnb
This Airbnb has panoramic sea views over the Bay of Assos and a stunning swimming pool terrace.
Perhaps the most romantic Airbnb on this list. It has an aura of unrivalled romance and tranquillity. It is the perfect place for couples seeking the perfect getaway.
Unique Features about this Airbnb
A really unique thing about this Airbnb is that it has steps that lead down to the seafront and to a small rock platform that you can swim in the Ionian Sea.
This Airbnb is so stunning! It is so modern and offers some of the best views over Assos village. This villas has everything that you need for a memorable experience including a BBQ terrace, romantic setting, insane views, in addition to beautiful details inside the villa.
Unique Features about this Airbnb
This villa is situated at the very top of the hill of Assos. offering a vantage point from both sides either looking in the Ionian Sea or the village of Assos and the bay of Myrtos.
Summary of Assos Kefalonia Greece
We hope you enjoyed our guide to Assos, Kefalonia. This quaint town is full of pastel coloured houses and so many beautiful things to do. This is definatly one of the best villages to visit in Kefalonia, it should be on every Kefalonia travel iteneary.
Whats next?