This blog post contains affiliate links. As an AirBnB associate we may earn a small commission to fund our coffee drinking habit if you use these links to make a purchase. You will not be charged extra, and you'll keep us supplied with caffeine. It's a win for everyone, really. Check out our Disclosure policy for more.
Devon is arguably home to some of the best beaches in the UK! A surfers paradise and dog walkers heaven… we love Devon. The beautiful beaches, powerful waterfalls, and rugged cliff faces! No trip to Devon would be complete without a trip to one of Devon's beaches. There are such a variety of Devon beaches with each offering something different and with their own unique feel.
Walking along a beach, chips in hand, seagulls circling with the sea breeze against your face, is there anything more British? Maybe do this in the rain, let's face it, talking about the British Weather is a UK right of passage. Whilst we can guarantee beautiful beaches, we certainly can't guarantee the English weather.
Broadsands
This tucked away hidden beach near Combe Martin, this beach is certainly one to take the time to visit. One of the best places for a dip on the Devon Coastline due to its shelter from the elements. Although there is no coast guard here, in fact, there is nothing here except natural wild beauty. making this beach all the more tantalising.
All this beauty, there must be some draw back? Put on your comfy shoes as the 200 steps down to this cove is a little bit of a challenge! Also, make sure to visit before the tide comes in so you can explore properly!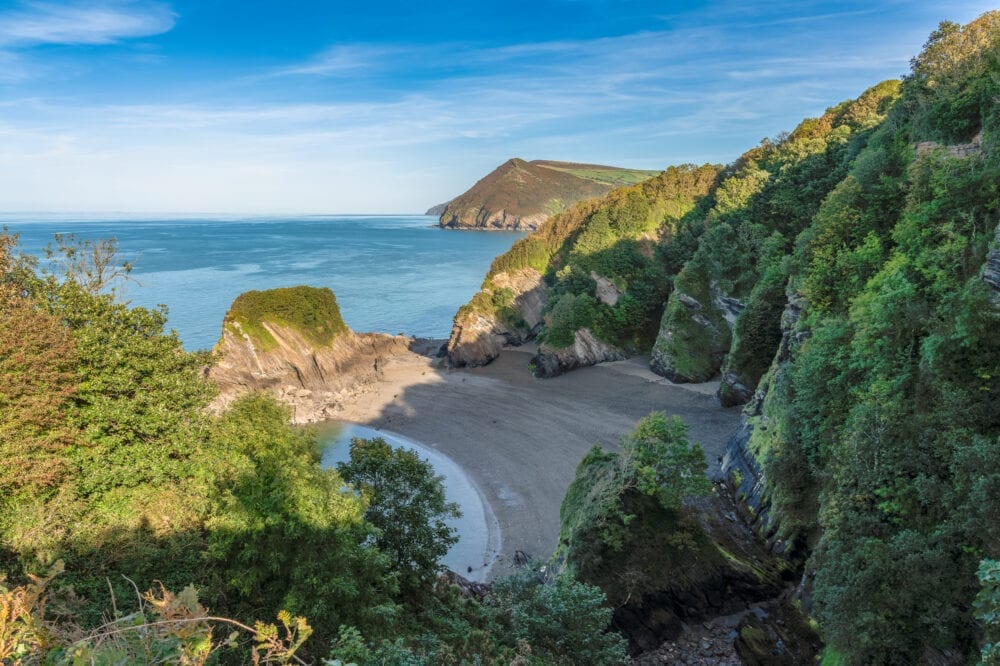 Not sure where to stay in Devon? Check out our guide to the best towns and villages in North Devon!
Woolcombe
Widely known as one of the best beaches in the UK! loved by surfers, dogwalkers and holidaymakers, this beach has it all. You can not help but fall in love with this sandy beach and its 3 mile stretch of sand.
The village of Woolacombe is located in North Devon near to Ilfracombe. The village is on the beachfront and offers many typical seaside shops, cafes, restaurants and places to stay. The Beach offers incredible views of the surrounding area including on clear days Lundy Island in the Channel.
There is a range of wildlife you can often see around this area such as seals and porous.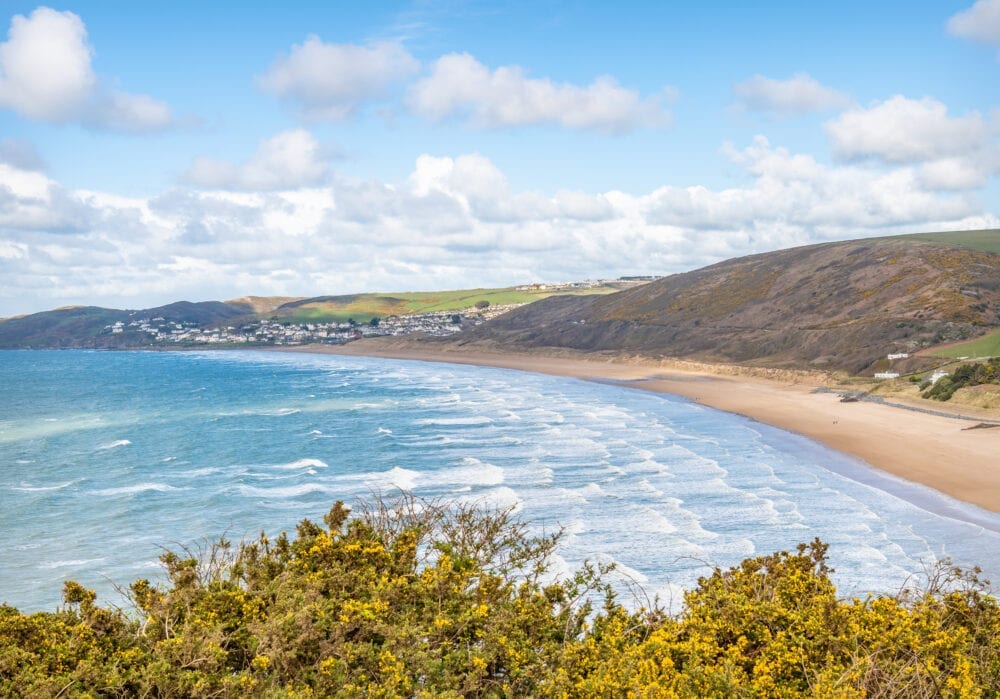 Blackpool Sands
An exceptional beach on the Devon coastline. With crystal clearwater, surrounded by evergreen pines this beach is especially beautiful any time of the year. One of the most popular family beaches in the area. This beach is home to a little shop and cafe that provides environmentally and ethically sourced products. Their mission is to be the greenest beach Cafe & Shop, operator!
You can do as much or as little as you want on this beach. There is a place to hire water sports equipment such as kayaks and paddle-boards if that's your thing! Devon can be even more magical from the sea itself so whilst you are out in sea take time to look back at the fantastic coastline. For a magical evening why not take your own BBQ. These are permitted after 5 pm in the summer months allowing you to enjoy your dinner on a beautiful beach; but always check local guidelines as these may change during the seasons.
Barricane Beach
Our personal favourite of all of the beaches in Devon. Barricane Beach is a secluded picturesque cove tucked between the rocks and located near to Woolacombe. It has a completely different feel to the main beach at Woolacombe. The beach is rockier than the beach at Woolacombe which keeps away more of the crowds and is more rough and rugged making it feel more secluded. Well known for exotic seashells. Many of these shells have travelled thousands of miles from the Caribbean.
This beach has plenty of rock pools and is known for its great surfing conditions. The beach does not have a lifeguarded but hopefully, you will be joined by other surfers.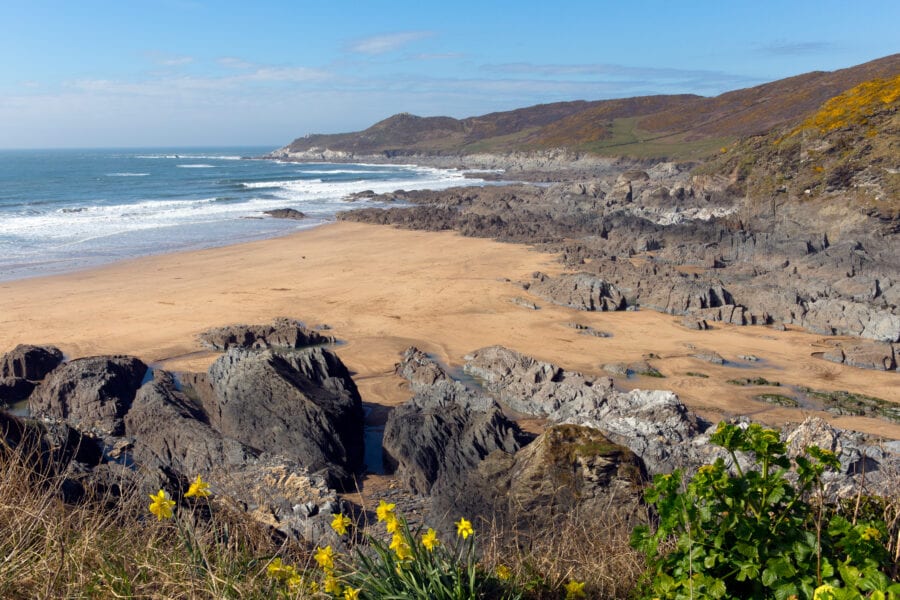 Planning a trip to Devon? Why not check out our best walks and waterfalls post?
Curry on the Beach
The best part about this beach is the Cafe on the beach that serves the BEST Sri Lankan Curry! There are a few tables and chairs located just outside the Cafe itself but the best thing to do is bring a blanket, some glasses and a chilled bottle and sit on the beach to enjoy your dinner! It's such an incredible experience, by far our favourite in Devon! Eating curry on the beach; watching the sunset a magical way to spend the evening.
Things to note, the curry can sell out quickly, they also only serve when the weather is good. So check the forecast and head down for an early dinner, trust us, it's worth it!
The Café serves Curry and Rice with Popadoms, meat or veg curry. (The veggie curry is suitable for vegans, but just check).
Check out our guide to the best vegan places in Devon.
Beer Beach
J*This beach is located in the beautiful fishing village of Beer. The picturesque village is located on the UNESCO Jurassic Coast and is part of the Coastline Path. You already know its going to be beautiful!
Surrounded by beautiful white cliffs of 'Beer Head' this creates a natural suntrap and provides shelter from the westerly wind. Colourful wooden fishing boats take pride of place along the beach and still play a big part of the daily lives of the village and the locals living here.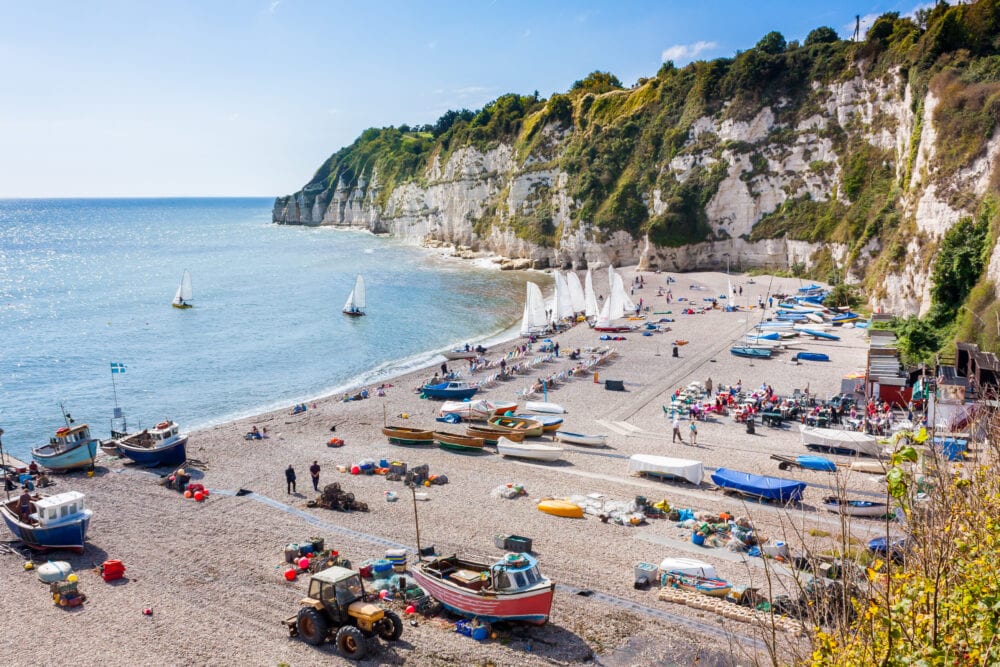 A Royal Past…
The fishing town of Beer has a royal past. Home to the Jubilee Gardens, built especially for Queen Victorias Diamond Jubilee. Perhaps most interestingly, Beer-made lace was so famous that it was commissioned for the Queen's wedding dress.
Tunnels Beach
Tunnels Beach is a unique beach in Ilfracombe that is full of history and Marine life.
History of Tunnel Beaches
The tunnels were all manmade by pickaxe back in 1823 and took more than 2 years to complete. Using these tunnels is the only access the coves and the pickaxe marks are still visible as you are pass through down to the beach.
On the beach there is information about how the tunnels were made, what Victorians bathing was like, the gender different pools and even the etiquette for Victorian bathing. Read it, it's interesting!
There is only one tidal pool remaining at the 'Ladies' beach. Originally there were 3 pools build between the rock and coves. You can still see the remains of the 'Gentlemen's' pools if you get the opportunity to access this beach. The tidal pool is only visible during low tide so plan your visiting times around this but this will be the busier times on the small cove.
Of course, nowadays there's no separation of gender! The 'Gentlemen's' beach is closed for a private wedding venue, however, the ladies beach remains open and accessible.
Marine Life
This has been voted the 3rd best beach in the UK for 'Rock Pooling' by BBC Wildlife Magazine, Tunnel Beach is known for its diverse marine life.
Sit back relax and enjoy the rough and rugged scenery of the cliff face surrounding the beaches and take a dip in the tidal pool or go exploring around the rock pools
Saunton Sands
Saunton Sands is located in Saunton near Braunton. It has over 3 miles of stunning golden sand with a backdrop of beautiful sand dunes which are part of the UNESCO North Devon Biosphere Reserve. This beach is an incredible place to explore.
The clear water of Saunton Sands makes it the perfect place of beginner or intermediate surfers and awesome for all swimmers. You can also hire a colourful beach hut for as low as 15 pounds a day!
Interesting fact: Robbie Williams filmed the video to his track 'Angles' here. More recently, Olly Murs used it for his 'Hand on Heart' music video!
Where to stay in Devon
For a complete guide to the best towns and villages in Devon check out this post.
Devon is such a beautiful part of the UK, whether you chose to go for a long weekend or a summer holiday a trip to one of Devon's beaches is certainly an obvious choice.
What's Next?
We hoped you enjoyed our guide to the best beaches in Devon. Check out our guide to Devon Towns and Villages or our best walks and waterfalls in Devon.