This blog post contains affiliate links. As an AirBnB associate we may earn a small commission to fund our coffee drinking habit if you use these links to make a purchase. You will not be charged extra, and you'll keep us supplied with caffeine. It's a win for everyone, really. Check out our Disclosure policy for more.
If you are heading to Sri Lanka, you must check out some incredible beaches dotted along the coastline. Many of the best beaches are located along the South of the island. Along this coastline, you will find turquoise blue waters, golden and white sand, great snorkelling and fantastic surfing. At certain times of the year you can even catch migrating whales. Here is our guide to the best beaches in Sri Lanka.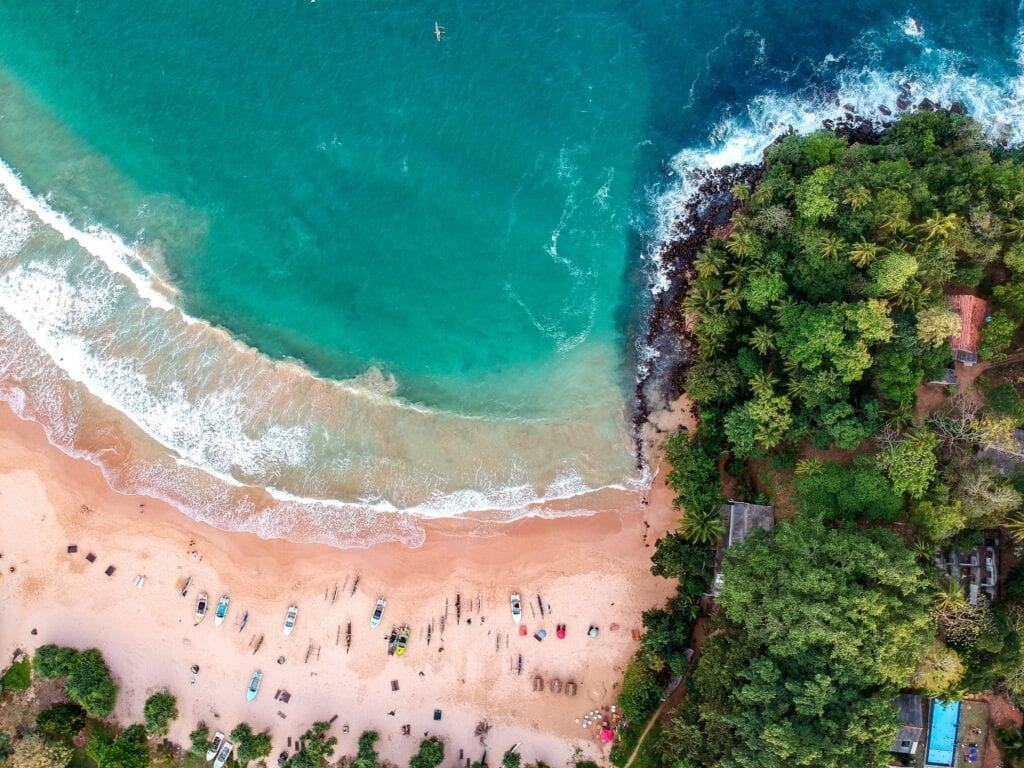 Contents:
Hiriketiya Bay
Unawatuna Beach
Bentota Beach
Mirissa
Tangalle Beach
Hikkaduwa
Arugam Bay
Trincomalee
Rope Swings in Sri Lanka
Hiriketiya Bay Beach
If you're into your surfing, then Hiriketiya Bay would be known to you as the most beautiful surf spots. But this bay is not just for surfers. The bay has a special feeling. It is located a stone's throw away from the hustle and bustle of Dickwella Town but feels like a million miles away.
Here you won't find busy streets full of shops and stores. This beach is a beautiful sandy horseshoe bay where palm trees and jungle come together with the sea to create a magical location.
Hiriketiya Bay is perfect for doing absolutely nothing or taking on your best adventure yet. You can fill your days with surfing or snorkelling or chill under a palm tree on the beachfront. This beach was our personal favourite out of all the beaches in Sri Lanka.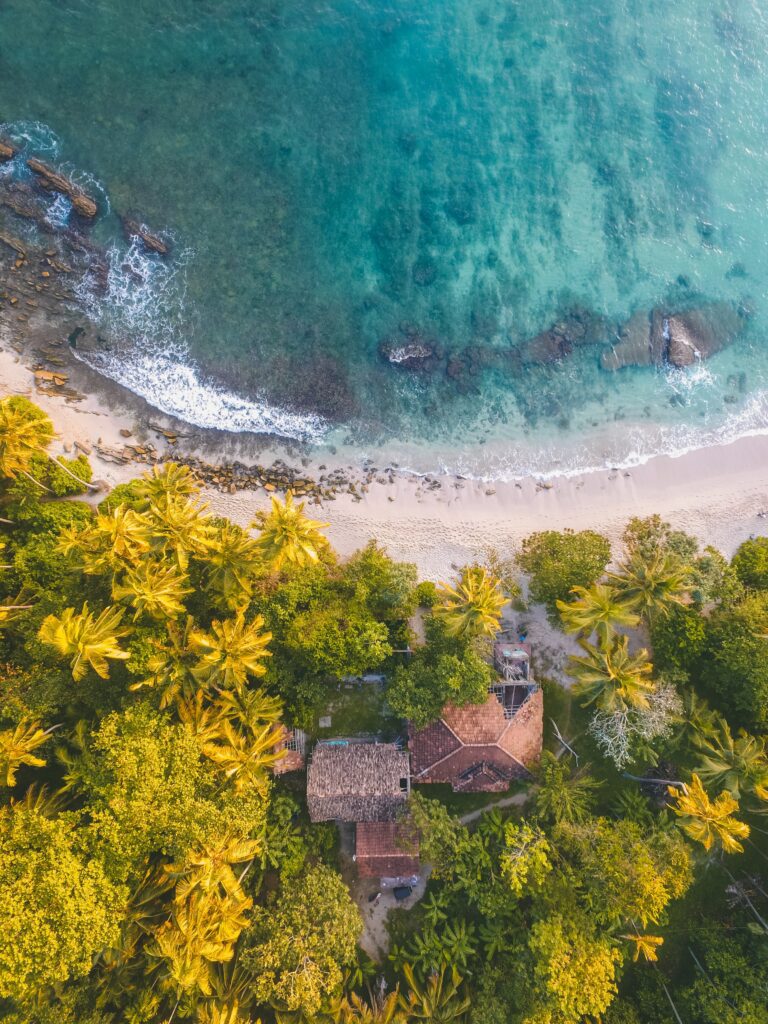 Best places to eat at Hiriketiya Bay
Malu Poke –  We would head under the covered seating area on rainy mornings, grab a bowl, and chill for a few hours.
Salt House –  very chilled Hotel that serves some fantastic food and amazing coffee.
Bahia Hiriketiya – this is a lovely place to sit and have a drink or snack just off the beachfront. 
Blue Bay Chillout Lounge- Blue Bay is a great place to get your Sri Lankan curries and sides.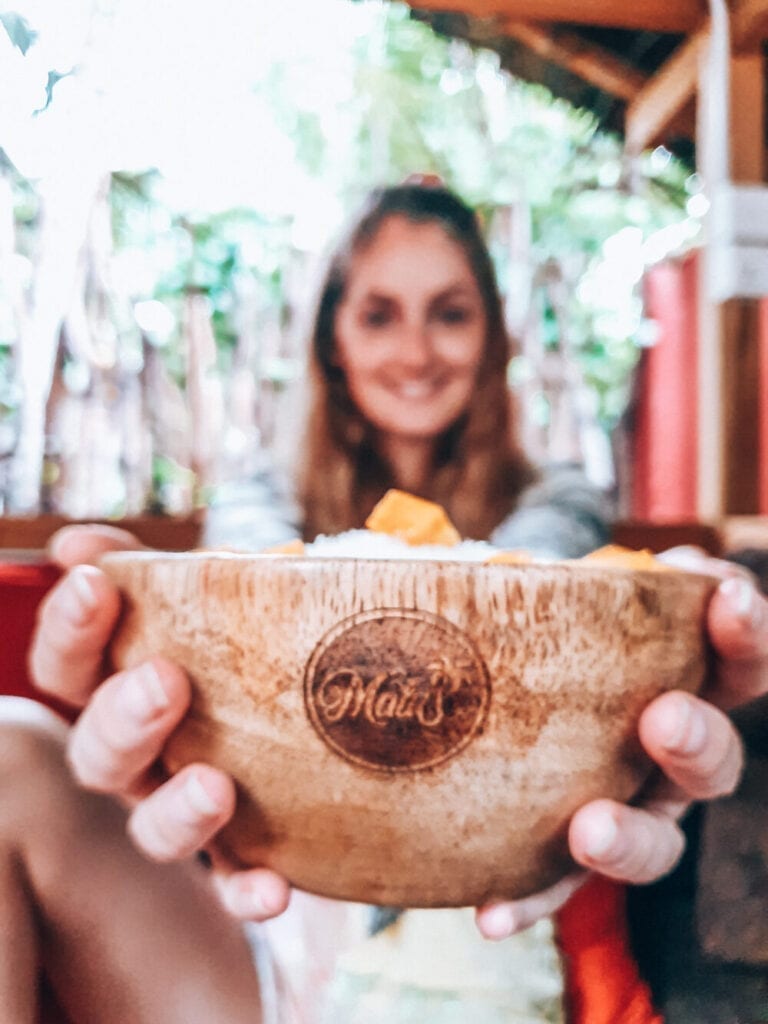 Accommodation Options in Hiriketiya Bay
Hotel: Salt House. This Hotel has everything you would need for a very pleasant stay, beautiful rooms, a fantastic restaurant and even a dedicated yoga studio.
Airbnb: Sukha House Hiriketiya.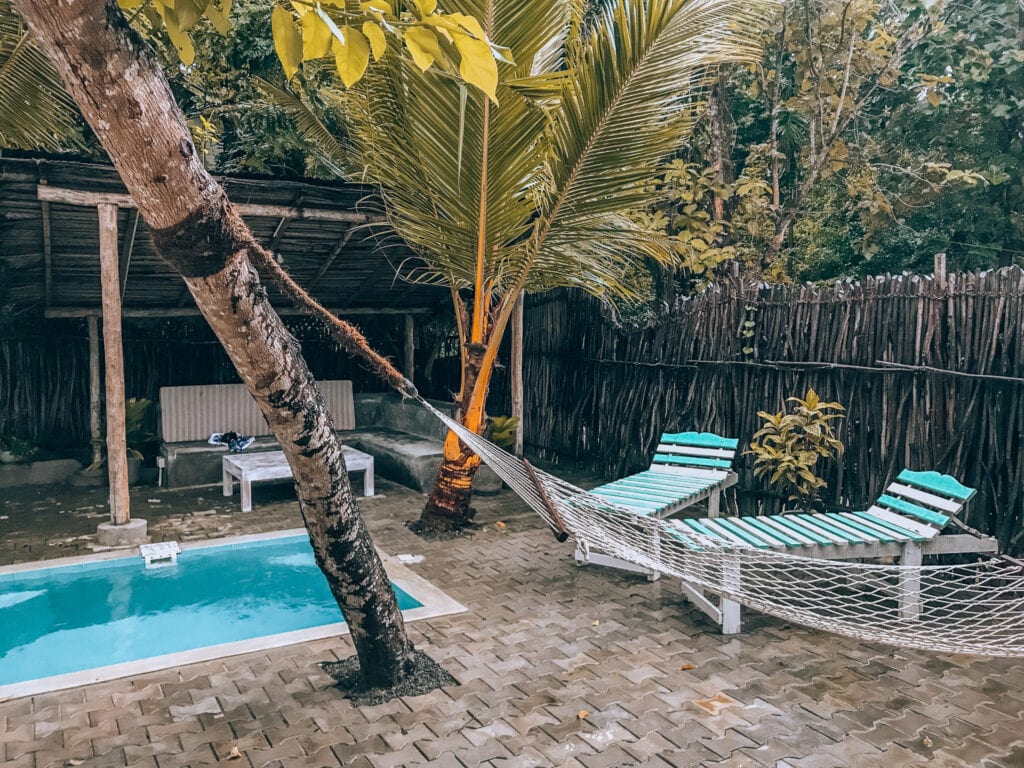 Unawatuna Beach
Unawatuna is known for its beautiful banana-shaped beach and turquoise waters, making it a major tourist attraction in Sri Lanka. It provides a good selection of guesthouses and restaurants. This does mean that you will not be the only ones travelling to this area. This means you should expect plenty of crowds basking in the Sri Lankan sun. If laying on a sunbed is your thing, you can find plenty of spots offering sunbed outside of their restaurant or bar. Also, if you like sitting on the sand, there is plenty of space to do so also.
Backing onto the beachfront, you will find plenty of restaurants and bars. If these are too mainstream or lively for you, then head one road in. Here you will find smaller independent restaurants selling anything from vegan burgers to local dishes at a slightly lower cost. Here you can also pick up some souvenirs, jewellery, clothes or even just some water and snacks.
From Unwatuna you can explore Galle, a beautiful colonial town with a stunning fort and so many amazing restaurants.
Best Places to Eat at Unawatuna Beach
The Hideout Unawatuna:
SkinnyToms's Deli:
La Boheme:
Accommodation Options in Unawatuna Beach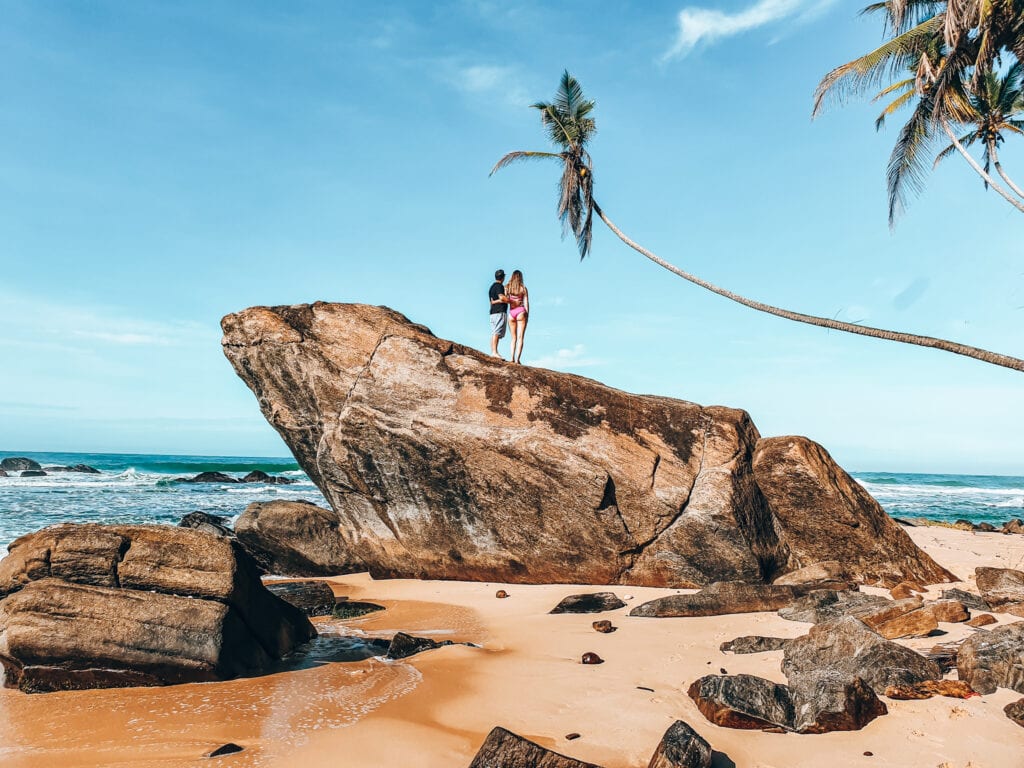 Bentota Beach
Bentota beach is known as one of the finest stretches of sand along the Sri Lankan West Coast.
The beach is home to some of the most beautiful boutique hotels. These hotels are nestled deep in the palm trees. With the most upmarket resorts like the Avani Bentota Resort, EKHO Surf Bentota and the famous Taj Bentota Resort & Spa.
Bentota beach is a place where you come to enjoy the resort life, backing onto a pristine golden beach stretching for ages.
On one side, you have the beautiful beach, and behind you have the Bentota lagoon. This is the water sports hub where you can do Kayaking and jet-skiing or explore the mangroves onboard a riverboat trip.
Places to eat at Bentota Beach
Bamboos Garden Restaurant Bentota: Really tasty food in a nice setting
Happy Garden Restaurant: Great value food in Bentota
Accommodation Options in Bentota Beach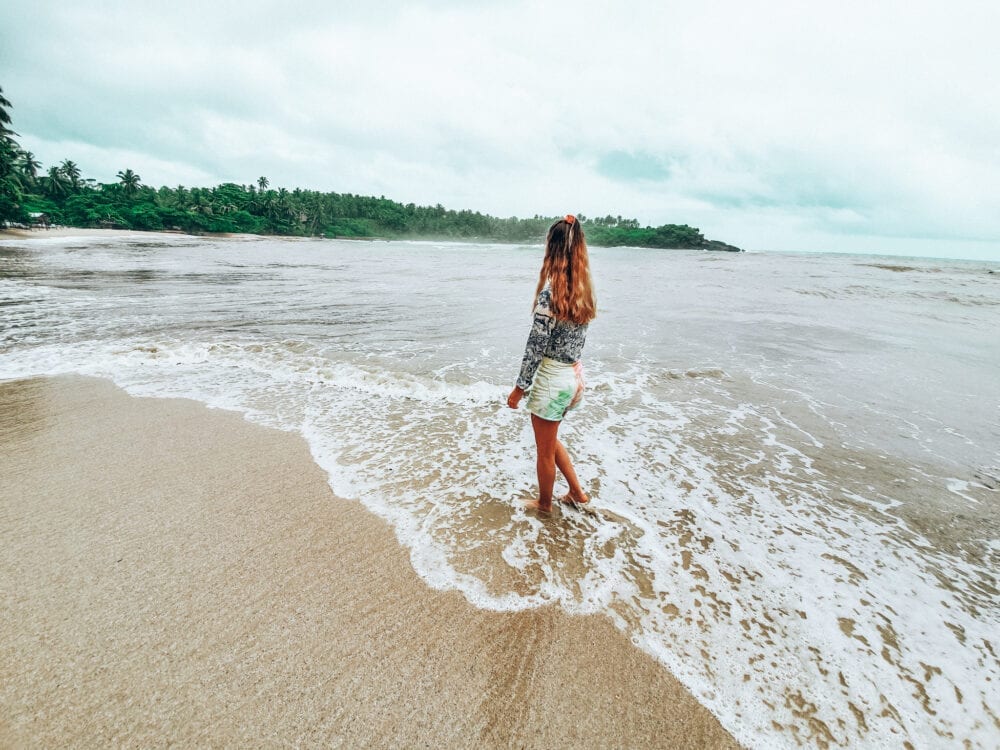 Mirissa Beach
Mirissa is another banana-shaped beach of ivory sand that's backed by palm trees and clear waters. This beach town is popular. It is filled With beautiful Graffiti art and western cafes, as well as many photo spots. 
In recent years, Mirissa has become the whale-watching capital of Sri Lanka. This makes Mirissa one of the biggest and busiest beach resorts on the South Coast. During peak season, expect more hustle and bustle, bringing in crowds looking for cheap drinks and Dj's more than solitude and sunbeds.
If you are coming for the whale-watching experience, plenty of tour operators offer these tours along the beachfront, which runs from December to April.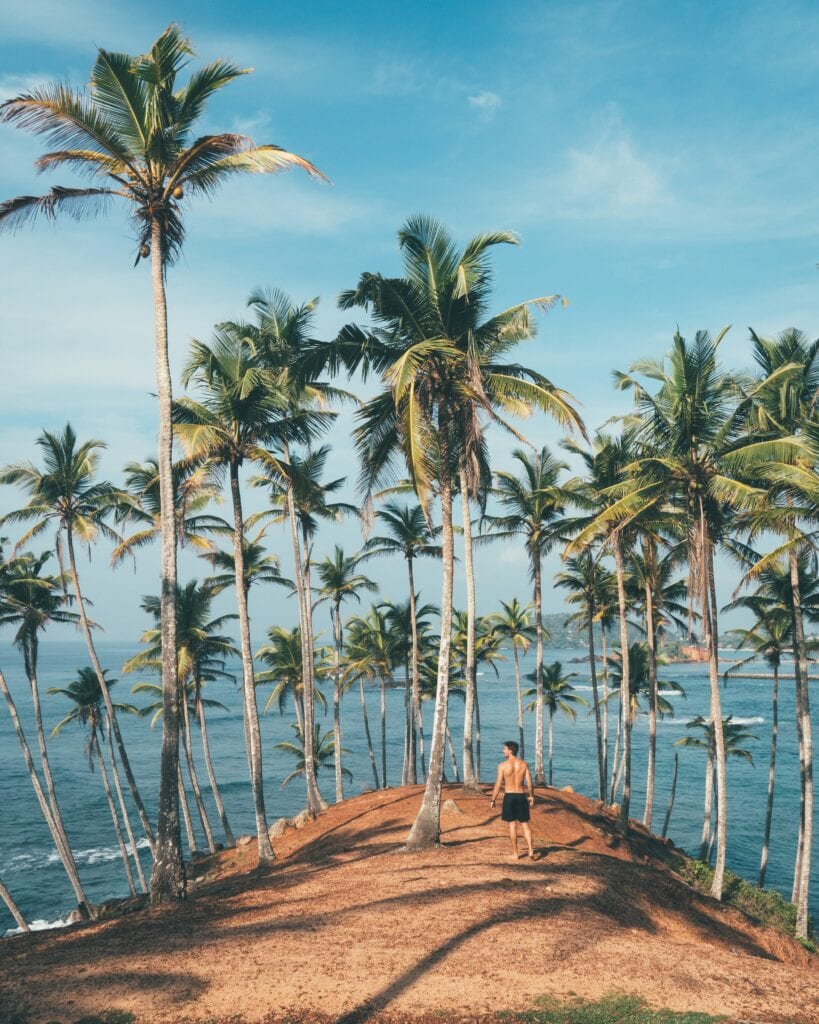 Places to eat at Mirissa Beach
Shady Lane Mirissa: great for smoothie bowls an incredible coffee. This place is really cosy and in a nice spot.
Cosmic Power Woody Cottage: Amazing curry and rice
Accommodation Option in Mirissa Beach
Hotel: Lantern Boutique Hotel by Reveal
Tangalle Beach & Mangrove Beach
Set along the South Coast, Tengalle has two sides to this area. West toward and around the town of Tangalle.
Mangrove beach is what you would expect from a tropical beach, with swaying palm trees, turquoise waters and vast expanses of golden sand beaches. The Tangalle/Mangrove bay is one of those areas made for paradise seekers.
There are only a handful of resorts and cafe nestled between the palm trees along this part of the beach. Much more natural compared to the main beach.
This area feels like paradise as the palm trees provide cover overhead while sitting on the beachfront. This is the most perfect place for eating dinner and watching the waves crashing onto the golden beach. Or for simply catching the sunset from one of the cafes.
Places to eat in Tangalle Beach
The Last Drop: Great for cocktails on the beach
The Trees Restaurant: Cosy and amazing food
Accommodation Options in Tangalle Beach
Hotel: Anantara Peace Haven Tangalle Resort 
Enjoying our guide to the best beaches in Sri Lanka? Check out our other Sri Lanka posts here.
Hikkaduwa Beach
Hikkaduwa is located on the west coast and is close to the Capital, Colombo. Sunsets on this beach can be breathtaking. The sand here is slightly dark, and more of a drown than golden sand you think of Sri Lanka's beaches. Hikkaduwa is popular with surfers, and it is also possible to see large sea turtles that swim near the beach edge.
Stretching the coastline backed by the town of Hikkaduwa, the beachfront runs parallel with the main road.
If you are staying here overnight, we would recommend looking out-of-town. Hikkaduwa town can be a busy place.
Places to Eat at Hikkaduwa Beach
Steffi's Mandala: Slightly more expensive then other eateries in the area but worth it for insane vegan options.
Canal View Hikkaduwa Sri Lankan Homemade Food Restaurant: This place is a real authentic experience. Run by a local family serving freshly cooked local food. The setting is really lovely and it gives you a real insight to local family life in Sri Lanka
Planning for a trip to Sri Lanka? Check out our Sri Lanka posts here.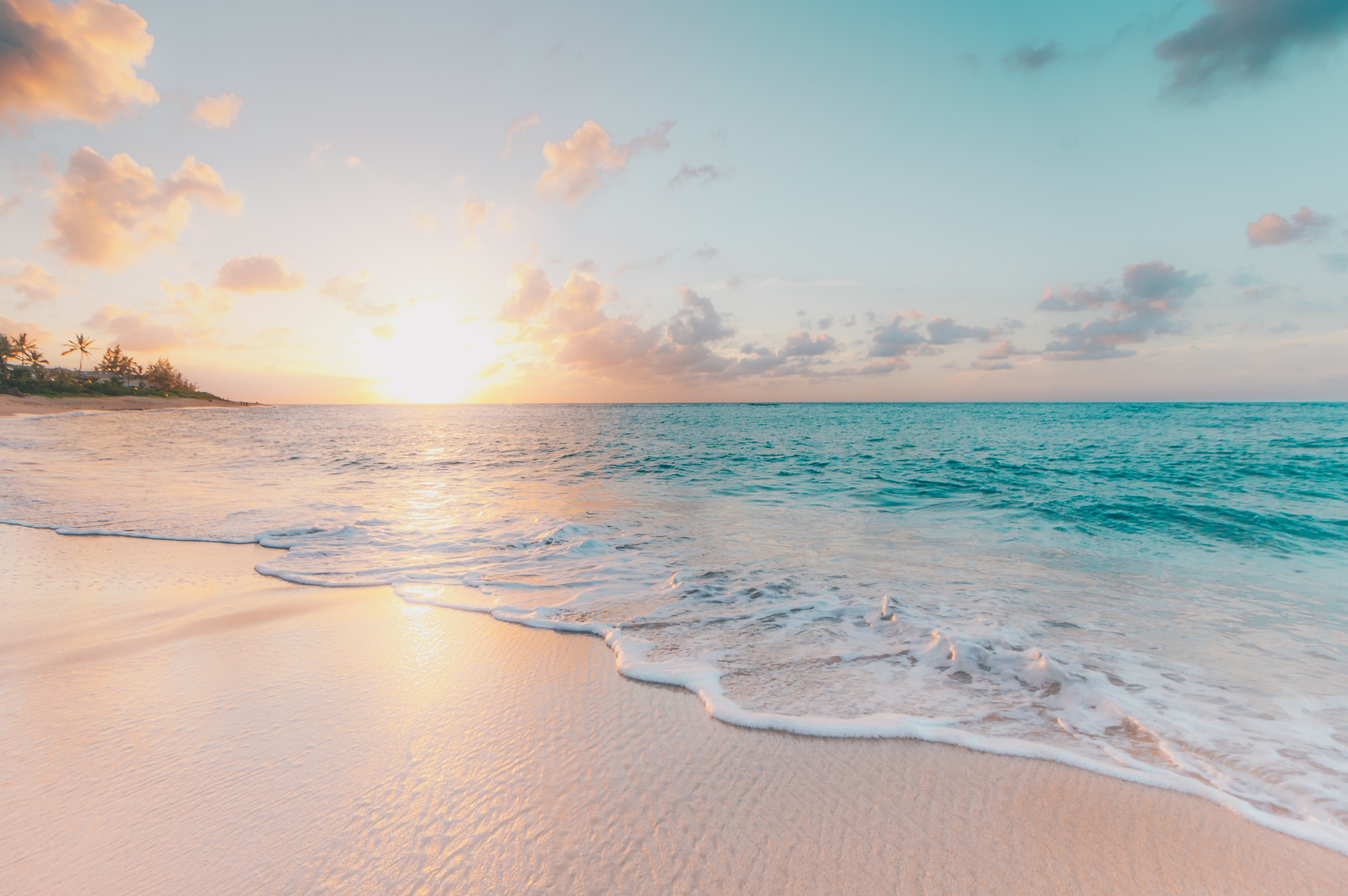 Arugam Bay – East Coast
A captivating soft sand beach known as one of the best surf locations in the country. Arugam bay sits on the east coast of Sri Lanka island. The beach town itself is quaint and cosy with a small popular. It is the perfect spot for laid back sun seekers searching for the ultimate beach destination.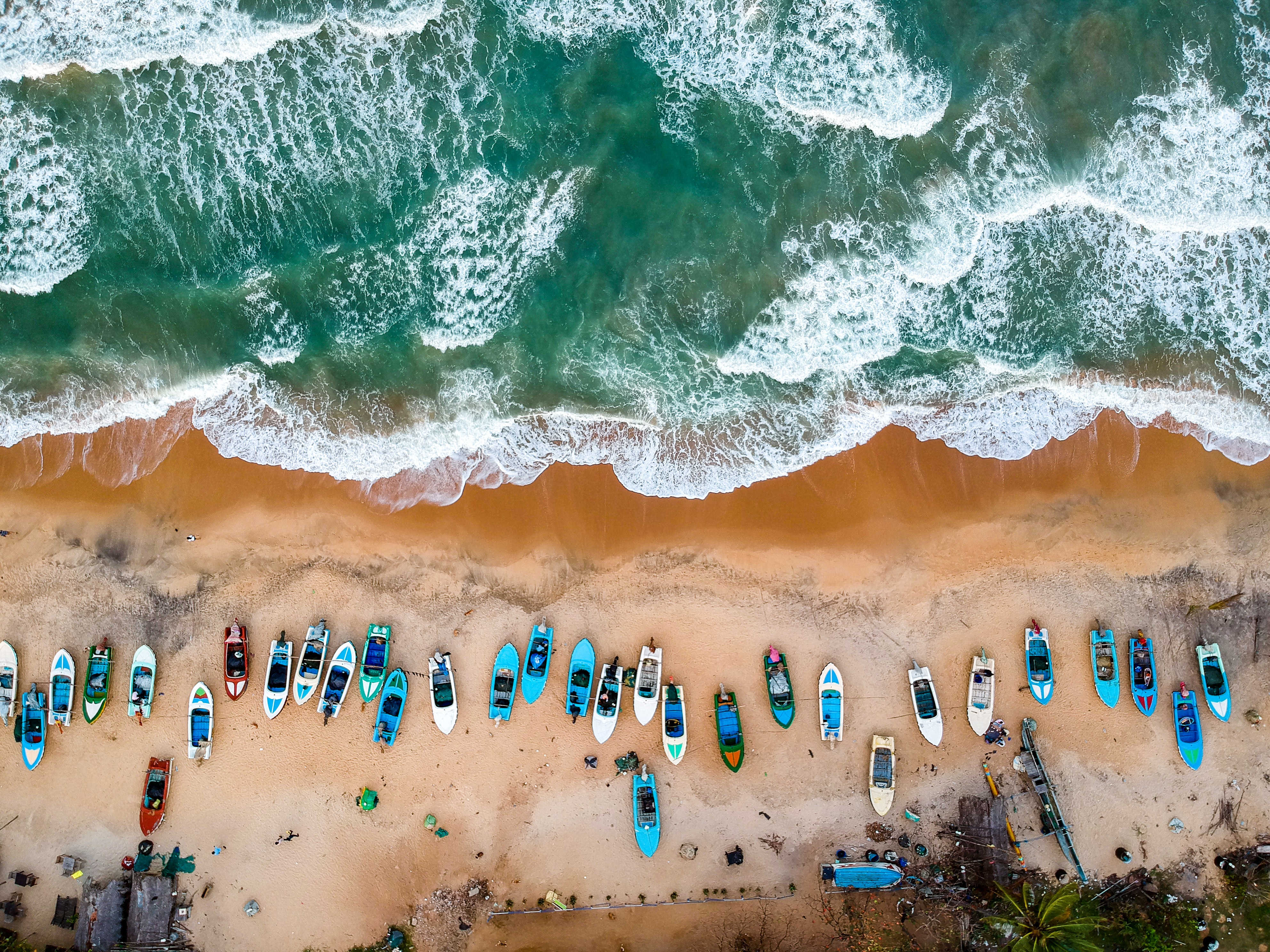 Places to eat at Arugam Bay
Karma Gardens: a place with beautiful gardens and incredible vegan options and food.
Leaf and Vine: Incredible local food and sea food. Vegan options available too.
Accommodation Options in Arugam bay
Trincomalee Beach – East Coast
This beach is fantastic for swimming and snorkelling and relatively safe compared to some other beaches on this list. Also, the beaches here tend to be a little quieter than on the south coast. Trincomalee is also great for potential whale watching in the offseason when the Whales migrate. 
Trincomalee is also a great town to visit. This colourful town is filled with stunning Temples and, like most of Sri Lanka, steeped with history. 
Places to eat at Trincomelee Beach
Rice n' Curry: An amazing place for curries!
Be Cool Juice Bar & Sea Food Restaurant: a place with incredible fresh juices. There traditional breakfast is also highly reviewed.
Rope Swings in Sri Lanka
Mihiripenna Beach
Getting there – for an extra few minutes past Dalawella beach, Mihiripenna beach is a must-visit. You will have to walk down a small alley down to the beach. From here walk around the bay, and you will see the swing of your dreams.
On Google maps, look for: 'Blue Sky Beach Resort.'
You can go at any time of the day, but if possible, we would recommend visiting here for sunset. Due to fewer people being here making this beach feel more special than Dalawella beach swing.
Dalawella Beach
Getting there: Dalawella Beach is just a short TukTuk ride from Unawatuna. Most drivers will know where to go and will point you down an alley beside the Hotel Shanthi, leading down to the beach. Once there, you will be able to see the swing and also 'Frog Rock.'
On Google maps, look for: 'Shanthi beach resort.'
You can go at any time of day, but the prettiest time is at sunset.
Dikwella Beach
Getting there: Finding the swing is easier than in other places as the swing is located just outside the 'Dikwella Beach Hotel'. If you get to the Hotel and ask nicely, you will guide you down to the beach.
On Google maps, look for: 'Dickwella Beach Hotel'
Like the other swings, sunset is the best time to visit, but you can visit at any time of the day.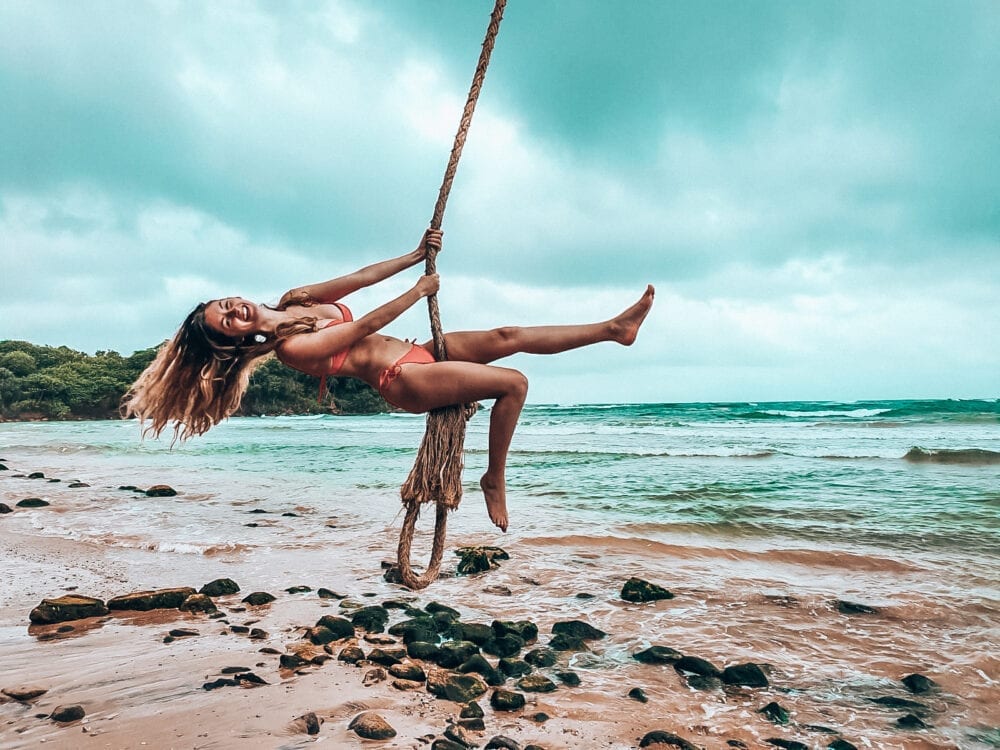 Summary of the best beaches in Sri Lanka
Hopefully, our guide to the best beaches of Sri Lanka has helped you plan an incredible trip to this beautiful bucket list destination. Sri Lanka quickly became one of our absolute favourite places on this earth, and it will become yours too. 
Check out our other Sri Lanka Posts here: