This blog post contains affiliate links. As an AirBnB associate we may earn a small commission to fund our coffee drinking habit if you use these links to make a purchase. You will not be charged extra, and you'll keep us supplied with caffeine. It's a win for everyone, really. Check out our Disclosure policy for more.
There are so many mouth wateringly good vegan restaurants in London. The vegan london scene has grown massively in the past few years, this is our list to the best vegan london restaurants.
TheVurger.Co
Category: Fully Vegan
Where is it?
Shoreditch – Richmix 9, Avant Garde, Cygnet Street, Shoreditch, London E1 6LD
Canary Wharf – The Wharf Kitchen, 2 Lower Mall, Jubilee Place, Canary Wharf, London E14 5NY
Brighton – 13 Brighton Pl, Brighton BN1 1HJ
what's the vibe?
We absolutely love this place! You will never leave hungry and their flavors are so incredible! Think chilled out Shoreditch vibes but also perfectly instagramable!
Everything here is ethically sourced and everything is completely sustainable meaning nothing goes to landfills! It's not just about the food here but it's about everything else too.
Their Milkshakes are to die for and worth a visit alone…. but it pairs even better with mac and cheese.
Perfect for
We love the Vurger co for casual date nights, but it also makes the best place to catch up with friends.
What to order?
Burgers: We love the Classic and the Auburger
Sides: Kentucky bites and Mac and Cheese
Milkshakes: Banana and Caramel or Biscoff (yes you heard us Biscoff!!)
More information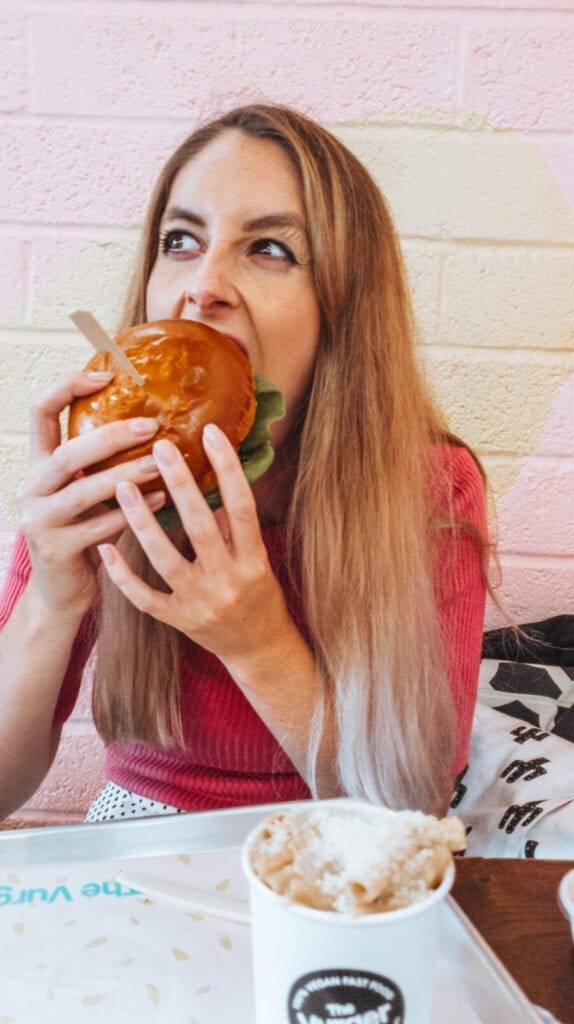 Unity Dinner
CATEGORY: FULLY VEGAN
Where is it?
60 Wentworth Street, Spitalfield, London E1 7AL
what's the vibe?
Super friendly staff, American dinner style, and plenty of chocolate and cheesy dishes to choose from. What's not to like.
All of their profits go towards animal rights campaigning work, including the development of a brand new sanctuary for rescued animals here in the UK. Amazing right?!
What to order?
Hotdog: The classic new york dog
The To fish stack
Side: Super cheezy fries, coconut-based mozzarella sticks (Man I love the cheese)
Deserts: baked American-style cheesecake or Chocolate Sundae
Drinks: Oreo & salted caramel Milkshake, or why not try one of their many cocktails #milkyourmoments (our favorite cocktail).
More information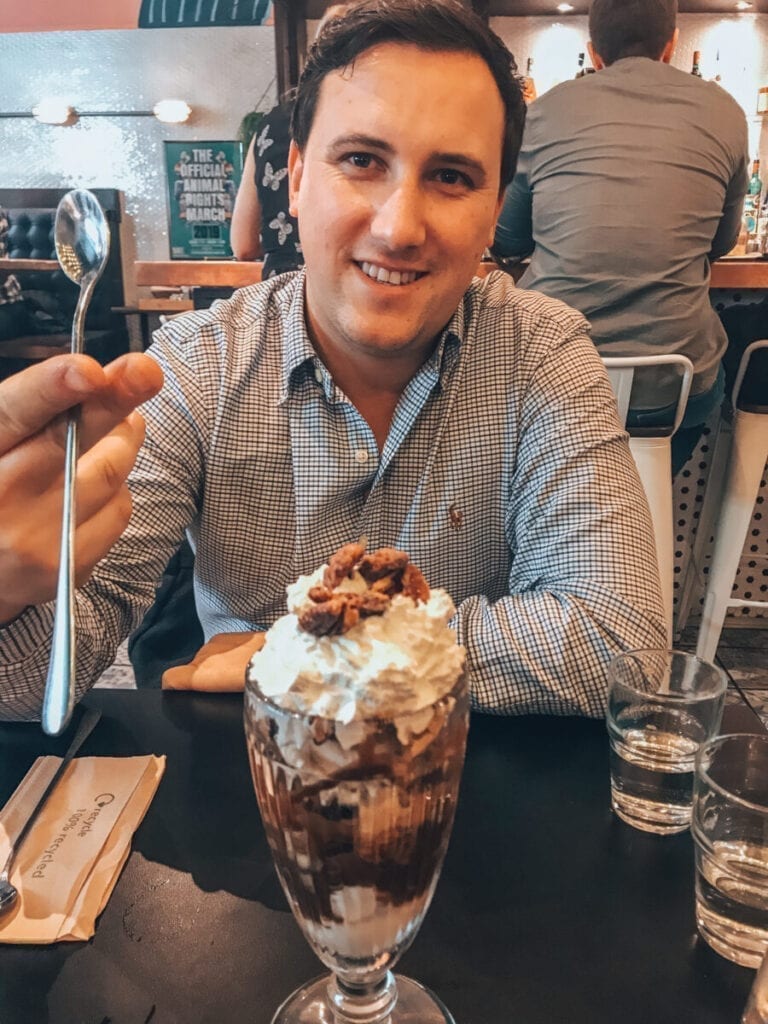 Mildreds
CATEGORY: Vegeterian and VEGAN restaurant
Where is it?
Soho – 45 Lexington Street, Soho, London W1F 9AN
King's Cross – 200 Pentonville Road, London N1 9JP
Camden – 9 Jamestown Road, Camden Town, London NW1 7BW
Dalston – Thomas Tower, 1 Dalston Square, Dalston Lane, London E8 3GU
what's the vibe?
Focusing on taking classic meals, as some more exotic ones, and making them vegan and vegetarian! We love the Soho branch and its history. If you visit, you will notice pictures and drawings of the erotic type. In its former life, the building had been a sex club, with an S&M padded cell in the basement. At the time the landlords would collect their rent in person…
What to order?
Mains: SWEET POTATO KIRI HODI
Cheesecake: CARAMEL CHEESECAKE
More information
Mooshies London Vegan Burger Bar
CategorY: FULLY VEGAN
Where is it?
104 Brick Lane, Spitalfields, London E1 6RL.
what's the vibe?
Colourful, chilled out vibes. A very relaxed place with only a few seats that get filled quickly!
What to order?
Burgers: What's ur Beef
Sides: Cheese Sticks
Milkshakes: Salted Caramel
More information
By Chloe
CategorY: FULLY VEGAN
Where is it?
One Tower Bridge, 6 Duchess Walk, London SE1 2SD
4-5 Langham Place, Oxford Street, Marylebone, London W1B 3DG
Drury House, 34-43 Russell Street, Holborn, London WC2B 5HA
WHAT'S the vibe?
Super cute decor with convenient locations all over London. It almost has a fancy fast food vibe. Brunch is served on weekends, with morning oats, smoothie bowls, and pancakes, along with vegetable and fruit juices!*
Perfect for
What to order?
Fish & Chips – Crispy tufo, chips, mushy peas & Tarter sauce.
Guac Burger
Brunch is served on weekends
More information
Wulf & Lamb
CategORY: FULLY VEGAN
Where is it?
243 Pavilion Road, Chelsea, London SW1X 0BP
Chiltern Place, 66 Chiltern Street, London W1U 4EJ
what's the vibe?
Super cosy and your typical high end cafe. We love coming here after a day of shopping and exploring in London for coffee and cake. its the perfect place to revive yourself before continuing to explore London.
Perfect for
What to order?
Mac and cheese
All of the cakes!
More Information
Check out their website: wulfandlamb.com
Bokan 37
Category: Traditional
Where is it?
Address: 40 Marsh Wall, Isle of Dogs, London E14 9TP
What's the vibe?
Elegance and Sophistication, dining on fancy food with an even fancier view.
Perfect for?
Date Night
Special Occasions
What to Order?
Their menu changes a lot so it is worth checking out there website before you go!
More Information
Check out their website.
We hoped you enjoyed our list of Vegan London Restaurants! Let us know in the comments if you have been to any of these places. Also, don't forget to sign up to our mailing list to get exclusive updates from us!
Whats next?
Check out our other UK blog posts here.