This blog post contains affiliate links. As an AirBnB associate we may earn a small commission to fund our coffee drinking habit if you use these links to make a purchase. You will not be charged extra, and you'll keep us supplied with caffeine. It's a win for everyone, really. Check out our Disclosure policy for more.
Welcome to the ultimate Canggu Travel Guide! This vibrant town in Bali is one of the most popular destinations on the island, and for a good reason! From beach clubs to nightlife, surfing to yoga classes, there's something for everyone here. Whether you're looking for adventure or a relaxing beach retreat, Canggu has got you covered.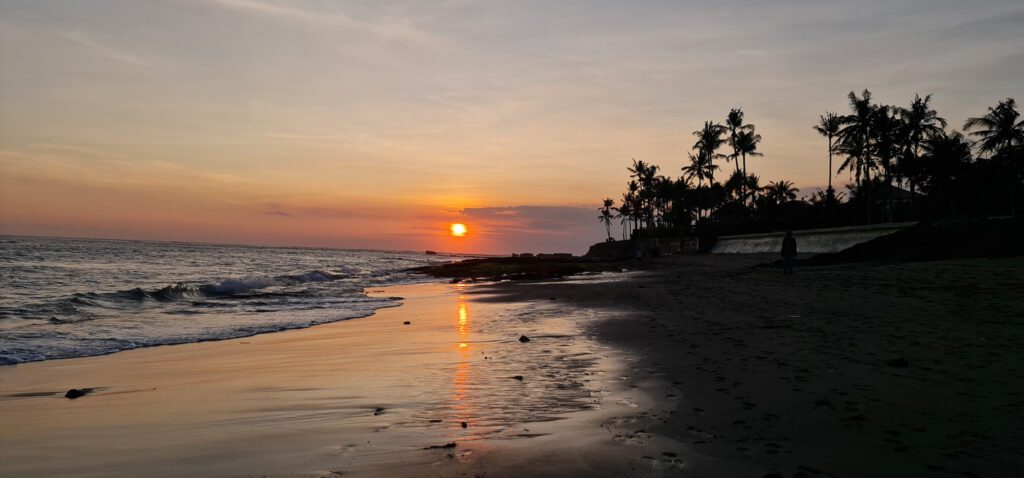 Let's explore some top things to do in Canggu, Bali:
Spend the Day at a Canggu Beach Club
Beach Clubs If you're in Canggu, you can't miss out on the beach clubs! There are plenty to choose from, and you could easily spend a whole day hopping from one to another. We recommend checking out La Brisa, Sol Rooftop Bali, and COMO Beach Club for excellent vibes and views.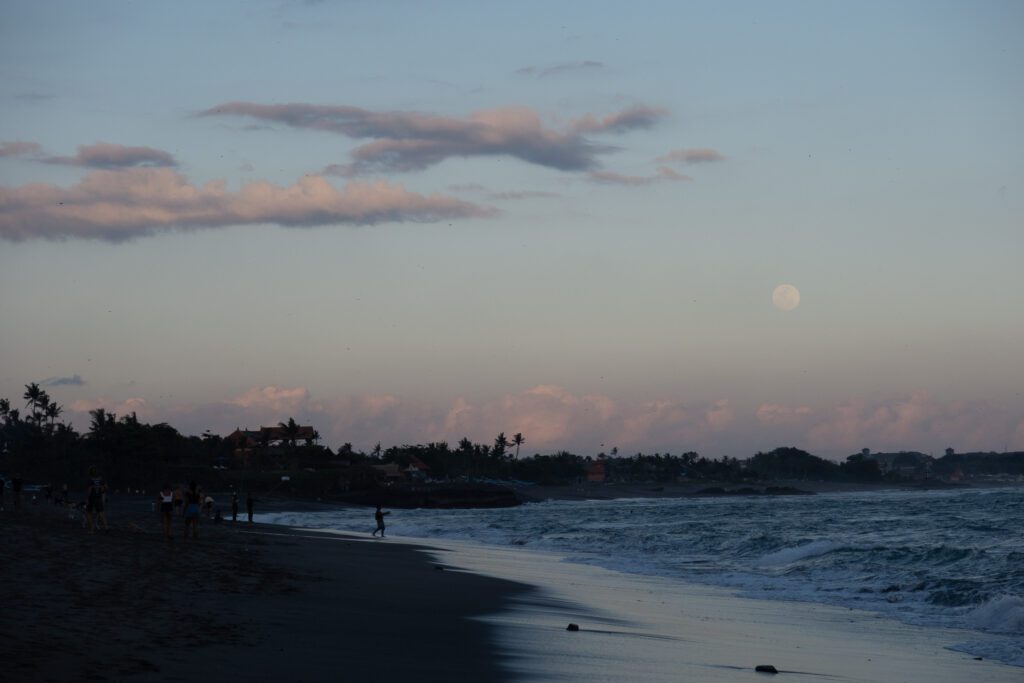 Get a Massage
Canggu is home to some fantastic spas, and if you're willing to spend a little extra, you're in for a treat! Some of our favourites include the following:
Spring Spa, where you can take advantage of the Cream Hair Bath.
Tonic, which offers excellent value for money
Muka Concept, where you'll find the best facial you've ever had!
Watch the sunset at Tanah Lot Temple.
Tanah Lot Temple For a cultural experience, head to Tanah Lot Temple for sunset. This iconic landmark is located on a rocky outcrop just off the coast of Canggu and offers stunning views and photo opportunities. When you arrive, plenty of vendors sell souvenirs and food at reasonable prices. Remember to dress appropriately and respect local customs.
Drink an ice-cold coconut at Perenenan Beach.
Perenenan Beach While beach clubs are fun, the small beachfront cafes offer a more intimate vibe. Head to Perenenan Beach before sunset, grab a beanbag at O'three Beach Bar or any other beachfront spot and enjoy the beauty of a Bali sunset while sipping on a fresh coconut.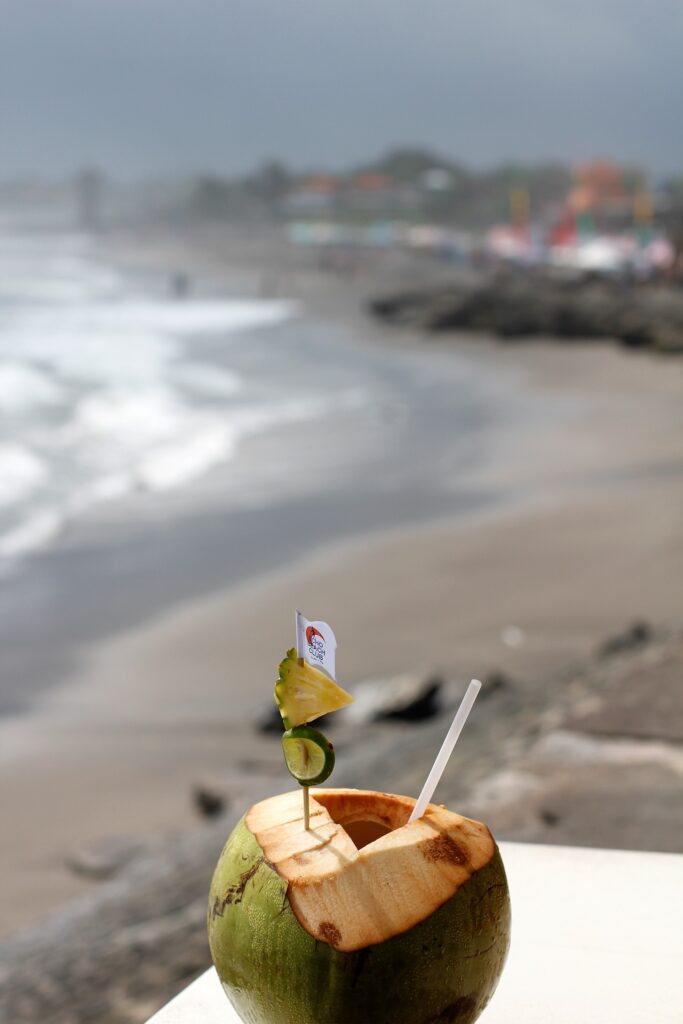 Sip on a cocktail at one of Canggu's best bars.
Head to a cocktail bar. When you're feeling fancy, head to a cocktail bar for sunset or an evening nightcap. Our top recommendations include Leblon for super fancy cocktails in a very intimate environment, Sol Rooftop Bali for amazing sunset views, The Lawn for a relaxed beachfront vibe, Shady Fox for a cool speakeasy experience, and Masons for a classy night out.
Indulge in some of Canggu's best Restaurants.
Eat all the food. Canggu is a haven for great food options! You must take advantage of the incredible dining experiences here. For breakfast and lunch, try Woods Bali Cafe for a fancy affair, RiZE for the most indulgent dosas and chai coffee, Copenhagen Cafe for coffee and pastries, Crate for Instagram-ready smoothies and chia puddings, Neighbourhood for healthy options, and Matcha for Japanese-inspired cuisine. For dinner, don't miss Arte for the best pizza, La Baracca for the best pasta, Shelter for the perfect date night vibe, Woods for a romantic evening, and Lolas Mexicana for a Mexican feast.
Take part in a Yoga Class.
Go to a yoga class. Embrace your inner yogi in Canggu or Ubud. Whether a beginner or a seasoned expert, Canggu is the perfect place to reconnect with your mind, body, and soul. Our favourite yoga studios include The Path Yoga Studio and Samadi Yoga.
Try Jungle Padel. Have you heard of Padel before? It's a mix of badminton and tennis and a lot of fun! Head to Jungle Padel and try it, even if you're not an expert in either sport.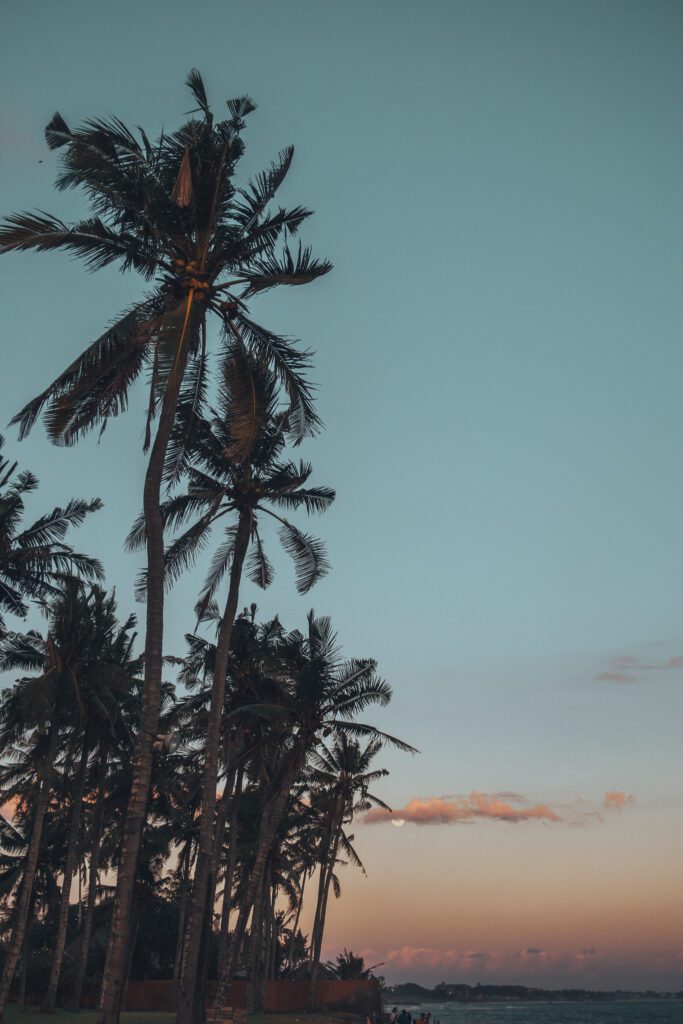 Try your hand at surfing.
Take a surf lesson. Canggu is a great place to learn how to surf. Warm waters, many waves, and experienced instructors make it the perfect spot for beginners. Surf schools are available for all skill levels and provide the necessary guidance and support to ensure your safety while riding the waves.
Chill out at Times Warung
Or watch the surfers from Times Warung. If taking to the waves isn't your thing, head to Times Warung, grab a coffee or coconut and enjoy the show. It gets busy, so come early to get the best seat.
Head to Seseh for a Day
If you're looking for a break from the hustle and bustle of Canggu, head to the peaceful rice fields of Seseh for a day trip. It's just a short drive west of Canggu, and the scenery is breathtaking. Drive between the palm trees and rice terraces as far as the eye can see and leave the traffic behind.

Seseh is a hidden gem that we almost didn't want to share, but with its growing popularity, we couldn't resist. Seseh Beach Warung is a bamboo beach bar that's only steps away from the sea. Relax on cosy bean bags under umbrellas and sip on coconuts that cost as little as 20k. It's like stepping back in time to old Bali.
If you're feeling hungry, a few cafes are nestled between the rice fields of Seseh. Flower Boy is our top pick for the best coffee and pastries. Remember to try their homemade almond milk! Seseh General Store is a must-visit for their avocado toast with truffle oil. And if you're in the mood for pizza, be sure to check out Seseh Pizza. Moustache Coffee is also a great option for a caffeine fix.

The Best Accommodation in Canggu, Bali
Our Top Hotel Picks
Day Trips to take from Canggu
Looking for some great day trips to take from Canggu? You're in luck! There are plenty of incredible destinations within easy reach of this popular Bali hotspot.
Head to the Jungle in Ubud
First on the list is Ubud, a hippy jungle escape that's perfect for a day trip. While we recommend spending a few nights here, a day will give you a taste of all the amazing things this town has to offer. Start your day with a sunrise visit to the Tegalalang rice terraces, where you'll be rewarded with breathtaking views of the surrounding landscape. Next, head to one of Ubud's excellent cafes for a delicious breakfast before hitting up the Ubud market for some souvenir shopping.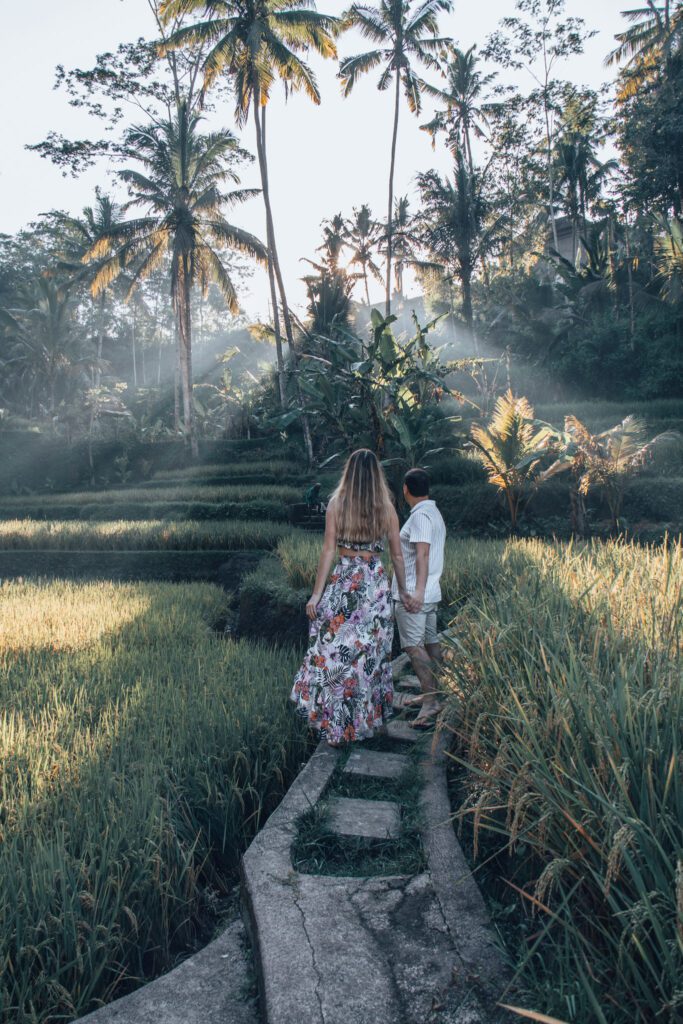 Explore Jatuluwih Rice Terraces
If you're a fan of rice terraces, make sure to take a day trip to Jatuluwih. These UNESCO heritage-listed terraces are some of the best in Bali, with stunning views that stretch as far as the eye can see.
Hike Mount Batur for Sunrise
For those looking for adventure, hiking Mount Batur is a must. This active volcano offers stunning views of Bali and its surroundings, and the two-hour climb to the top is sure to get your blood pumping. Be sure to bring plenty of water, sun protection, and snacks to keep you going.
Summary of Canggu Travel Guide
If you're looking for a destination in Bali that offers stunning beaches, lively nightlife, and excellent surfing, Canggu is the place to be. Whether you want to spend your day sipping coconuts at Perenenan Beach or exploring the Tanah Lot Temple and La Brisa Market, there's something for everyone in Canggu. There are plenty of activities to keep you busy, including yoga classes, jungle paddle boarding, and surf lessons. We hope you enjoyed our Canggu Travel Guide.
Now that you have read our Ultimate Canggu Travel Guide, check out our other Bali guides here: