This blog post contains affiliate links. As an AirBnB associate we may earn a small commission to fund our coffee drinking habit if you use these links to make a purchase. You will not be charged extra, and you'll keep us supplied with caffeine. It's a win for everyone, really. Check out our Disclosure policy for more.
The Cotswolds are full of beautiful villages teeming with honey-coloured houses, slow-flowing streams and welcoming tea rooms. All the villages are unique with different things to experience. Castle Combe was one of the nicest villages we visited. So, here is our guide to things to do in Castle Combe village.
What makes Castle Combe so great?
Castle Combe is the most quintessential Cotswolds village full of charm and medieval features, as if taken straight out of a fairy tale. Although this Chocolate box village is small it has so much to offer. Castle Combe is known as one of the prettiest villages in the Cotswolds and in the top few in the whole of England. It's no surprise that it is so popular with tourists.
Tips for Visiting Castle Combe
The only slight downside to this otherwise stunning village is that it can get rather busy. The first time we visited it was in the afternoon and we chose to cut our visit short. Everywhere was very very busy! So we decided to come back at a less busy time. To really get the most out of Castle Combe head here early before the coach tours arrive. This will give you the chance to experience this village as it should be quiet, picturesque and charming.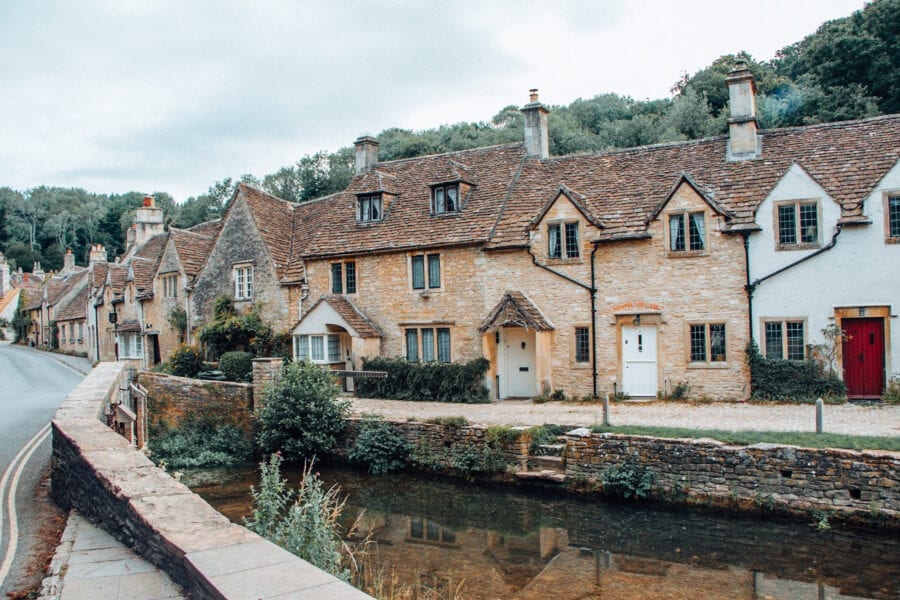 Where is Castle Combe?
Castle Combe village sits in the Cotswolds Area of Outstanding Natural Beauty in north west Wiltshire. It is fairly near to Bath City and you could easily visit as a day trip from Bath.
How to Get to Castle Combe from London
To reach Castle Combe, take the train from Paddington Station to Chippenham. From here, take the 35 bus to Castle Combe. There are only a few buses per day, so check beforehand to get the timing right. It would certainly be worthwhile to explore Chippenham first so you have plenty of time to catch the right bus.
The Best Things to do in Castle Combe
1. Head to the Manor house for Michelin star food
If you are looking for a super luxury getaway, go to the Manor house. Known for incredible food options, with traditional Sunday lunch, afternoon tea and even options for alfresco dining, this place is just beautiful.
The grounds of the Manor are so beautiful and covered in stunning ivy. If you don't plan to eat here, at least take the time to walk around the grounds. Take the time to admire the grandeur of this architectural masterpiece.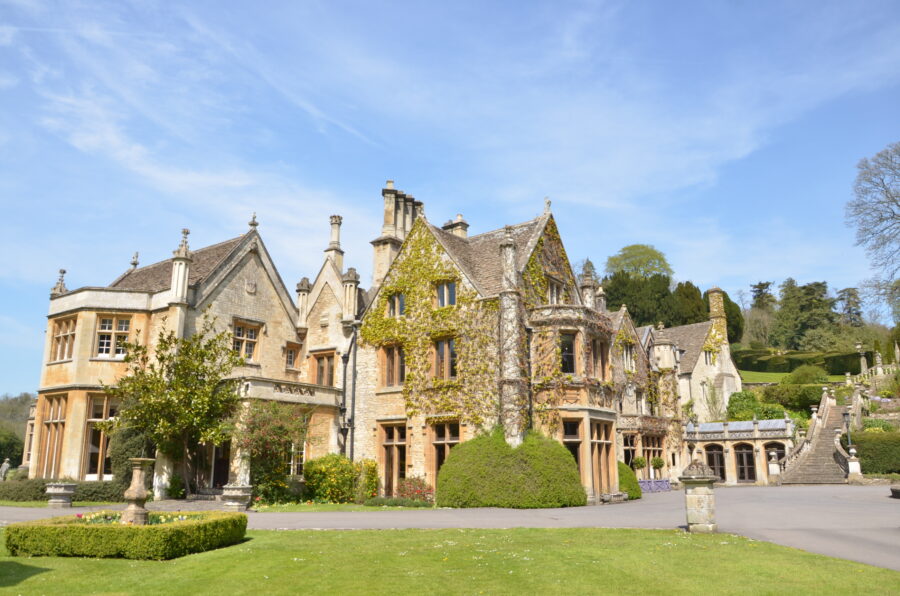 2. Walks from Castle Combe
Castle Combe has some incredible walks that offer you different views over the village and takes you though some enchanting woodlands. Within the village itself, there is a footpath that trails off to the right. The walk is around 4.7 miles and can be really muddy. Bring appropriate footwear! Check out a guide to this walk here.
3. Tea rooms
There are many cosy cafes and welcoming tea rooms offering breakfast and of course, tea and cake. The Little Picnic Tea Room is perfect for indulging in cake with pretty Tea Pots and Cream Cakes.
4. Honesty Boxes
There is a little cake stall outside one of the houses with a honesty box for payment! Things like this really create the perfect village experience.
5. Local pubs
There are two pubs in Castle Combe for you to choose from. They both a perfect for a pint, with charming courtyards and warming fireplaces.
The Castle Inn
In our opinion the best of the two pubs, with fancy food ranging from a full English to a roast with all the trimmings. For a hearty meal this is defiantly our pub of choice.
The White Hart
If you fancy a great refreshment this pub is perfect. The Castle Inn can get fairly busy, so this is great pub for if you are looking for a refreshing pint.
6. The Best Photo Opportunity
You simply cannot leave this idyllic village without snapping an awesome shot  from this bridge. It is such a beautiful fairy tale backdrop and a great way to capture all the magic of this village.
For complete transparency, this photo was shot very early in the morning before tourists started to arrive. Later in the day, this area is fairly swamped with tourists, if you want to get some awesome photos, head there early.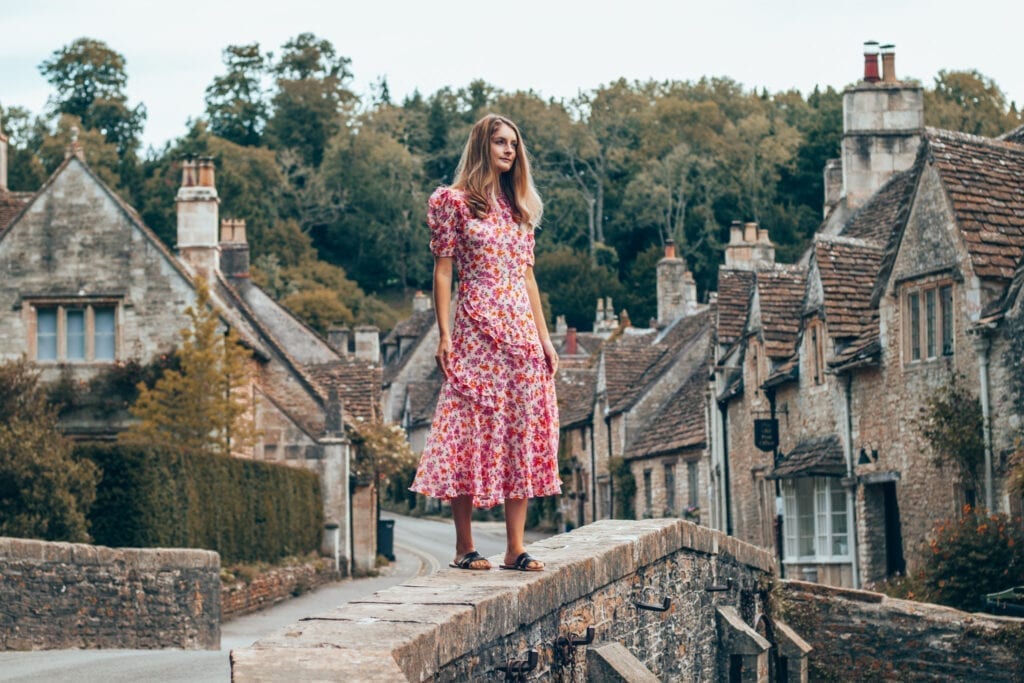 7. market cross monument 
This historical market cross was erected in the 14th century AD. It was built to mark the privilege that was granted to hold a weekly market in Castle Combe.
8. St Andrew's Church
This Church is steeped in history. The church mostly originates from the 15th century. The tower has many features of a late medieval architecture including pinnacles, diagonal buttresses and battlements.
9. See Dower House, Dr. Dolittle's house
When you enter catle combe, you are greeted by a bright yellow house. This house is called Dower House. It is a two and a half storey graded two listed home. It was constructed around 1700 and was features in the film dr. Dolittle in 1967.
10. Castle Combe Motor Racing Circuit
In complete contrast to the serene experience the village of Castle Combe offers, it is also home to a Motor racing circuit. If you love cars and car racing them this is for you. This racing track offers so many different experiences and things to do.
11. Head to the River and Bridge
Just past the main part of the village, there is a stunning small bridge that elegantly arches over the river. It is a great spot to sit and take in the greenery around you and the sound of the slow trickling water. There are also some beautiful thatched cottages here that you might miss if you don't head down to this cosy viewpoint.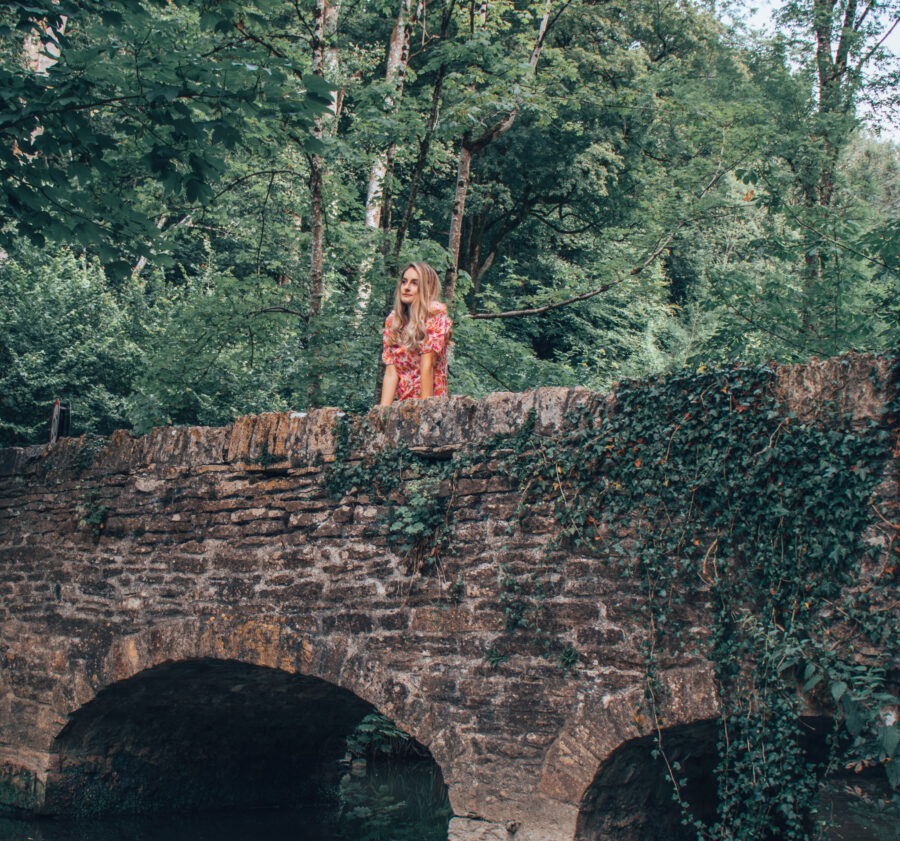 Parking in Castle Combe
The great news about parking in Castle Combe, It's free! The not so good news, the car park often gets full quickly and is a fairly long walk up a hill to get back…
Okay, so I know we have already mentioned this quite a few times, but we will say it again, get to Castle Combe early! This is great as it will be less busy but it will also mean a higher chance of getting a parking spot! The village itself is painted with yellow lines, and there are wardens that frequently visit so do not chance parking somewhere you shouldn't.
How long do you need in Castle Combe?
You can experience Castle Combe in half a day. It is such a tiny village you can soak up all the charm in half a day. However, if you are looking for a romantic weekend away you could stay a little longer. If you are looking to explore a few other villages in the Cotswolds, then a long weekend would definitely be worthwhile.
What was filmed in Castle Combe?
Castle combe has been used as a backdrop in many films and series. In 1967 Dr Dolittle was flimed here. In more recent times Hollywood films have been shot here. Such as Stardust (2008), The Wolfman (2009), and War Horse (2010). Tv series such as Robin of Sherwood and Poirot have been filmed in this village.
Castle Combe's History
This village was named after a 12th-century castle called the Norman fortress. Much of what you can experience now started in the Middle Ages when Castle combe had a booming cloth industry and Market Square.
Other worthy Villages in the Cotswolds…
The village of Painswick is quintessential Cotswolds. With all the typical Cotswolds features, limestone cottages a winding river and red telephone boxes. Compared to the village of Castle Combe, Painswick is much larger and has less footfall. We loved Painswick and it is an essential addition to any Cotswolds itinerary.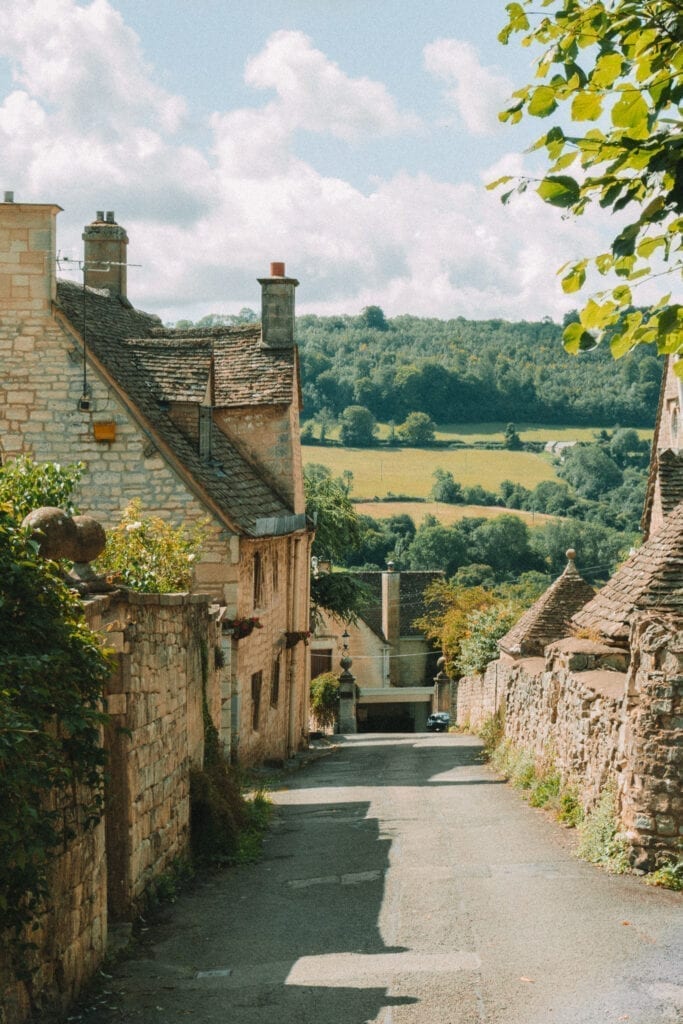 Check out our complete guide to Painswick for more information.
Lower Slaughter
The village of Lower Slaughter is a pint sized village but with high impact. With its beautiful church, thatched cottages with perfectly potted flowers around every door, and hearts hanging from every window. This village is just beautiful.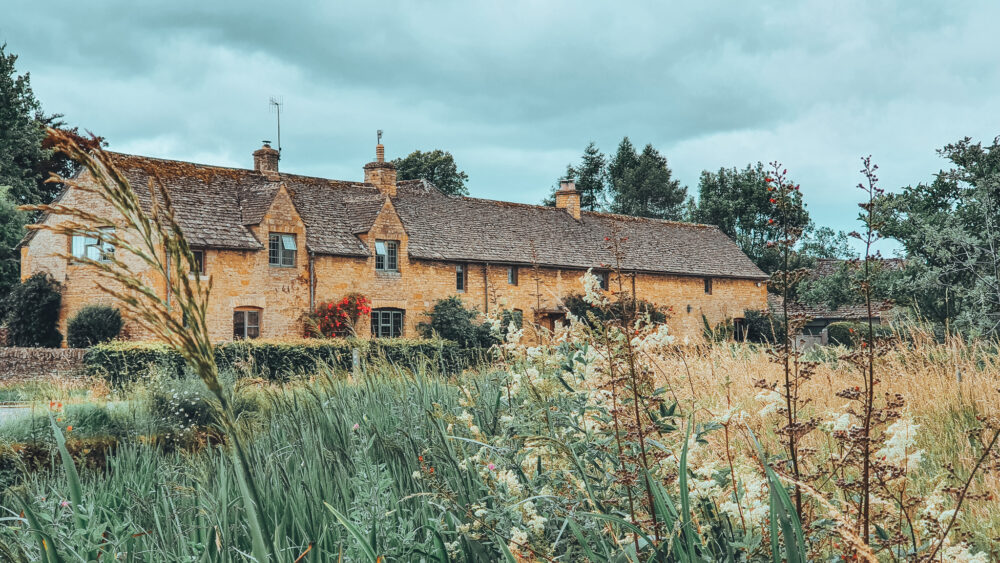 Bourton on the water
Bourton on the water is known as the Venice of the Cotswolds. This village sits on a quiet still river lined with stunning willow trees that float on the water. There are so many cute bridges arching over the river. Full of narrow pathways, busy shops and cosy tea rooms.
This village has a nice buzz and is a perfect balance between residential life and interesting things to do. This village gives you a perfect insight into the daily life of the people lucky enough to call this village home.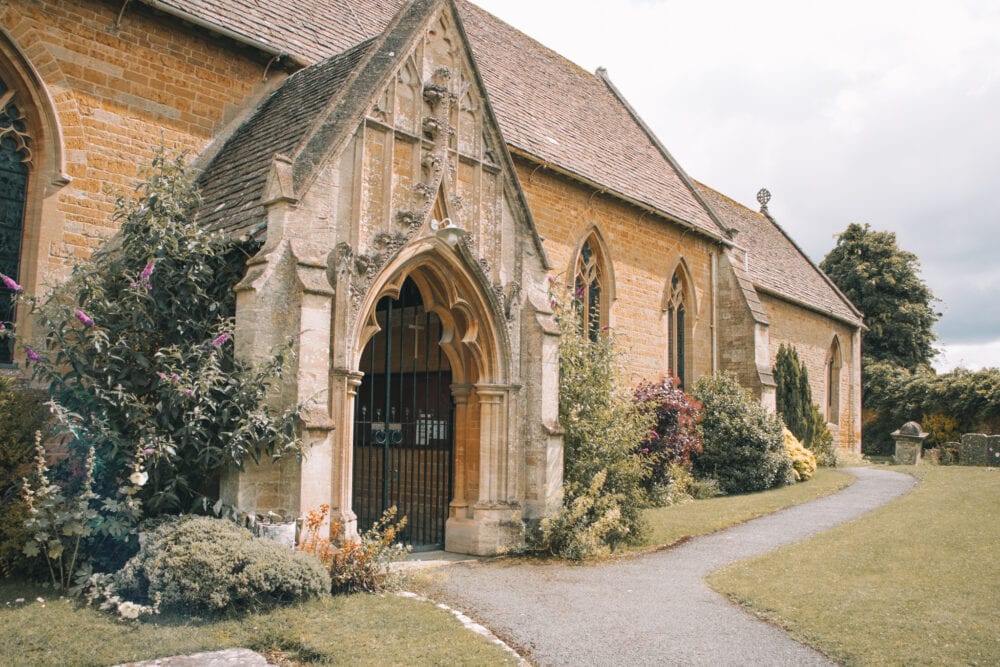 For more check out our list of the best 13 fairy tale villages in the Cotswolds.
Where to stay in Castle Combe
Hotels in Castle Combe
1. The Castle Inn
The historical Castle Inn hotel lands you exactly in the centre of this picturesque village. Rooms and beautifully decorated with rich fabrics and antique features and compete with cosy bathrobes.
Check out this Hotel here.
2. The Manor House Hotel and Golf Club
The Manor House is an incredible 14th-century building set on 365 acres. This hotel is the definition of the perfect country hotel retreat. The hotel has 50 individually designed bedrooms. Rooms and endearingly luxurious and seamlessly combine the traditional with the modern. There are many facilities on the hotel grounds, including tennis and croquet.
Check out this Hotel here.
Cottages in Castle Combe
This studio is so perfect! With access to amazing walks and hikes, the location of this Airbnb is just awesome. One of the best advantages of this Airbnb is that has off-street parking, which is very rare for Castle Combe.
We love this Airbnb with its mix of 17th Century Georgian beams, Scandinavian design features and cosy wood burner. This Airbnb is located just outside of Castle Combe but is worth it for the beautiful space.
This Airbnb is the perfect mix of old and modern, cosy yet spacious. We love its style and simplicity, perfect for a romantic weekend in the Cotswolds with a warm fire.
For more options, check out our guide to beautiful Cottages in the Cotwolds.
Summary
We hope you enjoyed our guide to the best things to do in Castle Combe, Cotswolds. This village is so charming and full of typical Cotswolds beauty. It is certainly one of the prettiest villages in the Cotswolds, possibly even in England, so it is certainly worth a trip. We know you will love Castle Combe as much as we did!
What's Next?
Like it? Pin it for later!