This blog post contains affiliate links. As an AirBnB associate we may earn a small commission to fund our coffee drinking habit if you use these links to make a purchase. You will not be charged extra, and you'll keep us supplied with caffeine. It's a win for everyone, really. Check out our Disclosure policy for more.
Okay, so the whole of the Amalfi Coast is BEAUTIFUL! It is hard to pick only a few destinations, We spend two weeks traveling Italy and the Amalfi Coast, there were a few places that we felt were that little bit more special… We hope this list of beautiful Amalfi coast towns inspires and helps you to plan an amazing Amalfi Coast road trip too!
The Island of Capri
You simply cannot visit the Amalfi Coast and not visit the island of Capri! One of the most famous Amalfi Coast towns. There is simply no reason not to go, with ferries frequently running from every destination along the Amalfi coast, there is no excuse to not take a trip here! With its designer shopping, rugged landscape, mount Solerno, and blue grotto this famous island has something to offer every kind of explorer.
Any ferry operator on the beach in Positano will have tickets to Capri, pop down and get your tickets and then jump on the Ferry!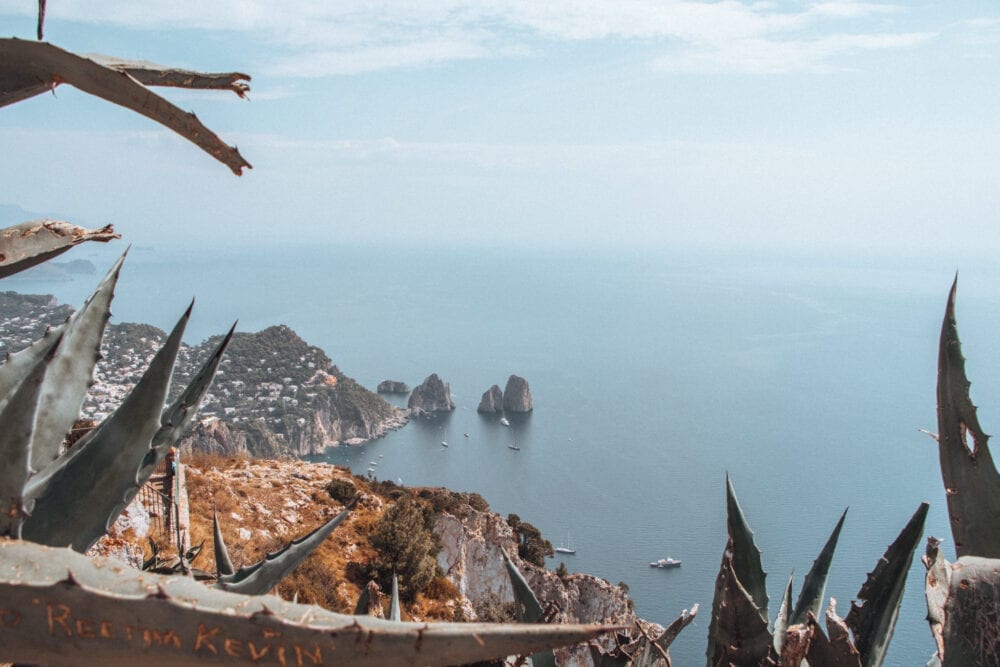 Top Things to do In Capri
Mount Solaro – Capri's Best View Point
How to get to Mount Solaro
Get the bus from Marina Grande to Anacapri. This will take you to Piazza Vittoria. There are clear steps and directions up to the cable car. You can walk but the cable car is a pretty cool experience.
The Cable Car
Tickets cost around 12 Euro return or 9 Euro single.
Opening times and prices may vary. Check out the info points in the Piazzetta or Marina Grande.
Take the cable car from Ana Capri up and walk around the top of this Mountain! Being the highest Peak in Capri, you can see some of Capri's most famous sights.
There is also a small café here so you can get some refreshing Gelato before heading back down to Ana Capri. we would recommend walking down from the top of Mount Solerno. By walking down you could make a detour to see the Church of Cetrella. This is a small church on a rock edge with incredible views of Capri.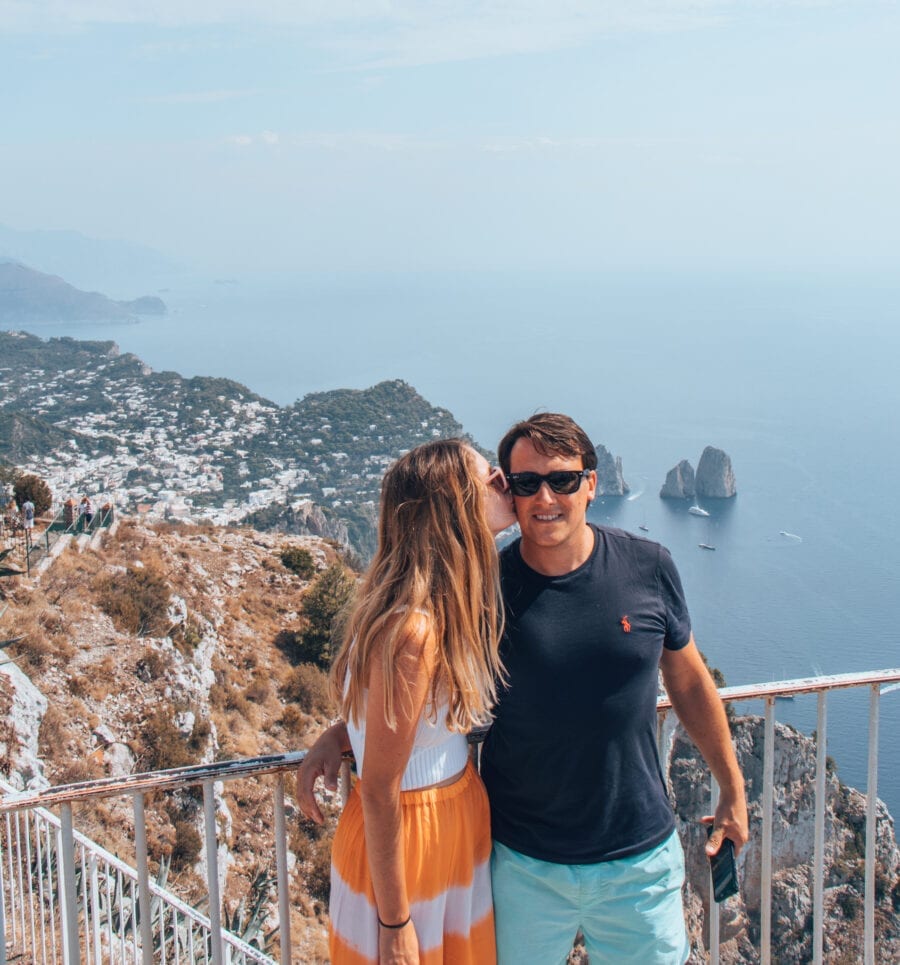 Ana Capri
This part of Capri is home to some beautiful villas that have turned into Museums and of course plenty of shops! Head to Villa San Michele for amazing Gardens and some more beautiful views over Capri, yep you guessed it Capri is full of beautiful viewpoints!
Capri
Walk around the shops and take in what Capri has to offer. Have lunch in Capri, find a spot with a great view, and order some food.
Blue Grotto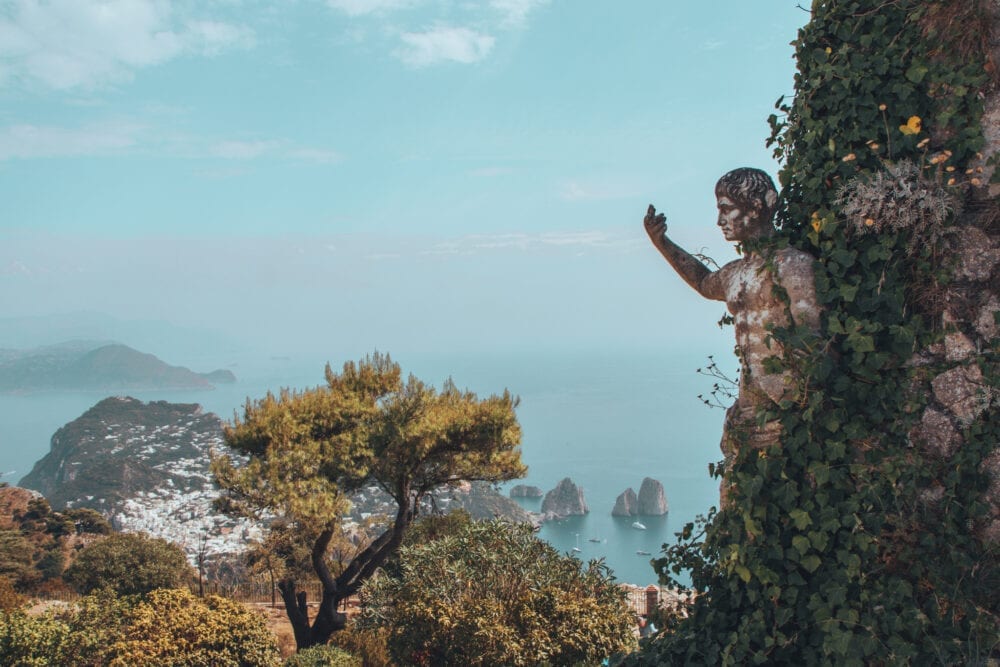 Capri's most photographed sigh! A grotto with Electric blue water from an underwater tunnel that captures the sunlight and turns it bright blue! There are many places in Capri port offering some boat trips to this famous spot, although these are not cheap, so be prepared to pay.
The Port
When waiting for your Ferry to your next destination why not take the time to enjoy this cosy port? There is a public beach that offers intensely gorgeous looking water that will make you want to jump in, especially on any hot day on Capri Island!
HOW TO GET AROUND?
We recommend using the bus to get around, it's cheap and convenient! Once you get off your Ferry you are right next to the bus ticket office so head there and get your tickets. The great thing is, you can get pretty much anyway just using the bus!
Locals did not recommend hiring a moped as there are not many places to park. So you would end up doing a lot of walking to your destination anyway.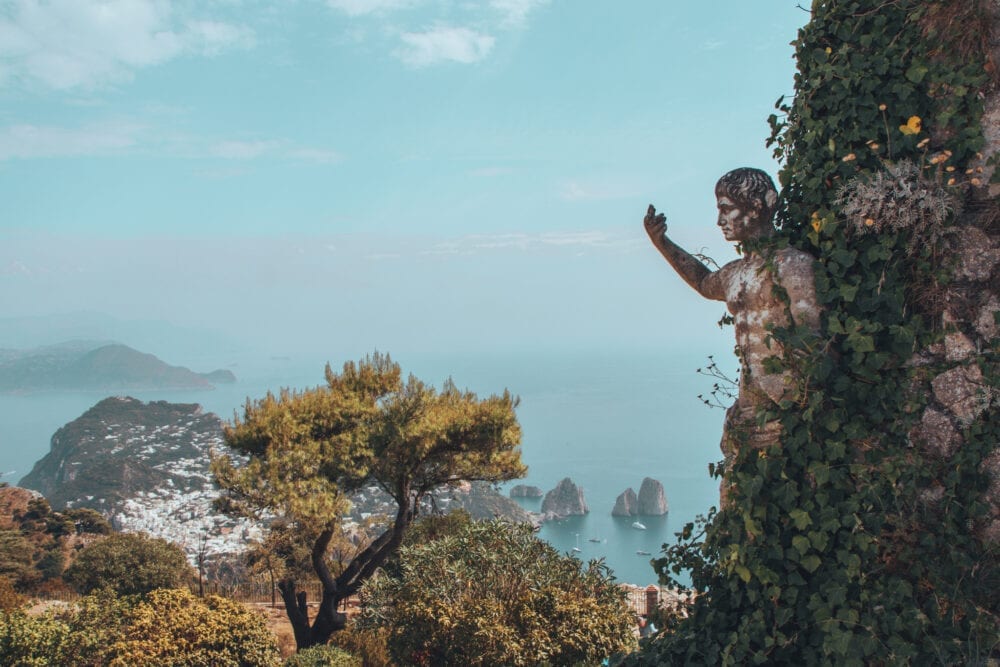 The absolute gem of the Amalfi Coast! One of the most famous Amalfi Coast Towns. With pastel houses hugging the mountainside and luxury around every corner, Positano has so much to offer and it is clear to see why this is such a popular destination!
Chill on the Beach
There are three beautiful beaches you can enjoy in Positano, our favorite was Fornillo beach, spend the day chilling at watch the sunset over the sea and the beautiful town of Positano.
Explore the Streets
Simply walking the gorgeous streets of Positano and taking in the scenery is so rewarding and helps you appreciate Positano's beauty.
Hike the most famous path on the Amalfi Coast and be in awe of the amazing views from this incredible path. Check our out full guide to the Path of the Gods here.
Check out our list of Awesome things to do in Positano for more!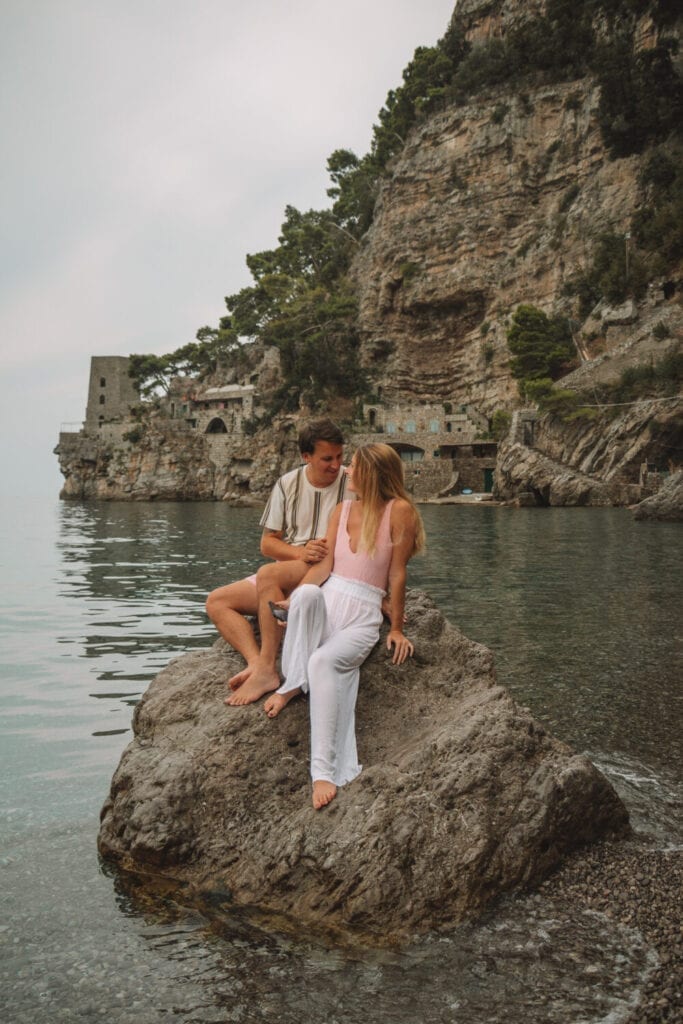 [convertkit form=1905190]
Amalfi
No Amalfi Coast Trip is complete without a trip to Amalfi itself! Being such a central port is it pretty easy to get to by any means of transport. It is also a great place to base yourself if you are looking to explore many parts of the Amalfi Coast with it being only a short Ferry away from Positano or a bus to Ravello. it's a pretty central location to explore!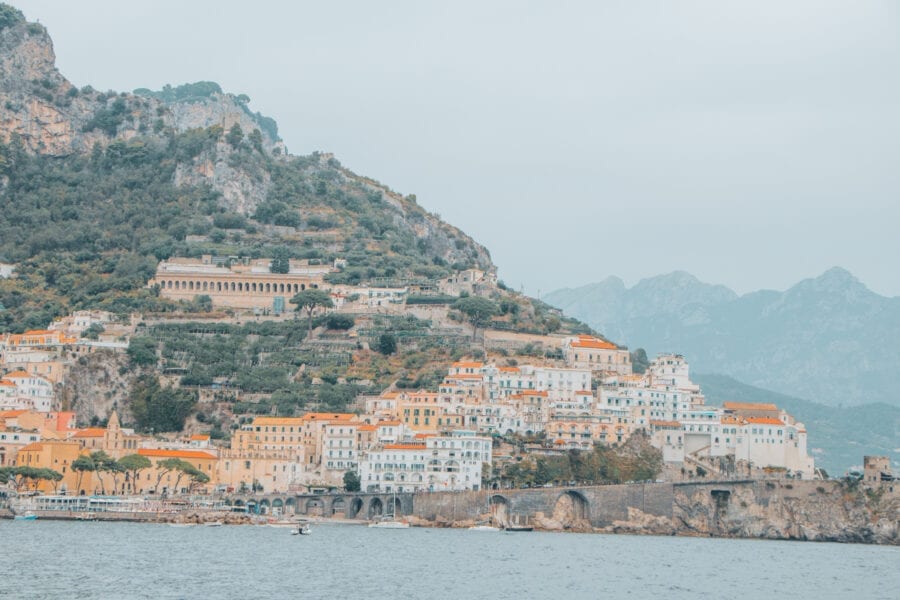 SHOPPING
The best place to get souvenirs and everything Lemon related! Whilst we dont normally shop for Souvineers its hard not too when you see how beautiful the goods are in this town! In Amalfi we loved simply slowly strolling the streets or sitting by the fountain watching the local way of life.
Make sure to head to the La Scuderia del Duca paper store. This cosy shop is filled with the historical journey of the paper trade in Amalfi and historical artefacts. We picked up some beautiful prints of the Amalfi Coast printed on traditional Amalfi Paper. This shop is full of old printed postcards and beautiful stationery.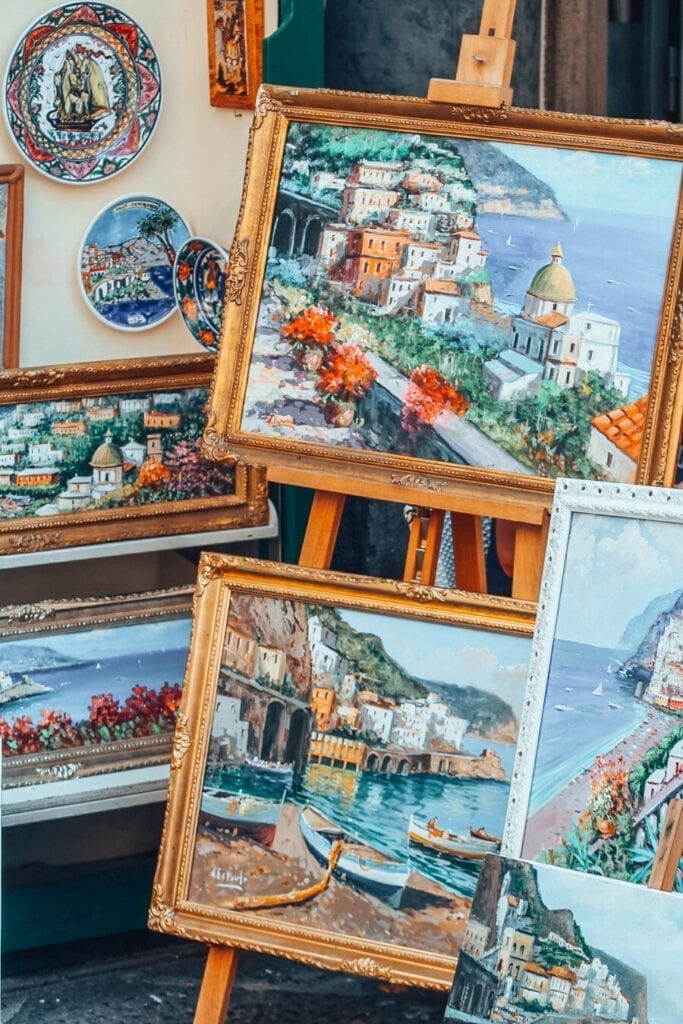 AMALFI CATHEDRAL
This Cathedral has pride of place in Amalfi and its easy to see why! With its beautiful architecture and grand entrance, it's hard to miss.
This Cathedral is dedicated to the Apostle Saint Andrew whose relics are kept here. It is free to walk around so take the time to walk around and enjoy this beauty.
Atrani
Walkable from Amalfi yet a lot fewer tourists! If Amalfi is already on your list why not include a detour to this cute town? Being so close to Amalfi it has completely preserved its authenticity and represents a true insight into the Italian lifestyle. With Laundry slowly swaying in the Breeze from Open windows, locals gathering in the tiny village square chatting and socializing, this is perhaps the Amalfi coast's best-kept secret!
THE BEACH
The perfect beach to chill! Grab your book, a sunbed, and spend the day soaking up the Italian sun and splashing in the sea. We stayed in Atrani for two days and this beach was idyllic. There is a small public beach or two beach clubs that offer beds you can hire for the day.
LUNCH OR DINNER AT LA ARCATE
Call ahead and make a reservation and you can ensure you get a table right next to the sea, it makes for a truly beautiful experience.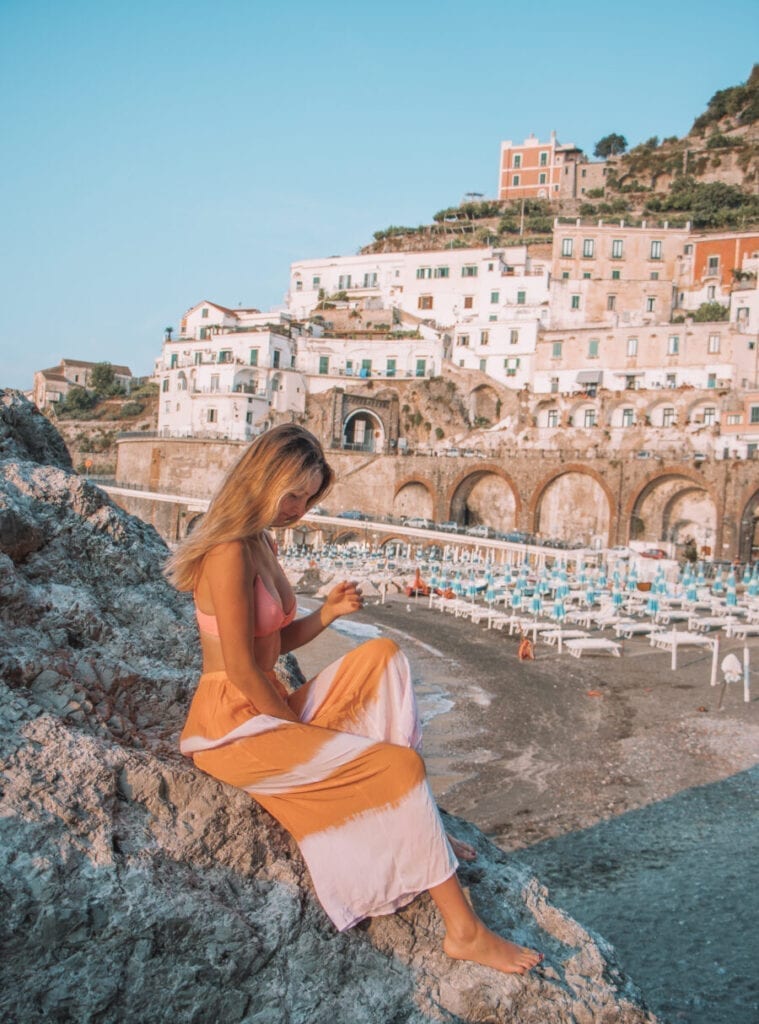 The most romantic and magical place on the whole Amalfi coastline! Our personal favorite of all the Amalfi Coast towns we visited. We left a piece of our heart in Ravello… You can catch a bus from Amalfi or Atrani to get here. It's a little scary being on a bus on the roads up the mountains but trusts us it's worth it! Just close your eyes and enjoy the slightly terrifying ride.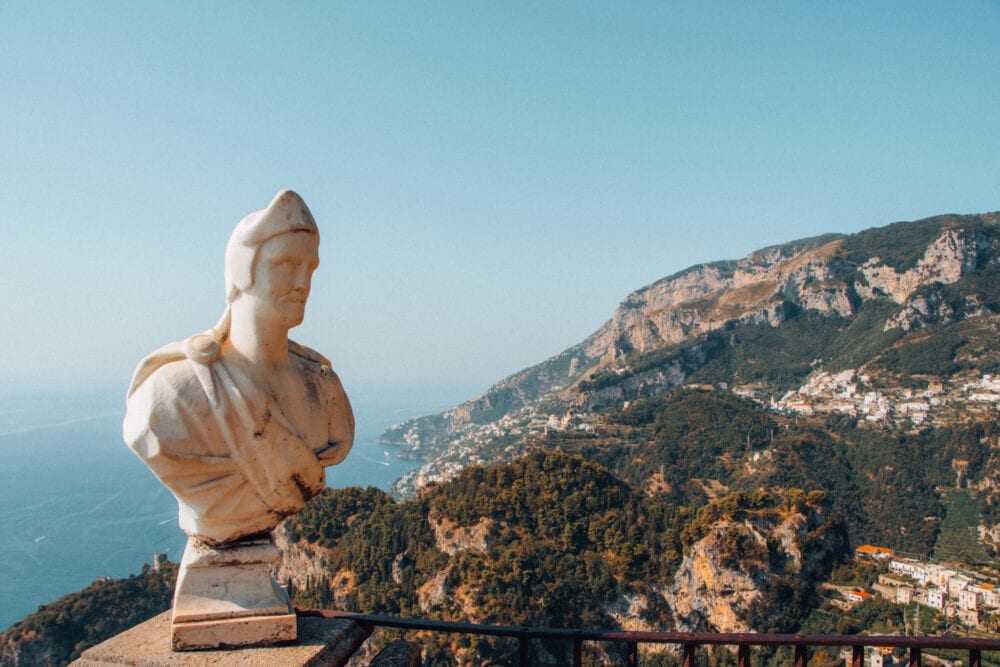 The Best of Ravello:
Explore the Gardens of Villa Rufolo
Inspired by Arabic architecture and boasting beautiful gardens and iconic views over the Amalfi Coast.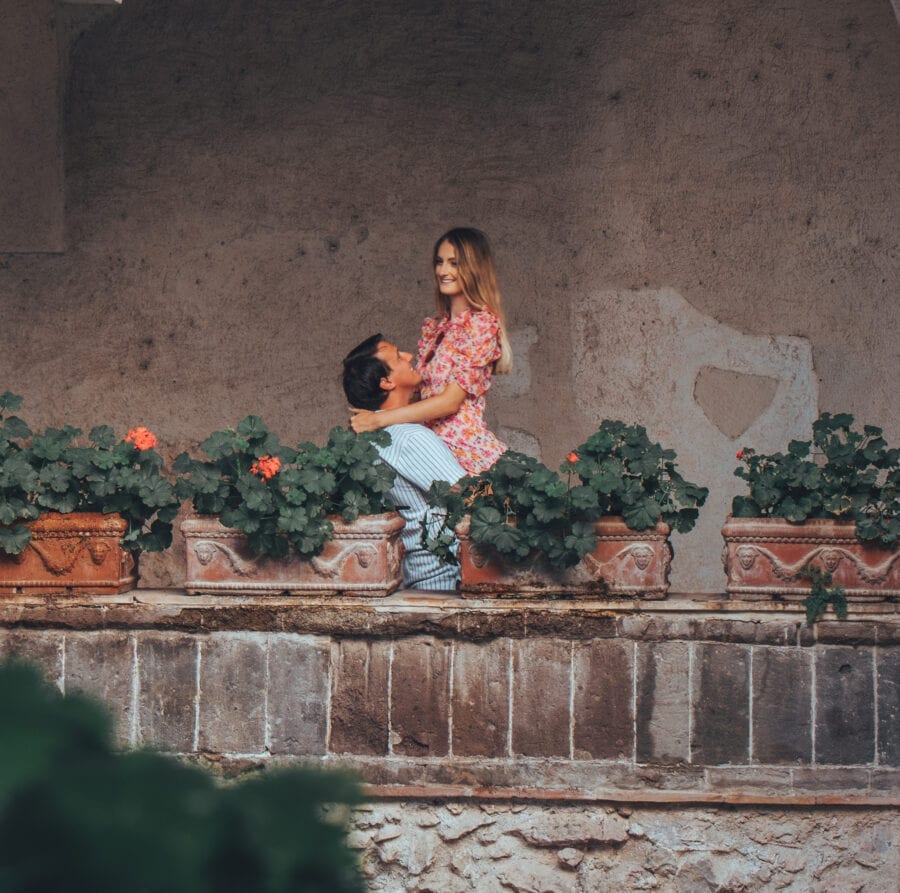 take in views at Villa Climbrone
The most incredible views, make sure to check out the terrace of infinity and take the time to explore these beautiful gardens.
Want to head to Ravello? Check out our guide.
Erchie
Perhaps the most off the tourist track out of all the locations we have offered on this list. A Trip to Erchie is perfect if you like secluded non-touristy destinations whilst still experiencing the ruggedness of the Amalfi coast.
The main drawback with this destination is that no ferries stop here to be prepared to hire a car and drive here or get a bus! The great thing is compared to other places on the Amalfi Coast parking is around 3€/hour. Or is roughly 30 minutes by bus to from Amalfi town to Erchie!
Minori
Around 3km from Amalfi yes much less refined than its coastal neighbors such as Amalfi and Positano yet a more genuine and authentic town renowned for its pasta making that dates back to medieval times.
Highlights of Minori
Basilica di Santa Trofimena a beautiful and typical Italian church
Roman ruins, free entry, and full of history!
Praiano
Only a fifteen-minute drive away from Positano, this quiet fishing village of Praiano is packed with italian charm and beauty that can hard to find in touristy destinations like Positano.
Furore Fiord
Almost certainly the most beautiful and awe-inspiring beach on the whole coastline. You can get a boat here and spend the day on the beautiful beach or drive here and take a trip to the small town above too.
Near the Amalfi Coast
Whilst the following places may not be Amalfi Coast towns they are near the Amalfi coast and each offer something very different and are a great addition to any Amalfi Coast trip!
Naples
If your visiting the Amalfi Coast chances are you will be going to Naples at some point! Make the most out of your time here by doing some awesome stuff!
Things to do
Pizza from Pizzeria Da Michele one of Naples's oldest pizzerias.
Explore the busy streets of Naples
Visit the Royal Palace of Naples
Check out Complesso Monumentale di Santa Chiara the famous monastery in Naples.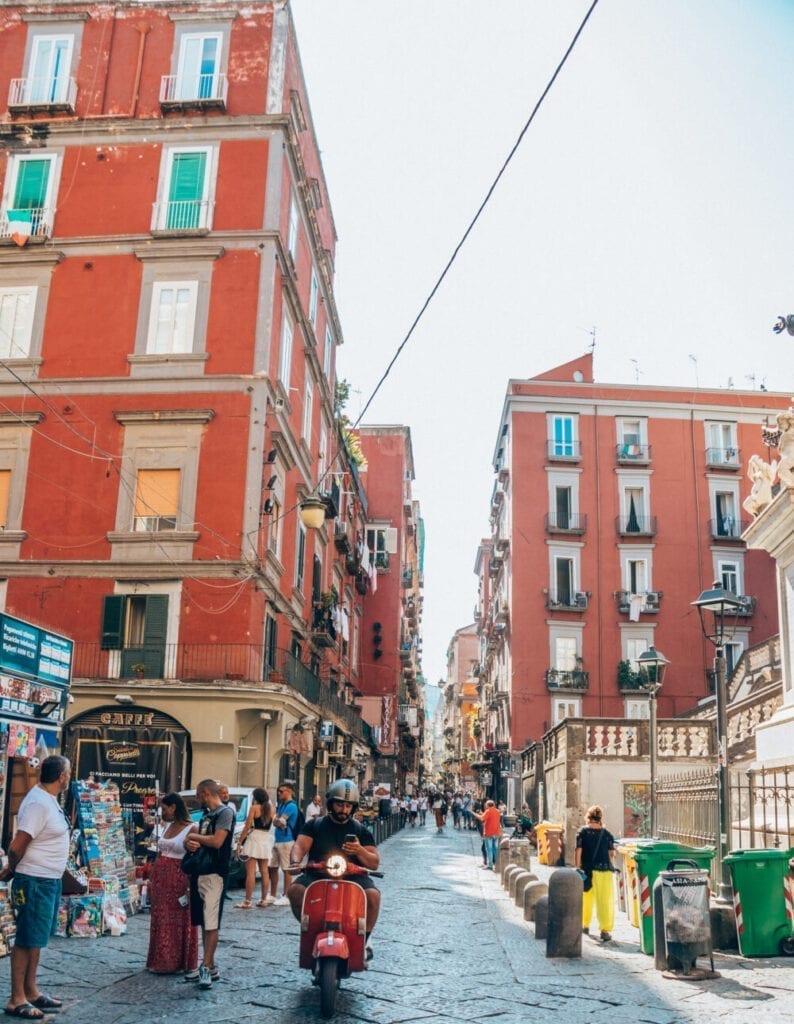 Procida
Just off the coast of Naples and full of authentic Italian charm and pastel-colored houses as far as you can see. Check out our Procida Travel Guide for more information!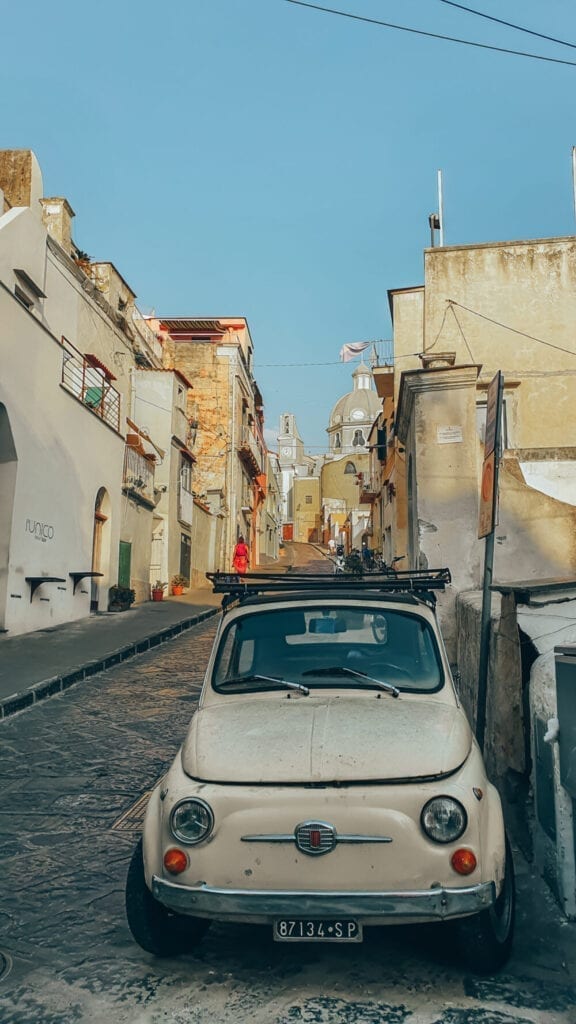 Sorrento
A beautiful coastal town facing into the Bay of Naples. The town has busy marinas and sits on the mountain side, its known for its beautiful water views and famous for its Pizza Tasso, a cute cafe-lined plaza.
We hope you enjoyed our list of the best places to visit on the Amalfi Coast. Sign up below to get our Amalfi Coast checklist!
[convertkit form=1905158]
Whats next?
We hope you enjoyed our guide to Amalfi Coast towns and the best places to stay! Check out our Positano Guide. Our best things to do in Ravello, and guide to Procida for more!