This blog post contains affiliate links. As an AirBnB associate we may earn a small commission to fund our coffee drinking habit if you use these links to make a purchase. You will not be charged extra, and you'll keep us supplied with caffeine. It's a win for everyone, really. Check out our Disclosure policy for more.
The English countryside is full of so many quaint and charming villages. Whether you are looking at the beautiful villages in the Cotswolds to the lesser-known villages along the UNSECO Devon coastline. Each of the villages are simply stunning with characteristics and features that make them unique from each other. Typical English villages make the perfect escape from busy city life or the perfect weekend away. Here is our list of the best villages in England.
Finchingfield Village in Essex
The first village on our list is the village of Finchingfield in Essex, England. Finchingfield is such a picturesque village. It has a large duck pond, humpback bridge, cute thatched cottages and plenty of tea rooms and pubs. The village is known as the most photographed village in the whole of England, and it's easy to see why. Its perfectly maintained green and picturesque narrow streets, makes this village the perfect contrast to London's city life that's only an hour away. There are many things to do in Finchingfield. Although this village is small, it has so much to see .
There are three tea rooms in the village, The Greedy Duck, Picture Pot Tea Room and Winners. Our favourite was The Greedy Duck for its quaint decoration. Although, they all offer the classic tea and cake necessary whilst taking a trip to a quaint English village.
If you are looking for something a bit stronger, there are three pubs in the village. There is The Fox, The Three Tuns and The Finchingfield Lion. All of the pubs are great.
However, the Finchingfield lion is great for its outdoor garden and pizza oven. It's the perfect place to have a pint on a summer's evening as the sun is setting with a pizza or two. There is also an Italian restaurant in Finchingfield, so you do not have to worry about going hungry or thirsty.
Walks in Finchingfield
Finchingfield is in the beautiful English countryside. Therefore, you can do many different walks surrounding the village. Our personal favourite is a loop from Finchingfield to Great Bardfield (the next village along). It is a beautiful walk. It encompasses everything typical of the English countryside. There is also a fantastic restaurant in Great Bardfield perfect for lunch; It is called the Vine Bar & Grill.
This village is the ideal getaway, and we were lucky enough to spend two months in this idyllic setting during the 2021 coronavirus pandemic. It is certainly worth its title as one of the best villages in England.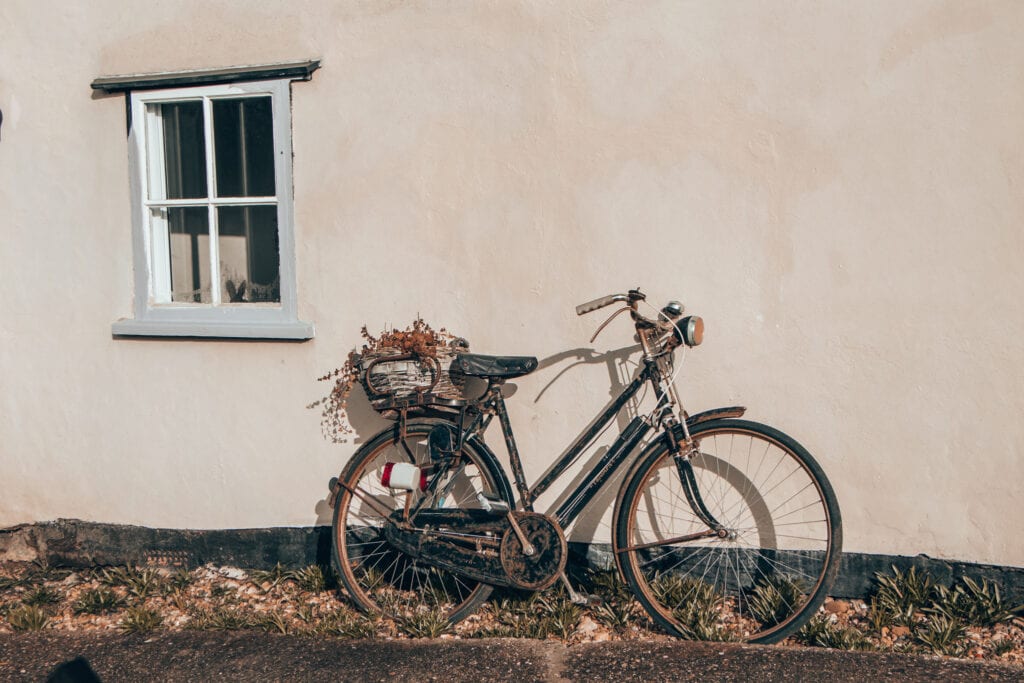 Great Bardfield
The village of Great Bardfield sits next to Finchingfield and is walking distance away. Great Bardfield is also full of very quaint and crooked houses. There are also many houses here with beautiful wisteria arching over the front doors. It is the perfect spring destination and a fantastic place to take your camera with some incredible photo opportunities.
Great Bardfield is also full of beautiful shops and tea rooms. There is a lovely book shop called Between the lines that offer coffee and cake. Most importantly, it is the perfect spot to read a book with a cup of coffee for a slow morning.
Just outside Great Barfield is a beautiful Vineyard. This incredible place is open between May and September for tours and wine tastings in their beautiful Grade 1 listed barn. Tours can be followed up by a traditional ploughman's lunch or afternoon tea.
The next village on our list is the village of Castle Combe in the Cotswolds, England. Being in the Cotswolds, Castle Combe is undoubtedly one of the prettiest villages in England. It is made up of typical Cotswolds features such as sandstone cottages, narrow lanes and hearts hanging from every window.
It does get rather busy, especially in peak season. We recommend heading to this village early before the shops open. This will allow you to experience this village as if it should be; quaint and sleepy. Anytime after 10 in the morning. You will be there at the same time coaches start to arrive, and it does spoil the beauty of this perfect village. It is also a good idea to come here not during peak season just so those crowds less. There are two pubs in Castle Combe opposite each other, each perfect for a drink or a Sunday roast.
A fantastic experience in Castle Combe and typically English is to have afternoon tea or Sunday lunch at the Manor House. This incredible place offers Michelin star food and impeccable service. The manor's grounds are so beautiful, with everything covered in beautiful Ivy. Even if you don't plan to eat here, we would recommend having a drink and walking around the grounds to take in the beauty.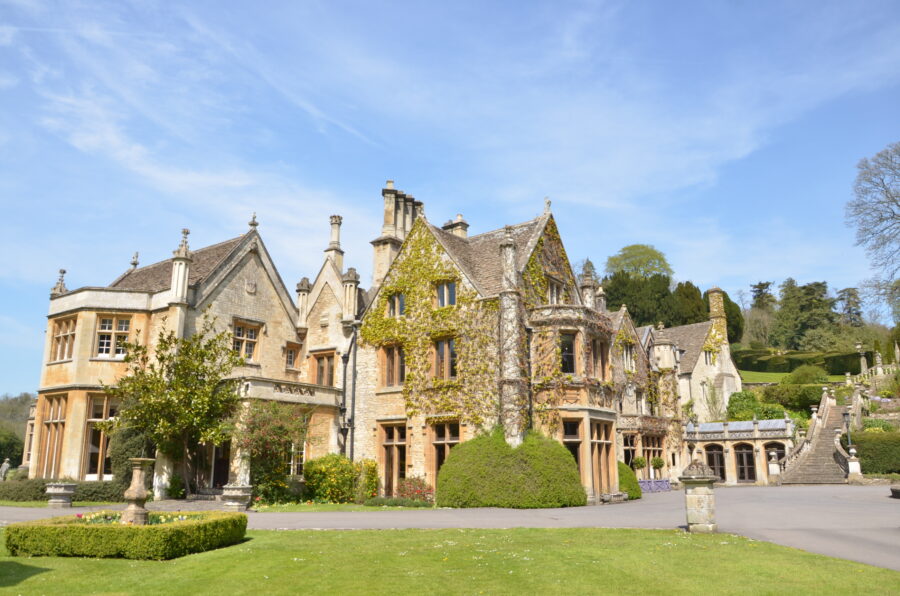 Walks in Castle Combe
Being in the Gloucestershire countryside, there are some incredible walks around this part of England. From Castle Combe there are walks that offer you different viewpoints over the village and take you through some beautiful local woodlands. The route is especially nice in spring when there are plenty of bluebells. In the village there is a footpath that goes off to the right, this is a route that is around 4.7 miles. It offers you many different views over Castle Combe and is beautiful. There are many tea rooms.
Parking in Castle Combe is free, although it does often get jam-packed quickly as it's another excellent reason to head up here earlier.
Thaxted in Essex
Thaxted is a town and not a village, but it so picturesque it deserves a spot on this list. The town of Thaxted has a fascinating past, with it being mentioned in the Doomsday book. Thaxted is made up of quaint, colourful houses and a quirky high street full of crooked old places and exciting architecture.
Depending on the time of year you visit this town, you might be lucky enough to visit their yearly morris dance festival in June.
There are many quaint and quirky things to experience in Thaxted high street. The main attraction being the insanely quirky Guildhall that takes centre stage in the high street. Like the village of Thaxted itself, the Guildhall also has a varied history. It was once used as a meeting place for the town after receiving a charter from Queen Mary II. The Guildhall was then abandoned once the Monarchy fell from power. It was then later restored and converted into a school. It is now an exhibition and small museum.
For amazing views over the quaint town of Thaxted, head to the John Webb Mill at the top of the town. This Mill is a grade II listed mill, and it is an excellent place for walks or a picnic. It is the start point for many excellent walks around the Essex Countryside.
The Gardens of Easton Lodge is another great reason to visit this town. These are beautiful gardens filled with highly maintained areas and areas left to bloom with Wildflowers. The best time to visit the gardens is in early spring. Visiting at this time of year allows you to see thousands of snowdrops that cover the floor. The more formal parts of the garden consist of an Italian garden, a Peto Treehouse and a Walled Garden.
Shere in Surrey
Shere is a beautiful village in Surrey, England. It was most notably used in the film 'The Holiday'. They covered the village in snow in the middle of summer and filmed an incredible movie. It is a charming village with heavily beamed houses. Whilst it is only small, it is certainly worth a visit especially as it is only an hour from London.
Things to do in Shere, Surrey
One of our favourite things to do here is to visit the silent pool. There is quite a creepy legend behind the pool's eeriness, and it is said to be one of the most haunted in Surrey. The tale is that a farmer's Daughter who worked the local land was taking a bath in the pool. She was spotted by a man passing by on a horse and decided to go over. He scared her, and she subsequently drowned and haunted the water. Despite the pool's haunted past, it is a gorgeous pool with bright blue and green water. It's a tranquil and peaceful place to visit, and we found it to be stunning, more beautiful than scary.
Another beautiful thing to do is to visit one of the local vineyards next to the silent pool. This is especially nice to do in the spring or summer months. It is a unique experience to go to the local vineyards. You can book a vineyard tour to see how they make the local wines. After, you can then sit outside in their restaurant with a glass of local wine and enjoy the vineyard setting, which is beautiful. It is certainly one of the best villages in England perfect for a relaxing weekend away.
Clovelly village in Devon
Clovelly village is known as the Positano of England. It is a stunning village that clings to the cliffside and the dramatic Devon coastline. The main street is a completely pedestrianised village with no motor vehicles. It is made up of houses and cottages that cling to the cliffside. With only one main street that you have to walk down to get to the harbour. Note: you do have to pay £5 to enter the village of Clovelly. There is also a waterfall and a beautiful Garden in Clovelly. Devon its self is also home to some of the best villages in England.
Things to do in Clovelly
When in Clovelly, visiting the Clovelly gardens is a must. The gardens are accessible as part of the entrance fee, and they are certainly worth a visit. Here you will find walled gardens lined with lime trees and an abundance of fruits and vegetables. There are beautiful resorted Victorian glasshouses that are filled with stunning flowers and plants.
The walled gardens contrast with the rest of the village, so do go along and enjoy their beauty. Check out their website here for more information.
Clovelly waterfall is also an incredible experience whilst in Clovelly. To reach the waterfall, head to the harbour, walk across the beach, past the Lifeboat station to the waterfall.
The waterfall is gorgeous after heavy rain. It has beautiful cascading water and is the perfect place for a picnic. According to the Legend behind the waterfall in a small cave, the Merlin, the Arthurian magician, was born.
To read about other waterfalls in Devon, check out walks and waterfalls in Devon post.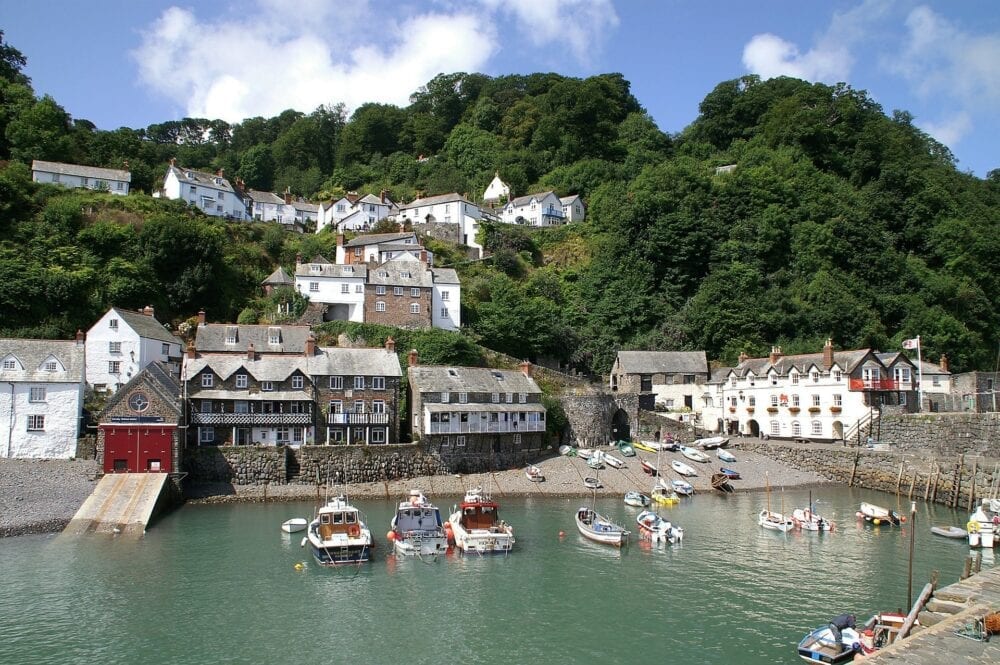 The Slaughters are two stunning villages set in the Gloucheshire countryside of the Cotswolds. Upper Slaughter and Lower Slaughter. The two villages are quite small and very residential. They are both home to typical cottages made up of Cotswolds limestone. Most of the cottages are complete with hearts hanging from each window and potted plants around the front door.
Upper Slaughter
Upper Slaughter is full of beautiful Cotswolds stone cottages and grand manor houses.
This village is much more residential than the others on this list. It is a great village to walk around and to admire its beautiful character. There is not much more to do here beyond walking, admiring and soak up the local atmosphere. Upper Slaughter is home to Eyford house, which has won the award for England's favourite country home by Country Life Magazine. It has ornamental shrubs and trees, a walled kitchen garden, two lakes with pretty walks and views.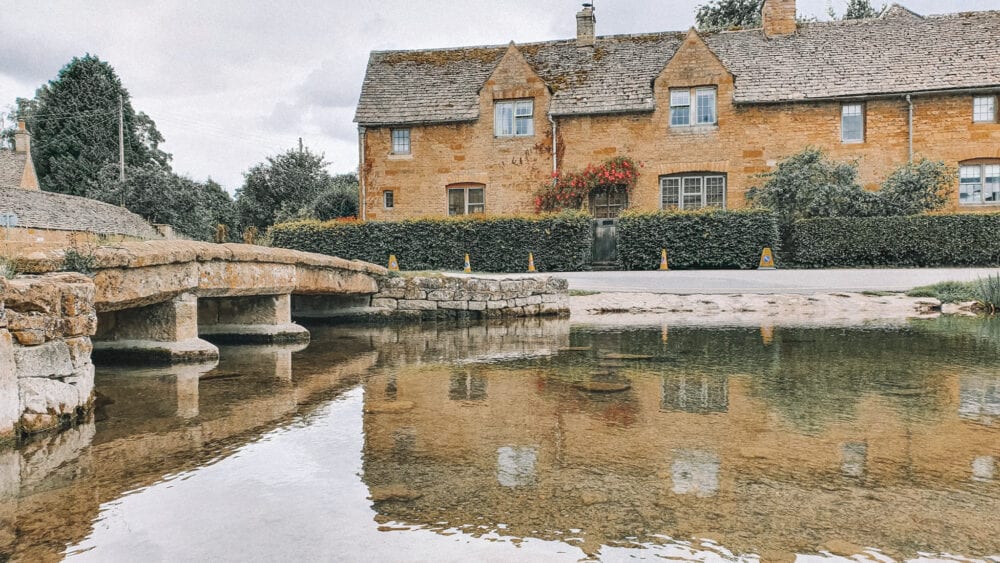 Lower Slaughter
Lower Slaughter is a collection of pretty stone cottages with gardens full of climbing roses and flowing streams. This village may well be one of the prettiest villages in all of Gloucestershire.
St Mary's church is a stone building with a typical Cotswolds stone roof. It's a beautiful church and one of the best things to see in Lower Slaughter. We spent a while walking around and admiring the grounds.
The Slaughters Manor house is a beautiful combination of contemporary interiors and typical country charm. This is also home to one of the most acclaimed restaurants in the Cotswolds.
The manor itself is situated in five acres of impressive landscaped gardens. They are filled with beautiful trees, horse chestnuts and, of course, an English croquet lawn.
Lynmouth and Lynton in Devon
The village of Lynmouth is known as Little Switzerland due to its deep woodlands, rugged river gorges and steep hilly setting. This Devon village encompasses everything you would expect in an Alpine village in Switzerland. Lynmouth is the start of the incredible Watersmeet walk from Lynmouth to Lynton. The two villages together make up the walking Capital of Exmoor. Lynton itself is quite different from Lynmouth despite its proximity. It is a typical English beach town, full of beautiful independent shops, fish and chip restaurants and ice cream parlours on every corner. The only thing that sets this town apart is its stunning backdrop of the moors.
If there is one thing you must do whilst in Lynton and Lynmouth, it is to hike the Valley of the Rocks. This walk is a dramatic section of coastline on the northern edge of Exmoor. Walking through the deep valley floor with steep cliffs on either side, it is an awe-inspiring landscape. This experience is only made better by the mountain goats you might be lucky enough to spot! This is a great way to explore Exmoor national park, which is a must for any trip to Devon.
To read more about exploring Exmoor and North Devon, Walks and Waterfalls, check out this post.
Painswick Village in the Cotswolds
Painswick was our favourite of all of the villages we visited. This village is quintessential English. It has everything typical of a village in the Cotswolds, a winding river, honey-coloured houses and red telephone boxes. The great thing about Painswick is it is a lot less busy than other villages such as Castle Combe and Lower Slaughter.
Painswick is a bigger village than many others in the Cotswolds. This is why we enjoyed it so much. We took the time to walk around all the winding lanes admiring all the crooked houses.
Make sure to walk downhill into the more residential part of the village. This will allow you to take in the extraordinary views of the beautiful valley.
The Rocco Gardens in Painswick is by far the best thing to experience here. These gardens were magnificent and a true highlight of our whole trip. Known for their bluebells in spring and their snowdrops in winter, there is something to see in every season.
For more information, check here.
Castle Hedingham in Essex
Castle Hedingham is another stunning village in Essex. With its beautiful castle taking centre stage with its gorgeous grounds and snowdrop filled surroundings.
The village of Castle Hedingham is full of the most charming Thatched cottages and tiny houses crammed into every narrow street. The village of Castle Hedingham is relatively residential. So there is not much to do beyond walking around and soaking up all of this perfect village's traditional atmosphere.
Visit The Castle
The Castle was built around the 12th century by the de Vere family, who lived in the Castle. The Castle one of the best-preserved in England. The village of Castle Hedingham itself lies beneath the Castle. It is made up of narrow streets and picture-perfect cottages.
Entry Prices
Adults (18-65): £8.50 Kids (5-18): £6.00 Seniors (65+): £7.50 Family: £25.00
Summary of the best villages in England
We hope you enjoyed our guide to the best villages in England. Whether you chose to explore a village in Essex or Devon they are all beautiful and the perfect getaway destination.
Whats Next?