This blog post contains affiliate links. As an AirBnB associate we may earn a small commission to fund our coffee drinking habit if you use these links to make a purchase. You will not be charged extra, and you'll keep us supplied with caffeine. It's a win for everyone, really. Check out our Disclosure policy for more.
The village of Agia Effimia is one of the most beautiful villages in Kefalonia. Agia Efimia village sits in Sami bay near the town of Sami and Karavomylos village. This charming village has a lot to offer and is the perfect base to explore the rest of the island. Here is our guide to the town of Agia Efmia in Kefalonia. 
Top things to do in Agia Effimia Village
1. Hire a boat
Experiencing Kefalonia island from the sea is such a magical experience. The island is full of beaches that are only reachable by sea. To spend a day exploring the hidden beaches and sailing around the crystal clear water.
2. Head to Ithaka
A tour to Ithaca is a must when visiting Kefalonia. This island is named after Ithacos, son of Poseidon, the God of the sea. Full of sparkling emerald waters and hidden unspoiled beaches, Ithaca is remarkable. If you are lucky, you might get to observe dolphins and sea turtles. This boat company has daily tours to this magical island, and it is certainly worth it.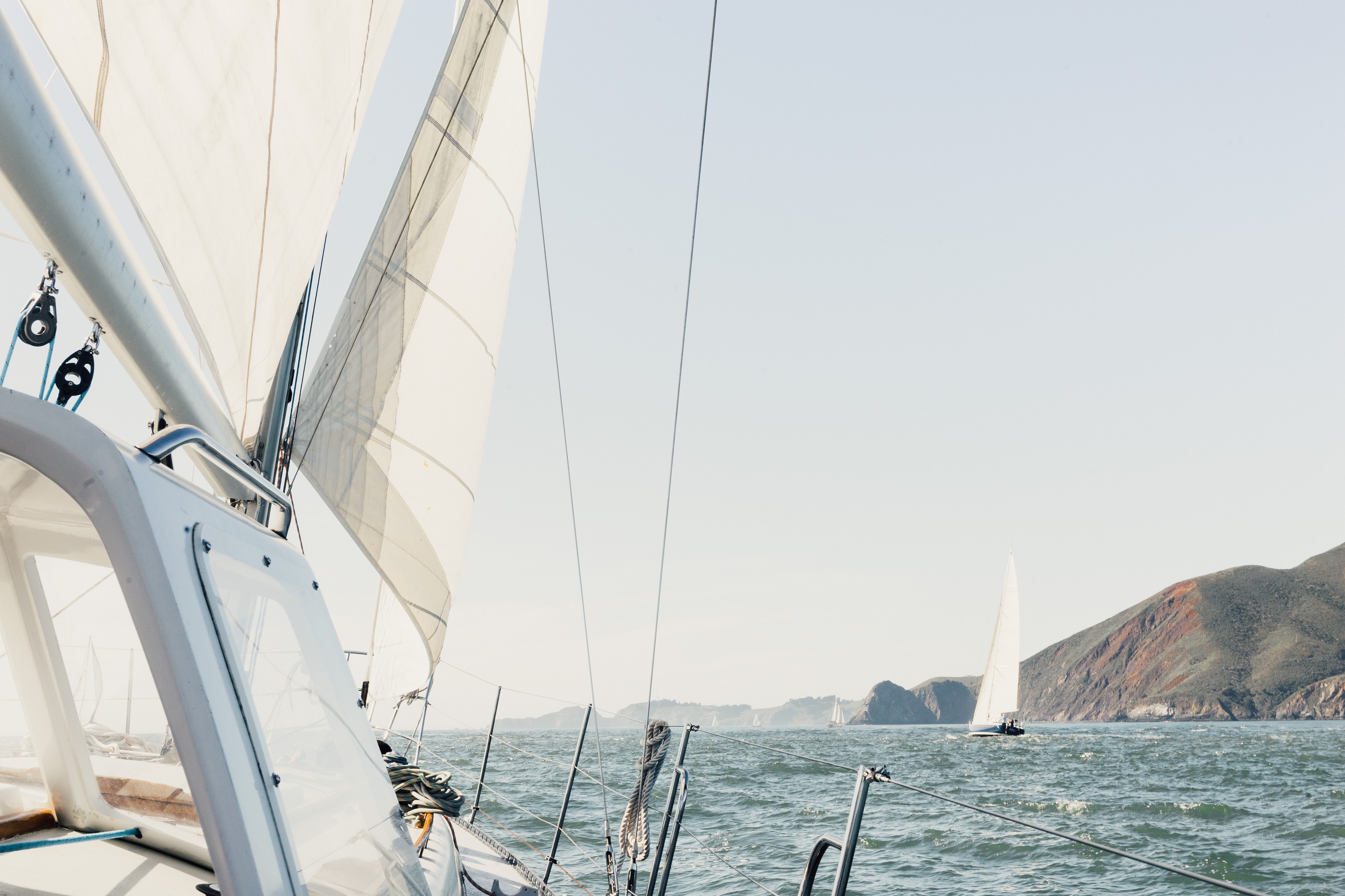 3. Taste traditional Kefalonian Food
This experience is for food lovers visiting Kefalonia. This experience is hosted by Sea Rock restaurant. It takes place in a beautiful setting of their well-maintained seaside garden. You will experience all that Kefalonia offers through local products from modern meze dishes and traditional dishes with a rich history. The local cooks will show you the secrets behind creating such magical dishes, and you can help in the preparation if you want. The experience lasts for around 2 hours and is an innovative way to experience the local culture through food's universal language. 
4.Chill on the beach
Agia Efimia is home to some beautiful beaches. A day spent soaking up the Greek sun on the beach is a day well spent. See below for our breakdown of the best beaches in Agia Efimia.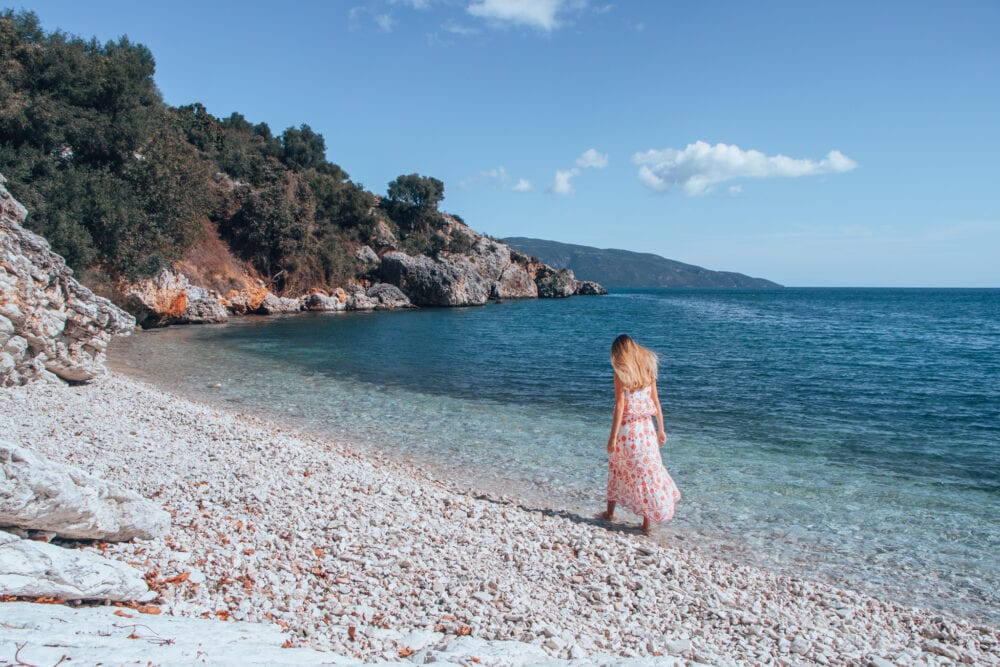 5.Agia Efimia View point
There is a beautiful viewpoint in Agia Efimia that offers gorgeous views over this incredible village. There is an old wooden bench here which makes for the most serene spot to sit and take in the views. 
For more things to do on Kefalonia island, check out our guide to the ten best things to do on Kefalonia island.
Nearby Beaches
Beach Elies
Next to Paradise beach bar, you will see some steps down the cliff-side to a tiny white pebble beach. This beach is so beautiful and the perfect way to spend your day. We visited during the low season, so we were lucky enough to have this slice of heaven to ourselves. There is a slightly larger beach adjacent to it, so you should find a suitable spot between the two.
Myrtos Beach
Myrtos beach is the most spectacular beach in Kefalonia. It rests between two mountains giving it an incredible backdrop and dramatic look. This beach is famous for its sparkling water and sheer beauty. The sea here has tiny pieces of Marble that the sun illuminates when picked up by the sea and created such a beautiful effect. The sea does look like it's sparkling. 
Once you make it to the beach, there is an excellent sea cave and plenty of rocks to jump off. You could easily spend the whole day playing on the beach, soaking up the Greek sun and swimming in the sea.
Mytros beach is near the town of Divarata, which has some lovely taverns and restaurants to head to on your day on the coast.
For more incredible beaches, check out our complete guide to the best beaches in Kefalonia here.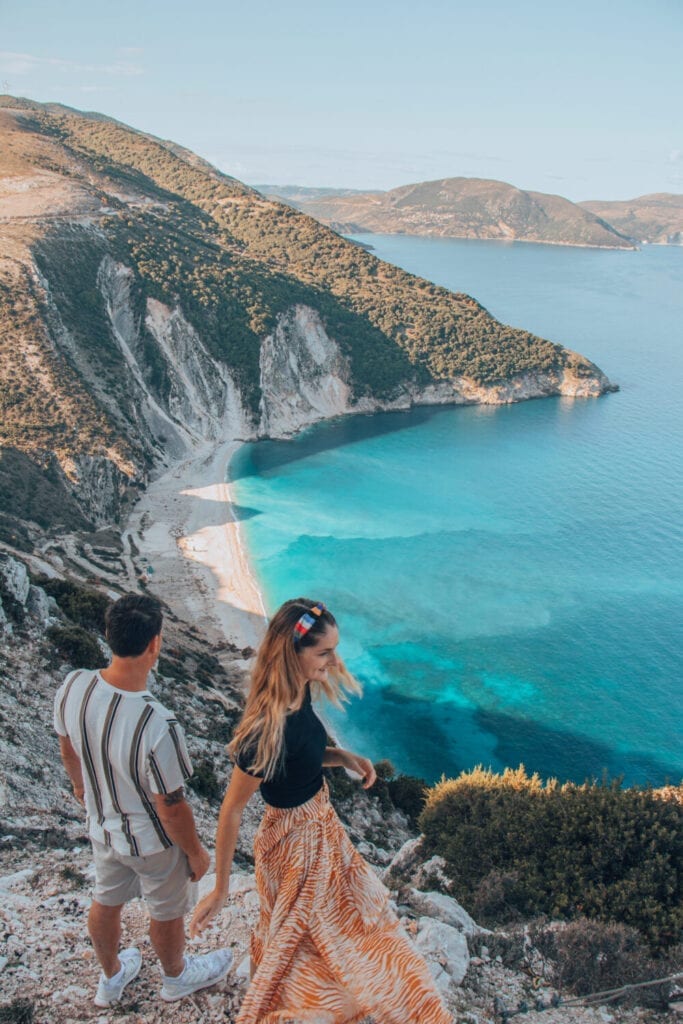 Where to Eat in Agia Effimia
Paradise Beach Bar
If you visit this small town, you must eat at Paradise Beach bar. It was our favourite restaurant out of all the ones we visited during our week-long stay. The views of this restaurant are excellent, and the food was just incredible. If you fancy a real treat, order their Chocolate souffle.
The Pergola
If you are looking for incredible local food, this is the place to come. Check out their TripAdvisor.
Nearby towns and villages to Agia Effimia
Karavomylos is the next town along from Agia Efimia. It also sits in Sami Bay. This small town has so much to offer. Karavomylos village is home to some of Kefalonia's most spectacular tourist attractions.
Melissani Lake. This underground lake is a must when in Kefalonia. At certain times of the day, it is illuminated by the sun. It is a magical experience to be taken out on an old wooden boat and admire the stunning water. 
Karavomylos lake. This lake is so beautiful. Waters from one side of the island travel underground and mix with saltwater making this lake endearing. 
Drogorati Caves. Only a short distance from Melissisani lake, these Caves are worth visit. Locals discovered the set of caves after an earthquake revealed the entrance.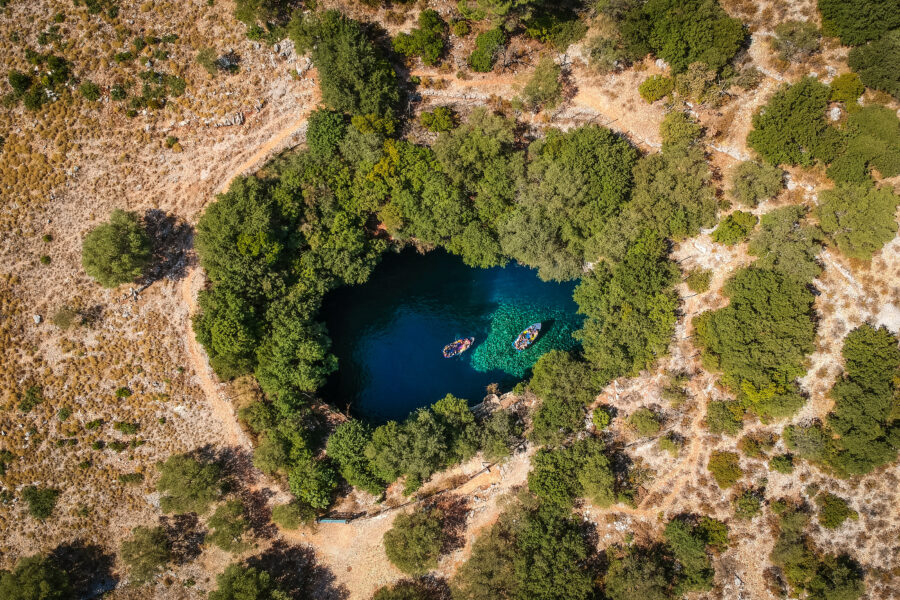 Sami is the next town along, a walkable distance from Karavomylos. It is the biggest of all the villages in this guide and one of the main ports in Kefalonia. We found it a little too commercialised and preferred the smaller towns like Karavomylos and Agia Efimia. However, there are some beautiful places to eat in Sami, and if you fancy somewhere a little busier, it might be for you. 
This Nautical Museum exhibits all the types of vessels of Traditional Greek boat building. Full of intricate and awe-inspiring work, it is a sensational museum. At 4 euros per person, you can observe early fishing vessels, merchant ships and clippers.
It is a small museum, so you likely won't need longer than an hour to have a look around. It is undoubtedly worth the time to visit.
Check out our guide to the best towns and villages on Kefalonia island.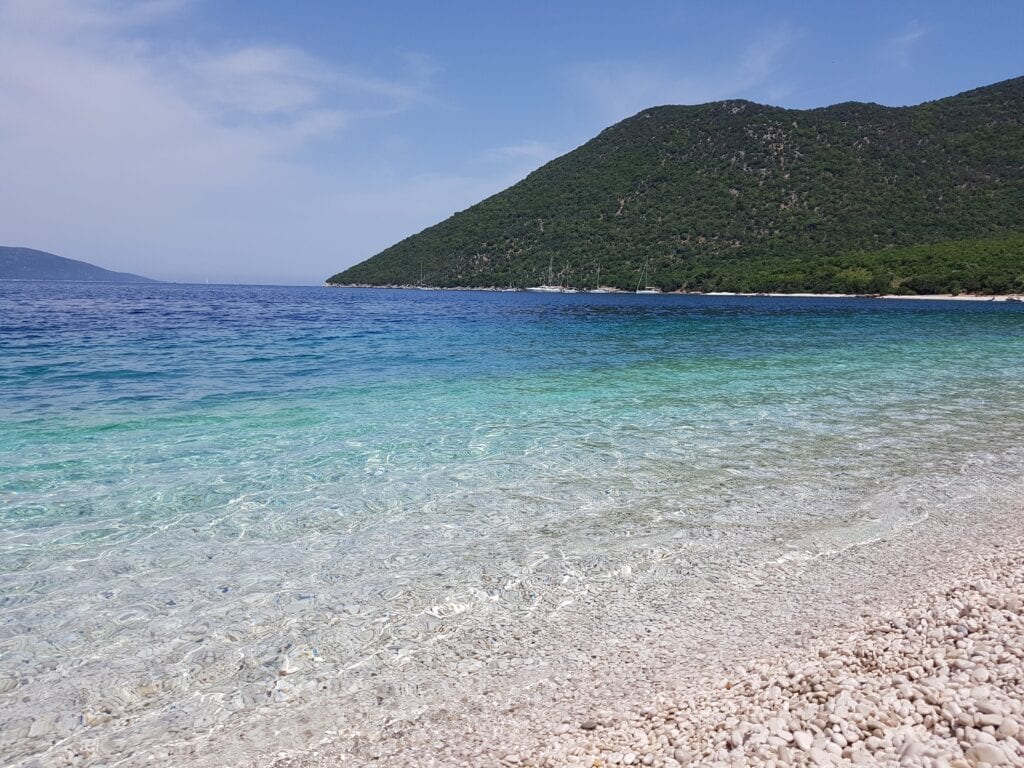 Gonatas Hotel. This hotel has basic but nice rooms. Access to the nearby beaches is what makes this hotel so great!
For more hotels check our our guide to the best Hotels in Kefalonia.
Green Leaf Cottage: This cottage is a cosy summer home with a minimalistic style and rustic touches. The views from the terrace and beautiful
Palm Mansion: This beachfront villa is just breathtaking. With a private terrace, swimming pool and easy access to the beach, this villa is just perfect.
Remvi Villa. This villa is slightly higher up, with amazing views but plenty of amenities.
For more, Villas and Apartments check out our guide to the 10 best villas in Kefalonia.
Summary of Agia Efimia Village in Kefalonia
The village of Agia Efimia, in Kefalonia island, is truly unique. It is such a beautiful place with an incredibly green lush backdrop.
What's Next