This blog post contains affiliate links. As an AirBnB associate we may earn a small commission to fund our coffee drinking habit if you use these links to make a purchase. You will not be charged extra, and you'll keep us supplied with caffeine. It's a win for everyone, really. Check out our Disclosure policy for more.
5 Unmissable Hikes in Sri Lanka
Hiking in Sri Lanka is an explorer's wildest dream. It is filled with dense jungles, dramatic mountains, cities with skyscrapers and villages that sit in the misty mountain tops, Tea plantations, lakes and vast plains with elephants roaming. This country is so magical, and each corner seems to contrast with one another. If there is one thing this magical place has in common everywhere, it is its sheer beauty. Hiking is a fantastic way to experience insane viewpoints and the diversity of this landscape. There are many incredible hiking spots and places in Sri Lanka. We were lucky enough to do loads of hikes in our two-week stay. Here's our complete guide to the best hikes in Sri Lanka.
Ella Hikes
The first two hikes on this list are both from the magical town of Ella. If you have done any research on Sri Lanka, you will be acquainted with the town of Ella. No pictures can do this place justice. It is so beautiful and captivating. Although it is a tourist hot spot, it is still an incredible destination and lives up to the hype.
Little Adams Peak
We fell in love with the exotic countryside and breathtaking views at the top of Little Adams Peak. Of all the hikes we did in our two week trip to Sri Lanka, Little Adams Peak in Ella was undoubtedly our favourite.
To climb Little Adams Peak for sunrise is by far the best experience this mountain has to offer. It is easy to follow the path and only takes around 20- 30 minutes to hike up. This hike is more about the end view than the hike itself.
If you fancy a bit more of a challenge, head across to the next peak. You can see it from the top of Little Adams Peak, and it provides better views than the official peak. There is a path down that you can follow. It's not as well-trodden as the hike to Little Adams Peak, but you can still see it. The views and walk add some variation to this hike, and it is so worth it for the views. This peak also tends to be a little less busy.
Check out our guide to Little Adams Peak for a complete guide to the hike.
Ella Rock
Ella Rock is another incredible hike in Ella. It is a bit more of a challenge than Little Adams Peak, and the viewpoint is different.
We had bad luck when we climbed Ella Rock. We could only see the cloud in front of us!
After speaking to some other explorers, we decided to hike both Little Adams Peak and Ella Rock in the same day. Little Adams Peak for Sunrise and Ella rock in the afternoon. It is doable and allows you to do both hikes in a short trip to Ella. If you have to pick one, we would personally choose Little Adams Peak for sunrise.
Pidurangala Rock
Heading to Sigiriya is a must when in Sri Lanka. It is home to the famous Lion Rock that is even more incredible than any picture can do justice. Lion Rock is a UNESCO World Heritage Site, famous for its palace ruins on top of a massive 200-meter high rock. You cannot come to Sri Lanka and not experience this landmark.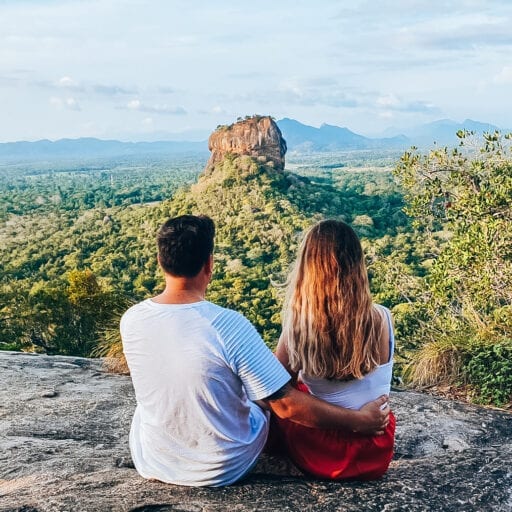 Lion Rock or Pidurangala?
After first researching Sri Lanka, we didn't know whether to climb Pidurangala rock or Lion rock itself. After speaking to fellow travellers and locals, we decided to hike Pidurangala rock.
Pidurangala rock is a much better choice between the two. The experience is better, and the views even more incredible. The hike up is straightforward. Although the last part does require climbing some pretty large rocks, it is not suitable for hiking with children.
Hiking Pidurangala for sunrise is an incredible experience, it is also quite popular with tourists, so expect to share. However, the top of Pidurangala rock is quite large. It's easy to find a spot to sit and watch the sunrise over the plains in front of you.
You could do both Sigiriya rock and Pidurangala rock in the same day. If you chose to do this, do Pidurangala Rock first. The path here opens up first and in time for sunrise, whereas Lion Rock opens late. This will allow you to catch the sunrise and climb at a cooler part of the day before then heading over to Lion Rock. Something to bear in mind about Lion Rock is that there is only one path up, and it can be hectic.
This hike is easy to access if you are staying in Sigriya itself. However, many people travel from Dambulla to explore. We had a lot planned in Sigiriya, so it made sense for us to stay here.
Important information
 There is a temple at the beginning of the walk. You must remain covered up and remove your shoes for this portion of the hike. There are also monkeys on the route, we had no problems, but it is worth just being aware they could be above you. Make sure you keep any food out of sight and smell!
Check out our complete guide to Pidurangala Rock here.
World's End
World's end hike sits in Nuwara Eliya. This sleepy town is sometimes passed by when people visit Sri Lanka. However, we think this is a mistake. This misty town has a slightly colder climate than other places in the mountains like Ella, but it has such a welcoming, cosy feel. Full of incredible, powerful waterfalls that are so wild you cant talk to the person next to you!
World's End hike is just a little drive outside of Nuwara Eliya and provides some of the best views in Sri Lanka.
One thing to bear in mind with this hike is that you need optimum conditions to see the viewpoint. Otherwise, you will be staring into a wall of white cloud! The weather changes so quickly in Sri Lanka. There is no way to guarantee the view.
The hike takes around 2-4 hours. We chose to take food up and eat breakfast at the viewpoint. We also explored the nearby waterfalls, so we took a lot longer to explore.
The trail is a loop, and it doesn't matter which way you go. There are two viewpoints, little worlds end and worlds end. The viewpoint at Little Worlds end was our favourite of the two. If you are going to stop for some food, we would recommend it here.
There is also a waterfall on this hike, Bomberella Waterfall. It is a pretty waterfall, and if you have the time, it is certainly worth stopping by! The walk itself is as beautiful as the viewpoints. With open plains that look like they are plucked right out of Jurassic Park's movie set, the path itself is incredible.
Important information
Your bags are checked at the start, and no plastic is allowed to be taken into the national park. Make sure to only bring sustainable alternatives with you. This is great for the planet anyway!
Go and get your tickets yourself upon arrival. This way, you know you are paying the right amount. Your driver might offer to go for you, but it is better to go yourself.
Prices and Entry
The cost of this experience depends on so many factors, the season, where you are coming from and how you chose to do it. From Nuwara Eliya, you will probably want to get a car and a driver to get you there for sunrise. For one person, it should never cost more than around 25 pounds at the very most. The more people you do this experience with, the cheaper it becomes as you divide tax and service charge. This price includes a driver there and back and entry to the park.
Note: Prices and exchange rates constantly change, so it is hard to keep this information completely accurate. This should be used as a rough guide.
Knuckles Mountain Range
Knuckles mountain range is the most rugged and raw mountain range and hiking trail on this list. This mountain range is named after its likeness to human knuckles when viewed from above. It is full of diverse landscapes, waterfalls in every opening, misty mountain tops, quaint local villages off the tourist track. This mountain range is simply perfect. It is excellent for more experienced hikers and those with a real sense of adventure. Knuckles mountain range consists of 34 mountains. The options for hiking are endless.
Note: You must have a guide if you choose to hike the Knuckles mountain range. Certain areas are protected, and you can only enter these with a qualified guide. You would also be likely to get lost in this mountain range! Because the Knuckles mountain range is protected, there are no places for food, so make sure to pack lots of food.
Serra Ella Waterfall
This waterfall is gorgeous, as long as there has been some recent rain. We headed here after a very long dry spell, so the waterfall had dried up a lot. However, if the conditions are right, this waterfall looks breathtaking. You can walk behind the back of the waterfall, and it is a beautiful experience.
The great thing about the Knuckles mountain range is that they are more off the tourist track. You are likely to be the only ones experiencing this natural and rugged part of Sri Lanka.
Hints and Tips for the Best Hikes in Sri Lanka
Weather conditions:
It is always worth speaking to a local guide before attempting a hike to check the weather conditions. The weather is quite temperamental in Sri Lanka, with clear blue skies one moment and then dense, thick cloud the next.
What to Pack
Avoid plastic. A lot of places are now checking your bags for plastic and removing this, which is excellent. Although, even if they don't, plastic is so bad for the environment, try to be an eco alternative.
Suitable walking shoes, some of these hikes are pretty adventurous. Make sure you bring appropriate footwear primarily to protect yourself from any leeches.
Summary of the Best Hikes in Sri Lanka
No trip to Sri Lanka is complete without hiking some of their incredible viewpoints. Whether you are a beginner or a more experienced hiker, Sri Lanka has it all. Discover this wonderful landscape trekking through stunning rice fields and cascading waterfalls. Watch the sunrise creep through the misty mountain tops in Ella. Whatever hike you choose, you are in for a breathtaking time. We hope this guide to the best hikes in Sri Lanka has helped you to plan an incredible trip.
What's Next?