This blog post contains affiliate links. As an AirBnB associate we may earn a small commission to fund our coffee drinking habit if you use these links to make a purchase. You will not be charged extra, and you'll keep us supplied with caffeine. It's a win for everyone, really. Check out our Disclosure policy for more.
DO GO CHASING WATERFALLS… especially Diyaluma falls in Sri Lanka.
This waterfall is wildly beautiful! Rugged yet peaceful, calming yet exhilarating. It is a must for any Sri Lanka itinerary and one of the most beautiful places to visit in Sri Lanka.
Thanks to Instagram, you have probably seen many pictures of this beauty all over your feed. However, let it be noted that no photo can do this place justice! This waterfall is beyond comprehension as to how incredible it is. It is so much fun to explore and spend your day chilling! You can spend hours sitting in the water staring over the edge at the lush green landscape. Or, if you are a little more daring, spend hours diving in and out of the different pools making your way from the bottom to the top of the impressive falls! This place exceeded every expectation we had and should defiantly earn pride of place on your Sri Lanka plans.
Chances are you have probably read about the pure magic of Ella, and it has firmly earned its place on your Sri Lanka itinerary. This waterfall is magnificent and only a short drive away from Ella. So before you leave Ella, make sure you take a trip to this incredible waterfall. It will become one of your best memories of this breathtaking country.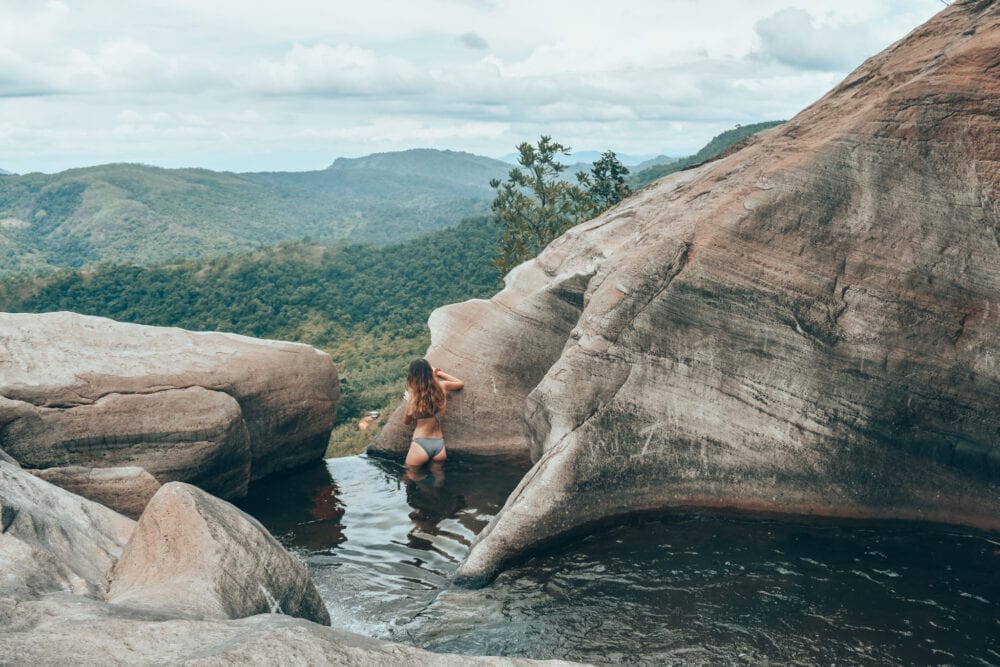 A Few Key Details:
Diyaluma waterfall is the second tallest waterfall in Sri Lanka.
It is FREE!
Google maps will take you to the bottom of the waterfall, and then you have to make your way up.
It has a series of natural infinity pools.
It is one of the best places in Sri Lanka and worth the short hike!
How to get here
Diyaluma falls is situated in Poonagala village. Like many other places in Sri Lanka this village is full of gorgeous tea plantations and lush greenery. We would recommend getting a taxi or uber here. If you are using Google Maps or MapsMe, it will take you to the bottom of this waterfall. It is an impressive sight and worth spending some time taking in the sheer height of the waterfall from here. However, you will want to make your way up to enjoy this beauty!
Loads of locals will greet you offering to walk you up to the top. If you are nervous or unsure in any way, you can pay a local to walk you up. It can be a pleasant experience to chat with them. Whilst we didn't do this at Diyaluma falls, we did do this for Ella Rock. A boy offered to be our tour guide and we said yes. It was quite humbling to hear about his life in Sri Lanka and made the experience so authentic. There are two routes up the waterfall. One path goes up the side of the waterfall and is the most obvious route. The second path requires getting a tuk-tuk a little distance away from the waterfall and a more gradual hike up. 
Did you know you can now hire a Tuk-Tuk to drive yourself around Sri Lanka!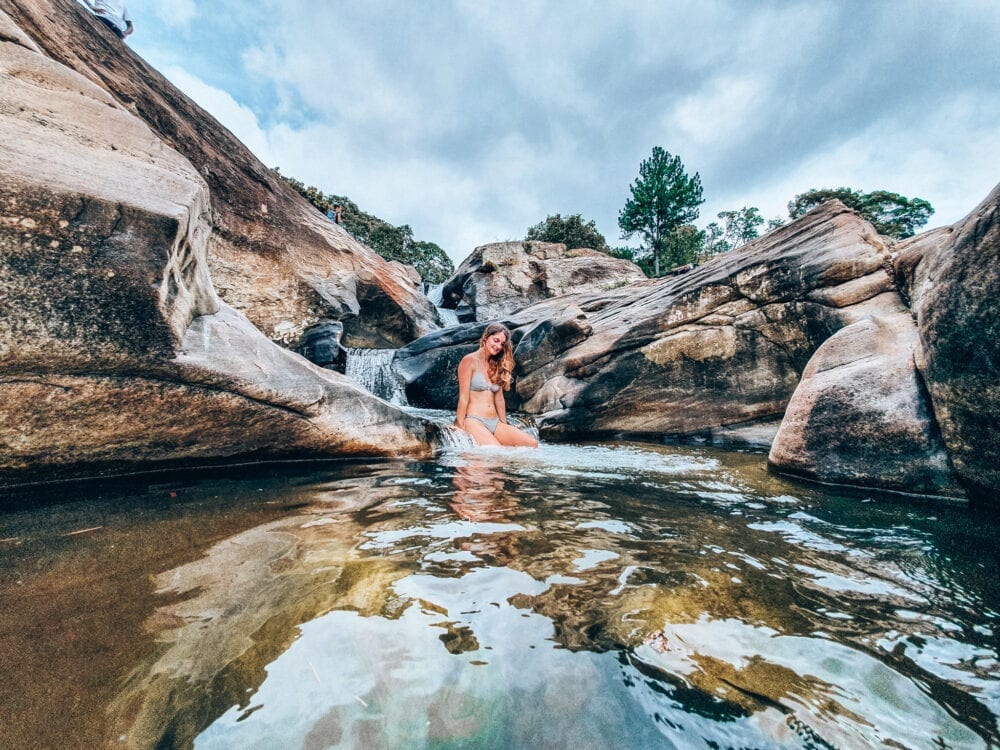 How to Hike to Diyaluma Falls
Direct Route Besides the Falls
This route can be a little dangerous and slippy. We would recommend taking the other path, especially if the ground is wet. The hike up is shorter and less time-consuming, but with the added risk of slipping. We took the other route and had no problems at all.
Tuk Tuk and Trek
Although the first option may seem more appealing, getting a tuk-tuk and walking the short hike up is a much safer route with less chance of slipping or getting injured. A bonus, if you find yourself a good tour guide, they will probably be willing to take your photos for you.
Once you get to the tuk-tuk drop off point, it is about a 20-minute walk to the top of the Diyaluma falls. You will be greeted by a staggering amount of cascading pools working their way down to the dramatic cliff edge. We recommend working your way down to the first set of pools first, as they offer the best views. After this you can choose others falls behind you as you go!
What to do at Diyaluma Falls
You could easily spend all day chilling in the different pools exploring and sunbathing. However, if you are short for time, you need at least have a day to experience this magical place. 
Chill in the water at Upper Diyaluma Falls
The infinity pools
The first set of falls before the cliff edge drop off, crashing 628 feet below! It is a serene experience to be sitting in the relaxing atmosphere of this pool to then be greeted with this dramatic scene just below.
The higher Falls
The falls further up are so great for exploring and cliff jumping. They are the really fun part of making your way to the waterfalls.
Sunbathe on the rocks
After spending your time exploring, cliff jumping and swimming in the pools. It would be rude to leave without a little bit of sunbathing. Bring a book, lay on the rocks and enjoy some chill time before heading back down.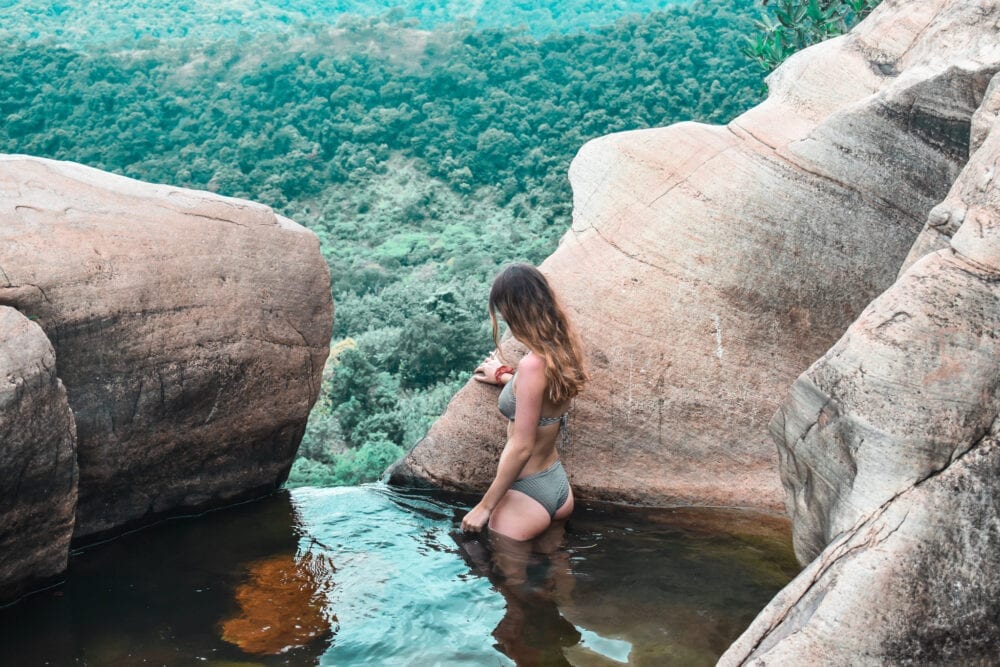 The Best Time to Visit Diyaluma Falls
Preferably you want to be at Diyaluma falls when it is dry. Primarily due to the slippy nature of the rocks on your way up. We visited during the wet season and managed to get quite a few dry days to explore. As with most places, and especially with an Instagram hot spot, it is worth heading here as early as you can. This will allow you to be in with the chance of there being fewer people around. 
Where to Stay in Ella
We created a guide on the best Airbnbs and Hotels in Ella. But in the meantime, here are our top recommendations for staying in Ella, Sri Lanka.
The Best Hotel: Heritage Sri Lanka – Central Ella. We spent one night in this hotel and got upgraded to a great room on the top floor. This hotel is just excellent. With all the necessities for a luxury hotel but the feel of a boutique hotel, this place was just amazing. Its location is very central to Ella town, allowing you to walk to all of Ella's fantastic cafés and restaurants.
The Best Airbnb in Ella Stargazer Airbnb – A short drive from Central Ella but with incredible Views! This Airbnb is just beautiful. Set a little distance from the centre of Ella but surrounded by jungle and greenery. The balcony is the perfect place to read a book and drink a cup of Sri Lanka tea. The hosts here also provide home-cooked meals that are just incredible, better than most restaurants.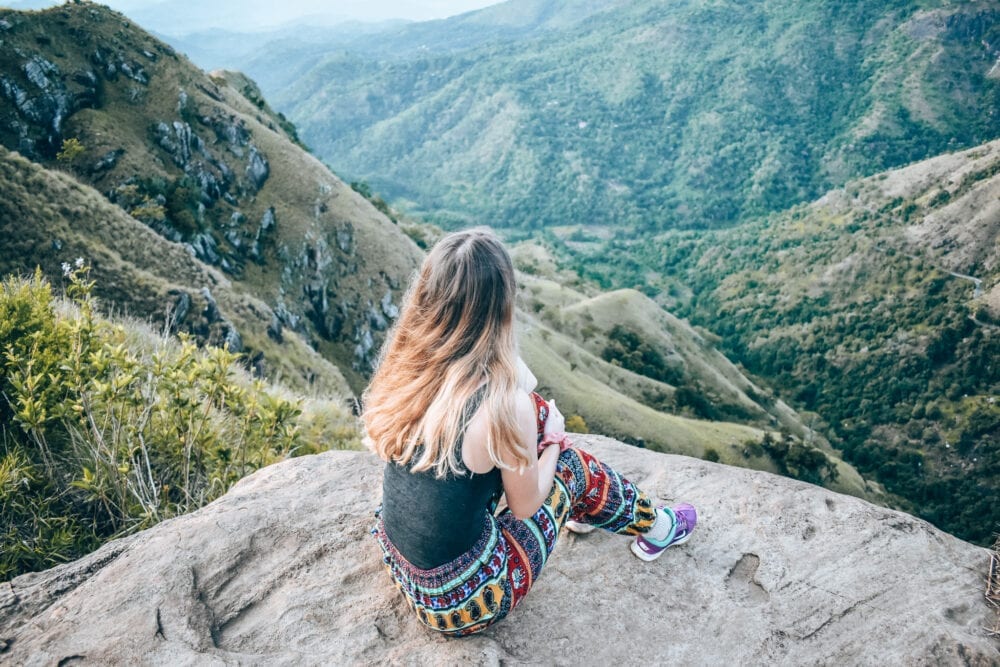 Where to Next?
From Ella and the area of Diyaluma falls, it would make sense to head to Udawalwe for the incredible safari experiences and the ethical elephant orphanage that is one of the best experiences in Sri Lanka. 
If you decide to go in the other direction, we would strongly recommend heading to Nuwara Eliya, Sri Lanka's Mountain and Mist destination!
Summary of our Guide to Hiking Diyaluma Falls
Hopefully, this guide has persuaded you that experiencing Diyaluma falls is a must when in Sri Lanka! Whilst it might require a little more research than some others in Sri Lanka. But, the reward is certainly worth the work! 
What's next?