This blog post contains affiliate links. As an AirBnB associate we may earn a small commission to fund our coffee drinking habit if you use these links to make a purchase. You will not be charged extra, and you'll keep us supplied with caffeine. It's a win for everyone, really. Check out our Disclosure policy for more.
Kefalonia is full of beautiful towns and villages. We spent a week exploring this beautiful island in the Ionian sea. It is full of charming and cosy villages and large towns and harbour. Out of all the ones we visited, we fell in love with the beauty and glamour of Fiskardo Bay.
A Guide to Fiskardo Harbour
Fiskardo Harbour
Things to do in Fiskardo
Places to Eat in Fiskardo
Fiskardo Harbour
Fiskardo is a village sitated on the northernmost part of Kefalonia. This village is the most beautiful bay with pastel coloured houses, fringed with tall pine treets and boats slowly swaying in the harbour.
Fiskardo Bay itself is one of the most popular ports across the Ionian islands for Yachts and boats. The waterfront is full of yachts and beautiful resturants and cocktail bars.
Kefalonia experienced an earthquake in 1953 before this time there was lots of venetian architeture, but most of it was lost in the quake. Fiskardo was lucky enough to still have some of its Venetian architecture making it a really special and unique part of the island.
Fiskardo Bay was our favourite place in the whole of Kefalonia and we chose to stay a 10-minute drive away.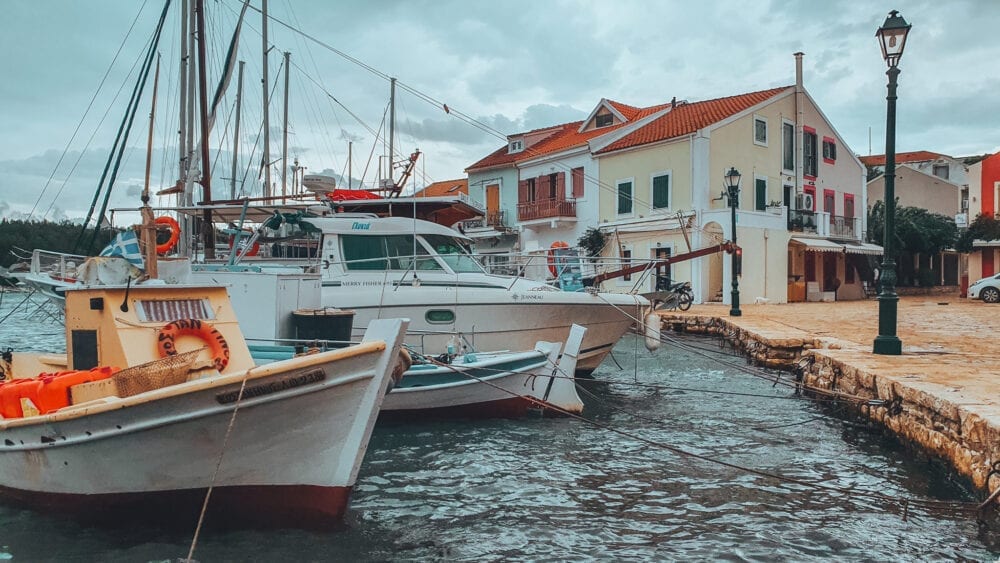 Things to do in Fiskardo
Fooki Beach
This beach is so unique! Surrounded by dense forest and in a tiny cove protected from the elements.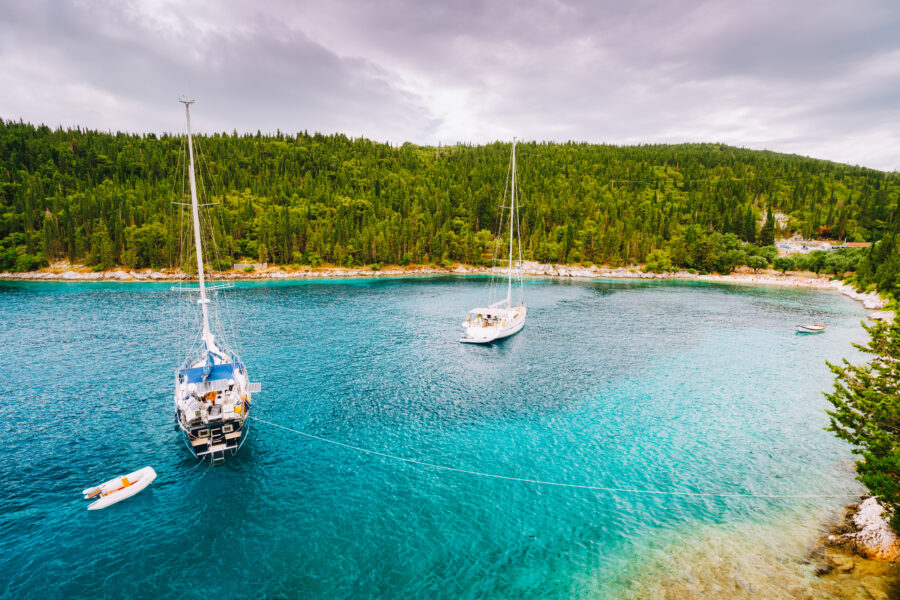 Emplisi Beach
We loved this visiting this little beach in the evenings. It is only a small beach but its so beautiful. With perfect white pebbels and framed with white rocks. Whilst we feel there are better beaches to spend a whole day at, but for a quick trip this beach is perfect.
Theres no dening the best way to experience Kefalonia is by boat! With so many beaches only accessible by boat, this is a great way to access them. You can also head to Ithaca, the neighbouring island that is meant to be so tranquil and beautiful.
This company has some really reasonable prices and provides lots of guidance on the best places to head too.
Explore the beautiful streets
Simply walking around Fiskardo and admiring the beautiful architecture is a lovely way to spend your time. There are so many cute streets and things to see.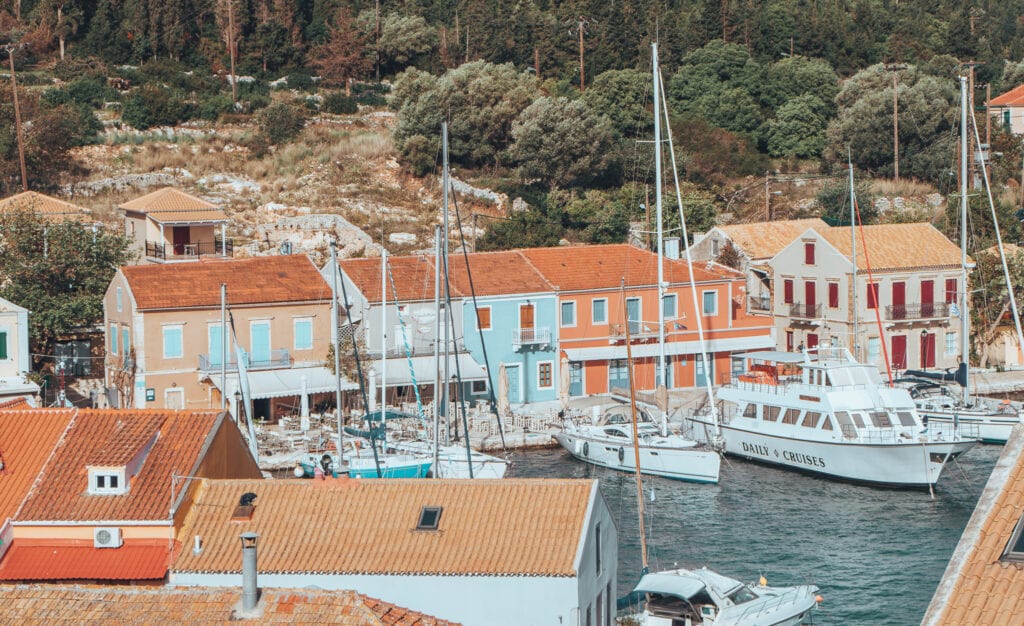 Places to Eat in Fiskardo
The best for local food. Nicolas Taverna offers the best views over Fiskardo bay. This amazing place is known for its friendly service and great local food.
We loved this little restaurant. They have outdoor seating right by the water's edge and it makes for a perfect romantic setting.
Milos/Windmill
One of the few places open for breakfast. There is nothing more perfect than a cup of coffee with the sound of boats in the harbour sitting right by the sea. Heading to the bay early for breakfast gives you a chance to enjoy Fiskardo before the rush of tourists later in the day.
the best place in Fiskardo Harbour for incredible desserts. Great for brunch or for a tasty treat. Make sure to order the baklava and the praline cheesecake.
How Long do you need in Fiskardo harbour?
Alot of people visit Fiskardo as part of a day trip. However you could easily stay here for much longer then a day and use it as a base to explore the whole of Kefalonia. It has great access to many other places on the island and you can easily access Ithaca from here. If you do chose to only spend a day we recomend exploring the whole bay and neighbouring beaches.
We stayed about 10 minutes from Fiskardo bay and were still overwhelmed by its beauty even after a week.
Places to stay in Fiskardo
The Best Airbnbs
Here are out top three Airbnb recommendations for Fiskardo Bay.
This Airbnb is nestled within acres of serene cypress trees with incredible views out to Ithaca and Lefkada. This villa is by far the most incredible in Fiskardo. Both beaches of Emblisi and Foki are only 10 minutes on foot. The Best thing about this Airbnb is that it is within walking distance of Fiskardo but allows you to escape to a peaceful villa protected from the noise of Fiskardo town.
Unique Features about this Airbnb
Sleeps: 7 Guest
Size: 3 bedrooms / 5 beds / 3.5 baths
Price: Check out the latest prices here.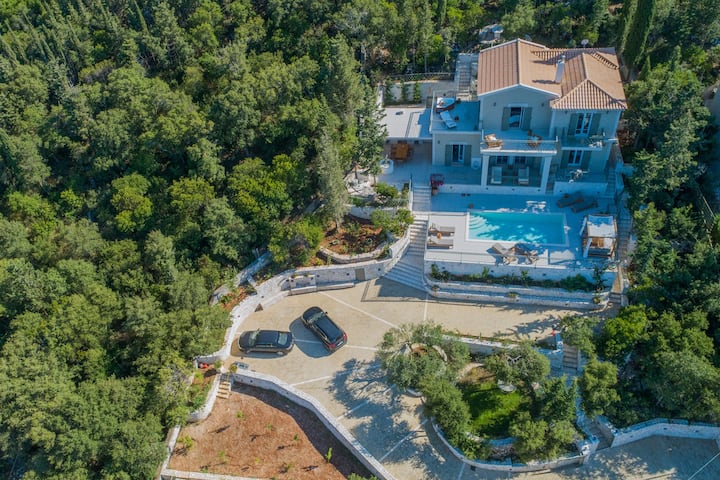 This Airbnb is perfect if you wish to be right in the heart of Fiskardo. Beautiful views and a private natural swimming pool, in front of you. this Airbnb is really incredible.
Unique Features about this Airbnb
Sleeps: 4 guests
Size: 2 bedrooms / 3 beds / 2 baths
For more information on where to stay in Kefalonia check out our guide to the best Kefalonia towns and villages.
Near to Fiskardo
Check out the Airbnb we stayed in here. This Airbnb was incredible for sunset, and we loved sitting outside for dinner each night. Double doors open up from the master bedroom right onto the beautiful terrace. It was truly romantic. It is where we got engaged in 2020, so we can guarantee this place is special.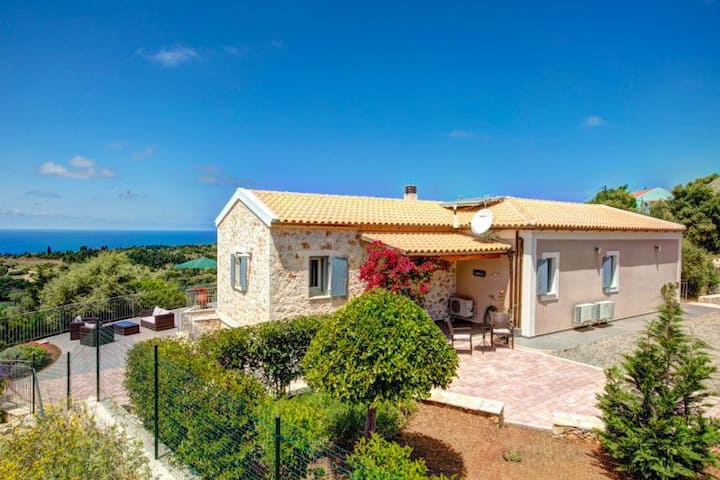 Looking for other options? Check out our guide to the best Airbnb's in Kefalonia.
<div><script src="https://www.airbnb.co.uk/embeddable/airbnb_jssdk" async=""></script><div class="airbnb-embed-frame" data-view="a4p_collection_embeddable" data-id="401925″></div></div>
The Best Resorts
This resort is so beautiful! Enclossed with cypress and cedar trees and panoramic views of the mountains and sea, this resort is simply stunning.
Perfect for couples and only a 10 minute walk to Fiskardo bay. An ideal location for those looking to have a peaceful getaway only a stones throw away from the hustle and bussle of Fiskardo Bay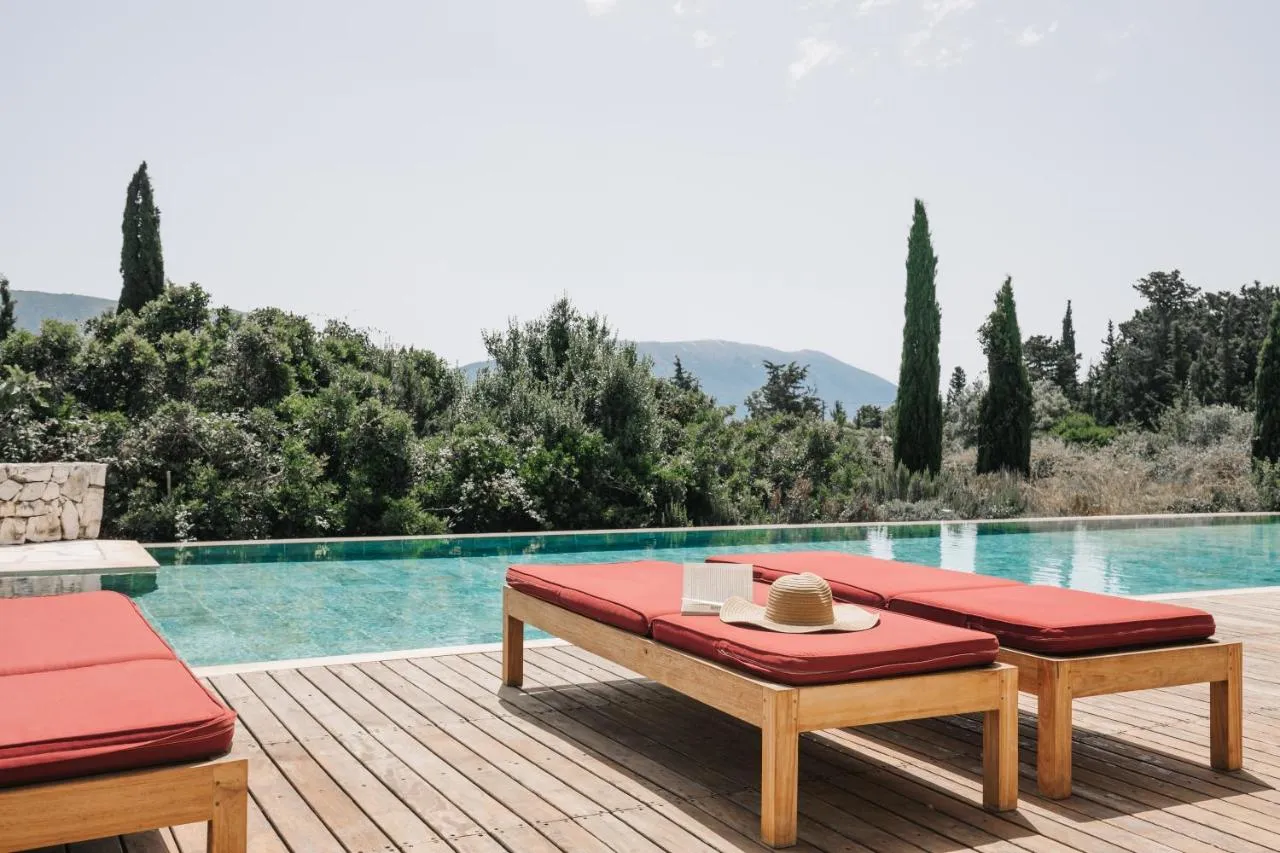 Archontiko is situated in one of Fiskardo bays most iconic buildings. With its pink coloured walls and contrasting blue shutters, this converted mansion offers elegant rooms with beautiful views that will place you right in the heart of Fiskardo bay.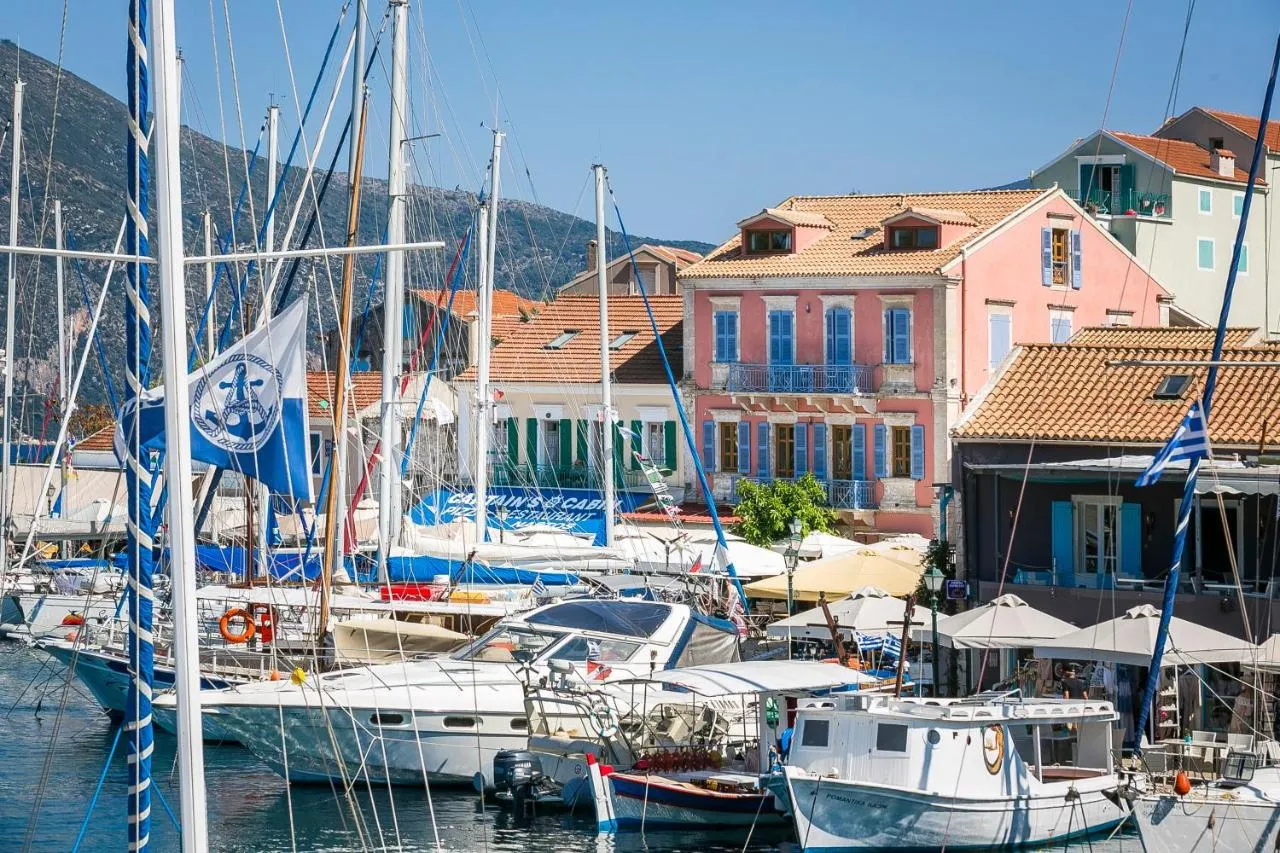 This resort is so well known for the hospitality of the staff who work here. Everyone is so kind and the owners will do everything they can to make your stay perfect.
This resort offers a fresh water swimming pool, amazing views and really affordable prices. A stay here is sure to make your trip extra special.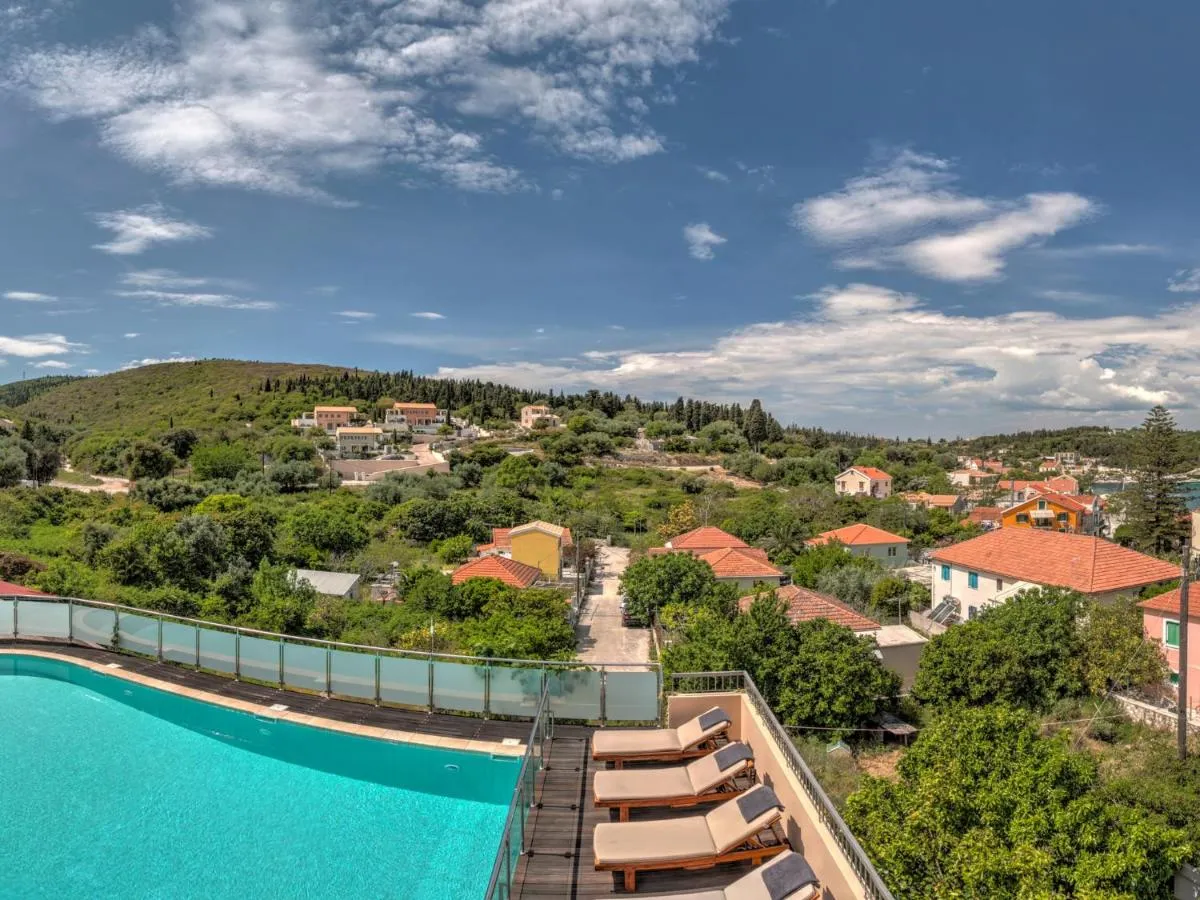 Check out this resort here.
Places near Fiskardo
Assos town is such a beautiful and endearing town. This town is only around a half an hour drive from Fiskardo. It makes for the perfect destination for a day trip or even for a nice lunch or dinner.
Assos has some beautiful venetian architecture and colourful pastel houses. It is quite similar to Fiskardo in its appearance, but has its own character that makes it unique in its own right.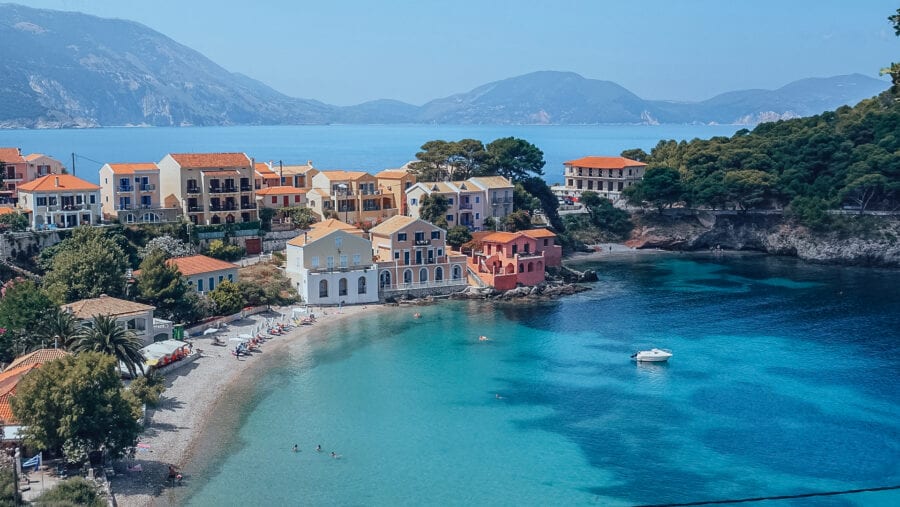 Myrtos Beach
This beach is the most stunning beach in the whole of Kefalonia, maybe even the whole of Greece! This beach is renowned for its beautiful turquoise water and dramatic coastline.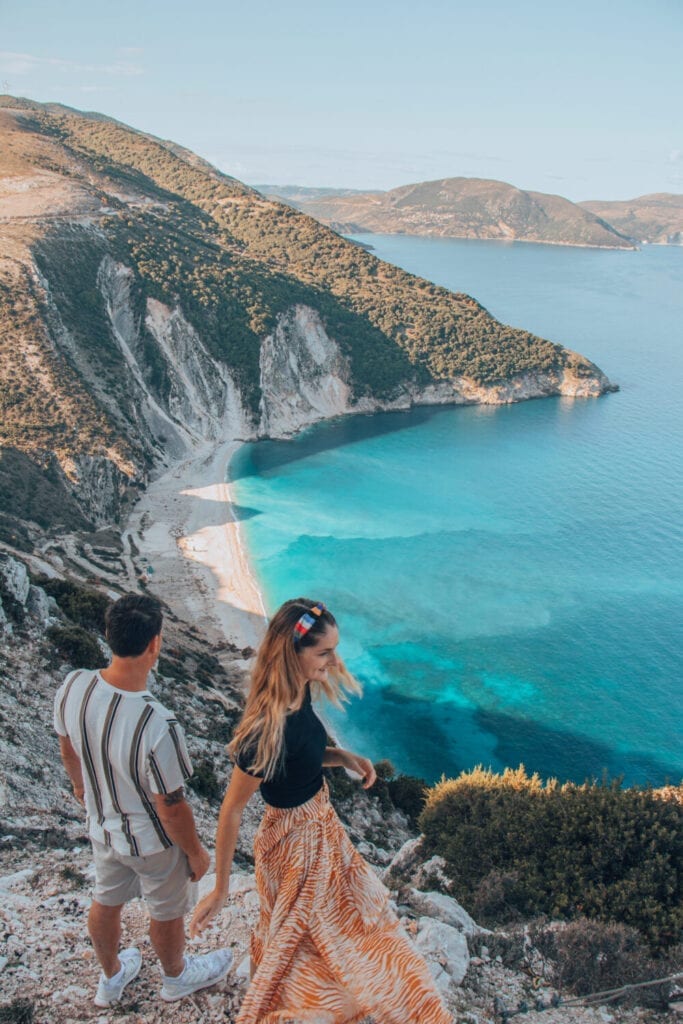 Kefalonia is full of so many charming towns and villages, we would recommend visiting Agia Effima and Argostoli. Read our guide for more.
Summary
We hope you enjoyed our guide to Fiskardo. Whether you choose to spend a day here or a week, this is such a beautiful part of Kefalonia island and offers the best views over the Ionian sea.
Whats next?
Like It? Pin it!