This blog post contains affiliate links. As an AirBnB associate we may earn a small commission to fund our coffee drinking habit if you use these links to make a purchase. You will not be charged extra, and you'll keep us supplied with caffeine. It's a win for everyone, really. Check out our Disclosure policy for more.
Florence very quickly made it onto our list of favourite cities! City architecture and Tuscan vibes all rolled into one beautiful breathtaking place. Here is our list of the best things to do in Florence. The city is renowned for its culture, Renaissance art, architecture, and monuments this list includes all of these things! An essential read for anyone planning a trip to Florence.
Take Photos in a Vintage Photo Booth
You will find these aesthetically appealing Photo booths dotted all around the city. At only 2 euros for a film strip of four photos, it's so much fun to go and mess around getting black and white film photos. It makes for the perfect souvenir.
Although, these are vintage photo booths, meaning you cant go back and retake or edit photos. So be prepared to be spontaneous and have fun!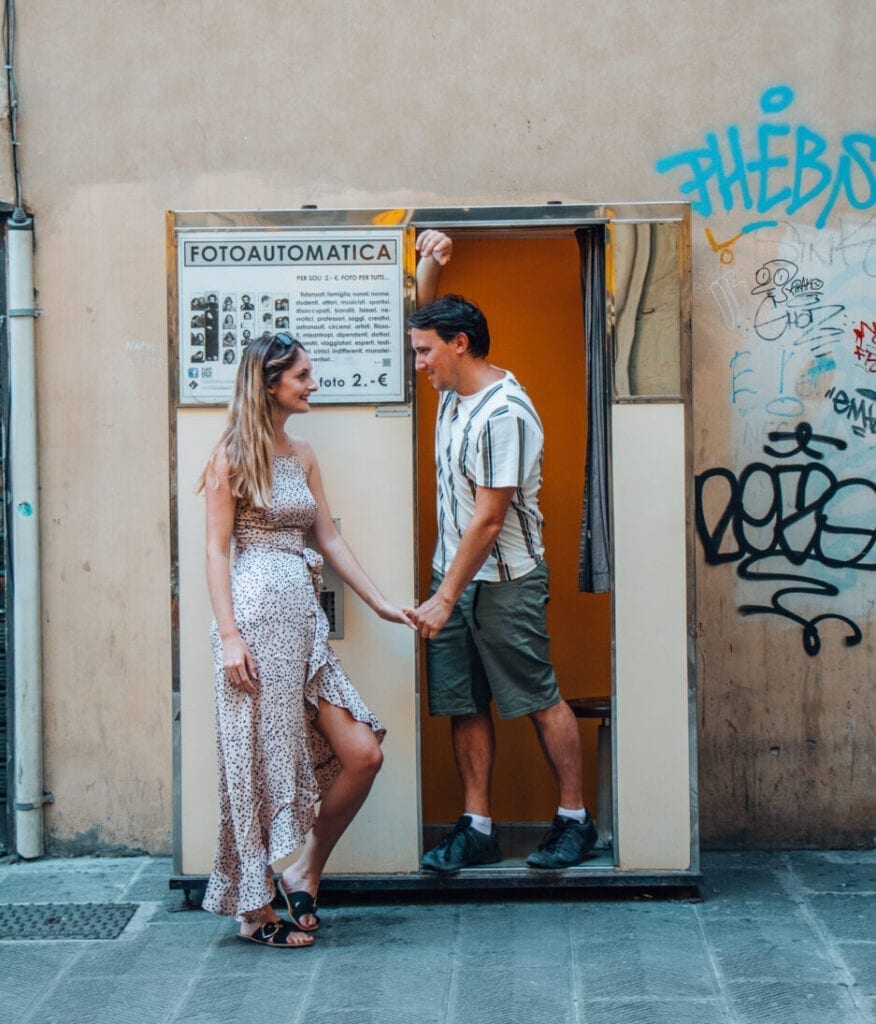 Climb the Bell Tower
The Bell tower offers amazing views over the city! It also allows you to enjoy the city from its most famous buildings.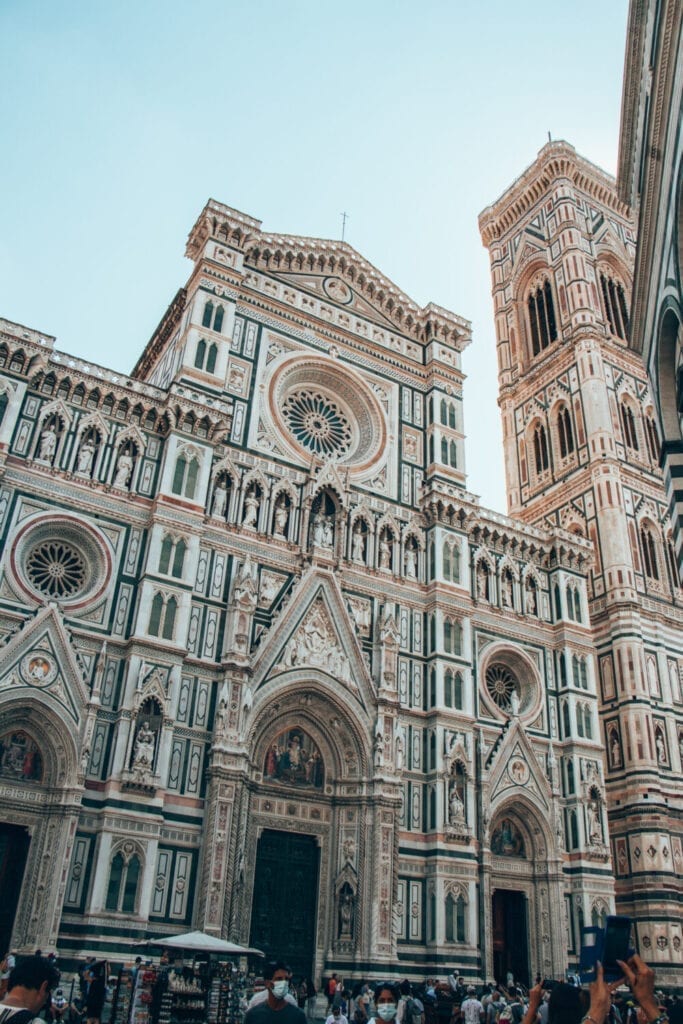 On our trip to Florence, this was closed to us (thanks COVID), but it was something we really wanted to do so we are including on our list of best things to do in Florence.
If your time in Florence is limited we recomend buying tickets to skip the queue.
Gelato in the main Plaza
You can spend hours in the main Plaza, admiring the Duomo and Cathedral, this is best done with a Gelato in hand! Our favorite Gelato shop was Gelateria Edoardo, there might be a queue but trust us, it is worth the wait!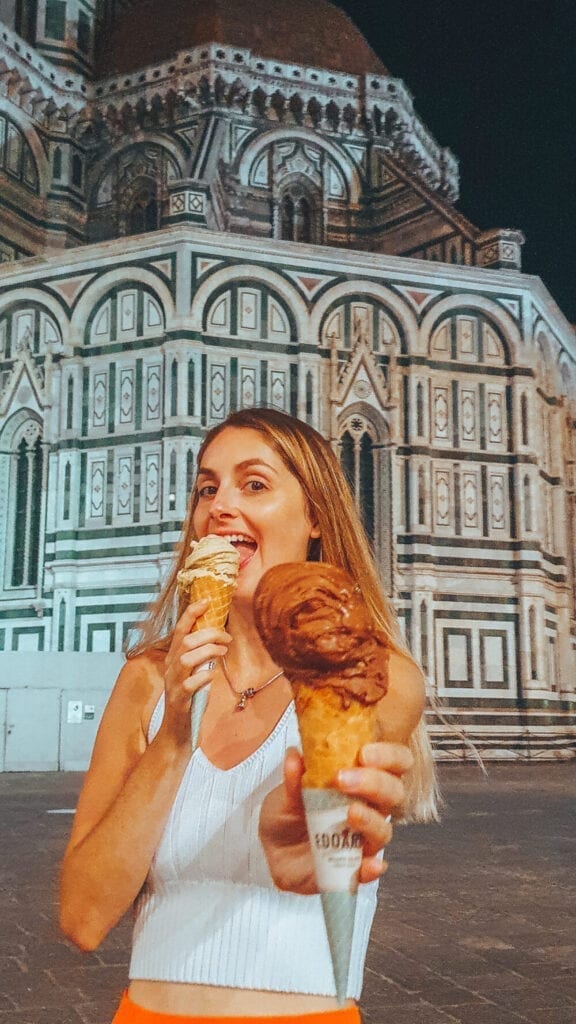 Coffee in the Plaza
Wake up early one morning and head down to the Duomo Plaza for a cup of coffee. Watch the Italian world go by with stall merchants heading down to set up and restaurant owners opening up.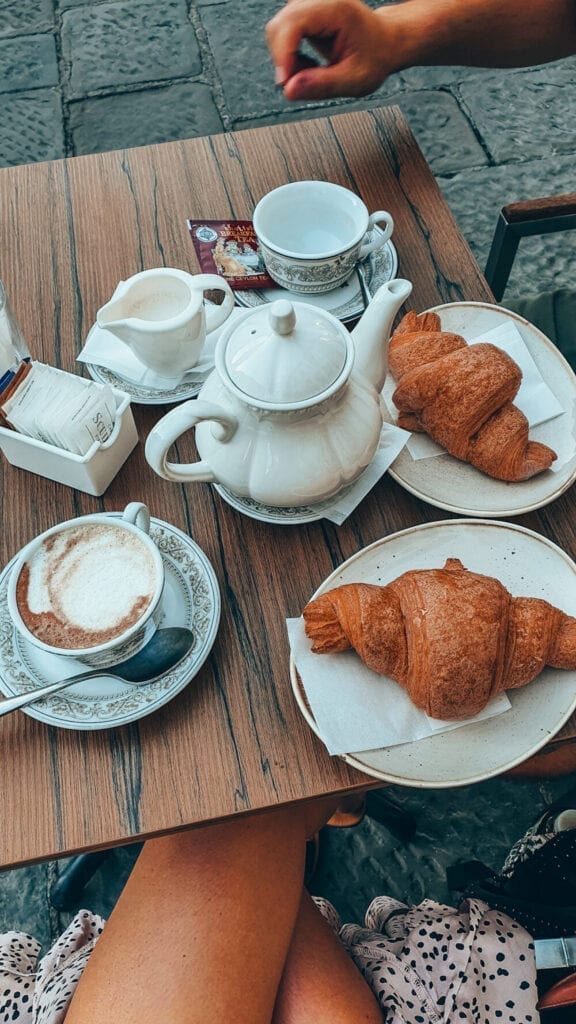 [convertkit form=1906033]
San Lorenzo Market
Head to the market to explore all things Italian! If your looking for Tuscan wines, Italian leather goods, drool worthy Italian food, this is the place to go.
The Food
Freshly made products make for a perfect lunch or to take away and have a picnic.
The most unique thing about this market is if you have limited time to explore Italy you can experience many regions all in one place! For example, if you do not have time to travel to the famous Chianti wine region, there is a booth in the market where you can taste and buy wines! You can also experience how buffalo cheese is traditionally made, and how artisan Gelato is created from scratch.
The Outdoor Market
This is a great place to look around if you love Italian goods and souvenirs. The vendors sell a variety of things ranging from pottery, notebooks, endless leather goods, and unique souvenirs. Prices vary from 2 euros for a magnet or bracelet to hundreds for a leather bag.
We would recommend spending half a day here and eating some food before heading off.
Check out our other Italy blog posts! Read here
Get Lost Strolling the Streets
You can spend countless hours just roaming the narrow streets of Florence and discover beautiful corners and cute shops. We recommend taking time to get lost and enjoy all that Florence has to offer!
The Rose Garden
Not just a rose garden, but a rose garden with Panoramic views over the city of Florence. If you visit between May and June the 350 varieties of planted roses will be in bloom!
Entrance and Opening Times
Great news is entrance is free!
Opening times:
December 9 am – 4:30 pm
February, October, November 9 am – 5 pm
March 9 am – 6 pm
April, May, September 9 am – 7 pm
June, July, August 9 am – 8 pm
We would recommend stopping here on your way to Michelangelo Plaza as it is situated next to this! It makes for a great afternoon before enjoying the sunset over the city.
Travel Tip: why not bring a picnic from San Lorenzo and enjoy it surrounded by roses and lemon trees with the city of Florence as the perfect backdrop!
Boblio Gardens

Inspired by many European royal gardens Boblio should be added to your list if you like great views and green architecture. It's a great escape from the Florence heat and is beautiful to walk around and enjoy the views over the city.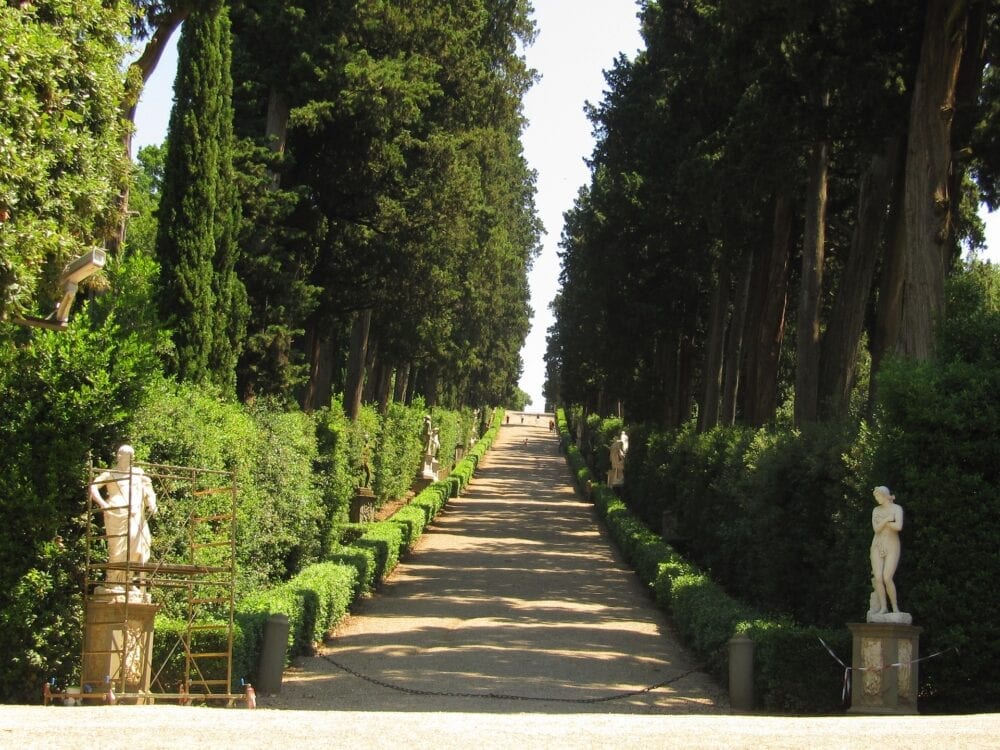 Entrance and Opening Times
From November 1 – February 28/29: €6 full, €3 reduced
From March 1 – October 31: €10 full, €5 reduced
Open every day from 8:15 am.
Closing times depend on the time of year: at 4:30 pm (Nov-Feb), 5:30 pm (March & October during Daylight Savings Time), 6:30 pm (April-May, Sept-Oct, and March during Daylight Savings Time), and 7:30 pm (June-August)
The last entrance is 1 hour before closing time.
Sunset at Michelangelo plaza
No trip to Florence would be complete without a trip to this special sunset spot! Be prepared to get here a little while before sunset if you want to get a good view, as this place gets very busy with tourists! Take some drinks and a pizza and sit on the steps if you want to chill and relax.
Although the views are amazing, it is worth noting the Plaza is mainly just a car park. We really recommend pairing a visit here with the Rose Gardens (which opens into the Plaza) or the Boblio Gardens to make the most of your trip here.
TIP: if you want to enjoy this place with fewer people, head up for sunrise instead of sunset!
Ponte Vento bridge
Stroll the Ponte Vento Bridge! Admire the jewelry, unique artwork along with boutique shops!
We also recommend walking across the other bridges near the Ponte Vento Bridge as this provides a really nice viewpoint but is much less busy!
Travel Tip: If you like to watch the sunrise, this is a great spot! as the sun rises the whole bridge turns golden.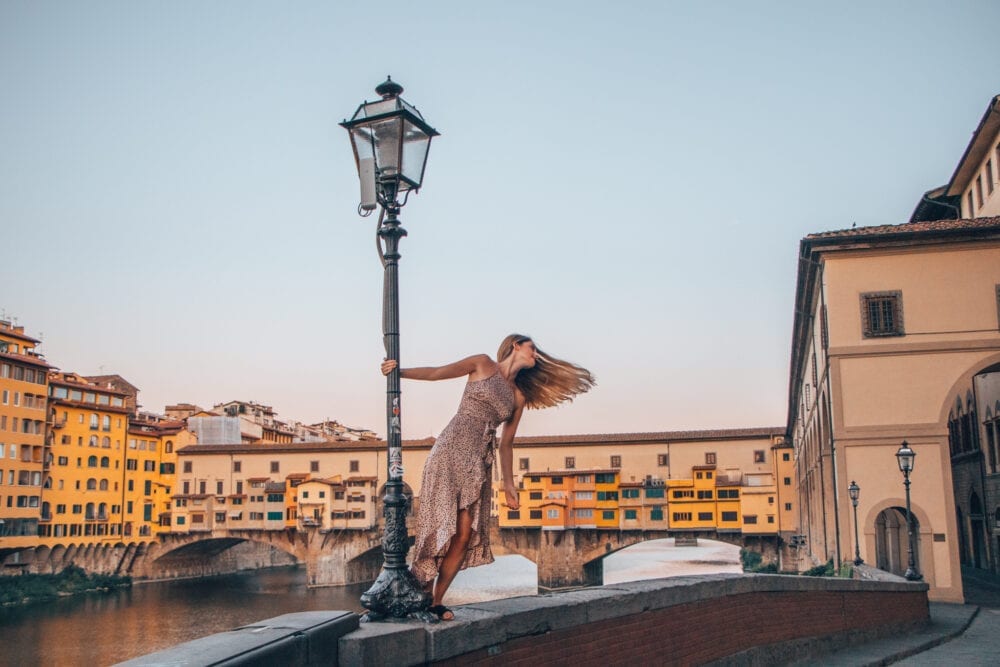 Check out our Florence vegan food guide. Read here.
The Uffizi Gallery
This museum contains one of the most important collections. Therefore it is no surprise it attracts millions of tourists each year. If art is your thing, add this to your list!
What not to miss on your visit:
Botticelli's Primavera and Birth of Venus (hall 10-14)
Filippo Lippi's Madonna and Child with Two Angels (hall 8)
Titian's Venus of Urbino (hall 83)
Lots of other works, including works by the early Masters Cimabue and Giotto (hall 2), Early Rennaisance pioneers Fra Angelico and Masaccio, Caravaggio, Rembrandt, Leonardo da Vinci and Michelangel
Entrance and Opening Times
Open from 8:15 a.m. to 6:50 p.m. Tuesdays through Sunday, entrance every 15 min
Prices
Starting March 2018, new seasonal prices apply:
From November 1 – February 28/29:
€12 full, €6 reduced
From March 1 – October 31:
€20 full, €10 reduced
Travel Tip: The first Sunday of every month from October to March is free to enter!
This is the busiest museum in the whole of Florence, to get the most out of your time in the city we recommend buying tickets to skip the queue.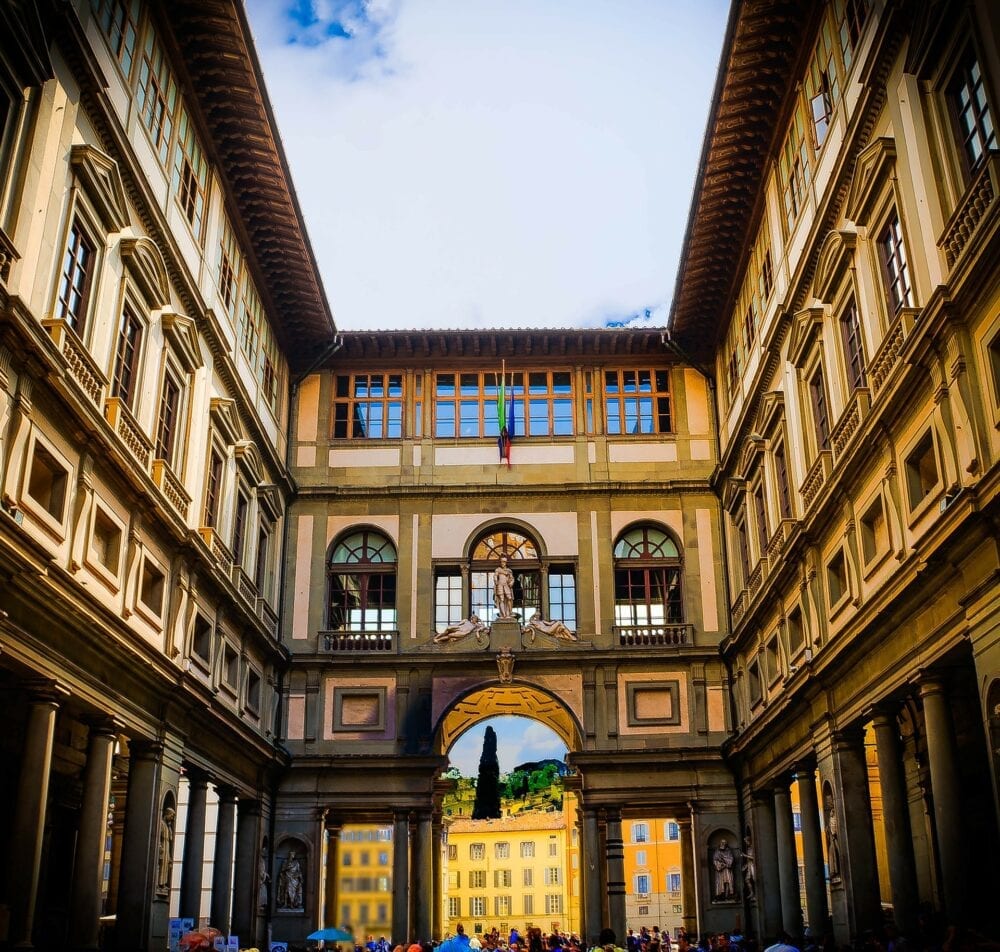 Accademia Gallery
Chances are if you already have this on your list you are hoping to admire the glorious David. However, if you choose to spend more time here you will experience much less crowded halls that offer so much more, any art lover will enjoy this place.
What not to miss
The Hall Of Prisoners
The Musical Instrument Museum
Florentine 13th century and Gothic Painting.
Being the second busiest Museum in the whole of Florence, we would recommend buying tickets to skip the queue, or for a more in-depth experience get a guided tour.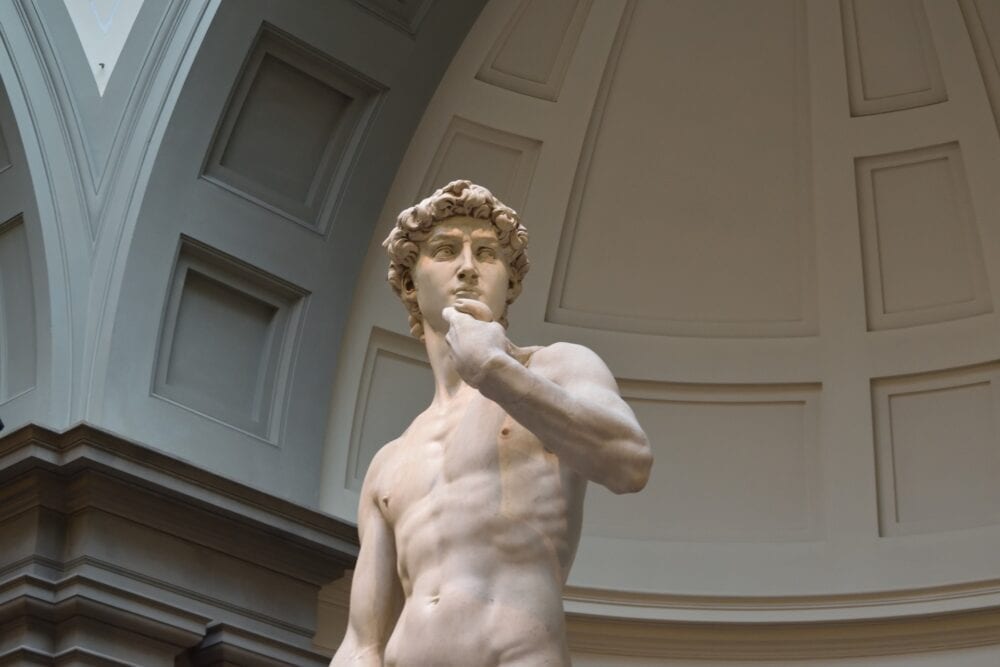 Bonus: Visit this awesome private terrace in Florence….
This terrace offers the most magical views over the Duomo. It is only available to those staying in the residential building below. We put together a complete guide showing you all the options you have to access this terrace. For us this was the highlight of our trip, we made fresh pasta and ate on the terrace and was greeted with the most beautiful sunset.
Check out all of your options here.
Summary
We hoped you enjoyed our 12 top things to do in Florence! Florence is such a beautiful and picturesque city, your itinerary could be as busy or relaxed as you wish and you would have an incredible time.
Whats next?
Check out our Florence vegan food guide, or our guide to the best Airbnbs in Florence if you are planning a trip.
[convertkit form=1905537]