This blog post contains affiliate links. As an AirBnB associate we may earn a small commission to fund our coffee drinking habit if you use these links to make a purchase. You will not be charged extra, and you'll keep us supplied with caffeine. It's a win for everyone, really. Check out our Disclosure policy for more.
Kefalonia island is dotted with beautiful hotels, the hardest part is choosing which one to stay in! From Spa and Yoga Hotels to boutique Boho hotels, Kefalonia is full of amazing places to stay. Here is our guide to the best Hotels in Kefalonia.
This resort is so beautiful! Enclosed with cypress and cedar trees and panoramic views of the mountains and sea, this resort is simply stunning. Perfect for couples and only a 10-minute walk to Fiskardo bay. An ideal location for those looking to have a peaceful getaway, only a stone's throw away from the hustle and bustle of Fiskardo Bay.
Hotel Details
A beautiful hotel near the incredible Loutro beach. This is the perfect combination of luxury and nature and is ideal for couples. F Zeen has a large focus on wellbeing with an outdoor gym, yoga studio and spa. F Zeen also has various retreats throughout the year check them out here.
Hotel Details
if you are wishing to stay in the heart of Argostoli this is the perfect place. Right on the waters edge and modern rooms. This hotel is near to eh beach famous for nesting turtles and near to the famous Lithostroto. A historic pedestrian walkway lined with cafes and shops.
Hotel Details
One of the most beautiful hotels in the Harbour. A modern sleek hotel with Situated in one of the best areas in Argostoli. Access to the famous shopping quarter and right on the harbour front.
Hotel Details
A stunning pick located on a hilltop in Lassi with Panoramic views of the Ionian sea. This hotel has incredible touches and features that make this hotel feel extra special. With a private beach area, an outdoor pool and sunterrace with 3 onsite bars.
Hotel Details
This hotel is especially stunning and all the boho earthy vibes! Everything in this hotel is incredibly thought out and it creates such a well rounded setting. The hotel is set in beautiful gardens and near a freshwater pool, this truley is a relaxing and peaceful escape.
Hotel Details
A stunning hotel and spa with first-class treatment and beautiful amenities. Located in the beautiful town of Karavomylos which is a great destination to explore the rest of Kefalonia island.
This hotel has a beautiful spa and all the luxiry featrures. Ionian resort also offers free transport from the airport.
A collection of private waterfront suites for the ultimate luxury escape. Close the beach and with all of the natural wonders of Karavomylos such as Melissani Cave and Karavomylos lake. A beautiful set of suites with access to amazing amenities and beautiful things to do.
Archontiko is situated in one of Fiskardo bays most iconic buildings. Iconic for its pink coloured walls and contrasting blue shutters. This converted mansion offers elegant rooms with beautiful views that will place you right in the heart of Fiskardo bay.
Another beautiful hotel with a lush green backdrop, awe-inspiring views and close to Skala Beaches.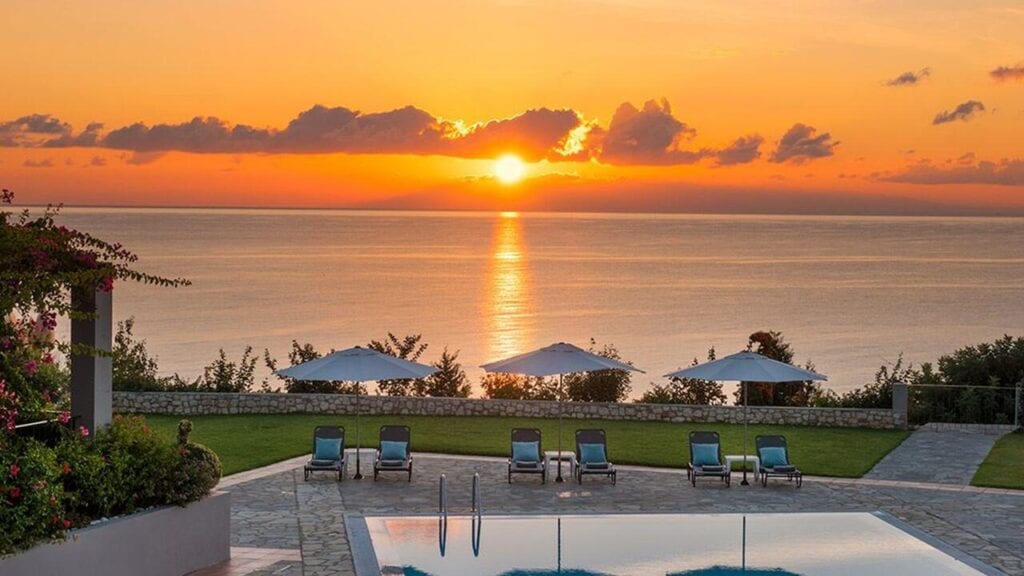 Where to stay in Kefalonia
If you are looking for a relaxing holiday to stay somewhere near Lassi or Skala is perfect. On the other hand, if you are looking to explore the island we would recommend staying in Agia Efimia or Assos. We personally loved staying in Fiskardo and taking in the stunning town and landscape. To decipher the most perfect place to stay check out our guide to the best towns to stay in.
Summary of the Best Hotels in Kefalonia
We hope you enjoyed our guide to the best hotels in Kefalonia. This island is so beautiful and has such a diverse landscape with so much to offer.
What's Next?