This blog post contains affiliate links. As an AirBnB associate we may earn a small commission to fund our coffee drinking habit if you use these links to make a purchase. You will not be charged extra, and you'll keep us supplied with caffeine. It's a win for everyone, really. Check out our Disclosure policy for more.
Positano is every photographer's dream, in fact, the whole of the Amalfi coast is lined with incredible photo opportunities. Dotted with beautiful and dramatic coastlines and mountains with beautiful views around every corner, it is an amazing place to capture photos. Positano is so beautiful and every spot is photo-worthy. However, there are a few spots that simply cannot be missed on a trip here! Below we put together our complete Instagram guide to Positano.
Tips for Capturing photos in Positano
Get up for sunrise!
By far the best time to shoot in Positano is for sunrise before the tourists decent! set that alarm and enjoy the sunrise over the Amalfi Coastline. Although this will ensure you have photo spots all to yourself, the sun does take a little time to get over the mountain side and provide the best light… we recommend heading to the beach for sunrise and watching the sun rays appearing over the mountain and then start to capture your photos with the gorgeous golden hour vibes.
Plan a route
Use this guide to plan the most logical way to go! Because of Positano's hundreds of steps, you don't want to walk all the way up only to remember a great spot you forgot to capture!
Check the weather
Make sure the weather is going to be suitable for your photos! There's nothing worse than setting that alarm before sunrise only to be greeted with grey clouds and rainfall.
Use a trusty Tripod
Grab your most trusty Tripod! The terrain in Positano is so uneven and with hundreds of steps, you'll want an excellent tripod to help you capture your photos.
Positano View Point on the Coastal Road
There are two coastal roads in Positano. The lower one has this incredible view point over positano that captures the most iconic view in Positano!
TIP: although we loved to shoot at sunrise to avoid the crowds, it takes a little while for the sun to illuminate this spot. We recommend coming a couple of hours into the day to get the best light!
TIP: watch out for Ants! There were HUNDREDS of ants on this wall, so be careful not to get them all over you! We didn't realise straight away and were picking ants off us for ages after, literal ants in your pants!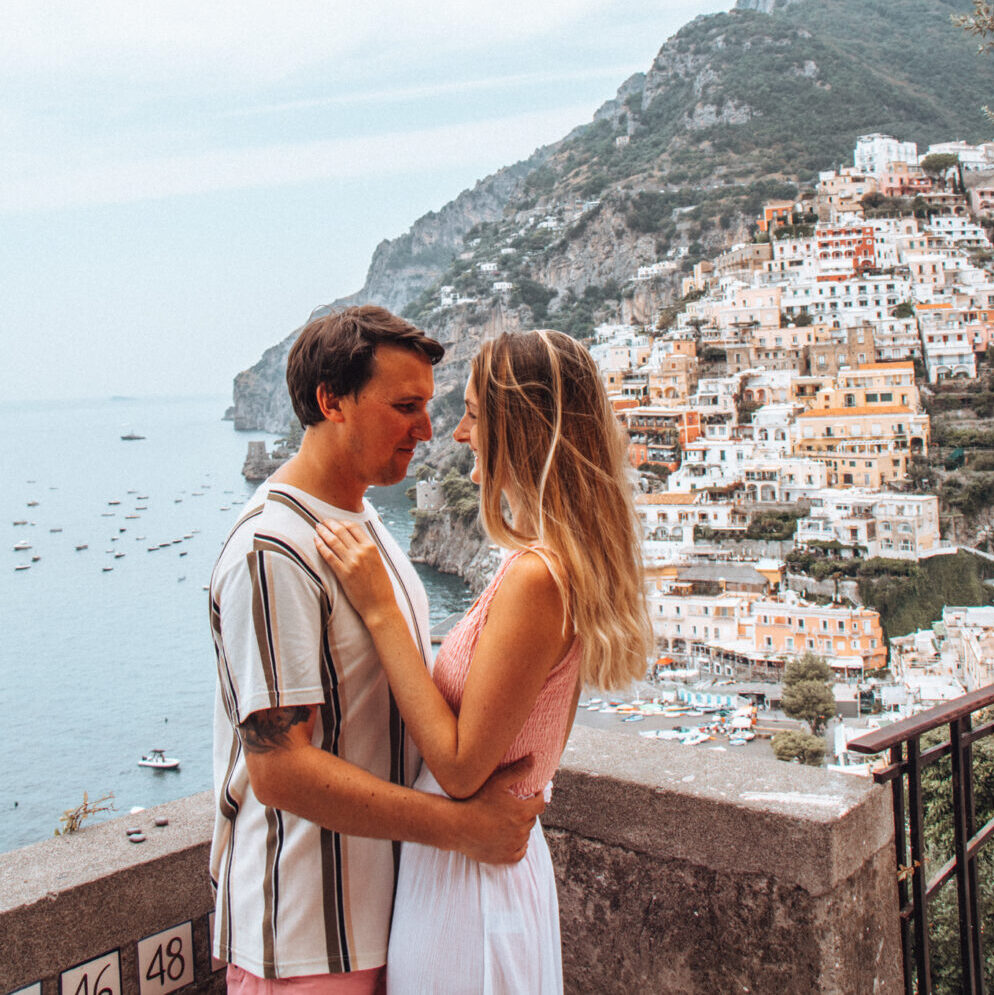 The Main Beach in Positano
The main beach in Positano by far offers the most incredible view of Positano and the pastel coloured houses
Steps to the beach
On the far side of the main beach in Positano, there are steps up to a hotel. These steps provide the most amazing place to sit and capture some awesome photos over the beach.
Fornillo Beach
With Iconic orange umbrellas and dramatic cliff edges, this place is a photographer's dream. There's a massive rock on the beach that offers the perfect spot to sit and capture the dramatic mountainside behind (photo one).
The Sea
The Italian sea at golden hour as the houses start to turn on their lights…. this truly is the most magical view of Positano!
TIP: Make sure you use a waterproof camera! The sea can be rather unpredictable and it is not worth damaging your phone or camera. We invested in a go pro and it was so worth it for capturing amazing moments in the sea.
Sunbeds with the Church
The church in Positano is so iconic, you simply cannot leave Positano without capturing a beautiful photo of this landmark!
hotelpiccolosantandrea
Offering some incredible views of the Amalfi coast and perfect to capture the sun peeking over the mountainside! This restaurant also offers incredible food and it's the ultimate date night dinner spot on the Amalfi coast, don't miss, out on a romantic dinner here.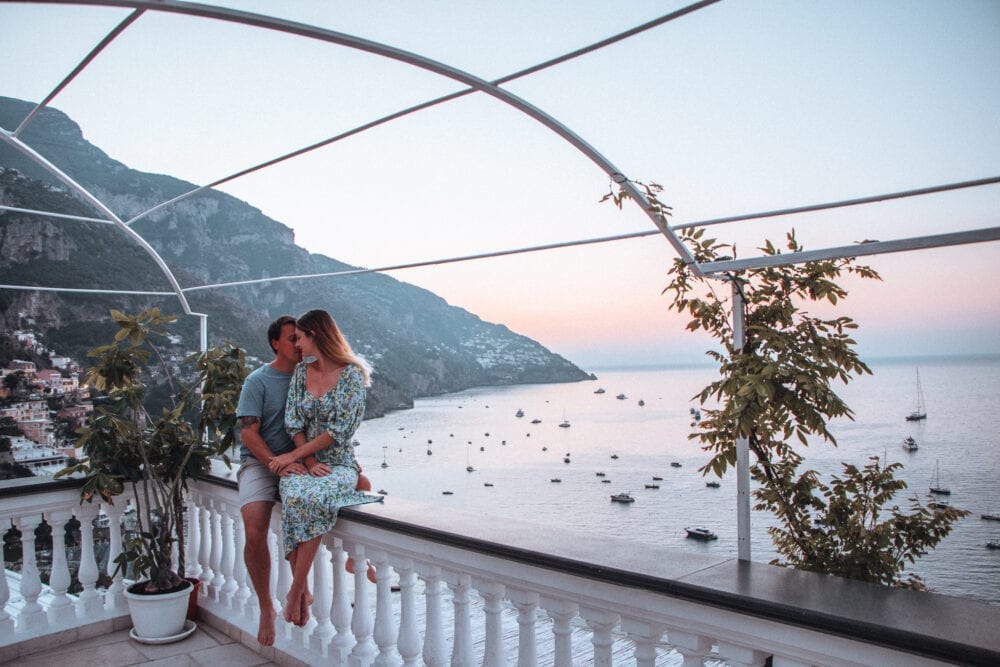 Church to Fornillo Beach
We loved the Fornillo side of Positano! It is much more residential and therefore feels a lot more authentic! we found this beautiful church on the way down to Fornillo beach and it just makes for a beautiful back drop and and offers a different side of Positano you don't see a lot on social media.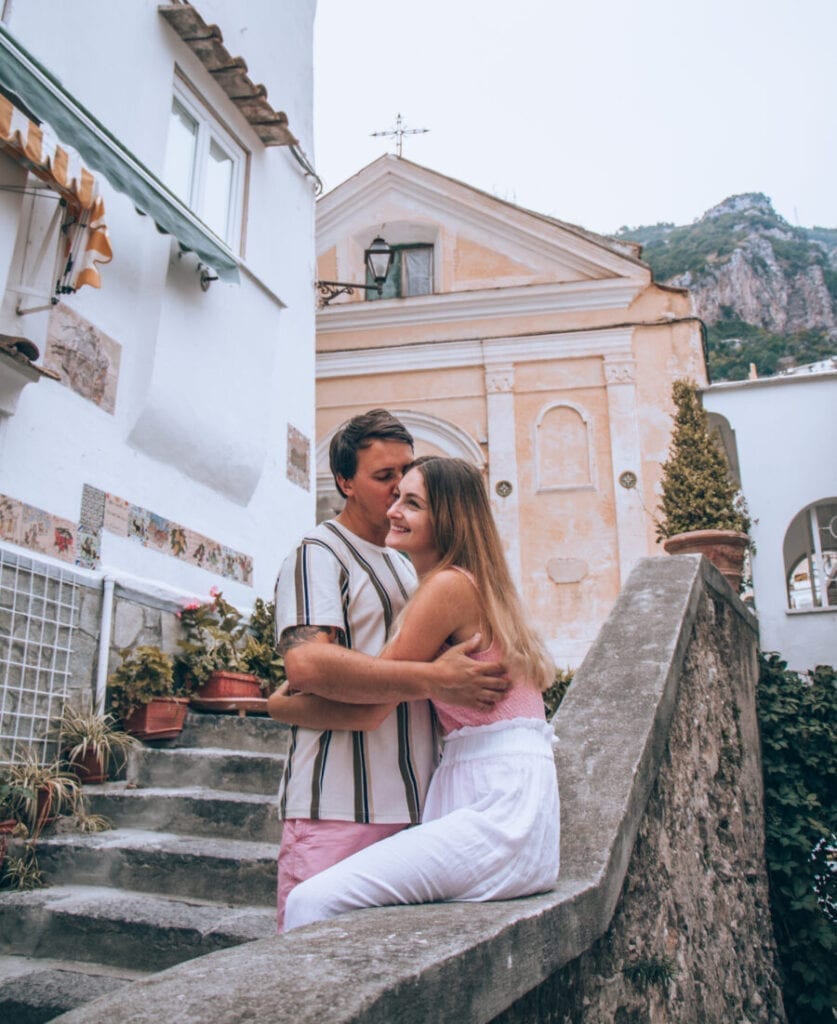 Ceramic Shop
No trip to Positano would be complete without a photo outside the famous ceramic shop right in the heart of Positano.
TIP: There is no photography allowed in the ceramic shop itself but outside the shop with the bright red walls is the best place to photos anyway!
Arienzo Beach Club
Iconic orange umbrellas, a beach fringed with iconic orange umbrellas and engulfed in steep mountainsides, this beach is the perfect place to capture the essence of Positano and the best place to chill after! Although, make a booking in advance to secure your spot and enjoy the free boat right from Positano to this idillic beach.
We hope you enjoyed our complete Instagram guide to Positano, there so so many places near to Positano that offer incredible photo opportunities, below we included our favourite.
Near to Positano…
Ravello
If you are looking to create some beautiful pictures, we would recommend taking the time to visit Ravello. It was the most photogenic place we have ever been and we got some of our favorite ever photos at this beautiful destination. With beautiful gardens and incredible mountain views, this is such a memorable and romantic destination! Check out our Ravello Guide to learn more about this beautiful destination.
What's Next?
Now you have read our Here is our complete Instagram guide to Positano, check out our Top Things to do in Positano, best Airbnb's for Couples and our complete vegan guide to Positano.