This blog post contains affiliate links. As an AirBnB associate we may earn a small commission to fund our coffee drinking habit if you use these links to make a purchase. You will not be charged extra, and you'll keep us supplied with caffeine. It's a win for everyone, really. Check out our Disclosure policy for more.
Greece is full of so many breathtaking islands. It can be so hard to pick which ones to visit. Of course, everyone knows of magical islands like Santorini, and whilst they are undoubtedly beautiful, you will share them with many others. There are many lesser-known islands that provide you with a real authentic Greek experience. Kefalonia is one of those islands. Kefalonia is so diverse it is stunning. It is the largest island in the Ionian sea so naturally has so much to enjoy. From the rugged landscape and mountains to world-famous beaches and traditional working Greek harbours. If you are looking for inspiration for your Greece Bucketlist, here are the five best reasons to visit Kefalonia, Greece.
Reason number one to visit Kefalonia Greece, it has incredible beaches.
Beaches such as Myrtos beach and Antisamos beach are so beautiful that they are called some of the best in Europe. Due to Kefalonia's rugged landscape. The beaches formed in such an incredible and dramatic way they are breathtaking. The water is so clear and perfect for snorkelling it makes for the ideal day out. Another great thing about the beaches here is that the sea is so beautiful because of a geological phenomenon. There are small pieces of marble in the ocean. The waves pick this up, and the sun illuminates this, so the water looks like it's sparkling. It is beautiful.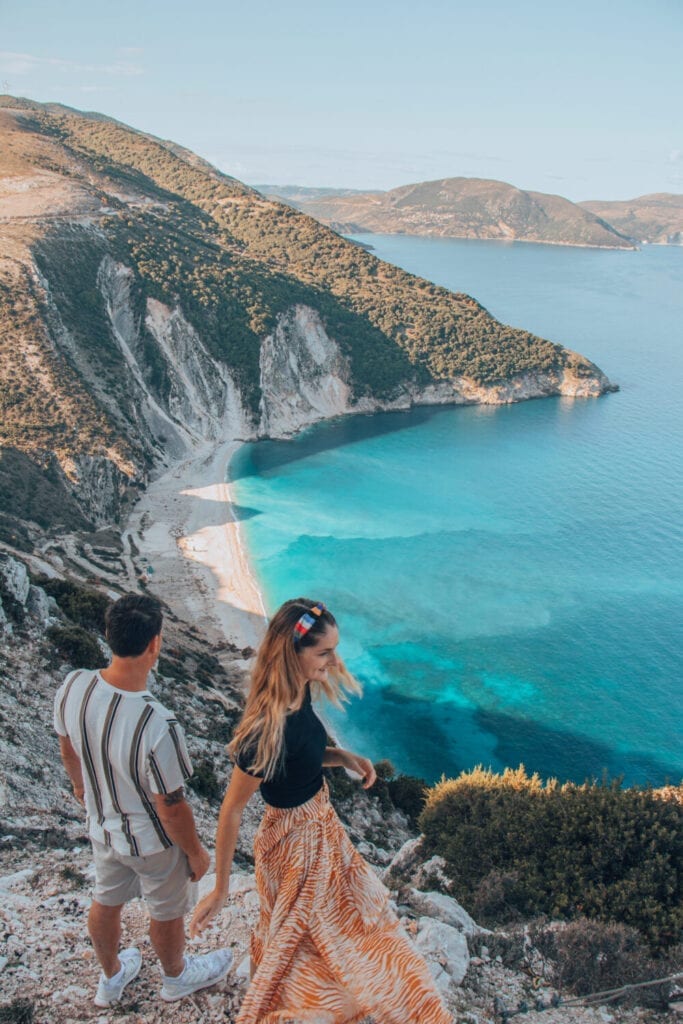 Reason number two to visit, Kefalonia is home to some fantastic Venetian architecture and beautiful pastel-coloured towns and villages.
If you love to explore and soak up the local Greek life, Kefalonia is the perfect island. There are two towns in the northern part of Kefalonia that are stunning. They should both be on everyone's Kefalonia itinerary, the towns of Fiskardo and Assos.
Fiskardo
Fiskardo consists of pastel-coloured houses that line the harbour. The harbour attracts many mega yachts and the rich and famous coming to dock for the night for a fancy meal. The food and cocktail options here are incredible, and it makes for a perfect place to visit for sunset and dinner. Simply walking around Fiskardo is enough to make you fall in love with this beautiful town.
The town of Fiskardo also has many things to do. Explore some incredible beaches such as Fooki beach and Emplisi Beach. These beaches are all-white pebble beaches with crystal clear water and make for the perfect place to sunbathe. For many more things to do, check out our complete guide to Fiskardo here.
Assos
The second town we mentioned was Assos. This is an incredible town a bit further towards Argostoli, compared to Fiskardo. It is beautiful, it has lots of Venetian architecture and pastel-coloured houses.
Assos also has a small road that leads to a larger piece of land that used to be a castle. Today the castle mostly ruins; it makes for an incredible experience to walk around. There are some incredible viewpoints back towards the town of Assos that are breathtaking. The walk to the top of the castle will take you through grand olive trees and oak trees. It is a beautiful walk with incredible views. The walk is medium length, so we would recommend taking some water and heading out earlier in the day.
The town of Assos also has two beaches. Both beaches are made up of white pebbles. One of the beaches is in the main part of town with lots of taverns and restaurants. The other beach is slightly further away, smaller and cosy.
The town of Assos is loved by tourists visiting Greece, so you'll find that at Assos get quite busy with day-trippers. However, Assos is so beautiful and serene despite the number of tourists, you can still have a magical experience.
Reason number three to Visit Kefalonia, it is home to 2 different species of Turtles.
Kefalonia island is home to the loggerhead turtle and the green sea turtle. They can often be seen in Argostoli harbour and Koroni beach. 
Argostoli Harbour
Head here early in the morning as the boats head back from their night of fishing. Here you will be in with a chance to spot some turtles bobbing around in the hope of catching the odd fish. 
Koroni Beach
This beach is a bit of a locally kept secret. You will often find turtles here, depending on the time of year. It is not full of sunbeds and has not been commercialized yet, so it makes for an even more authentic experience. It is off the tourist trail meaning you might have this place all to yourself. To learn more about the turtle conservation that takes place in Kefalonia checkout wildlife sense to read about the work that they do.
Reason number four to visit Kefalonia Greece; it is the only Greek island to have a national park.
The national park in Kefalonia is stunning. This national park has its own species of Fir that is not found anywhere else in the world. There is no other greek island to have a national park, so this is a unique selling point for visiting Kefalonia island. 
Climbing Mount Anios is also such an excellent experience. With breathtaking views as far as the eye can see.
Reason Number Five to visit Kefalonia, Greece; it is full of unique experiences!
Melissani Cave & Lake
Melissani cave and lake is so so beautiful. It is a deep blue lake that sits at the bottom of a cave. The cave has a small opening at the top. At certain times of the day the sun shines through and illuminates the water to a brilliant blue!
Tours are available here. You are taken out on a beautiful traditional wooden boat around the caves. It is certainly worth doing the tour.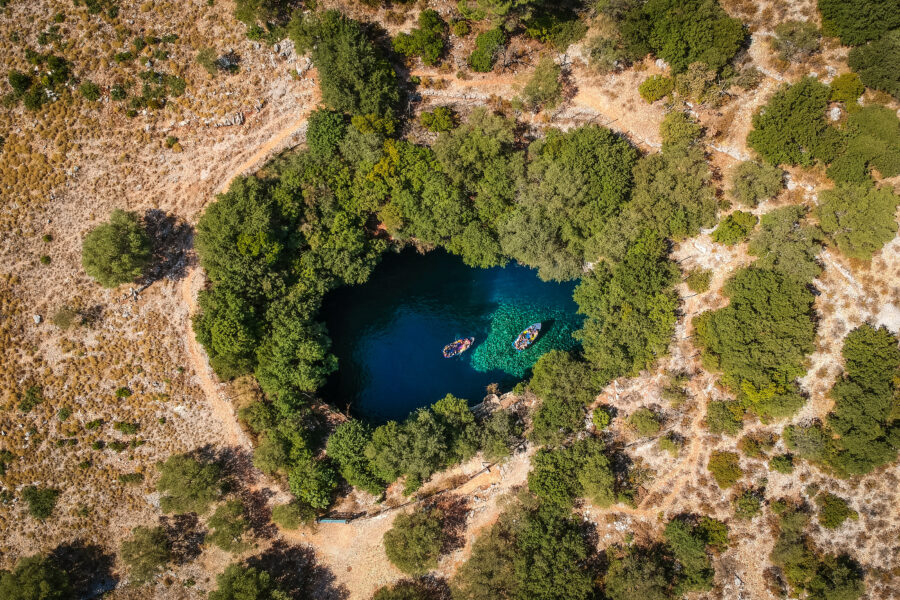 Drogarati cave
These impressive caves are situated in Karamylos near Melissiani lake. The caves are full of beautiful formations and undoubtedly worth a visit. A strong earthquake revealed the entrance of the cave. Karavomylos Lake
Karavomylos is a beautiful lake next to the sea surrounded by a beautiful church, green foliage and an idyllic cafe. This lake is part of a strange geological phenomenon. Waters from the western side of the island travel underground and mix with freshwater making this lake even more beautiful.
Reason number 5 to visit Kefalonia Greece; You can explore the beautiful neighbouring islands of Ithaka and Zakynos.
Kefalonia provides the perfect base to explore other islands in the Ionian sea. Day trips to Ithaka run multiple times a day and incredible day trips to Zante are available.
Ithaka
A day trip to the serene island of Ithaka is a must whilst in Kefalonia. This neighbouring island is tranquil and beautiful. It can be really reasonably priced. A day trip to Itaka gives you the chance to spot Dolphins, Turtles and unique birds. Itaka itself is just breathtaking; you will get to experience Vathy Bay and hidden beaches.
Zante
Where to stay in Kefalonia
The most beautiful resort in Kefalonia. This resort is enclosed with cypress and cedar trees and panoramic views of the mountains and sea.
Perfect for couples and only a 10-minute walk to Fiskardo bay. An ideal location for those looking to have a peaceful getaway but still want to indulge in the Fiskardo harbour.
Located near Loutro beach is the beautiful hotel F zeen. This resort is the perfect balance of nature and luxury.
Check out our complete guide to the best hotels in Kefalonia or the best villas in Kefalonia.
Summary of the best reasons to visit Kefalonia island, Greece. 
Hopefully, we have convinced you that Kefalonia is an incredible island in Greece and is certainly worth adding to your Greece bucket list. With stunning Neighbouring islands like Zante, Ithaka and Lefkada, there is so much the Ionian islands have to offer.
What's Next?