This blog post contains affiliate links. As an AirBnB associate we may earn a small commission to fund our coffee drinking habit if you use these links to make a purchase. You will not be charged extra, and you'll keep us supplied with caffeine. It's a win for everyone, really. Check out our Disclosure policy for more.
Kefalonia island is full of so many quaint towns and beautiful harbours. We spent a week exploring this beautiful island, there are so many charming and quaint towns and bays to visit. Kefalonia has some stunning examples of Venetian architecture as well as endearing coloured houses with contrasting shutters. The island of Kefalonia has so many beautiful places to explore. Here is our guide to the top Kefalonia towns and villages to explore and places to stay.
10 of the top Kefalonia Towns to Visit and Explore
Fiskardo Bay
Sami
Karavomylos
Argostoli
Assos
Agia Effimia Town
Divagate
Lassi
Lixouri
Skala
Fiskardo is a village situated on the northernmost part of Kefalonia. This village has the most beautiful bay with pastel-coloured houses, fringed with tall pine trees and boats slowly swaying in the harbour.
Fiskardo Bay itself is one of the most popular ports across the Ionian islands for Yachts and boats. The waterfront is full of yachts and beautiful restaurants and cocktail bars.
Kefalonia experienced an earthquake in 1953 before this time there was lots of Venetian architecture, but most of it was lost in the quake. Fiskardo was lucky enough to still have some of its Venetian architecture making it a really special and unique part of the island.
Fiskardo Bay was our favourite of all the Kefalonia towns, and we chose to stay a 10-minute drive from Fiskardo.
Fooki Beach
This beach is so unique! Surrounded by dense forest and in a tiny cove protected from the elements.
Emplisi Beach
We loved this visiting this little beach in the evenings. Its only a small beach but it's so beautiful. With perfect white pebbles and framed with white rocks. Whilst we feel there are better beaches to spend a whole day at, but for a quick trip this beach is perfect.
There's no denying the best way to experience Kefalonia is by boat! With so many beaches only accessible by boat, this is a great way to access them. You can also head to Ithaca, the neighbouring island that is meant to be so tranquil and beautiful.
This company has some really reasonable prices and provides lots of guidance on the best places to head too.
Places to Eat in Fiskardo
The best Local food: Nicolas Taverna. This Taverna offers the best views over Fiskardo bay itself. It is known for its impeccable service and great local food.
For romantic dinners: Irida Café Bar restaurant. We loved this little restaurant. They have outdoor seating right by the water's edge and it makes for a perfect romantic setting.
For breakfast: Milos/Windmill. One of the few places open for breakfast. There is nothing more perfect than a cup of coffee with the sound of boats in the harbour sitting right by the sea. Heading to the bay early for breakfast gives you a chance to enjoy Fiskardo before the rush of tourists later in the day.
Sami Bay
Sami bay is made up of Sami, Karavomylos and Agia Efymia. All three towns and within walking distance to each other yet offer very different experiences.
Port of Sami
A charming seaside Greek village. In an honest review, it is very commercial and has a massive port with huge boats in. We visited during low season. If the town was busier it could be a great place to have dinner and drinks. We personally preferred the smaller towns of Karavomylos and Agia Efymia next to Sami.
Sami is worthwhile taking a few hours to explore the town itself, or heading here for a nice dinner. There is so much to see in Karavomylos, you could combine the two and experience both.
Things to do
Explore Sami Port itself
Walk around Sami village and sit on the harbour edge with a cocktail or for a fancy lunch.
Loutro Beach
A beach surrounded by rich green hills that reflect into the crystal clear blue sea. Loutro is a pebble beach that can be accessed by foot or by car. It is a well-kept secret ideal for snorkelling. Swimming in the water is only made more magical by the views of the surrounding scenery.
Places to eat in Sami
Kallithea – This restaurant has the most beautiful view of the mountains. Call ahead and reserve a table on the outdoor terrace. This is an incredible and memorable experience you will love, to make this even more magical, reserve for the sunset! Check out there TripAdvisor.
Antisamos Beach Bar – The most perfect place to eat after a day at Antisamos beach. The most beautiful bar with delicious food, pleasant music and welcoming ambience. With insane views over the water from the tables, this is the most perfect place to visit when heading to Antisamos beach. Check out there TripAdvisor.
Karavomylos
The town of Karavomylos is situated within walking distance of Sami. Although this town is small, it has some of the most popular attractions and some beautiful things to do. Karavomylos is a peaceful fishing village on the east coast of Kefalonia island.
Things to do in Karavomylos
Karavomylos Lake
This lake is part of a strange geological phenomenon. Waters from the western side of the island travel underground and mix with freshwater, making the lake extra beautiful and endearing. This is a great place to visit after Milissani Lake or Sami. The lake is situated next to the sea and has ducks, geese and an abundance of marine life. There is also a beautiful church and green vegetation, creating a beautiful scene.
There is a tavern here, perfect for a drink with the lake on one side and the sea on another.
Karavomylos Melissi lake
The famous Melissi Lake is located in Karavomylos village. One of the most beautiful things to do in Kefalonia. This cave is so stunning. It is an exceptional experience to be out on an old wooden boat witnessing the sun illuminate the bright blue water. This was definitely a highlight of our trip. One thing to note is, you want to visit when the sun illuminates the water. Check beforehand to research the best time, as this can change depending on the season you visit.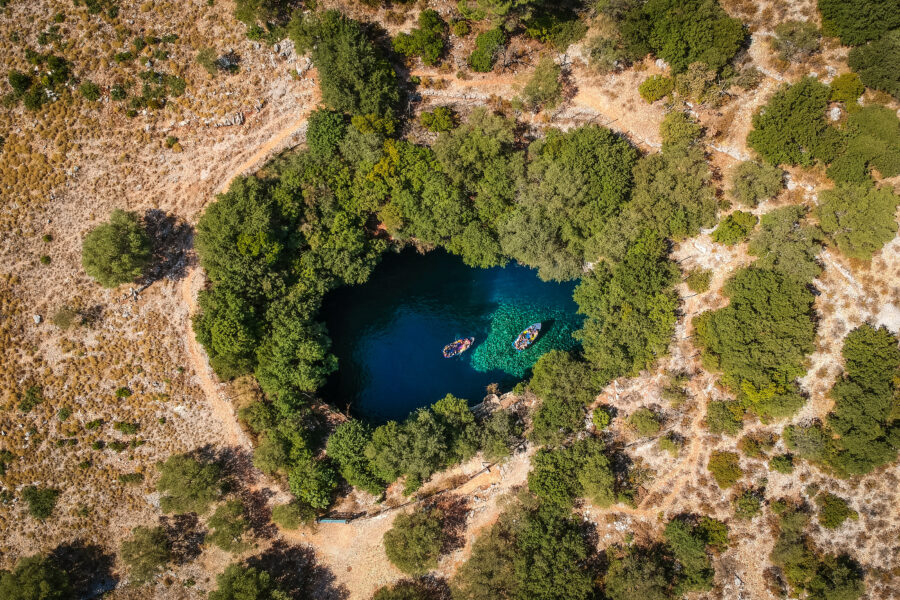 Drogorati caves
If you are visiting Melissi Cave then Drogorati Caves should be your next stop. A strong earthquake caused a collapse that revealed the entrance of the cave. This is an impressive cave with beautiful formations. The cave consists of two parts. One part that is accessible to tourists and one part that can only be accessed by crossing a small lake. Drogarati cave is a natural masterpiece that has to be seen to be believed.
Where to eat in Karavomylos
Stoa – the best place for homemade pies and coffee on the whole island. With the friendliest owners who have poured love into everything they create, this place is simply incredible. Check out there TripAdvisor.
Agia Effimia Town
We stumbled across this town accidentally. Agia Effimina is a former fishing village, it is a really beautiful bay with cute houses surrounding the sea. When we first arrived in Kefalonia we were ready for lunch. We drove through this town and decided to stop for lunch, we were so happy with what we discovered.
Where to eat in Agia Effimia
Paradise Beach Bar – This restaurant has amazing views of the beach. Out of our week-long stay in Kefalonia, this was the best place for incredible views and food. Check out there TripAdvisor.
The Pergola – this place is incredible for local food. Check out there TripAdvisor.
The most secluded beach at Agia Effimia
To the left of Paradise Beach Bar, there are steps down the cliff side to a tiny beach. There is a slightly bigger beach next to this one. Between the two beaches, you should be able to find a good spot to relax!
Argostoli
Argostoli Town is the Capital of Kefalonia and the main port, it is situated on the south-west coast of the island. This town is a busy harbour right on the water's edge.
Argostoli is well-known for its turtles that frequently visit. Check out wildlife sense to find out about there awesome conservation efforts in this area. Turtles can be frequently sighted early in the mornings when fishermen return to the harbour after night fishing. Head to the waterfront than to be in with the chance of spotting one.
Argostoli town is great if you want somewhere a little more lively than the rest of Kefalonia. The waterfront is full of lovely cafés and restaurants. The town itself is busy and full of endearing streets, open squares and boutique shops.
Argostoli is the best place for a buzzier night-life. Kefalonia isn't a party island, but if you are craving a change Argostoli is the best place to visit. There are some awesome bars with amazing cocktails.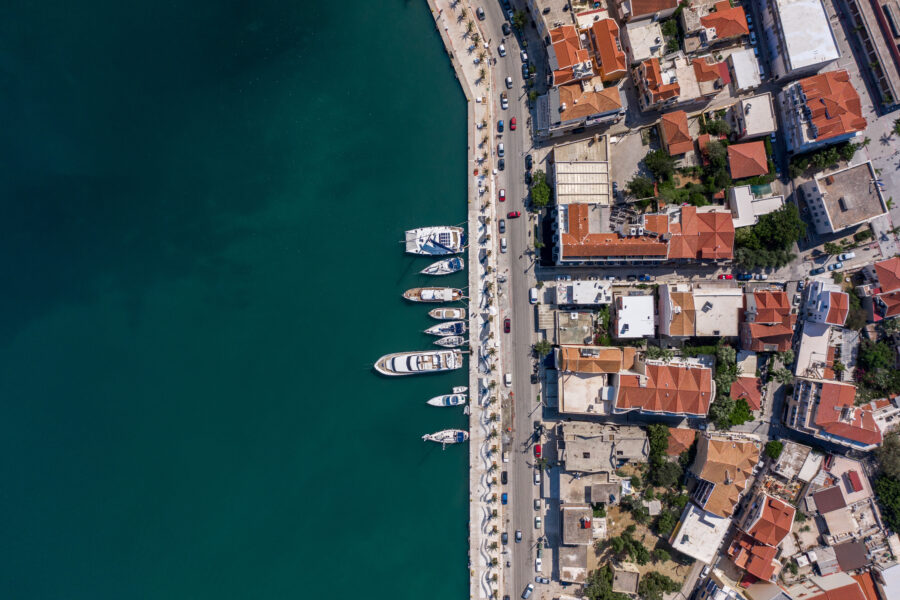 Makrys Gialos beach near Argostoli and Lassi
Makrys Gialos. We stumbled across this beach when our flight got delayed, and we wanted to soak up some extra sun. The only thing we would say about this beach is that it was busy and it was not even peak season. The sand was beautiful. It was nice to be on a sandy beach, however, it is surrounded by large hotels. Certainly worth a trip if you are staying in Argostoli or Lassi and fancy some time sunbathing.
Places to eat in Argostoli
El Greco, the best place in Argostoli for local food.
Ampelaki, great for traditional Greek food and caters well for vegetarians.
Libretto, this cute café serves insane Waffles!
Assos, the most picturesque Kefalonia Town
Assos is without a doubt the most picture-perfect town on the island of Kefalonia. The town is dotted with pastel-coloured houses, it has two beaches and lined with places to eat and shops. Whilst in Kefalonia Visiting this town is an essential addition to your itneary.
Visit The Castle of Assos
A beautiful example of Venetian Architecture. A stunning castle that was built in the 16th Century to protect the village. Forts used to be so profound throughout the entire village. Unfortunately, today not much of the castle remains. There are breathtaking views from different points over the castle ruins of Assos itself. Take the time to walk around and admire the stunning architecture and watching the foliage overtake the ruins.
Assos beach
Assos town has two beaches. A small beach, and a larger one that has sun loungers. We visited the larger beach but heard the small one is just as lovely. The bigger beach in the centre of Assos has cute taverns and shops. Due to the popularity of this town prices here are slightly higher than other places on the island. Despite the crowds the beautiful scenery and tranquil atmosphere more than makeup for the business.
Enjoying our guide to the best Kefalonia towns and villages? Check out our top things to do in Kefalonia here.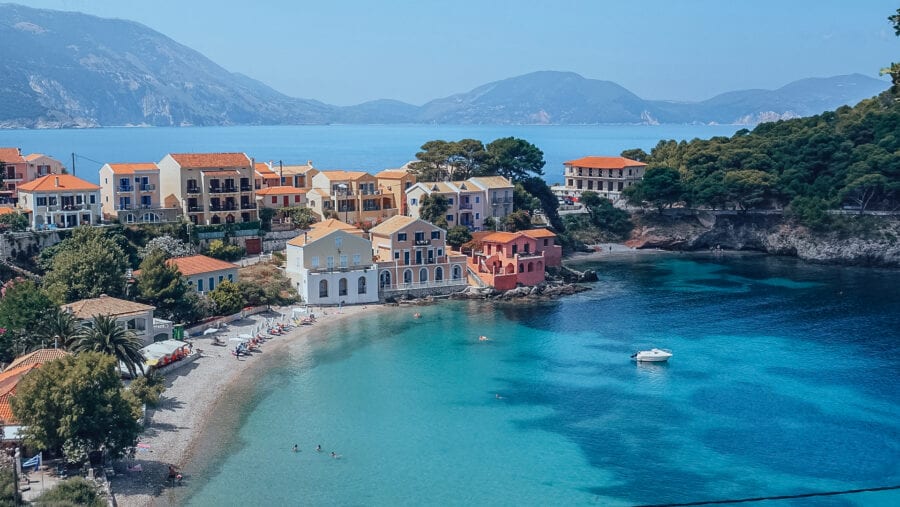 Divarata – Myrtos Beach
This is a small town with a few places to eat, the reason for its notability is due to its famous beach. Frequently cited as one of the most famous beaches in the world due to its bright turquoise water. Myrtos beach!
This beach is simply stunning. You cannot miss out on visiting this iconic beach. Divarata is full of great places to eat, making it the perfect place for lunch or dinner when spending the whole day at Myrtos beach.
For more beaches, check out our guide to the 12 best beaches in Kefalonia.
Where to eat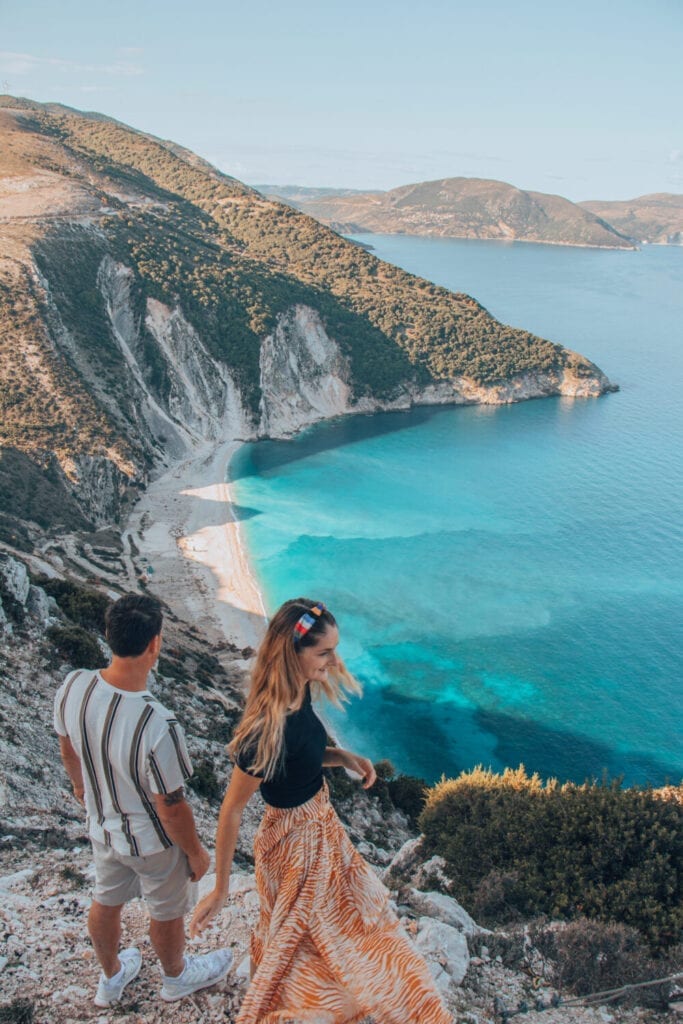 Lassi
Lassi town is a very popular destination for tourists, it is perfect for tourist resorts. It is very near to the airport and you can walk to Argostoli town. The town of Lassi boasts a great location for Kefalonias best sandy beaches. From Lassi, you can walk to Makris Gialos beach, Platis Gialos beach, both of these beaches are beautiful and very popular. The great thing is you can also access Kalamia and Gradakia beach which are much quieter and just as beautiful.
We personally only spent time in Lassi when our flight was delayed, and we wanted to pop to a nearby beach. We do not think Lassi is very authentic, we preferred places further north and a little further away from the Airport. Lassi is great if you are looking to get away and sit on the beach.
Lixouri
Lixouri is the second largest village on the island of Kefalonia. It is located 35km west of Argostoli. The town sits on the bay of Argostoli and overlooks the capital. Lixouri is a beautiful town built on the ancient city of Pali.
Similarly to Argostoli, Lixouri attracts a number of tourists. Cafés, bars and restaurants line the waterfront. The main square of Plateia Petritsi is full of old-fashioned café. This town perfectly encompasses the old and the new. Ruins of an ancient city, young crowds in bars, and an old way of life represented by the old-fashioned cafés. A walk around the town will reveal neoclassical architecture, the famous monastery of Kipoureon, old churches, and old ruins of Pali.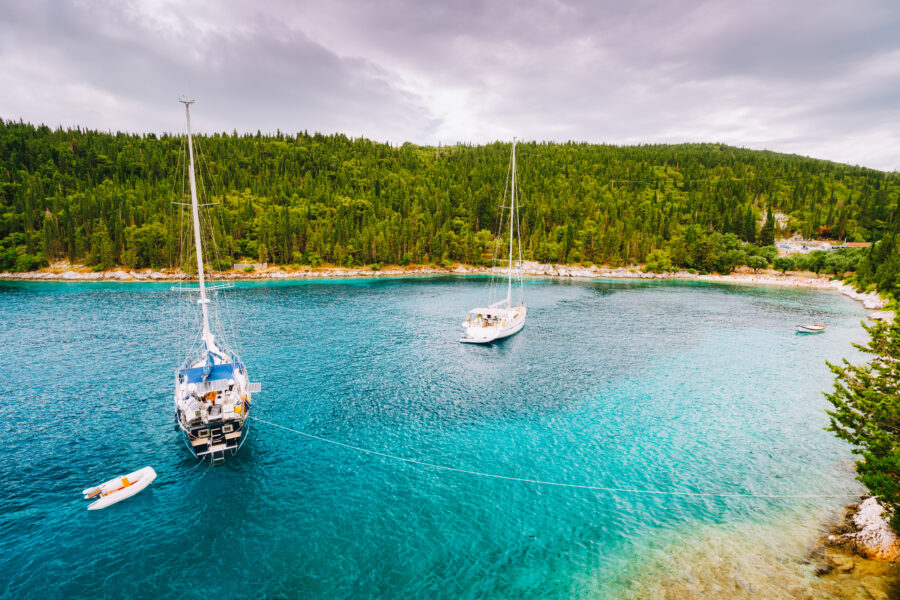 Skala
Skala is the southernmost Kefalonia town. it is a village packed with tourist resorts. This town is home to two pretty spectacular beaches, Skala beach and Mounda Beak. Again we personally prefer more authentic parts of Kefalonia and loved staying around the pine trees and higher up. The town of Skala is perfect if you are coming to Kefalonia for a beach holiday.
Where to stay in Kefalonia
Out of all the Kefalonia towns, we would recommend staying near Fiskardo for the best location. It is the most beautiful part of the island, and we could eat in the harbour each night. We knew we wanted good views and an incredible villa. Our Airbnb was in the town of Agrilias. It was only a 15-minute drive to Fiskardo and its beaches. We also experienced incredible sunsets and our own pool.
Waking up every day surrounded by Pines and the sea in front of us was truly memorable. Other areas further south like Sami we found to be very touristy.
Looking for the perfect villa? Check out our guide to the best Villas and Airbnbs in Kefalonia.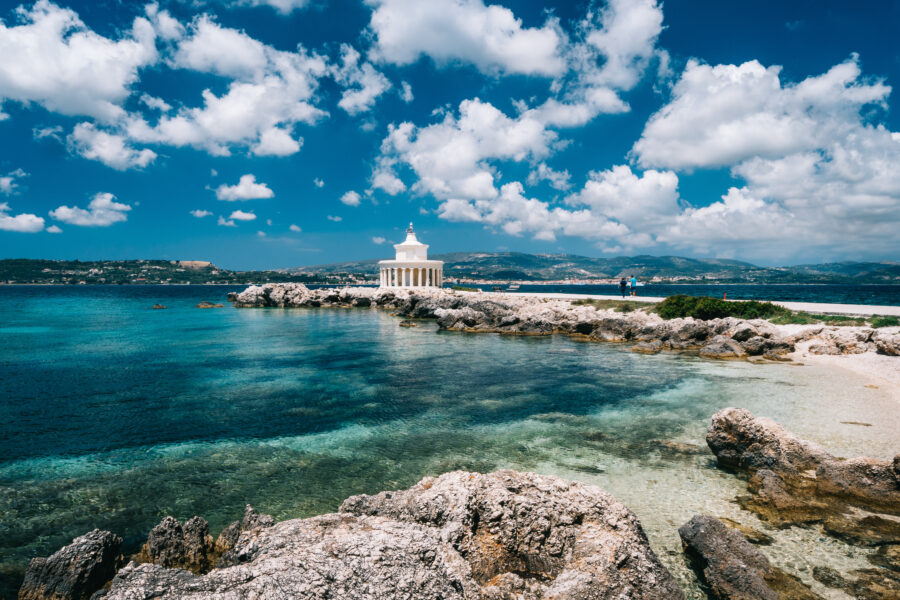 Summary of Kefalonia Towns and Villages to Explore
We hope you enjoyed our guide to the best Kefalonia Towns and Villages to visit and explore. Kefalonia has so many towns and villages full of character and authentic charm.
Whats Next?
Now you know the best Kefalonia Towns and villages, check out our other Kefalonia Posts.