This blog post contains affiliate links. As an AirBnB associate we may earn a small commission to fund our coffee drinking habit if you use these links to make a purchase. You will not be charged extra, and you'll keep us supplied with caffeine. It's a win for everyone, really. Check out our Disclosure policy for more.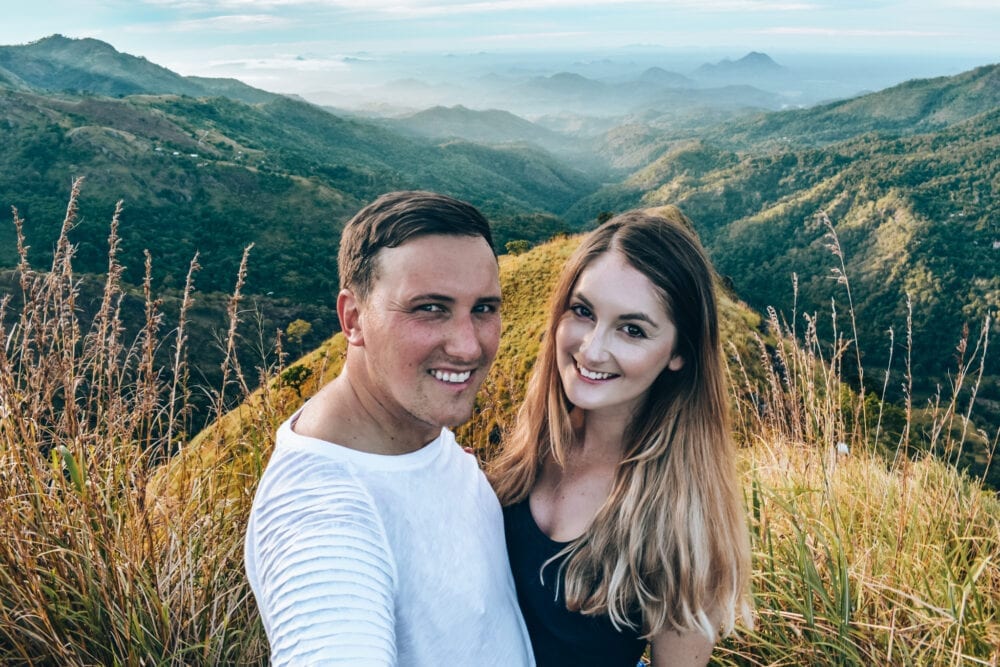 Sri Lanka is famous for its incredible beaches, and whilst we loved them (Unawatuna is a must), we fell in love with the exotic countryside and breathtaking views that you are gifted with after hiking Little Adams peak. Of all the hikes we did in our two week trip to Sri Lanka, Little Adams Peak in Ella was undoubtedly our favourite. This guide includes everything you need to know to climb Little Adams Peak for sunrise! For us, this was definitely a big highlight of our trip to Sri Lanka. We would strongly recommend it to everyone lucky enough to be visiting this magical country!
If you are planning a trip to Sri Lanka, Ella is probably already on your radar! Ella Town is full of misty tea plantations and spectacular mountain ranges, with rolling hills and beautiful valleys. Whether it is a short stopover or staying a while, Little Adams Peak for sunrise is an essential addition to your Bucketlist.
Little Adams Peak for sunrise
Little Adam's Peak is also known as its official name, "Punchi Sri Pada". It stands tall at 1141m. This peak is not to be confused with Adams peak (which will take you between 3-6 hours to complete). Little Adams peak is the smaller peak that is easily accessible to everyone.
This peak has a lot to offer. With its proximity to Ella, it is an enjoyable walk to the top. The climb is well worth it to take in the unbelievable views over the Ella Valley. Little Adam's Peak attracts many travellers who come to Sri Lanka. We believe this hike is the best at sunrise. This post includes everything you need to know for climbing Little Adams Peak for sunrise!
Contents
How to Get there
If you stay in Ella, Little Adam's Peak is only a short trip from Ella Centre, only 1.5km away. You can travel by taxi, tuk-tuk, or bus. There are three bus stops in Ella that run early in the morning. It is best to research the timetable beforehand as this will change with the tourist season!
Climbing Little Adams Peak for Sunrise
The Hike Up 
Climbing Little Adams Peak is a relatively easy hike. There is no need for a guide as the path is marked. Walking up the zig-zag path, it will take you around 30-45min to reach the top.
Little Adam's Peak an ideal place to watch the sunrise in the morning. With spectacular views of the mountain range. We walked up and arrived to watch the sunrise over the valley, and it was stunning. Watching the sun rays creep through the valley illuminating the mist and creating an eerie yet somehow magical display of mother nature at its very best.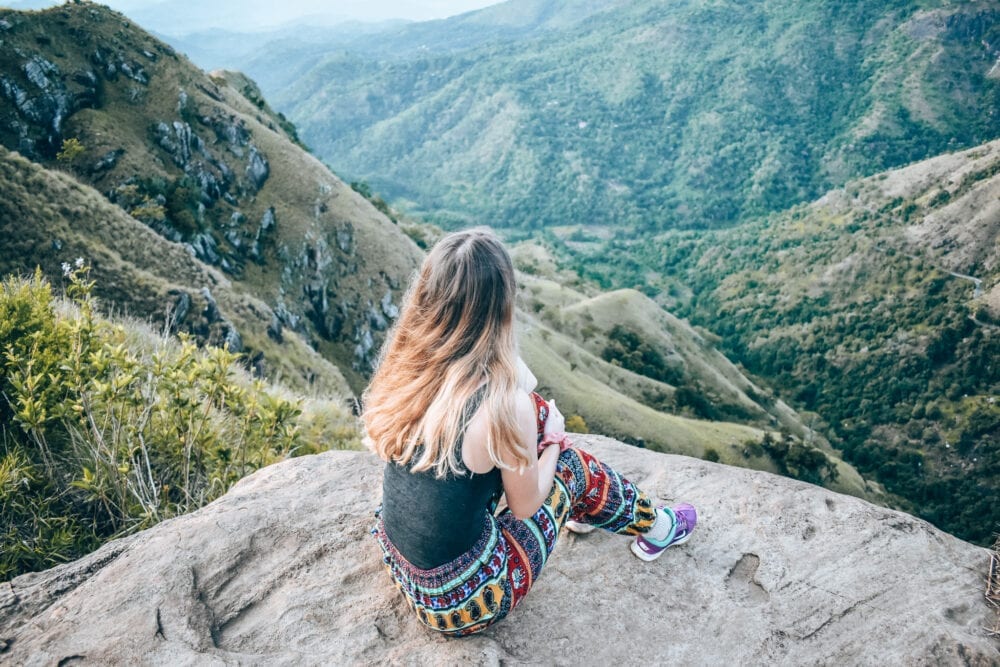 At the Top 
Once you reach the top of the peak, you will first notice the golden Buda statue. This statue has pride of place at the top of the valley, looking down onto the mountain range. This viewpoint is the central place many tourists watch the sunrise due to the spectacular views and ease of access. 
We spent a lot of time walking around at the top of the two peaks. In total, the trip took us about 3 hours. 
Once at the top, there are so many idyllic locations to enjoy and take photos. Soak in all that this viewpoint has to offer and enjoy the surroundings.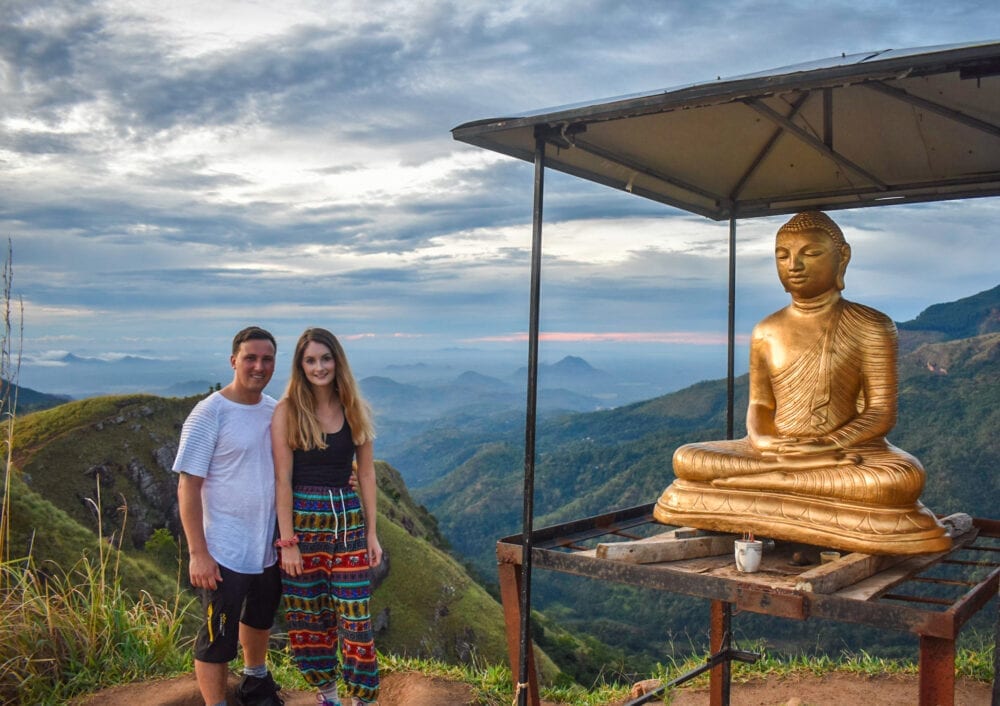 The next ridge along
You will see another path leading along to a second ridge at the top of the first path. The walk to the next viewpoint is well worth the additional hike. It is a bit steeper and rougher than the first (which means it is typically less busy). Once on this second ridge, you will find some fantastic photo opportunities. Rock formations are sticking out of the mountain, which makes for a great backdrop. The views get better and better. We liked the view this peak offered more. You can see mountain tops as far as the eye can see, making for a very mesmerizing and humbling experience. 
Little Adams peak is mother nature at its absolute finest. Words cannot do this place justice. If there is any doubt of this peak's beauty, hopefully, our photos of the views can fix this!
The Wild Life
There were some friendly four-legged friends at the top, which makes overlooking the valley that bit more special. These dogs have set up their home in one of the most excellent locations. Many of them will still be sleeping at sunrise. However, those that did come over made us smile and laugh. The perfect companion for any animal lover!
The biggest shock and thing to look out for are the Carpenter Bees. This species of bee is enormous. It was a little scary having them fly at you. They are known to have a pretty gnarly sting, but luckily we did not find out. For this reason, drones are banned here—the main reason being that it is a religious site and secondly, because of the Carpenter Bees.
Are you planning to Travel to Sri Lanka? Check out our guide to 12 of the most beautiful places in Sri Lanka.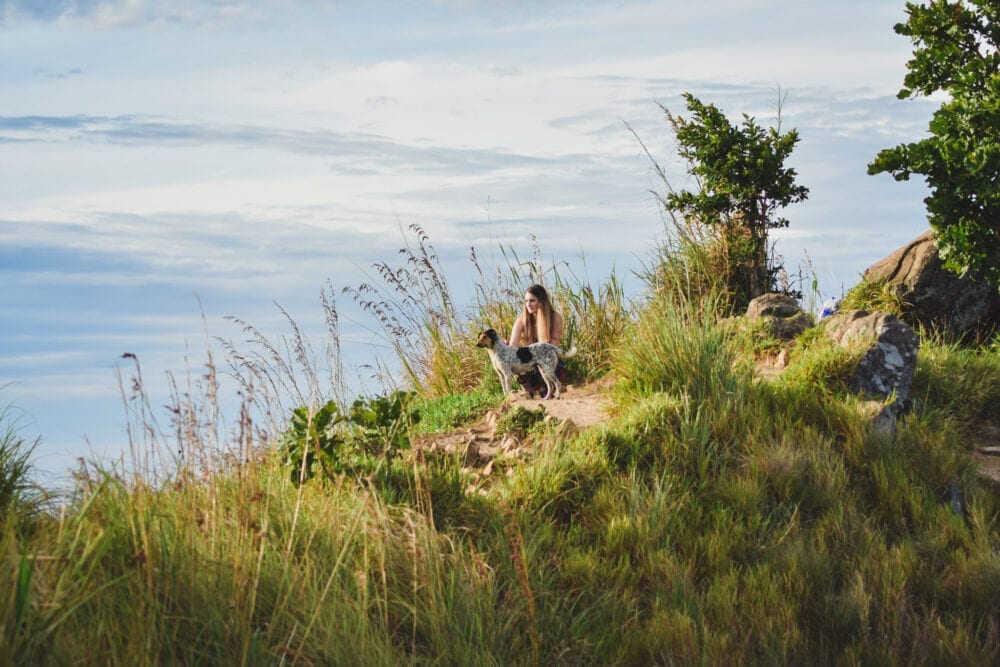 A Spot of Breakfast
Once you have completed the walk, we recommend stopping and having some breakfast. We chose to eat at Ella Flower Garden Resort restaurant – the food is good, but the views are spectacular. The restaurant offers Sri Lankan cuisine and international meals with views of Ella Gap and tea plantation estates.
https://www.ellaflowergardenresort.com/restaurant
After refuelling with breakfast, we recommend walking to the famous Nine Arch Bridge if you still have the energy. This walk doesn't take too long and only requires walking down a few steps before you reach this magnificent landmark.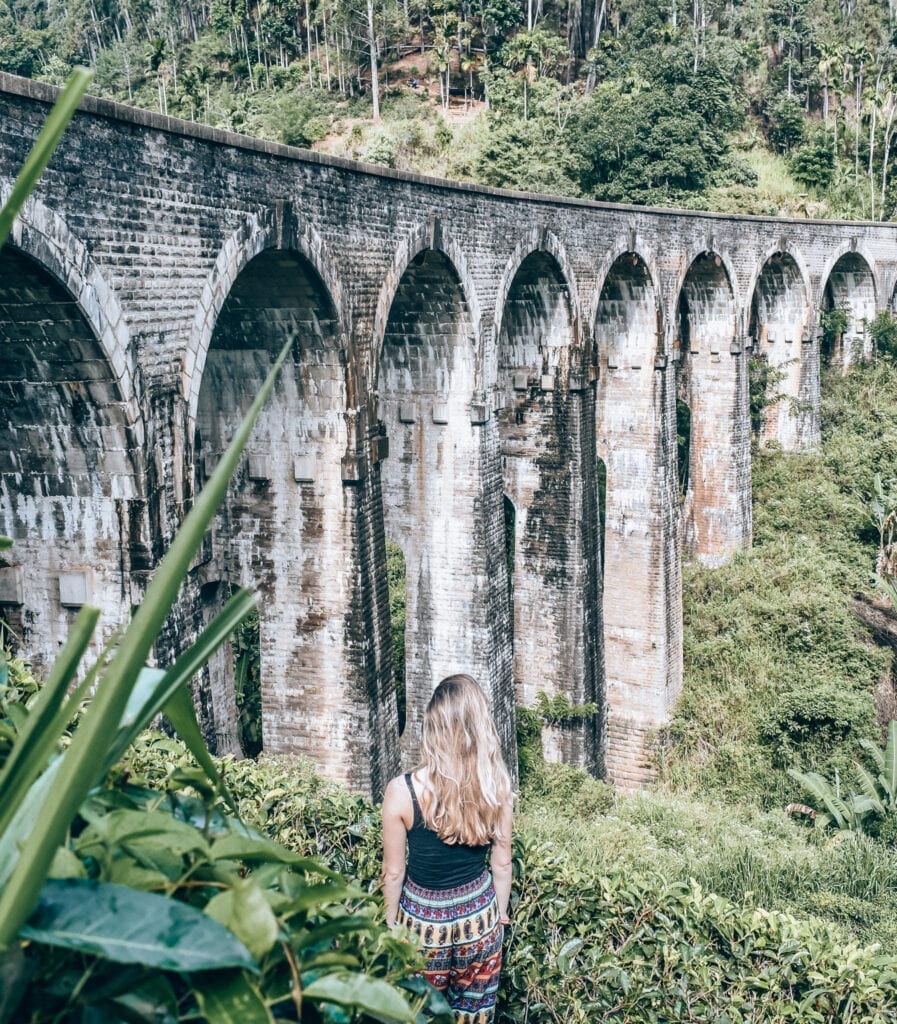 Summary of Little Adams Peak in Sri Lanka
We hope you now feel prepared to hike this incredible peak. Sri Lanka is full of beautiful hikes and viewpoints. This one is certainly up there as one of the best. 
What's next?
Now that you have read our guide to climbing Little Adams Peak for sunrise, why not check out our other Sri Lanka blog posts to plan your travel.
Sri Lanka Posts: