This blog post contains affiliate links. As an AirBnB associate we may earn a small commission to fund our coffee drinking habit if you use these links to make a purchase. You will not be charged extra, and you'll keep us supplied with caffeine. It's a win for everyone, really. Check out our Disclosure policy for more.
The nine-arch bridge in Ella, Sri Lanka, is one of the wonders of the South Asian island country. Set in a valley of tea plantations and misty hills that wrap around this nine arch wonder. There is something about Ella that makes everything in its vicinity spectacular. Whether it's the mist that appears most mornings adding a magical eeriness, or the lush tea plantations, Ella and the Nine Arch bridge are both magical.
The nine-arch Bridge is a must-have for any Sri Lanka bucket list. Here is our complete guide to the Nine Arch bridge in Sri Lanka to ensure you experience this gem to the fullest.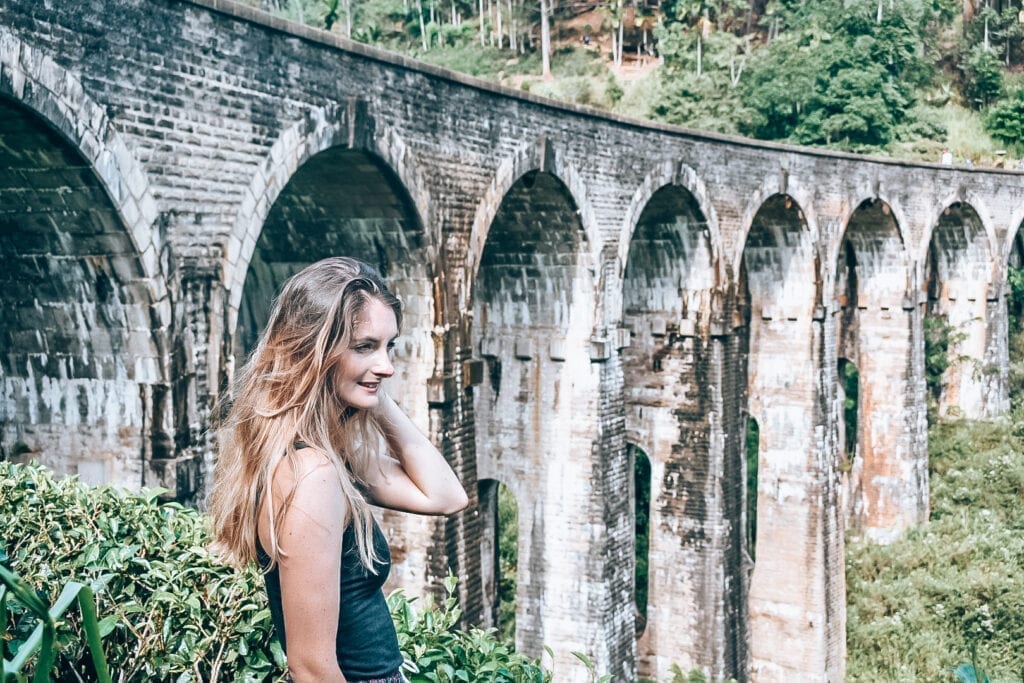 How to get to the Nine Arch Bridge
By Tuk Tuk from Ella Centre
A Tuk Tuk from the centre of Ella will take around 6 minutes to reach the nine arch bridge.
View Points
Tea Fields
The tea plantations below the bridge serve the best views of the Nine Arch Bridge. It is the perfect place to capture beautiful photos.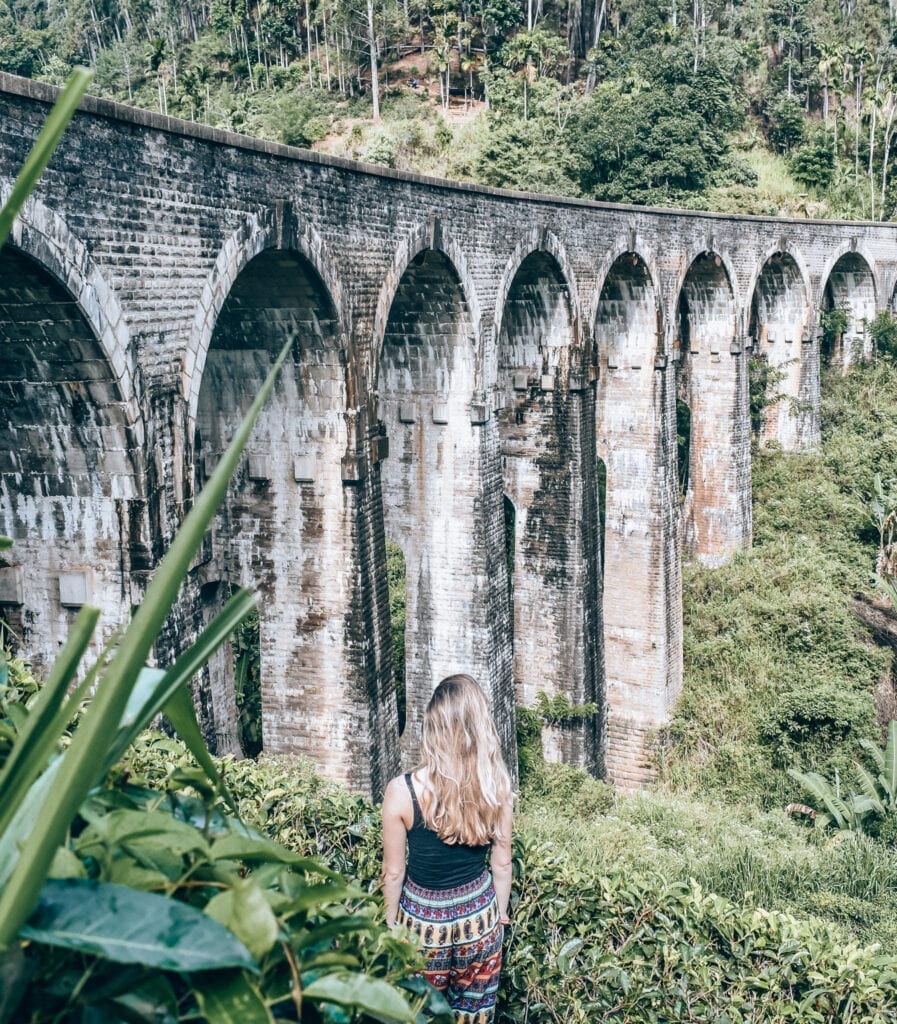 The Bridge 
Walking along the bridge itself is an extraordinary experience. From here, you can appreciate the height of this bridge. It is also completely safe as you will know when a train is coming, local guides come to move everyone off the tracks. 
Above the Bridge
When walking down the bridge, there are many incredible viewpoints! These are especially great if you are heading down to catch a train passing. A cafe about halfway down is a great place to have a drink and chill as the train passes. Of course, the train times are when this place is most busy. Therefore to be up away from the crowds can be a nicer way to experience this. 
Tips for visiting the Nine Arch Bridge
Get here early! And we mean early. We decided to head here after climbing Little Adams Peak for sunrise. This plan worked out well because of the proximity of the two. Heading to the Nine Arch Bridge early in the day will allow you to avoid the tour coaches that arrive at 9 am. After 9 am, there is an influx of tourists. Being here early also allows you to catch the best light. 
For the perfect morning exploring the magical misty town of Ella, we would recommend Little Adams Peak and the Nine Arch Bridge together. So wake up early and head to the top of Little Adams Peak for sunrise. From here watch the sunrise from here and spend some time exploring the peak and taking in all the valley has to offer. After this, if you fancy some breakfast, we would recommend Ella Garden. This restaurant is open early and has some incredible views of Ella Rock. 
After this, head down to the nine-arch bridge. This plan is the perfect morning in Ella. You will have seen so much before most of the other tourists roll out of bed. 
Spotting the blue train 
There are two different types of trains that pass over the nine arch bridge. Everyone wants a shot of the famous blue train, but there is also the vintage style red train. We think both are as pretty as each other, but most people want to spot the blue train.
To be in with a chance of spotting the blue train, check out the timetable on Sri Lanka Railways. Of course, in typical Asian style, be prepared the train might be late.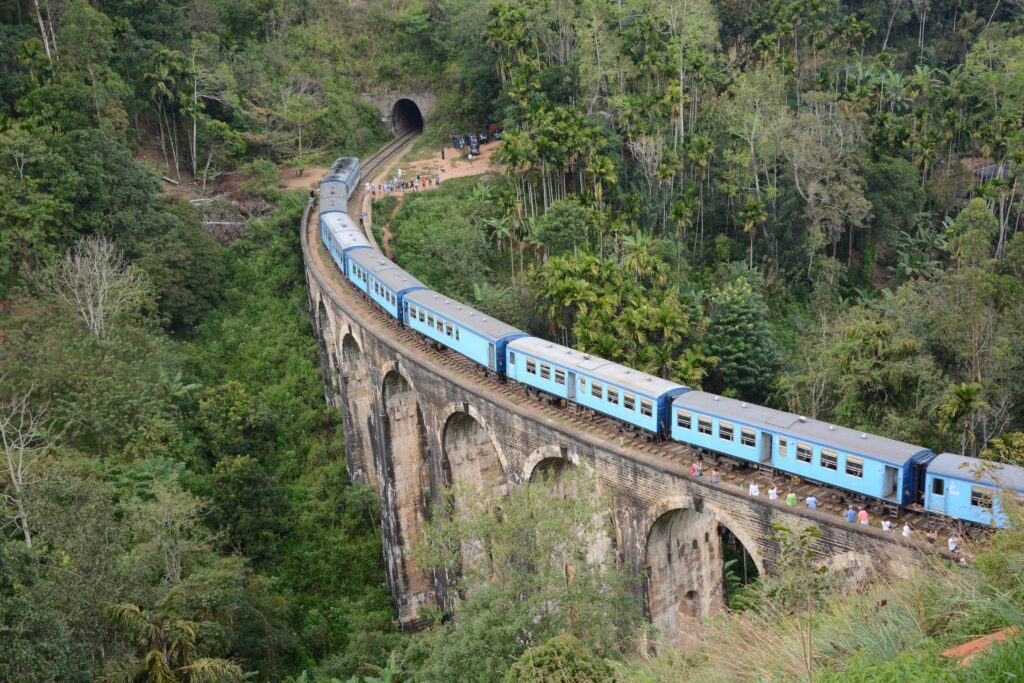 Some facts about the Nine Arch Bridge
This masterpiece was built in the 1920s by a Sri Lankan manufacturer in collaboration with British engineers.
It is 91 meters long and 24 meters high!
We have written a complete guide on the best things to do in Ella, Sri Lanka. So go and check this out for everything you need.
But in the meantime, here are our top things to do in Ella: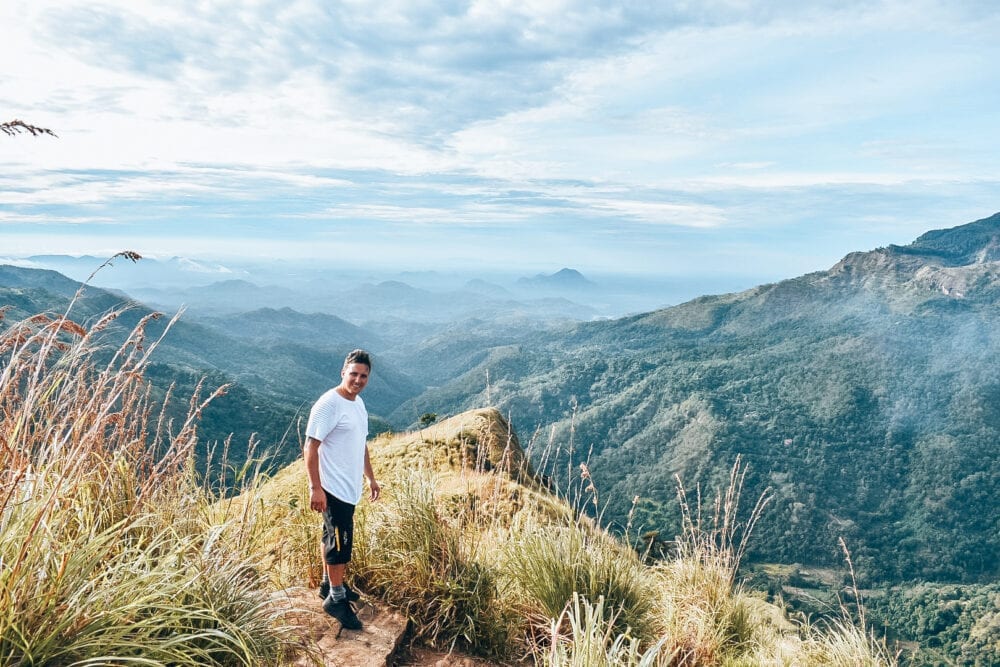 How to Get to Ella
You can reach Ella by train or by bus. We took the train as it is a bucket list experience in Ella and undoubtedly worth it. 
By Train
From Colombo 
There is a direct route from Colombo to Ella, making this quaint town easy to reach. Trains run four times a day between Colombo and Ella. The journey takes roughly 8hr 31m. 
From Kandy
To Reach Ella from Kandy: The Famous Blue Train
The Kandy-Ella route is one of the most popular train journeys in the world! It is easy to see why. The famous blue train passes through lush green tea plantations, waterfalls and provides some of the most stunning views you can imagine. Coming to Ella by any other means would mean missing out on this experience. However, the journey is around 7 hours, and you will most likely have to stand. If this sounds a little long for you, then read the option below.
Insider Tip: Both sides of the train offer stunning views and scenery. However, if you are free to choose a side, chose the right side when travelling from Kandy to Ella for slightly better views!
From Nuwara Eliya 
To reach Ella From Nuwara Eliya: The Famous Blue Train, the shorter journey!
If you haven't considered adding Nuwara Eliya to your Sri Lanka itinerary, then now is the time too! Nuwara Eliya is another mountain town in Sri Lanka. It is the land of waterfalls and a completely different vibe to Ella. We stayed for two nights and loved it. 
Although most people get the Train from Kandy- Ella, you don't need to! The best views are in the second part of the journey and between Nuwara Eliya and Ella. This means you get all the best views in half the time. 
By Bus
If you haven't reserved your train ticket, the bus is your second best option. However, we would strongly recommend booking your train ticket as soon as you know your travel dates. The journey is the most beautiful in the world and you want to be booking atleast a month in advance.
From Colombo
There is no direct train from Colombo to Ella, but it will drop you about 5km from Ella. From here, you can get a Tuk Tuk or taxi for the remainder of the trip. Tickets start at 710 Rs for an airconditioned bus and will take just under 7 hours.
From Nuwara Eliya
The bus takes around 3 hours and is cheap. If you have luggage make sure you are here early as the bus gets full quickly and you won't have room for your luggage. It will cost around 69 RS each.
Where to stay in Ella
We have a comprehensive guide on the best Hotels and Best Airbnbs in Ella. But here are our top two options for Ella and places we have personally stayed.
Hotel – Heritage. This hotel is the perfect location in Ella. Walking distance to all of the restaurants and cafes saves you from getting a tuk-tuk around the town. The hotel itself is so beautiful! We loved our stay here. It is so luxurious yet boutique at the same time. 
Airbnb – Stargazer. We loved this Airbnb. It's a pretty simple concept. A standalone bedroom and bathroom with a perspex roof allow you to stare up at the stars. The thing that makes this place incredible is its balcony. With nothing but the jungle in front of you, this place is extraordinary—the perfect place for a cup of Sri Lankan Tea.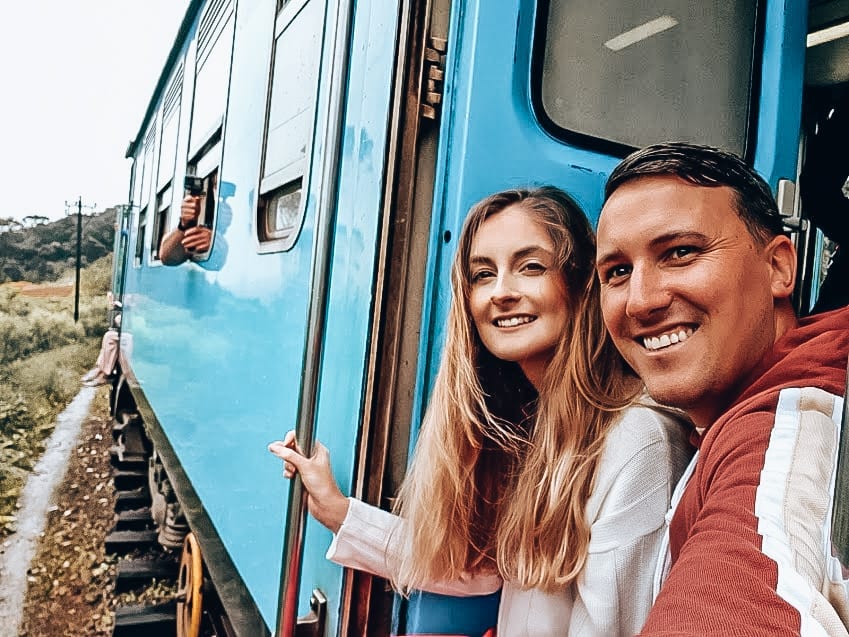 Summary of our Guide to the Nine Arch Bridge in Ella, Sri Lanka
Hopefully, this guide is proof enough that the Nine Arch Bridge is a must-have on your Sri Lanka Bucketlist. This place is even more beautiful in person than photos can show. Combined with Little Adams peak, these two experiences are some of the best Sri Lanka offers.
What's Next?