This blog post contains affiliate links. As an AirBnB associate we may earn a small commission to fund our coffee drinking habit if you use these links to make a purchase. You will not be charged extra, and you'll keep us supplied with caffeine. It's a win for everyone, really. Check out our Disclosure policy for more.
North Devon's endlessly rugged landscape, atmospheric villages, sandy beaches, and enchanting moorland make it the perfect place for a UK getaway. Devon is home to the famous dramatic Exmoor landscape and UNESCO Jurassic Coastline, making this destination even more special. These are the top North Devon Towns, England, they each offer something different. From steep clifftop villages, waterfalls, quaint cafés and shops, there is so much this beautiful part of the UK has to offer.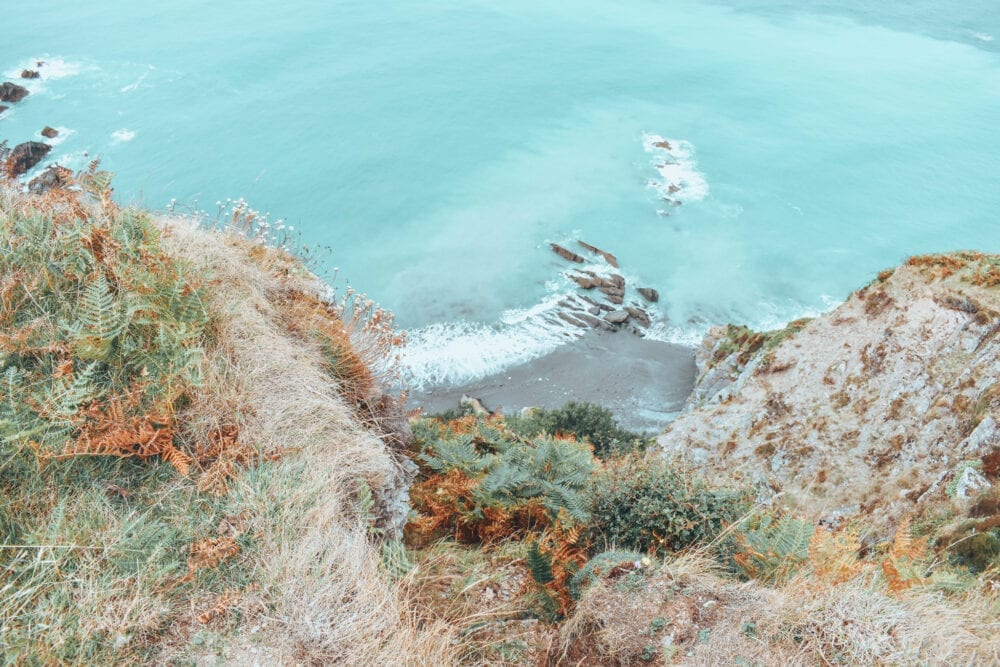 Contents
Ilfracombe
Clovelly
Lee
Lynmouth and Lynton
Lustleigh
Woolacombe
Martin Combe
Appledore
Ilfracombe Town
The town of Ilfracombe is made up of beautiful coastline, seaside shops, cosy cafés and dramatic coastlines. Filled with fantastic scenery and walks, this town is an incredible place to explore. There are also some great accommodation options from B&B's to Airbnb's, Ilfracombe is a great base to explore the rest of North Devon. Ilfracombe is also home to some decent restaurants, old-style pubs, independent galleries and cute gift shops.
Top things to do In Ilfracombe
The Ilfracombe Coastal Path
The path in Ilfracombe offers some of the most beautiful views we have experienced in the whole of Devon! This path defiantly provides some of the prettiest coastal areas and viewpoints. To find out more about the coastal path in more detail read this post.
Ilfracombe Tunnel Beaches and Victorian Bathing Pool
Tunnels that were hand-carved in the 1820s, leading to two sheltered bathing areas, a tidal pool and a café/bar. The baths used to be separated for Men and Women but now both baths can be enjoyed by whoever.
Although, the men beach can normally be closed due to weddings it is worth visiting for the women's beach alone. To get to the pools you have to walk through the Tunnels. At low tide you can see the Old Victorian bathing pool and have a swim yourself!
http://www.tunnelsbeaches.co.uk/
Places to Eat in Ilfracombe
THE TERRACE TAPAS & WINE BAR – A great independent place for great food and atmosphere! This was our favourite place to eat in Ilfracombe. Although you can't always rely on the English weather, you can rely on this Tapas bar to give you all the Spanish vibes!
Tips for eating out in Ilfracombe
Restaurants do get busy in the summer months, we recommend making a reservation on their website below.
https://www.terracetapasbar.co.uk/
Where to stay in Ilfracombe
Lee Village
This pint sized village is tucked away on the coastline. It is only two miles away from Ilfracombe and is made up of around 100 houses. This village is a classic postcard perfect village that is a hidden gem in Dartmoor.
Lee Bay is a stunning sandy beach quite different from others in Devon. It remains untouched by the masses and at the height of summer it remains a peaceful spot for sunbathing and relaxing.
Clovelly Village
Perhaps the most beautiful town on the North Devon, England, Coast (although with Tourist numbers to match). A cliff side steep pedestrian-only cobbled village with views over the Bristol Channel. It's careless, cobbled, and leads down to the pub, harbour and sea at the bottom of the street. A town scatted with independent arts and crafts shops you could spend a whole day learning different crafts!
Note: You have to pay to enter and walk around the village. It will cost around £8 each. There are also no motorized vehicles allowed in the village.
Top things to do In Clovelly
THE CLOVELLY WATERFALL
From the harbour you can walk across the beach and past the Lifeboat station to the waterfall.
The waterfall is especially beautiful after heavy rain. It offers stunning sea views and beautiful cascading water. Rumour has it that the cave behind the waterfall is where the legend tells that Merlin, the Arthurian magician, was born. This part of the beach is also especially nice for couples to come and spend quality time.
To read about other waterfalls in Devon, check out walks and waterfalls in Devon post.
CLOVELLY GARDENS
A must-see when exploring Clovelly. Here you will find walled gardens lined with lime trees. You can enjoy the carefully tended Gardens,
You'll find these old walled gardens a contrast to the rest of the village, so do go along and enjoy their beauty. Protected from the winds and bounded by an avenue of lofty lime trees, they are usually a month ahead of the season. Consequently, you'll find that there's always something to see and enjoy during the year.
During the Summer there is so much to enjoy. In the beautifully restored Victorian glasshouses, there is an abundance of fresh fruit and vegetables to see.
Outside the garden, produce is tasteful and wholesome, along with apples, pears, quinces, soft fruit, mulberry trees, and Chinese gooseberries. Check out their website here for more information.
Lynmouth & Lynton
Lynmouth is known nationally as Little Switzerland and it's easy to see why. This sleepy town is in a steep hilly setting, characterized by deep woodlands, river gorges, and rocky walking trails. It reminds us of an Alpine village you may find in Switzerland. These two towns are the walking capital of Exmoor and is such an outstanding area in North Devon.
Top things to do In Lynmouth and Lynton
LYNTON AND LYNMOUTH RAILWAY
The only remaining steam railway in the UK. Designed in the 1890s. It's a quirky and interesting experience and a quick way to get up the steep hillside.
SHOPPING
We love the quirky independent shops in Lynton and Lynmouth. We spent hours just looking around and enjoy this cute coastal town.
Valley of the Rocks in Exmoor National Park
The Valley of the Rocks is a dramatic section of coastline on the northern edge of Exmoor near the villages of Lynton and Lynmouth. Exmoor never fails to disappoint when it comes to varied and interesting landscape, with this spot most definitely being no exception. Arriving in the deep valley floor with steep cliffs on either side, it is an awe-inspiring landscape. This experience is only made better by the mountain goats that will join you on your walk! This is a great way to explore Exmoor national park which is a must for any trip to North Devon.
To read more about exploring Exmoor and North Devon Walks and Waterfalls check out this post.
Lustleigh Village, Dartmoor
The village of Lustleigh is a postcard-perfect place and a secret gem in Dartmoor. This village is situated on a steep valley with the River Teigh running through it. Lustleigh is perfect for walking and an incredible walking territory. Many hikers are attracted to the stunning paths in Lusleigh and for good reason, with breathtaking views over Dartmoor, this village is really special. Lustleigh village also has a beautiful old church, a beautiful green, tea rooms, traditional cottage and stunning gardens.
Woolacombe Town
With its award-winning coastline and home of one of the best beaches in the west country, this place is a firm favourite for surfers! This place attracts thoughts of people each summer. With its three-mile-long beach even in peak time, you can find quiet places all year round. The Town of Woolacombe is only a short distance from Ilfracombe.
Top things to do In Woolacombe
BARRICANE BEACH & SRI LANKAN CURRY
Our all-time favourite thing to do (and eat) in Devon! This is a tiny, secluded beach with seashells, tidal rock pools. But the best thing of all is the beach hut that serves traditional Sri Lankan Curry. Take a blanket (or two) and some bottles of wine and beer. Cosy up on the beach with the most perfect Sri Lankan curry. Check out their trip advisor here.
Combe Martin
Combe Martin is perfect if you are looking for somewhere drenched in rural charm with fewer tourists. Overlooked by many who head to the beach resorts in Woolacombe or Croyde, Combe Martin still has its friendly atmosphere and traditional rural feel. Combe Martin is home to some of the highest sea cliffs on the British mainland. This village also holds the Guinness world record for the worlds the longest street party.
Top things to do In Combe Martin
BROADSANDS BEACH
Tropical vibes in Devon? Yes, we mean it! It is not only a beautiful beach it is one of North Devon's most picturesque locations and should not be missed.
This beach has actually won an award for being the Happiest View in Great Britain (study conducted by Best Western Great Britain).
This place should be added to any North Devon visit and is worthwhile going a little out of your way to make a trip. However, It is a steep walk down 250 steps to the cave so bring comfy shoes.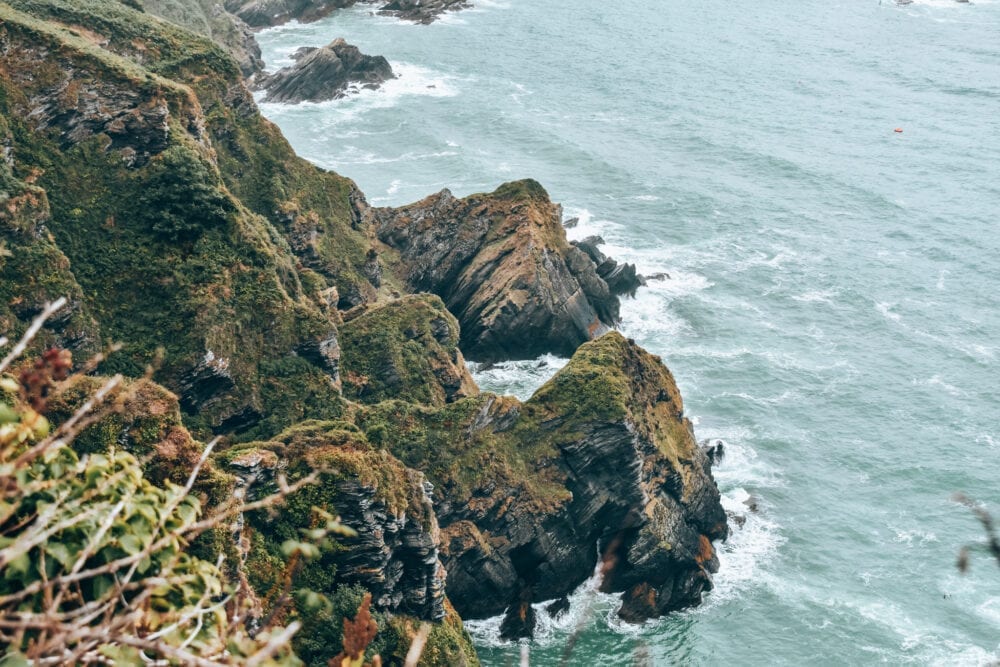 Planning a Trip to Devon? Check out our guide to the top 10 things to do in Devon.
Appledore
A mesmerizing place dotted with pastel coloured houses and hanging baskets filled with beautiful flowers. The streets are a collection of winding cobbled streets, with picture-perfect corners. Appledore town is apparently home to the best ice cream in Devon.
Top things to do In Appledore
APPLEDORE & NORTHAM BURROWS WALK
Perfect if you love Beach walks. Take a picnic with you and make a day of it. This walk also provides fantastic views of the estuary.
Where to Stay in Devon
Choosing where to stay in North Devon England is important as you want to base yourself somewhere you can explore most areas from.
We chose to stay Ilfracombe as it's the perfect base to explore from with plenty of food options too.
Summary of the best North Devon Towns
We hope you enjoyed our guide to the best North Devon towns and villages in England. Whether you are exploring towns nestles in the heart of Exmoor or on the Jurassic coast there is so much to discover.
What's Next?