This blog post contains affiliate links. As an AirBnB associate we may earn a small commission to fund our coffee drinking habit if you use these links to make a purchase. You will not be charged extra, and you'll keep us supplied with caffeine. It's a win for everyone, really. Check out our Disclosure policy for more.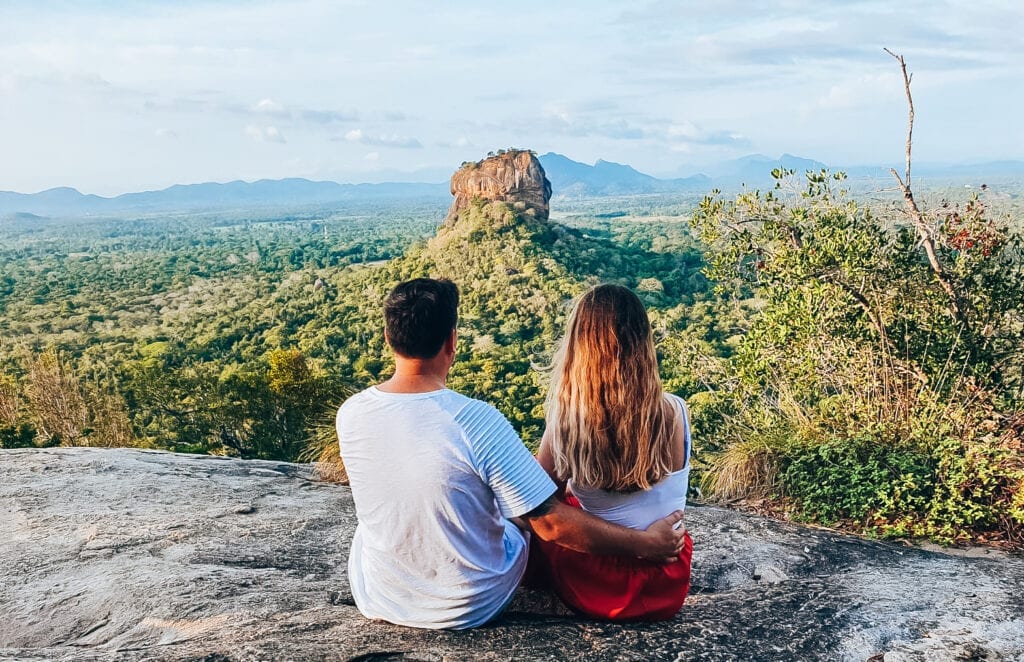 Pidurangala Rock hike provides some of the most breathtaking views Sri Lanka has to offer. At Sunrise this place is even more amazing and provides panoramic views that you can enjoy for hours!
The Pidurangala Rock hike is fast becoming the most popular thing to do in Sigirya. So here's our guide to an amazing view for a cheap price.
PIDURANGALA ROCK HIKE IN SIGIRIYA – A COMPLETE GUIDE TO VISITING
Travelling to Sri Lanka? Check out our other Sri Lanka Posts.
PIDURANGALA ROCK vs LION ROCK
Lion Rock, a UNESCO World Heritage Site that is famous for its palace ruins on top of a massive 200-meter high rock. It is surrounded by the remains of gardens and reservoirs. You cannot come to Sri Lanka and not experience this landmark.
After first researching Sri Lanka, we really didn't know whether to climb Pidigularangla rock or Lion rock itself. After speaking to fellow travelers and locals we decided Pidigularangala rock was more for us, and ultimately the best way to experience Lion Rock. A fraction of the price and more of an adventure!
Numbers comparison
Entrance Fees:
Pidurangala Rock – 500 Rupees
Sigiriya Rock – 4500 Rupees
Wait Times:
Pidurangala Rock – No wait
Sigiriya Rock – Up to 3 hours
Do both, but do Pidurangala rock first.
We read blogs of those who had done both, we decided it was a lot of money and like to avoid the crowds. So Pidurangala rock suited us well. Of course, if time permits you could do both (on the same day). It is worth noting if you would like to see sunrise go to Pidurangala first and then Lion rock, as Lion rock is not open until 7 am and you will miss it!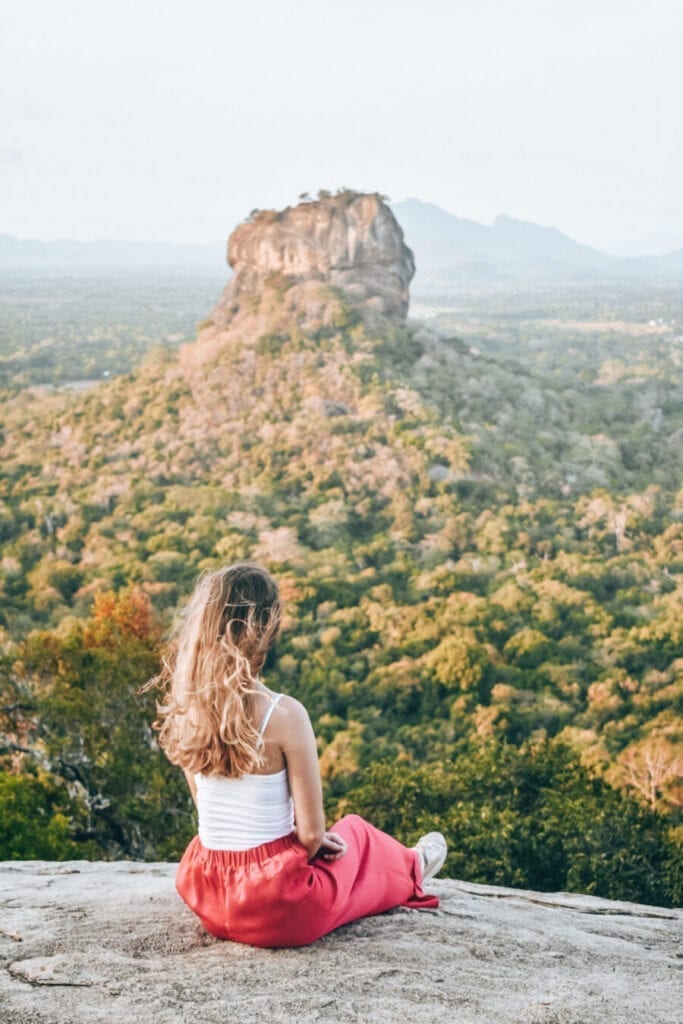 HOW TO GET TO PIDURANGALA ROCK
This trial starts in a small town called Sigirya, near to the town of Dambulla in the Central Province of Sri Lanka. We chose to stay in the area of Sigiriya for two nights but it would be easy to travel here from Dambulla, which has many more restaurants and accommodation options depending on what you are looking for. We loved the authentic and rural atmosphere in Sigiriya and there is plenty to do here.
If you do stay in Dambulla the easiest way to reach Pidurangala Rock is by tuk-tuk. A tuk-tuk from Dambulla should cost roughly 2,000 Rupees. This includes the half-hour ride to Sigiriya, and for the driver to wait for 2-hours wait whilst you explore Pidurangala Rock (you can pay to stay longer) and the journey back to your accommodation.
WHAT TO TAKE WITH YOU
Walking shoes
Cover up your knees and shoulders – at the beginning of the hike, you pass a temple so you must cover up when passing this.
Water- there is little to no shade at the top and you will need to stay hydrated. Make sure you use a sustainable water bottle.
Environmentally friendly Suncream
Most importantly: a Torch! To make sure you can see everything on the way up.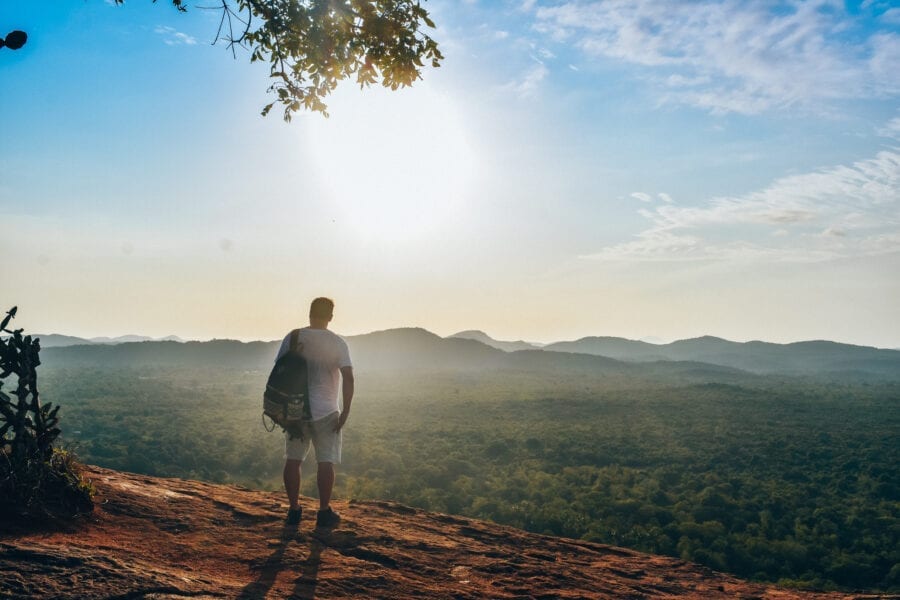 WHAT TO EXPECT ON THE PIDURANGALA ROCK HIKE
We set off in to start climbing the Rock about 50 minutes before sunrise. You only need about 30 minutes to climb but this gives you time to find a good spot and take your time climbing, as it will be pretty dark to start with!
There is a little hut on your right as you enter that you have to buy tickets from someone who will be there to make sure you pay and get your ticket. You can also buy a cover-up if you didn't bring your own. Also, take your shoes and socks off as you walk past the temple.
It will be dark on the way up so take your time. It is a pretty easy climb but made a little more difficult by the darkness. Rock formation and a giant buddha can be spotted on the way up. Although, be warned you have to climb up some rocks to get to the very top and it is a little bit of a challenge.
Be careful of the monkeys they will swing around the branches above your head and are not afraid to nab things from your bag. Take the time to enjoy them in there natural habitat, we experienced no problems with monkeys ourselves but you can never be too careful when it comes to monkeys!
We would recommend taking the surroundings of the hike in on your way down once the sun is up and you can see everything.
At the Top
We sat at the top for a while and just took in the fresh air and panoramic views. It wasn't at all busy, so we sat and chilled as we saw the queues develop on the stairway in the distance of the famous Lion Rock!
We sat and watch the sunrise over the panoramic views, it was just beautiful from here. The sun rose behind the mountain in front of us. As the sun came over the summit Lion rock became illuminated in all its glory, glowing with its dominance over the landscape. We really do recommend spending some time watching the sunrise eating some snacks and just taking in all that this viewpoint has to offer. Don't just focus on Lion rock itself, the top of this rock is massive and offers so many amazing viewpoints.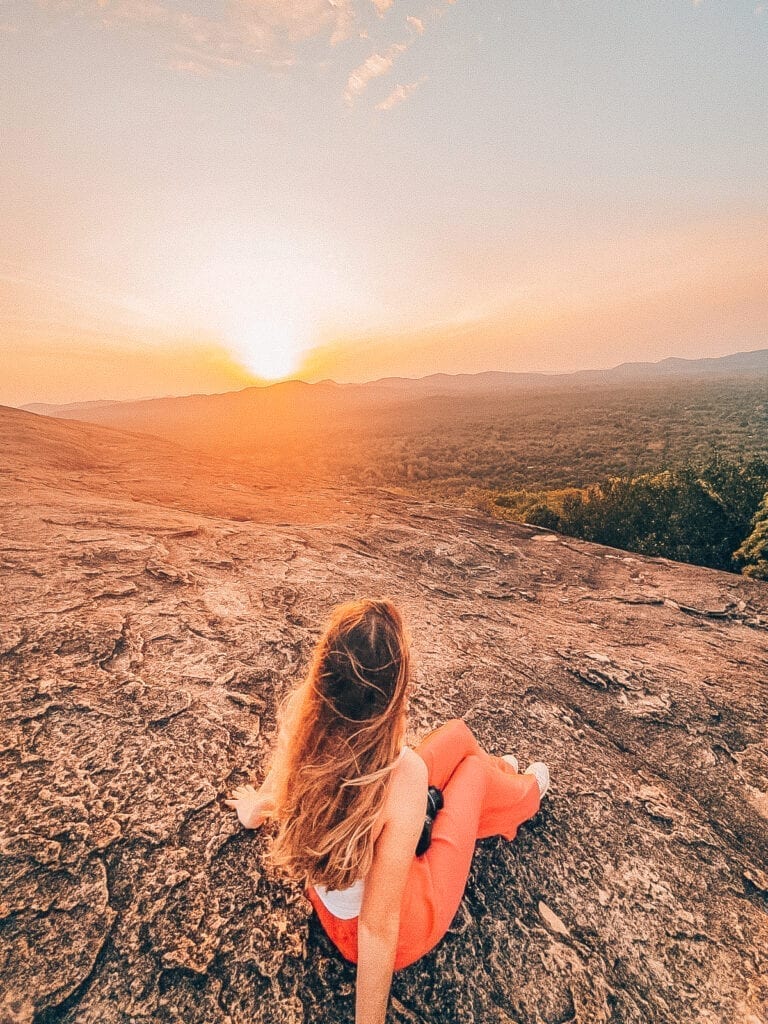 Pidurangala Rock really is a beautiful hike and well worth the climb. It gave a 360-degree span of Sigiriya and of course, looked out to the famous Sigiriya Rock! As you can see from the photo's it doesn't really need much more explaining!
Whats Next?
After climbing Pidurangala Rock, we decided to explore the Polonnaruwa ruins, followed by the most amazing lunch and a safari. Check out our two week Sri Lanka itinerary to do the same!
This hike not tired you out? Check out other Hikes in Sri Lanka: