This blog post contains affiliate links. As an AirBnB associate we may earn a small commission to fund our coffee drinking habit if you use these links to make a purchase. You will not be charged extra, and you'll keep us supplied with caffeine. It's a win for everyone, really. Check out our Disclosure policy for more.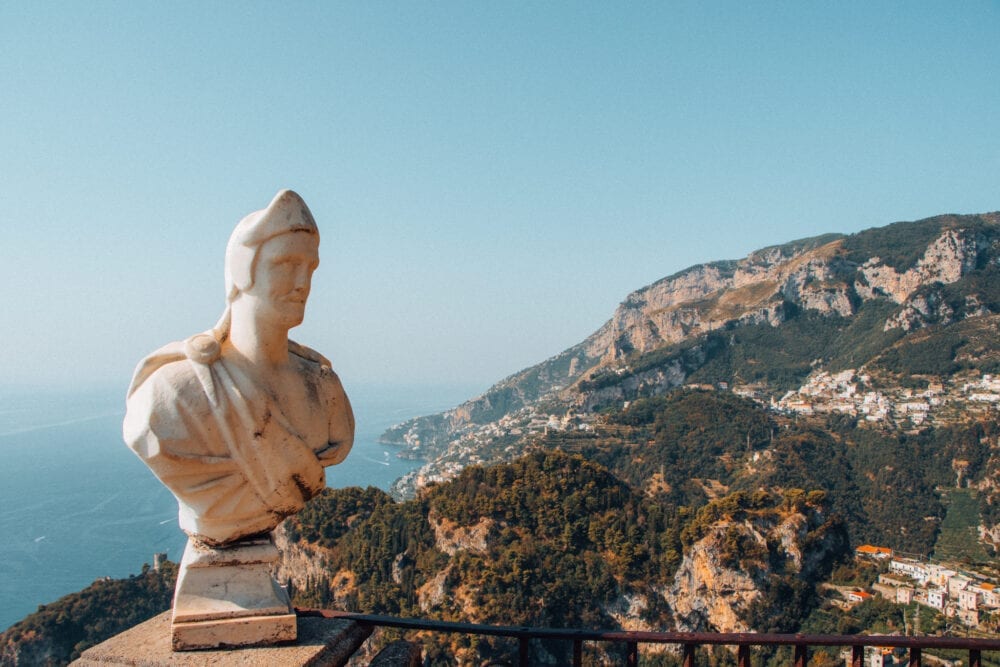 Perhaps the most picture-perfect destination along the whole Amalfi Coast, Ravello! We dream of this place and it will stay in our hearts for a very long time. With its postcard corners and splendid gardens, this place has so much to offer and it's the ultimate place for couples to spend time. This post includes everything you need to know to plan a trip to Ravello and the most special things you must do on your visit.
Villa Rufolo
Opening Times and Prices
Opening hours to the public:
Monday to Sunday open all day: 9:00-17:00 last entry time 16:30
Ticket Prices:
Ordinary ticket: € 6.00 Entrance fee per person
Reduced 5-12 years and over 65 years: € 5.00 Children 5-12 and seniors over 65 years of age
The Gardens
Named after the Rufolo family who originally owned it. This villa was built in the 13th century and later renovated and restored by a Scottish owner Francis Neville Reid.
The two-level 'Garden of the Soul' with its beautiful terrace and stunning flowerbeds below, is one of the most breathtaking parts of the Gardens.
This villa is so romantic and picturesque, do not miss the stunning view that opens up to the sea and coastline. Here you will see the two iconic domes and tree that is most associated with Ravello! Not to be missed!
The entrance is more than worth it. If you have the time it would be worthwhile visiting during the day and at sunset! We only had the time to visit during the day, but watching the sunset from the Terrace of Infinity would be such an awesome experience.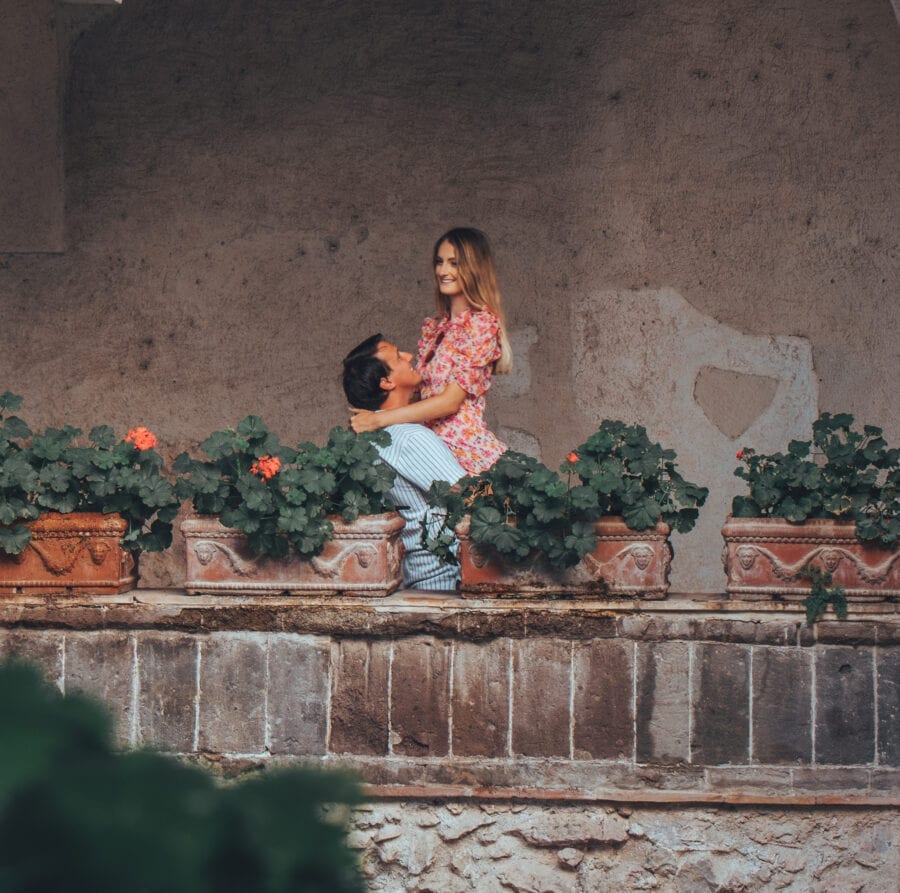 Villa Cimbrone Garden
Opening times and prices
Hours: 9.00 AM – until sunset
Ticket Price: 7 Euros
This place is by far the best place to visit in Ravello. Give yourself time to explore and take in the scenery. Do as the locals do and be prepared to live life a little slower for a few hours and enjoy this beautiful place.
Granita in the garden of luisa
We would recommend having tea or granita in the Garden of Luisa. With Jaw-dropping views and complete serenity, it's hard to move from this idyllic spot.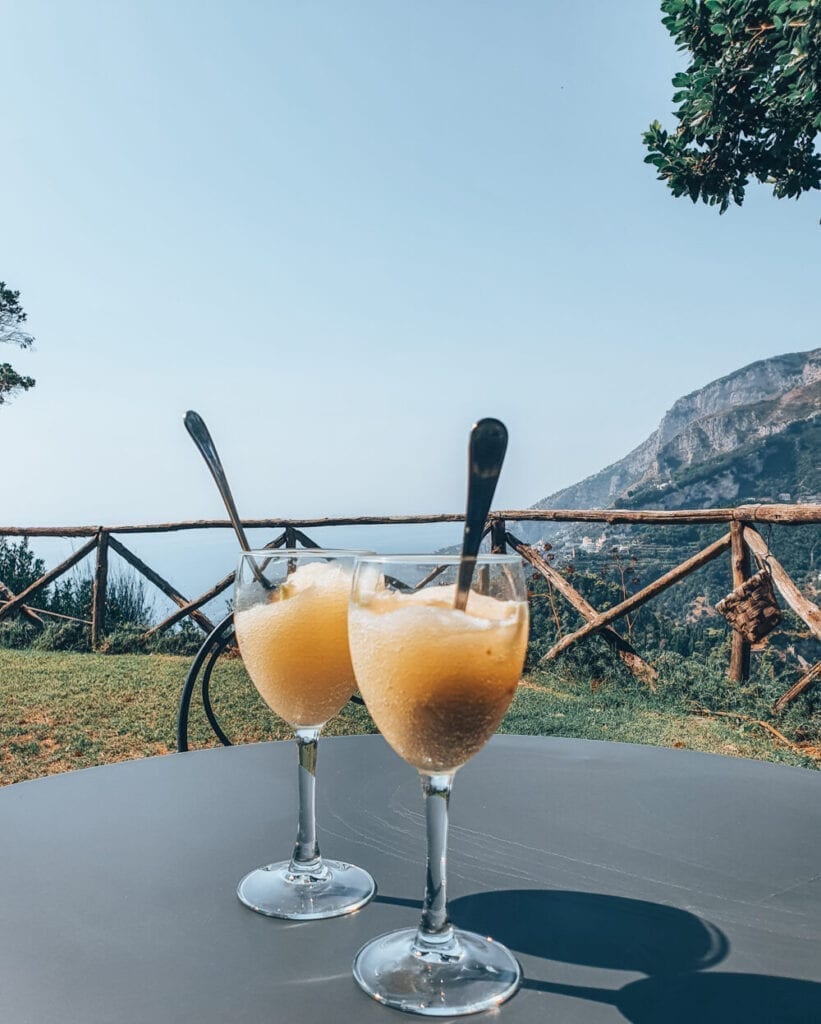 Things to see
Statue of Ceres, located in a small temple immediately adjacent to the terrace of infinity;
Crest of Mercury;
Little Temple of Bacchus;
Eve's cave;
Statue of David, a copy of Donatello's famous sculpture of David. (The original is in the National Museum of Florence)
Rose Garden, which is a few steps from the villa itself,
Tea Room), a rectangular garden next to the rose garden that features a Moorish-style pavilion, four Roman-era columns, and some marvelous sculptures.
The Terrace of Infinity itself, spare lots of time to stare out and really take in the views of this amazing place
Lunch at Villa Maria
After all that walking and exploring we would recommending stopping for lunch. On your way back from Villa Cimbrone, you will see a small vegetable garden with insane views behind it! All of the vegetables grown here are used in the restaurant next to it, called Villa Maria. The views here are so spectacular and the service is so exceptional it makes the views and food that bit more enjoyable! We would definitely recommend the peach bellini.
To make a reservation or check out there menu look here.
Planning a trip to Ravello? Check out our guide to the best romantic Airbnbs for couples here.
Things to do in Ravello: Walk Around the Town
The town of Ravello is just so picturesque and perfect, take your time to wander and take in the sights. We took a very slow walk from Villa Climbrone back to the main Plaza and stopped to enjoy all of the amazing views!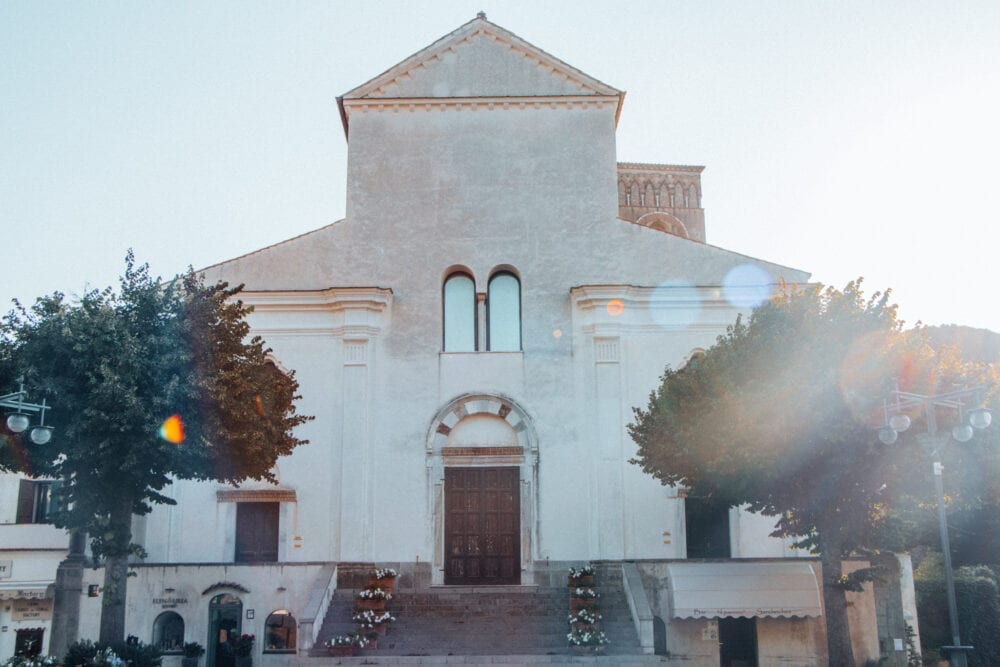 Things to do in Ravello: Coffee in the Plaza
Get a Coffee and enjoy your surroundings! This sleepy town is so peaceful and offers amazing views over the valley. You could sit for hours just admiring the landscape.
How to Get There
Ravello is relatively easy to travel to from most places on the Amalfi Coast. If you are planning to include Amalfi or Atrani on your trip then Ravello is really easy to travel to from here.
Bus: From Amalfi or Atrani get the Sita Sud5110, it will cost around 1-2 pounds per person as is the most economical way to travel. It will take around 20 minutes. Although be warned, you are traveling upwards into the hills and it is slightly scary on the bus.
Taxi: From Amalfi or Atrani it will take around 10 minutes and cost around 8-11 pounds.
If you are travelling from anywhere else on the Amalfi Coast, the easiest way to get here is to take a ferry to Amalfi and from the port there are taxis and buses readily available.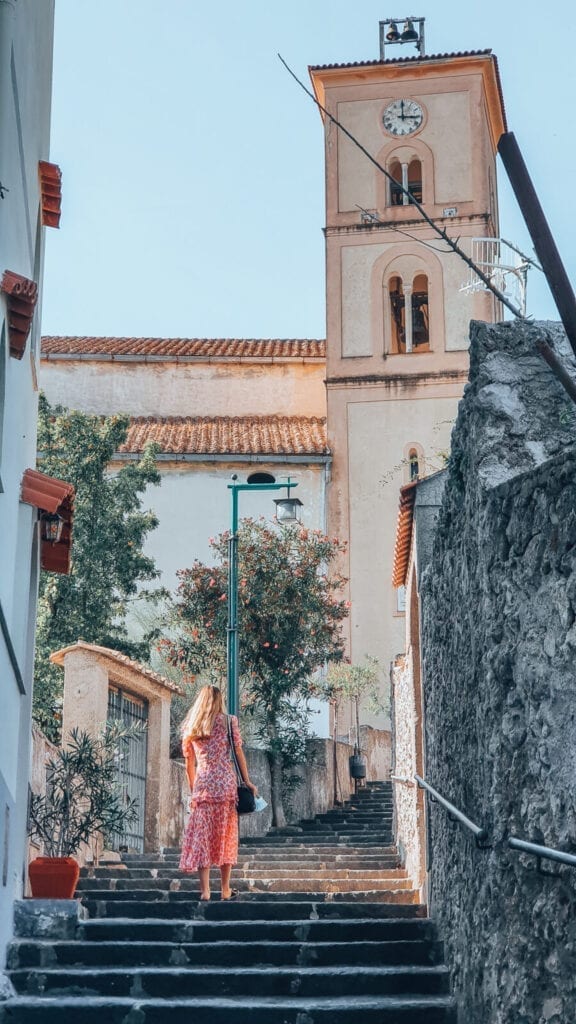 If you have a generous budget and can afford to stay in Ravello you will be in for a magical stay, check out our guide to the best Airbnbs in Ravello for couples for the ultimate romantic stay. We opted to stay in Atrani itself as it was much more affordable and steps from the beach!
Atrani is cheaper than Ravello and gives you direct access to the beach! This cute town is the smallest community in the whole of Italy. Despite being so close to Amalfi, we found it to be completely unspoiled by mass tourism.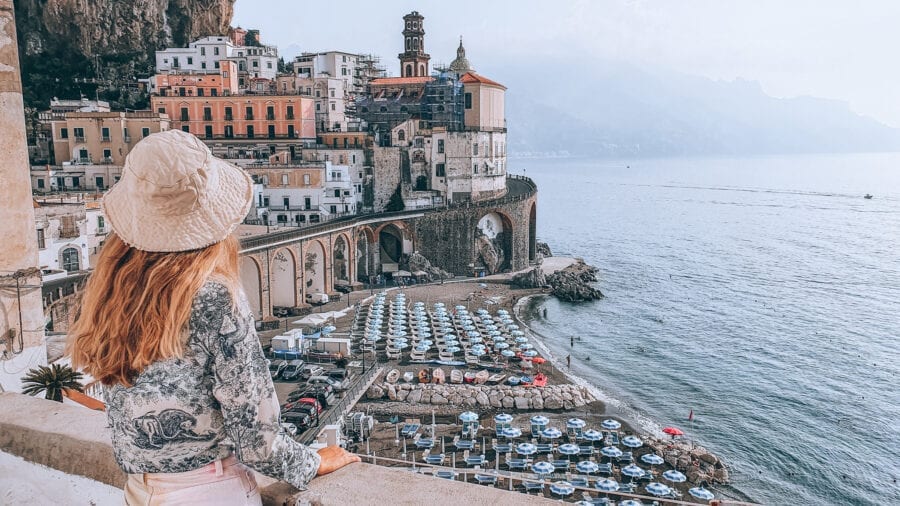 Although very touristy, we did enjoy exploring the lemon themed shops and beautiful clothing shops.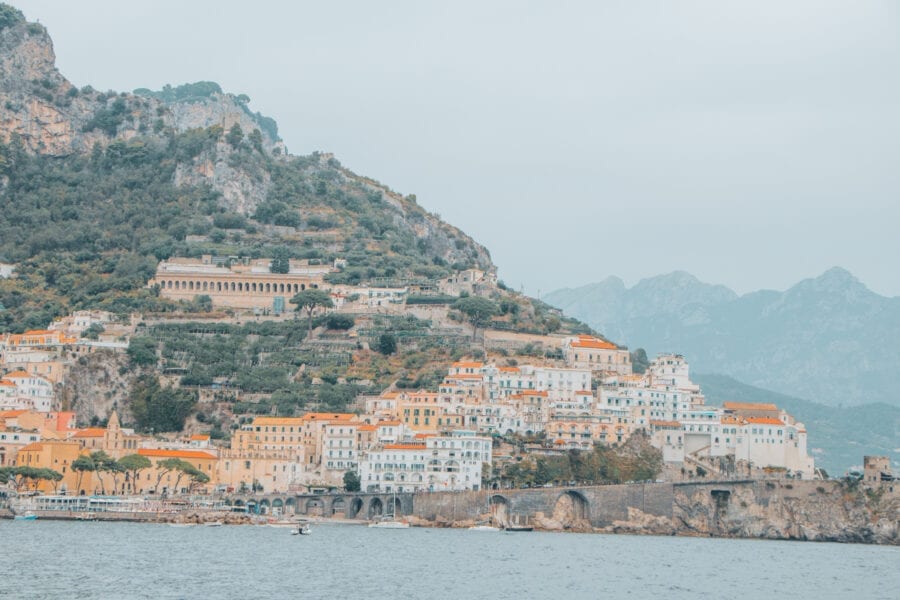 There is only a five minute walk between Atrani and Amalfi so either choice is fine to access Ravello!
Ravello
If you have a generous budget then staying in Ravello would be an amazing experience! There are so many beautiful hotels and Airbnbs to stay in and everything oozes romance and luxury!
Summary
We hope you enjoyed our guide on things to do in Ravello! Overall, this was one of our favourite places on the whole of the Amalfi coast and we cannot recommend this place enough.
What's Next?
Check out our guide to the best Airbnb's in Ravello.