This blog post contains affiliate links. As an AirBnB associate we may earn a small commission to fund our coffee drinking habit if you use these links to make a purchase. You will not be charged extra, and you'll keep us supplied with caffeine. It's a win for everyone, really. Check out our Disclosure policy for more.
Sami bay is made up of Sami, Karavomylos and Agia Efmia. This is our guide to Sami Kefalonia and its neighbour towns. Out of the three villages we loved Agia Effimia the most. Karavomylos is a must, it is home to the most beautiful natural attractions on the island you simply cannot miss. Agia Efimia is home to sensational beaches and our favourite place to eat on the whole island. The Port of Sami is a must when visiting Kefalonia. Here is our guide to the 3 towns you will find in Sami bay. Including the best things to do, where to eat and where to stay.
Contents:
Port of Sami
Karavomylos
Agia Efimia
Sami Kefalonia
The Port of Sami Itself Is a Charming Seaside Greek Port. Sami Is Quite Commercial and Full of Tourist Attractions. The Port Is a Perfect Blend of Italian Era Architecture and Relaxed Greek Authenticity.
The waterfront is full of cosy and quaint restaurants perfect for lunch or an early dinner. It is worth taking an hour or two to explore the town. Longer if you are stopping for food. After you are done exploring you can then walk to Karavomylos.
Things to Do in Sami, Kefalonia
Explore Sami Port
Take a while to wander around Sami village. Get some Greek treats from a local bakery and sit on the harbour edge. Or sit in one of the many fancy restaurants with a cocktail and watch the boats go by.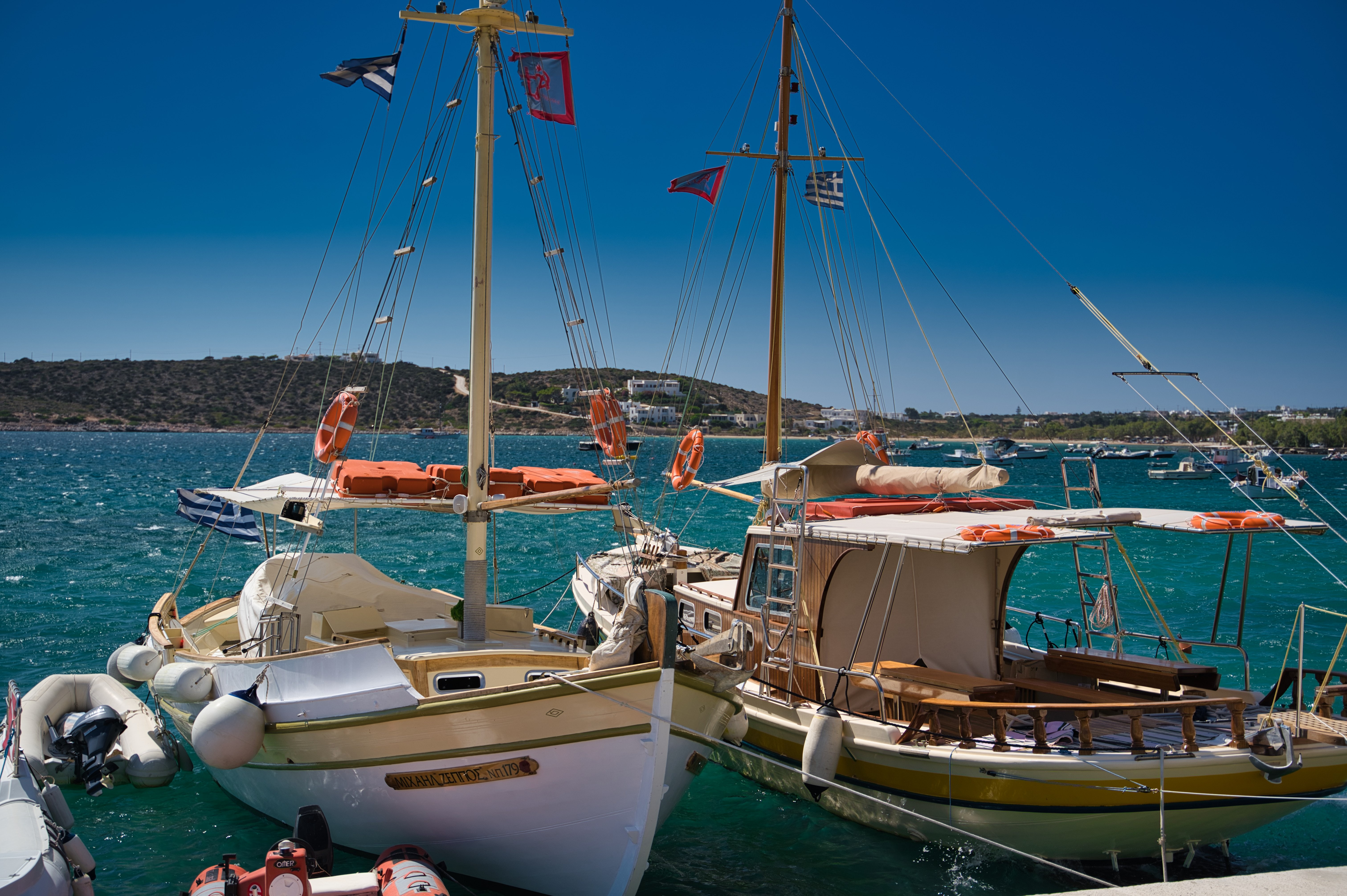 Loutro Beach
Loutro beach is a beach surrounded by dense green hills and stunning foliage. The stunning green reflects into the crystal clear blue water. This is a pebble beach easily accessible by foot or by car. Loutro beach is well-known for swimming and snorkelling. The experience of snorkelling here is only made more magical by the incredible views of the surrounding scenery.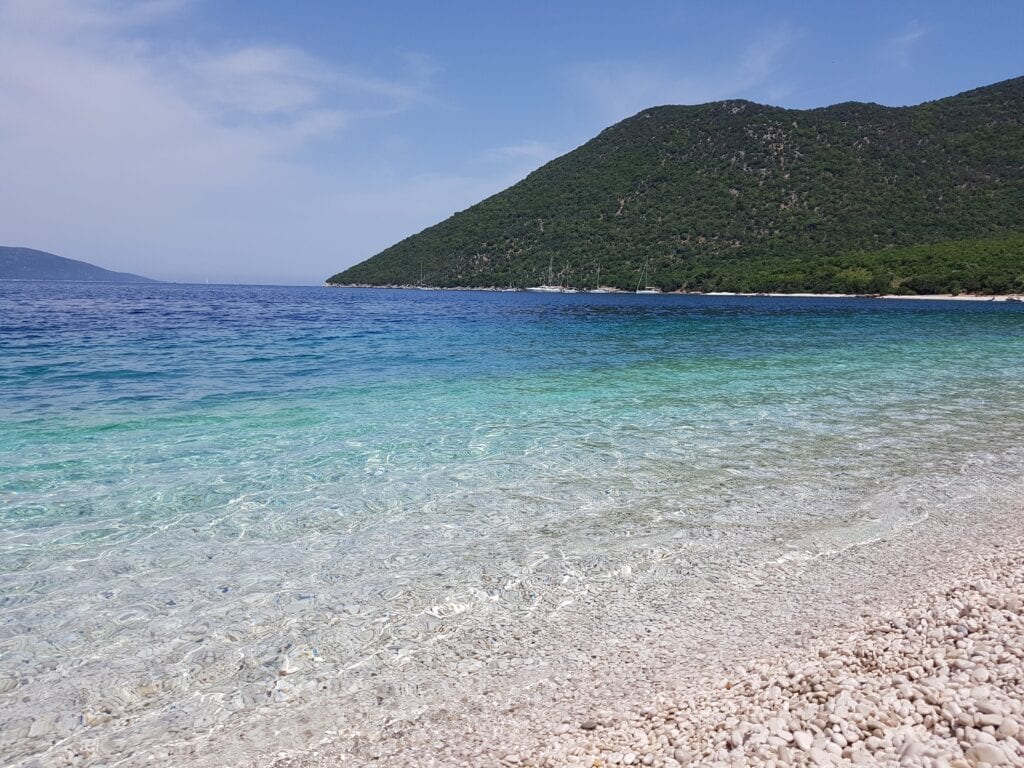 This Nautical Museum exhibits all the types of vessels of Traditional Greek boat building. Full of intricate and awe-inspiring work, it is a sensational museum. At 4 euros per person, you can observe early fishing vessels, merchant ships and clippers.
It is a small museum, so you likely won't need longer than an hour to have a look round. It is certainly worth the time to visit.
Places to Eat in Sami
Kallithea
This restaurant offers the most incredible views over the mountains. The views here are perfect to catch the sunset. Make sure to call ahead and reserve a table on the outdoor terrace. Having dinner here will be the most perfect and magical evening in Sami.
Check out there TripAdvisor.
Antisamos Beach Bar
After spending time at Antisamos beach this is the most perfect spot to eat. This beach bar serve the most delicious food, insane ambience and welcoming atmosphere. With insane views over the water this spot is the most perfect place to visit after spending a day on Antisamons beach.
Check out there TripAdvisor.
Karavomylos
Karavomylos town is only a five-minute walk from Sami. It is only a small town but has so much to offer. Karavomylos is a quaint peaceful fishing village on the east coast of Kefalonia. It is home to the famous Melissani Cave and Lake, it is a beautiful town to visit.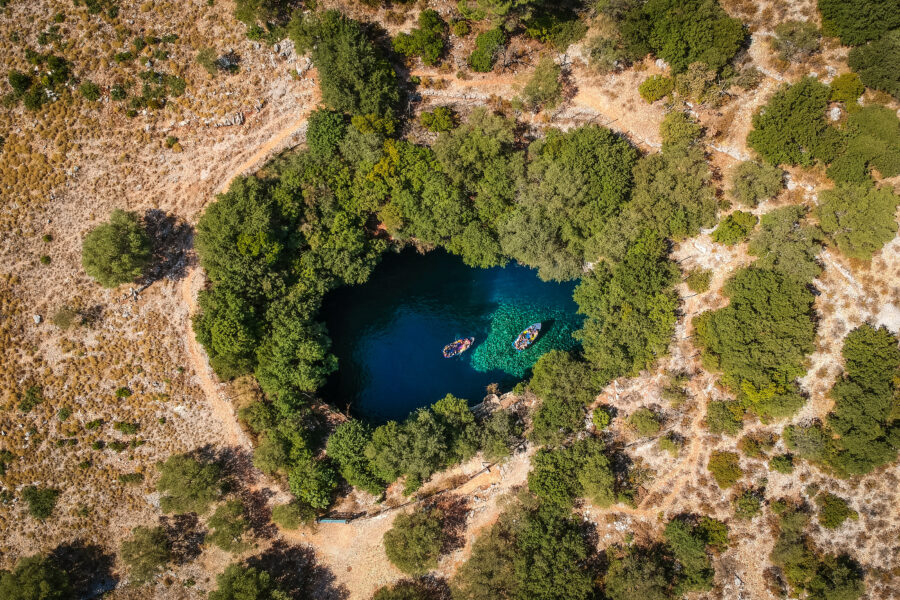 Things to Do in Karavomylos
Karavomylos Lake
This lake is so beautiful. Waters from the western side of the island travel underground and mix with the freshwater, causing the lake to be extra beautiful and endearing. There is a tavern here, the perfect place to stop and get some food and drinks. It is a magical setting with the lake on one side and the sea on the other. This lake has an abundance of marine life and a beautiful church and green foliage. Parking is really accessible.
Karavomylos Melissani Lake
Melissani Lake is a famous lake in the village of Karavomylos. This lake is by fat the most beautiful thing to experience in Kefalonia.
Melissani Lake is full of old wooden boats that make the experience even more magical. When the sun is in the right position it illuminates the water to bright blue. It is a shade so breathtaking it almost doesn't look real.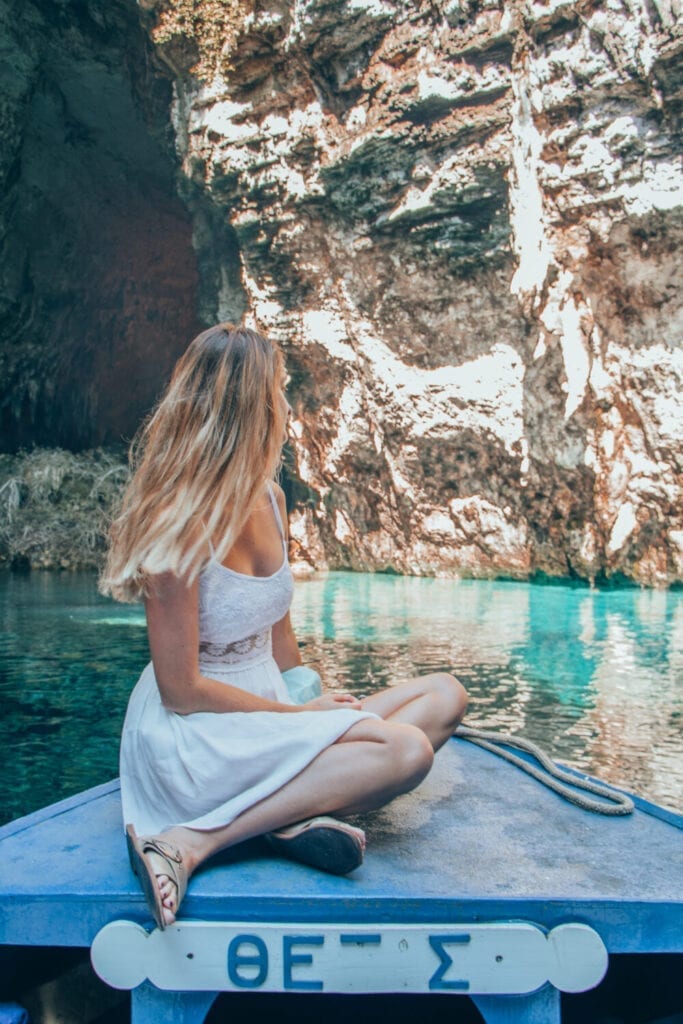 Drogorati Caves
This should be your next stop after Melissi lake. Drogorati caves are a collection of beautiful cave formations. The entrance to these impressive sets of caves was revealed by an earthquake. The caves are made up of two parts, one that is accessible to tourists and one part that can only be accessed by crossing a small lake.
Where to Eat in Karavomylos
Stoa is a must whilst in Karavmylos. Known for there amazing home-made pies and coffee. The owners of this amazing place devote everything they can to make this place amazing and homely. Check out there TripAdvisor.
Agia Effimia Town
This stunning town is a former fishing village. It is an intimate and cosy bay with cute houses perched on the water's edge. An impressive town lined with cosy taverns and shops with a backdrop of rich green hills.
A tour to Ithaca is a must when visiting Kefalonia. The island of Ithaca is named after Ithacos, son of Poseidon, the God of the sea. Full of sparkling emerald waters and hidden unspoiled beaches, Ithaca is remarkable. If you are lucky you might get to observe dolphins and sea turtles. This boat company sets out on daily tours to this magical island and it is certainly worth it.
Incredible Food at Paradise Beach Bar
If you visit this small town you simply must eat at Paradise Beach bar. It was our favourite restaurant out of all the ones we visited during our week-long stay. The views of this restaurant are amazing and the food was just incredible. If you fancy a real treat order their Chocolate souffle.
The Pergola
If you are looking for incredible local food this is the place to come. Check out there TripAdvisor.
The Most Secluded Beach at Agia Effimia
Next to Paradise beach bar you will see some steps down the cliff-side to a tiny white pebble beach. This beach is so beautiful and the perfect way to spend your day. We visited during the low season, so we were lucky enough to have this slice of heaven to ourselves. There is a slightly larger beach adjacent to it, so between the two, you should find a suitable spot.
To the left of the little restaurant, there are steps down the cliffside to a tiny beach. There is a slightly bigger beach next to this one. Between the two beaches, you should be able to find a good spot to relax!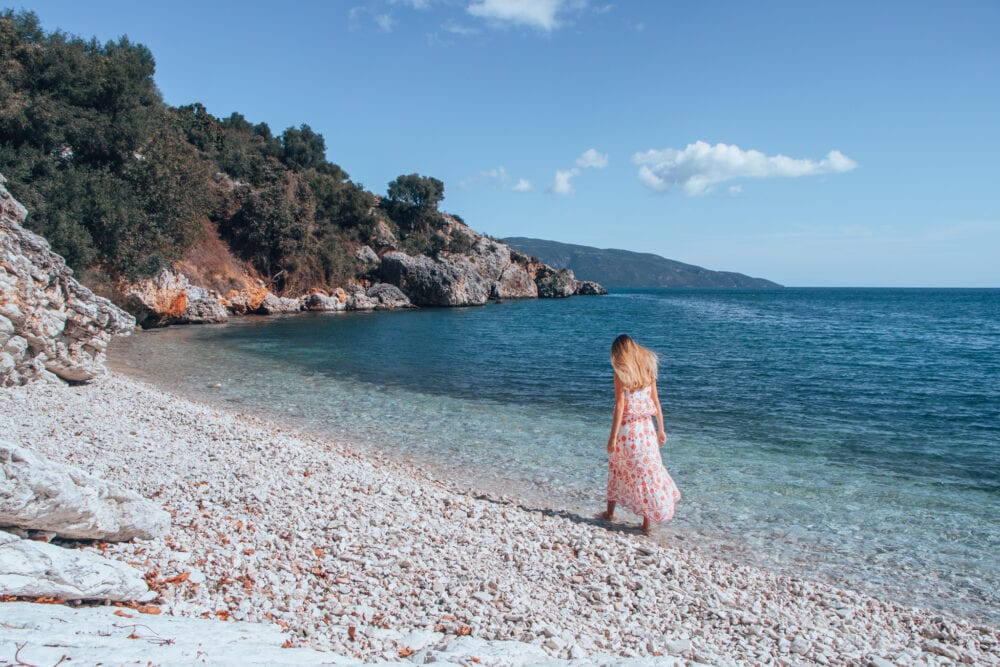 Other towns in Kefalonia
Fiskardo
Fiskardo is situated in the northernmost part of Kefalonia. Filled with pastel-coloured houses with contrasting shutters and tall pine trees, this village is so charming. The harbour is full of mega yachts and boats, it is so stunning and attracts the most visitors across all the Ionian islands.
Fiskardo was lucky enough to preserve most of its Venetian architecture. After the 1953 earthquake, much of Kefalonia's original Venetian architecture was destroyed. This causes Fiskardo an alluring part of the island and is our favourite part of Kefalonia.
Check out our guide to Fiskardo here.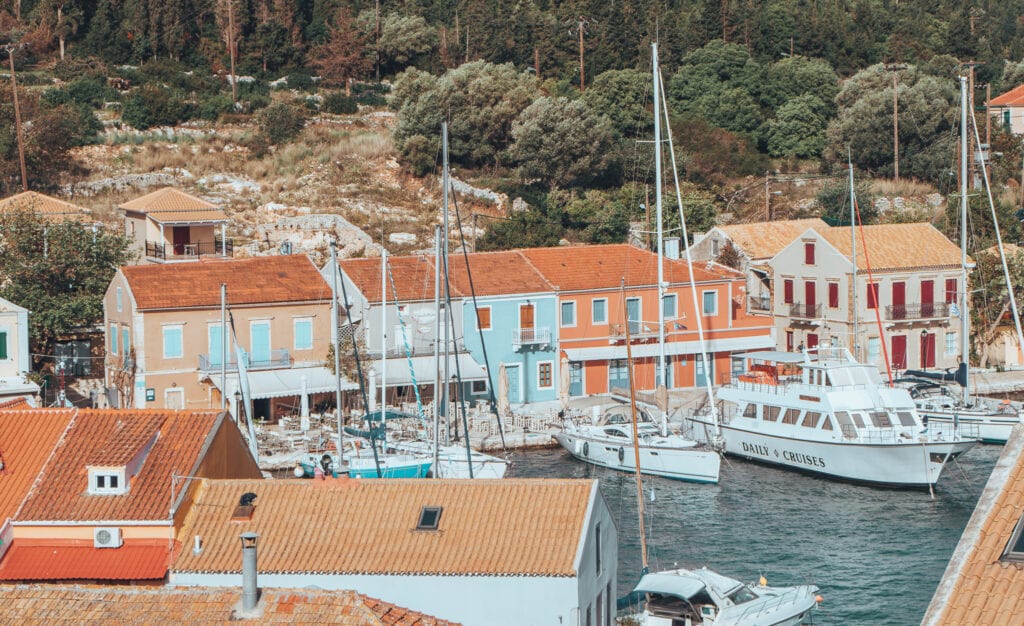 The village of Assos is so charming and full of traditional Greek charm. This picturesque town is perched on the water's edge and is full of Venetian ruins. Most notably the castle ruins that sit at the top of Assos. This castle has some impressive viewpoints over Assos and is certainly worth the hike. Assos is made up of two pebble beaches, traditional buildings and colourful houses. It is full of narrow alleys and flowering foliage and historic churches.
Check out our guide to Assos here.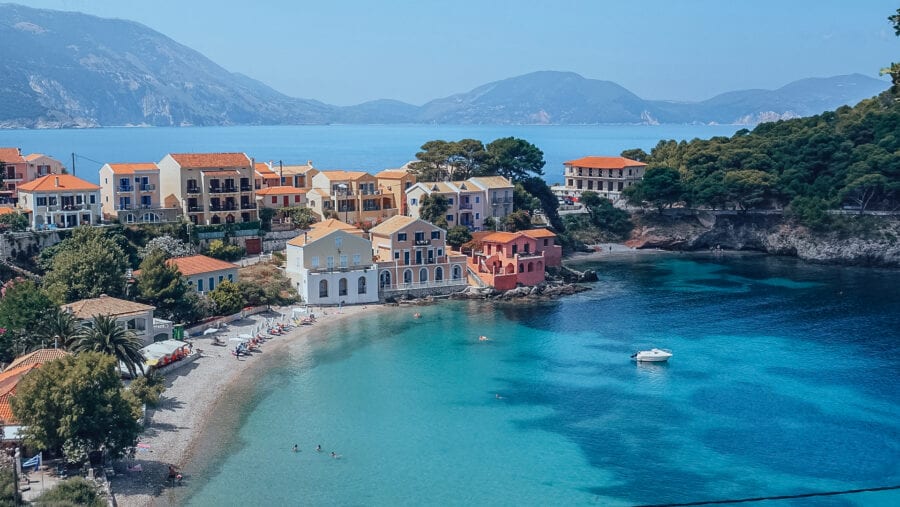 Argostoli
Argostoli Town is the capital of Kefalonia and the main port, it is located on the south-west coast of the island. This town is a busy harbour right on the water's edge.
Argostoli is known for its turtles, which are frequently sighted Check out wildlife sense to find out about their awesome conservation efforts in this area. Turtles can be frequently sighted early in the morning when fishermen return to the harbour after night fishing. Head to the waterfront than to be in with the chance of spotting one.
Check out our guide to Kefalonia towns and villages.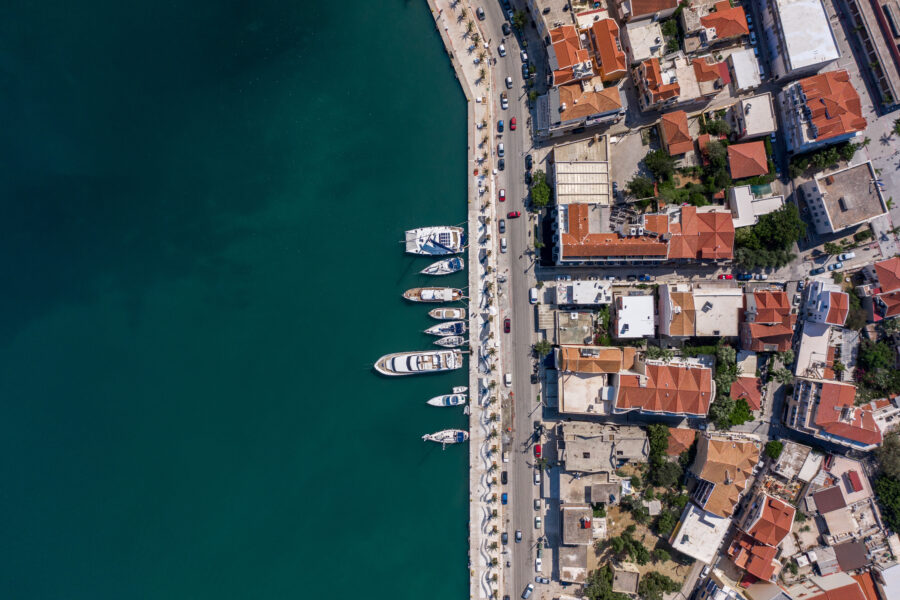 Top Hotels in Kefalonia
Summary of our guide to Sami Kefalonia
Sami in Kefalonia is a wonderful place to explore. Sami bay itself is made up of three incredible yet distinct towns. It is a beautiful part of Kefalonia. Each town offers something unique and with its own identity. We would recommend taking the time to explore each town and their beaches.
What's Next?