This blog post contains affiliate links. As an AirBnB associate we may earn a small commission to fund our coffee drinking habit if you use these links to make a purchase. You will not be charged extra, and you'll keep us supplied with caffeine. It's a win for everyone, really. Check out our Disclosure policy for more.
Before traveling to Sri Lanka, we saw so many amazing pictures of the incredible ruins here we knew we had to see some for ourselves! We hiked Pidurangala rock in the morning and then headed from there to Polonnaruwa Ancient City. It was a great way to spend our time walking around exploring and taking in the history Sri Lanka has to offer. Above all, watching the jungle attempting to take over the ruins and imagining how impressive these ruins were is such an impressive and mesmerizing sight.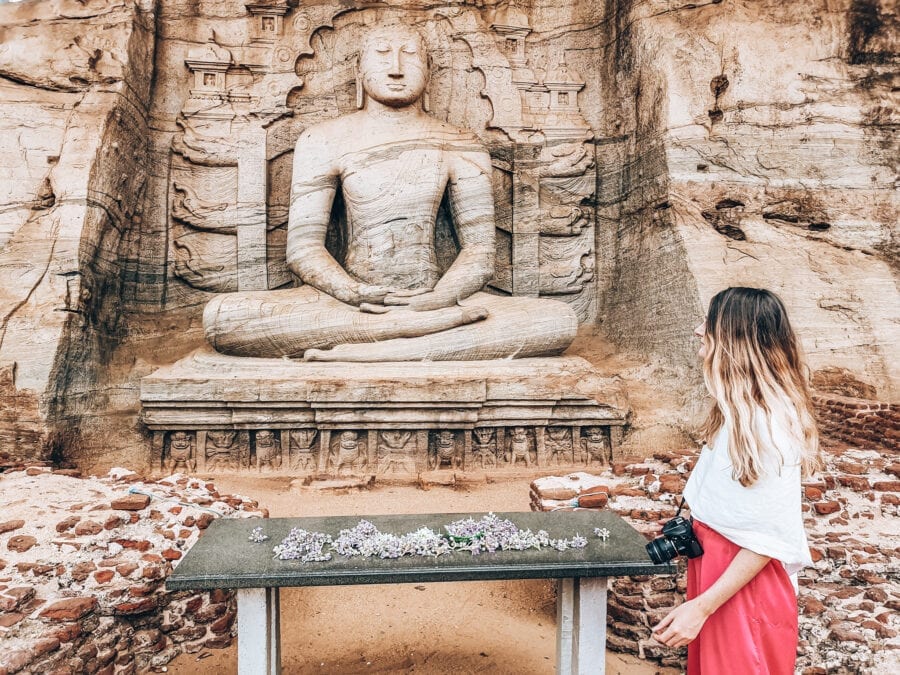 Contents:
Jump to:
History of the Ancient City of Polonnaruwa
Around 800 years ago, Polonnaruwa was the thriving commercial and religious center of Sri Lanka. Numerous temples and religious buildings make up this ancient city. All over this ancient city, you will be accompanied by cheeky monkeys!
It was the capital of Sri Lanka for three centuries. In the 13th century, it was then abandoned and the capital moved to Colombo.
Which ancient city Anuradhapura or Polonnaruwa Ancient City?
We asked our fellow travelers at the hotel we stayed at in Kandy. Most of them recommended Polonnaruwa, the reason being that even though it is smaller in scale, the ruins and temples are within a much more compact area, and they are in better condition. So with that decision taken, we headed north-east to Polonnaruwa!
Important Information for Visiting the Ancient City of Polonnaruwa
How to get to Polonnaruwa Ancient City
FROM Sigiriya
In order to travel from Sigiriya to Polonnaruwa, you have to catch two busses. Catch a bus towards Dambulla (30 min, runs every 40-60 minutes) and get off at Inamaluwa Junction. Then catch another bus to Polonnaruwa (1.5 hours, at least every 30 minutes).
How to get round
Bikes
Bikes are by far the easiest and most enjoyable way to explore all of the ruins. When you first enter the ruins site, there is a cafe nearby that allows you to rent a bike for about 450 rupees for a day.
Tuk Tuk
As with everywhere in Sri Lanka, there will always be plenty of tuk-tuks offering to take you around. Whilst this is a viable option, just be aware you will have more time restrictions and you might have less freedom than if you go by bike.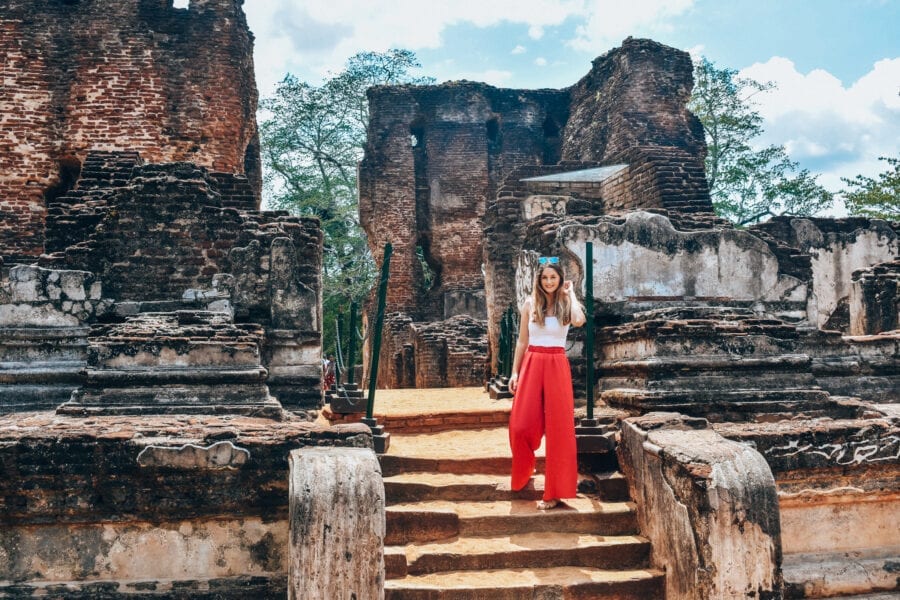 Prices 
The entrance fee to enter the Ancient City of Polonnaruwa is 3900 Sri Lankan rupees for foreigners
The Royal Palace
This group of ruins will be the ones you are first greeted with once you have got your tickets.
The Royal Palace is defiantly an impressive structure to walk around. It once contained 50 rooms supported by 30 columns. Despite its deterioration, you can still be in awe of what this building must have been like in its day.
According to Archeologists, the original building had four more levels above the remaining stone walls.
archaeologist expect these to of been made out of wood. A rather impressive entity to of been built around 800 years ago!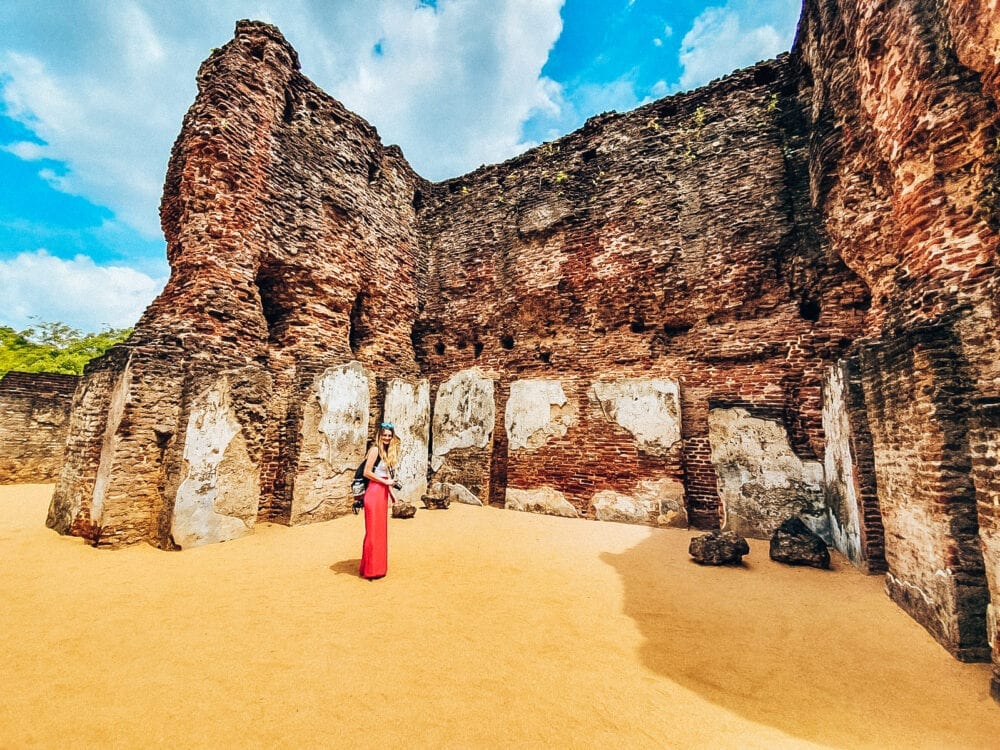 Audience Hall
The king`s Audience Hall is one of the best-preserved structures in the Royal Palace collection of ruins. The stairs up to the Audience Hall is really impressive, with beautiful lions on the top of each side.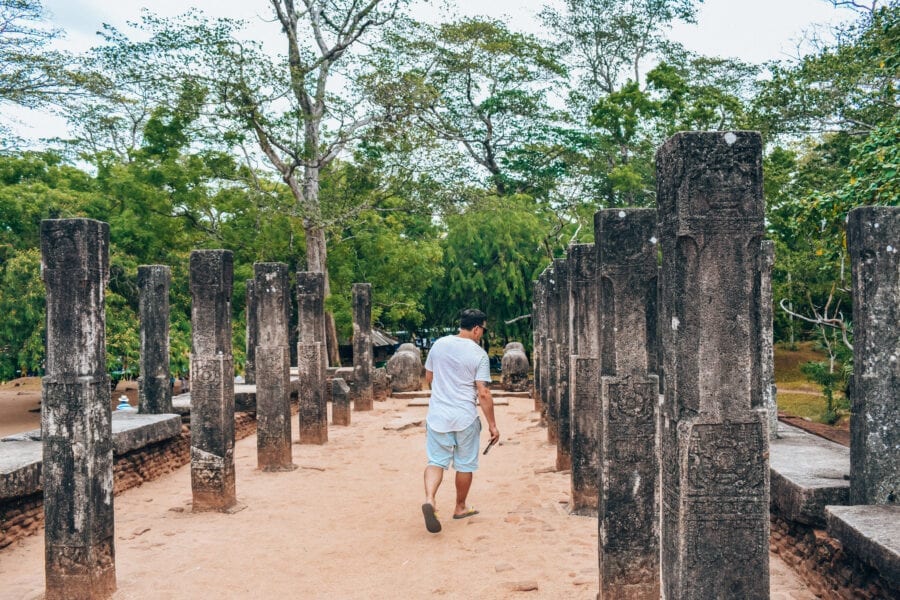 Swimming pool
Before heading off to the next group of ruins take the time to quickly view the swimming pool! Hidden away in the corner of the palace groups is the king's swimming pool. Unfortunately, you can't get close to the ruins here, but from afar you can see the crocodile mouth spouts that are used to lead fresh water into the pool. Look at the size of that swimming pool, it's super impressive.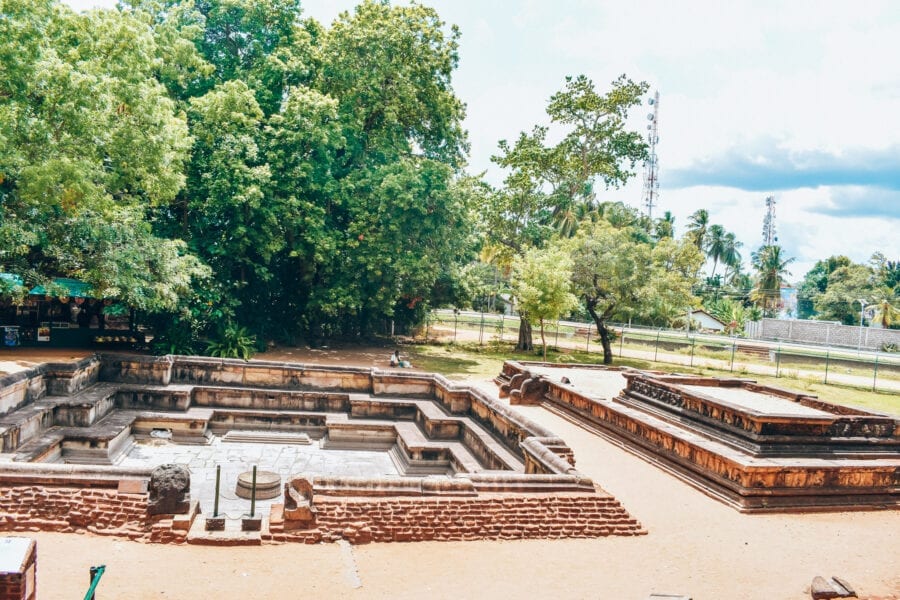 Sacred Quadrangle
Perhaps some of the most interesting and well-photographed collection of ruins in Polonnaruwa. A group of ruins in a raised-up area bounded by a wall. It's the most concentrated collection of buildings you'll find in the Ancient Cities – an archaeologist's dream. Dripped in history and memorable ruins make this place an exciting and densely packed part of the Ancient city!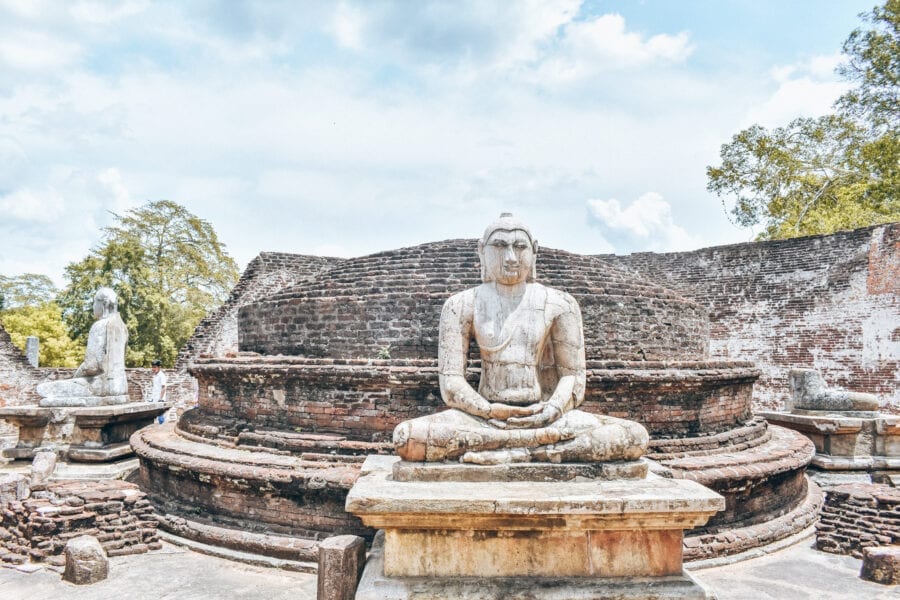 Rankot Vihara
The largest in Polonnaruwa and the fourth largest on the island. Interestingly, this entire brick structure sits at an impressive 33m tall and 170m in diameter. Although, before the restoration work that has been done, by later rulers, it is estimated the original height of the structure might have been 61m!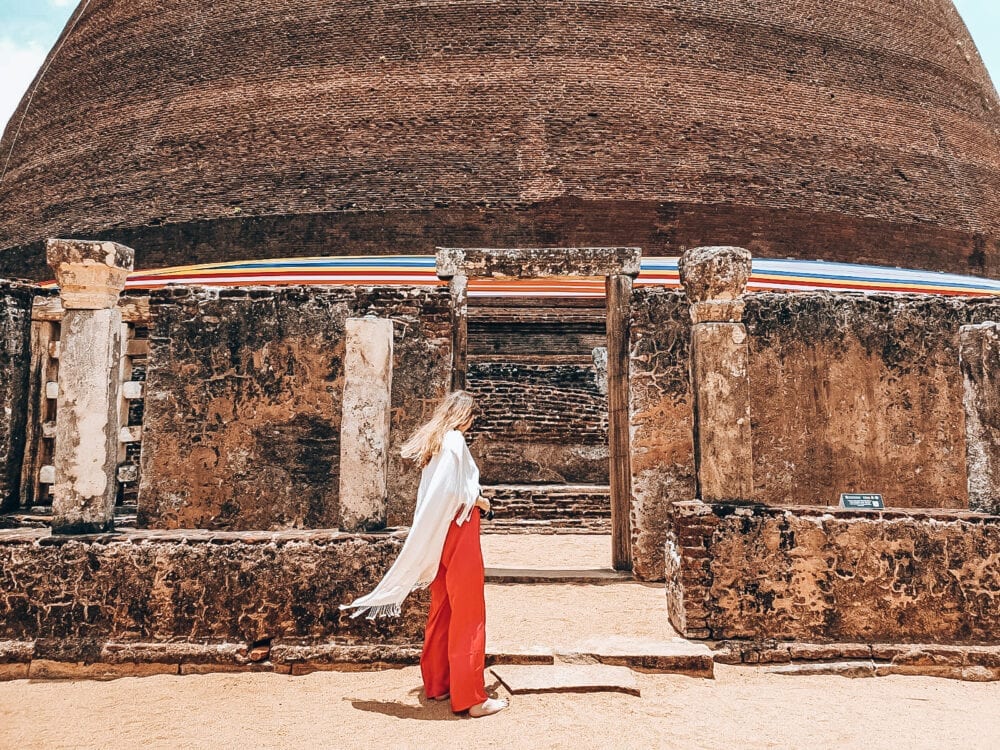 Buddha figures at Gal Vihara
These exceptionally well-kept ruins are truly spectacular. Especially unusual because one of the statues may not represent Buddha. It is believed, it might be his most loyal disciple, Ananda. His unusual expression is said to represent Anada in sorrow at Buddha's passing. Which is supposedly represented by the sleeping buddha next to him.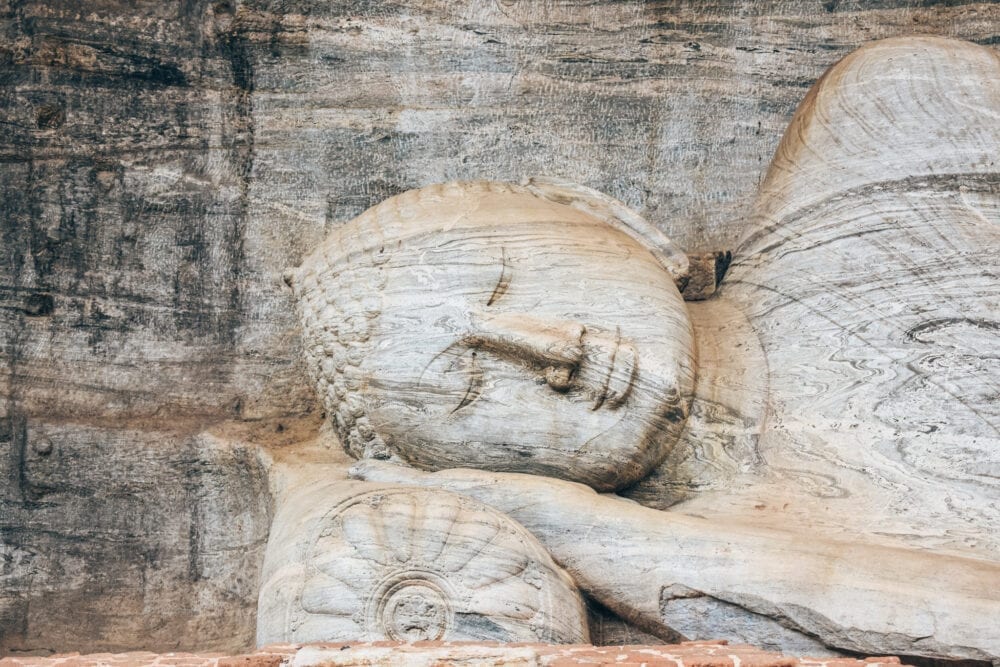 Elephants at Polonnaruwa
Polonnaruwa is near to some of Sri Lankas national parks that many Elephants call home!
As a result, if you are lucky enough on your way to and from the Ancient city you might see some gigantic friends on the roadside! You might even spot some of the elephant spotting posts throughout the village to keep an eye for any straying elephants.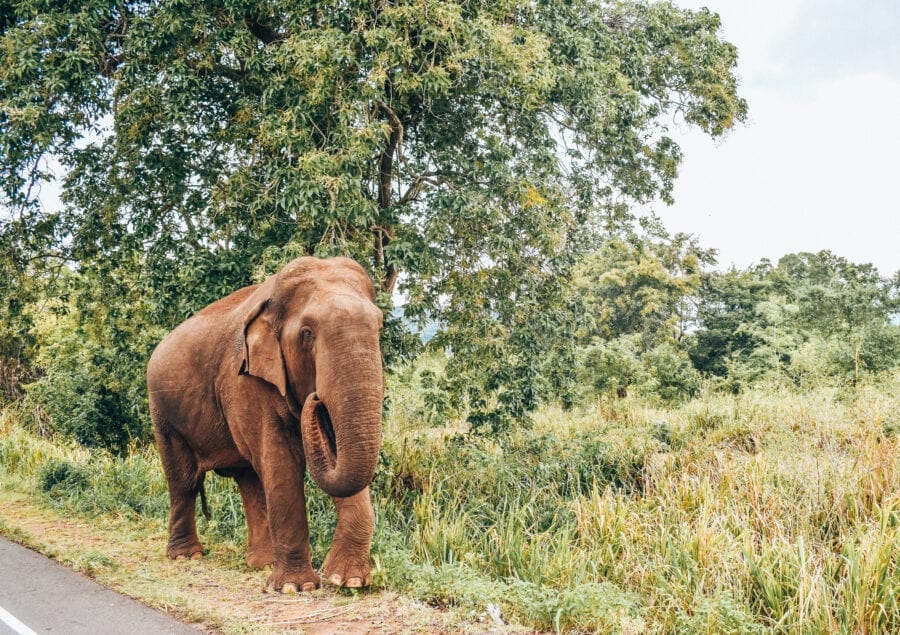 Summary of our guide to Polonnaruwa Ancient City
If you are planning a trip to Sri Lanka we believe the Ancient city of Polonnaruwa should earn a place on your Itinerary. These ruins are truly awesome and have an incredible history.
Check out our other Sri Lanka Posts here: