This blog post contains affiliate links. As an AirBnB associate we may earn a small commission to fund our coffee drinking habit if you use these links to make a purchase. You will not be charged extra, and you'll keep us supplied with caffeine. It's a win for everyone, really. Check out our Disclosure policy for more.
Looking for a place in Florence? Why not treat yourself to an Airbnb with amazing views or somewhere with a private pool. Here is our list of the very best Airbnbs in Florence, each with something unique to offer and every budget catered for!
Our Favorite Pick
The best out of all Airbnbs in Florence!
Name: Tuscan Penthouse w terrace in Piazza Duomo
Perfect for…
Those with a healthy budget who want the best views!
why we love it
Amazing décor and views. The most luxury place to stay in the Piazza Duomo.
Things to Consider
This Airbnb is pricey, although totally worth it for the views!
Access to the Duomo viewing terrace
All of the below options will give you access to a terrace with beautiful views of the Duomo. They are all perfect for short stays and offer something unique.
Option one: Love Mini-Suite rooftop terrace Duomo view Wifi
Why we Love it
Beautifully decorated, the most beautiful option to stay at the top of the building block on the terrace. See the pictures below for views of the Terrace.
Option Two: The Smallest Apartment With The Biggest View
Why we love it
You still get the amazing views as the first, but for less money!
Option Three: Studio With Unic View Of Florence
Why we love it
A cheaper option than the first but with the same incredible views and access! This is the one we chose to stay in and for a few nights it was ideal..
Considerations for all three options above
All of these apartments are very small and the walls are very thin. We believe the pros outweigh the setbacks and it is an incredible experience. Take some earplugs and for one or two nights it is ideal!
Option Four: Cathedral Apartment
why we love it
An amazing way to access the Duomo terrace yet with some more home comforts and more space.
Planning a trip to Florence? Check out our guide to the best things to do in Florence.
Yome – Panoramic Loft – Terrace Duomo View
Perfect for…
Longer term travellers who wish to dine on there own private terrace!
Why we love it…
Beautiful private terrace to enjoy private dinners and cocktails. The apartment itself boasts beautiful Tuscan features creating a cosy Italian feel!
Things to consider
Like most places in Florence you will have to carry your luggage up a few sets of stairs, worth it for the view… but consider how much luggage you bring!
Name: Window to the Duomo unique artists studio
Perfect for…
Solo travelers who love arty apartments, cozy vibes, and great views of the Duomo.
Why we love it
Arty vibes, beautiful views, a place to really feel like home in Florence whilst being in awe of the beautiful décor and central location.
Name: Exclusive apartment Duomo
Perfect for…
Romantic dinners with amazing views of the Duomo.
why we love it
This place is the perfect combination of amenities, perfect views, be in the heart of it all with this central location. There's even an elevator so you don't have to worry about lugging your bags up and down lots of stairs.
Things to consider
Additional cleaning fee stated in the description..
Planning a trip to Florence? Check out our Top Things to in Florence.
Name: Romantic summer in the secret garden
Perfect For….
Perfect for long term stays! Set in the tranquility near Boblio Gardens, with a free-standing outside bathtub and a lovely garden, this Airbnb is for the laid back looking to relax romantic type. Check out this stunning Airbnb here.
Why we love it…
Lots of space, romantic setting, near to Boblio Gardens, Michealangelo Plaza and a private garden!
Things to consider
You are not right in the centre but you're not too far from things. The apartment is only 5 minutes walk from Piazza Santo spirito, 15 from Santa Maria Novella Station and 10 minutes from Ponte Vecchio.
Name: Ponte Vecchio Apartment
Perfect for…
Those who love Italian history and want a true authentic experience. Perfect for a surprise booking to wow a loved one or to simply enjoy Florence in style!
Category: Affordable
Why we love it
Each room is steeped in history and stunning Italian architecture. This place would certainly make for a memorable experience!
Things to consider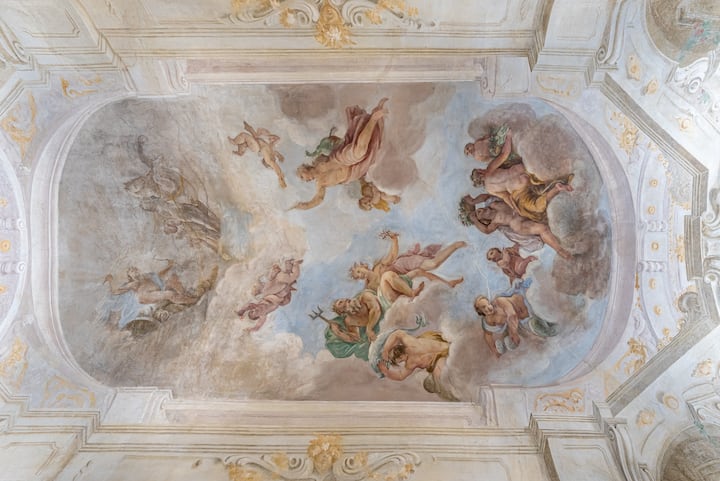 Name Dream Design suite with private pool A/C
Perfect for…
Short term stays who love luxury and looking for something a little different.
why we love it
Daring, bold, beautiful! This Airbnb really is unique! With a beautiful pool and bold décor, it offers something different to the other options.
things to consider
The space is quite small, perfectly adequate for a short stay!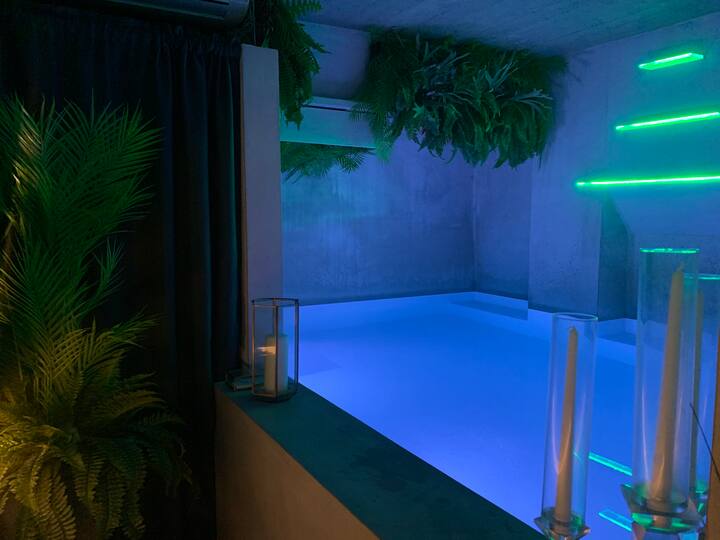 We hope you enjoyed our list of Airbnbs in Florence!
Whats Next?
Check out our Top Things to do in Florence and our Vegan Guide to Florence!