This blog post contains affiliate links. As an AirBnB associate we may earn a small commission to fund our coffee drinking habit if you use these links to make a purchase. You will not be charged extra, and you'll keep us supplied with caffeine. It's a win for everyone, really. Check out our Disclosure policy for more.
Nusa Penida is a rugged island off the coast of mainland Bali. Located only a 30-minute boat ride away and offers something completely different. It is a stunning landscape and essential to any Bali itinerary. If you are coming to Bali, you have undoubtedly seen pictures of the incredible Nusa Penida landscape. This place is so much more than just the Instagram pictures you might see. Nusa Penida is, to put it simply, an adventure. So, here is our guide to the best things to do in Nusa Penida.
Top of the list is Hiking Diamond Beach.
Number one on our list has to be hiking down to Diamond Beach. This beach is rugged and raw, with a bright blue sea and massive rocks sticking out. The view from the top is so breathtaking as the cliff drops down to the beach. You cannot beat the music, and it's just incredible. 
Of course, there are many terrific photo opportunities, especially with this beach plastered all over Instagram. However, this beach is far more than simply an Instagram hot spot. The steps are busy at the top, and if you start making your way down the steps, the crowd dissipates, and you can enjoy this beach's beauty to its full potential.
The hike is quite strenuous, and there are parts where the steps disappear, and you are left to climb down the side with nothing but some rope to abseil down. If you're afraid of heights, this hike is probably not for you, but as long as you feel comfortable pulling yourself back up, then it is worthwhile. The walk took around 20 minutes on the way down, depending on how often you wanted to stop and take pictures.
There is no entry fee here, and you don't have to pay for parking either. Before you leave, check out the tides, and aim to be here at low tide to ensure you can enjoy this beach to its full potential.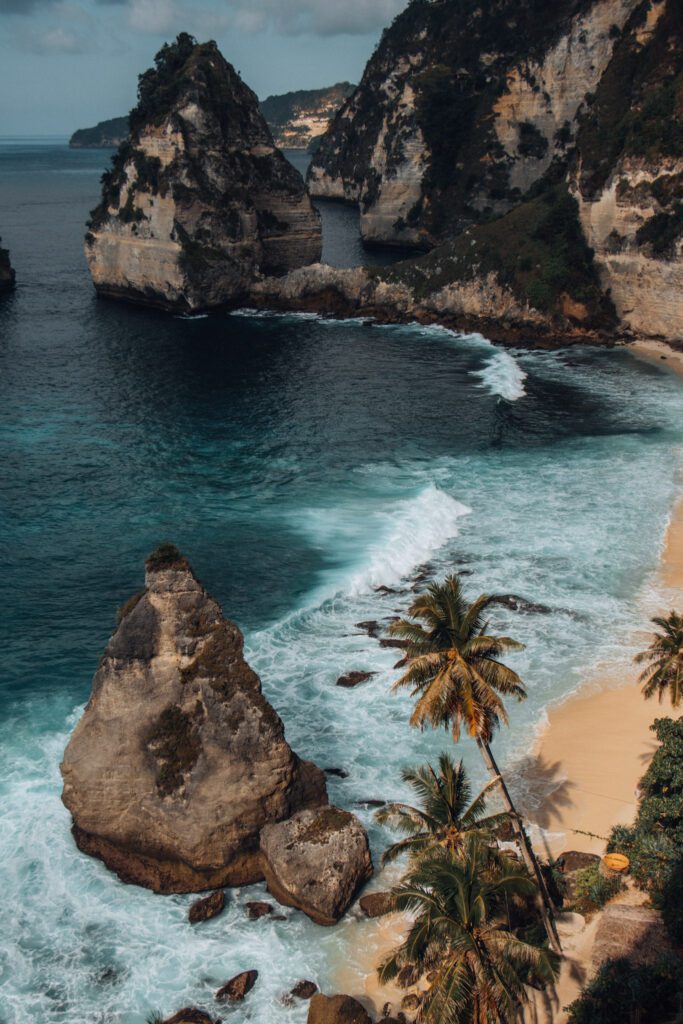 Hike down to Kelingking Beach or T-Rex Beach
Visiting T-Rex beach Nusa Penida is something you can't leave without experiencing. It's just as incredible as it looks in photos, but you can genuinely appreciate how rugged and dramatic this landscape is in person.
It is best to visit Kelingkling Beach in the afternoon because, in the morning, the beach will be in the shade. People visit this beach by coach load, so expect it to be hectic. Similarly to Diamond Beach, the beginning steps are crowded, but once you get past this initial crowd, it's much more enjoyable. As you make your way down, you will notice that the stairs themselves stop, and it is just left to be hiking down the rugged cliffside, which is pretty hard to do. 
The hike down is worthwhile as it is beautiful and an incredible way to experience this location truly. Make sure to bring suitable footwear and water for this one!
At the top of the viewpoint are a few photo spots where you can take photos of the famous beach. Just be prepared, there can be queues.
Visit the Famous Treehouse in Nusa Penida
If you have seen pictures of Nusa Penida, you will have seen the famous treehouse that looks out onto Diamond Beach. If you are heading to this part of the island, the treehouse is worth visiting. It is beautiful, but be prepared to share. There is also another viewpoint just above the treehouse called Thousand Island, which is just as beautiful and a perfect place to catch the sunrise. Heading here early in the morning is a good idea as this spot can be famous for photos. The treehouse itself is easy to find. Next to where you park, there are clear signs that you can follow to get to the treehouse.
Photos at the Tree House
If there is a queue, you have to wait to get your photo, pay 25000 Indonesian rupiahs per person, and have 3 minutes to catch all of the pictures you want. If it's not busy, you can have as long as needed. 
Due to the potential queues and time restraints at the tree house, we recommend sitting at the thousand island viewpoint for sunrise. We think it's a more beautiful outlook, and you can enjoy sunrise undisturbed.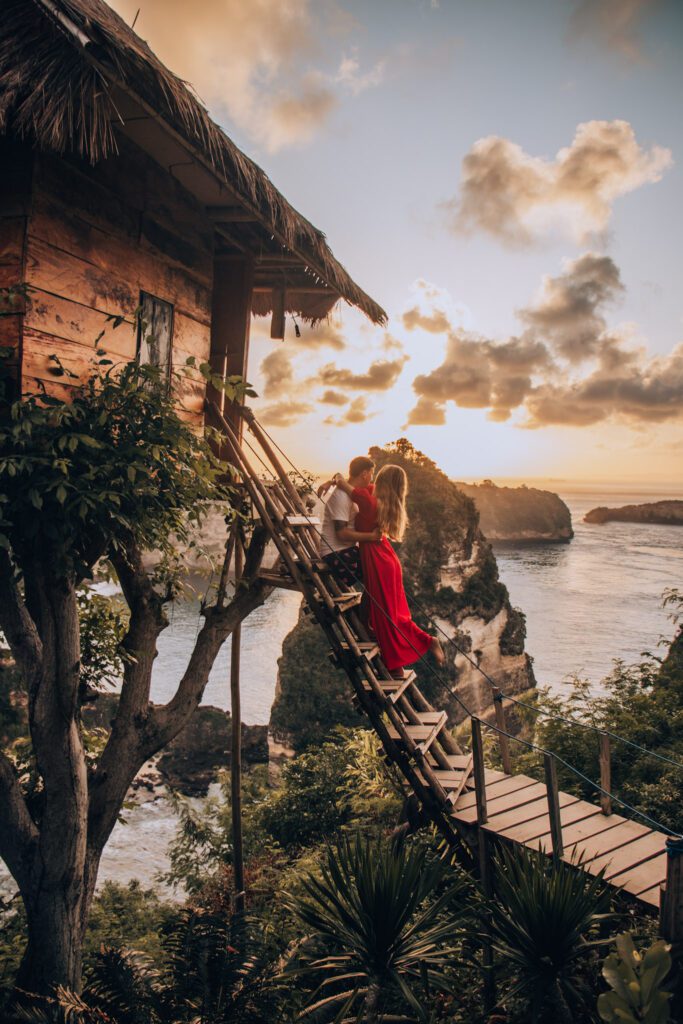 Take a stroll around Broken beach
Broken beach is effortless to access from Google maps you can just walk straight over and the cove will appear in front of you. There is little to do here beyond looking and admiring the powerful waves that crash into this cove. Broken beach is lovely to have a walk around, and from here, you can also walk to angels billabong, which is only about a 5-minute walk from here. There are some local warungs along the side of Broken Beach. We chose to stop and have lunch at one of these to spend more time here and take in the incredible views. It's nice to spend some time here for a stroll, but beyond that, you don't need that much time compared to other sites in Nusa Penida.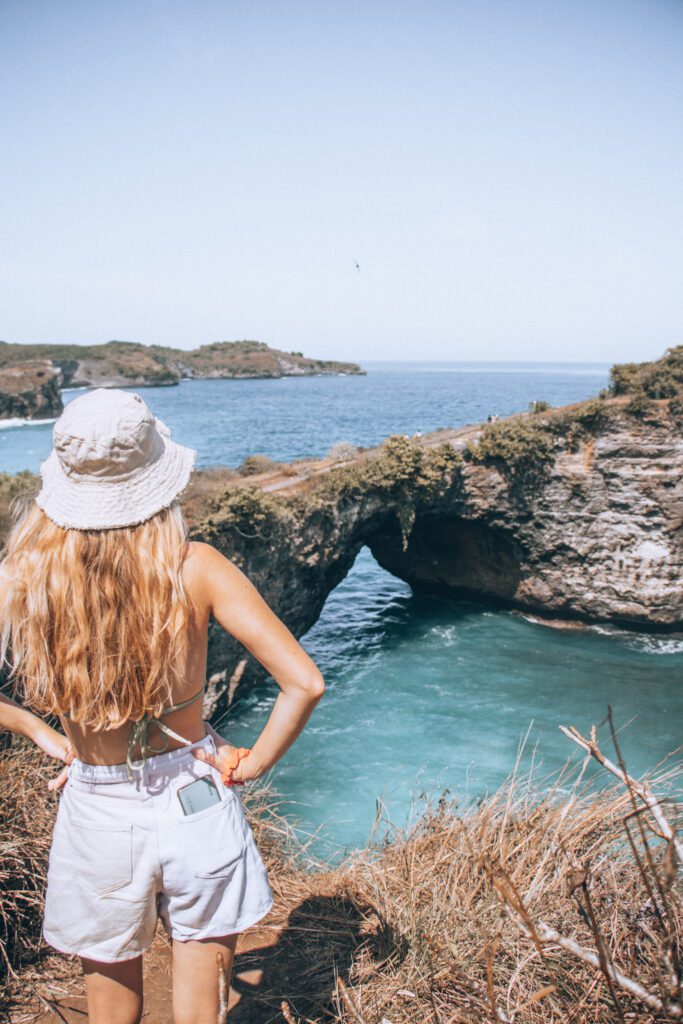 Watch the Sunset at Crystal bay 
Crystal bay is a great place to watch the sunset if you fancy a break from all the hiking and to avoid hiking back in the dark. This beach is popular with locals and tourists alike. There are many beach shacks selling Bintangs and soft drinks. After a few days of adventuring and hiking, this beach was a pleasant break.
Hike to Secret Beach next to Crystal Bay
Next to crystal bay is a secret beach you can access if you fancy an adventure. To get to this beach, walk to the end of crystal bay, where you will see a sign to Secret Beach. The walk takes around 15 minutes, and the path is quite overgrown. However, this beach will likely be relatively empty. There is a tiny beach shack that sells drinks and food, although this was closed when we went. If you plan on staying at this beach for a while, bringing your drinks and snacks is worthwhile. Of course, because of its convenience, Crystal Bay is popular with tourists and locals alike. Expect this to be relatively busy compared to the beach you have just visited. Secret Beach is beautiful and worth the extra walk.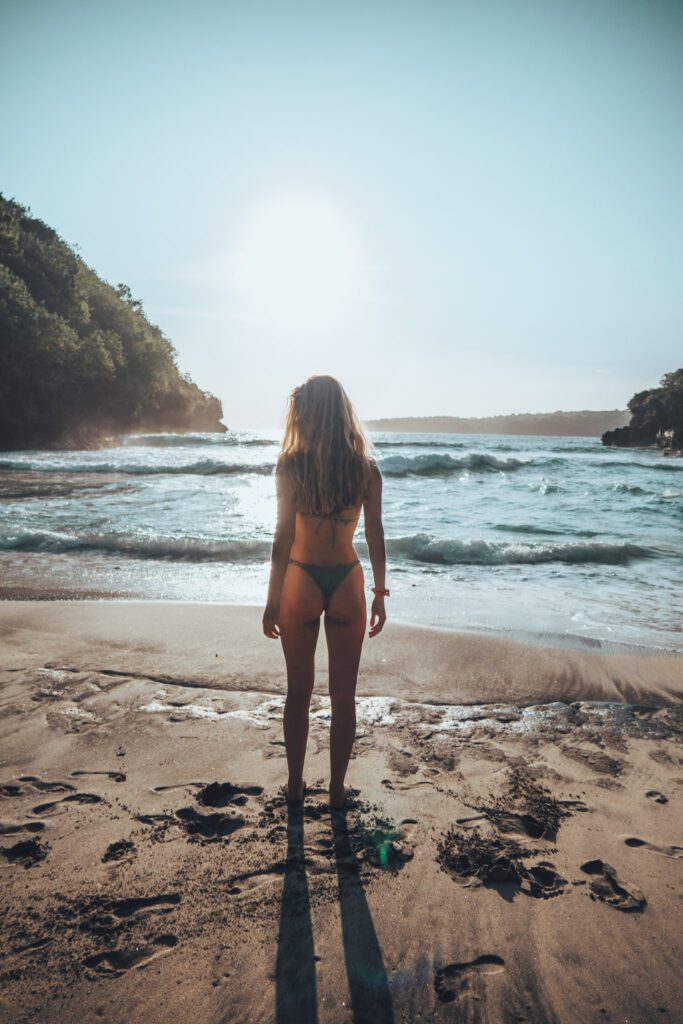 Tembeling Beach and Forest
This spot is a lesser-known spot than the other tourist sites in Nusa Penida. However, just as deserving of earning a place on your itinerary. 
There are a collection of natural spring pools that you can relax in on the way down the beach. The beach is also beautiful, with a few beach swings and locals with a few food stalls. 
Like most places in Nusa Penida, you must first put in some work to enjoy its beauty. If you are hiring a moped to get around well, you may want to pay a local to drive you down. The locals will be sitting there waiting as the drive down is certainly ropy. The drivers will also wait for you at the bottom until you are ready to go back up. We recommend this option, and once you start heading down, you will see why. 
Note: There have been loads of projects on the island to improve the conditions of the roads, so hopefully, the road conditions down to this site will have improved.
Go snorkelling with the Mantas
Nusa Penida is one the best places to swim with Manta Rays. Certain spots around the island offer nearly guaranteed sightings. There are both group and private tours. Both types will take you to coral sites around crystal beach, then further out into deeper waters to find the mantas. The best way to book this experience is to speak to your accommodation provider or head down to crystal beach and directly discuss with the tour operators. 
Peguyangan Waterfall Hike – The Famous Blue Stairs
This intrersting spot is a religious site so be prepared to cover up, or be given a sarong to cover your knees. The stairs open up into some beautiful view points of the cliff edge with jaw dropping sights as the water crashes beneath you. Whilst the hike down isnt too strenous the walk up is relentless! Once your at the bottom, there is a beautiful cave with views of the sea, a natural ifnitity pool. There is also a small temple and some water springs.
The most memorable thing about this site in Bali is that you will undoubtedly share it with the lcoals which is unique and gives you an insight into the Balinese daily life. if you are fortunate, there might even be a ceremony on the day you go!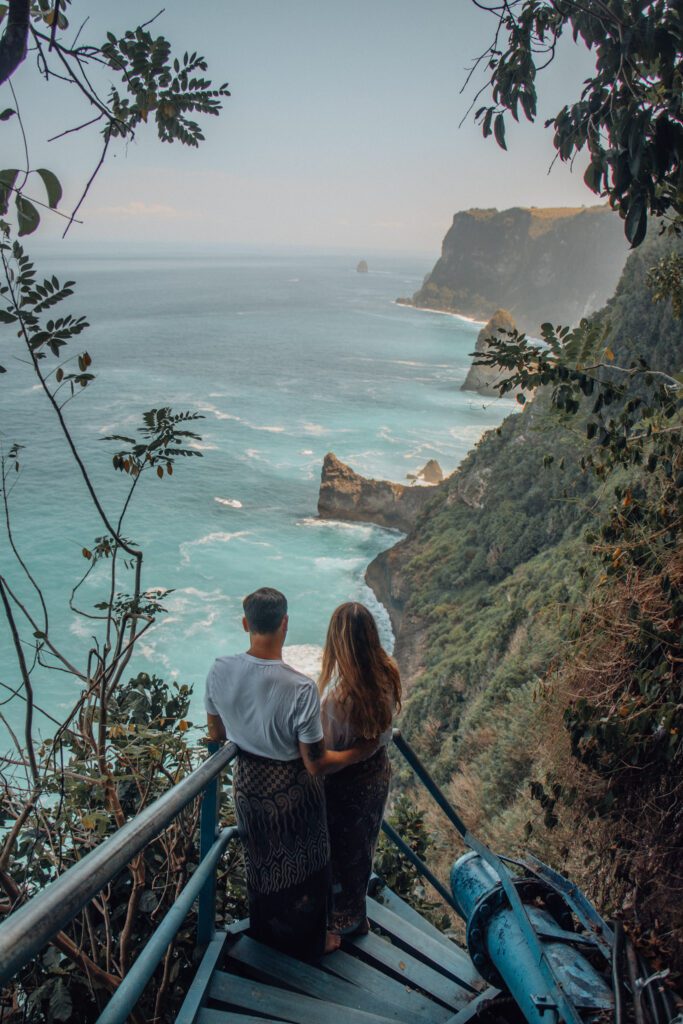 Chill at a Beach Club
There are quite a few chilled beach clubs popping up around the island. The amenities are improving with the infrastructure being vastly improved in the last few years. Relax in a hammock out in the ocean. Read a book in the sun whilst sipping on a fresh coconut. You can't beach a day of relaxation in the Bali sun.
Just down the road from the port you will arrive and leave from, Nusa Penida is the main town where you will find beach clubs and restaurants. We have only been to a few but would certainly recommend:
Where to stay in Nusa Penida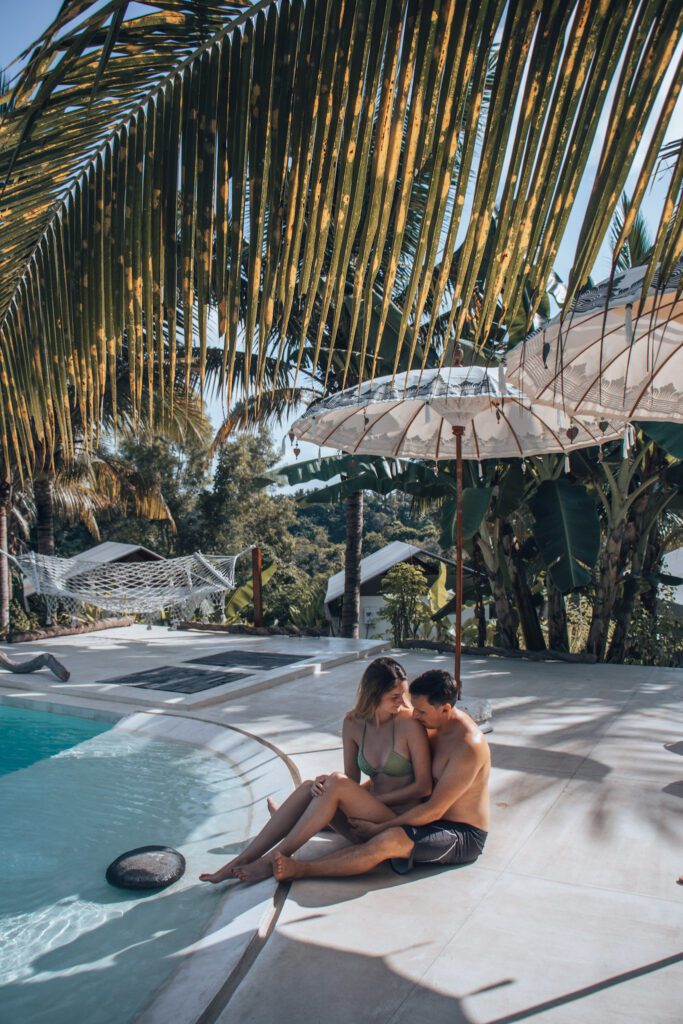 Where to eat in Nusa Penida
Watch the sunset, or have dinner in a romantic treehouse at Amok
The perfect setting for a romantic meal watching the sunset. Incredible for cocktails and snacks. Call ahead, make a reservation, and ask for one of their amazing treehouses. 
Penida Colada
This cafe is just fantastic! Right on the beachfront, only a few minutes away from the port. They have live music here on the weekends, incredible food and cocktails. 
How long do you need in Nusa Penida?
We recommend a minimum of 3 nights. It does take a fair amount of time to drive from the different tourist sights, so a minimum of 3 nights allows you to soak up the beautiful landscape on this island. Many day trips are offered to this island, it will only allow you to scratch the surface of what it offers.
How to get to Nusa Penida
You can catch a boat from Sanur or the Gillis to Nusa Penida from Bali. To book boat tickets, use Penida go or message D'camel fast boat on WhatsApp (many businesses are run through WhatsApp in Bali) and book your tickets in advance. Be warned that the journey can be pretty intense if you go during the rough sea season. At certain times of the year, the waves are a lot calmer, so if you struggle, try and plan your trip around this. If you suffer from seasickness, I strongly recommend bringing some tablets and whatever else works to mitigate this.
Summary of the best things to do in Nusa Penida
We hope you enjoyed our guide to the best things to do in Nusa Penida. If you plan a trip to Bali, visiting Nusa Penida is a must-do. See our other Bali Guides below.
Check out our other Nusa Island posts here:
Check out our other Bali Posts here: