This blog post contains affiliate links. As an AirBnB associate we may earn a small commission to fund our coffee drinking habit if you use these links to make a purchase. You will not be charged extra, and you'll keep us supplied with caffeine. It's a win for everyone, really. Check out our Disclosure policy for more.
For our first 2020 staycation (thanks COVID), we went to the Cotswolds for a long weekend. We had read so many blogs about the best villages in the Cotswolds to explore and came up with a rather extensive list of villages to see.
As soon as we arrived in the Cotswolds we headed to 3 villages, Bourton-on-the-water, Lower slaughter, and Upper slaughter. Now, don't get us wrong these villages are beautiful and very quaint. But, they are also very small. With the cafes shut (due to COVID), or open but with uninviting queues, we finished our all-day itinerary within a matter of hours. We ended up having to quickly improvise and come up with a new plan. If you are planning a trip to the Cotswolds, we would recommend visiting more then just the most popular villages, as there is so much more to see!
Okay, so yes this one is a village. But, it is not a village that popped up on many blogs, and why?! We honestly couldn't tell you. This village is like Italy village meets french riviera. It still has everything you would expect from a village in the Cotswolds, crooked tiny houses, swoon-worthy views, and a hilly landscape. The bonus compared to other smaller villages, is that this is quite a big village allowing you to spend a good few hours exploring here.
Tip: you can park at the top of the village itself for free. This is also a good starting point to explore.
Why not stay in Painswick itself? We stumbled across the most beautiful hotel in this idillic village The Painswick.
Rocco Gardens
Being so close to Painswick, this also has some serious Italian vineyard vibes. If you are anything like us you can spend all day exploring beautifully kept gardens.
The only surviving UK Rocco garden. The word Rococo describes a period of art in the 1700s, characterized by pastel colors ornamental decoration and asymmetry.
If you are visiting during bluebell season, you must go. We had missed this, but pictures on their Instagram look stunning.
We had to book because of COVID restrictions, so check out their website before you visit. They also have a really cute shop that sells lavender products from locally grown lavender. Their coffee is also so good!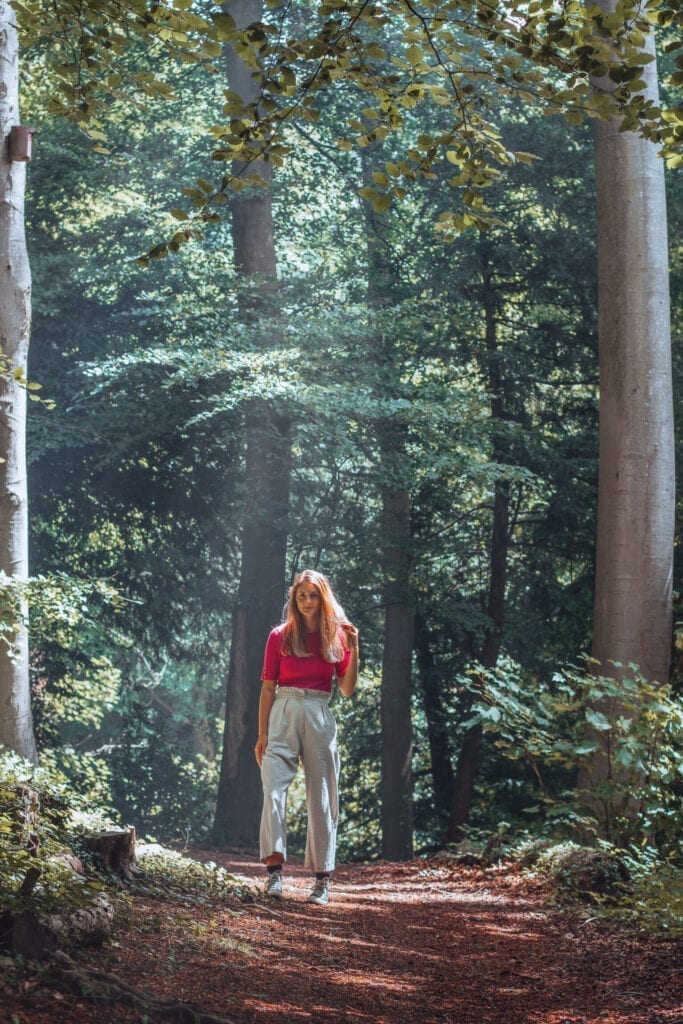 Painswick Beacon
One night we decided to go and watch the sunset over this amazing viewpoint. It really reminded me of Tuscan hills and was a beautiful sunset spot. The great thing is there isn't much of a climb to get to this viewpoint as the cark park is really high up. So, you can pack some snacks and drinks and don't have to worry about lugging them up!
We didn't sit right at the top but sat away from the crowds and found our own little viewpoint.
To get here: search for Painswick Beacon Car Park, from here it is only about a ten-minute walk to the viewpoint! Check out our guide to Painswick village here.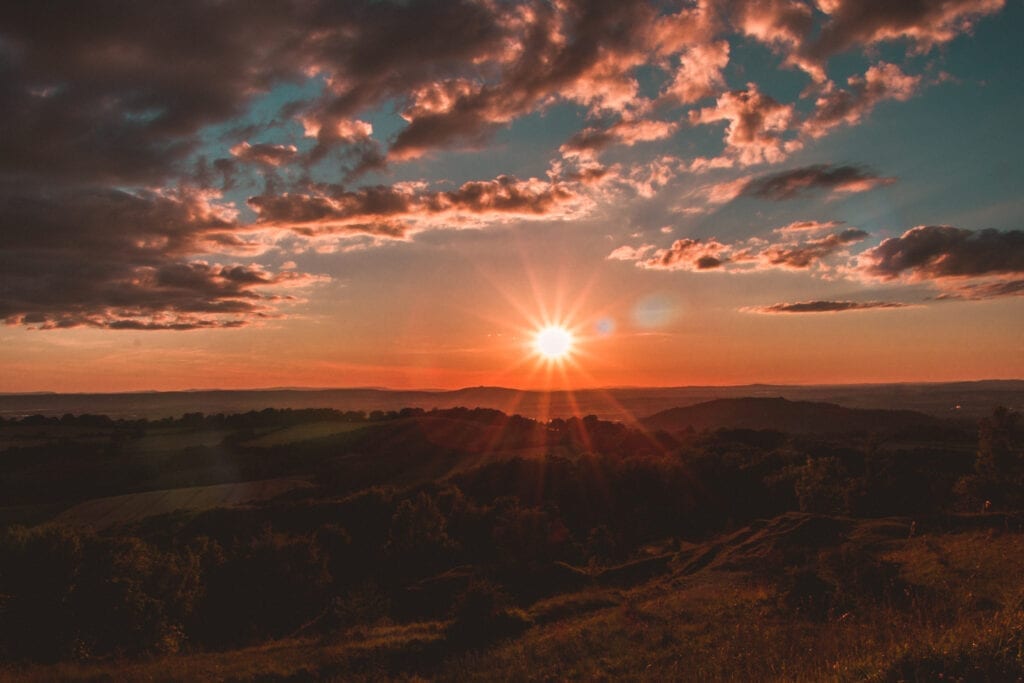 Do you think Painswick Village is as magical as we do? Check out our complete guide to Painswick.
Tetbury
We visited Tetbury on our way back from Castle Combe and Badminton. Its a lot bigger then other places in the Cotswolds, but it made a nice destination for food and drinks. There were also markets and the buzz of the town was enjoyable.
Badminton grounds and gardens
This is a great place to have a snoop around, it is not too far from Castle Combe or Tetbury so could be worth while to combine a few trips with this.
Surrounding Grounds
Time it right, and you could be greeted with endless fields of poppies. The castle itself isn't accessible to the public but it is worth a walk around the surrounding fields.
Badminton Gardens
Yep, you guessed it, another garden. Although, very different from the Rocco Gardens. Another place not on my original itinerary, but recommended to me by a local dog walker. Just beautiful! There is a whole garden dedicated to roses! This Garden only opens a few times a year to the public, so check their website to see if you can go.
Planning on visiting the Cotswolds? Check out our guide to the Prettiest Villages in the Cotswolds.
This village is very small, it is stunning. For us, the most beautiful village out of the ones we visited. Get here super early! Although the shops will be shut, the streets will be walkable! On our first trip here, we left without getting out of the car because it was so busy. Sharing beautiful tiny streets with hundreds of others somehow ruins its beauty. The most picturesque point is the bridge over the river.
If you walk a little further down the road, there is a really nice bridge over the river with sweeping willow trees you should take a walk here too.
Want to visit Castle Combe? Check out our full guide to this beautiful Village.
General Tips
Time of Day to Explore
The Cotswolds gets super busy. It is worth knowing where you want to visit beforehand so you can get here before the coaches and buses full of tourists which pull up around 9-10 am. After that, you will have to accept everywhere will be busy!
Parking
You can park in most villages for free if you do a little research, we didn't pay for parking once.
Where to stay
The Cotswolds is a rather big place to explore. Choosing where to stay really depends on why you are visiting the Cotswolds. We wanted access to great walks and great views so we stayed in the Witcombe area, Birdlip. It was amazing. We had beautiful views over coopers hill (famous for cheese rolling) and access to walks on our doorstep.
Our Recommendations
Afforable Option
Hatton Court Hotel, Cotswold, st. Leonards, this place has great reviews on booking.com and is so beautiful, perfect for couples.
Luxury Affordable
De Vere Tortworth Court, Cotswold, Torthworth, Wotton under Edge. This historic Gothic mansion will certainly create a memorable stay. Perhaps the most magical grounds we have ever seen it is defiantly an amazing place to stay.
Places Nearby
If you are traveling from afar and have the time you should defiantly make time to visit some of the surrounding cities:
Bath, famous for it's Roman Baths.
Bristol, amazing for street art.
Oxford, famous for its university and amazing architecture.
We hoped you enjoyed our guide to the best things to do in the Cotswolds beyond visiting the beautiful villages.