This blog post contains affiliate links. As an AirBnB associate we may earn a small commission to fund our coffee drinking habit if you use these links to make a purchase. You will not be charged extra, and you'll keep us supplied with caffeine. It's a win for everyone, really. Check out our Disclosure policy for more.
Canggu, Bali, is one of the most popular destinations in Bali. From its famous beach clubs to its vibrant nightlife, it's easy to see why. Whether looking for an adventure-filled getaway or a relaxing beach retreat, this bustling town has something for everyone. From relaxing on the beach, cafe hopping and surfing to yoga classes and shopping, there's something for everyone to enjoy. Canggu can be divided into three areas, all offering different things, Batu Bolong, Berawa and Perenenan.
Our Top Things to do in Canggu, Bali:
Spend the day at a beach club. 
There are many beach clubs around Canggu. You could head to a new one every day.
Our top beach clubs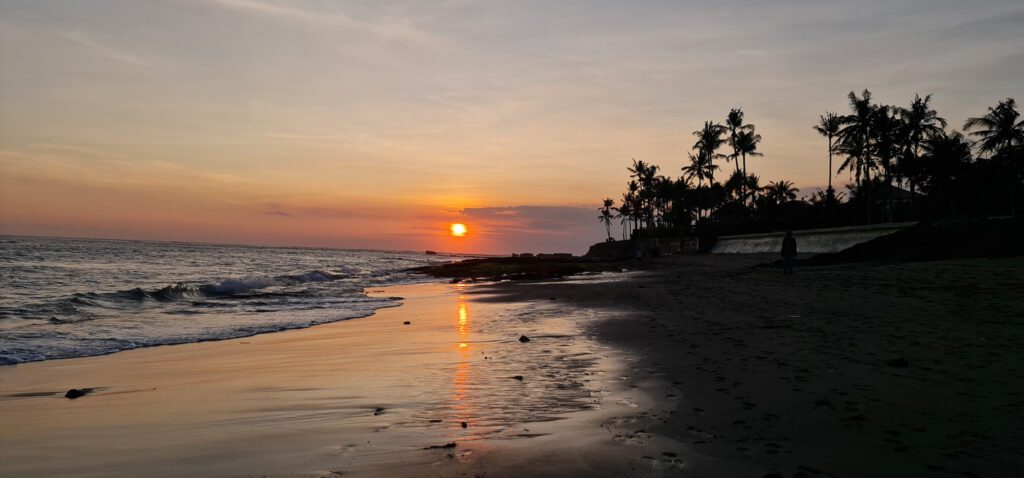 Relax at the Spa
Like most of Asia, you can get an excellent massage for very little! However, Canggu is home to some incredible spas, where if you spend a bit more, you can experience excellent treatments! The spas below are more pricey but worth every penny in our book:
You can't miss: The Cream Hair bath – if this is the first time you have heard of this, it's a treatment that originated in Indonesia. It usually consists of massaging hydrating hair cream into your scalp.
You can't miss: The Weekly Promo – excellent value for money! If that doesn't take your fancy, you can't go wrong with the Balinese massage.
the BEST facial you will ever have! A little on the pricey side, but oh so worth it! 
Watch the sunset at Tanah Lot Temple. 
Time for some culture! One of the most iconic sites in Bali, and perhaps the most popular of the things to do in Canggu, is a visit to the stunning Tanah Lot Temple for sunset. Located on a rocky outcrop just off the coast of Canggu, this ancient Hindu temple is one of the most iconic landmarks in Bali.
The best time to visit the temple is just before sunset, as this will ensure you catch the most stunning views and photos of the area. When you arrive, plenty of vendors will sell souvenirs and food, we have found the prices here to be really reasonable. As with all places of worship in Bali, it is essential to dress appropriately and respect local customs.
Sip a coconut at Perenenan beach at sunset.
The beach clubs are fun, but the small cosy beachfront cafes are just another vibe. Head to Perenenan before sunset, relax into a beanbag ready for nature's best show, a Bali sunset. We love O'three beach bar, but anyone on the beachfront is magical!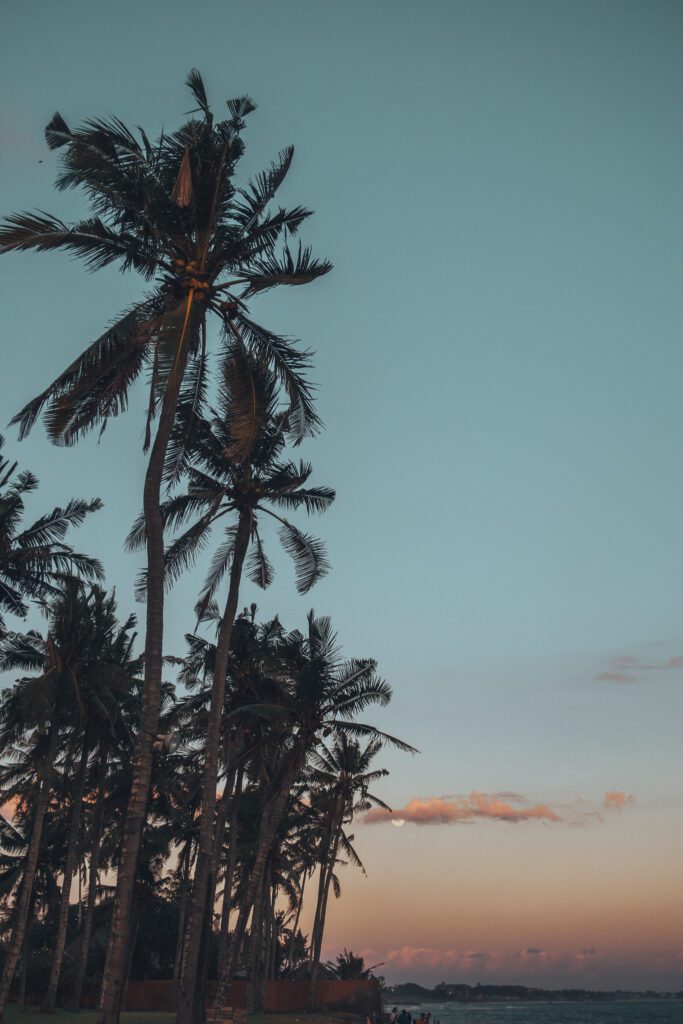 Useful apps to have whilst exploring Bali 
Gojek, to order food, shopping and mopeds/taxis for getting around. Cash or local card only. 
Grab the same as Gojek, but you can use a non-Indonesian card!
On Sunday Mornings, head to La Brisa Market 
Stroll from stall to stall, admiring the many Bali goods, try the different foods and spend your Sunday morning relaxing. Think fresh orange juice, bohemian clothes, natural skincare, and coffee stalls! All in all the perfect Sunday morning. 
Head to a cocktail bar 
Feeling fancy? Head to a cocktail bar for sunset or in the evening after dinner.
Here are our top recommendations:
Leblon – Super fancy cocktails in a very intimate environment
Sol Rooftop Bali – Amazing for Sunset
The Lawn 
Shady Fox – A very cool speakeasy in the heart of Perenenan
Masons
Eat all the food
Canggu is an absolute haven for great food options! There are many places to try, and new restaurants open every week. You can't miss out on the great food options. 
Breakfast and Lunch 
Woods Bali Cafe – for a fancy affair 
RiZE– for the most indulgent dosas and chai coffee 
Copenhagen cafe for coffee and pastries 
Crate for Instagram-ready smoothies and chia puddings
Neighbourhood 
Matcha 
Dinner 
Arte, for the best pizza 
La Baracca for the best Pasta
Shelter for the best date night vibes 
Woods, for a romantic date night
Lolas Mexicana
Go to a Yoga Class 
Where is a better place to embrace your Eat, Pray Love persona? Whether you have never done Yoga or are a seasoned expert, Canggu or Ubud are great places to inspire your inner Yogi…
Our favourite Yoga Studios:
Try Jungle Padel
Have you heard of Padel before? We hadn't either. It's a mix of badminton and tennis, and even If you are rubbish at both of those (like us), chances are you will get a good game going. Head to Jungle Padel and give it a try! a lot of fun and a great way to move your body whilst trying something new.
Take a surf lesson 
If you're looking for things to do in Canggu Bali, why not try surfing? With warm waters, plenty of waves and experienced surfers to help guide you, Canggu is a great place to pick up a board and learn the basics. Taking a surf lesson is one of the best activities for anyone looking for an adrenaline rush or a unique ocean experience.
You'll find plenty of surf schools and experienced instructors that can provide you with the necessary guidance and support. They will show you the basics of riding a wave and give you tips on safety and ocean etiquette. Lessons are available for all skill levels, whether you're just starting or have been riding waves for a while.
Or watch the surfers from Times Warung 
If taking to the waves isn't for you, do the next best thing, spectate! Head to Times Warung (be warned, it gets busy, so come early), set up camp with a coffee or coconut and watch the day unfold.
Give back to Bali
Visiting a new place is always an exciting adventure, and exploring Canggu, Bali, is no exception. But it's also important to remember to do our part and help support the local community. There are plenty of ways you can do your bit for Bali and positively impact your stay.
Help the cats or dogs of Bali
Visit the odd cat cafe and hang out with all the Bali rescue
Volunteer at Little Steps Matter to play and walk Bali rescue dogs! R
Help the people of Bali
Volunteer or Donate to Feed Bali.
Give back to the Island!
Participate in a beach clean-up
Join in on a tree planting day.
Head to Seseh for the day
If Canggu gets a bit too much, head to Seseh. Drive west of Canggu and spend the day in the rice fields of Seseh. We love Seseh. Much more rural and peaceful than Canggu. Leave the traffic jams behind you and drive between the palm trees and rice terraces as far as you can see. 
This place is a bit of a hidden gem, so I was tempted not to share it, but with the area gaining popularity, it's only a matter of time before the masses know it. Seseh beach Warung is the perfect place for a beach day. 
It is a bamboo structure beach bar steps away from the sea, with cosy bean bags, umbrellas and coconuts for as little as 20k. It's like stepping back in time to old Bali.
Nestled in between the rice fields of Seseh, there are a few cafes: 
Flower boy for the best coffee and pastries. The almond milk is homemade and a must! 
Seseh general store, the avocado toast with truffle oil is a must
Seseh pizza
Moustache coffee
Add in other cafes 
Where to stay in Canggu 
Whether you're looking for a luxury escape or a budget-friendly option, Canggu has something to suit everyone. There's a great range of options, from stylish villas and beachfront hotels to homey hostels.
Our Top Hotel Picks
Our Top villa Choices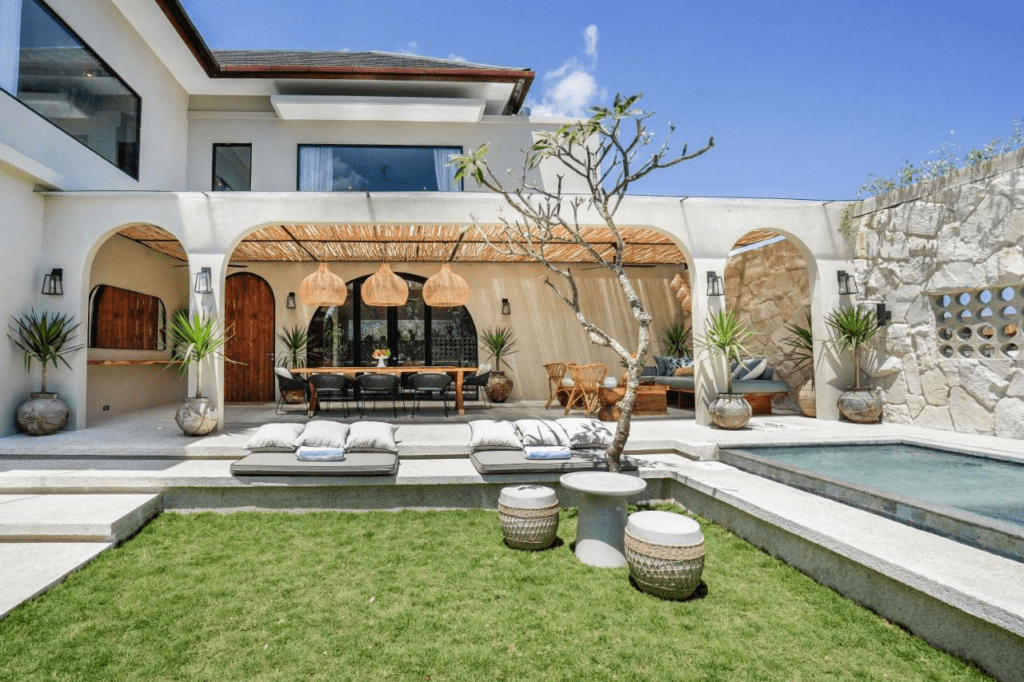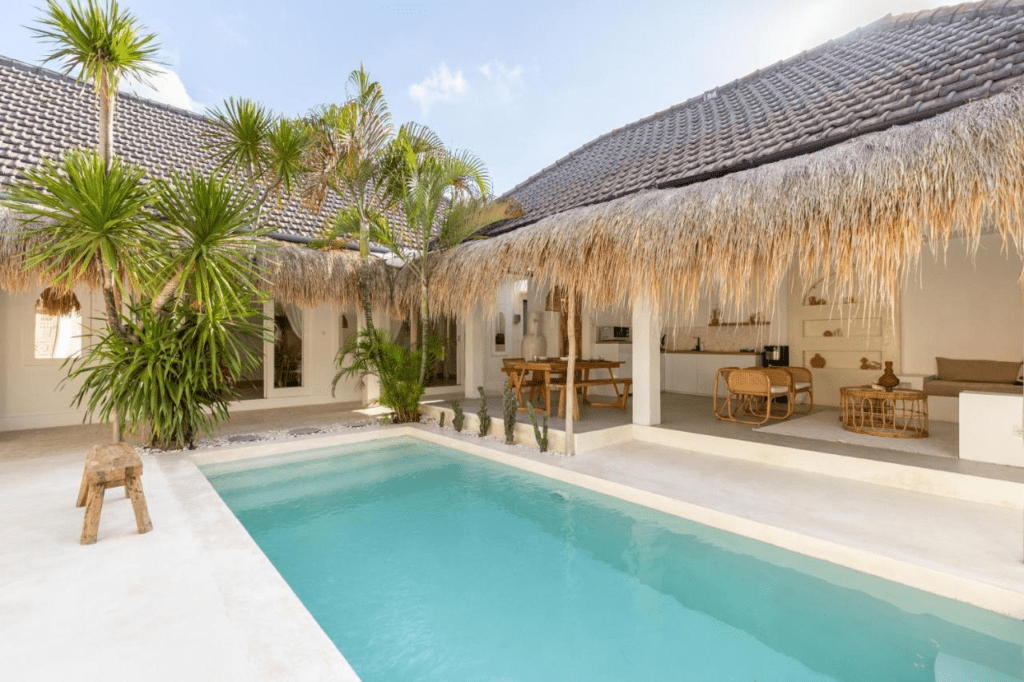 How to get around Canggu 
The most common way to get around Canggu is by motorbike or scooter. This is the most convenient and cost-effective option, as you can rent a scooter for as little as 25k-50k IDR per day. However, make sure you have your international drivers license on you otherwise you can face fines! You'll also find many taxis, private cars, and GoJek drivers available throughout the area. Walking around Canggu can be a nightmare and isn't something we recommend!
Day trips from Canggu 
If your time in Bali is limited, a day trip to Ubud is undoubtedly doable. We recommend at least spending a few nights in Ubud, but a day will give you a taste of this hippy jungle escape.
telaganan rice terraces for sunrise. If you are still determining its worth, check out our guide here. 
Breakfast at any of the excellent Ubud cafes 
The Ubud market for souvenir shopping
The water palace 
3x waterfalls 
Yep, you'll be tired but oh so worth it! Check our our Ubud guide here.
Jatuliwih 
For the best rice terraces in Bali, take a day trip to Jatuluwih. These rice terraces are a Unesco heritage site, and rice terraces spread as far as your eyes can see! 
Climb Mount Batur 
For those looking for a full day of adventure, there are many great options for day trips from Canggu. One of the most popular activities is hiking Mount Batur, an active volcano in the heart of Bali. The two-hour climb up the mountain rewards you with stunning views of the island and its surroundings. Be sure to bring plenty of water, sun protection and snacks, as you'll need it all on the way up!
Summary of the best things to do in Canggu
Canggu is one of the most beautiful and popular destinations in Bali. This coastal paradise is known for its stunning beaches, lively nightlife, and excellent surfing. From sipping coconuts at Perenenan beach to exploring the Tanah Lot Temple and La Brisa Market, there are many amazing things to do in Canggu. Enjoy the restaurants, bars, and day trips from the area. There are also plenty of activities such as yoga classes, jungle padel, and surf lessons. Be sure to spend a few days exploring this gorgeous destination to make the most of your trip to Bali!
Check out our other Bali Guides Here: