This blog post contains affiliate links. As an AirBnB associate we may earn a small commission to fund our coffee drinking habit if you use these links to make a purchase. You will not be charged extra, and you'll keep us supplied with caffeine. It's a win for everyone, really. Check out our Disclosure policy for more.
Devon is such an incredible part of the UK. With its Jurassic UNESCO coastline, amazing walks and waterfalls, pristine beaches, access to Lundy island, postcard-perfect villages and towns. Devon has it all and makes for a perfect place to get away and enjoy it all.
Devon is perfect for a romantic weekend away. Choose an Airbnb with a cosy fire, go for walks together, sit on the beach for dinner, we love our yearly trips to Devon, it's a beautiful place.
Tips for visiting Devon
Devon is a large area and you will definitely need a car to get around easily and explore.
With so many beautiful walks and paths to explore make sure to take your best walking boots or wellies! Like most places in England, the weather can never be guaranteed so make sure to include something for every possibility.
Check parking options before you head out. You will find depending on the season you might have to pay for parking but with a little research you could find some cheaper options.
Things to do in Devon
Here is our list of some of the best things to do in Devon, including our favourite walks, waterfalls, villages and beaches.
White Lady Waterfall
This is our favourite waterfall in the Devon area. Which is both powerful and picturesque. White lady waterfall reminded us of the wild waterfalls we stumbled upon on our trip to Sri Lanka. Enveloped by greenery and beautiful foliage, this waterfall almost has a tropical vibe whilst still being typically Devon at the same time. Bring a picnic and settle down for lunch and admire the waterfall as it cascades down the cliff into the pool beneath.
The white lady waterfall is Part of the national park and Lydford gorge, therefore, you will have to pay the National trust to gain access to this waterfall but it is totally worth it…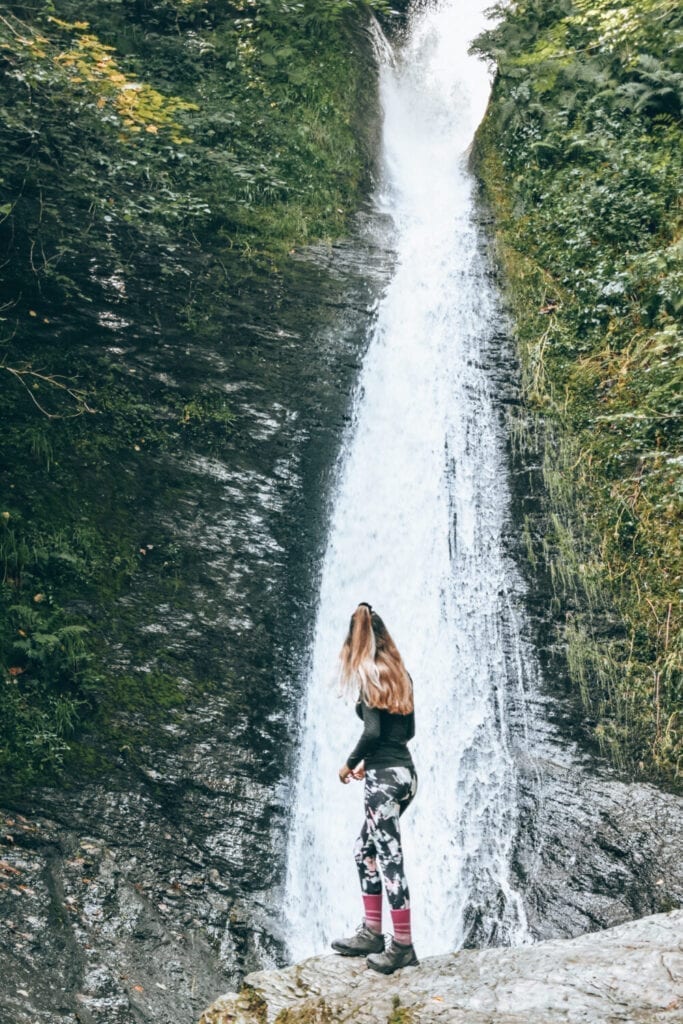 Visit Woolacombe Beach
Woolacombe beach is a beautiful 3 mile stretch of golden sand. This pristine beach has won many awards and is one of the best in the UK. Loved by surfers, dog walkers and holiday makers it is the perfect place for a stroll, sunbathing or for a picnic! Just be aware of the seagulls that can be a bit aggressive, especially in the summer when there are more tourists willing to feed them!
Explore Town of Clovelly
Clovelly town is truly beautiful. This cliffside village with crooked houses and a cosy port is perhaps the most charming village in Devon. With its own waterfall and town free of motorised vehicles, there's something magically old fashioned about this endearing town. There are so many wonderful things this town has to offer that make it worth a trip.
THE CLOVELLY WATERFALL
To access this waterfall you have to walk along the beach past the Lifeboat station to the waterfall. the waterfall is even more impressive after heavy rain. Famous for its enchanted history, it is said to be where Merlin 'the sourcers apprentice' was born! Although Clovelly town itself can get quite busy the waterfall doesn't attract as many toursits. To get the most out of your visit, head here early in the morning and avoid peak season!
To read about other waterfalls in Devon, check out our walks and waterfalls in Devon post.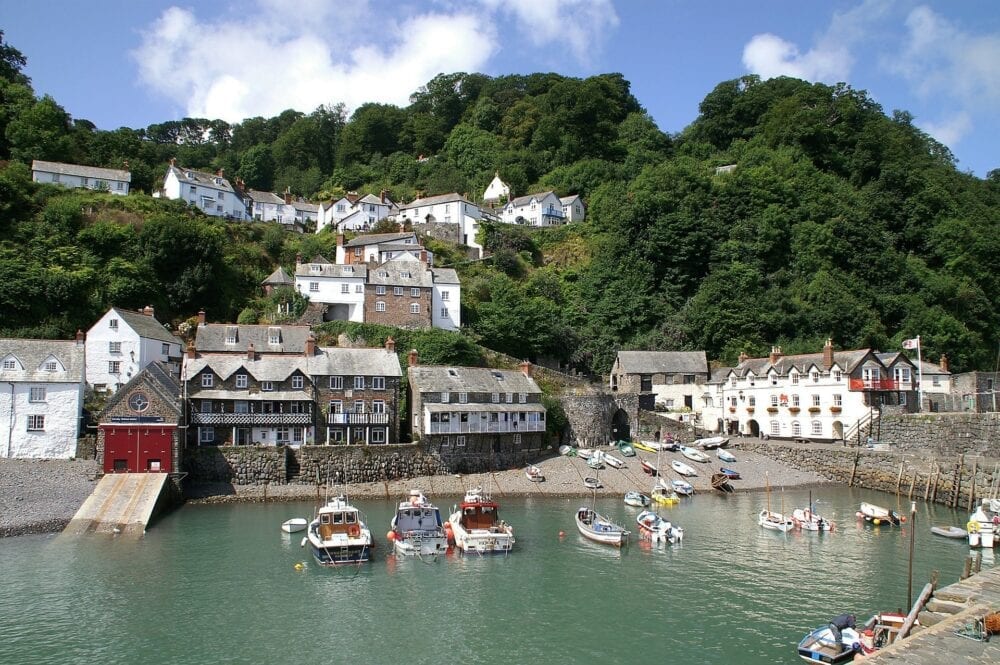 Visit CLOVELLY Court GARDENS
Clovelly Gardens are a beautiful collection of walled gardens that are home to Clovelly court.
The Gardens at Clovelly are made up of a collection of walled gardens that belong to Clovelly court.
They are an outstanding Victorian kitchen garden that used to provide food to Clovelly court. The old Victorian Glasshouses have now been restored and contain a variety of flowers and fruits. Whatever time of year you go there are always colourful plants in bloom.
Pratical information about the Gardens
The Gardens are open all year from 10:00 am to 4:00 pm. As mentioned above you have to pay to enter Clovelly village itself, fortunately, this includes entry to the gardens too. For more information check out their website here.
Exmoor National Reserve
See the Ponies
Going to see the wild Exmoor Ponies is such an incredible experience. Although they are free to roam the moors there are certain spots where they are more likely to be seen. To increase your chances of spotting them make sure to head to Porlok hill, Winsford Hill and Molland Moor. We have seen them every time we have driven through the Moors so hopefully, you will be just as lucky.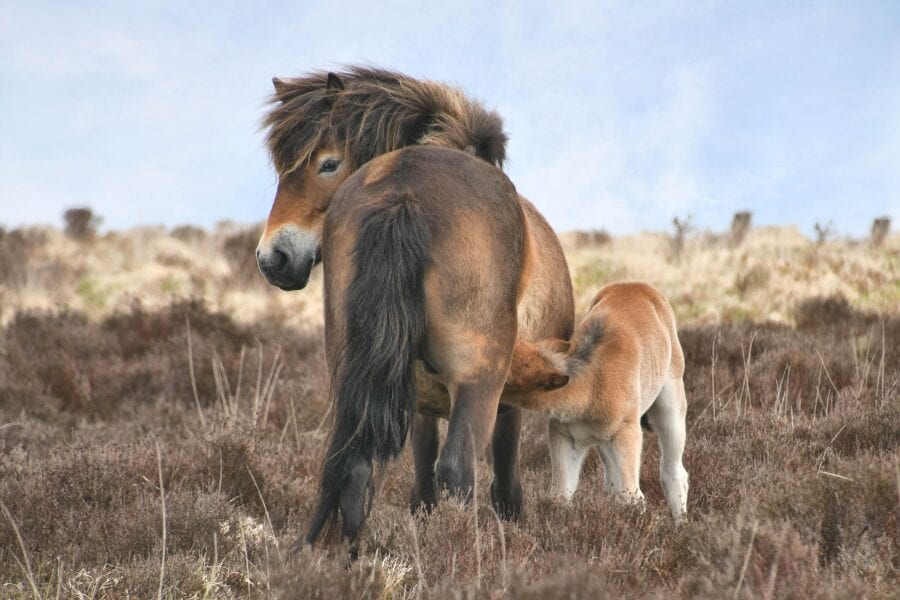 Red Deer
Red deer have lived on the Moors since pre-historic times. Today there are around three thousand deer in the exmoor National Park. They are also the largest wild animal in England.
Chances of spotting the red deer or any of the other species of deer that call Exmoor home is less likely than spotting the Exmoor ponies. However, you can get tours of Exmoor national park. We haven't been on the tour ourselves as we have many opportunities to return to the national park. If you only plan on going once, it might be worthwhile.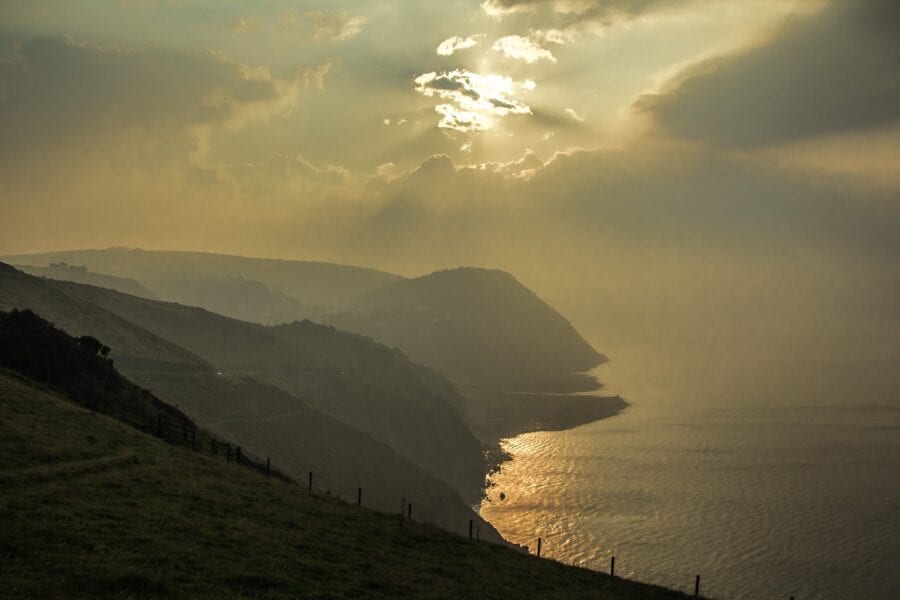 Climb up to Dunkery Beacon
For the best views across the Exmoor landscape head to Dunkery Beacon. The walk is about 2.5 miles and will take around one and a half hours. This walk will guide you through farmland to the open moor and then eventually to the beacon itself.
This walk starts in Dunkery Gate car park. There is a well-trodden and easy to navigate path that heads uphill to the summit. This beacon sits at the top of Dunkery hill. It is the highest point in Exmoor and provides views over the beautiful moorland, the Bristol Channel and on a clear day, you might be able to see the mountains and coast of south wales.
Watersmeet Walk to Lynmouth
Watersmeet circular route to Lynmouth is a beautiful walk full of cascading waterfalls and green foliage! This walk is roughly 3.7 miles and is of relative ease but rocky terrain.
The traditional walk starts in Lynmouth up to waters meet and then back to Lynmouth again, however, we walked the Opposite way. Either way, this walk is beautiful and will be a great experience wherever you start.
THE Path
This walk takes roughly 35 minutes to complete one way. There is a longer version you can find but we opted for the shorter route so we could spend more time at Lyndford.
To check out the longer route, check out this post by the national trust.
This river gorge is name Watersmeet because it is the point at which two powerful streams Fairly Water and the East Lyn meet. They cascade down the gorge creating multiple waterfalls. This dramatic river is encompassed by Ancient woodland and occasional bridges that arch across the river.
In the spring and summer season, the water may be low enough to go for a refreshing swim.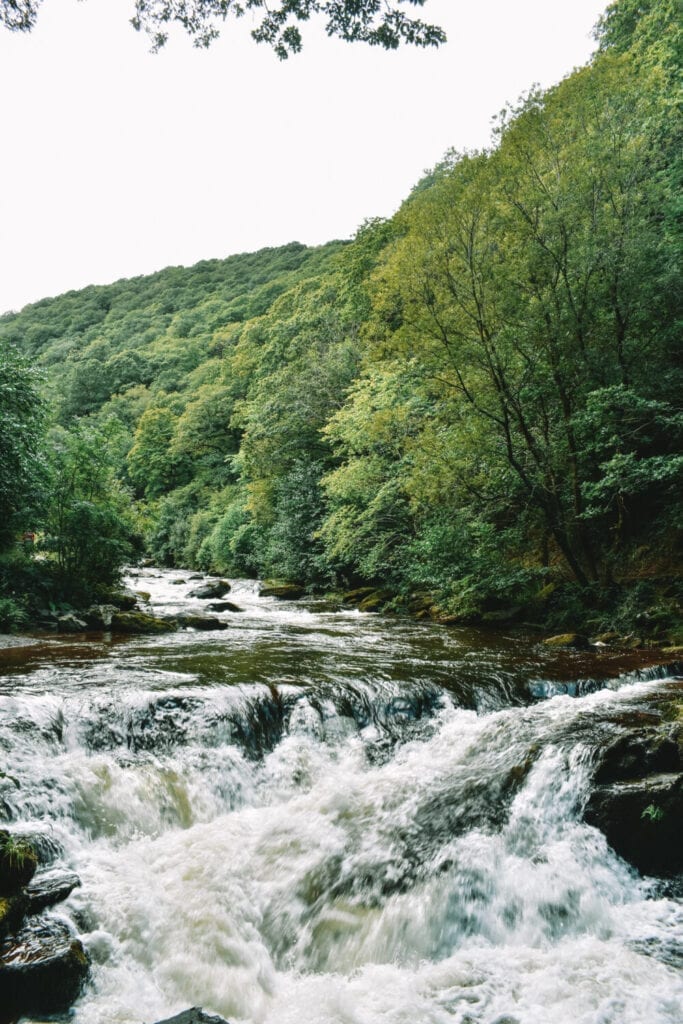 Lynmouth Village
Lynmouth itself is an idyllic seaside village to wander around. There are many independent shops to wander around and pick up some unique items. Grab some chips from one of the many fish and chip shops you will find on the seafront. Sit on the beachfront and enjoy this quaint village.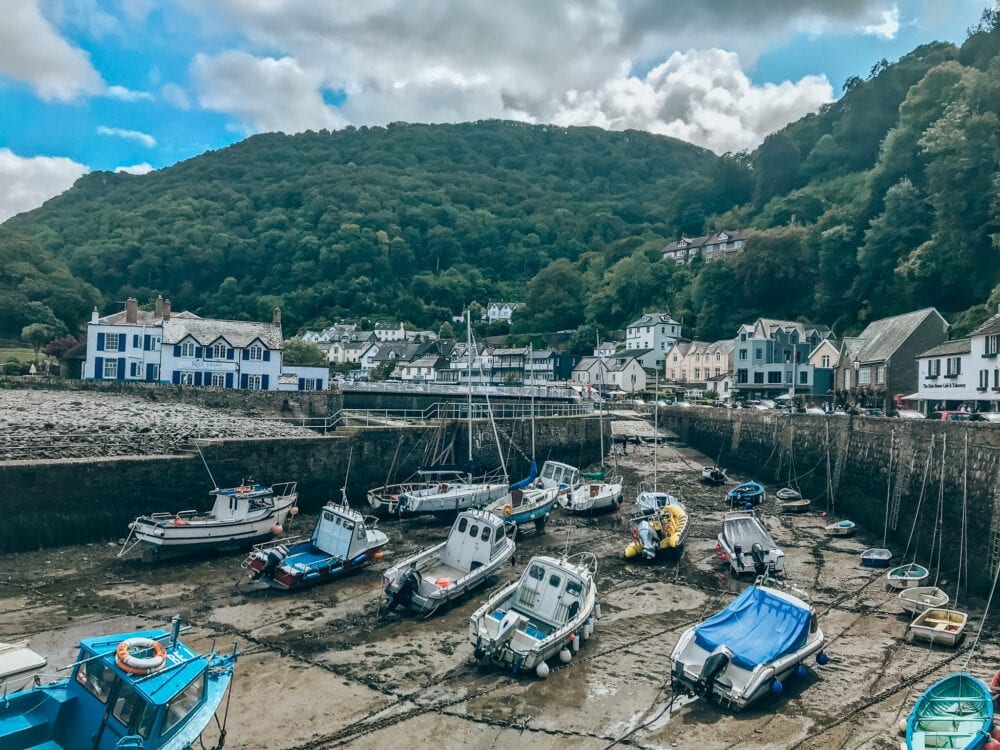 Barricane Beach
This beach is our personal favourite beach in Devon. A small cosy beach is hidden away from view, therefore a lot quieter than its neighbour, Woolacombe. Visit here after a day out to watch the surfers or simply sit and soak up the sun (if you are lucky enough to experience warm sunshine in England!).
For our list of top beaches in Devon read this post.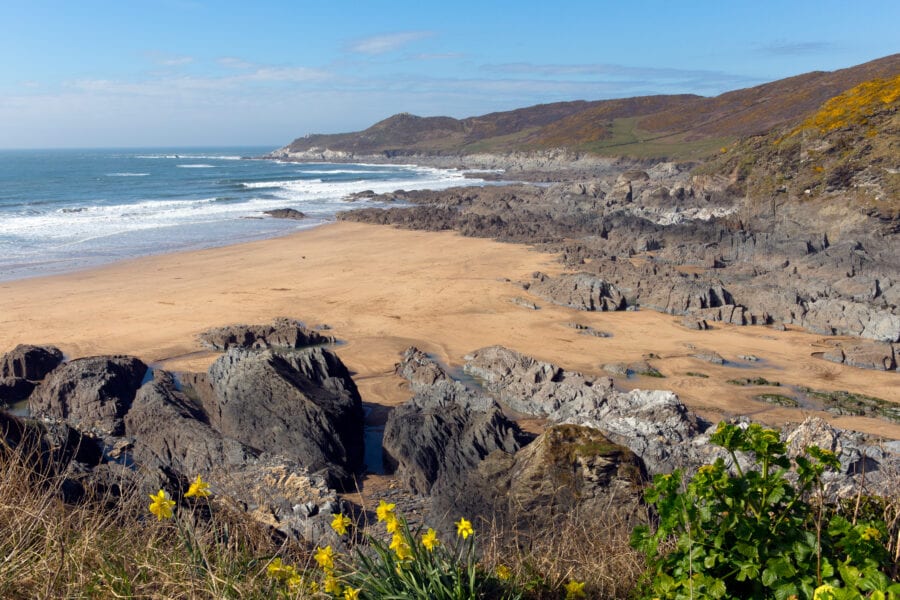 Food at Barricane Beach
The best thing about this beach, is the small wooden café that offers authentic Sri Lankan curry!
Check out there website here.
Speke's Mill Mouth Waterfall
This is perhaps the most impressive waterfall in Devon. The sheer height of this waterfall is breathtaking. You have got to take a little walk to get to this waterfall but trust us, its worth it!
How to Get to the Waterfall
From Harland Quay car park (which is free) it's around a 20-minute walk to the waterfall. Try to spare some time to take in the incredible views along this path. The walk will take you past black beaches and impressive rock formations. In our opinion, this walk offered views as incredible as the end destination itself.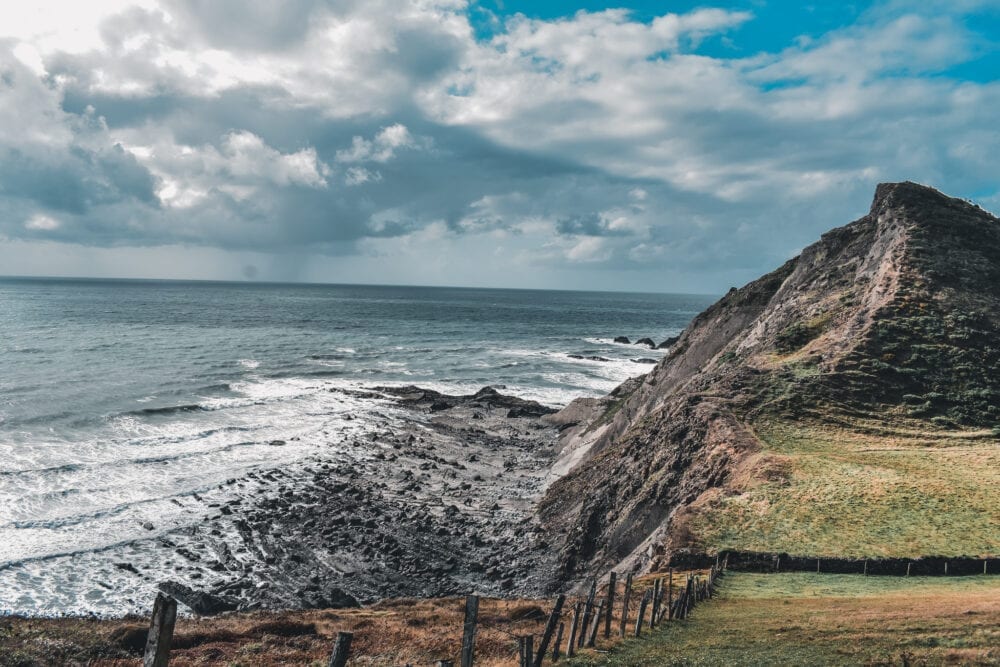 Tunnels Beaches
Tunnels Beaches in Ilfracombe is full of history, Victorian bathing pools and notable marine life.
HISTORY OF TUNNEL BEACHES
The Tunnels used to access the beaches were cut by hand with pickaxes back in the 1800s and took over two years to complete. Even today you can only access the beaches by these tunnels.
The beaches themselves are made up of natural pools that were used in Victorian times for bathing.
As you pass through the Tunnels there is some interesting information which explains the history of the tunnels and etiquette for Victorian bathing, which is well worth a read.
The 'Gentlemen's' beach is closed for a private wedding venue, however, the ladies beach remains open and accessible for all. The ladies beach has only one out of the original three pools remaining. The tidal pools are only accessible during low tide so plan your visit accordingly.
MARINE LIFE AT Tunnels Beaches
The beach has been voted the 3rd best beach in the UK for 'Rock Pooling' by BBC Wildlife Magazine, Tunnel Beach is known for its diverse marine life.
This beach is the perfect place to come and relax, admire the rugged scenery of the cliff faces or to go exploring and enjoy the marine life in the rock pools.
Known as the Galapagos of the UK, for its playful grey seals, bottlenose dolphins, pilot whales, one of the few colonies of Puffins plus an abundance of plant life and land mammals! People travel far and wide to see the puffins they are so notable "Lundy" is actually derived from the Norse meaning Puffin Island.
This island sits off the coast of North Devon where the Atlantic ocean meets the Bristol Channel with nothing between it and America. Around three miles long and a half a mile wide it is the perfect escape from the modern way of life. Lundy has a milder climate with more sunshine and less rain than the mainland.
This island is peaceful and unspoilt, free from cars and roads and encompasses a beautifully simple way of life making it the most perfect place to escape.
How to Get to Lundy
From march to October ferries frequently run from Bideford and Ilfracombe.
During the winter there is a helicopter service that operates between Lundy and Hartland Point on Mondays and Fridays.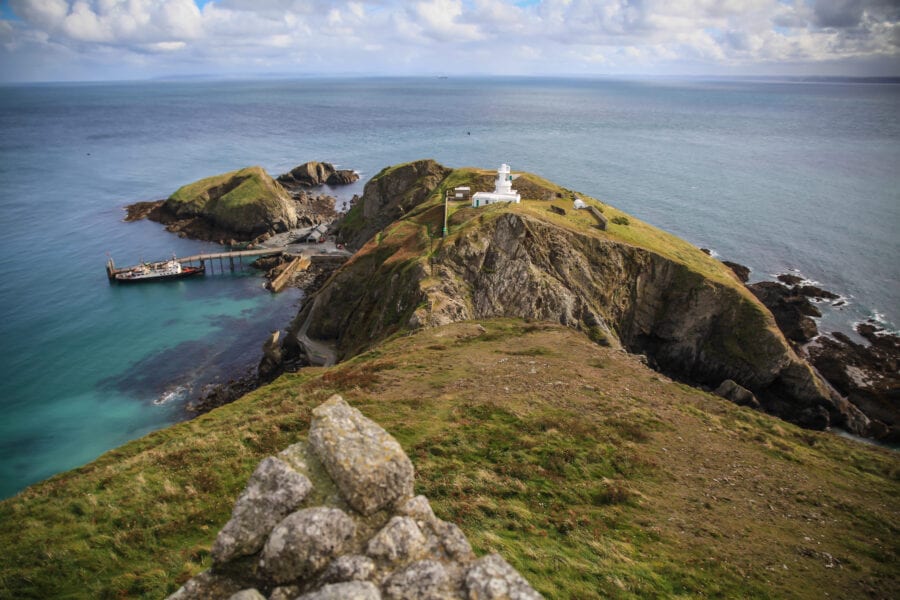 What to see and do on the Island
Walking
Walking island is such a pleasure in itself with so much to see. This island has so much history its best to take your time and take it all there is to see.
Diving
Lundy has one of the richest marine life outside of the tropics. In a single square meter of sea bed up to 2,500 creatures can be sighted. It is also the only place where all five varieties of British Cup Coral can be found. in 2010 it became the first Marine Conservation Zone in Britian.
With its clear waters and over 200 ship wrecks of which 10 are recognised dive sights this place is certainly an awesome place to dive and experience what the english sea has to offer!
To experience diving on Lundy island you must pre book on there website.
Snorkelling
You can take part in Snorkel safaris on the island of Lundy. With playful grey seals, this is such a memorable experience.
Check out this page to see more information.
Climbing
The cliffs of Lundy offer the perfect climbing surfaces! With the biggest one know as Devils slide it is not for the faint-hearted.
To protect breeding birds there are restrictions between March and July, so check these out before you go.
Staying on Lundy
There are 23 very individual self-catering properties available for short breaks and weekly holiday lets. Each option has been converted from its original use, for example, they have lighthouses, a fisherman chalet, a 13th-century castle and many more. Staying on the island would be an incredible experience and a memorable way to experience the island. Check out their Accommodation options here.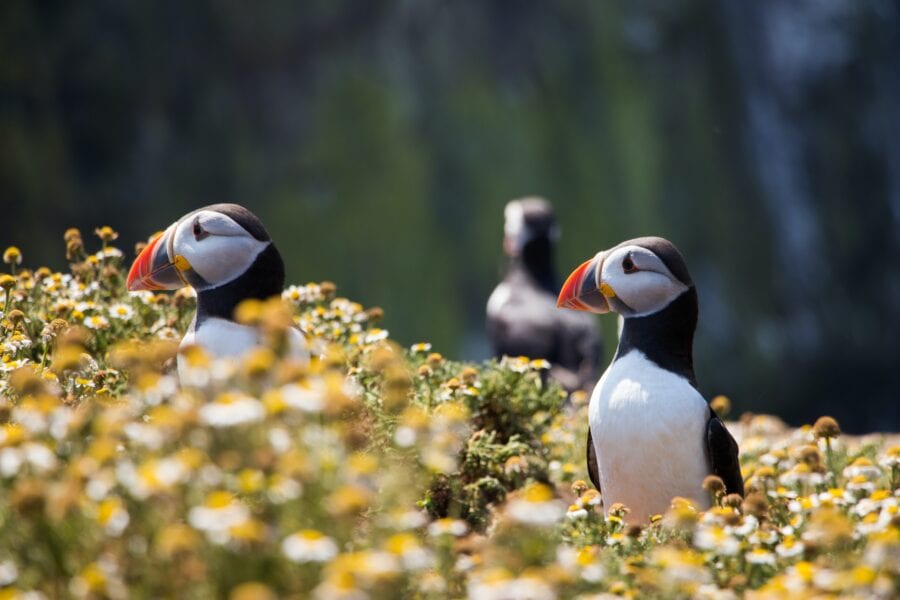 We hope you enjoyed our guide of things to do in Devon. Whether you want waterfalls, walks, incredible beaches or just to chill Devon is such a beautiful destination. We really hope we have inspired you to take a trip to Devon and proved it certainly is one of the best places for a getaway in the UK.
Whats Next?
Check out our best walks and waterfalls in Devon, our guide to the best villages and towns and the best beaches in Devon.