This blog post contains affiliate links. As an AirBnB associate we may earn a small commission to fund our coffee drinking habit if you use these links to make a purchase. You will not be charged extra, and you'll keep us supplied with caffeine. It's a win for everyone, really. Check out our Disclosure policy for more.
The small town of Ella in Sri Lanka is well-known for all the right reasons. It is set in the misty mountains of Sri Lanka, surrounded by tea plantations, and captivates the attention and hearts of everyone who visits. There is something about this town that stays with you for a long time. For such a small town, this place packs a punch. There is so much to do here. So, here is our guide to the best things to do in Ella Sri Lanka.
Is Ella Worth Visiting?
When we were planning our trip to Sri Lanka, we questioned if Ella should be on our list. The reason being, we were worried it would be flooded with tourists, too busy and just not authentic. We are so glad it wormed its way onto our list, as it was one of our top destinations in Sri Lanka. There is something so magical and vibrant about this backpacker town in the mountains.
There is so much to do and experience in this part of Sri Lanka it really is worthwhile. So if you too are questioning if Ella is worthwhile, hopefully, this guide can convince you.
10 Incredible Things to Experience in Ella
Hikes in Ella
Because this cosy town is nestled within so many mountains, there are a lot of hikes. Each of which is incredible and offers something unique from each other.
Hike Little Adams peak for Sunrise
First on the list and a complete necessity if you are heading to Ella is Little Adams Peak. This hike is just breathtaking and offers some of the most awe-inspiring views we have ever seen. The hike is relatively easy, and it doesn't take too long to climb. To climb Little Adams Peak for sunrise makes this experience even more memorable. The climate is also slightly colder (although by no means cold) than later in the day.
The views at the top of this peak make every second of the climb up worth it. With Ella Valley sitting beneath you, the views are just incredible. There is another peak slightly further along that is a little more torturous to get to. However, in our opinion, the views were worth it, so definitely worthwhile for the extra climb.
Insider Tip: if you head up for sunrise, go to Ella Flower Garden for breakfast after your climb back down. This restaurant provides incredible views of the impressive Ella Rock. The setting is also beautiful, full of flowers and plants to relax you after a intense hike.
Hike Ella Rock for more Incredible Views
Ella's rock is another incredible hike right in the centre of Ella. It is a little harder than little Adams peak but still doable. Similarly to Little Adams Peak, the path is pretty well-trodden so you can easily find your way.
Parts of the path are through trees and foliage, so there is some shade to make the walk a little easier.
When we did this hike, we didn't have much luck and as we climbed the cloud came in meaning we couldn't see anything! We still enjoyed the hike. Most hikes are nearly always better in the morning when is it more likely to be clear.
Lipton Seat
Haputale is the town before Ella one stop before Ella on the famous blue train. We didn't stay here, but we heard from others that it is a really incredible place to visit. Lipton's seat is a famous location. It is where Sir Lipton first saw the land he would later plant on to grow his world famous Lipton Tea.
Take a Cooking Class in Ella
Head to Ella Spice Garden to learn to create traditional Sri Lankan curry. If you are anything like us you will LOVE the local food. The curries in Seri Lanka are especially amazing, so having the opportunity to learn to cook your own is a really memorable experience. Of course this type of expereience is created for tourists however it is still really worthwhile if you have the time.
Waterfalls in Ella
Ella is filled with beautiful waterfalls that are the perfect place to relax or explore. Take a book and lay on the rocks with your feet in the water. Or head to a dramatic waterfall to do some cliff jumping and exploring.
This waterfall isn't really in Ella. In fact, from Ella, it will take around an hour depending on how to choose to get there. However, it is by far the most impressive waterfall we have ever visited! Because of its distance to the centre of Ella, it is likely you might get to experience this place with few others. We arrived at around 9:30 after Ravana falls (see below), and we had this place to ourselves for a while.
When you reach the top, you are greeted with a series of Infinity pools that look over the edge to the 720ft drop below. This waterfall is the third tallest in Sri Lanka and just incredible.
When you reach Diyaluma, it is excellent to admire this beauty from the bottom and admire it's sheer height. However, the real experience comes from Upper Diyaluma falls. To get to this point, you have to hike for around 20-30 minutes to get to the top.
Because this waterfall is quite far out of Ella, we would suggest heading to this waterfall as you leave Ella town. We headed to udawalwa after Ella and this worked perfected. We headed here to do a safari and to experience the elephant orphanage (One of the only ethical Elephant organisations in Sri Lanka). It is also convenient if you are heading south towards the beaches.
Read our guide to Diyaluma Falls to plan your trip.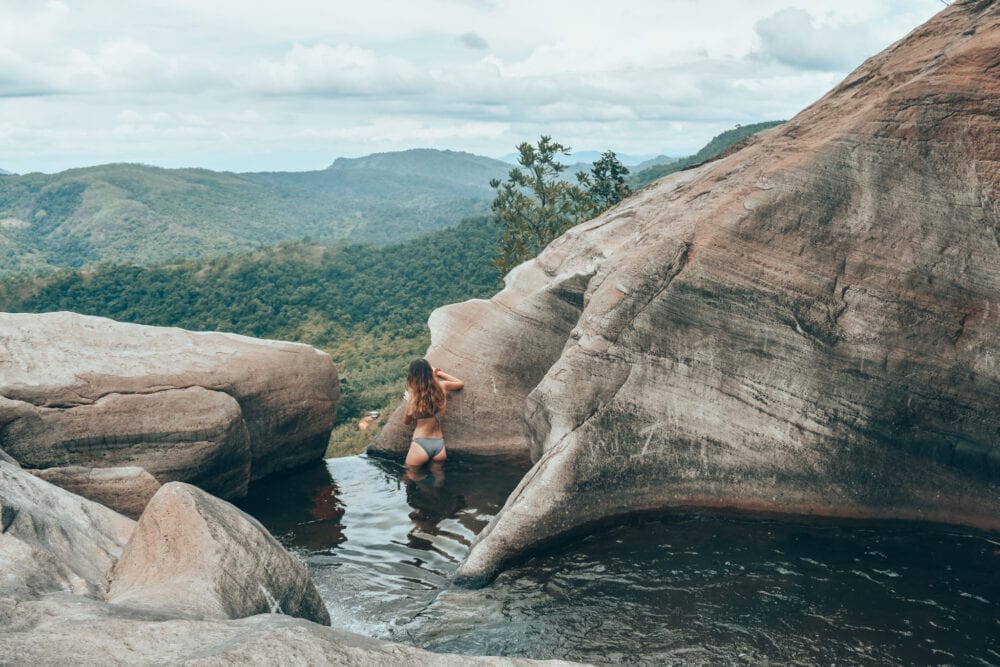 Rawan Falls
This waterfall is much easier to access than Diyaluma falls and is in Ella itself. Although this waterfall is worth a visit because it is on the roadside it is very busy! A great place to head to early in the morning.
The Famous Blue Train
Of course the train to Ella is a must. Yes it is busy, and you will get sweaty and uncomfortable, but it is so WORTH IT! Read below in our How to get to Ella section for some much needed advice to get the most out of this experience.
The Nine Arch bridge in Sri Lanka is another must-visit. Its incredible architecture makes it incredibly impressive and has to be seen to be believed. No pictures can really do this place justice.
Heading here just after sunrise is the perfect experience. Its location makes it perfect to head to after Little Adams Peak, as you can walk here from the bottom of the hike.
Insider Tip: Arriving just after sunrise is perfect for many reasons. It is great lighting for photos but most notably at 9am, people start arriving by the coach full. It is a much better experience to enjoy this beauty without hoards of people.
Explore the Tea Plantations
Have a Massage
With so much hiking and exploring to do, Ella is the perfect place to get a relaxing massage before heading onto your next location. There are many spas in Ella so take your pick and relax.
Where to eat in Ella
We loved this place, and it was our favourite food spot in Ella. They have a massive menu with international and traditional food. We only tried the traditional food, and it was great. They readily understood vegan options and the setting was incredible.
Chill is by far the most popular place in Ella, and everyone seems to know about it. We loved the experience and the vibe but to be honest, we found better food at Ella 360.
We went here for cocktails in the afternoon after the long train journey. This place was incredible, the decor was excellent and the cocktails were yummy. We think this place would be great in the evenings too.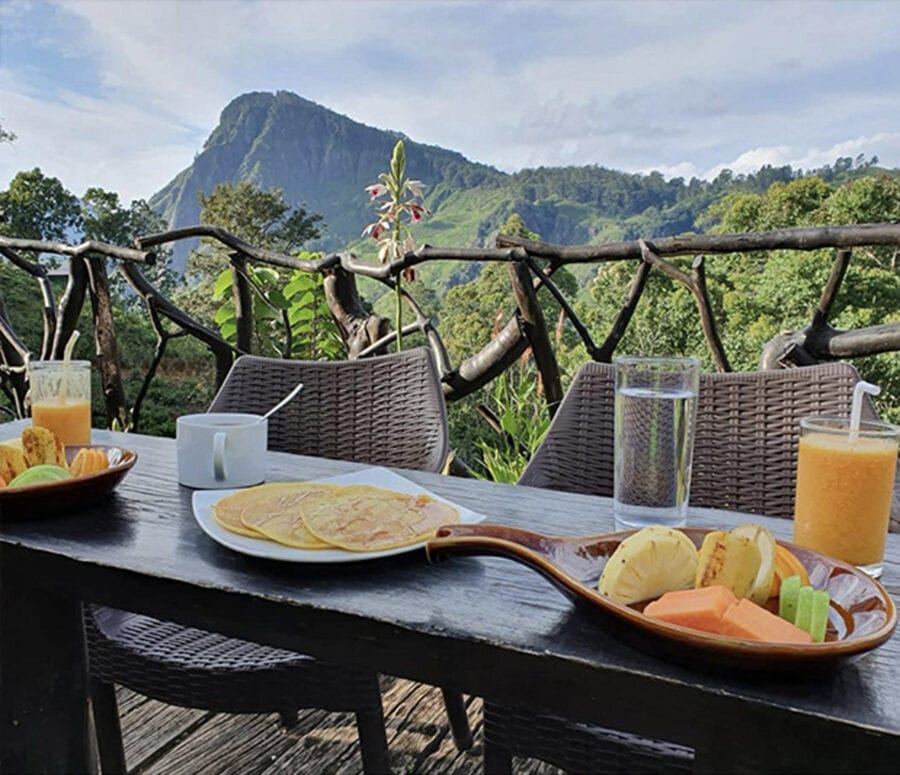 Where to stay in Ella
Stargazer Airbnb – A short drive from Central Ella – Views!
This Airbnb is just beautiful. Set a little distance from the centre of Ella but surrounded by jungle and greenery. The balcony is the perfect place to read a book and drink a cup of Sri Lanka tea. The hosts here also provide home-cooked meals that are just incredible, better than most restaurants. Although you should bear in mind when we stayed, there was only cold water. You require the sun to heat the water, so if it is cloudy, you are out of luck. This didn't bother us, but it is nice to have a warm shower after a long hike.
We spent one night in this hotel and got upgraded to an incredible room on the top floor. This hotel is just amazing. With all the necessities for a luxury hotel but the feel of a boutique hotel, this place was just amazing. Its location is very central to Ella town allowing you to walk to all of Ella's amazing cafés and restaurants.
How to get to Ella
The Famous blue train!
The most obvious way to reach Ella is using the incredible Blue Train. Most people get the train from Kandy – Ella. We would recommend getting the train later in the journey. This will require you to stand for 6-7 hours with little to no room to move at peak season! We got on the train at Nuwara Eliya, and it was much more doable. This part of Sri Lanka is also incredible, so it makes sense to go here. From Nuwara Eliya, the journey is only 3 hours.
When picking your ticket, make sure to go for the right ticket. First-class won't allow you to open the windows and experience this train journey for what it is, raw, rugged, but beautiful.
Drive
From Colombo airport to Ella, the drive is around 5-6hours. Whether it is a private driver or a taxi, this is a more direct route but will not save much time.
How Long do you need in Ella?
We stayed for two nights and had more than enough time to explore loads of waterfalls and do loads of hikes. Depending on how long you have in Sri Lanka, you could stay longer, and head to all the quirky restaurants and cafés. Although, two was perfect for experiencing this magical town.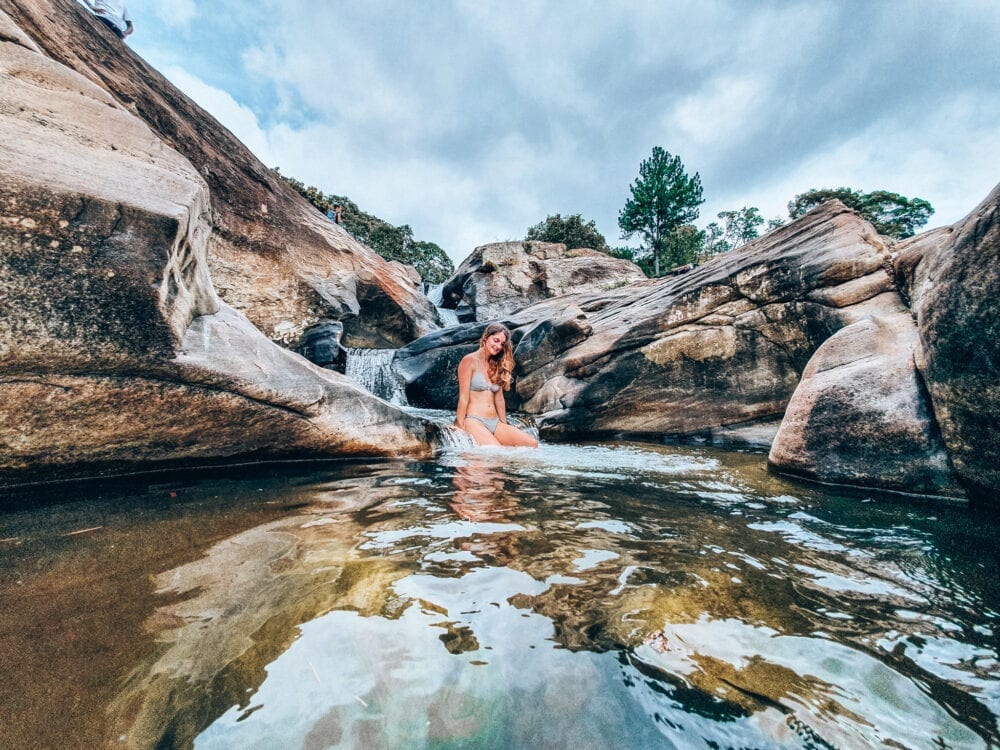 Where to visit after Ella?
Udawawae – Perfect for Safaris
This is where we headed to after Ella. This place is fantastic for a safari, especially if you wish to see Crocodiles. We saw suckling Elephants, birds of prey.
This part of Sri Lanka is also home to one of the few ethical elephant sanctuary. They have an incredible Elephant Orphanage that looks after elephants that would otherwise be unable to survive. Their goal is always to release the elephants, but they do have some older residents who will call this place home for life. There is a three-legged elephant here that even has a prosthetic leg. The workers here really care about the animals here. They have a few feedings throughout the day when you can pay to sit and watch all the young elephants be fed. It is a magical experience and one that will stay with us forever.
Hiritekiya bay
If you plan to head to the beach after Ella, this is the place for you. A horseshoe-shaped bay lined with rugged palm trees and a chilled out vibe. We LOVED this beach. The area itself still remains pretty undeveloped, but there are plenty of places for incredible food and to get a good coffee. This is part of what makes this place so special. It is the perfect balance between home comforts and pure rugged Sri Lankan charm. This place is quite popular for surfers.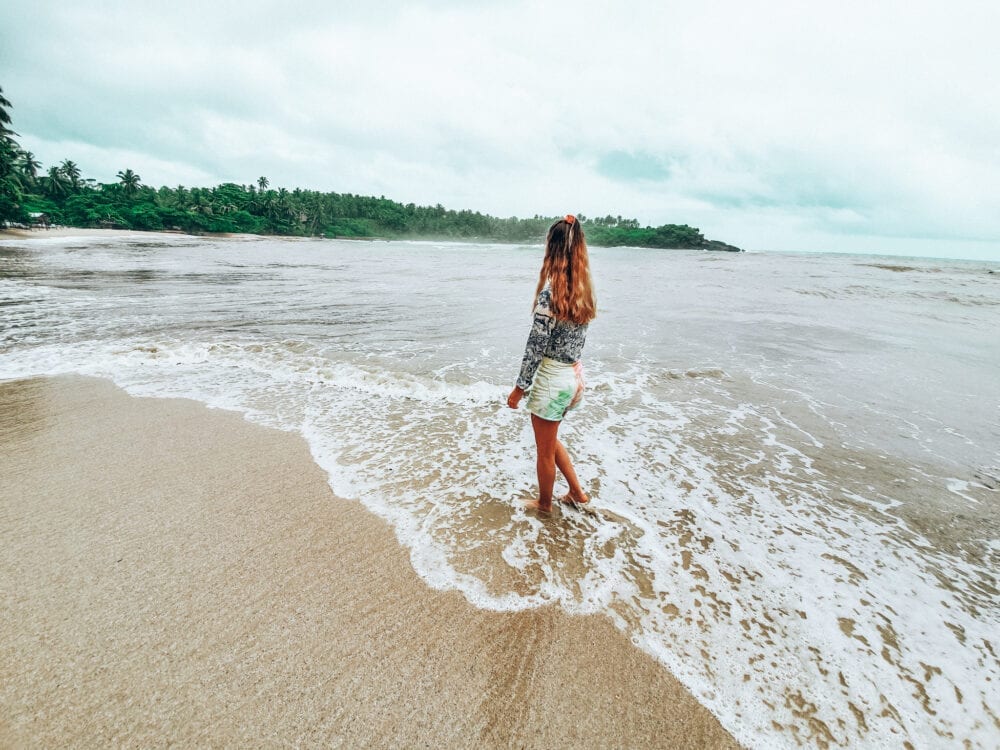 Nuwara Eliya
Only a short train Journey away is the misty slightly Erie town of Nuwara Eliya. Nuwara Eliya is full of misty valleys and powerful waterfalls on every corner.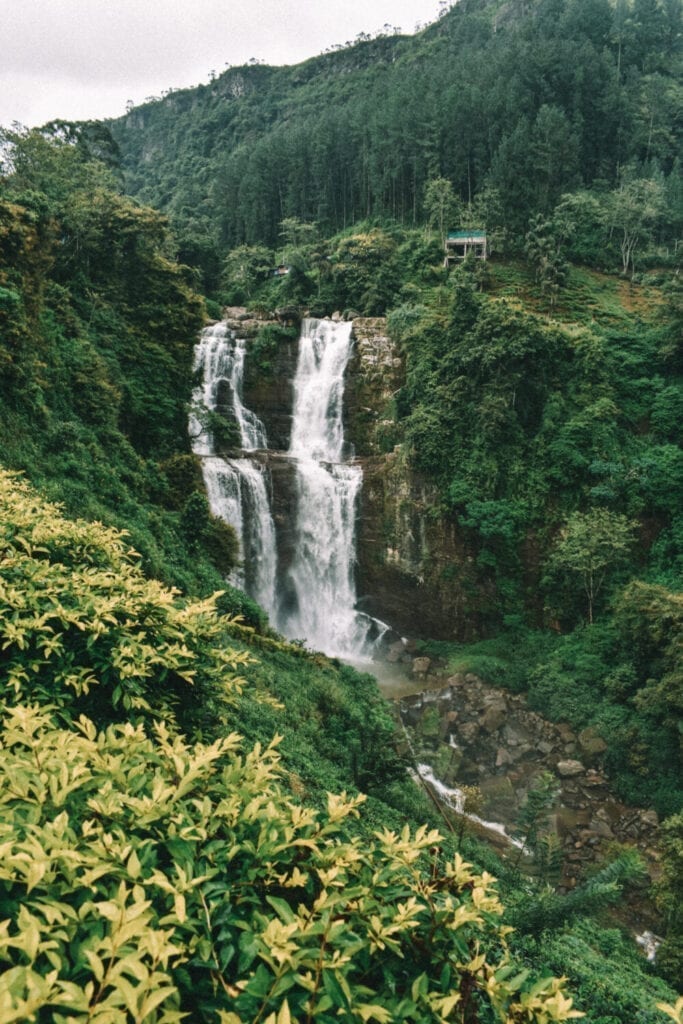 Summary of the best things to do in Ella Sri Lanka.
Hopefully, if it wasn't already, Ella now has a firm spot on your Sri Lanka itinerary. This magical destination can be busy, and there are some very touristy parts. However, there is so much to experience here it really is a beautiful destination to explore and connect with nature. We hope this guide has helped you to plan some incredible things to do in Ella Sri Lanka.
What's next?