This blog post contains affiliate links. As an AirBnB associate we may earn a small commission to fund our coffee drinking habit if you use these links to make a purchase. You will not be charged extra, and you'll keep us supplied with caffeine. It's a win for everyone, really. Check out our Disclosure policy for more.
Munduk is by far Bali's best-kept secret. This town is situated in North Bali in the central highlands, surrounded by mountains, lakes and breathtaking waterfalls. There are many fields filled with hydrangeas, marigolds and strawberries. Munduk is known for its incredible coffee and clove plantations. Due to Munduk's unique cooler climate, the jungle is lush all year round and filled with beautiful colours. Here is our guide to the best things to do in Munduk. 
The Best Things to do in Munduk 
Visit the Famous Bali Temple in Munduk, Pura Ulun Danu Beratan
This temple is beautiful. It is easy to see why it is the most photographed temple in Bali.
Check out this temple tour here that also includes trekking to some of Bali's most exhilarating waterfalls.
Suggested tours:
North Bali: Sekumpul Waterfalls and Ulun Danu Temple Tour
Banyumala Waterfall Trek, Bedugul and Lake Beratan Tour 
Visit Three Epic Waterfalls a little out of Munduk.
These waterfalls are around 45 minutes from Munduk itself. The next three waterfalls are close to each other you can walk to all three. These waterfalls are the most epic waterfalls we have ever seen and are a must-do when in Bali. These waterfalls look like they are plucked straight out of Avatar. However, it is worth the trip to explore these fantastic masterpieces of mother nature. 
During the COVID pandemic, the Balinese government made it legal to pay for a local guide to visit the waterfalls here. 
Sekumpul Waterfall
This waterfall is the tallest in Bali and is epic. The water here is clean, so you can swim here and take your time to enjoy the water. No pictures can do this waterfall justice. It is even more magical in real life.
On your way to this waterfall, you will see a large tree that must be a few 100 years old. This tree is of importance to the local community in Sekumpul village. All locals pray at this tree to wish for safe venturing into the falls for visitors and locals alike. These local practices are humbling if you have a local guide to respect their wishes if they ask to pray.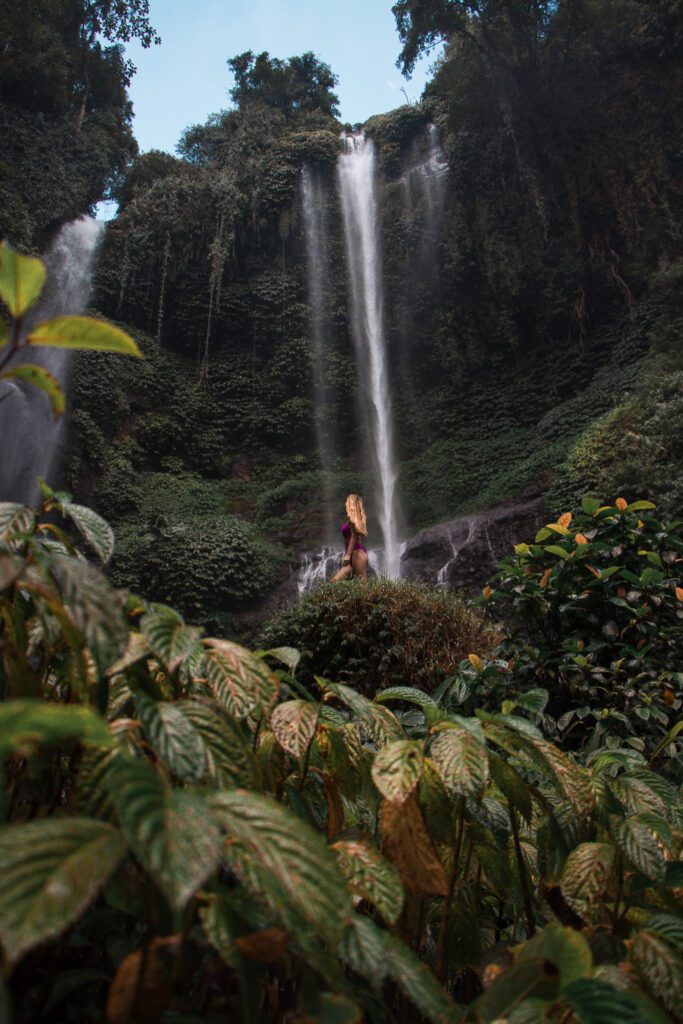 Fiji Waterfall 
Fiji waterfall is made up of three waterfalls! All beautiful and powerful. Swimming here isn't recommended as the water comes from rice terraces above and isn't all that clean. 
Hidden Waterfall
This waterfall is named hidden waterfall as it is tucked away and could easily be missed if you don't know where to look! This waterfall has a different feel from the others. It is tucked away and surrounded by lush green jungle in every corner. It is so beautiful and secluded with a calming atmosphere. This waterfall is so peaceful it is a popular spot for water yoga. Is it a great place to escape the sun and take a dip in the cold water.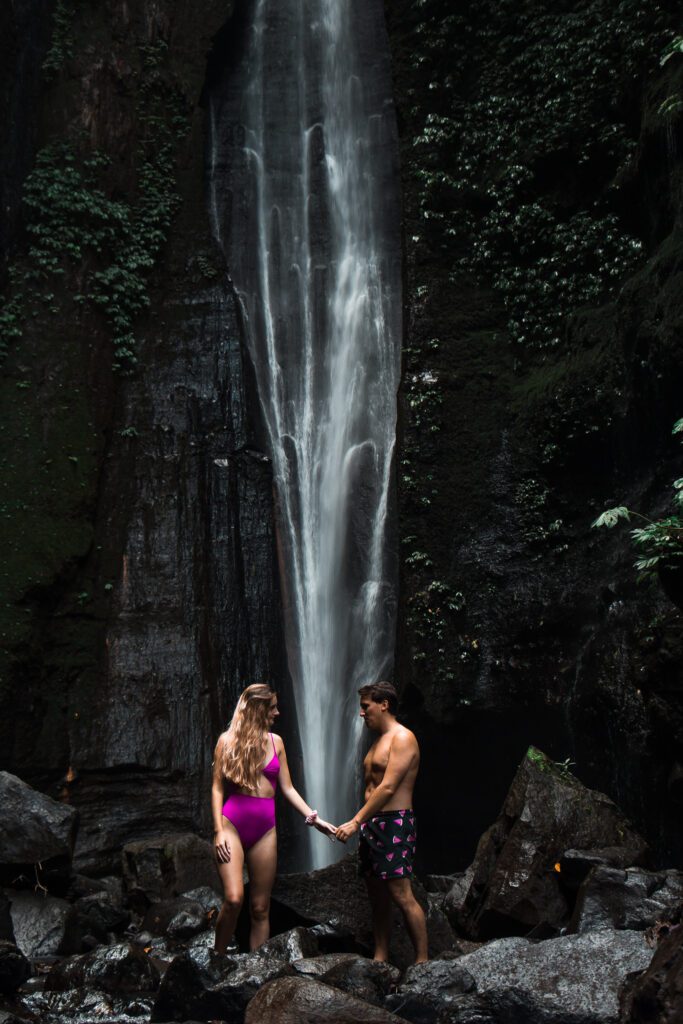 Strawberry Picking at Hidden Strawberry Garden in Munduk
Due to Munduk's cooler climate, it has the perfect environment for Strawberries. If you have tasted Strawberries in most other parts of Bali, you will have realised they are not that great. It is a different story here. 
Coffee Tasting in Munduk
There are so many places in this part of Bali that grows coffee. We would recommend going to a small local warung to do a coffee tasting. This experience is so fantastic, and you will get incredible service. Many offer the tasting for free, but giving a generous tip or buying some coffee is recommended. On your way up from Sekumpul waterfall, there are many small local places to drink coffee with a view. We would recommend stopping here. 
Word of Caution: Please do not take part in tasting Luwak Coffee. To produce such coffee, Luwaks are kept in awful conditions. Even those plantations that claim to be ethical are not.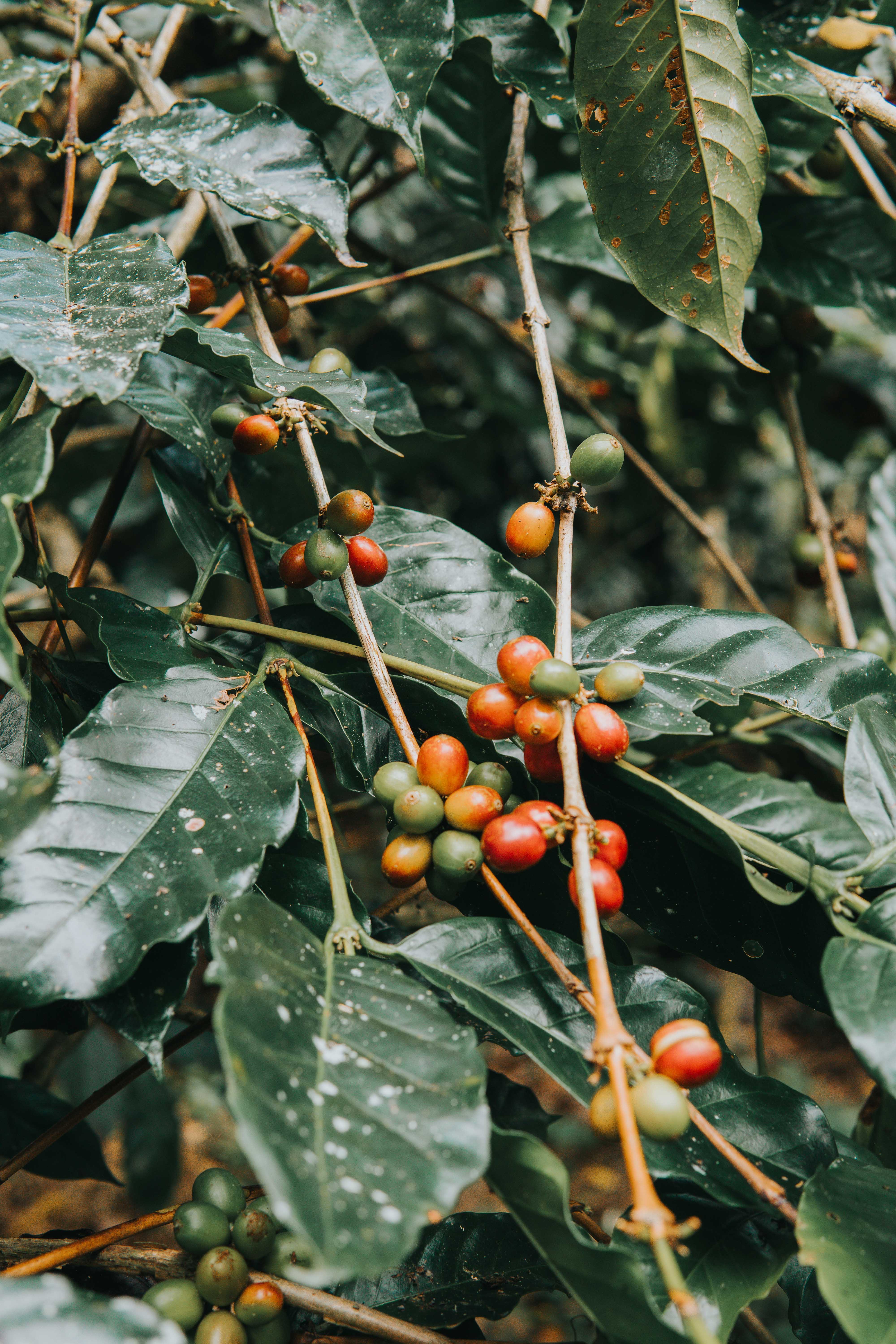 Get a photograph at the famous Handara Golf Gates.
There isn't much to do here beyond getting a picture. But if you are in the area, why not? The Handara gates lead to a golf club and resort, so it is not exactly authentic. It makes for a great backdrop if you fancy a picture. 
The queues here can get pretty long. To avoid waiting for hours, head here for sunrise, and you will not only avoid queues but also get the best light! 
Explore Waterfalls in Munduk
Banyamula Twin falls 
This waterfall is a bit of a hidden gem in Bali. Banyamula waterfall is never busy and an excellent place for a dip in the crystal clear water. Only a stone's throw from Munduk Moding Plantation hotel, you can drive to this beautiful waterfall. The walk to this waterfall is easy, and you can swim here. 
Munduk Waterfall
Set right in the heart of Munduk, this is a must-see in Munduk. It is becoming more and more known but is still quiet compared to other waterfalls in Ubud. It is only a short walk down a marked path with steps leading to the waterfall from the parking area. 
Golden Valley Waterfall
Whilst this waterfall might be less dramatic than others on the list, it is perfect because it attracts fewer tourists. Fewer crowds allows you to enjoy this waterfall. 
Hike Mount Batur for sunrise
Hiking mount Batur is a bucket list activity when in Bali. You cannot leave without having climbed this active volcano. You can do this from Ubud, and the drive is shorter. It is still possible from Munduk and an incredible experience to watch the sunrise from the top of mount Batur.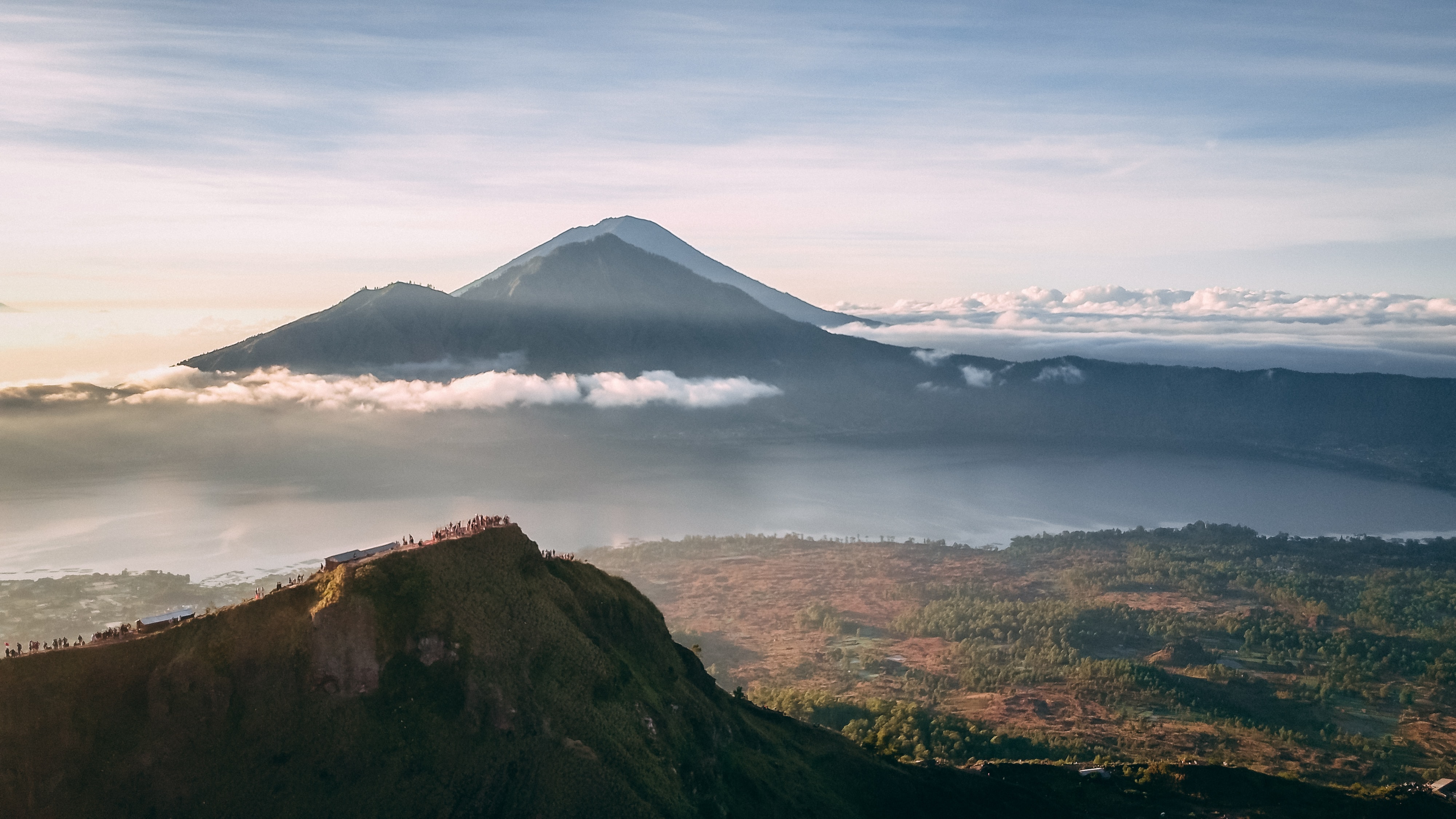 Watch the sunrise over lake Danau Buyan.
This lake has the perfect view to watch the sunrise. There are many places to drink a cup of Bali coffee or traditional tea and watch the sunrise from the roadside. You can also Trek down to the lake itself, which is a fantastic experience too. 
Hike down to Tamblingan Lake
Sitting at the base of Mount Lesung is the twin Lakes of Lake Buyan and Lake Tamblingan. It is an incredible experience to hike down to the lake, enjoy the beautiful scenic water, and take in its serene setting. You can even rent a canoe to relax along the waters. 
Trek through Munduk rice fields
Heading out on a trek through Munduk's rice fields and coffee plantations is a great way to learn about the local life. This experience allows you to see an utterly authentic side to Bali. It is also much easier to go trekking here than any other part of Bali due to the cooler climate. 
Explore Leke Leke waterfall
If you are heading to Munduk from the south, chances are you might be passing Leke Leke waterfall on the way. This waterfall is stunning, and there is an excellent warung here to stop for lunch on the way. Check out the route Google Maps recommend and see if you can head here on the way. It is such an incredible waterfall as it is well worth stopping at if you can.
Where to stay in Munduk
Munduk Moding Plantation 
This hotel is insanely luxurious and an essential bucket list item for your Bali itinerary. 
There are two incredible infinity pools here that are one of the top 10 infinity pools in the world. It is the perfect view for sunset. There is a hot tub for those cooler mornings and nights. We loved sipping on an ice-cold Bintang (Bali Beer) in the warm hot tub watching the 
sun go down. The spa here is the perfect place to get a massage after a long day exploring waterfalls. 
Did you know? Munduk Coffee Organisation gives back to the local community in such incredible ways. Knowing your money is going towards these excellent incentives makes your stay here even more surprising. Check out how they give back to the Bali Community here. 
Sanak Retreat Bali 
Sanak Retreat is nestled away in the tropical landscape surrounded by mountains and rice fields. The rooms are spacious wooden bungalows, each with a private balcony overlooking the greenery setting you right in the middle of nature. The surroundings are gorgeous, and a stay at Sanak retreat is sure to be remarkable. 
Munduk Farm House
Munduk Farm House is a beautiful cosy place to stay in the mountains of Bali. There is a wine house on site, complete with a fireplace. Is there anything more perfect than sipping on a glass of wine by the fireplace in Munduk's cooler climate?
What to pack for Munduk, Bali
The climate in Munduk is so much cooler than in other areas in Bali. Even in the dry season, rain is much more likely. Make sure to pack lots of warm clothes for the evenings and rain macs. We would even say pack a pair of socks!
How to Get to Munduk
Munduk is around an hour and a half north of Ubud or around 2 hours from the airport. The easiest way to get there is to hire a moped and drive yourself. However, if this isn't an option for you, the best way to get here would be via GoJek. GoJek is the Indonesian version of Grab or Uber and is cheaper than a traditional taxi or private car. 
Due to Munduk's cooler and wetter climate than other areas in Bali, it makes sense to hire a car to drive around on. It all adds to the adventure! We personally just chose to use our moped and accept that we would get a little wet.
How long do you need in Munduk?
A few nights is long enough. We stayed for two nights and felt this sufficed. 
Where to go after Munduk?
Ubud- for more jungle vibes and cute cafes, head to Ubud.
Lovina – to be in with a chance of spotting dolphins, head to Lovina.
Head to the Nusa Islands – If you are craving ultimate island vibes. Head to Sanur to catch a boat to either Nusa Penida or Nusa Lembongan. Both islands are incredible but offer different things. Nusa Penida is the ultimate adventure island, whereas Nusa Lembongan and Nusa Ceningan are the best islands for relaxing. 
Summary of the Best things to do in Munduk, Bali
Munduk is one of the best places in Bali to explore. Being situated in the central highlands of Bali allows you to experience the island of the gods like nowhere else. 
Now you know the best things to do in Munduk, check out our other Bali posts here.