This blog post contains affiliate links. As an AirBnB associate we may earn a small commission to fund our coffee drinking habit if you use these links to make a purchase. You will not be charged extra, and you'll keep us supplied with caffeine. It's a win for everyone, really. Check out our Disclosure policy for more.
Just off the coast of Bali sits two Nusa Islands know as Nusa Lembongan and Nusa Ceningan. Think pristine white beaches with the bluest water, coconuts around every corner, ultimate island vibes. These two islands are the best place to relax and slow down after exploring Bali or Nusa Penida. Whilst there are beach clubs and western restaurants, it is still relatively natural and has a real authentic feel. It offers something very different to Bali and is only a half-an-hour boat journey away, convinced yet? If you are still not sure, here is our guide to the best things to do in Nusa Lembongan and Nusa Ceningan.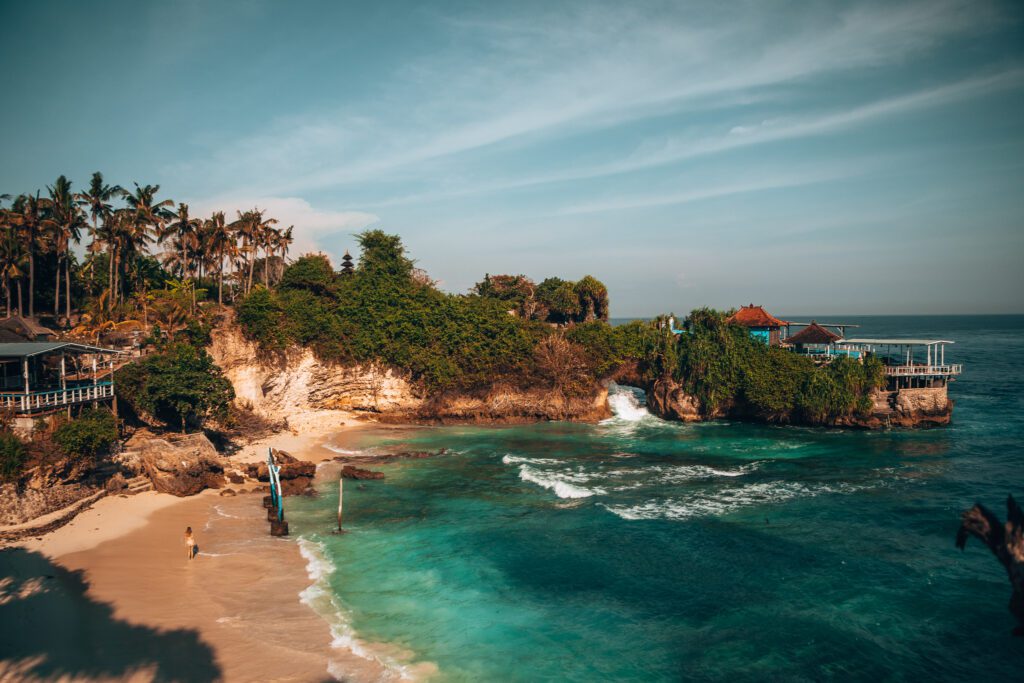 Here goes, our guide to the top 12 things to do in Nusa Lembongan:
Go Turtle spotting at Blue Lagoon. 
Blue Lagoon sits in Nusa Ceningan and is as beautiful as the pictures you see! At first, I thought it would be a little disappointing once we reach the lagoon with all the edited photos. But this beauty is just as good, if not better, in real life. Many turtles live in this lagoon. Sit on the cliff edge and watch for a while, if your lucky you might see them popping up for air
Relax at the Klyf Club at the Blue Lagoon
Thie beautiful beach club sits right on the cliff edge, looking over the lagoon. With some of the best views and such a chilled out vibe is an incredible spot to relax. 
Did you know? You can also stay at the villas here and have an incredible view of the blue lagoon. 
How to reach the Blue Lagoon Photo Spot
Next to the entrance to the beach club, you will see a small gap in the wall. There is a small sign here saying blue lagoon. The path was a little overgrown but easy to follow!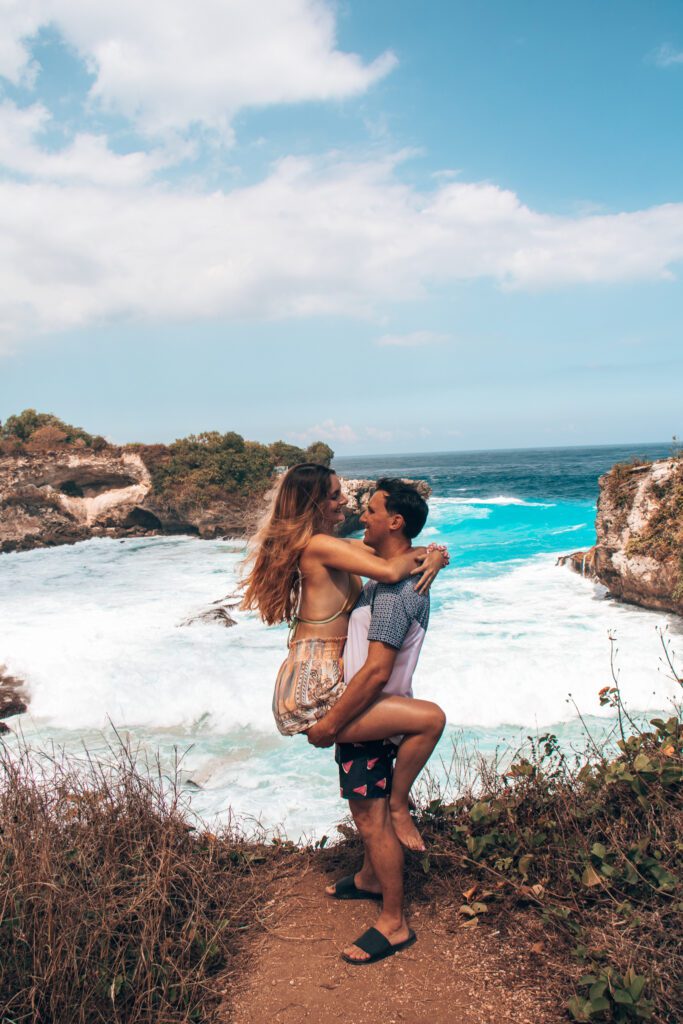 Chill at a beach club 
Between Nusa Lembongan and Nusa Ceningan, there are so many beach clubs to choose from. Spend the day soaking up the sun, swimming in the sea and drinking fabulous cocktails! 
Here is a guide to our favourite beach clubs In Nusa Lembongan and Nusa Ceningan: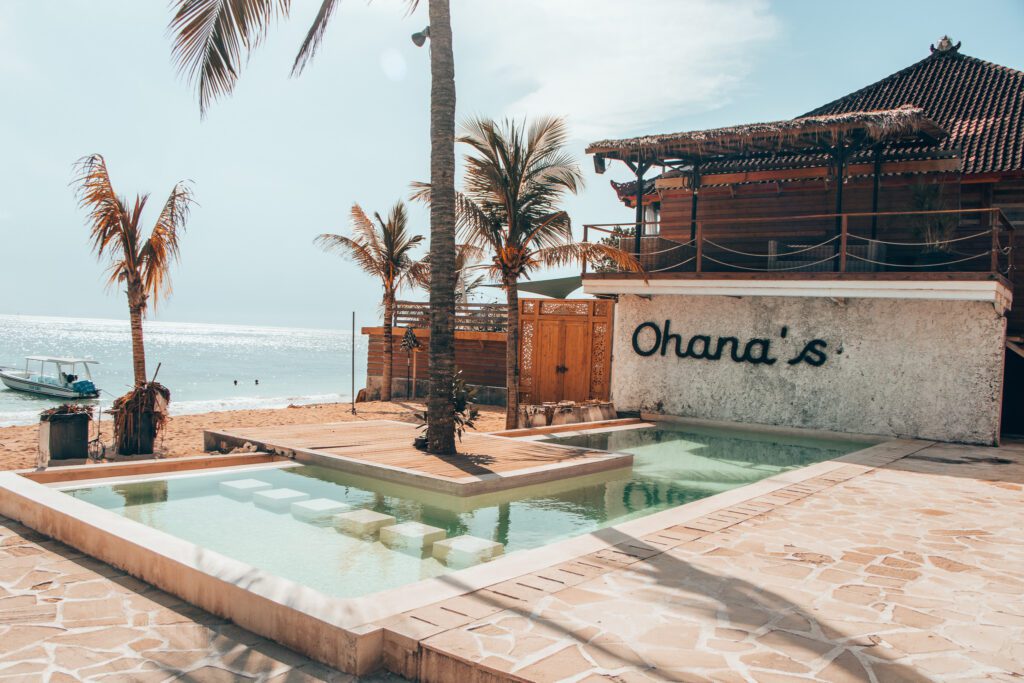 Eat incredible food (and drink lots of Coconuts)
Local food is excellent, but after living in Bali, we do like the occasional change! We will be completely honest, when we visited Nusa Penida, the food choices were slim, and we ate a lot of local food. Nusa Lembongan and Nusa Ceningan, however, had SO many choices. We were pleasantly surprised.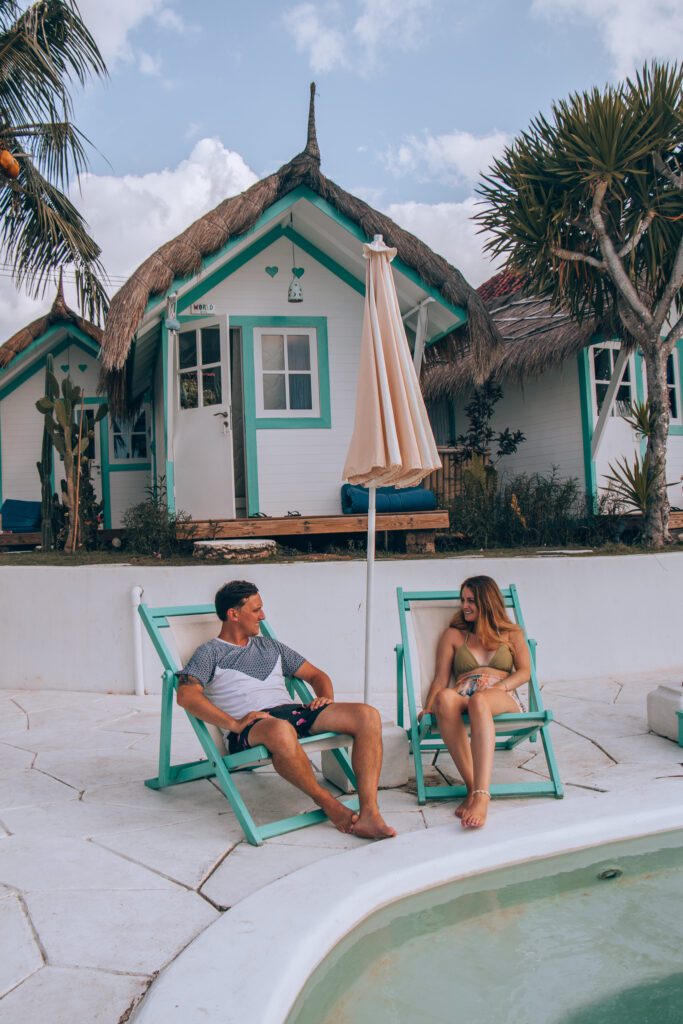 Here are our favourite places to eat:
If you are vegan, head over to our guide to the best vegan food in Nusa Lembongan and Nusa Ceningan here.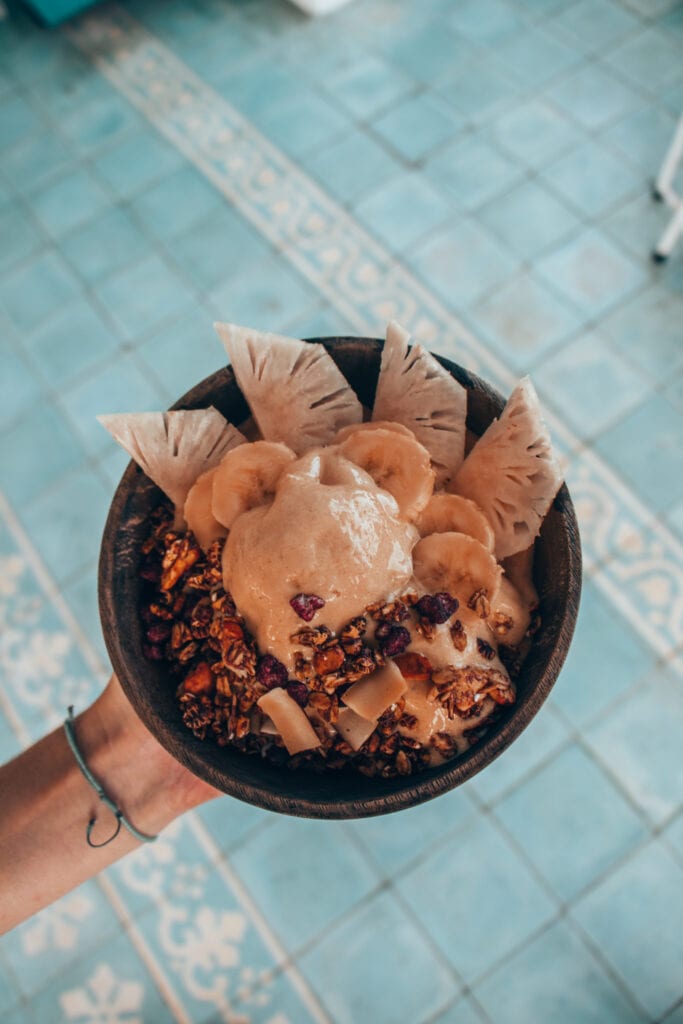 Drive or walk across the famous Yellow Bridge
The yellow bridge connecting Nusa Lembongan and Nusa Ceningan is simply iconic! Crossing over the bridge is such an experience, and it is so narrow you can just about fit two mopeds down it! Chances are, if you are spending a few nights on the islands, you will cross this bridge many times! The bridge is bright yellow and contrasts perfectly with the blues and greens around it.
Insider Tip: The yellow bridge is a great point to catch the sunrise over Nusa Penida.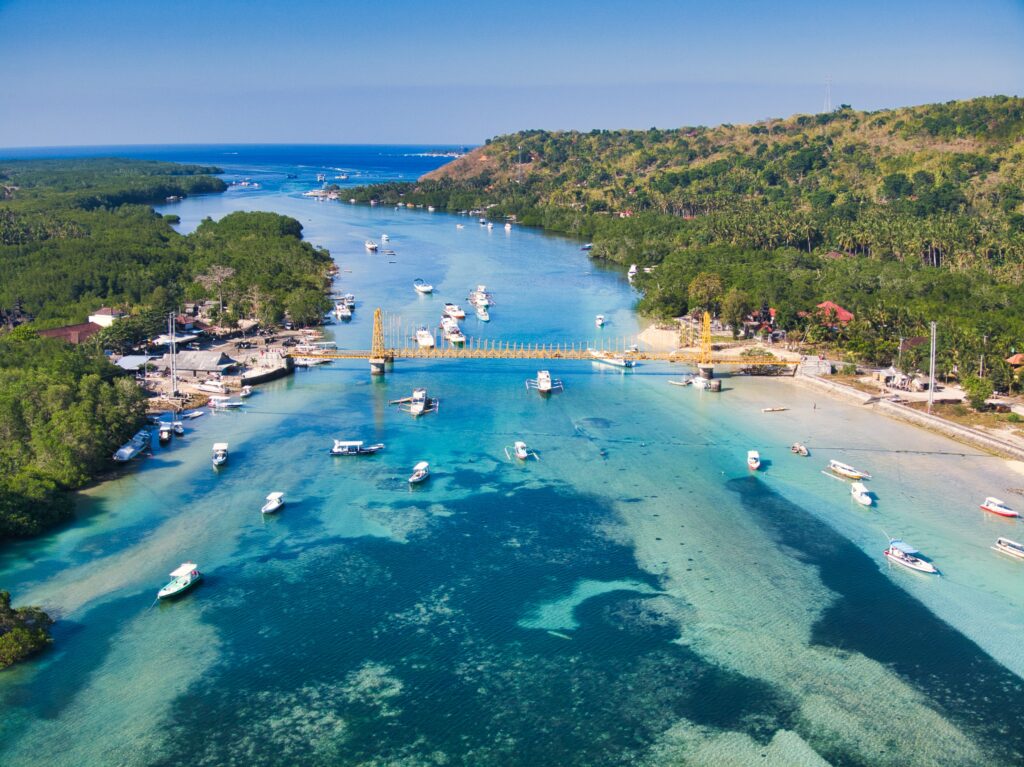 Watch the sunrise over Nusa Penida.
There are few sunrise spots over the island. Here are a few of our favourites:
The Yellow Bridge, unmissable and arguably unbeatable!
Ceningan sunrise point – Tanjung Gelumpang. We headed to this spot in Ceningan island to catch the sunrise, and although it was a cloudy morning, it was stunning. 
To reach this spot, head to Tanjung Gelumpang on google maps. The route will only take you to the beginning of a slightly unmade road. To walk this would take quite a time, we chose to drive, and it was absolutely fine. If you are not confident on the moped, leave yourself a little longer to walk!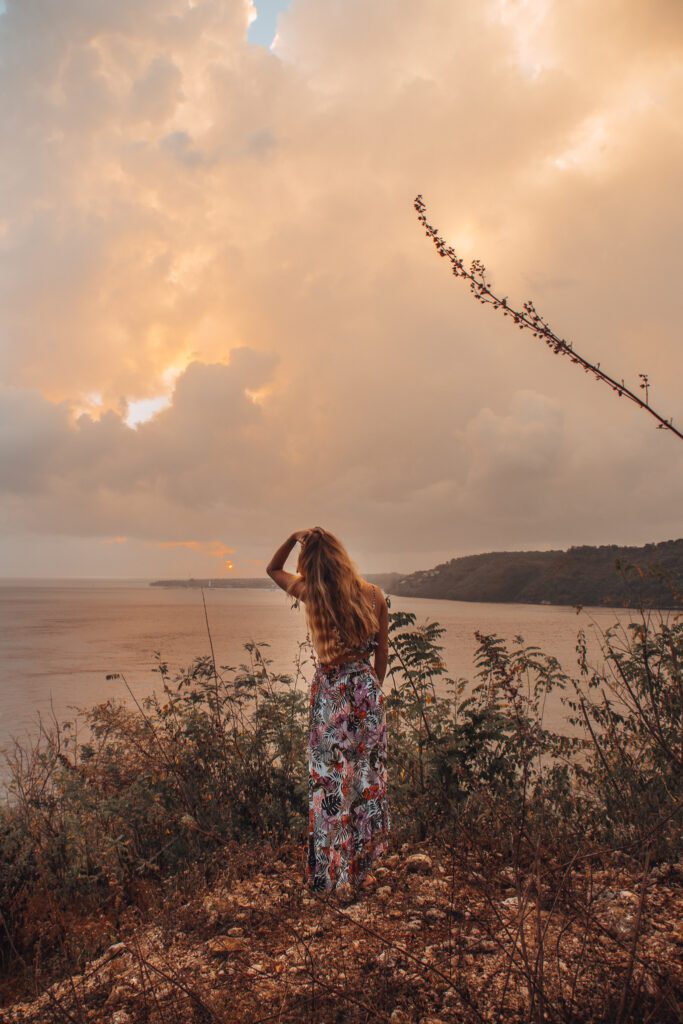 Take a day trip to Nusa Penida
Nusa Penida is very different from Nusa Ceningan and Nusa Lembongan. It is much more of an adventure. With such a diverse landscape, sheer dramatic cliffs, it is our favourite place in Bali. We would strongly recommend at least 3 nights in Nusa Penida. However, if time doesn't permit, take a day trip to experience the wild magic of Nusa Penida. 
If you only go for the day your best bet is to book a day tour so everything is arranged from you. 
Swing on a beach swing or chill in a Hammock
There are so many beach swings dotted around these two islands. Although it can be a bit gimmicky, it is so much fun, and you don't have to pay for this experience. Mot beach clubs have swings and hammocks in the sea. The sea in between Lembongan and Ceningan is warm, perfect for swimming or relaxing on the hammocks.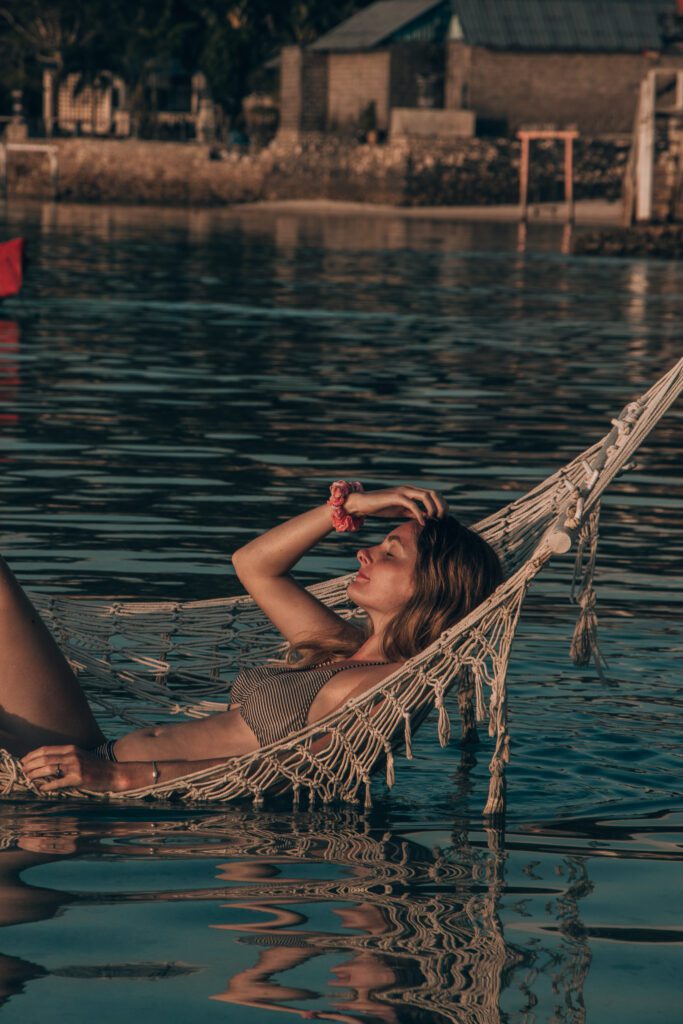 Lembongan Banyan Tree
In the main street towards Ceningan in NusaLembongan island you will find the largest Banyan tree! Its is simply incredible and well worth taking note of it as you pass.
heading to Lembongan? Check out our hotel guide, or take a look at our top three picks below…
Mangrove Forest Tour
Nusa Lembongan is home to a dense mangrove forest that is around 136 acres! They are full of immense biodiversity and can be explored by Kayak, Paddle board or a traditional boat.
Mangrove beach also offers a great view of Mount Agung and is a great snorkel spot.
Details
You can either have a half an hour tour in a small boat by a local for around 150,000IDR. Alternatively, you can have a two person Kayak for aound 100,000IDR.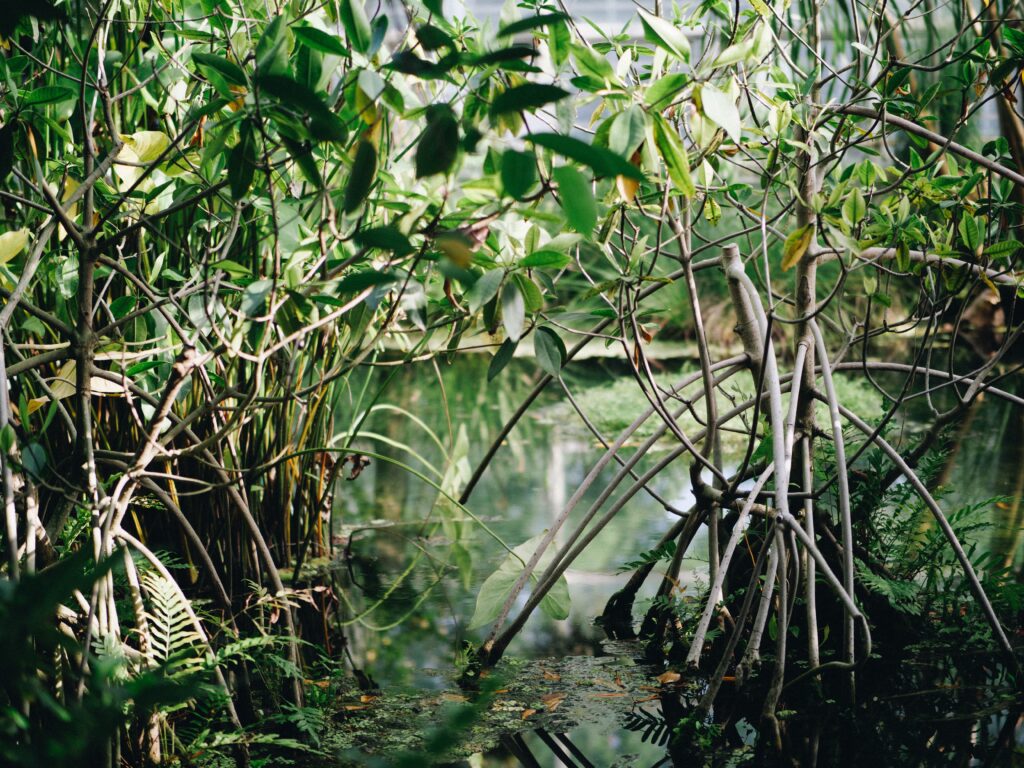 Devils tear
Devil's tear is an excellent place to watch the sheer power of the water.
Details
Cost | Free
Where | The google maps location is pretty accurate
Go Snorkeling with the Manta Rays
The water around the nusa islands are known for being home to manta rays. These creatures are so magestic the experience is just awe-inspiring. If you are already in Nusa lembongan or Nusa Ceningan we would recomend asking your accomodation host for details of a local snorkeling guide.
To reach Manta point snorkel spot from Nusa Lembongan takes round 20 minutes. You could also see turtles, nurse sharks, hammer fish and mola-mola fish.
We would recommend heading to manta bay and Manta Point. At manta point you are more likely (almost guarenteed) to see mantas, but there are strong currents here. Manta point is much easier to swim and still very likely to be able to swim with Mantas.
Spend the day at one of the many Beaches in Nusa Lembongan
Secret Beach Lembongan 
When we visited Secret beach it was pretty busy with locals who were swimming in the sea. This beach is completely natural with no beach huts or cafes, it is really awesome and the perfect place to escape.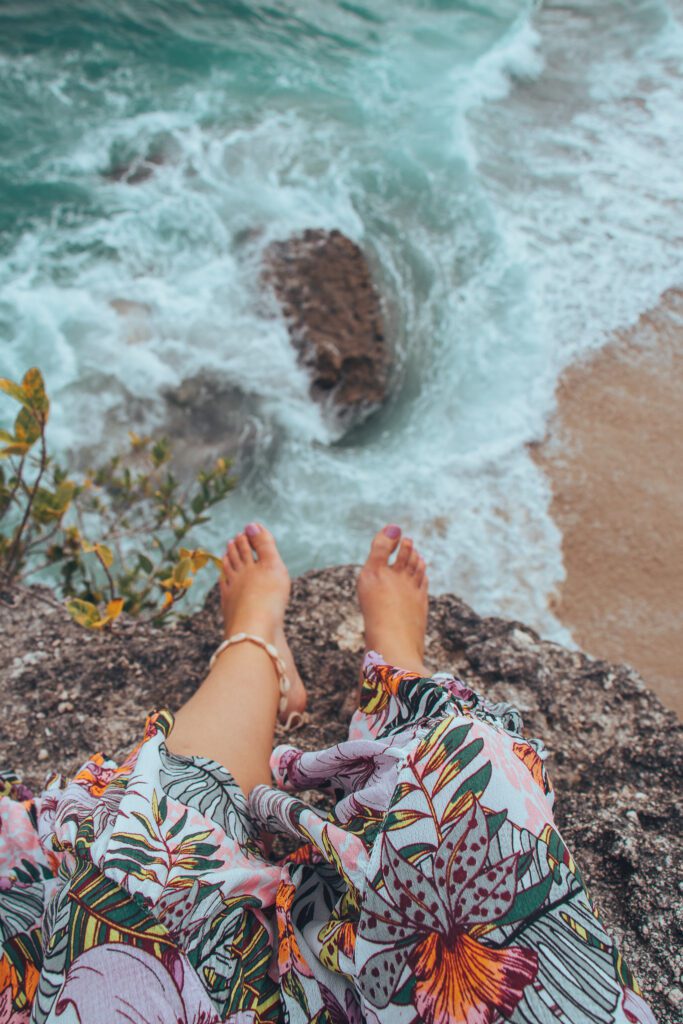 Dream Beach 
Dream beach is a must visit in Nusa Lembongan. The beach is really beautiful, with stunning white sand and blue sea it is an essential stop on your Lembongan itineary.
Jungutbatu Beach
This beach is so nice to walk along. Lined with cute cafes and beach clubs its perfect to spend the whole day at. The sea here is also perfect for a dip.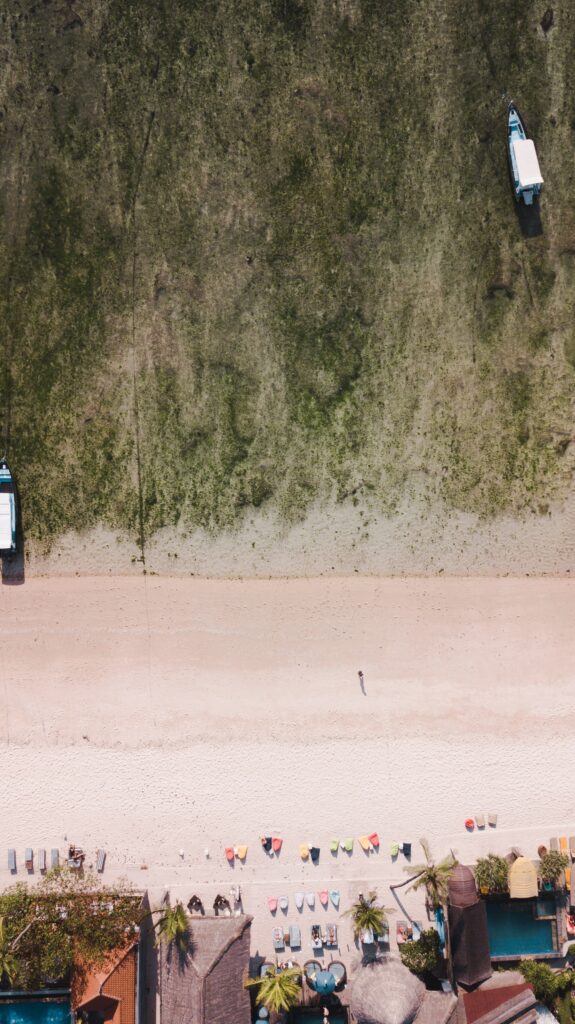 Mushroom bay
Mushroom bay is where your boat will arrive from Sanur. It is a cosy little beach with a few good eatiers and a great welcome to Nusa Lembongan island.
Sandy Bay
Sandy bay is a small cove right next to Devils Tear. It is so cosy and quaint but what really makes this beach worth coming too is Sandy bay beach club. We loved the sophisticated vibe of this place, but with small touches that still make it cosy!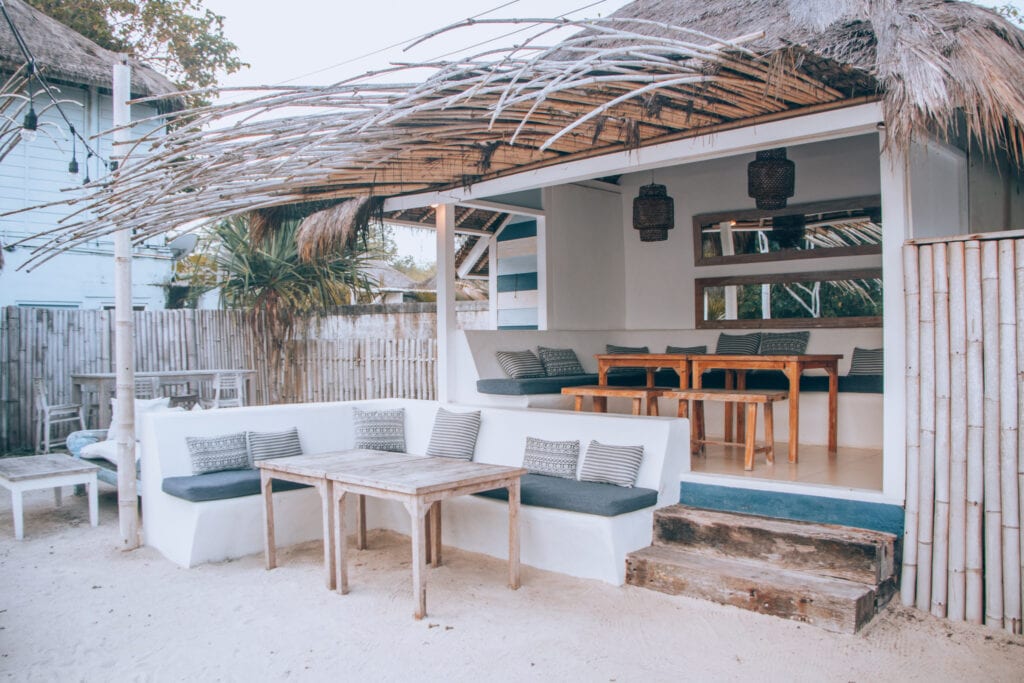 Or head to one of Nusa Ceningan's Beaches 
Secret Beach 
This beach is so cosy and small! It was our faviourie beach in Nusa Ceningan.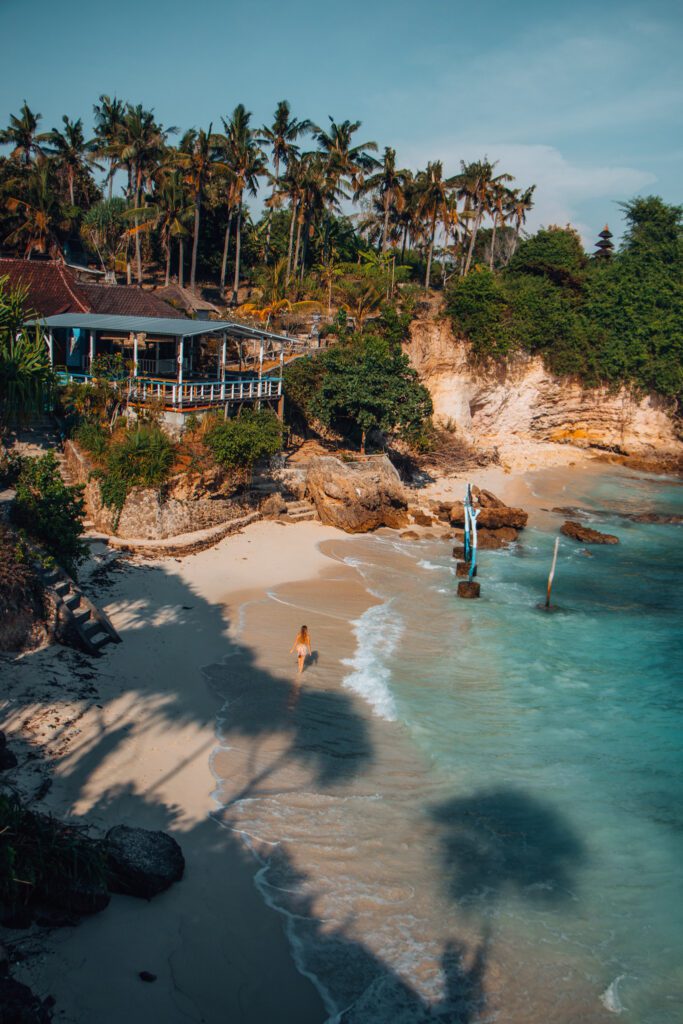 Hidden Beach 
Reaching Hidden Beach requires a little moped off roading and a short trek. We will be completely honest, we dont think the beach here is the best to spend the day at. Although, if you fancy a little adventure, why not.
How to Reach Nusa Lembongan and Nusa Ceningan
The easiest way to reach the Nusa Islands is to head to the port in Sanur. From here you can take a fast boat to the islands. We use Penidago.com to book our ferry in advance.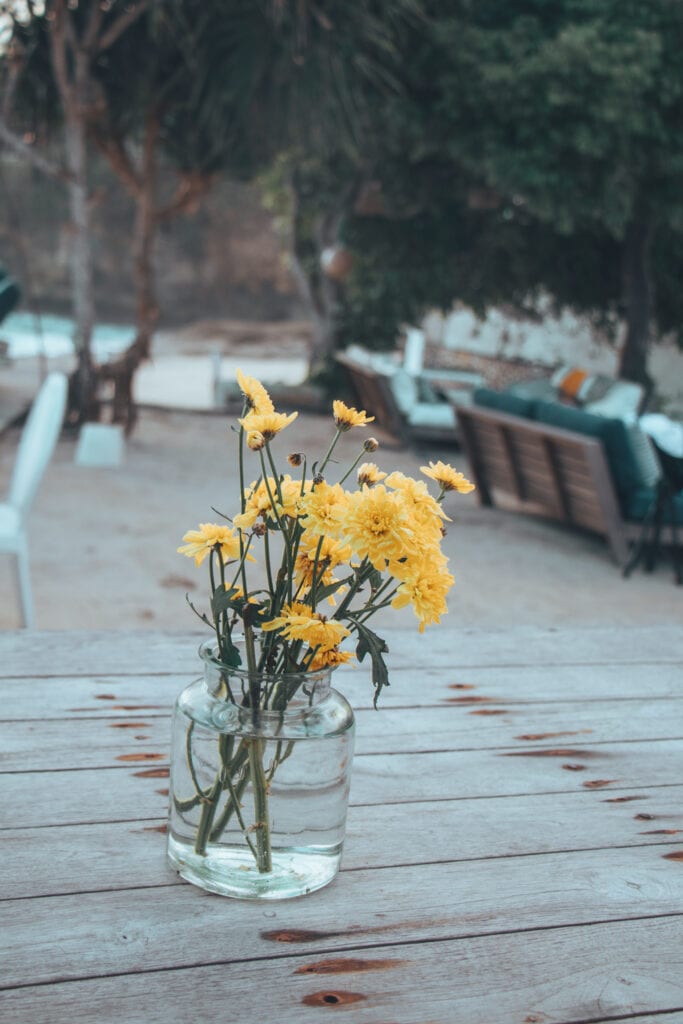 How to travel around Nusa Lembongan and Nusa Ceningan
The easiest and most convenient way to travel between the two islands is to rent a moped. Unlike Nusa Penida, the roads here are relatively well maintained and easy to ride. When you arrive in Mushroom bay, there are many places to rent a moped here. Depending on the season, it can cost between 50,000(£2.50) to 100,000(£5) IDR a day. 
Simply driving around and exploring the two islands was one our faviourite things to do in Nusa Lembongan and Nusa Ceningan.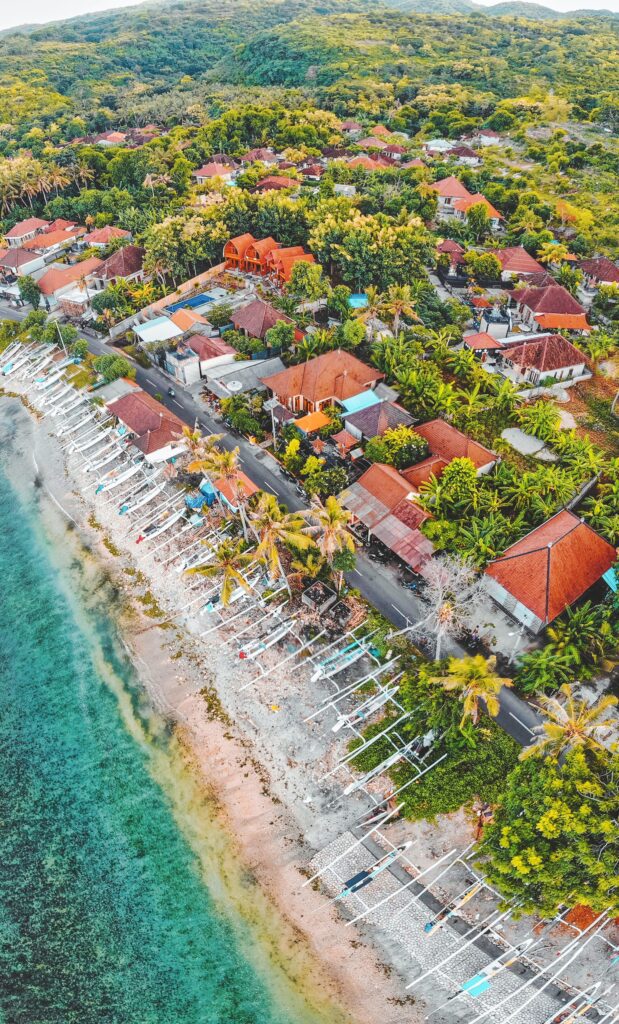 The Best Hotels in Nusa Lembongan and Nusa Ceningan
This hotel is simply stunning and so affordable. It has the perfect view for sunrise, and the pool is just beautiful. The rooms are so affordable, have big outside bathrooms, and are decorated traditionally.
Details
Location | Nusa Lembongan
Price | Check out Prices for your dates here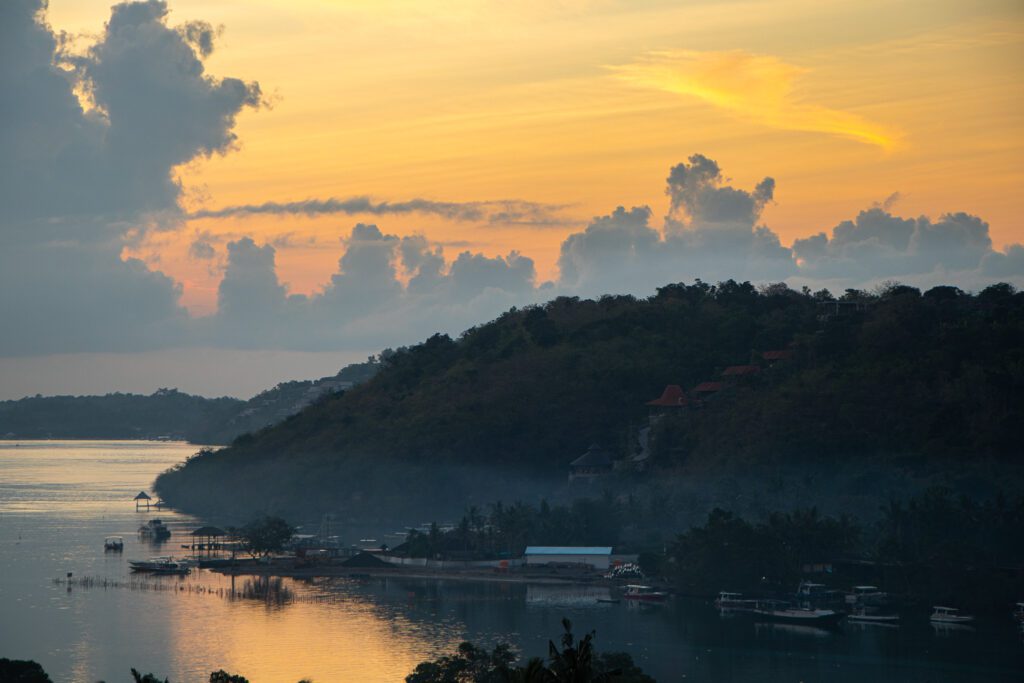 This hotel is more pricey then the previous option but is simply stunning. It's beach front pool and restaurant makes it so easy to relax on the beach. Each room has a private pool or garden and the rooms are an eclectic mix of french design and Balinese decor.
Details
Location | Nusa Lembongan Jungutbaut Beach
Price | Check out Prices for your dates here
How long do you need to Explore Nusa Lembongan and Nusa Ceningan
The two islands of Nusa Lembongan and Nusa Ceningan are so small you can explore them both in two days. If your plan is to soak up the island vibes or take a day trip to Nusa Penida, you will need longer.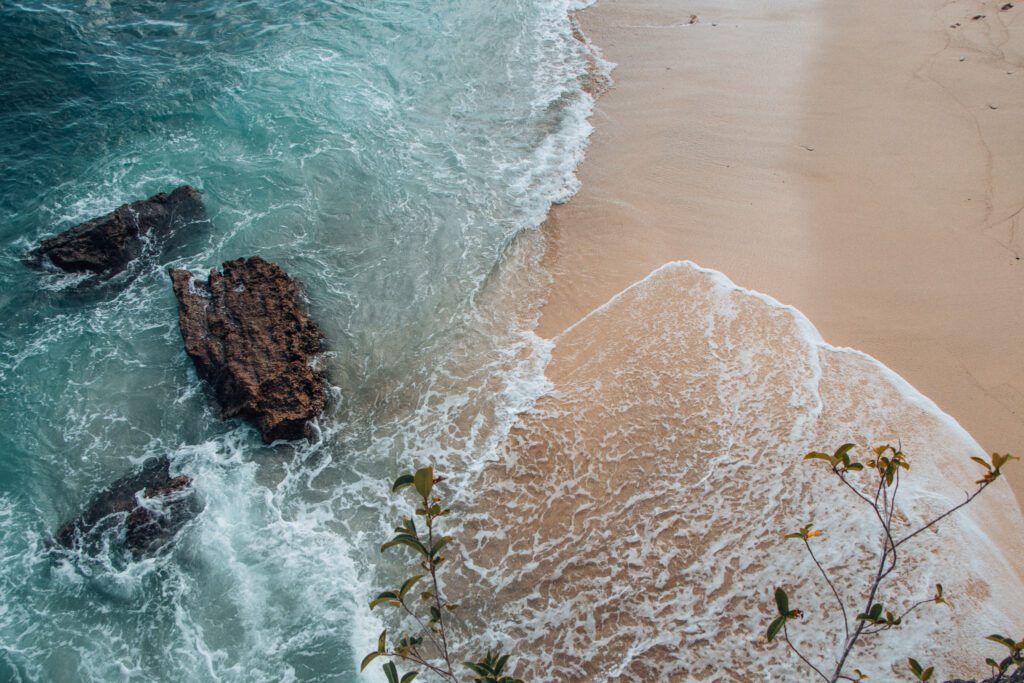 Which island should I stay in Nusa Lembongan or Nusa Ceningan?
To be honest, the two islands are so small and so connected it really doesnt matter! There are more places to eat on Lembongan then Ceningan but apart from that, there really isn't much difference. Check out our guide on where to stay in Lembongan here.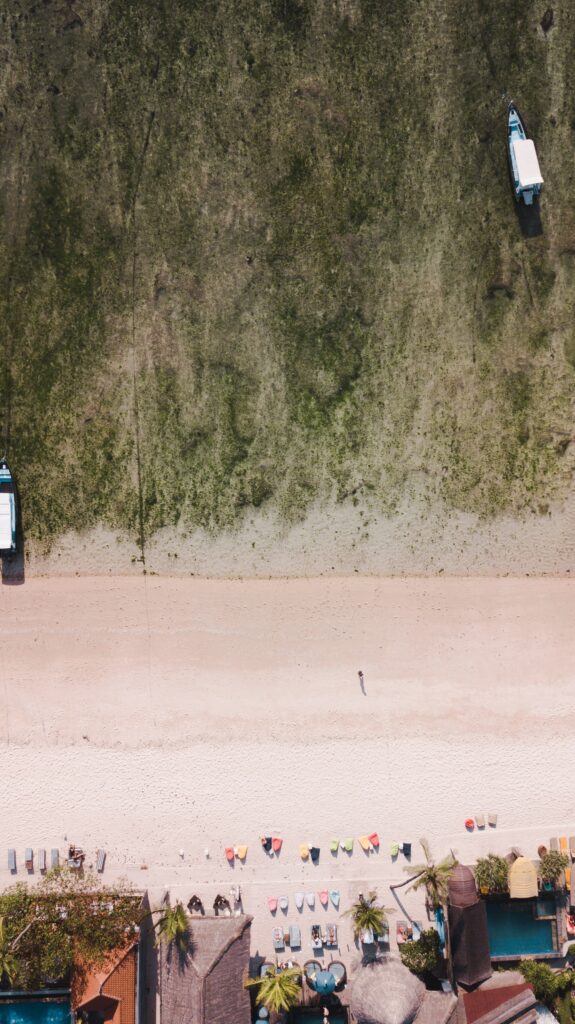 Summary of the best things to do in Nusa Lembongan and Nusa Ceningan
These two islands are just insane! They are so small and yet have so much to explore. These two islands are exactly what we imagine if we think of Bali. If you love to relax and soak up the sun these two islands are for you. We hope you enjoyed our guide to the best things to do in Nusa Lembongan and Nusa Ceningan.
Check out our other Nusa Island posts here:
Check out our other Bali Posts here: