This blog post contains affiliate links. As an AirBnB associate we may earn a small commission to fund our coffee drinking habit if you use these links to make a purchase. You will not be charged extra, and you'll keep us supplied with caffeine. It's a win for everyone, really. Check out our Disclosure policy for more.
Nuwara Eliya, Sri Lanka, is a postcard-perfect destination that's home to the heart of tea country. Known as Little England due to its Green Surroundings and similar climate! Here's a complete guide to where you can hike in the hills, sunbathe peacefully, and have amazing food in between. Let's jump into the top things to do in Nuwara Eliya!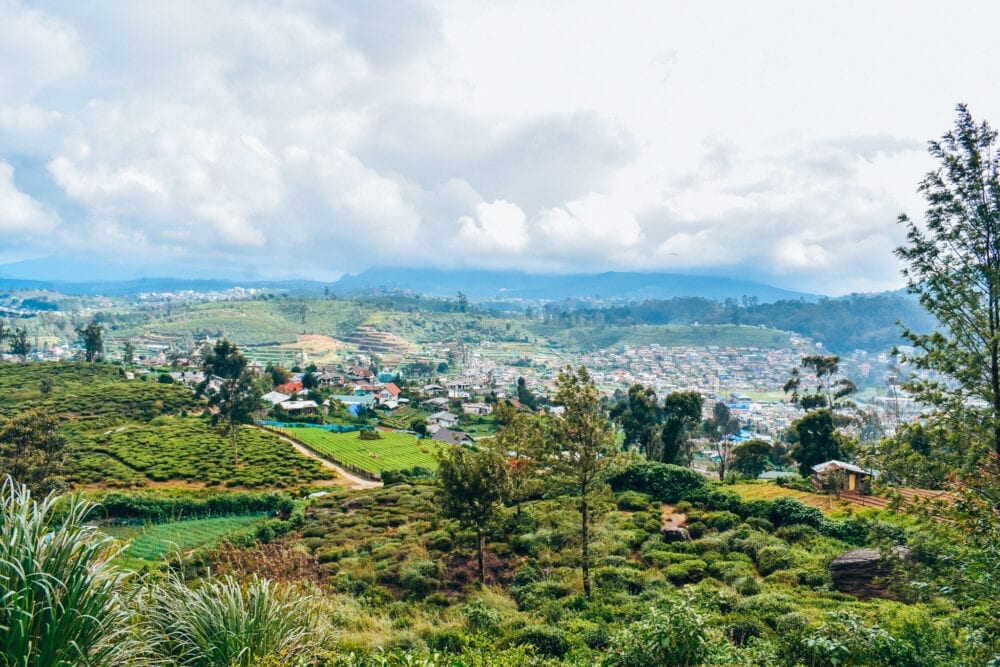 The hike to the world's end is an incredible thing to do in Nuwara Eliya. It is certainly worth the early morning and entry prices.
Hiking to World's End veiew point is very dependent on the clarity of the day you chose to hike. You need a really clear day to ensure you are greeted with the incredible views the world's end has to offer. There are two view points, little World End and World's End. We prefered the view at Little World End out of the two but both are just awe inspiring.
There is also Bakers falls in Horton Plains national park so take the time to visit this powerful waterfall.
You will want to hire a driver to pick you up early and head here for just after sunrise. Speak to your accomodation host and they will help to arrange this for you.
Insider Tip: There is no single use plastic or gum is allowed in the national park and they will search your bags upon entry. Make sure to bring an eco alternative!
Like the sound of hiking Horton Plains? Have a read of our guide to the best hikes in Sri Lanka.
2. Lovers Leap Waterfall
This waterfall was our favourite in Nuwara Eliya. It is a bit of a trek from the centre of Nuwara Eliya, but that adds to the adventure. 
If you are staying in the centre of Nuwara Eliya, call a tuk-tuk to come and collect you to take you to Lovers Leap. The journey to this waterfall is so beautiful through incredible tea fields and past temples. It is just as good as the waterfall itself.
The Tuk Tuk drop-off point is a short walk from here to the waterfall itself. It is beautiful and easy to navigate the rocks to climb to the fantastic viewpoint.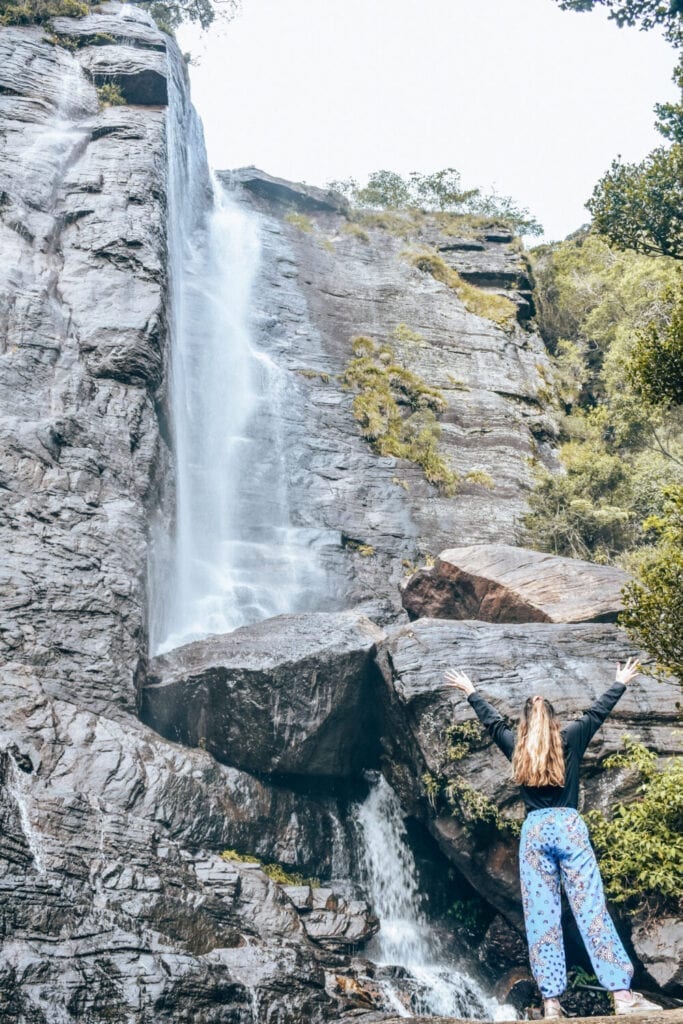 3. Walk around Gregory Lake and Victoria Park
Gregory lake and Victoria park in Nuwara Eliya is so peaceful and serene to walk around. Although there are quite a few eateries and attractions on one side, the other side offers serenity and well-kept paths. Keep an eye out for kingfishers. If you are lucky enough, you might be able to spot a few flying above the water. Views from the Lake offer many insights to the time of the British rule. From here you can see many of the colonial buildings from this period.
Costs
You have to pay 300rs to enter victoria park. The entry price also incrludes entry to the Victoria Park museums which showcases what life used to be like in the city.
Water activites at Gregory Lake
You can enjoy some beautiufl boat rides around Gregory lake. With the option to hire a swan boat or a speed boat depending on what takes your fancy.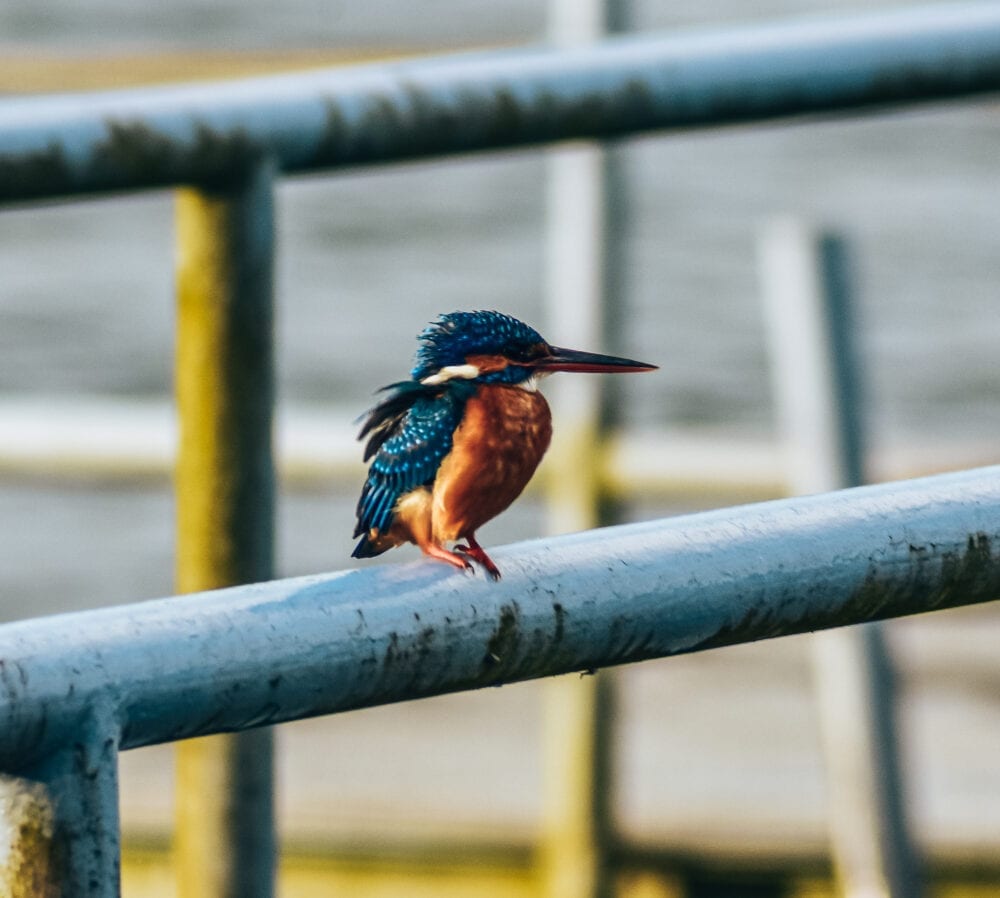 Ramboda Falls and Upper Ramboda Falls 
4. Lower Ramboda Falls
Ramboda falls are the most well known in Nuwara Eliya. Lower Ramboda falls are so easily accessible from the roadside they are the most visited. The waterfall is beautiful, however there is certainly no swimming here due to the waterfalls sheer power!
It might be slightly gimicky but the Ramboda falls inn is a great place to stop for lunch and admire the waterfall from. The food is great with a buffet including many Sri Lankan dishes.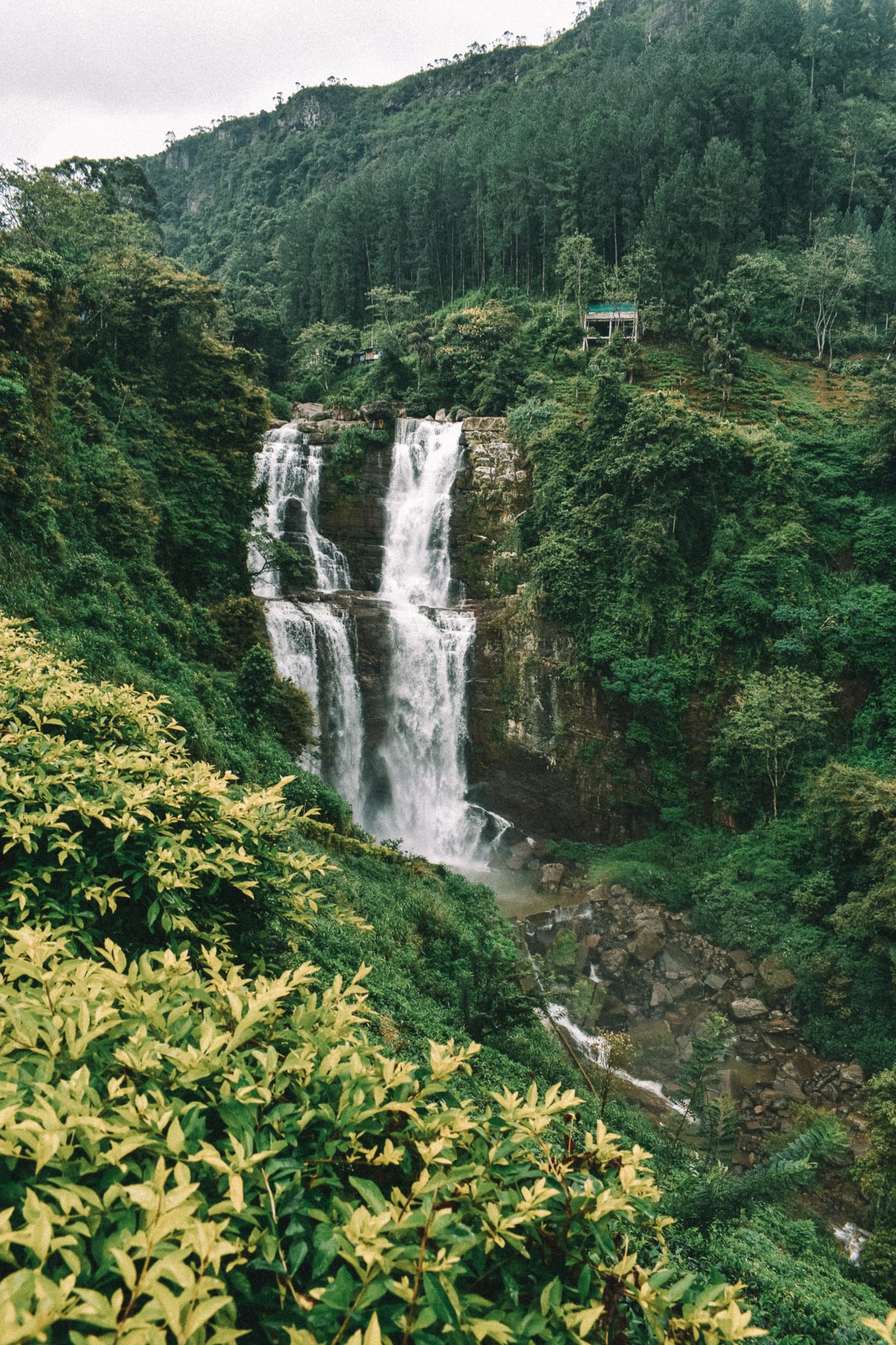 5. Upper Ramboda Falls
Heading to upper Ramboda falls is a much more authentic experience then lower Ramboda falls. They both offer completely different things and are both worth going to. Compared to lower Ramboda falls the waterfall is a little bit more of a hike. It take around 15-20 minutes and you have to pay for entry. You can Google Center Ramboda Falls to find the ticket counter.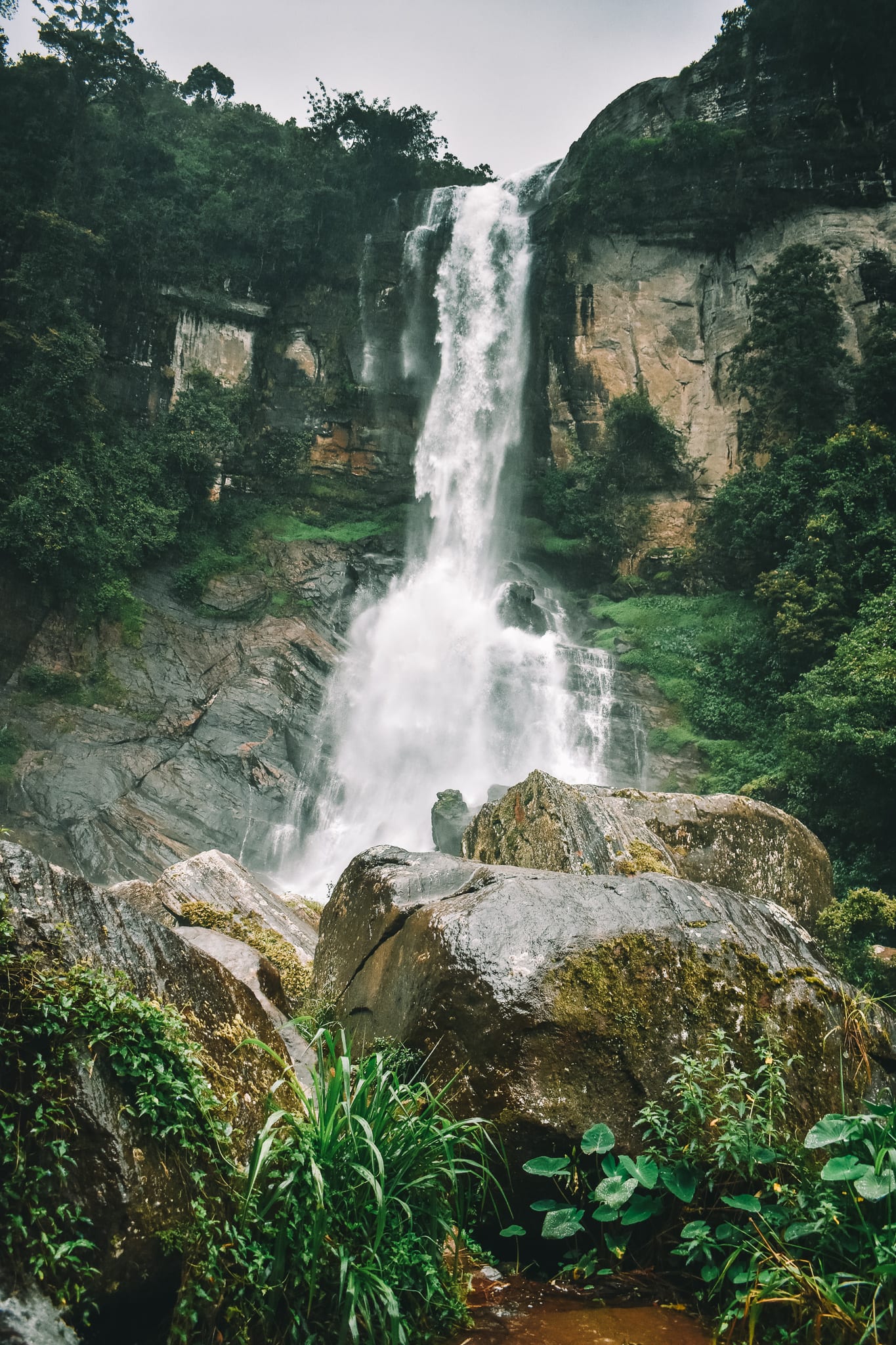 6. Visit a Tea Factory and go tea tasting.
Of course, you can't leave Nuwara Eliya without visiting some of the Lush Tea Plantations. Head to a Tea Factory for a tour and tasting. We also took the time to walk around the tea plantations. 
Word of Caution here….
Some tea plantations really exploit their staff and don't pay a fair wage. Wherever you choose to go in Nuwara Eliya, make sure it is a plantation that produces reasonable prices and cares for its employees. 
Insider Tip: Wear shoes that completely cover your shoes as there are many leeches in the tea planations. If possible cover your legs too.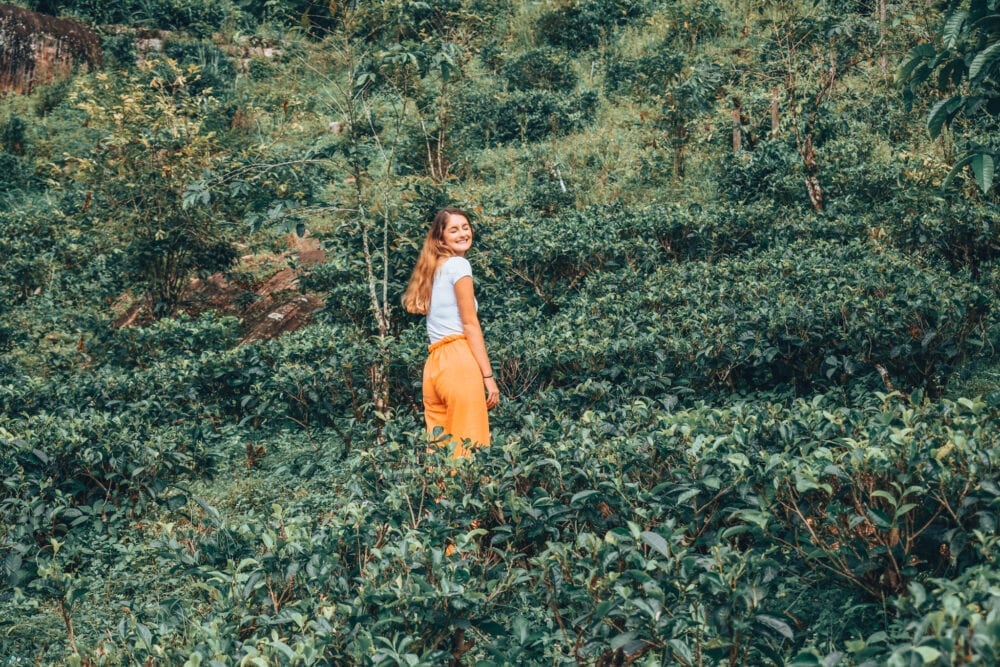 7. Hakgala Botanical Gardens
the Hakgala botanical gardens are the second biggest botanical garden in Sri Lanka. It is also known as the highest botanical in the world. Due to Nuwara Eliya's cooler climate some very rare species of plants grow here. Here you will find a rose garden, a japenese garden and impressive collection of Orchids. These gardens really are beautiful.
The Legend of the Hakgala Botanical Gardens…
Like many places in Nuwara Eliya it is also steeped in a facinating history. According to legend, Hanuam, the monkey god, was sent to the Himalayas to find a herb. He brought back a peice of the Himalayas in his jaw and from here the gardens flourish. The gardens grow on a rock names Hakagala which when translated means 'jaw-rock'.
Details:
Opening Hours:7.30am-5.30pm
Cost: Adult Rs 1500/Child Rs 750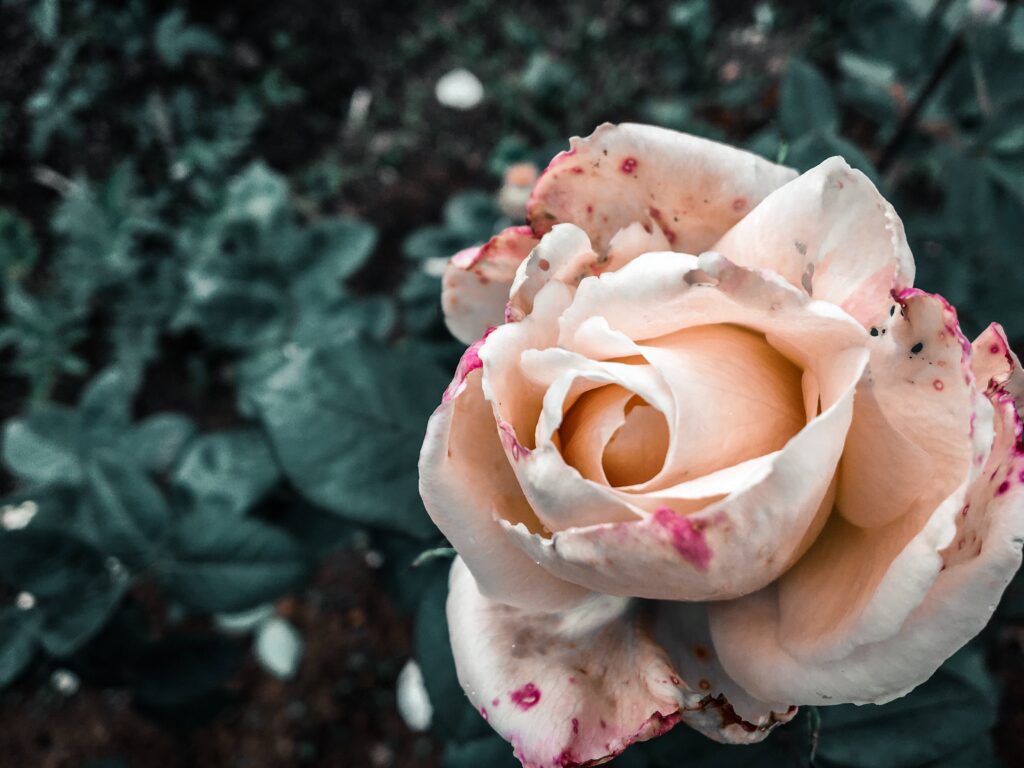 8. Moon Plains National Park
Moon Plains is an incredible peak just outside of Nuwara Eliya. The drive to this peak is all part of the experience. It is such a scenic drive with different shades of green all around you as you approach the peak. It is only a short walk to the viewpoint itself. You can see 9 of the ten mountains in Sri Lanka on a clear day and have a 360 view!
9. Have high tea on a perfectly manicured Lawn
A typical English traditional! Experience a typical high tea served on a perfectly mown lawn in the misty mountains of Sri Lanka. A truley quaint and luxurious experience.
Although it is a little expensive you can also stay at the Grand Hotel. The hotel is simply beautiful and perfect if you are on a larger budget.
10. Stay in a incredible Hideout Cabin and sleep in the mist!
Stay in the most beautiful Airbnb up in the hills looking out into the mist. The accomodation itself is pretty basic but you stay here for the views and too feel connected to nature. It is a great place to stay for a night or two.
Check out the Airbnb here: Hideout Cabins: The Vibe
11. Check out the post office in Nuwara Eliya Town
This iconic building is probably another reason Nuwara Eliya is known as little England. Built by the British in 1894, this two-storey red brick building is in the typical Tudor style and an attractive building in this town
12. Explore Nuwara Eliya town
Make sure you have a little walk around the town itself. You don't need long, but it is nice to explore.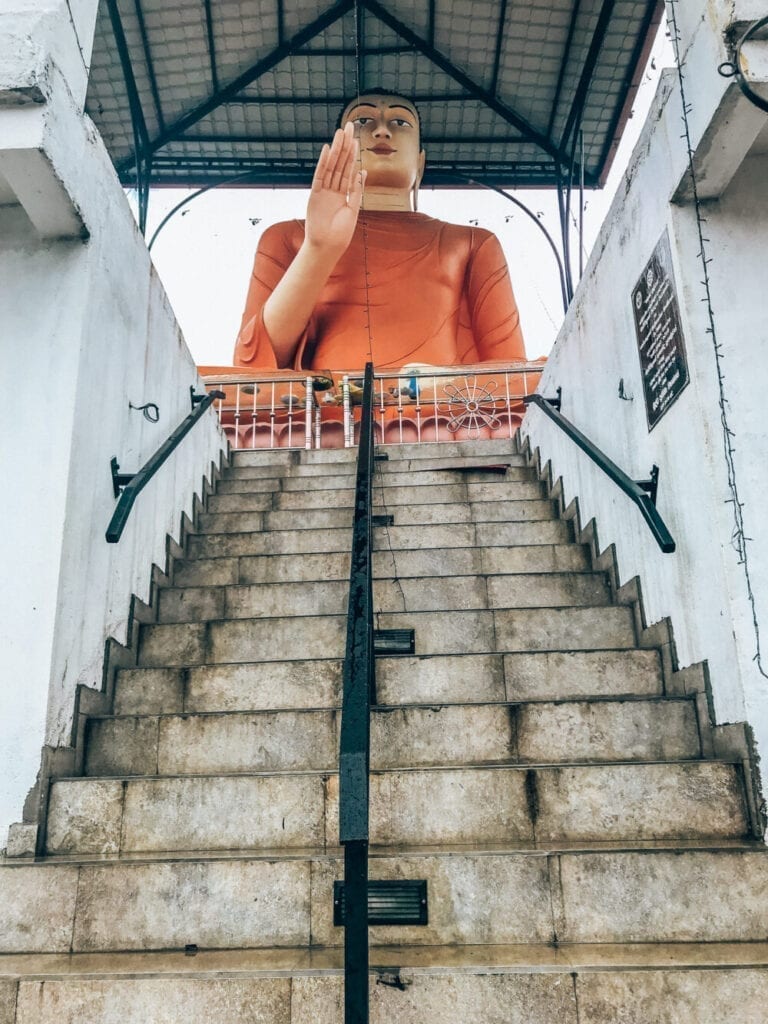 13. Stay in the most luxiourious Hotel…
The Grand Hotel: This hotel has the most central location. Its decor is typically english and quaint. An amzing place to stay in sri lanks Little England!
12. Visit Seetha Amman Temple
This temple is very sacred and a wonderful thing to do in Nuwara Eliya. It is a beautiful temple decorated with intricate carvings and bright colours. This temple has a facinating history. It is believed to be where Sita, Lord Rama's wife was held captive by a king. Next to the temple runs a river, if you look closely you will see some distince footprints. These are believed to belong to the resucrer of Sita.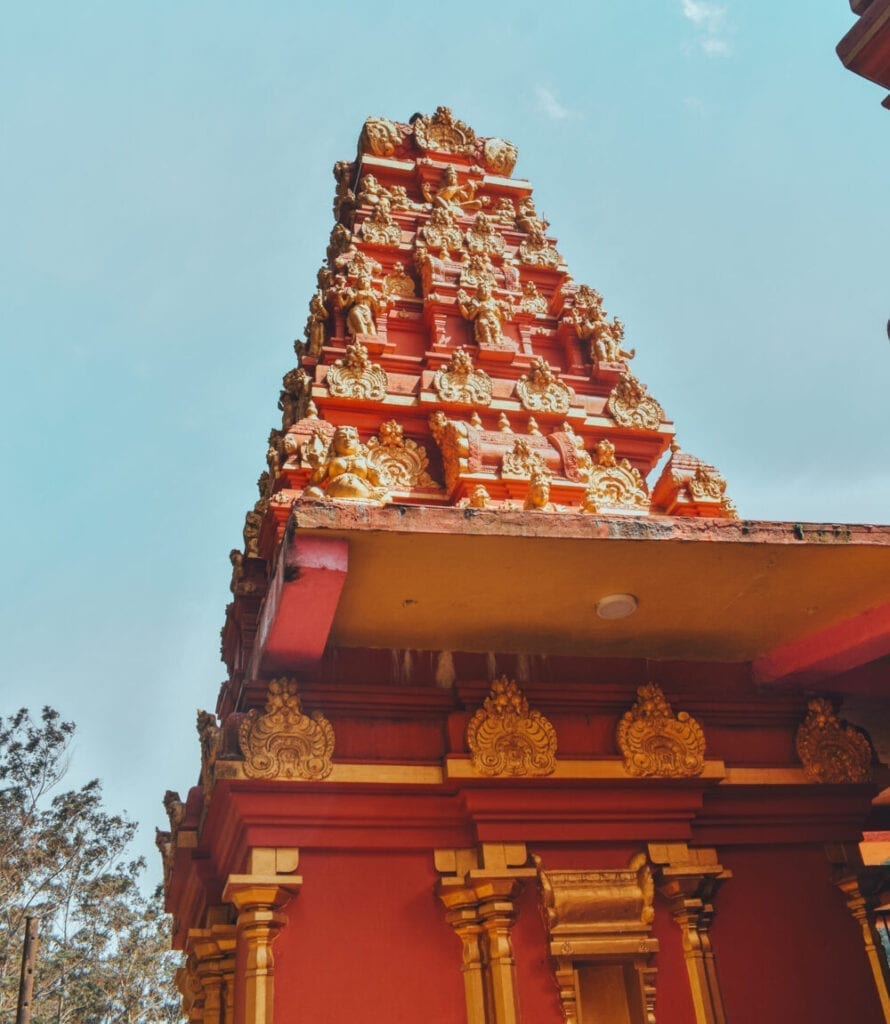 13. Visit a Strawberry Farm!
Due to the cooler climate here, strawberries flourish here. You can visit a strawberry farm and experience so much. At these farms, you can go strawberry picking and strawberry themed desserts.
There are two main farms to visit. The Ramya farm or Jagro Simply Strawberries. Jargo offers a better strawbery themed restaurant but Ramya offers tours to the strawberry greenhouse. There are many others of course so take your pick!
14. Eat Great Food in Nuwara Eliya
Ramboda Falls Restaurant: The buffet here is an incredible way to try many unique Sri Lankan dishes. 
Tea Lounge at the Grand Hotel: For an exceptional experience, you can head to the Tea Lounge at the Grand Hotel. Here you will be served an English style Afternoon tea on the lawn.
How long do you need in Nuwara Eliya?
You only need one or two nights in Nuwara Eliya. Two nights is the perfect amount of time. Any longer and you might find yourself craving the warmer (and drier) weather!
What to Pack for Nuwara Eliya
The nights and early mornigs can be quite cold due to its altitude. the weather can range from 10-21 degrees. Make sure to make warm clothes, especially for early morning hikes and for sleeping.
Insider Tip: We packed thermals and we did need them, so if you have the space it is worthwhile.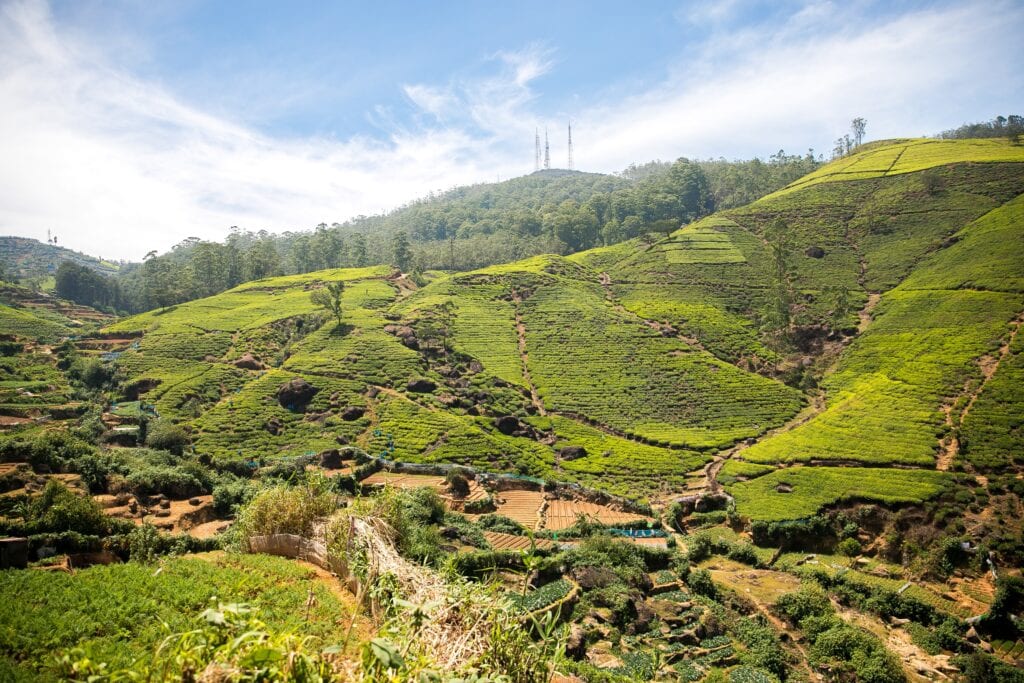 How to get to Nuwara Eliya
Kandy 
You can get the famous blue train from Kandy city and get off at Nuwara Eliya. However, the best views on this train are from Nuwara Eliya to Ella. So you will want to do this part of the journey too.
Ella
From Ella, you can take the famous blue train to Nuwara Eliya. It takes around 3 hours and has the most beautiful views. Most people take the train from Kandy to Ella, this takes 6 hours. The Nuwara Eliya to Ella section of the train journey provides the best views. Meaning you are not missing out on anything by stopping in Nuwara Eliya. 
Colombo 
There are buses that run every hour from Colombo to Hatton and Kandy. Either of these buses will take you to Nuwara Eliya. The bus journey is quicker than the train journey. But of course, the train journey is one of the most beautiful in the world!
Where to go to after Nuwara Eliya
Ella
Another small villae set in the misty moutains. Its hilly terrain means it is an incredible destination in Sri Lanka for hiking.
Kandy
Visit the sacred temple of tooth and so much more. You probably only need one or two nights here. But this city has a facinating feel and is an essential addition to your Sri Lanka itineary.
Summary of things to do in Nuwara Eliya, Sri Lanka
Nuwara Eliya is a scenic retreat in Sri Lanka, surrounded by lush green tea goodness. Plot something on your Nuwara Eliya itinerary with some of these things to do in Nuwara Eliya. From a trip to the waterfalls to the famous tea plantation, it's the perfect destination. The misty town of Nuwara Eliya could be your best Sri Lanka adventure yet.
Check out our other Nuwara Eliya Posts here:
Check out our other Sri Lanka Posts here: