This blog post contains affiliate links. As an AirBnB associate we may earn a small commission to fund our coffee drinking habit if you use these links to make a purchase. You will not be charged extra, and you'll keep us supplied with caffeine. It's a win for everyone, really. Check out our Disclosure policy for more.
A list of the best things to do in Positano! This glamourous cliff side village has everything you need to create the most memorable trips. With rugged cliff edges lined with cactus' and colourful cute houses. There is so much to do in this idyllic town. Here are our top things to do in Positano.
What is Positano known for?
This idyllic little town has become famous for its celebrity spotting, glamourous restaurants and iconic views! Whilst there is a bit of hype around this town and it has become a spot for social-media influencers to visit, this doesn't make this town any less beautiful and only speaks to its sheer beauty and views.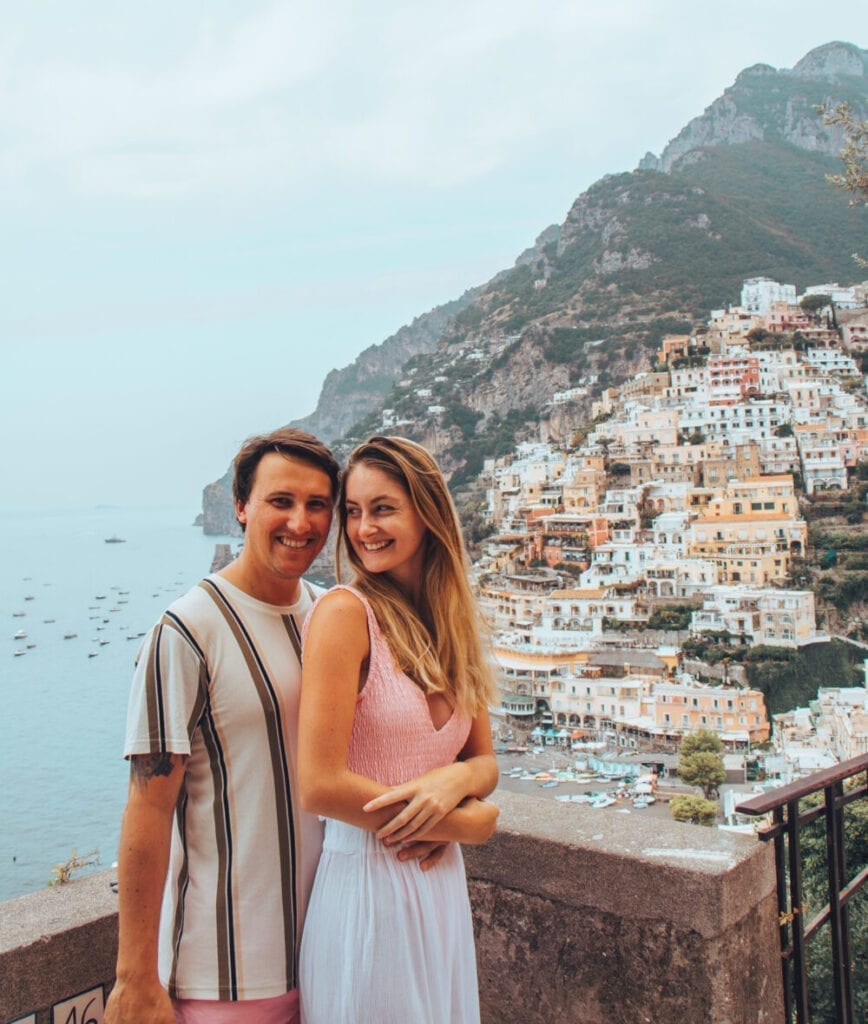 How long do you need in Positano
Depending on the type of holiday you are looking for you could spend a long weekend or an entire week relaxing in Positano! It would be our recommendation to spend a few days and then move on to explore somewhere else along the Amalfi coast, as there is so much to see and it is a really beautiful destination.
Is Positano worth visiting?
After taking a trip to Positano we had so many people asking if it is worth the trip, and we would say YES! This town is stunning and there is something even more magical about it at night.
However, we would also say try to visit when there will not be as many people, whilst you might risk some shops and restaurants being shut, you will be rewarded with a quieter and more authentic version of Positano. Another bonus to this is that you will not have to book everything in advance!
Things to do in Positano
Best Beaches
1. Chill on the Main Beach
The main beach is awesome, we prefered Fornillo Beach (next point) but early in the morning before the crowds descended the public beach would be really empty, so we would take time time to read our books, chilling on a beach towel . We also loved coming to the main beach to watch the sunset! There are sunbeds available for hire, these are very expensive.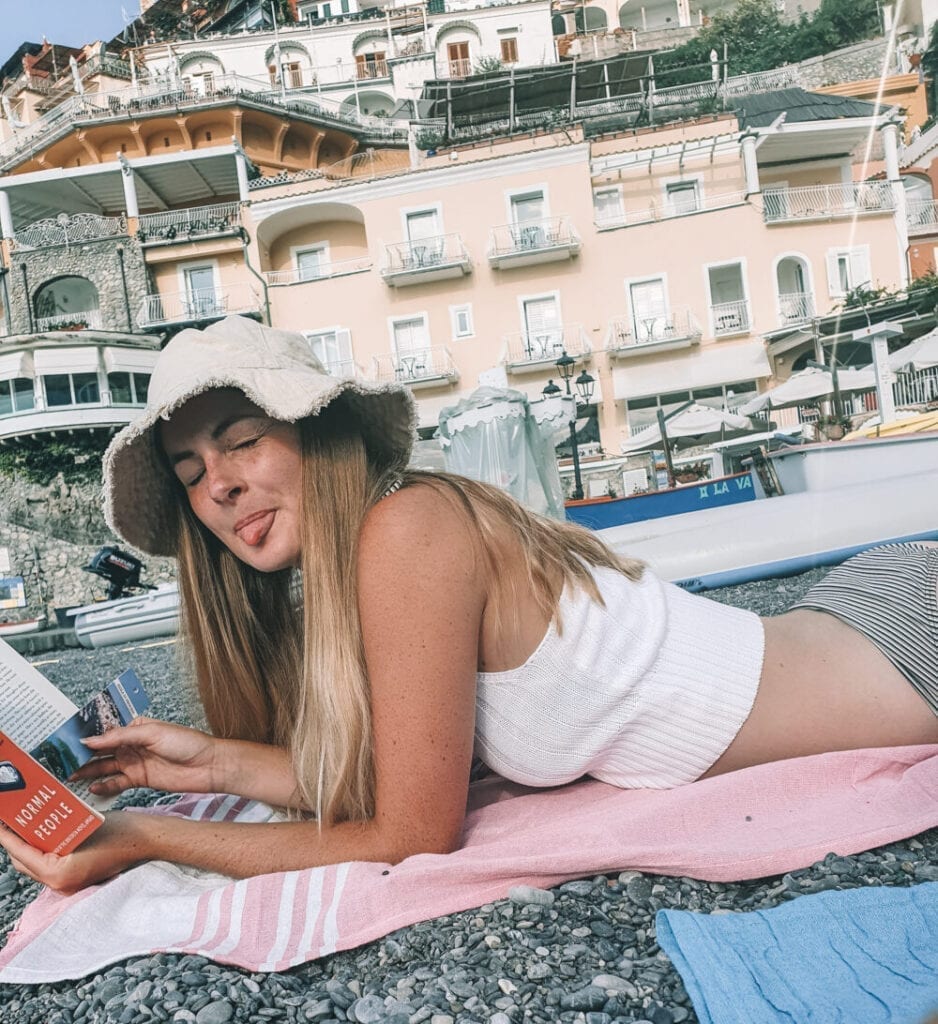 2. Visit Fornillo Beach
Spend the day relaxing on Fornillo beach. We loved this intimate beach with crystal clear waters. Hire beds or take a towel, have lunch at Pupetto's and enjoy this cute beach.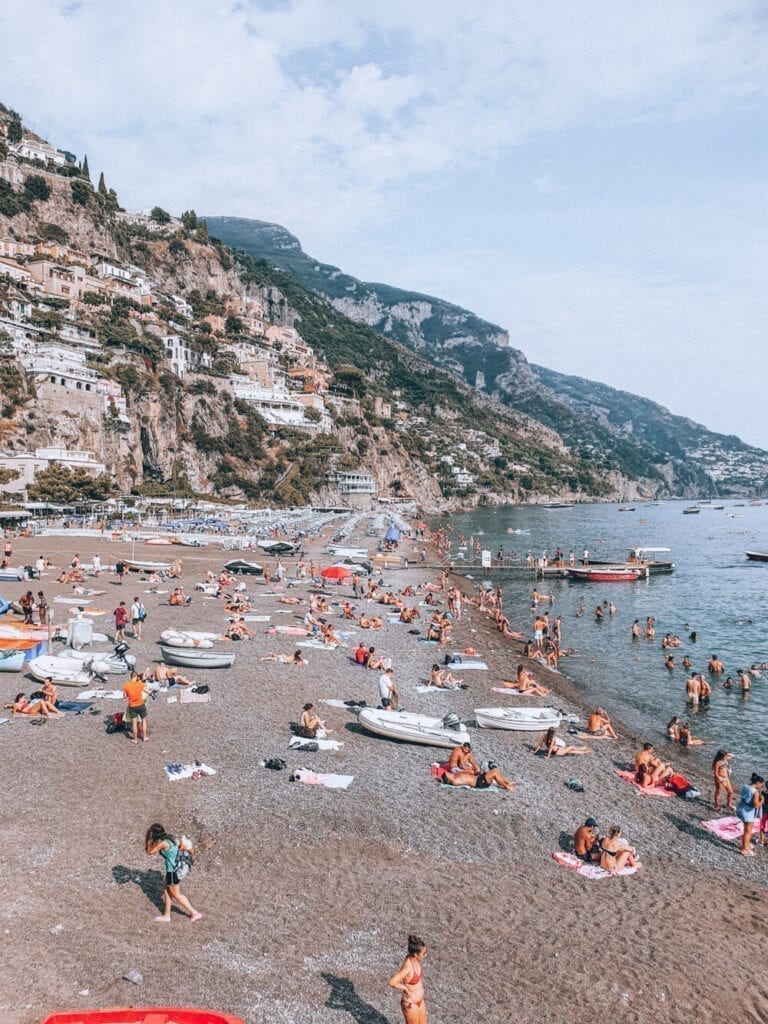 Spend time at this incredible family-run beach club. Locals brag about the amazing lunch options they have and it's the perfect place to spend the day chilling and taking in the Italian sun. They have a small boat that will pick you up from Positano and take you to the tucked-away cove with iconic orange umbrellas! Get an Aperol, read a book and you have the ultimate place to chill! Check out their reservation options here.
Planning a trip to Positano? Check out our guide to the best Airbnbs in Positano for couples.
Activities to do in Positano
Seeing the Amalfi coast from a boat allows you to see the coastline from such a different perspective. Take a boat trip at sunrise and have breakfast on a boat! You simply cannot miss out on experiencing the Amalfi Coast from the sea itself, a truly memorable experience.
An incredible hike from Bomberano to Positano (or Nocelle and then get the bus to Positano). We opted to go for sunrise to escape the heat and enjoy the views. Think jaw-dropping views, cute goats, and the best breakfast spot! However, we would say read up on this hike before taking it on as the path is not as clear as it should be and you might go the wrong way.
How to get to the path of the Gods
From Positano get the bus to Amalfi. Once there you can switch to get the bus to Bomberano.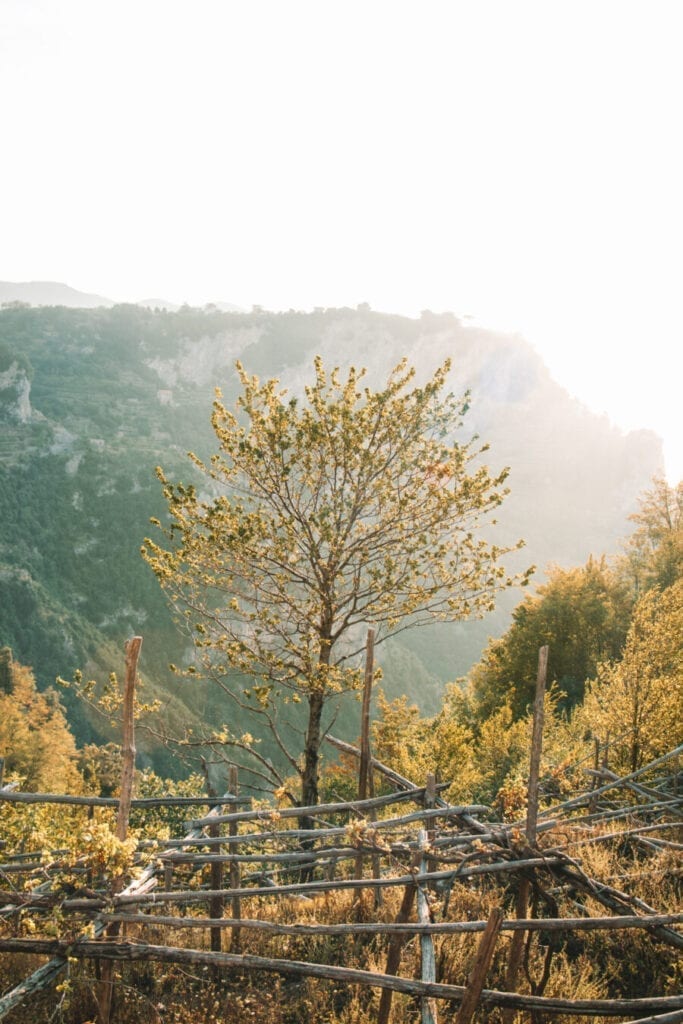 Check out our full Guide to the Path of the Gods here.
6. Eat Italian Lemon Sorbet
Is there anything more dreamy then eating Lemon Sorbet from an actual Lemon in Positano? Most places that sold gelato had this available and it was so yummy.
7. Shop in Positano
Positano is full of so many beautiful shops and boutiques! Although most of these are quite pricey, there is nothing to stop you from window shopping! There are beautiful clothes, ceramic and even pastry shops to browse and take in the luxury essence of this cliffside town.
8. Rent a scooter or classic car and drive the Amalfi Coast
Rent an old Vespa or pay a little more to be driven around in a classic car. Check out Positano Vintage Dream to see their range of hire options. Enjoy Positano and the Amalfi Coast like a local and embrace local experiences! Make sure to take in all that is coastal road has to offer as it hugs the mountain in different directions and offering beautiful views over the Amalfi Coastline!
Incredible Viewpoints
The best scenic viewpoint is at Conca dei Marini just after the Belvedere hotel. This will allow you to see the crystal clear sea and the Saraceno hotel, which are the ruins of the old fortress. The viewpoint also shows off the former villa of Sofia Loren with the perfect Amalfi backdrop.
The road to Agerola also provides unique views. Compared to other roads in this area this road is great as there are plenty of spots you can pull over to fully take in the awesome views.
TIP: there are not many parking spots along the Amalfi coastline and those you do have you will have to pay a lot for, so only hire the moped or car for the amount of time you wish to explore!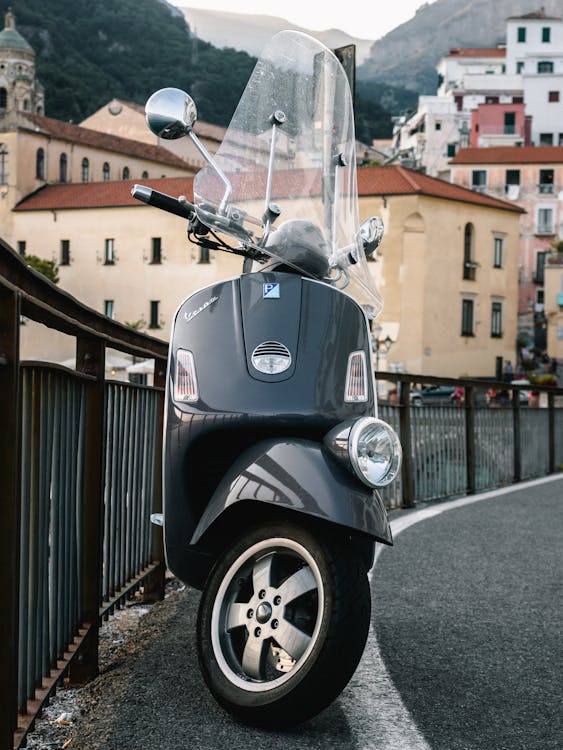 9. Drink Fresh Peach Bellini
Positano Peach Bellinis just hit differently! Only get one if they used freshly squeezed Peach and it will be the best cocktail you have during your stay in Positano! Prosecco and fresh Peach, everything about this drink is magical.
10. Shop at Positano's Famous Ceramic Shop
This shop is so beautiful and so iconic, why not stop and take a moment to walk around and admire the beautiful creations.
11. Explore The Streets
Positano is the perfect place to explore and walk around (as long as you don't mind hundreds of steps). You can spend hours wandering the narrow streets that wind down the beach, pop into the famous ceramic shops, pick up some gelato.
Make sure you also walk along the road that hugs the mountainside, with jaw-dropping views it offers you a different perspective of this bustling town.
[convertkit form=1905540]
The Best Restaurants
12. Eat breakfast or lunch at Botegga Casa
This place has the most amazing breakfast options and smoothies! We struggled to find many places open before lunch but this place has it all! Amazing décor, cute shop, and the best breakfast and lunch options! Make sure to eat here and enjoy the best breakfast options in Positano.
13. Eat at Adam ed Eva by Eden Roc
Combine panoramic views with Organic freshly grown food and you've got one of the best spots in Positano. This restaurant is very busy so make a reservation before you go! Check out their website here.
14. Cocktails at Il Tridente Restaurant 
We loved cocktails at sunset at this incredible place! Beautiful freshly made Cocktails, amazing views, and cosy seats. It honestly doesn't get much more magical than this incredible place.
15. Eat Dinner at Faro Bar
Faro Bar is so beautiful, with incredible views and impeccable service! We found it so romantic and dreamy we couldn't recommend it enough. Make a reservation ahead of time and ask for a good table, we promise it will be worth it.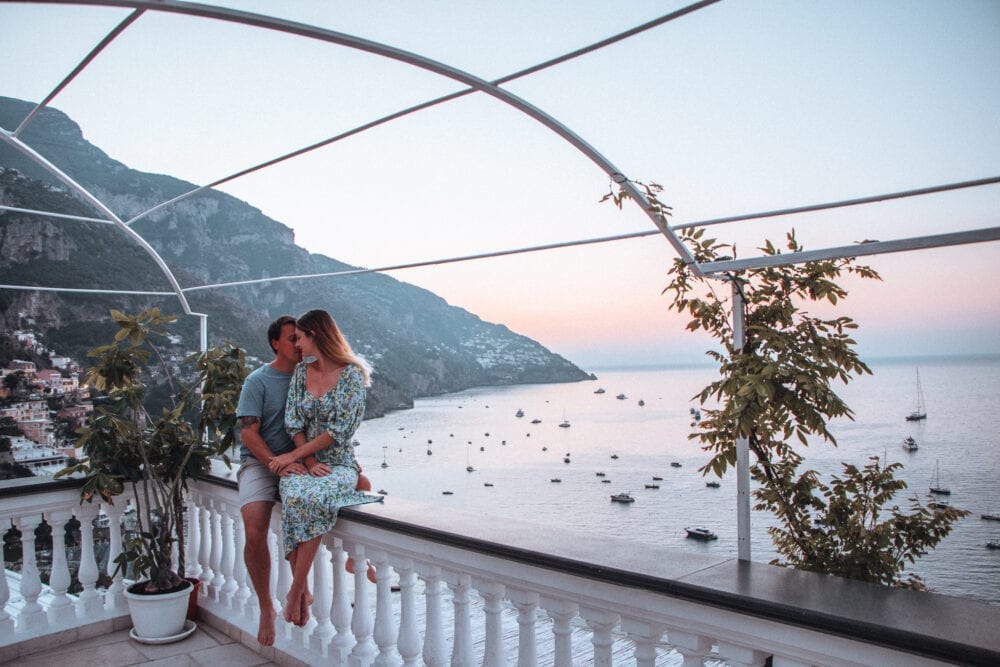 16. Eat Pizza on the Beach
By far our favourite thing to do in Positano. In our opinion, it beat any fancy restaurant offering and allowed us to sit in our swimwear eating pizza as the sunset laughing and going in and out of the sea!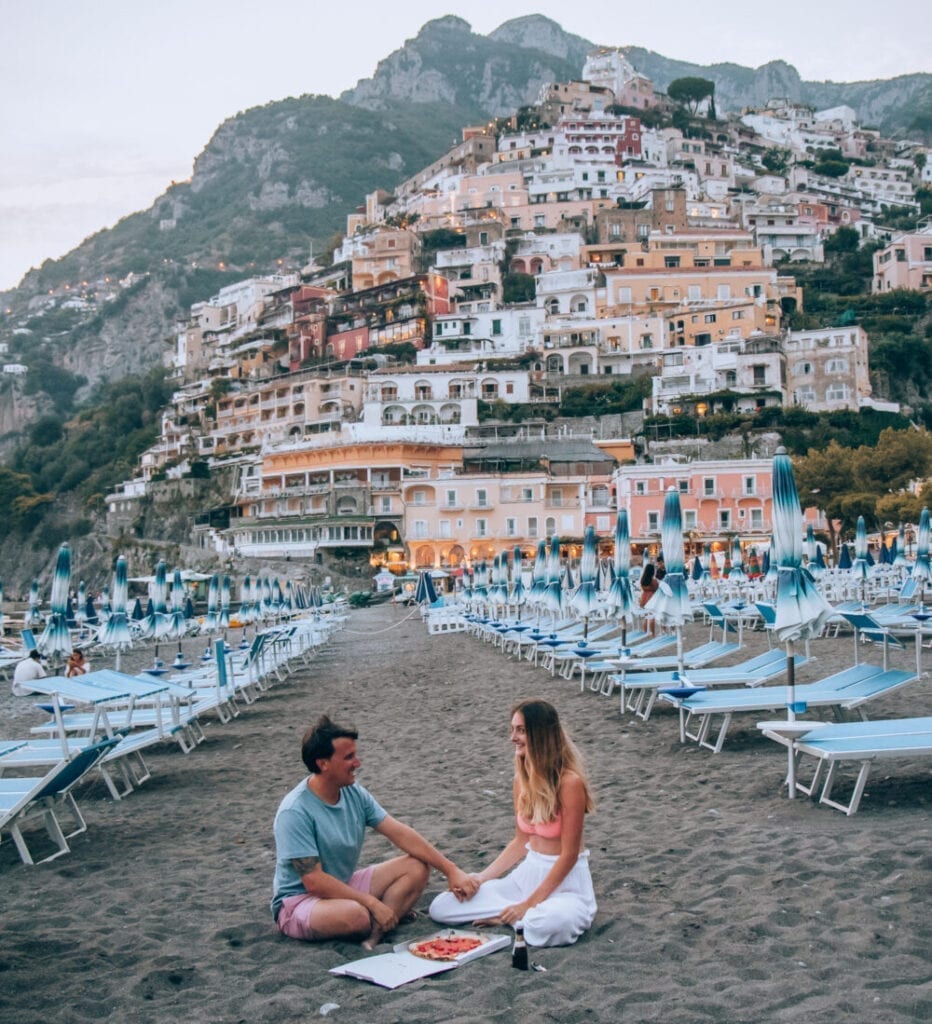 17. Day Trip to Capri
Why not take a day trip to Capri! An island encapsulated by wild beauty shaped by the elements! Ferries run frequently from the Positano harbour at reasonable prices. Make sure not to miss out on Mount Solaro, Ana Capri, Capri and the Blue Grotto.
Check out our other Positano day trips.
No trip to the Amalfi coast would be complete without some shopping in Amalfi itself. Whilst there why not take a moment to visit Atrani a two-minute walk from Amalfi. It is so easy to get a ferry from Positano to Amalfi and spend some time exploring Amalfi and Atrani!
Make sure to visit the famous cathedral in Amalfi and the ridiculously cute beach in Atrani.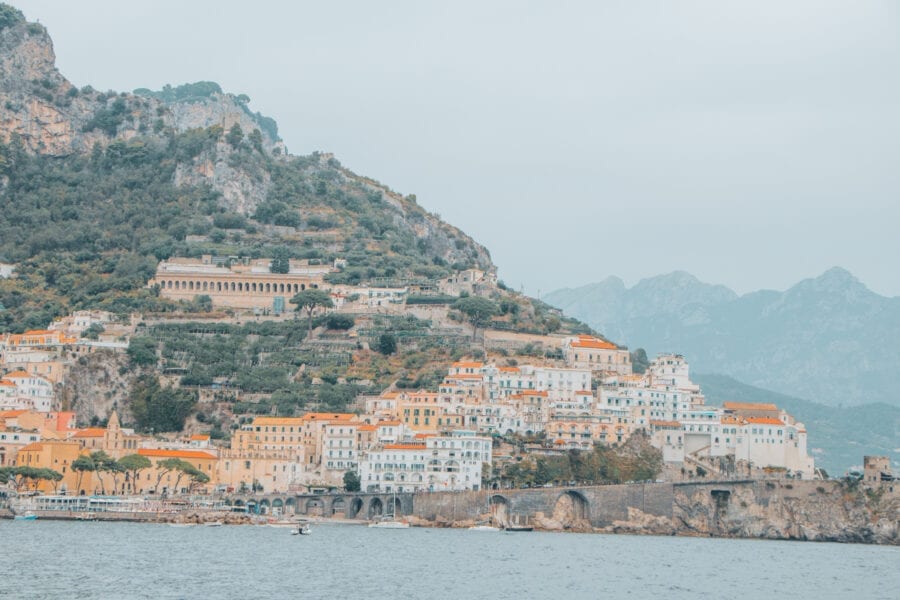 Need a break from the beach, or crave some amazing views? Head to Nocelle! There is a bus that runs from Positano to Nocelle to you don't have to endure the 1000s of steps to climb! We would recommend enjoying some fresh lemon or Orange juice from Lemon point and walking around this quiet quaint town.
Perhaps the most beautiful beach on the whole coastline! Red Bull has used it as a diving site because of its amazing heights and beach. You can access this iconic beach by boat or by driving and using the stairs! You can hire a boat from Positano harbour itself. It's defiantly worth taking the time to chill here and enjoy this beautiful beach.
How to get to Positano
From Naples
Unless you are coming from somewhere else along the Amalfi Coast you are most likely going to be coming from Naples!
There are a few options of how to get from Naples to Positano, and the most sensible way will depend on the day and season you are traveling in!
Bus to sorrento AND then POSITANO
The most cost effective way to reach Positano. There are many busses going to Sorrento and then many from Sorrento to Positano. Although the Busses on the Amalfi coast can be a bit daunting if you dont like to feel like your dangling off the edge of a cliff, it certainly makes for a fun way to experience the Amalfi Coast before you go on to Positano!
Ferry to Positano
The easiest and most convenient way to go is by Ferry! Once you get to the Port in Naples look for the next ferry to Positano, get your ticket and you will be off!
Train to Salerno and then bus to Positano
This is the most time-consuming way to get to Positano, however, we have included it for good reason! Depending on the day you travel, say a Sunday, there might only be one ferry the whole day! This is what happened to us, which meant leaving Positano bright at early for a 9 pm flight…
An Alternative way to get to Positano
Go via Capri! There are so many ferries going to and from Capri from both Naples and Positano, chances are you are going to want to visit Capri so why not make it on your way to Positano! There are so many luggage storage areas you can stow it away and enjoy this rugged island before continuing to Positano. Cost and time-effective.
Things to consider when booking your transfer
A key thing to bear in mind when booking your transfer is the location of your hotel and your luggage! We visited Positano as part of a two-week road trip around Italy and therefore had a whole suitcase. Our Apartment was quite high up. It was going to cost us 40 euros per bag for a porter to help us in addition to the ferry costs, this worked out MORE expensive than getting a taxi. Cheaper yet, get a bus.
The great thing about getting driven into Positano is that you are in the middle of Positano already as opposed to on the port! Make sure to consider if you can carry your luggage yourself or if there might be more convenient options to get a ferry.
Practical information about visiting Positano
Make Reservations
Plan and book in advance! Especially if you are going during peak season! You do not want to miss out on amazing restaurants or cocktail bars so ring ahead and make a reservation to ensure you can have the best experience! This will also take away any element of panic from your time away as you know everything is planned and booked ahead of time.
Bring Comfy shoes!
Leave the stilettos at home and bring your most comfy flats! Positano is a cliff side town and there are ALOT of steps, make sure you make it easy to walk around and bring some comfy shoes.
Sunbeds are Expensive
Either bring a towel and an umbrella or be prepared to pay ALOT for a sunbed for the day! There is a public beach on both the main beach and Beach Fornillo so just make sure you get down early to secure a spot and it is possible to get a nice spot for the day.
Consider your Accommodation Carefully
When picking where to stay in Positano, you have to consider whether you would prefer to be close to the beach (easy access to ferries and main restaurants) or INSANE views! We would personally prefer to walk a little longer and have the views but this is all down to your personal preference.
Check out our guide for the best Airbnbs in Positano for couples.
WHY WE LOVEd IT…
This is the Airbnb we personally stayed in during our time in Positano and it was nothing short of perfect! With Dreamy views, in the quieter bay of Positano and affordable. What's not to love? We loved having our money coffee and toast on the beautiful balcony every morning, it really was a special place to stay.
THINGS TO CONSIDER
You are in the quieter bay meaning it is a little bit of a walk to the main bay and beach, however, it is really near to Fornillo beach (which we preferred). The hosts only accept a minimum of three nights' stay.
The best place for shopping and beautiful beaches. Why not head here after Positano.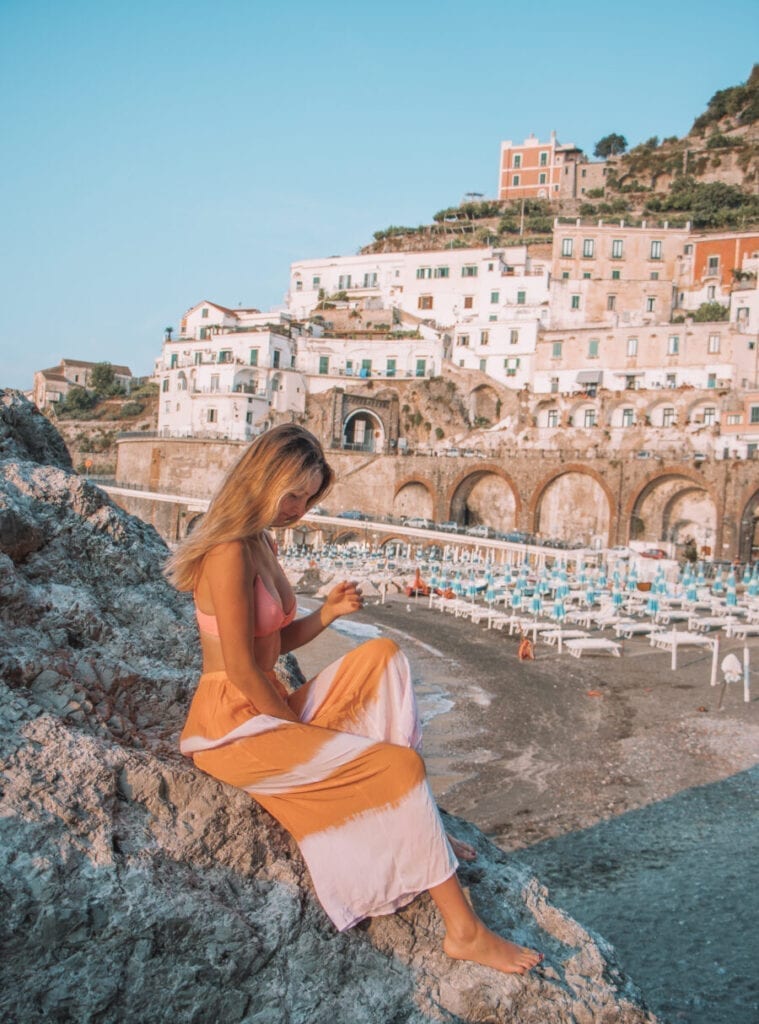 The most romantic and beautiful place on the Amalfi Coast. Easy to get to from Amalfi or stay in Ravello itself. There are so many beautiful things to do in Ravello in a day.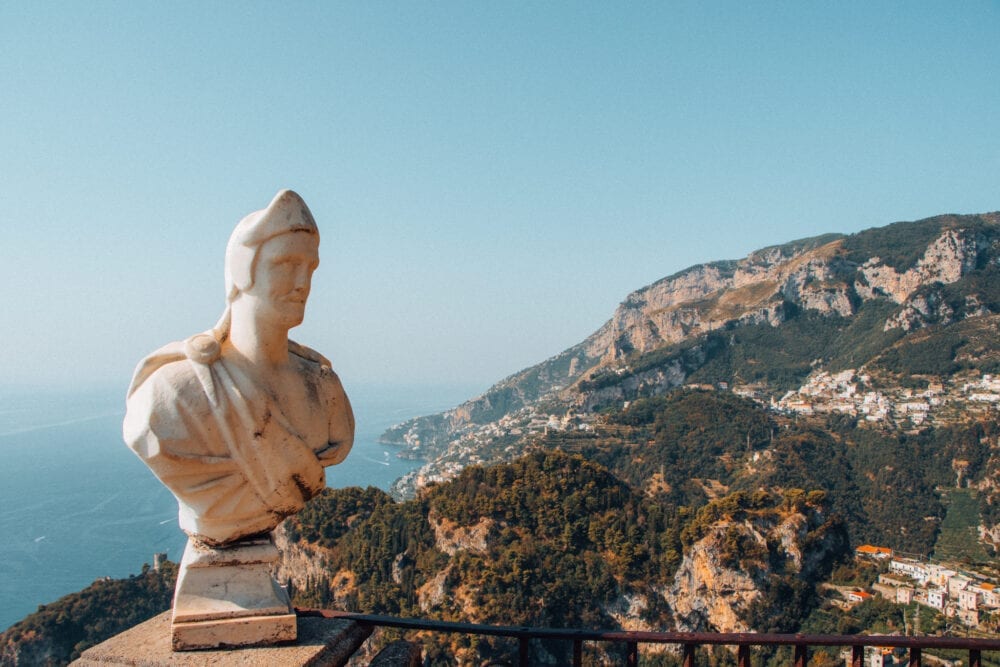 Whats Next?
Check out our Positano Day Trips, our Best Airbnbs for Couples and our Instagram guide to Positano.
Summary
There are so many incredible things to do in Positano. It is an incredible town to spend time and do as much or as little as you would like. We hope this list of the best things to do in Positano has helped you to plan an incredible trip to Positano! If there is anything else you would like to know let us know in the comments below…