This blog post contains affiliate links. As an AirBnB associate we may earn a small commission to fund our coffee drinking habit if you use these links to make a purchase. You will not be charged extra, and you'll keep us supplied with caffeine. It's a win for everyone, really. Check out our Disclosure policy for more.
The beautiful island of Procida might be small, but it is full of amazing and exciting things to experience. Procida is tucked off the coast of Naples, and fairly of the tourist track compared to its neighbouring islands. Procida is full of pastel coloured houses, beautiful harbours and beaches, and cosy cafés. From its scenic Corricella Port and Terra Murata village that is steeped in History, this island is unique. We fell in love with this island and its preserved local way of life. Here is our guide to the best things to do in Procida.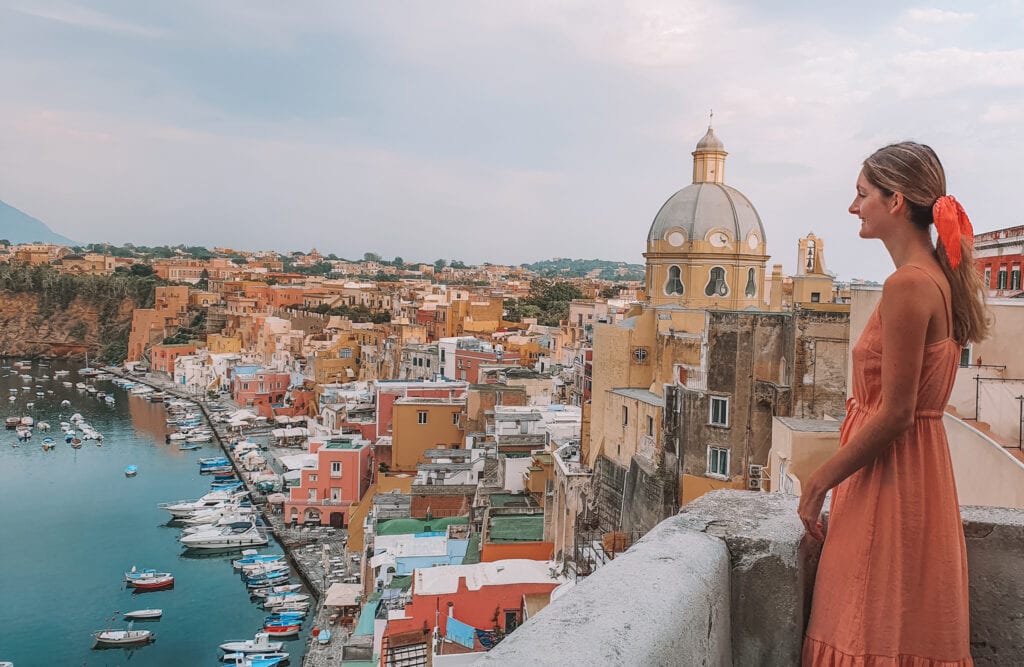 Top Things to do in Procida
1. Terra Murata View Point
The Terra Murata viewpoint is a short stroll from Corricella port itself. Terra Murata translates to Walled Land, this viewpoint is the highest in the whole of Procida at 90 meters. It offers the most incredible views over the port of Corricella. With break-taking views of the whole port and beautiful coastline, it is stunning. Be sure to visit this viewpoint for sunset, it is the perfect place across the whole island to catch it.
2. Terra Murata- Village
Once you have taken in all that the Terra Murata view point over the port offers, you can explore the Terra Murata village itself. It has an abundance of narrow lanes, large cacti, cute traditional houses and amazing viewpoints.
This village is also home to one of Procida's historic buildings. The Palazzo d'Avalos. This building has the most exciting history, it was once a palace, then in 1830, converted into a prison for Political prisoners. In 1988 the prison was closed and you can pay for a tour of this historic building.
There are many other view points in this iconic village. The more you explore the more beautiful you will find this part of Procida to be.
3. Marina DI Corricella
Marina DI Corricella port is by far the most iconic and eye-catching part of the island. No trip to Procida would be complete without immersing yourself in the local life in this port. We spent every morning wandering around the port, admiring the houses and ate every dinner time here. It is simply magical. This port allows you to get a glimpse into the Italian way of life. Sit with a coffee and Gelato in the afternoon and watch the boats in the harbour.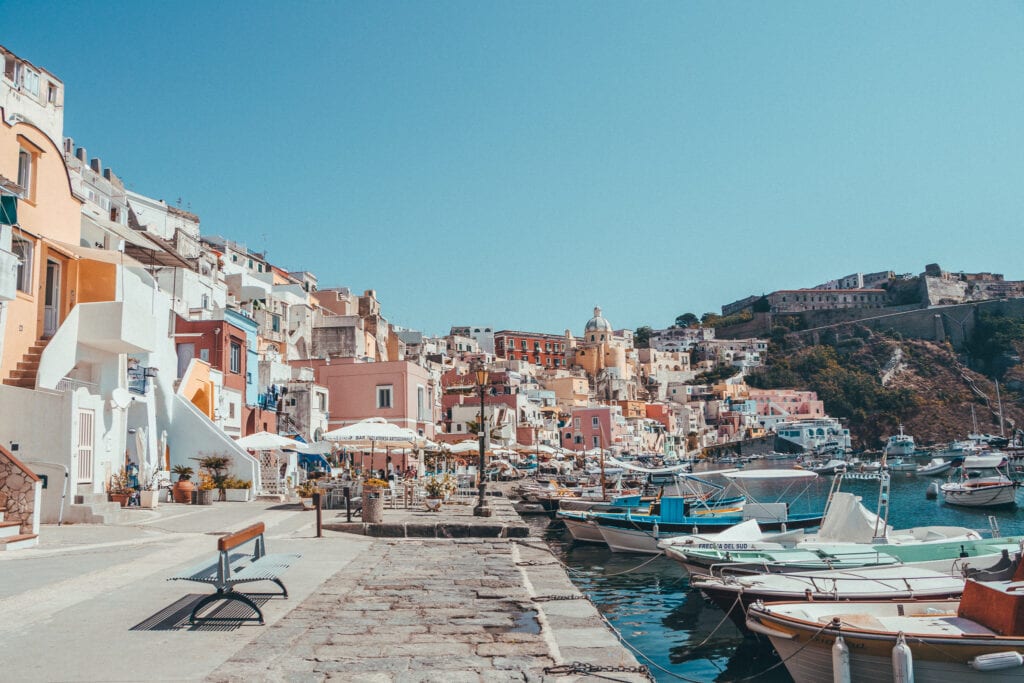 6. Experience Procida from the sea
Placed in the harbour is a boat tour company that offer reasonably priced tours of Procida. At only 25 Euros they offer a shared two-hour tour of the island with two snorkel spots. They provide the opportunity to snorkel around the uninhabited island off of Procida that is now a protected marine site.
7. Snorkel at the Marine Sight
There is an incredible Snorkel spot off the coast of the Marina Chiaiolella. It is one of the best snorkelling spots in the bay of Naples! This spot offers you the most colourful underwater scenery. You might observe bright sea fans in yellow, red or white, there are also many species of lair fish here. In some parts, the sea bed reaches a depth of 40 meters! The best time to go snorkelling here is during the afternoon.
3. Sunset at Maresia Hotel
The Solarium at this hotel offers insane views over the sea and a captivating view of Ischia. It is the most perfect destination to watch the sunset into the sea. We had mojitos and peach Bellinis enjoyed the music and magical sunset. This spot is so romantic and the most perfect spot to enjoy the sunset.
Check out their website here.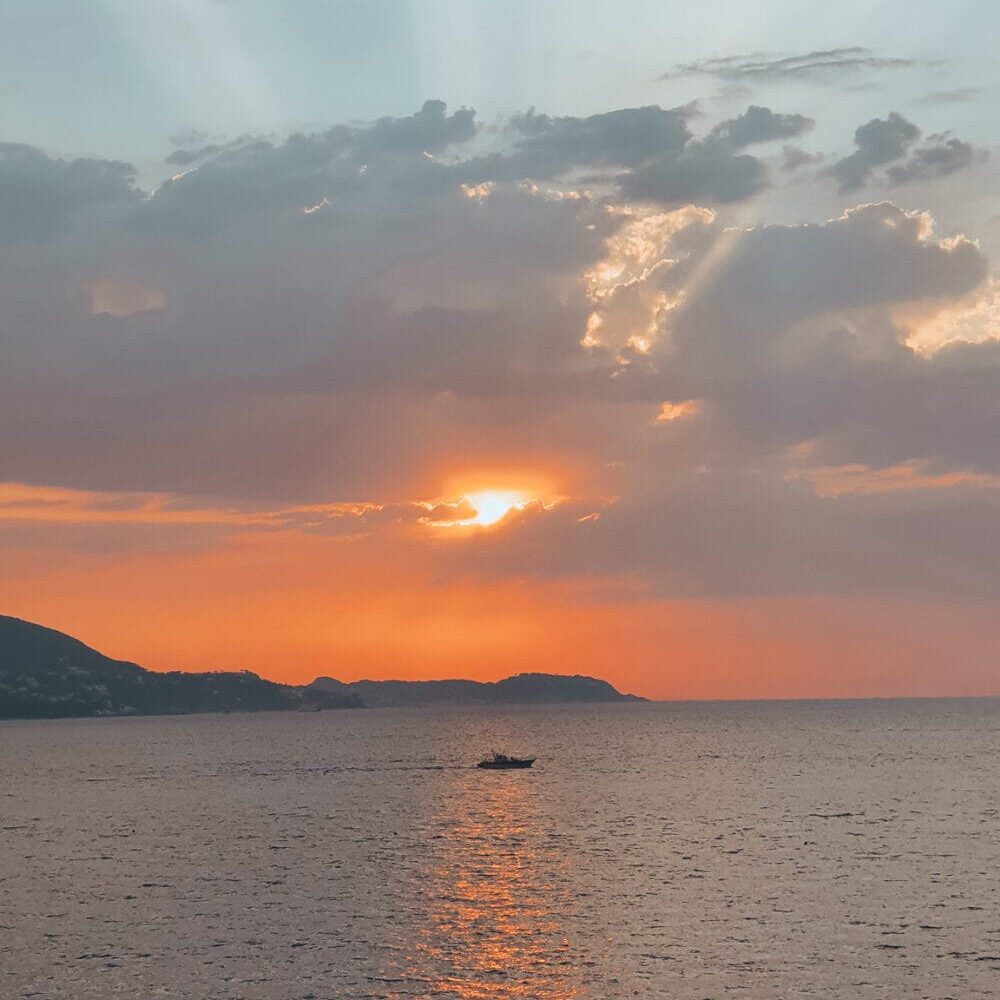 5. Sunrise at Terra Murata port view point
As we mentioned before, the village of Terra Murata has so much to offer. We found the most incredible sunrise viewpoint tucked away in its narrow streets. Find the exact location here.
8. Things to do in Procida: soak up the sun on one of the many Beaches
There are many beaches to enjoy in Procida. The great thing is compared to places in Italy the beaches remain relatively untouched by businesses so there are loads of room for towels! There are more beaches then in this list, but these are the ones we chose to visit.
Marina di Corricella Beach
This beach has the prettiest views over Corricella harbour. It is the most perfect place to admire the port and the beautiful houses. The beach itself is small, if you are looking for somewhere to spend the day another beach might be more suitable. This beach is perfect to take a tip in the sea and chill before exploring the port.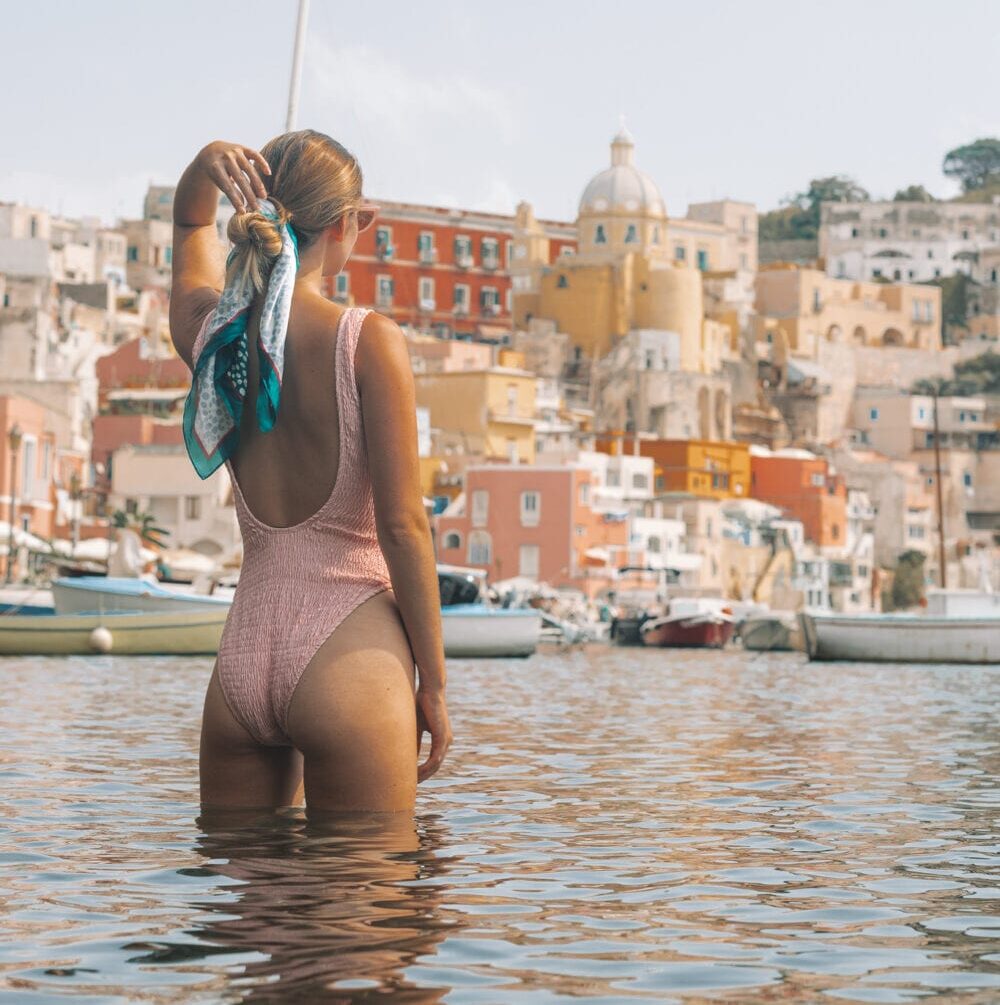 CHIAIOLELLA BEACH
Unlike some of the other beaches on this island this beach is very accessible without loads of steps. This beach is full of weird rock formations and provides the perfect place to catch the sun setting over Ischia.
CHIAIA BEACH
Easy to get to from the Corricella Port. You can see this beach from the terre murata view point as the second beach along from the corricella port. We loved this beach the only downside is there is a lot of steps down to the beach. Parking is easy to find with very few restrictions and free parking.
Postino Beach or Spiaggia del Pozzo Vecchio
This beach is known for the scenes from the classic film Il Postino that were filmed here. It is a pretty beach and worth a stop. We personally preferred other beaches to spend the whole day but it is worth a quick stroll on the beach.
9. Explore other Areas of the Island
The Marina di Corricella is the most stunning part of the island. However, there are many other parts of the island that are worth exploring. In the main port there are many cafés, bars, cosy shops and narrow charming streets to explore. Hire a moped of eBike and head out for the day!
10. Piazza Dei Martiri
The Piazza Dei Martini is a small square and church that sits just above the Marina Di Corricella. The church is a pretty pastel Yellow and the square has many restuarants and shops. This square also provides some incredible views over the port and a lovely place for lunch.
Places to Eat in Marina di Corricella
Most of the places in Marina di Corricella focus on fresh fish and seafood. With it being a fishing harbour this is to be expected. Here are a few of our favourite places to eat, including those that serve things other then seafood!
LA LAMPARA
The most glamorous place to eat in Marina di Corricella! If you would like to go here, make a reservation as soon as possible. Especially if you are visiting over the weekend. One of the more expensive places in the island but worth it for the increidible views. The specialise in fresh fish, but have pasta options for Vegeterians and Vegans.
Check out La Lampara's hotel website here.
RESTAURANT PIZZERIA FUEGO
The only restaurant offering Pizza in Marina di Corricella. With tables right on the sea edge and generous portions, this is the perfect place for Pizza in Procida. With pizza arguably as good as you will find in Naples.
Fuego does not have an official website, but we were able to make reservations through their Facebook chat.
CHIARO DI LUNA BAR
This is an incredible Gelato bar n Marina di Corricella . All the Gelato here is made from produce grown in the Owners Garden. With an array of flavours like no where else this little bar is the perfect place for an afternoon cocktail and Gelato.
Take a day trip to Ischia
From Procida you can head to Ischia for 6 euros each way. Take a day trip to Ischia or extend your trip and stay a few nights. Ischia is a beautiful volcanic island in the bay of Naples. It is well known for its Mineral Thermal baths that can be found all of the island. It is also home to a medivel Castle that is linked to the island by a stone bridge.
Ischia is the largest island in the bay of Naples and has an array of towns and villages. Head to Ischia Porto for the best bars and restaurants. Or the towns of Forio and Lacco are home to the best spas and pretty gardens. For the best beach head to Sant'angelo.
Important information about Procida
How to get to the Island of Procida from Naples and Ischia
NAPLES
The easiest way to get to Procida is from the port in Naples. The ferry ride is only about 20-30 minutes away and very reasonably priced compared to other destinations from Naples.
ISCHIA
To get to Procida from Ischia is a very short ferry ride. The journey only costs 6 euros each day. Allowing you to either head to Procida for a day trip or extend your trip and enjoy the incredible island of Ischia.
How Long to Stay in Procida
We met many people coming here for a day trip from Naples. However, we feel it is certainly worthwhile to spend a little longer here. Staying on the island is a memorable experience. You could discover the island in 1-3 nights. Visiting for a day will allow you to experience Corricella harbour and get a taste of what this island has to offer.
Important Things to Know
This island is popular with people living in Naples. For this reason, we would recommend staying here during the week and avoiding the weekends completely. If you plan to come at the weekend you will have to share this island with many other people from Naples. The other downside to this is you will not get to experience Procida as you should, a sleepy harbour. If your only option is to visit on the weekend then be sure to book all your meals in advance.
Where to stay in Procida?
Staying in the Marina di Corricella is the most magical experience on the island. It allows you to head to Terra Murata for sunrise easily, have all the restaurants and cafes right on your doorstep. It really allows you to immerse yourself in the island life.
The Port itself can get booked really quickly and is quite expensive, our second location to recommend would be to stay in Terra Murata. From here you can easily access the port, but you will also have some incredible viewpoints right on your doorstep.
Motorised vehicles are not allowed in the harbour itself. Mopeds can be parked on the road leading into this part of the island. From here it is only a short walk into the centre of the port.
Airbnb's in Procida Marina di Corricella
CASA ATHINA – If you have a wealthy budget you can stay in the iconic blue house in the Port, you can book this place through Airbnb. Find this place here.
GRAZIOSO APPARTAMENTO VISTA MARE – We chose to stay in this cheaper Airbnb that still offered amazing access to all amenities and was nicely decorated. Find this place here.
PISCĀRĬA HOUSE – Beautifully decorated and cosy place right in the port. This stay has high reviews and is finished to a really high standard. Find this place here.
For more check out our complete guide to the best Airbnbs in Procida.
Summary of the best things to do in Procida
We hope you have enjoyed our guide to the best things to do in Procida. This pastel-coloured island off the coast of Naples is so authentic. Whether you visit Procida for a day trip or choose to stay a little longer, you will love this island.
What's next?
Why not make Procida a stop along a trip to the Amalfi Coast?