This blog post contains affiliate links. As an AirBnB associate we may earn a small commission to fund our coffee drinking habit if you use these links to make a purchase. You will not be charged extra, and you'll keep us supplied with caffeine. It's a win for everyone, really. Check out our Disclosure policy for more.
Sidemen in North Bali hits differently. Forget the hipster vibes in Canggu, the Party Atmosphere in Seminyak and the surfers in Uluwatu. Sidemen is made up of misty rice terraces, stunning light rays piercing through the leaves of palm trees. Emerald green rice terraces stretching as far as you can see. Altogether, these unique features combine to make up a slightly eerie, misty, magical haven known as Sidemen. We fell in love with this part of Bali very quickly and crave its serenity. Any trip to Bali should include a trip to Sidemen! So here is our guide to the best things to do in Sidemen, East Bali. 
Head to La Montague Coffee Bali for incredible views
A great coffee shop with the best views in Bali! With stunning views of rice terraces leading your eyes to the Magnificent Mount Agung! This coffee shop is still relatively off the beaten path, with pictures just starting to surface on Instagram. Head here before the masses discover this hidden gem.
Insider Tip: This coffee shop is open for sunrise! The main entrance is closed, but the side gate is open. Head here to catch the sunrise illuminating Mount Agung and watch the light rays reach through all the palm trees. Although the coffee might not be warm yet (nothing is for sale at this time in the morning), the views are worth the early start!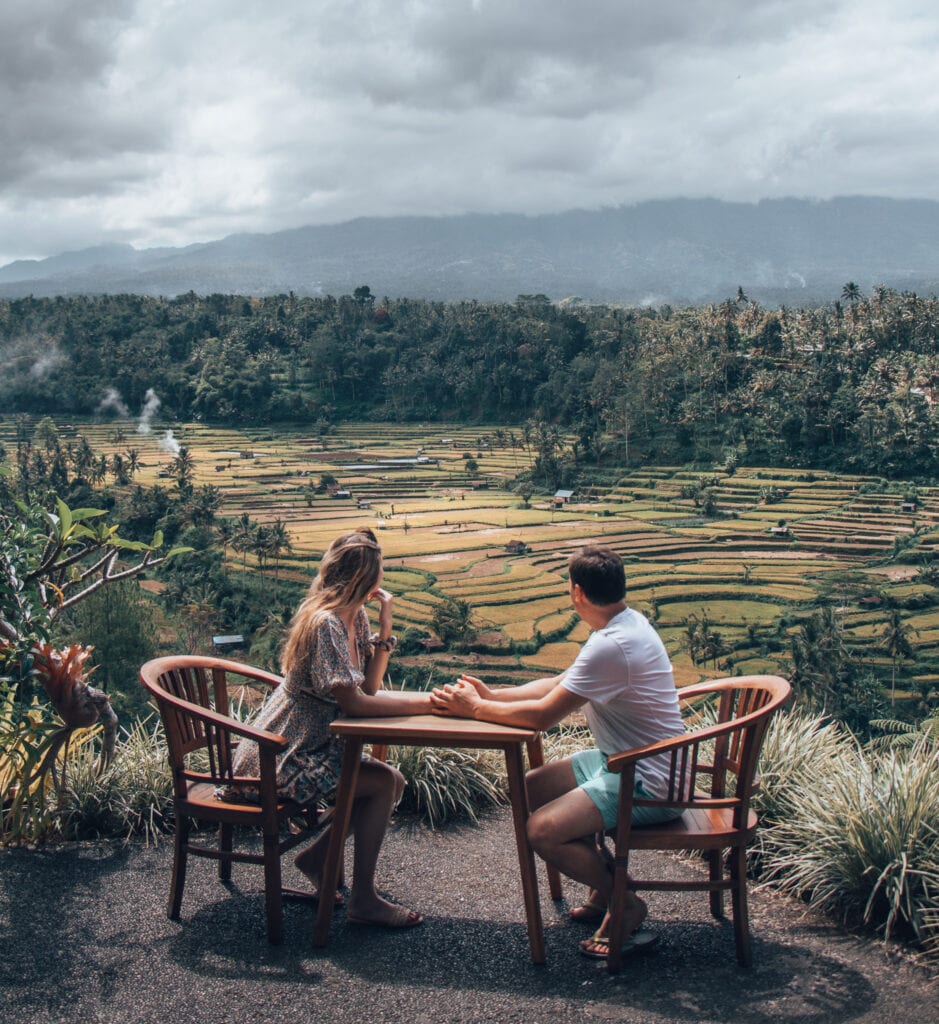 Feed the Fish at Tirtiganga Water Temple
Tirtiganga is an incredible water temple with impressive koi fish that you can feed. You can buy fish food for around 50k (£2.50) a bag. You probably only need one or two bags of food. Make sure to wear clothing that you don't mind getting wet. The fish will undoubtedly splash you! After spending some time searching, we found the stalls right by the temple entrance offered the best value for money!
It is a unique experience and certainly worthwhile taking the time to visit. However, this place is very, very busy during the tourist season. Our recommendation is to get here as early as you can to avoid the crowd.
There is also a pool here that you can swim in. 
Insider Tip: Opening time on Google is 8 am, but the temple opens at 7 am. Get here early so you can enjoy this place with a smaller crowd.
Details
Cost | Entrance: 40k IDR per person, Use of the pool: 20K IDR per person.
Opening Times | 7am – 4pm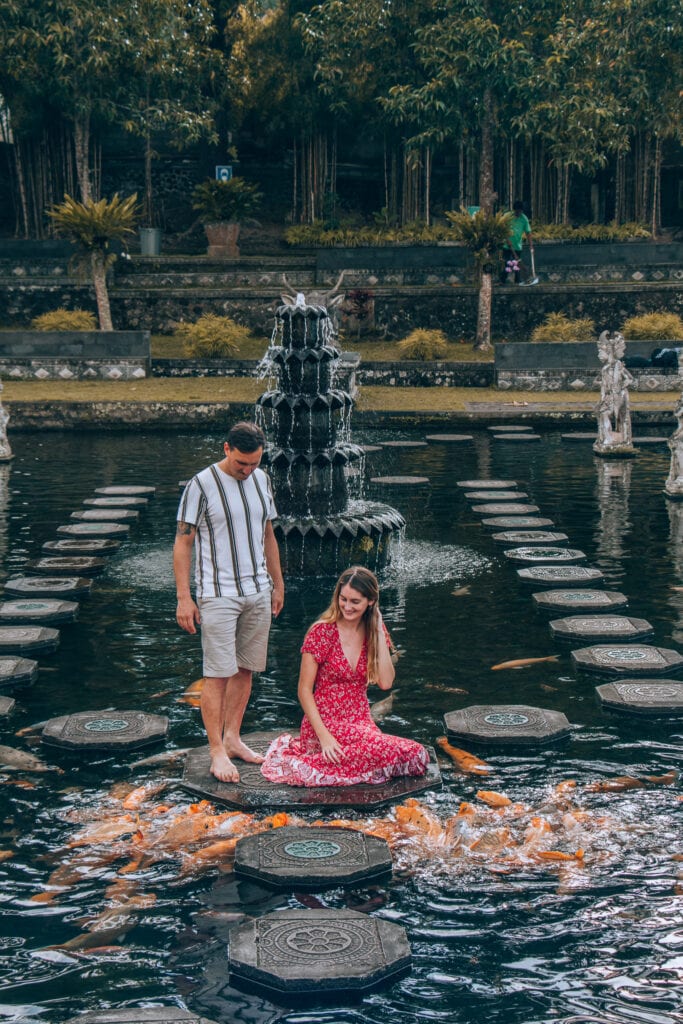 Bukit Centra View Point
This viewpoint provides some of the most beautiful views of Mount Agung. If you have a clear morning, this is one of the best views in Bali. With the mountain in all its beauty, it is surrounded by rice terraces and greenery as far as the eye can see. 
Gembleng Waterfall
This waterfall is one of our favourites in Bali! It is so stunning and surrounded by the most breathtaking trees and foliage. The view from the top is just unbeatable. 
How to reach the waterfall
The roads to reach this hidden gem are fairly unmade, but Google maps will take you the right way. There are a few tiers, and they are easy to reach. There is a clear path to the right of the waterfall. Follow this up to get to the top. 
There is a small hut selling drinks and snacks at the top of the waterfall.
Details
Where | Google Maps Location
Cost | Donation
Opening Times | 7am – 6pm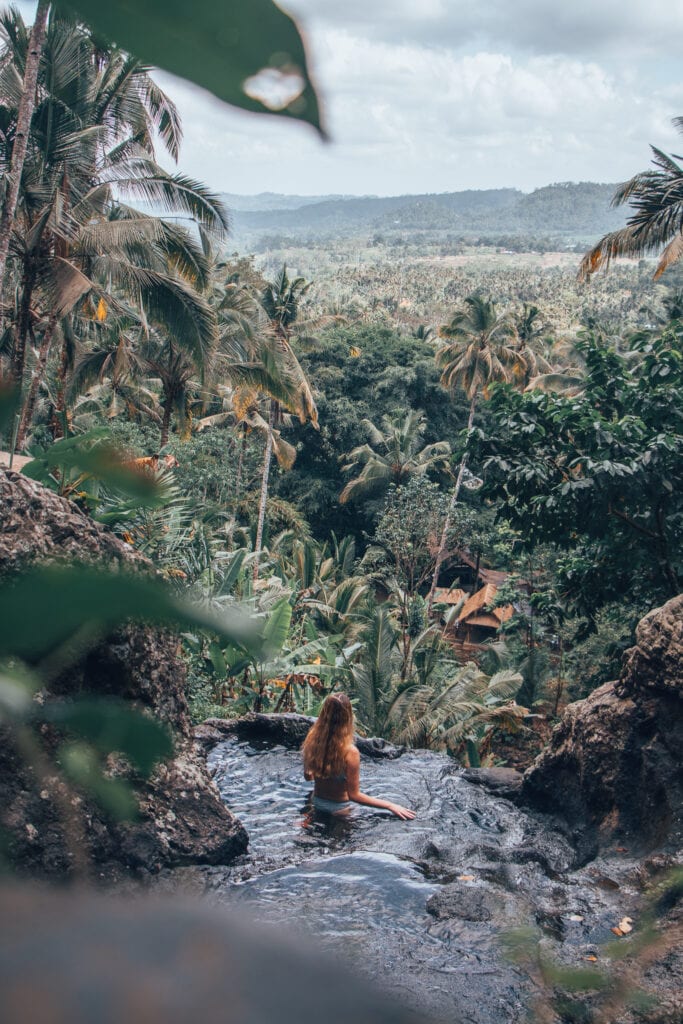 Experience Stunning Light Rays at Tudak Waterfall
This waterfall is simply incredible. One of our absolute favourites in Bali. If you love capturing light and experiencing something unique, this is for you. Although the waterfall itself isn't one we would choose to spend a lot of time around (it's pretty dark), the light rays are unbeatable. 
Early in the morning (the exact time changes throughout the year), the light pierces through the small tunnel and creates rays. These rays are so stunning we didn't even know it was possible for light to behaviour in such a way.
Go white water rafting
Sideman is a great place for water rafting. It is an awesome experience to see Sideman from the water. With the rush of water rafting as the palm trees arch above your head. Its the perfect blend of pure adventure but also experiencing nature in a brilliant way. The experience lasts around 3 hours and they provide a buffet lunch.
Details
Where | Telaga Waja River Rafting Bali
Price | around 250K each person.
Opening Times | 9:30am – 5pm
More Information | To book, your best bet is to organise over Whatsapp: +62813-3963-3454
Visit the traditional Weaving Workshops.
Watching local people weave traditional hats and everything else under the sun is such a great way to connect with the Balinese culture.
Hike Mount Batur for sunrise 
Have you ever wanted to hike an active volcano? Well, now is your chance. Hiking this volcano for sunrise is just an unforgettable experience. At the top, you will find a few monkeys. You also have the best view to watch the sun peaking over the horizon and slowly light up the earth around you. In the tour package below you will also get to visit a local coffee plantation and try the famous Luwak Coffee. Luwak coffee is partly digested coffee cherrie. Luwaks eat them and then once they are 'digested' used to make the coffee…
Important Information: You must have a guide to hike with you to the top. It is illegal in Bali to do so without. It is also a great chance to give back to the locals who are entirely dependent on tourism.
Tour | Get Your Guide
Price | £39, 775 Rupees.
Visit the Black Beach at Amed from Sidemen
Amed has a stunning black beach with Mount Agung as its backdrop. This spot is also great for diving. With diverse marine life and diving schools, it's the perfect place to experience the underwater world. 
If you are planning to do a road trip in Bali, it makes sense to head to go to Amed or Ubud.
Walk through the Sidemen Rice terraces and Explore Sidemen Valley
To really get the most of our Sidemen valley it is worth booking a tourguide. These individual know the rice terraces better then anyone else. You will have the opportunity to learn about the villages and the argiculture in this beautiful valley.
The tour below takes you through sidemen valley, bamboo bridge, rice paddies, remote villages and so much more.
Where | Sidemen Valley
Price | 800 Rupees per person (roughly)
More Information | Check out this Sidemen Trekking guide.
Experience Beautiful Flower Fields and Waterfalls at Maha Cangga 
This attraction was quite expensive compared to others in the area. It is quite a touristy attraction, but the river and waterfall make this spot a lot more enjoyable. 
Entry Prices and Times
Cost | 50k Per person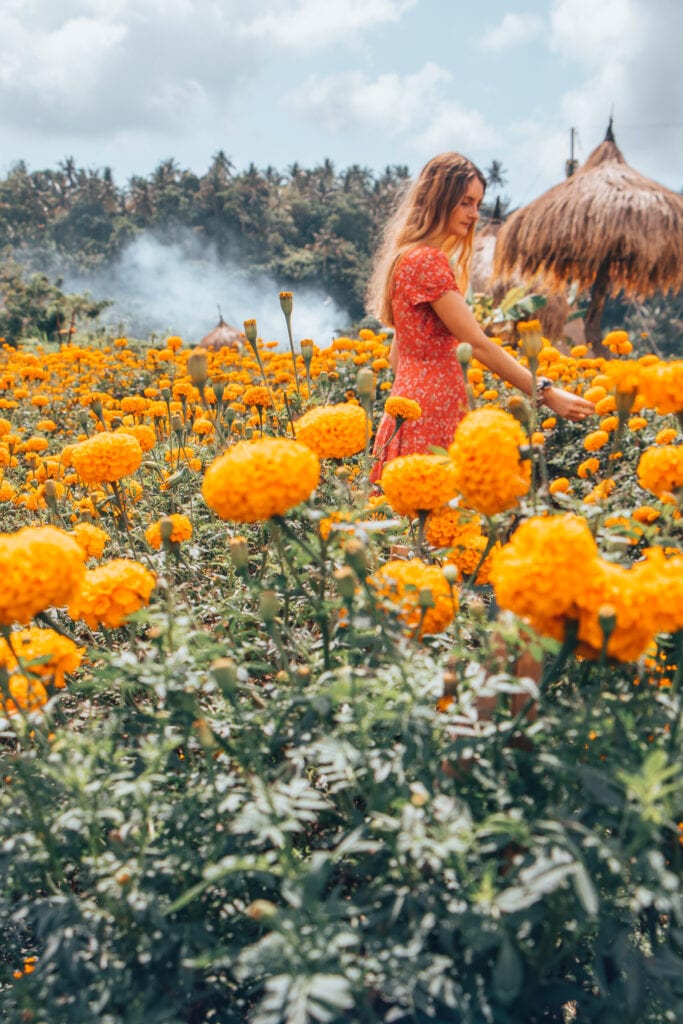 Where to stay in Sidemen
Sidemen is home to some of the best Airbnbs in the whole of Bali. Due to the cooler climate in Sidemen, it is a great chance to experience some open living and get closer to nature. Here are our top Airbnb picks for Sidemen.
Incredible Airbnbs in Sidemen
Zen Gateway 
Zen Gateway is simply beautiful! It is just the perfect balance of comfort and nature! With a swing bed looking over the misty mountain views and river flowing, this is the perfect spot for your morning cup of tea.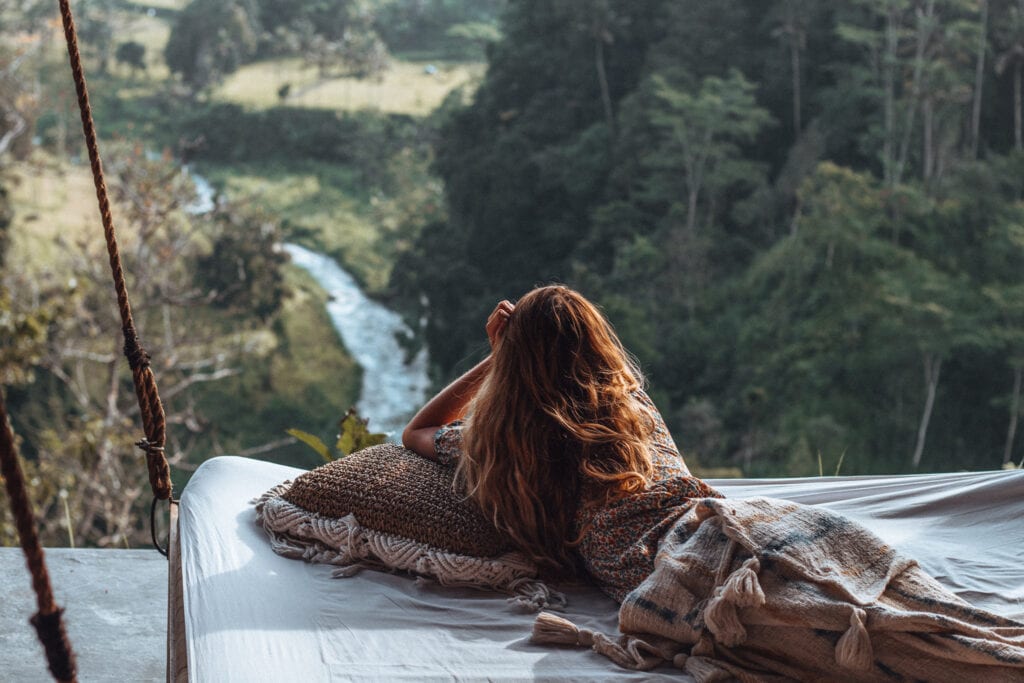 Hideout Bali
A real Bali Bucketlist stay… this Airbnb is just iconic.
Camaya Bali
This Airbnb is perfect for those honeymooners or couples looking for the ultimate romantic stay.
Hotels in Sidemen
Terraced rice fields surround this tranquil, rustic-chic hotel with African lodge styling. This hotel screams luxury and is just stunning. It is the perfect place to escape. 
Check out prices or book this hotel here.
Summary of the best things to do in Sidemen 
Hopefully, this guide has helped you plan a fantastic trip of the best things to do in Sidemen. Experiencing Sidemen makes it easy to imagine what Bali would of been like 30 years ago before it became a major tourist destination. Bali has such a diverse landscape, and this part of Bali has such a unique feeling you won't experience anywhere else on the island. This place is packed full of Balinese adventure!
Where to go after Sidemen
Here are out recomendations:
Check out our other Bali Posts here: