This blog post contains affiliate links. As an AirBnB associate we may earn a small commission to fund our coffee drinking habit if you use these links to make a purchase. You will not be charged extra, and you'll keep us supplied with caffeine. It's a win for everyone, really. Check out our Disclosure policy for more.
Welcome to Ubud, Bali, a place of lush greenery, enchanting culture, and endless adventures. This small town in Bali has become a popular tourist destination for a good reason. Ubud is a place where nature, art, and spirituality coexist perfectly. In this blog post, we'll explore some of the best things to do in Ubud, from visiting the famous Monkey Forest to unique Sound Healing experiences.
1. Watch the sunrise from Tegallalang Rice Terraces.
Tegallalang Rice Terraces is one of Bali's most iconic and picturesque spots, and experiencing it at sunrise is a must-do for anyone visiting the island. The beautiful rice terraces and lush greenery provide the perfect backdrop for a morning stroll.
Here are our top tips for experiencing Tegallalang Rice Terrace for sunrise:
When to Arrive? Arrive early to avoid the crowds. The sunrise changes throughout the year so research the exact time the sun will rise and aim to enter the rice terraces around half an hour before the sunrises to catch first light.
Where to park?We would recommend parking at Oneworld Ayurveda and waking into the rice terraces. From here, you will get the beautiful stone steps leading into the rice field.
What to Pack? Make sure to pack your camera, tripod and spare memory cards and batteries.
What to wear? Dress appropriately. It can be pretty chilly in the early morning, so dress appropriately. Bring a light jacket or sweater to keep you warm, and wear comfortable shoes for walking through the rice fields.
Cost: There is an entrance fee but it is only around 15,000 IDR per person. Depending on the day you might get charged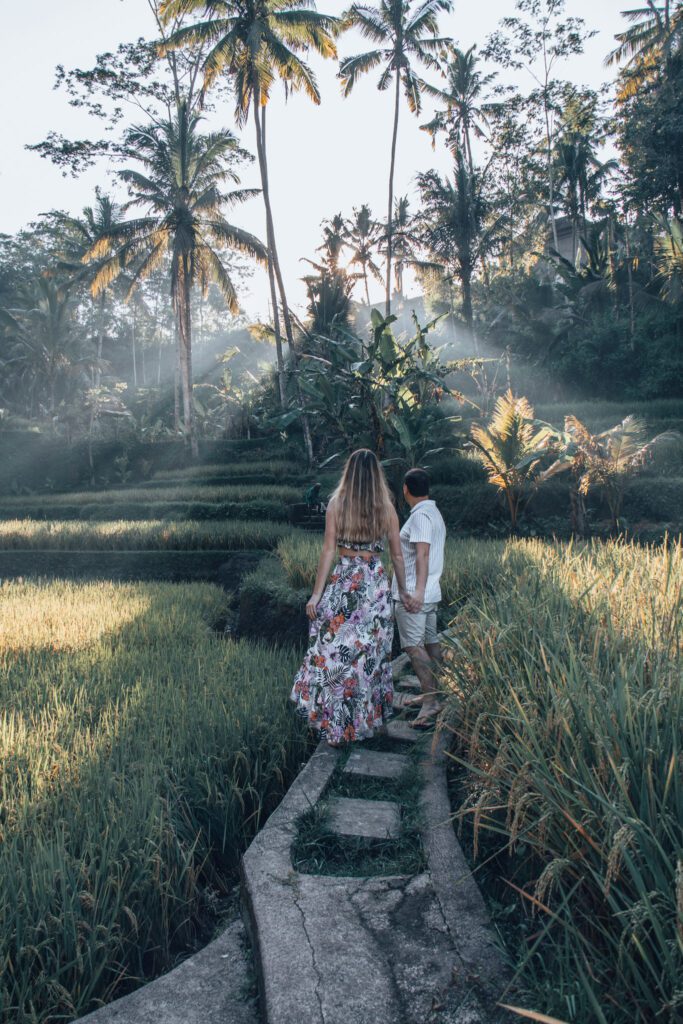 2. Explore the Monkey Forest in Ubud
The Ubud Monkey Forest is a must-visit attraction for monkey lovers and anyone who wants to get up close and personal with Bali's cheeky primates. The forest has over 700 macaques that roam freely among the forest. The monkeys are friendly, and visitors can interact by feeding them bananas, peanuts, or other fruits you can buy on-site. The forest is a sanctuary and a sacred space for Balinese Hindus, containing several ancient temples and shrines. Be warned, hide any valuables and do not enter with your own food! These monkeys are very used to humans and will not hesitate to steal your belongings.
Cost: Around 40,000 IRD per adult and 30,000 IDR per child.
Did you know? There are multiple Monkey Forests around Bali. Check out this one to avoid the crowds.
3. Shop at the Ubud Street Market 
If you want some souvenirs of your time in Bali, head to the Ubud Street Market. This bustling market is located in the heart of Ubud and offers everything from traditional Balinese clothing to handmade crafts and souvenirs. Here are our trips for exploring the Ubud Street Market:
Arrive Early: The Ubud Street Market opens early in the morning, and it's best to arrive as soon as possible to avoid crowds. The first sales of the day are known as good luck for the shop owner, so they are much more likely to give you a discount.
Bring Cash: Most of the vendors at the Ubud Street Market only accept cash, so be sure to bring enough Indonesian Rupiah. 
We have never experienced any trouble here, but keep your belongings closed and try not to get overwhelmed!
4. Saraswati Temple: the Water Temple In Ubud
The temple is located in the heart of Ubud, one of Bali's most popular tourist destinations. It is easy to find and just a short walk from the Ubud Palace. When you enter the temple grounds, you will see a stunning lotus pond filled with lotus flowers and surrounded by lush greenery. This pond is one of the most iconic features of the temple and is a favourite spot for visitors to take photos.
As you enter the temple, you will be surrounded by intricate carvings and statues of various Hindu gods and goddesses. The temple is a work of art, and every detail has been carefully crafted.
Cost: It is free to enter and walk around the temple. There is also a cute cafe with views of the temple on the grounds. Grab a coconut and stay a while to embrace the surroundings.
5. Do the the Campuhan Ridge Walk
The Campuhan Ridge Walk is a must-visit spot when in Ubud. especially for catching a beautiful sunrise. This scenic trail is one of the most popular attractions in Ubud, and for good reason. Catching sunrise here is ideal simply because the Bali weather gets really hot as the day goes on. To catch the sunrise, it's best to start the walk early in the morning, ideally around 5:30 am. This will give you enough time to reach the ridge and catch the sunrise. If you can't catch sunrise, go anytime and see the views of the misty rolling rice terraces as you stroll.
Location: There is a carpark here, we have never been charged, but these things change daily in Bali.
Cost: Free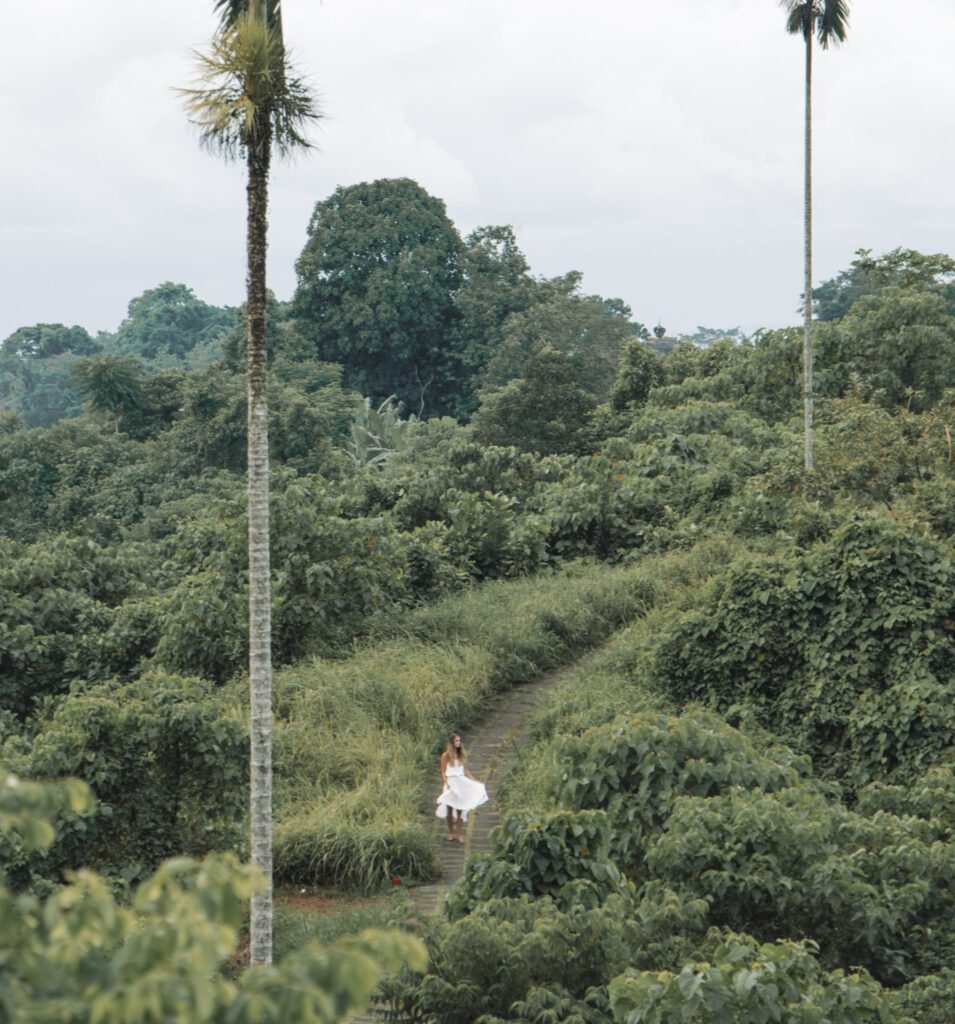 6. Explore the Waterfalls in Ubud
There are so many waterfalls in Ubud. The best thing is they are primarily a short drive from each other. Carve out a day to go waterfall hopping from one to another. 
Tegenungan Waterfall. Tegenungan Waterfall is one of the most famous waterfalls in Ubud, and for a good reason. The waterfall is surrounded by lush greenery and a shallow pool, making it the perfect spot for a refreshing swim. The waterfall is easily accessible and located just a short drive from central Ubud, making it a popular destination for both tourists and locals.
Second on the list is Tibumana Waterfall, one of our favourite waterfalls in Bali. It is located just a short drive from Ubud. The waterfall is surrounded by dense jungle, giving it a secluded and peaceful atmosphere. The pool at the base of the falls is perfect for swimming, and the surrounding rocks provide the ideal spot for sunbathing and taking in stunning views. 
Kanto Lampo Waterfall, Kanto Lampo Waterfall is a small but beautiful waterfall just outside Ubud. The waterfall cascades down several tiers of rocks, creating a peaceful and serene atmosphere. The shallow pool at the base of the falls is perfect for wading and cooling off on a hot day.
There are plenty more waterfalls in Ubud. We recommend spending a few days exploring the waterfalls alone!
7. Get a Balinese Massage
Bali is famous for its traditional massage techniques, and Ubud is the perfect place to indulge in a relaxing Balinese massage. Numerous spas and wellness centres in Ubud offer various treatments, from traditional massages to hot stone therapies and reflexology. It's a great way to unwind after a long day of exploring the town and a perfect opportunity to treat yourself to some self-care.
Head to the Udara Spa for an amazing world class spa experience. Yes, it might be a bit more expensive, but you're in for an experience you will never forget.
8. Attend a Yoga Class
Namaste! Now, why is Ubud known for yoga? Ubud's reputation as a yoga mecca is primarily due to its unique blend of natural beauty and spiritual energy. Nestled amidst rice paddies and lush tropical forests, Ubud's landscape is breathtakingly beautiful and deeply calming, making it the perfect backdrop for a yoga practice. Ubud is also steeped in Balinese Hindu culture, which places a strong emphasis on mindfulness, spirituality, and self-awareness. Practitioners from all over the world come to Ubud to deepen their practice, learn from experienced teachers, and connect with like-minded individuals. 
Now, let's talk about where to do yoga in Ubud. There are numerous yoga studios and retreat centres throughout the town. Some of the most popular studios in Ubud include Yoga Barn, Radiantly Alive, and Taksu Yoga & Movement Arts. These studios offer a range of classes, from traditional Hatha and Vinyasa flows to more specialised practices like Yin yoga and Acro yoga.
Whether you are a seasoned yogi or a curious beginner, you'll find plenty of opportunities to learn, grow, and be inspired by Ubud's vibrant yoga scene.
9. Experience Sound Healing at the Pyramids of Chi
If you're looking for a unique and transformative healing experience, the Pyramids of Chi in Ubud Bali should definitely be on your list. This stunning complex of pyramids is designed to facilitate deep healing and spiritual transformation, using a combination of sound therapy, meditation, and energy work.
So why should you go to the Pyramids of Chi? Well, the experience is pretty special. As you enter the pyramids, you'll be enveloped in a cocoon of sound and vibration as the ancient healing frequencies of gongs, crystal singing bowls, and other instruments wash over you. The effect is deeply relaxing and rejuvenating, leaving you feeling grounded, centred, and renewed.
Our Top Three picks for Ubud Hotels
10. Indulge in one of Ubud's cafes or restaurants.
Ubud Bali is known for its vibrant and diverse cafe scene, offering everything from traditional Balinese fare to vegan and vegetarian options. Among the many cafes in Ubud, two of the best are Kafe and Zest.
Kafe is a popular spot in the heart of Ubud. Highlights include the tempeh burger, the raw vegan pad thai, and the classic black Balinese pudding. Kafe also offers a range of fresh juices and smoothies, as well as a selection of coffee and tea. The atmosphere at Kafe is laid-back and friendly, making it the perfect spot for a casual meal or a quick coffee break.
Zest, on the other hand, is a more upscale cafe with a focus on gourmet food and artisanal coffee. A all vegan affair with drool worthy options. The menu features a range of international dishes, from Mediterranean salads to Japanese-style bowls. We would recommend the vegan cheese board.
Once you are feeling zen from your sound healing and yoga, it's time to shake things up a bit. If you're looking for an adventure-packed experience in Ubud, look at an ATV ride in Ubud. This thrilling activity is the perfect way to explore Bali's lush countryside.
ATV tours in Ubud typically last around two hours and take you through a variety of terrains, including rice paddies, jungles, and rivers. You'll be provided with all the necessary safety gear, including helmets and gloves, and given a brief orientation on how to operate the vehicle.
The ride itself is an adrenaline-pumping experience as you navigate through winding paths and bumpy terrain. You'll cross streams and navigate through mud, all while taking in the stunning views of the surrounding countryside.
12. Go White water rafting in Ubud, Bali.
This exhilarating activity will take you on a journey through the lush jungle landscape of Bali, all while experiencing the rush of the river rapids. There are many tour guides in Ubud who offer this experience. Either book online in advance or head to one of these stalls once you arrive in Ubud to book.
Tips for a Great Experience
Wear comfortable, quick-drying clothes and shoes that you don't mind getting wet and muddy
Apply sunscreen before you set out on the river.
Bring a waterproof camera to capture the stunning views and memories of your adventure.
What to do in Ubud at Night
After your action-packed day of exploring Ubud, the nights are a welcome break from the heat and a chance to relax. Here are a few things we would recommend for the nights in Ubud:
Eat Pizza at L'osteria. Amazing Italian food!
Head to one of Ubud's vibrant bars for drinks
Head to a game board bar.
Where to stay in Ubud Bali
The Udaya Hotel and Resort is a luxurious and peaceful retreat located in the heart of Ubud. It offers a stunning view of the surrounding lush greenery and rice fields. The spa here is world-famous and to be noticed! The views from the Yoga Shala are insane!
Kayon Jungle Resort is a boutique resort located in the midst of the Ubud rainforest. The resort offers an immersive experience of nature with a breathtaking view of the valley and rice fields. The resort also offers an outdoor infinity pool, a spa, a restaurant, and a bar overlooking the jungle.
Stone house is a great choice and is one of those Instagram-ready villas. Nestled in the serene and picturesque village of Kedewatan, Stone House is a beautiful and spacious villa that offers a perfect blend of luxury and nature. Stone House also boasts a private swimming pool, a fully equipped kitchen, and a garden with stunning views of the rice fields and the Ayung River.
How to get around Ubud Bali
If you're planning to explore Ubud and its surrounding areas, renting a motorbike is an excellent way to do so. It's convenient, affordable, and offers the freedom to explore at your own pace. Follow these tips to ensure you do it the right way:
To rent a motorbike in Ubud, you should have an international driver's licence and get this in your home country before you travel.
Choosing a Rental Company: Look for a rental company that has well-maintained motorbikes and offers insurance coverage. Ask for recommendations from your hotel or fellow travellers and read reviews online before making a decision.
Cost: The cost of renting a motorbike in Ubud varies depending on the type of motorbike and the duration of the rental. The average cost is around IDR 50,000 to IDR 80,000 per day. Some rental companies may offer discounts for longer rentals.
Always wear a helmet, follow traffic rules, and be aware of your surroundings. Be cautious when driving on narrow roads, and avoid driving at night.
Summary of the best things to do in Ubud, Bali.
In conclusion, Ubud, Bali, offers a wealth of experiences for travellers seeking adventure, culture, and relaxation. From exploring the iconic rice terraces and ancient temples to indulging in delicious cuisine and wellness treatments, there's something for everyone in this vibrant town. Whether you're a solo traveller or visiting with family and friends, be sure to add these top things to do in Ubud to your itinerary and make the most of your time in this magical destination.
Check out our other Bali Guides Here: