This blog post contains affiliate links. As an AirBnB associate we may earn a small commission to fund our coffee drinking habit if you use these links to make a purchase. You will not be charged extra, and you'll keep us supplied with caffeine. It's a win for everyone, really. Check out our Disclosure policy for more.
Unawatuna is known for its beautiful banana-shaped beach and turquoise waters, making it a significant tourist attraction in Sri Lanka. This palm-fringed beach town is the perfect destination for beachside chilling, jungle exploring and eating fantastic food. Our guide to Unawatuna includes the best things to do, swoon-worthy Airbnbs and cafes worthy of the Bali Beach scene.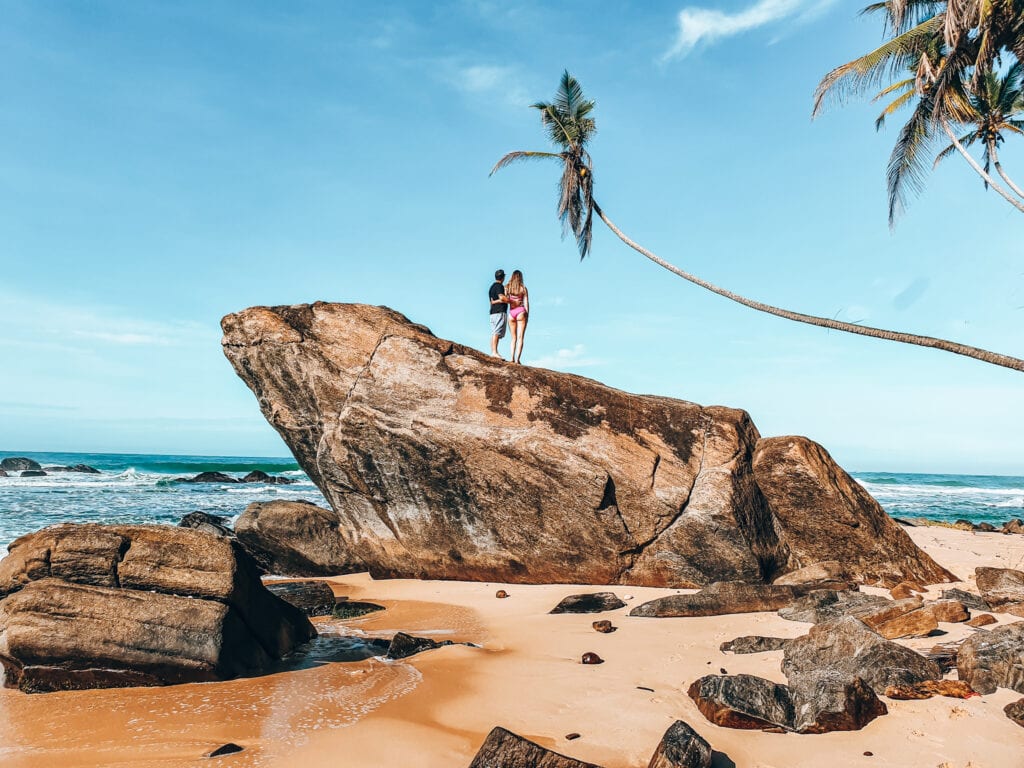 Things to in Unawatuna
Let's jump right into the best things to do in Unawatuna, Sri Lanka!
Catch the Sunset at Unawatuna Beach 
Unawatuna beach itself is a beautiful banana-shaped beach with beautiful waters. Most restaurants and bars have beach beds available for hire at reasonable prices. 
Although Unawatuna beach is not the best beach in Sri Lanka for sunbathing, it is excellent to catch the sunset. Head to Unawatuna Beach, grab a cocktail from one of the many beach bars that line the seafront and watch the sunset! Perfection! Many other beaches around Unawatuna Beach are perfect for chilling.
Visit the Japanese Peace Pagoda for Sunset.
The Japanese Peace Pagoda is a wonderfully serene place to visit in Unawatuna. Because of its location, it is also an incredible location to catch the sunset. At this time of day, you will capture beautiful lightning and also some awe-inspiring local traditions. 
The meaning behind the Pagoda is to symbolise peace, respect and love. There is also another statue to remember the lives lost in the 2004 tsunami.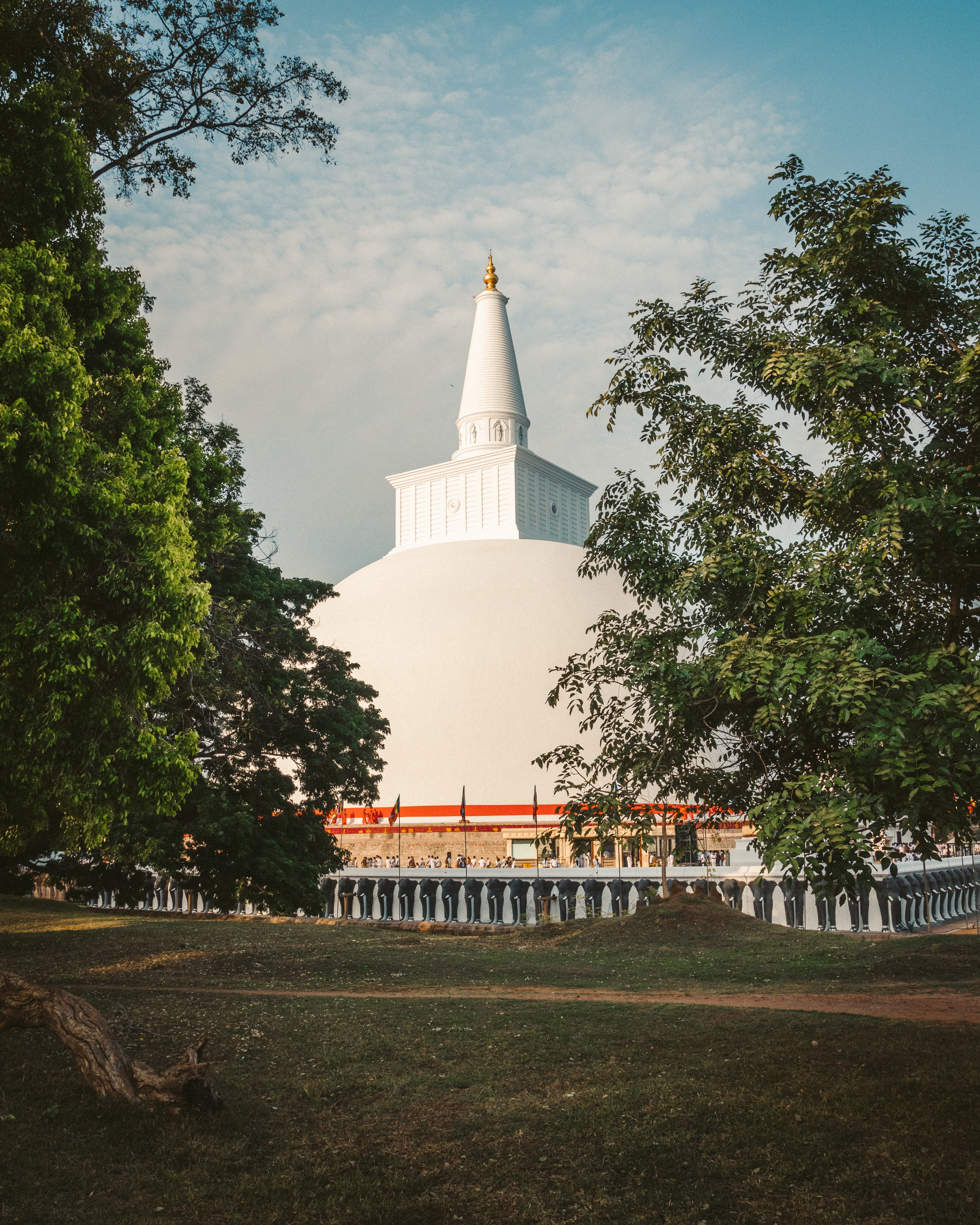 Explore Jungle Beach
Only a five-minute walk from the Japanese Peace Pagoda sits Jungle beach. The route to this beach is just as exciting as reaching the beach itself. Although this beach is growing in popularity, we think it is worth it for the adventure. A small trek through dense jungle and foliage following only a faint trail will lead you to this beach. When the foliage breaks and opens up, you will find Jungle Beach in all its glory with stunning views of Galle Fort. 
From Unwatuna beach itself, it is around a 20-minute walk. 
Jungle Beach is also a great sunset spot and also excellent if you wish to go snorkelling. A coral reef is located just a few meters from the beach! You can swim here without worrying about undercurrents (which are rife in Sri Lanka) due to the protective nature of the coral!
Eat Tacos and drink Margaritas at the Hideout Unawatuna. 
The Hideout in Unawatuna is an incredible location to head to for excellent Margaritas and Tacos. They have a great range of vegan options and plenty of vegan desserts. Their cocktails are great, as well as their food. 
Where | The Hideout Unawatuna
Must-Try Dishes | Tacos
Delectable Cocktails | Spicy Passion Fruit, Coconut Lime Margaritas
Learn to Surf in Unawatuna 
Unawatuna is a great place for beginner surfers. Bonavista Bay Surf Point is the perfect place to learn to surf. Going with a local surf school allows you to get the most out of surfing at this location. The reef has some artificial elements to protect a nearby temple. For this reason, it is excellent for beginners. 
Where | Aloha Sun Surf School
Prices | Very Reasonable Prices
More Information | Check out their TripAdvisor here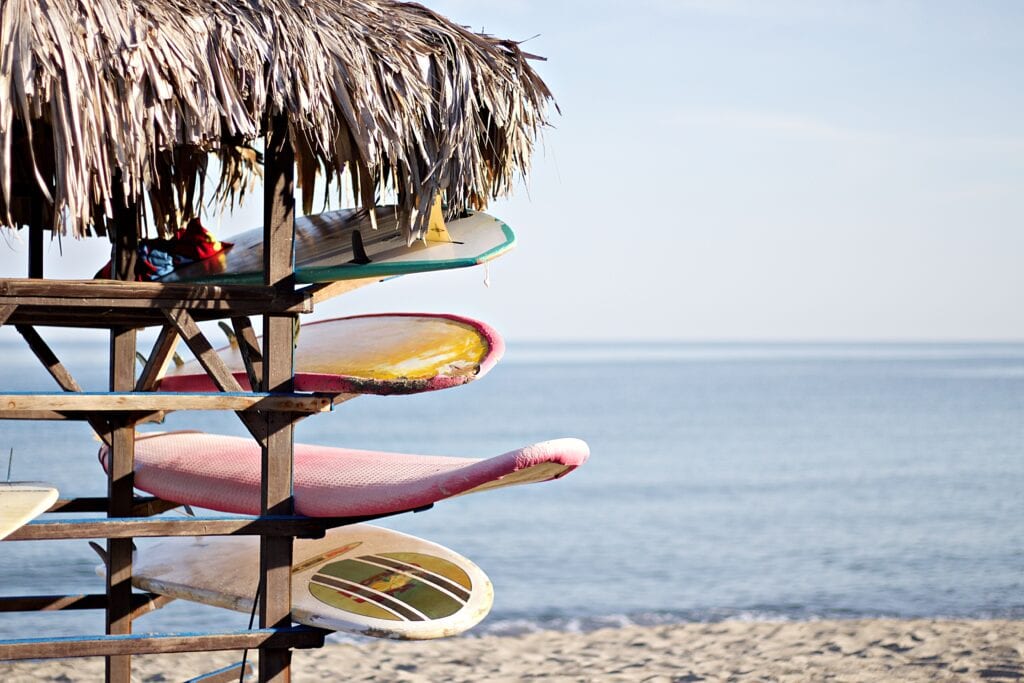 Devour Gelato from Love Gelato 
Experience a slice of the Amalfi Coast in Sri Lanka. Get some gelato and walk along the beach. With great vegan options, too, there is something for everyone.
Where | Love Gelato
What to order | Coconut Gelato
More Information | Check out their TripAdvisor here
Explore Galle Fort
Galle Fort is impressive to visit at sunset or sunrise. Sunrise is best for avoiding crowds! Galle fort is quite a popular destination, so plan your visit accordingly. This incredible dutch fort is so well maintained and has such a beautiful atmosphere. 
There are loads of incredible restaurants and shops in the surrounding area, so the perfect spot to spend half a day or so.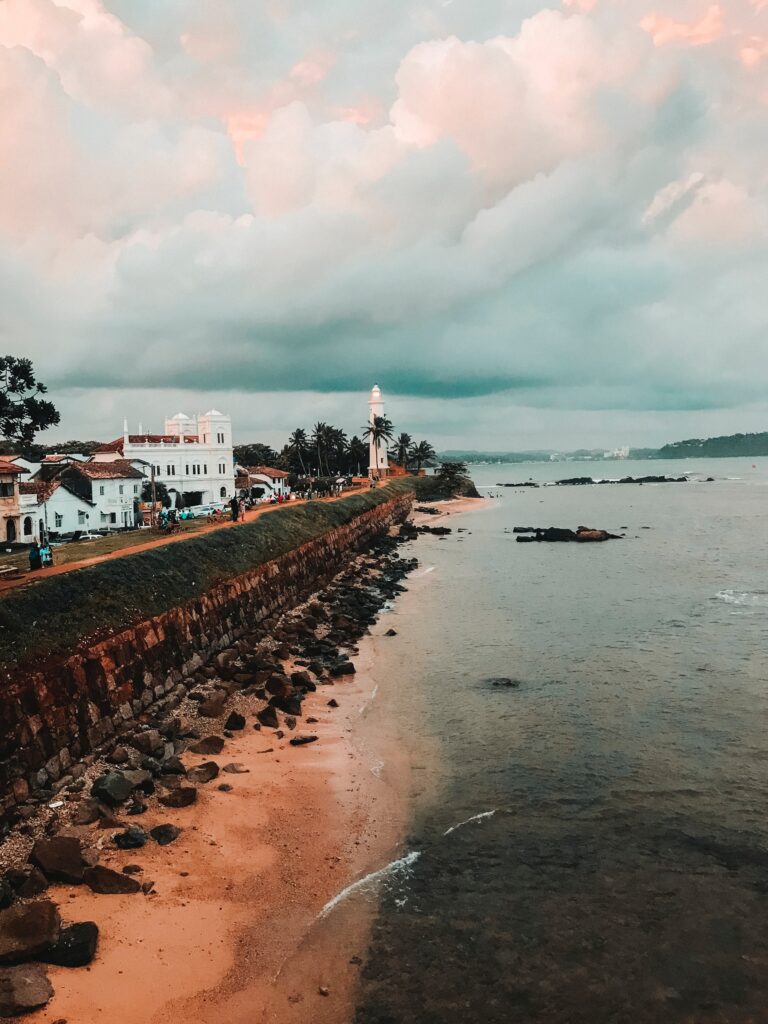 Head to the local fruit and food markets
The local fruit and food markets are the perfect place to visit after Galle Fort. As you walk through the markets, every sense is heightened. The intoxicating smell of fresh fruit and every colour imaginable laid out in baskets. This market is raw but beautiful. Walk around and try all of the exotic fruits, especially those you have never seen! It is worth noting that the fruit prices here are slightly higher than the fruit stands you will see by the roadside. But it is worth it for an excellent experience.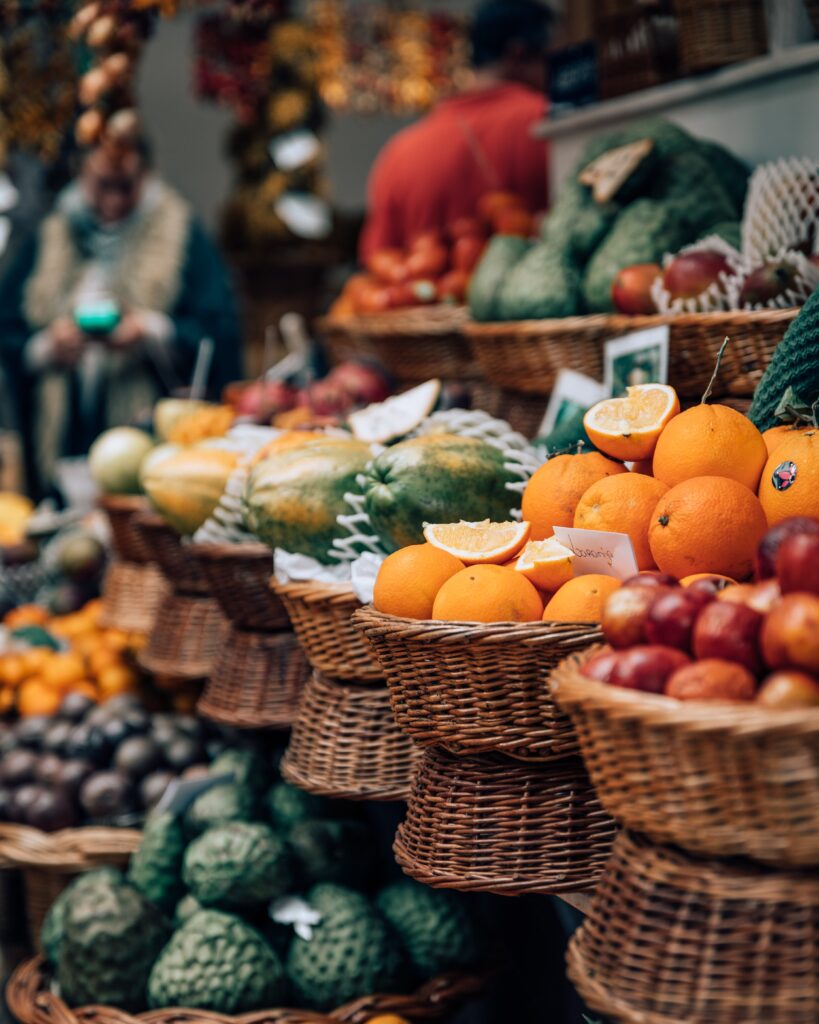 Indulge in a fancy brunch at Skinny Tom's Deli
This place has an incredible menu that is simply a must for breakfast whilst in Unawatuna. They have great coffee and vegan options. 
Where | Love Gelato
What to order | Coconut Milk Latte, Plain Hoppers and Curry.
More Information | Check out their TripAdvisor here
Explore the Quieter Beaches around Unawatuna 
If the main beach gets too busy or for a change of scenery, go around the bay to any following beaches. Mihiripenne Beach (Turtle Beach), Playa Magica or Dalawella Beach. These beaches are generally quieter. Here is also where you will find the Instagram famous 'The Frog Rock', 'Dalawella Rope Swing' and the 'Stilt Fishermen'.
The Frog Rock 
Depending on the day you come, expect to wait to clamber up the rock to grab a picture! The best time of day is sunset, but of course, it will be busier. We chose to head here really early in the morning, and we didn't have a queue.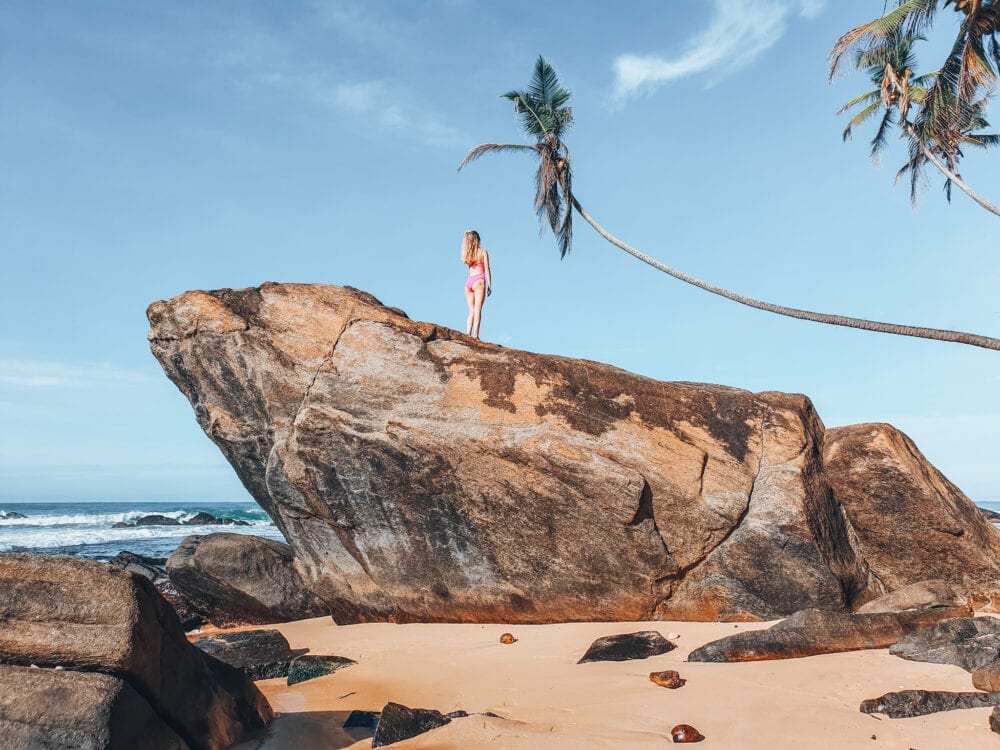 Dalawella Rope Swing 
Don't get us wrong, swinging on a beach in Sri Lanka is an incredible experience, even if it is a bit gimmicky. 
There are three things you will need to know. 
 You have to pay for the privilege of 500 Rupees (around £3) per person to have a go. Depending on how busy it is, you will be allocated a certain amount of swings!
It will hurt! There is one large foot loop to stand in. Not everyone can get up and hold themself in place to pose, and when they do, it'll only be for a short period. Better getting snapping fast! 
There is a much better swing just around the corner on a nicer beach, 'Mihiripenna beach'. They do not charge for the use, it's a lot quieter, less if no queues and IT HAS A SEAT.
Mihiripenna Beach
Take around 10 minutes on a TukTuk to reach from the main beach of Unawatuna and only a short walk from Dalawella beach.
Stilt Fishermen 
The fishermen sit above the waves on stilts, fishing in the sea. You will have to come in the peak season, May to September, to capture these amazing traditions.
Insider Tip: In this area, most of the men on slits are not fishing anymore, and they do this purely for tourists! If you chose to capture a picture, leave a tip.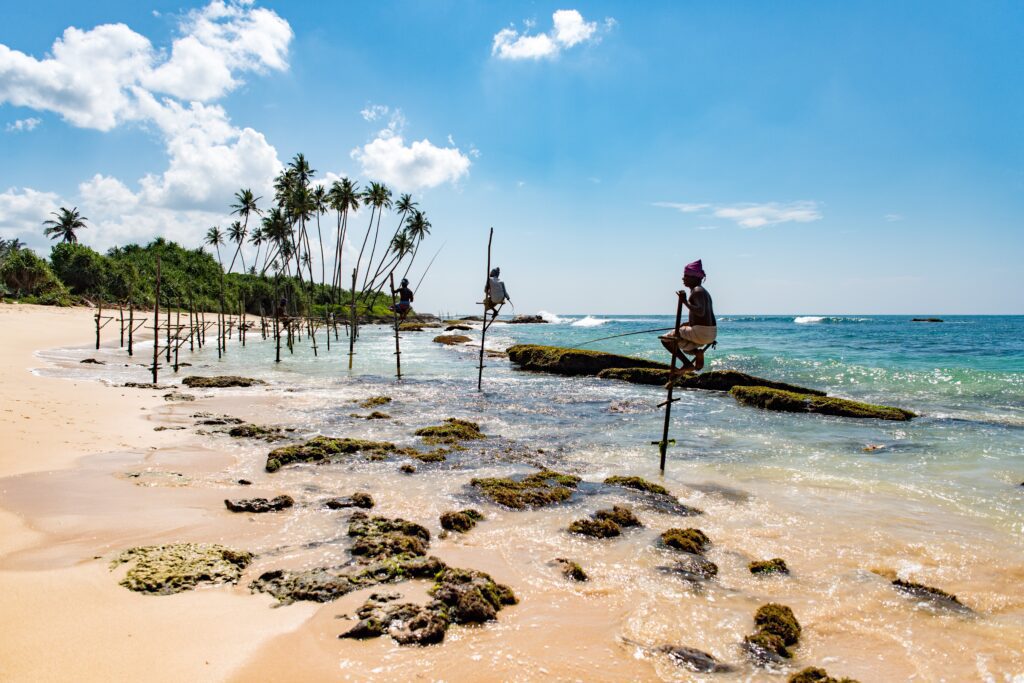 Eat Incredible Pizza from La Boheme 
Tasty pizza and beautiful interior. What's not to love? With an abundance of vegan options and pizza cooked in an authentic pizza oven, head here if a pizza craving hits!
Learn how to cook Sri Lankan food and enjoy a traditional feast
At Sea Waves Restaurant, you can learn to cook traditional food from a local family with many secret recipes up their sleeves. Or you can come here and watch your food being cooked and eat some delicious meals. Their food is some of the best in the whole of Sri Lanka and gives you a real insight into local cooking. 
Our favourite Sri Lankan dishes (that can all be made vegan):
Pumpkin Curry 
Plain Hoppers
String Hoppers and Yellow Dahl
Kottu Roti 
Places to Stay in Unawatuna Beach
Being a major tourist destination in Sri Lanka, there are plenty of choices for accommodation. There are so many Guesthouses, hotels and villas you can choose from.
Hotels in Unawatuna, Sri Lanka
During our time in Unawatuna, we chose to stay in a hotel. The location was perfect for us, and we had incredible views of the sunset. 
The rooms are nice and come with a balcony. It is the sunset views that sell this place. It is reasonably priced, and you can walk to the beach. There are also lots of restaurants within walking distance. However, it is far enough away that this hotel is peaceful. 
Check out prices and book a room here.
The Best Airbnbs in Unawatuna, Sri Lanka
This top floor apartment is simply stunning. With a gorgeous balcony with sea views, this apartment is simple yet elegant. 
Sleeps | 4 Guest
Size | 2 bedrooms / 3 beds / 1 baths
Price | Check out the latest prices here.
This Airbnb is so luxurious and ideal for those looking for a private villa to relax. 
Sleeps | 4 Guest
Size | 2 bedrooms / 2 beds / 2 baths
Price | Check out the latest prices here.
Homestays in Unawatuna
A homestay is an incredible way to get an insight into the lives of a Sri Lankan family. It is a very humbling experience and budget-friendly!
Hostel Honey Packers
How to get to Unawatuna
Colombo Airport to Unwatuna 
Bus 
Train 
Taxi 
How long do you need in Unawatuna?
Where to go after Unawatuna 
Want more surfer and cool cafe vibes? Hiriketiya bay is the next place you should head to. 
Are you planning a trip to Unawatuna? Check out our Hiriketiya guide to see if this beach destination is for you. 
Udawalwe Safari 
Head into the Jungle for some Elephant and Crocodile spotting. 
Hikkaduwa 
You can catch the bus from Unawatuna Beach to Hikkaduwa for around 50 Rupees, and it will take around an hour. 
Summary of Unawatuna Beach, Sri Lanka
Unawatuna in Sri Lanka is such a fantastic and unique destination. It was one of our favourite beaches in the south of Sri Lanka. The beach and urban jungle clash makes it a perfect blend of buzziness, but serenity is easy to seek out. 
Check out our other Sri Lanka Posts here: