This blog post contains affiliate links. As an AirBnB associate we may earn a small commission to fund our coffee drinking habit if you use these links to make a purchase. You will not be charged extra, and you'll keep us supplied with caffeine. It's a win for everyone, really. Check out our Disclosure policy for more.
The island of Kefalonia is the largest in the Ionian sea. It is the only Greek island to have a national park, and it is home to two different turtle species. Kefalonia is such an incredible island will such diverse offerings. One side of the island has beautiful golden sandy beaches, and the other side is full of white pebble beaches. This island has the most rugged landscape yet full of impressive pine trees framing every road. Pastel coloured harbours surrounded by the bluest water. With many tourists overlooking Kefalonia and heading to Zakynthos' neighbour island, Kefalonia is typically a lot quieter than other Greek islands. Here is our complete travel guide to Kefalonia island.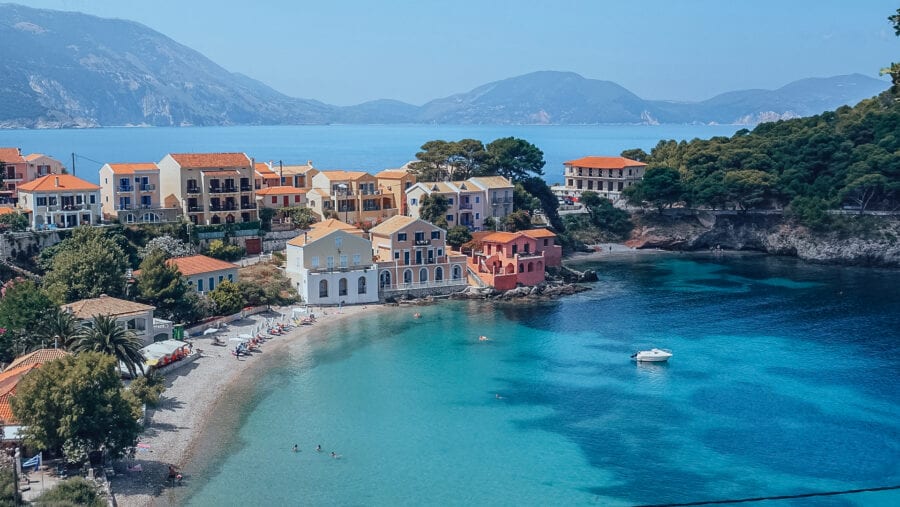 How long do you need in Kefalonia?
Compared to some other Greek islands, Kefalonia is quite large. There is plenty to see on this island, so you want to make the most of it. We would recommend staying for a week at the minimum, but many tourists come for day trips or even for a long weekend.
Travel Guide to Kefalonia: Things to do
First up on our travel guide to Kefalonia is a guide to the best things to do in Kefalonia. Because of this islands diversity, you can spend one day hiking a mountain and the next day relaxing on the beach, soaking up the sun.
Hike up Mount Ainos and Explore the National Park
Kefalonia is home to the only national park to be situated on a Greek island. This national park spans over 3000 hectares and is the hub of Kefalonia's biodiversity. The park is covered in beautiful black pin trees and Greek Fir. A fir species called Abies Cephalonica exists only in Kefalonia and covered two-thirds of this stunning National Park.
There are also wild ponies that call this National Park home! We were fortunate enough to have two sightings of these rare ponies. Hopefully, you will be able to spot them too.
Climbing the mountain itself is relatively easy. You can drive most of the way up and then follow the well-trodden path. The highest point of the mountain reaches 1,628 meters! On clear days you will be able to see as far as the Peloponnese, Ithaca and Zakynthos. The hike up is worth it for the incredible views.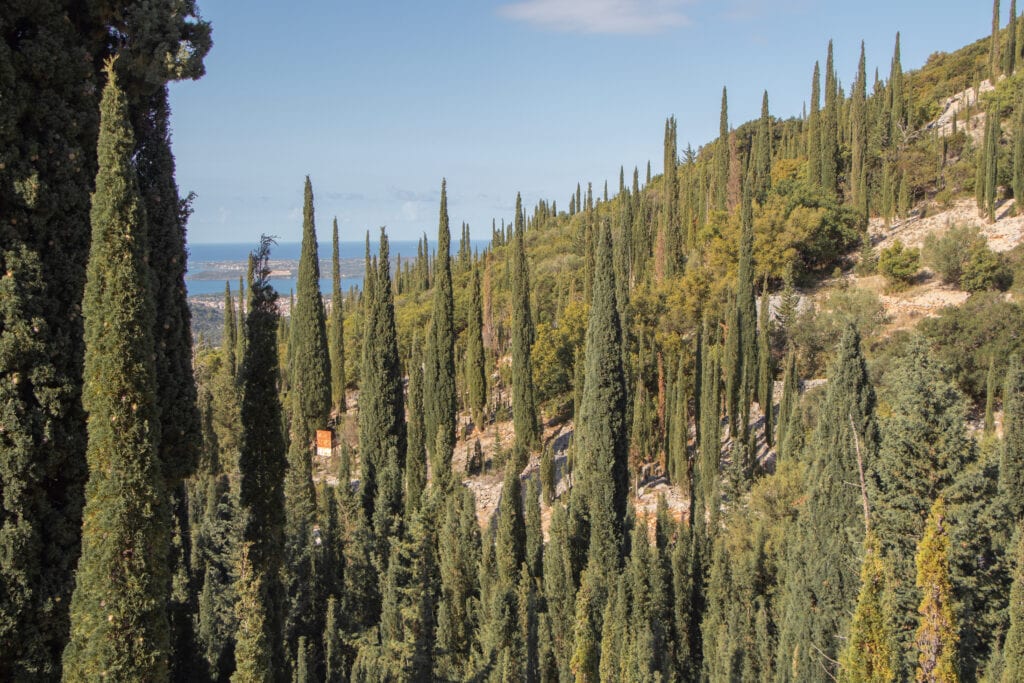 Melissani Lake
Melissani Lake in Karavmylos is a must when exploring Kefalonia. The lake is set in a cave with an opening directly at the top. At certain times of the day, the sun shines through the cave and illuminates the water to a bright turquoise!
There is a free car park right by the entrance to Karavmylos. After you have brought your tickets, head down into the cave, you will be greeted with a fleet of stunning old wooden boats floating on the water. Depending on how busy it is, you might be lucky enough to get a private tour. We visited at the end of the season (October) and were lucky enough to have this place to ourselves. At peak season, be prepared to queue and to share a boat with others. The tour lasts around half an hour, and it is a magical experience. Despite the fact this cave can be busy, Melissani cave is still certainly one of the best things to do in Kefalonia.
OPENING TIMES AND PRICES
The cave's opening hours depend on the season, as there are few visitors during the winter. During the summertime (May until the end of October), the caves are open from 9 am each morning until 7 pm. However, during the winter season, the caves only open on Thursdays and the Weekend days, from 10 am and close at 4 pm.
The cost is 7 euros per person and includes the price of the boat trip.
The best times to visit the lake are around midday. This is when the sun shines through the opening in the cave roof to illuminate the underground lake's waters. From 11:30 am until 2:00 pm are the best. The earlier you arrive, the more likely it is the crowds will be less.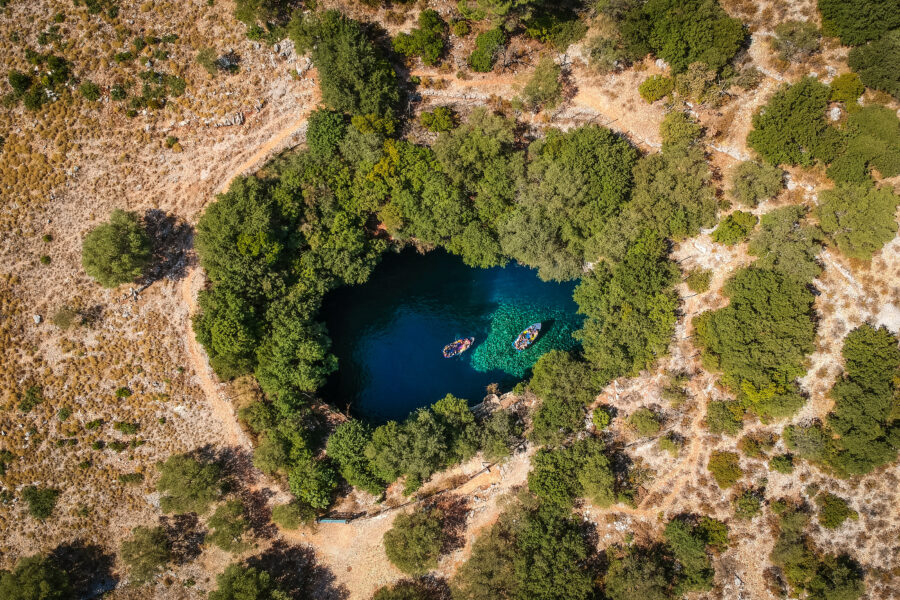 Hire a boat and explore the Hidden Beaches
There are so many places across the whole of Kefalonia where you can hire boats. We hired one from Fiskardo, but there are also many rentals in Sami, Agia Efimia and many other places.
There is no denying the best way to experience Kefalonia is by boat! With so many beaches only accessible by boat, this is a great way to access them. This company has some really reasonable prices and provides lots of guidance on the best places to head too.
Our Top Hotels in Kefalonia
Hike to the Castle of Assos
The castle in Asos is a stunning example of Venetian Architecture. Although it is mostly ruins today, certain parts are well-preserved. From Assos itself to reach the castle, follow the path up to the ruins. The route will take you through stunning Olive trees and greenery. There isn't much shade here, so bring lots of water. Make sure to check out the beautiful Arched entrance gate and find some incredible viewpoints over Assos village itself.
Go Turtle Spotting on Koroni Beach
Kefalonia is home to two different species of Turtles. The loggerhead turtle and the green sea turtle. There are a few destinations in Kefalonia known for regular turtle spotting. They can often be spotted in Argostoli harbour following the boats as they make their way into the port. However, Koroni beach is an incredible destination for Turtle sighting that is slightly off the tourist track and a beach loved by the locals. Check out the work that wildlife sense do in Kefalonia to learn about turtle conservation efforts on the island.
Please note: Please only observe the turtles and not attempt to interact or touch them, as with any animal encounter.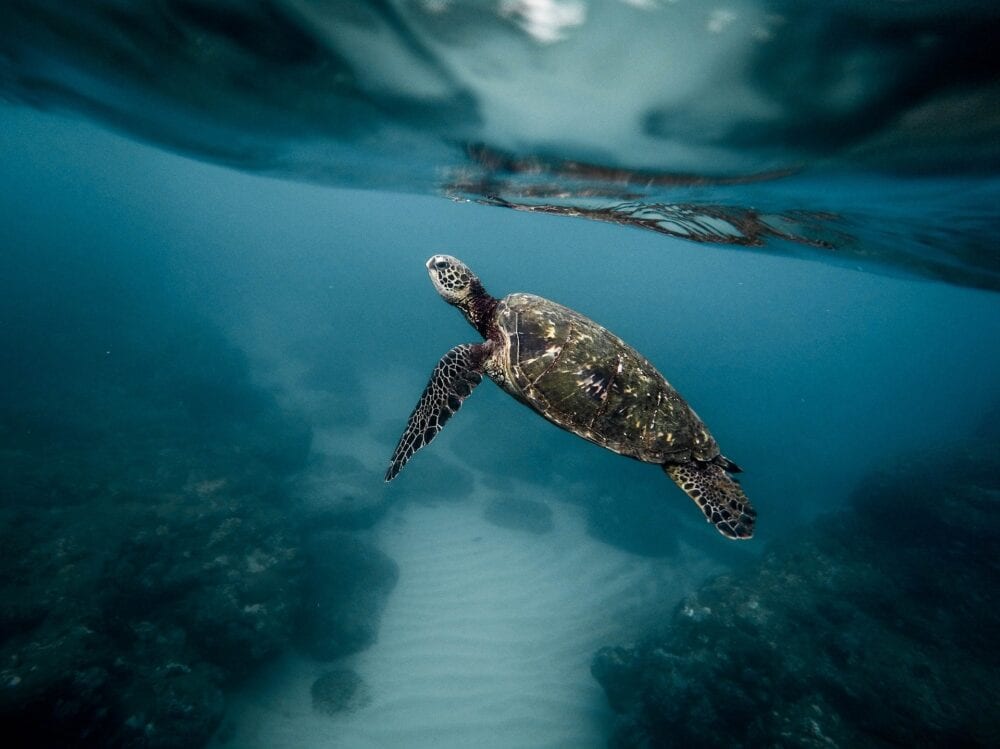 Drive the Coastal Road
The Coastal road between Argostoli and Assos hugs the cliff sides and provides some of the best viewpoints in Kefalonia. The road is never too busy, and many places pull over to get out and admire the views. Many goats call this road home; you will most likely hear the ringing of their bells before you see them. Although, make sure to drive this road slowly to keep the goats safe.
MAKE SURE TO CHECK OUT THESE VIEWPOINTS BELOW: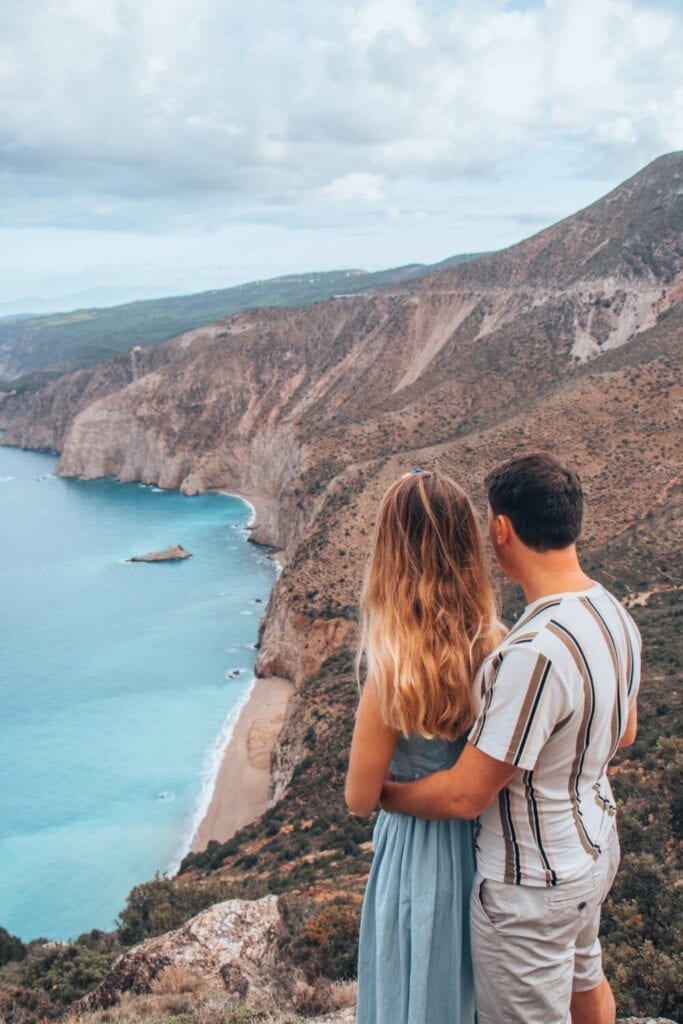 Drogorati caves
These impressive caves are situated in Karamylos near Melissiani lake. The caves are full of beautiful formations and undoubtedly worth a visit. A strong earthquake revealed the entrance of the cave. Karavomylos Lake
Karavomylos is a beautiful lake next to the sea surrounded by a beautiful church, green foliage and an idyllic cafe. This lake is part of a strange geological phenomenon. Waters from the western side of the island travel underground and mix with freshwater making this lake even more beautiful.
Take a day trip to Ithaka
A day trip to the serene island of Ithaka is a must whilst in Kefalonia. This neighbouring island is tranquil and beautiful. It can be really reasonably priced. A day trip to Itaka gives you the chance to spot Dolphins, Turtles and unique birds. Itaka itself is just breathtaking; you will get to experience Vathy Bay and hidden beaches.
The pastel-coloured village of Fiskardo is the absolute gem of Kefalonia. This harbour is simply stunning. Fiskardo has a rich green background and full of Venetian architecture. It is easy to see why this is one of the most popular sports in the Ionian sea. Kefalonia was hit by an earthquake back in 1953. Most of the Venetian architecture was ruined on the island. Fiskardo was lucky enough to escape without the architecture getting destroyed. This makes Fiksardo an exceptional part of Kefalonia.
This village is full of incredible restaurants and cocktail bars
Local food: Nicolas Taverna. This Taverna offers the best views over Fiskardo bay itself. This restaurant is known for its impeccable service and fantastic local food, especially seafood and fresh fish.
Romantic dinners: Irida Café Bar restaurant. They have outdoor seating right by the water's edge, and it makes for a perfect romantic setting. Make sure you try their Traditional Greek Kolokithokeftedes with Skordilla dip. Their produce is as authentic as it can be, with the food brought from the local farms from the mountains of the islands.
Breakfast: Milos/Windmill. One of the few places open for breakfast. There is nothing more perfect than a cup of coffee with the sound of boats in the harbour sitting right by the sea. Heading to the bay early for breakfast gives you a chance to enjoy Fiskardo before the rush of tourists later in the day.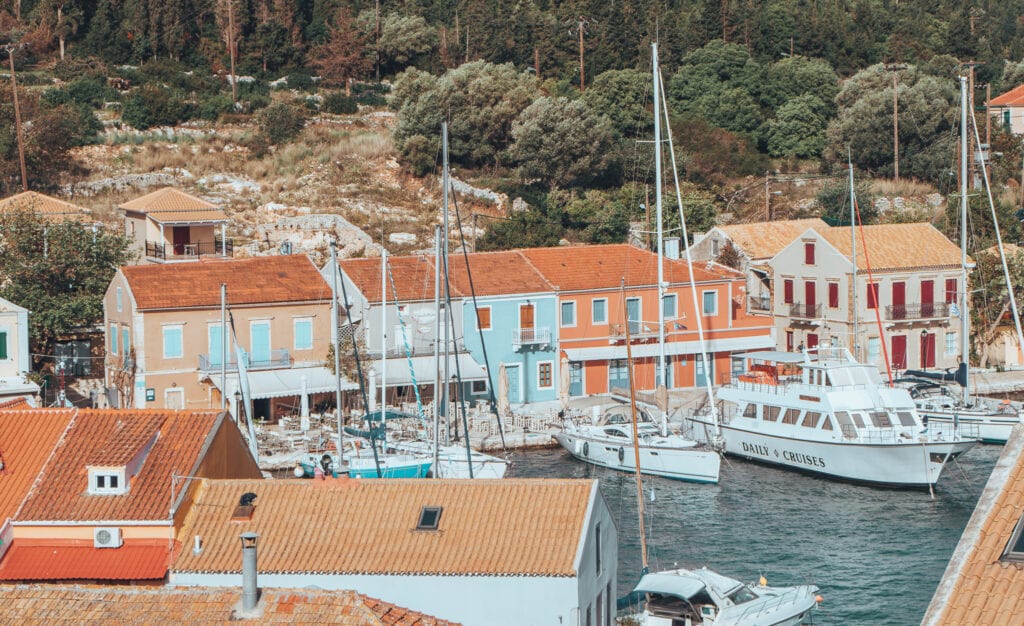 Assos is the most stunning pastel perfect village. Its Venetian style houses sit right on the water's edge. Assos has two beaches and a Venetian castle's ruins with some incredible viewpoints over this picturesque town. Assos is full of magical things to do. Myrtos beach is the most incredible beach on the island, as it is only a quick drive from Assos. Whilst in Kefalonia, visiting this town is an essential addition to your itinerary.
Where to eat in Assos Village
Hellenic Bistro: A restaurant with incredible views of the sunset. Authentic Greek cuisine and friendly service, this is a must-visit when you are in Kefalonia.
Platanos: This restaurant has fantastic food and is great for vegan and vegetarian options.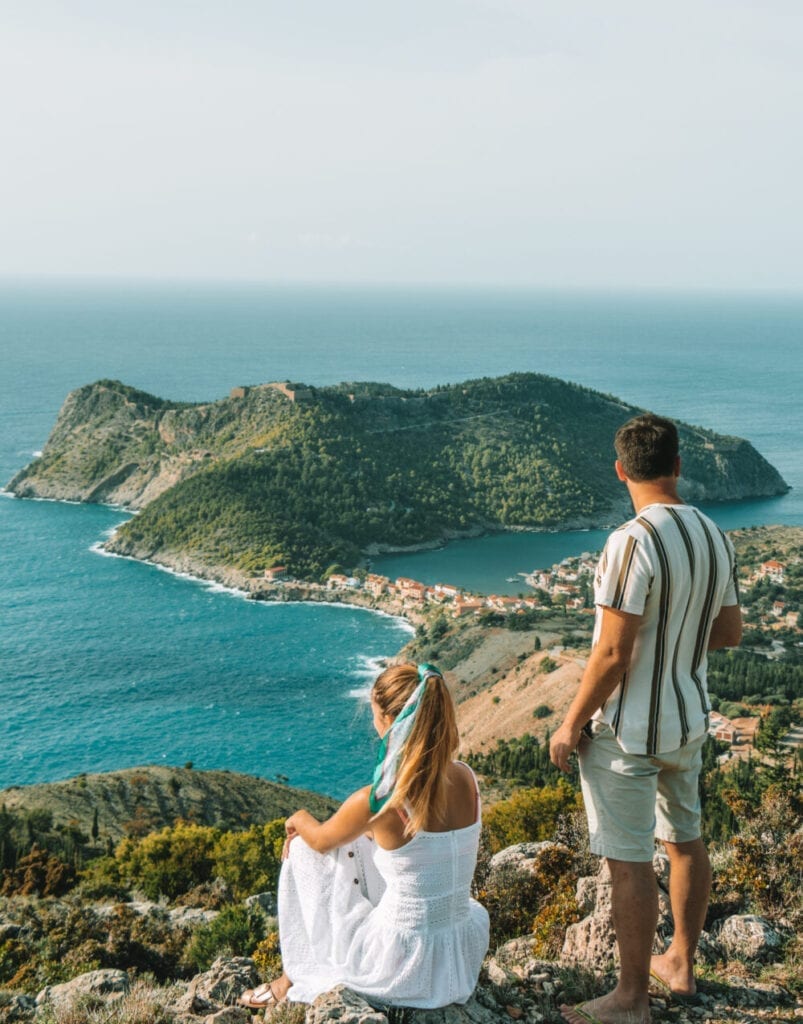 Argostoli, Kefalonia's Capital
This town is the Captial of Kefalonia. It is much busier than other parts of the island and is full of cafes, bars and restaurants.
De Bosset Bridge in Argostoli
This is a fascinating bridge and the largest stone bridge over a sea in the world. It is an excellent place for a walk, and it's an exciting part of the architecture.
Turtles in Argostoli
This part of the island is well-known turtles that frequently appear. Kefalonia has two different types of turtles that call this island home. The loggerhead turtles and Green sea turtles. Turtles will often follow the fishermen boats in the harbour when they return from night fishing. To be in with a chance of seeing them head down early. There is a wildlife conservation group called wildlife sense who focus on turtle conservation.
The best places to eat in Argostoli
El Greco, the best place in Argostoli for local food.
Ampelaki, great for traditional Greek food and caters well for vegetarians.
Libretto, this cute café serves insane Waffles.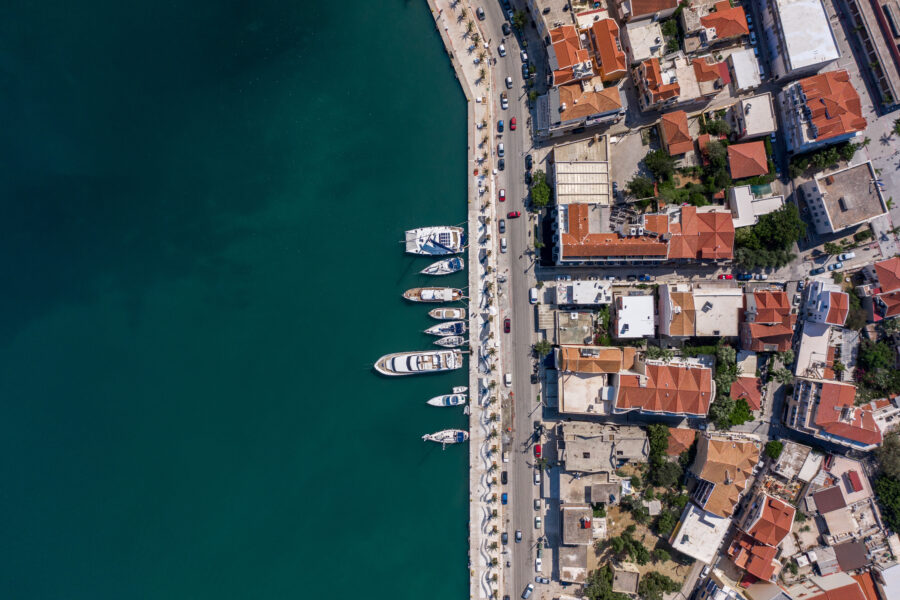 The three towns of Agia Efimia, Sami and Karavomylos, make up Sami bay. We loved Agia Efimia the most, and it is a must add to your Kefalonia Plans. For more information on the other towns, check out our guide.
Once a fishing village, this town has retained all its original charm. It is an intimate and cosy bay with cute houses perched on the water's edge. Agia Efimia is an impressive town lined with cosy taverns and shops with a backdrop of rich green hills.
Paradise Beach Bar – If you visit this small town, you simply must eat at Paradise Beach bar. It was our favourite restaurant out of all the ones we visited during our week-long stay. The views of this restaurant are excellent, and the food was just incredible. If you fancy a treat, order their Chocolate souffle.
The Pergola – If you are looking for incredible local food, this is the place to come. Check out their TripAdvisor.
1. Head to Myrtos Beach, the most stunning beach in Kefalonia.
This beach sits between mount Agia Dynati and Mount Kalon Oros. These two mountains create the most dramatic backdrop. With a backdrop of green, pine, cypress and olive trees, it makes a stunning mix of greens that contrast with the bright blue water.
Mytros beach is well-known because of its outstandingly beautiful blue water. The waves on this beach pick up tiny pieces of Marble, creating a magical effect and illuminating the water. This effect makes the water a shade of turquoise so stunning you will want to jump right in.
Once you make it to Mytros beach, there is an incredible sea cave and plenty of rocks to jump off of. You could easily spend the whole day playing on the beach, soaking up the Greek sun and swimming in the sea. Myrtos beach is the best beach in Kefalonia and a must for any trip to this island.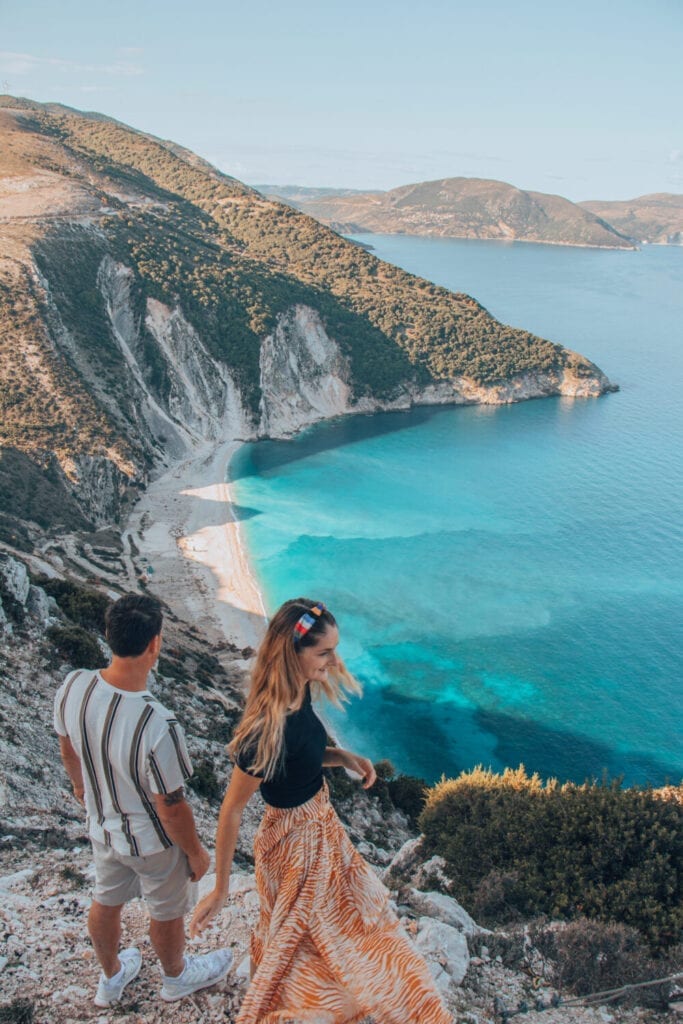 2. Antisamos Beach
This beach is one of the best beaches for sunbathing and swimming in Kefalonia. It is a pebble beach near to the port of Sami. This incredible beach was used as a backdrop for Captain Corelli's Mandolin. There is a stunning backdrop full of green foliage and an abundance of green hills and crystal clear turquoise water.
Visiting this beach bar is a perfect place to spend the day. It is the best place for lunch when spending your day at Antisamos beach.
3. Loutro beach
This pebble beach is a perfect place to relax in Kefalonia. They are surrounded by rich green hills covered in beautiful foliage and trees. The stunning green hills reflect into the crystal clear blue sea. You can walk to this beach from Sami town. Loutro beach is a well-kept local secret, ideal for snorkelling. Swimming in the ocean is only made more memorable by the views of the surrounding scenery.
4. Fooki Beach
This stunning beach is so unique. it is very different from your typical Greek beach. It is surrounded by oak trees and cypresses, creating a protected cove. The beach is shaped in a sheltered bay, meaning you are protected from winds and with clear water to swim in. Fooki beach is really close to the colourful town of Fiskardo. This town was one of our favourite towns in Kefalonia. It is full of incredible places to eat and cocktails bars to end your day in.
Check out our Guide to Fiskardo to read more about this magical town.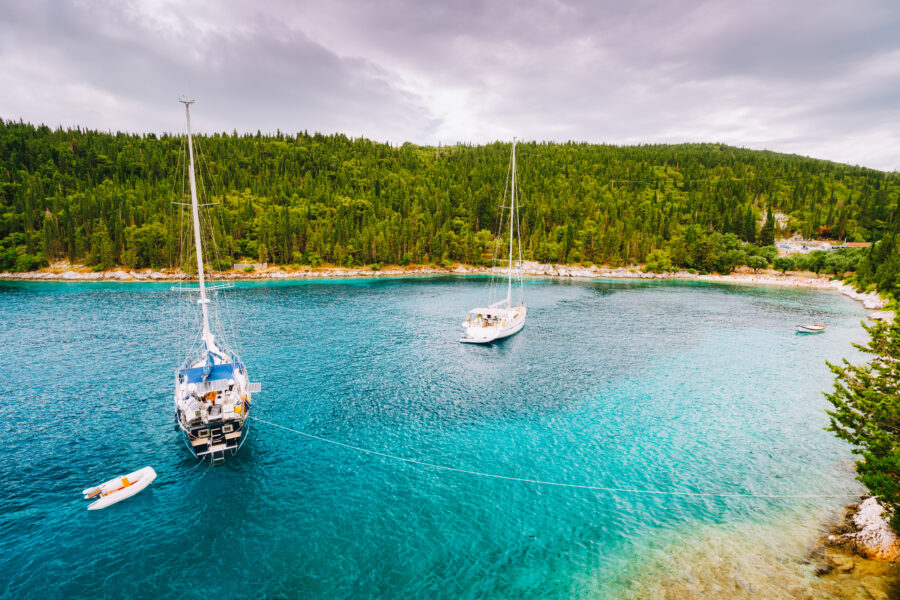 5. Makris Gialos Beach
This is a beautiful beach. It was perfect during the low season. This beach was peaceful and quiet at the time we visited. Unlike most of the other beaches on this list, this beach has stunning beautiful golden sand. There is a beach hut called white beach bar that provided a fantastic lunch. Parking is only two minutes away, and it's free.
The only potential downside of this beach is that resorts and hotels surround it. Whilst it was quiet for us, we imagine it might be busier at peak time. This beach is situated really near Argostoli and the Airport. This allows you to visit as part of a trip to Argostoli or on your way to the Airport.
Enjoying our travel guide to Kefalonia? Check out our beach guide here.
Tips for Visiting Kefalonia
Transfer from Kefalonia Airport
When planning your travels to Kefalonia, an important thing to note is that no bus transfers run from the Airport. Whether you hire a car or a moped, make sure to plan your arrival transport ahead of time.
Car Hire
Depending on where to chose to stay in Kefalonia, it might be best to hire a car instead of a Moped. If your villa is up in the hills, some of the roads are very questionable and fairly steep. For this reason, a car makes more sense. We read online that hiring a car just outside of Kefalonia airport is cheaper than any of the car companies inside. However, we found the price differences to be marginal, so we went with a reputable brand inside the Airport. Note: We visited during the COVID 19 pandemic, so our experience with prices might of been different.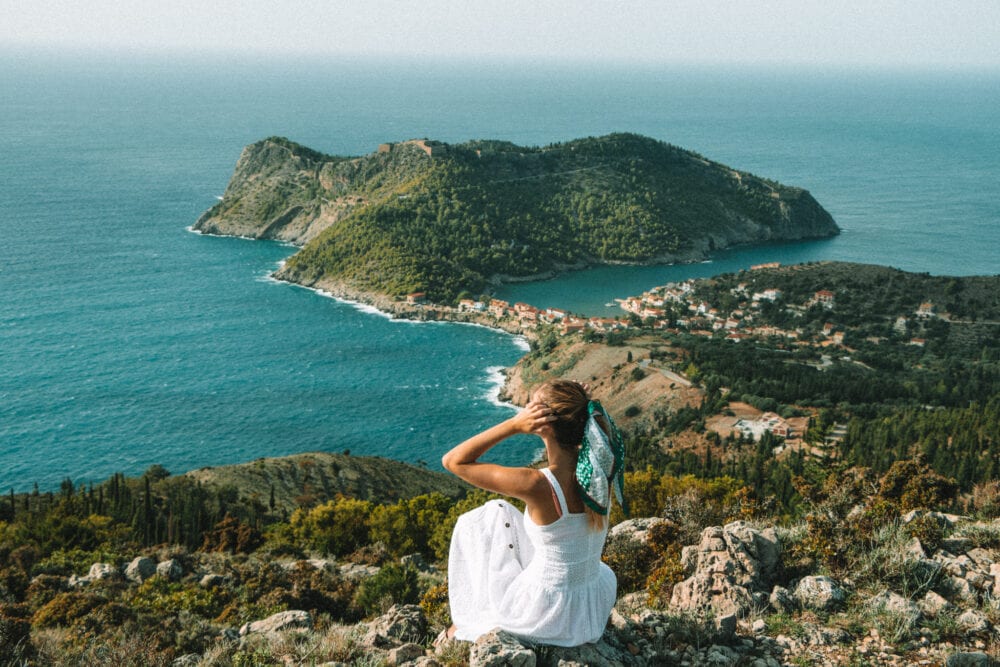 The best area to stay in Kefalonia
If you are coming here to lay on the beach and to have a relaxing holiday, places like Skala and Lassi are more suitable. However, these towns are built for tourists so although they have everything you need, they are also quite commercial.

When we visited, we wanted to be able to explore the towns of Assos and Fiskardo. We also wanted to stay up in the Hills, away from the touristy towns. We chose to stay a 10-minute drive away from Fiskardo in the town of Agilas and one night near Argostoli. This was perfect for heading to Fiskardo Bay for dinner and to the beaches at sunset. It allowed us to explore the towns of Assos and Argostoli easily and conveniently.
We would recommend Fiskardo. It is the perfect place to stay. However, to stay near Argostoli would also allow you to easily explore the island and access sandy beaches.

Sami is also very central and a popular destination to stay in Kefalonia. However, we thought it was too touristy to stay in. Other parts of Kefalonia are more authentic and represent a true insight into the Greek way of life.

Depending on how long you are staying, we would recommend moving around if possible. A couple of nights in different parts of the island makes for a truly unique experience. This will allow you to immerse yourself into island life.
For more check out our guide to the best towns and villages in Kefalonia here.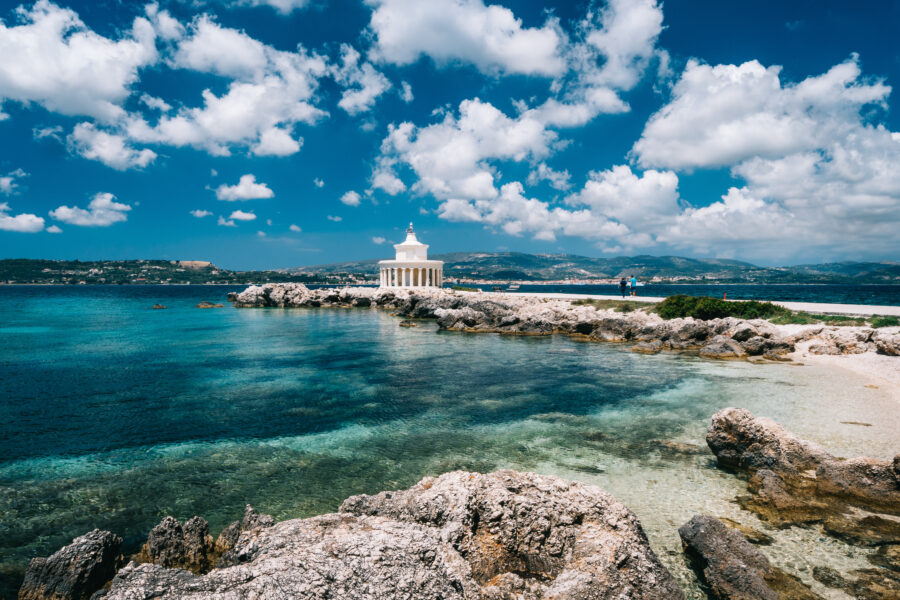 Travel Guide to Kefalonia: Accommodation Options
Kefalonia is full of incredible hotels and villas. We decided to stay in a villa for our week-long stay. The main reason we had a great pool and view of the sunset.
WHERE TO STAY IN KEFALONIA
We found the northern part of Kefalonia to be the nicest. Towns like Fiskardo and Assos are undeniably beautiful and worth the drive up to experience them. Near the Airport is more touristy but has sandy beaches. All of the different towns and villages and lovely in their own right, but Assos and Fiskardo are the most excellent parts of Kefalonia island. Both are easy to get to each other, and Assos sits next to the famous Myrtos beach.
Hotels in Kefalonia
This resort is so beautiful! It is enclosed with cypress and cedar trees and panoramic views of the mountains and sea; this resort is simply stunning.
Perfect for couples and only a 10-minute walk to Fiskardo bay. An ideal location for those looking to have a peaceful getaway only a stone's throw away from the hustle and bustle of Fiskardo Bay
F Zeen is a beautiful hotel near the incredible Loutro beach. This is the perfect combination of luxury and nature and is ideal for couples.
3. Tourist Boutique Hotel Argostoli
If you wish to stay in the heart of Argostoli, this is the perfect place. Right on the water's edge and modern rooms. This hotel is near to eh beach famous for nesting turtles and near to the famous Lithostroto. A historic pedestrian walkway lined with cafes and shops.
Enjoying our Travel Guide to Kefalonia? Check out our guide to the best Hotels in Kefalonia.
Airbnbs in Kefalonia
This Airbnb is nestled within acres of serene cypress trees with incredible views out to Ithaca and Lefkada. This villa is by far the most stunning in Fiskardo. Both beaches of Emblisi and Foki are only 10 minutes on foot. The Best thing about this Airbnb is that it is within walking distance of Fiskardo. But allows you to escape to a peaceful villa protected from the noise of Fiskardo town.
Sleeps: 7 Guest
Size: 3 bedrooms / 5 beds / 3.5 baths
Price: Check out the latest prices here.
The most perfect Airbnb for a couple. The perfect love nest. This villa is perched on the side of Mount Ainos, 2 minutes away from the pretty fishing village of Katelios. Enjoy dinners out on your private terrace. This Airbnb is simply stunning. It is perfect if you are looking to climb Mount Ainos and would like to stay somewhere slightly less touristy than some of the other towns and villages in Kefalonia.
Sleeps: 4 guests
Size: 1 bedroom / 1 bed / 1.5 baths
This Airbnb is so stunning! It is so modern and offers some of the best views of Assos village. This villa has everything that you need for a memorable experience, including a BBQ terrace, romantic setting, insane views, in addition to beautiful details inside the villa.
Enjoying our Travel Guide to Kefalonia? Check out our guide to the best Villas in Kefalonia.
Summary of our Travel Guide to Kefalonia
We hope you enjoyed our travel guide to Kefalonia. The island of Kefalonia is stunning and is an incredible destination for any type of getaway.
What's Next?