This blog post contains affiliate links. As an AirBnB associate we may earn a small commission to fund our coffee drinking habit if you use these links to make a purchase. You will not be charged extra, and you'll keep us supplied with caffeine. It's a win for everyone, really. Check out our Disclosure policy for more.
There are so many incredible vegan options in the Nusa Islands, just off of Bali Mainland. There are more places offering vegan food in Nusa Lembongan and Nusa Ceningan than there are in Nusa Penida. Although we didn't struggle to find good options on any of the islands. We were initially expecting to eat a lot of local food. However, we were pleasantly surprised at what we found after a bit of digging. 
Here is our Guide to the best Vegan Food in Nusa Lembongan and Nusa Ceningan.
Next Level Cafe – Nusa Ceningan
Next Level cafe was our favourite place on the island for breakfast. Run by a local family, they serve beautiful smoothie bowls and local dishes. 
The setting itself is so beautiful, with blue-tiled floors, stunning artwork and quirky teacups. We especially loved heading to Next Level Cafe for breakfast.
What to Order: Yellow Bridge Smoothie Bowl (remove honey and ask for Soy or coconut Milk). Vegetable Nasi Goreng (remove the egg and add Tempe). 
Price Range: Incredible prices!
Check out their TripAdvisor here.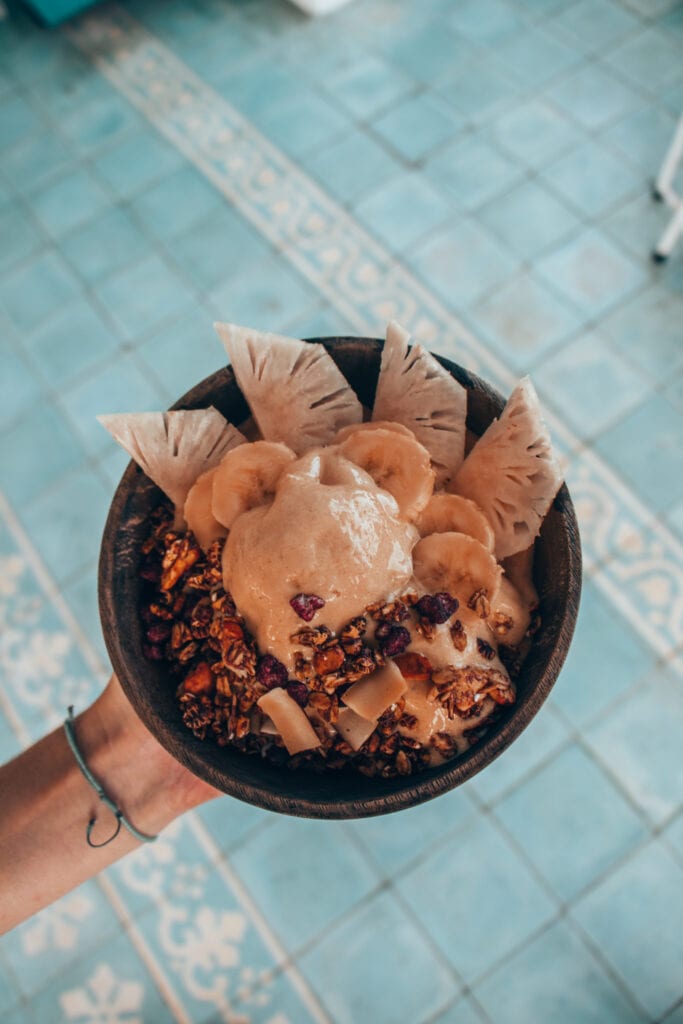 Bali Eco Deli – Nusa Lembongan
Bali Eco Deli has a focus on clean and healthy food as well as sustainability. If you bring a reusable water bottle, you can fill it up for free as an incentive to reduce single-use plastic. 
What to Order: They have a great vegan Green Thai curry.
Price Range: On the pricier side, you will pay around double the price for a local dish.
Check out their TripAdvisor here.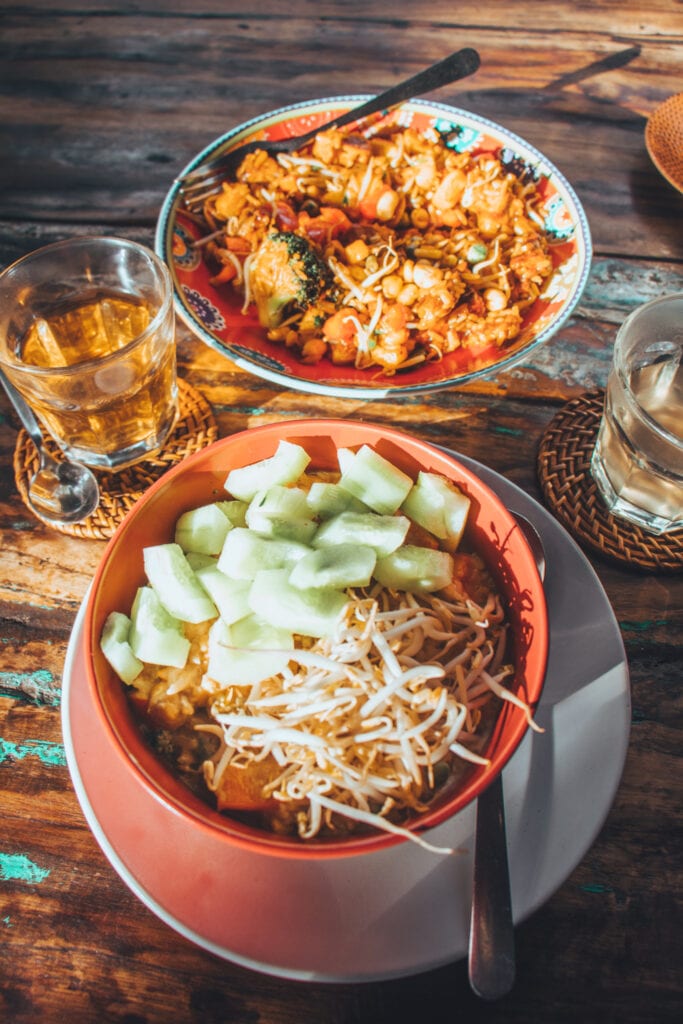 Sea Breeze Beach Bar – Nusa Ceningan
Sea Breeze is a fantastic beach bar on Ceningan island. It's an excellent spot to spend the day as well as eat good food. There are seats right on the sea edge, which is just the most beautiful setting. Their food portions were generous and great value for money. This beach club is also a great spot to view the sunset from.
What to Order: Tofu Curry and Vegetable Spring Rolls.
Price Range:
Check out their TripAdvisor here.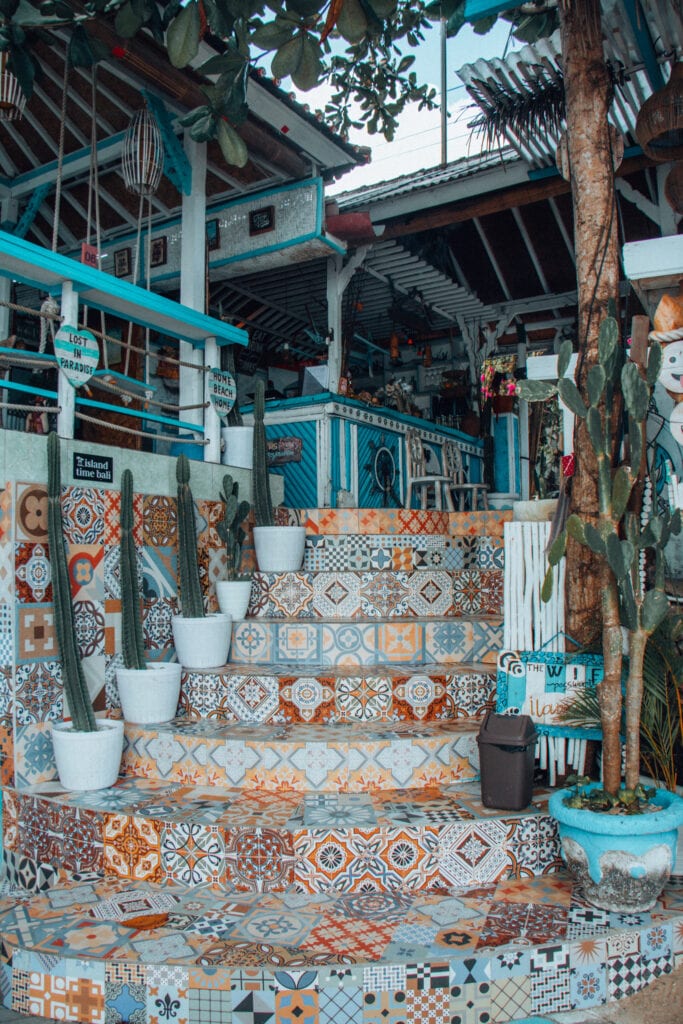 Heading to Lembongan? Check out our top hotel choices here
Zero Waste – Nusa Lembongan
This cute cafe is right on the beachfront. It is a 'toes in the sand whilst you eat' experience. There are a few good vegan options and some additional ones you can make vegan. 
What to Order: Tempe Sandwich, ask for it to be vegan!
Price Range: 
Check out their TripAdvisor here.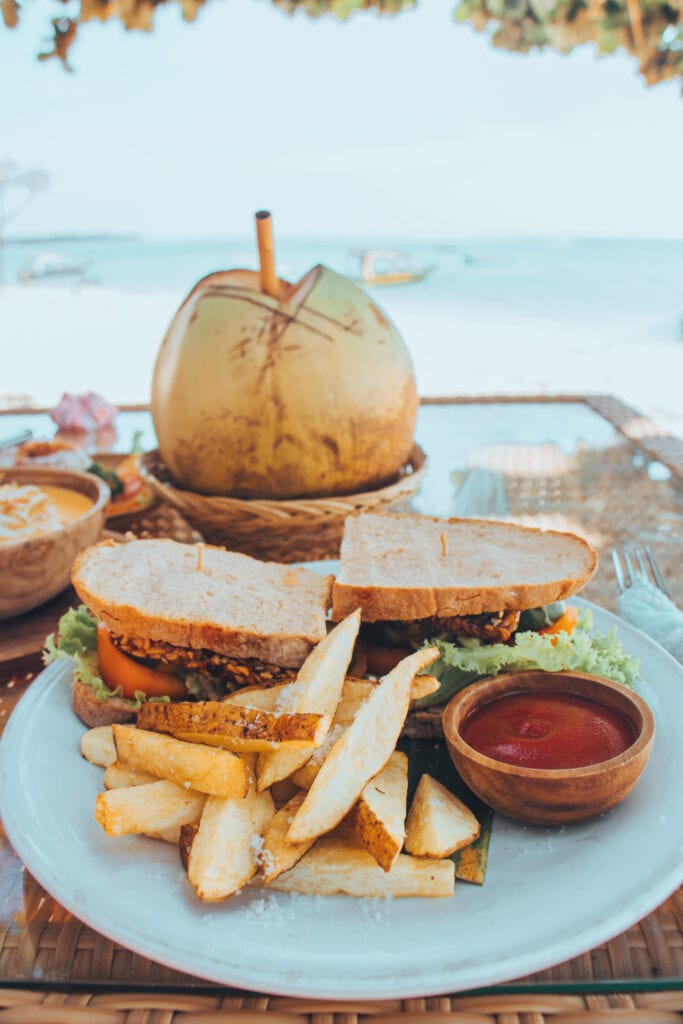 Sandy Bay Beach Bar – Nusa Lembongan
Sandy beach bar is an incredible spot for cocktails. It is the perfect place to chill all afternoon with a beautiful pool and access to Sandy Bay beach. 
What to Order: Jack fruit Tacos and Vegan Chocolate Cake.
Price Range: One of the more pricey spots on the island, but worth it for the magical setting.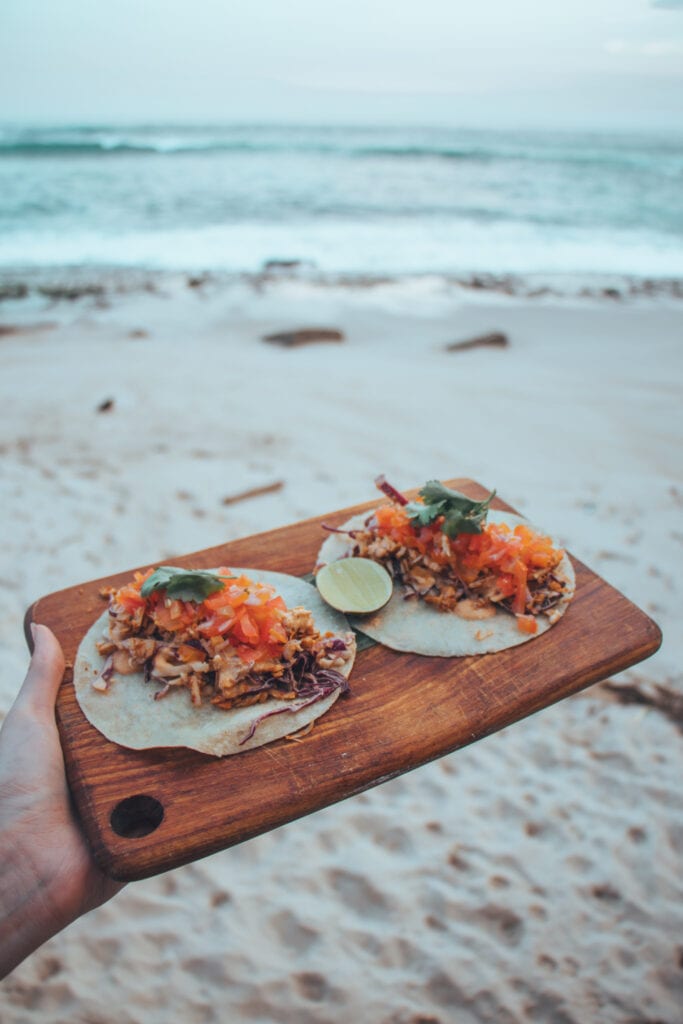 A Guide to the best Beach Bars in Nusa Lembongan and Nusa Ceningan
Of course Sea Breeze and Sandy Bay are both incredible Beach bars as well as places to eat. Here are some others we enjoyed on our visit to Nusa Lembongan and Ceningan.
The Sand – Nusa Ceningan
With its iconic pink swing in the sea the Sand is an awesome place to choose to spend your day.
Ohana – Nusa Lembongan
This cosy beach club is set on one of the most beautiful beaches on the island. This long stretch of sand is really beautiful and a great place to swim.
Le Pirate Beach Club – Nusa Ceningan
A beautiful beach club with a beautiful blue and white theme and stunning pool. It is quite a small beach club but it feels quite intimate and cosy.
Blue Lagoon Klyf Club – Nusa Ceningan
Perhaps our faviourite beach club. This beach club is so classy and sophisicated with an incredible view of the Blue Lagoon. We sat here for hours and if you are lucky enough you might spot a few turtles that call this lagoon home.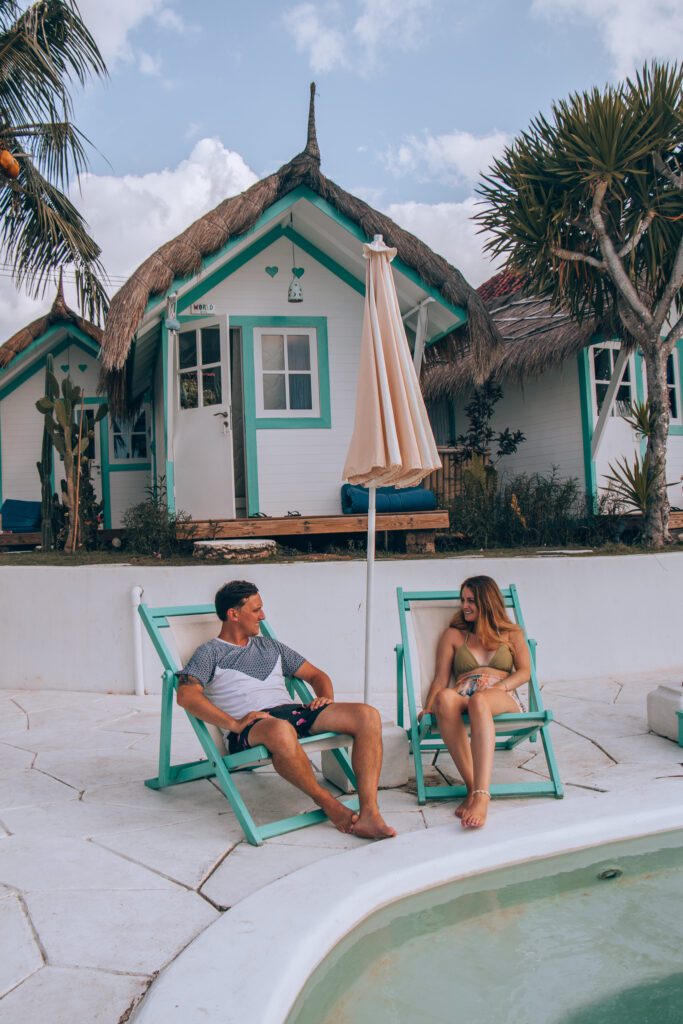 Are you looking to head to Nusa Penida?
Here is a guide to the best vegan spots on this incredible island
Penida Colada: the best place for vegan food in Nusa Penida. What to order: Tempe Burger and an incredible Chickpea curry.
Virgin Beach Club: Okay food but great setting. Order the Tempe burger, ask for it to be vegan.
Coco Penida Bar & Restaurant: We didnt get a chance to eat here ourseleves but heard great things and was strongly recomended by our hotel. Please read our guide to Nusa Penida restaurants and Beach clubs for more. 
How to reach the Nusa Islands
The best and easiest way to reach the Nusa Islands is from Bali. From Bali you can head to Sanur and catch a boat to the islands. The journey is around 30-45 minutes and costs roughly 300 rupiah for a return.
Use Penidago to book your tickets online.
Summary of the best vegan food in Nusa Lembongan and Nusa Ceningan
The Nusa islands are such a great part of Indonesia and so easy to access from Bali. There are fantastic places to eat across the Nusa Islands, with some of the best vegan food we have ever had. No trip to Bali would be complete without taking the time to visit these insatiable islands. 
Check out our other Nusa Lembongan and Nusa Ceningan guides here:
Or our Nusa Penida Guides:
Read our other Bali Guides here: