This blog post contains affiliate links. As an AirBnB associate we may earn a small commission to fund our coffee drinking habit if you use these links to make a purchase. You will not be charged extra, and you'll keep us supplied with caffeine. It's a win for everyone, really. Check out our Disclosure policy for more.
Uluwatu is a gorgeous cliffside location in southern Bali, known for its ideal surf breaks, stunning landscape and beautiful beaches. Whether you're heading to Uluwatu for a long weekend or staying for a while, many incredible places offer vegan options. In this part of Bali, you will be spoilt for choice. From cheap local eats to high-end dinners with sunset views, Uluwatu is not short of vegan food! Here is a guide to the next vegan spots in Uluwatu Bali. 
Ours Bali restaurant is one of our favourite places in Uluwatu. We love the food here so much. A trip to Uluwatu is only complete if we eat at Ours at least once! They serve breakfast, lunch and dinner. We recommend trying all three! If your time is limited, dinner here is unmissable. This restaurant can get quite busy. If you want to have dinner, make a reservation in advance. 
What to order for Breakfast and Brunch: Ours Vegan Pancakes & the Vegan Bowl
What to order for dinner: the vegan burger & the Vegan Chorizo Bolognese
This 100% vegan restaurant is exceptional! The menu offers some incredible vegan options. Alchemy offer primarily raw and all gluten-free options. The best thing at Alchemy is the vegan cakes 🤤 the menu here is quite pricey compared to other options in Uluwatu, but the setting is beautiful, and they even have an outdoor fire in the evenings. 
What to order for Breakfast and Brunch: The waffle bar; pick all the toppings from the Salad bar!
Sweet Treats: The Lemon and Coconut Cake. Honestly, this cake looks like the most boring one out of the lot, but it is just the best! If you like key lime pie, this has a similar taste! 
There are two Nourish restaurants in Uluwatu. Both are part of the same brand. They have clearly labelled vegan options. The one further into the centre of Uluwatu has a pizza oven. Their breakfast and Bruce options are fantastic, with their vegan sunny side egg in the vegan morning glory breakfast burger being a firm favourite for us.
What to order for Breakfast and Brunch: Naughty Nourish Pancakes, Vegan Morning Glory or the Smashed Avo Stack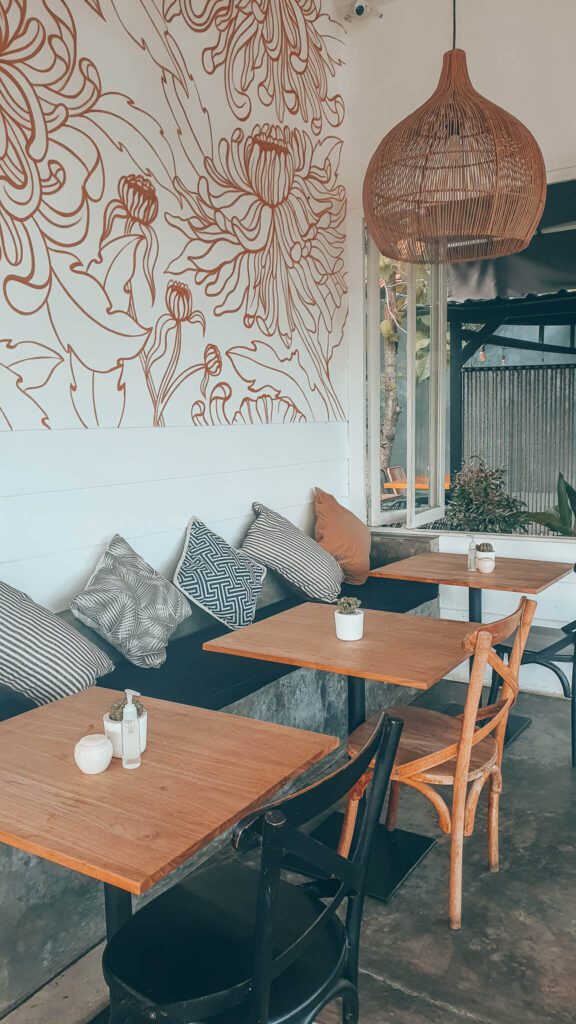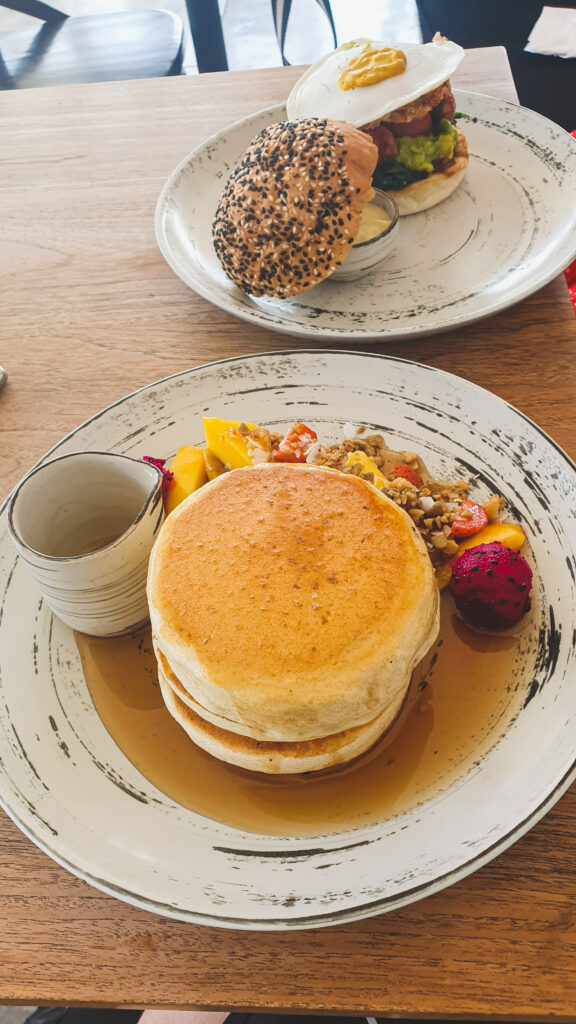 Kelly's Warung – Bingin Beach
Kelly's will always be a special place for us! Right on Bingin beach, we have spent endless nights watching magical ulu sunsets from here! Being steps away from the sand and fresh lunch options, vegan ice creams and bintangs, it's no wonder it's such a popular spot for holidaymakers and ex-pats alike. 
What to order for Lunch or Dinner: Tofu Poke bowl, Guacamole, Smoothies – Divine Coconut
Drifter Cafe
Drifter cafe has a relaxed vibe. Very surfer, laid-back kind of vibes. The cafe offers clearly labelled vegan options, and the coffee is good! Whether you have a meal or window shop and sip a coffee, you are in for a treat. With the cafe at the back and the shop at the front, it's hard not to be drawn in by the gorgeous collection of surfboards and beachwear, a surfers' paradise. 
What to order for Breakfast and Brunch: Avocado Benedict, VBS Vegan Burrito Supreme, Acai Smoothie Bowl
What to order for Lunch and Dinner: Vegan Nasi Campur – we won't lie, for Nasi Campur, this is about as expensive as it will get. However, it's epic! It's a great vegan take on a traditional Indonesian dish, so well worth it in our experience. The Chickpea Chana Masala.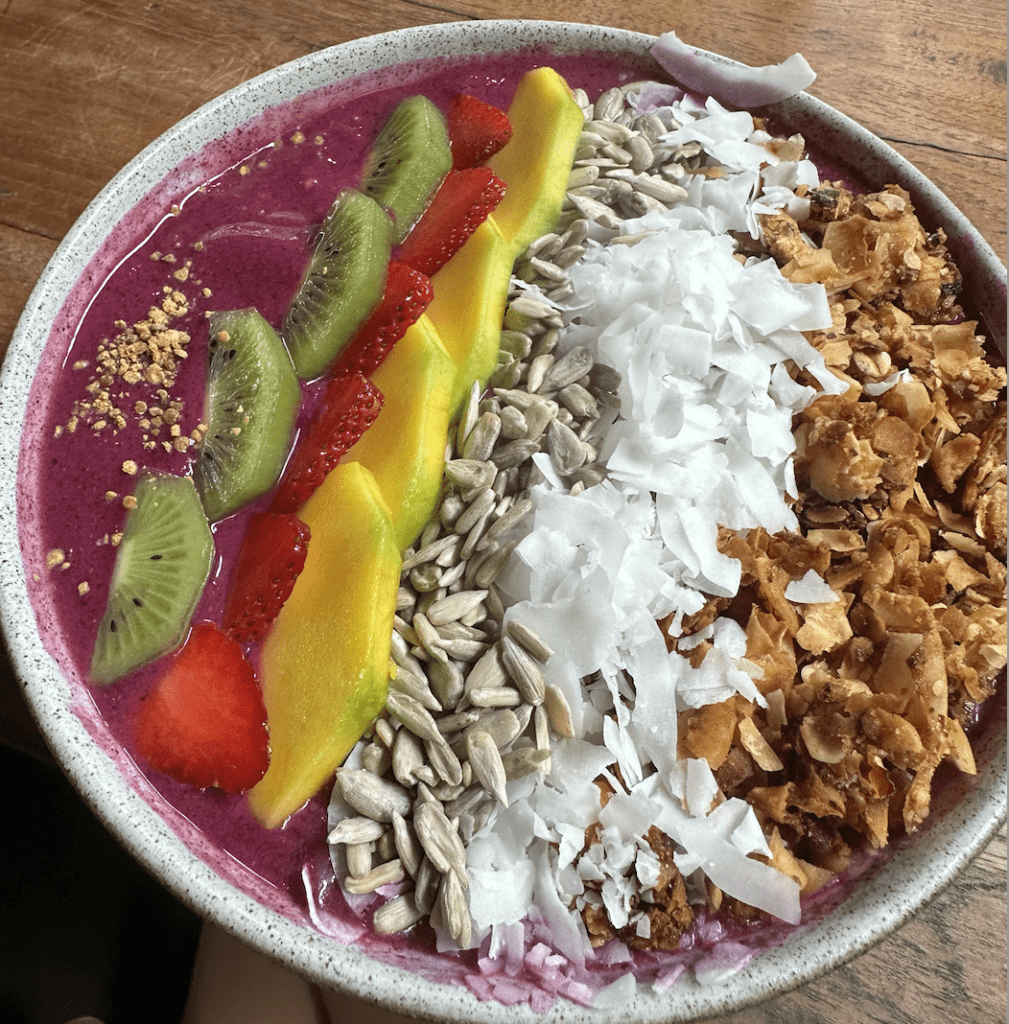 Mana
This place is stunning! With a saltwater pool, you can relax after, and fantastic sea views from the restaurant. It is also next door to one of our favourite spas in Bali, The Istana. You should visit this place for much more than the great vegan options. 
What to order for Breakfast and Brunch: Bingin Smoothie Bowl, Vegan Burrito
What to order for lunch: Cashew Black Bean Burger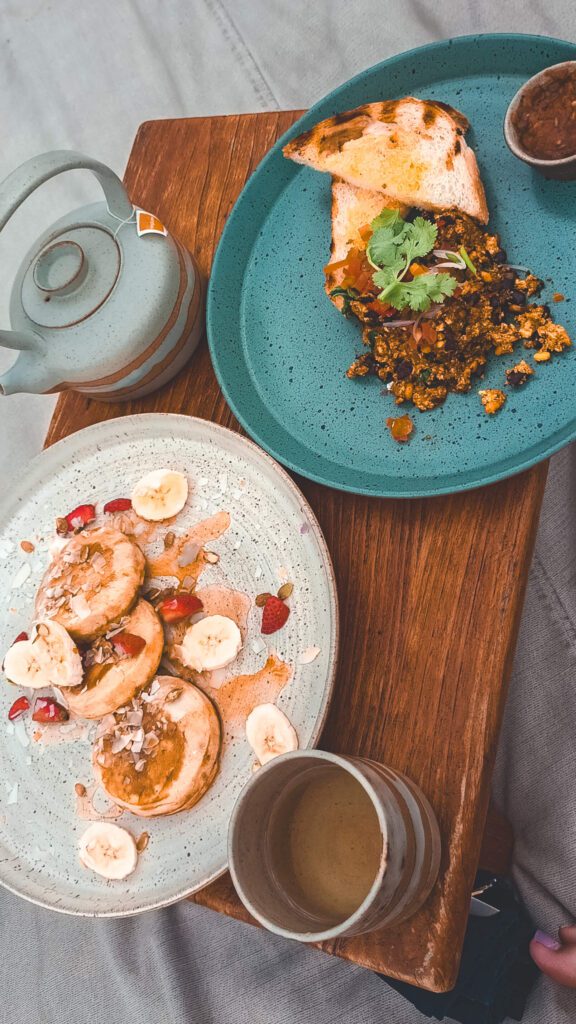 Lola's Catina Mexicana
Frozen margaritas and tacos, anyone?! Lola's Mexicana is the kind of place you walk out of feeling full, tipsy (maybe drunk), and like you have had a great time! 
The vegan options are marked on the menu, and the vegan mayo is incredible! With vegan cheese being available on most options, Lola's Mexicana is about letting your inhibitions go and ordering all the wrong things! 
What to order for Lunch and Dinner: Buffalo Cauliflower Wings, Temphe and Vegan Cheese Empanadas, Build your own Burrito.
What cocktails to order: Frozen Margaritas, ALWAYS!
Warung local
When we leave Bali, we dream about Warung local, so you must go! You cannot go wrong with a Warung local. The food is cheap, with large portions and vegan options. It serves local food but with many vegan-friendly alternatives. It's hard not to go overboard here! All of the vegan options are clearly marked.
Our favourites: chill tofu, baby potatoes, Marinated Tempe, Tofu curry.
Mu
So, they have vegan options here. They could be better for vegan food in Uluwatu, BUT the experience is worth it! We went here for our anniversary, and it was incredible! Could you make a reservation way in advance and ask for a good table? What the menu lacks in vegan options, the cliffside views and sun setting over the ocean more than make up for.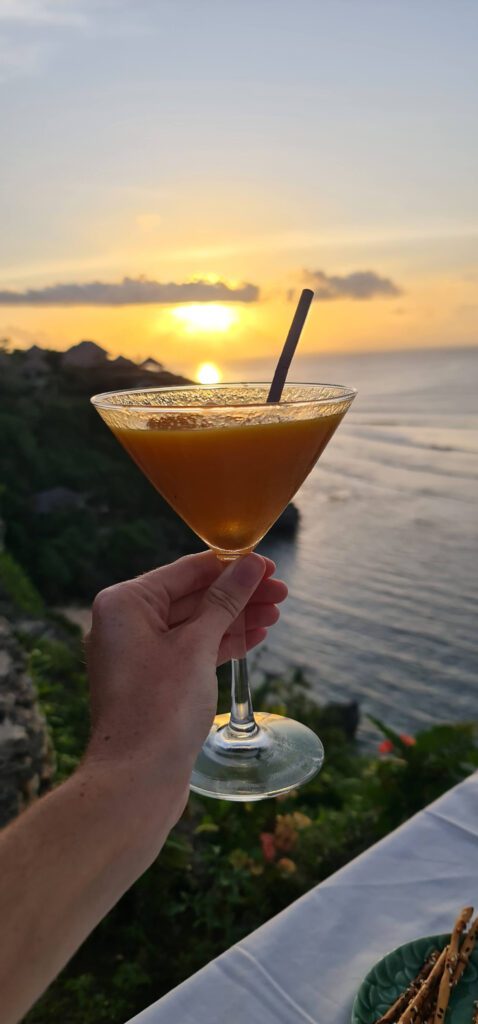 Shaka Riki – Vegan Sushi
Some of the best vegan sushi in Bali! Is there anything better than spending the day in the sun, slightly sunburned sand between your toes and digging into incredible vegan sushi?! Beach days and sushi go hand in hand. This sushi restaurant has a great vegan offering. They have clearly labelled vegan options and more than enough to eat twice. It is worth noting, this place is open from 4pm onwards so for dinner only. It also is very popular so, make a reservation. Trust us, its worth it!
What to order
Shaka Riki have a whole page of vegan rolls and another page dedicated to all their other vegan offerings. Whatever you order, you are in for a treat.
Chela 
Chela is, in a word, a vibe! It is cosy; it's quaint and very Uluwatu! With cushions on the floor with low tables, we love popping to Chela when the rain clouds come over, sitting with a pot of tea and playing cards! Whilst it is a nice place to hang out, the food options are also drool-worthy. 
Summary of the best vegan food in Uluwatu, Bali.
We hope you enjoyed our vegan guide to Uluwatu, Bali. The truth is Bali is one of those places with an ever-changing landscape. With new places popping up every week, new options exist to find and discover. Even after living in Bali for two years, we discover new favourites! 
Now that you know the best vegan food in Uluwatu, why not check out our other Bali Guides here: