This blog post contains affiliate links. As an AirBnB associate we may earn a small commission to fund our coffee drinking habit if you use these links to make a purchase. You will not be charged extra, and you'll keep us supplied with caffeine. It's a win for everyone, really. Check out our Disclosure policy for more.
Are you heading to Ella in Sri Lanka? Check out some of the best waterfalls in this incredible misty mountain region of Sri Lanka. Ella is an ideal destination for anyone looking to explore waterfalls, hike mountains and relax in excellent cafes and restaurants. Here is our guide to the best waterfalls in Ella.
Waterfalls in Ella 
This waterfall is one of the best waterfalls we have ever visited. Although Diyaluma is not located in Ella, it is around an hour drive away but worth it. This waterfall is really impressive from the bottom looking up. However, exploring the top of the waterfall is what makes this destination so incredible.
There are many pictures of this waterfall over instagram, however, no pictures can truly do this place justice. It is so stunning and simply a must visit when in Sri Lanka. At the top there are a few infinity pools that have views right over the edge and are perfect for chilling. As you make your way up the pools get a bit deeper and they are perfect for cliff jumping and exploring. You could easily spend a whole day here exploring and chilling. It really is an incredible destination.
This place exceeded every expectation we had and should defiantly earn pride of place on your Sri Lanka plans.
Check out our complete guide to hiking Diyaluma falls here.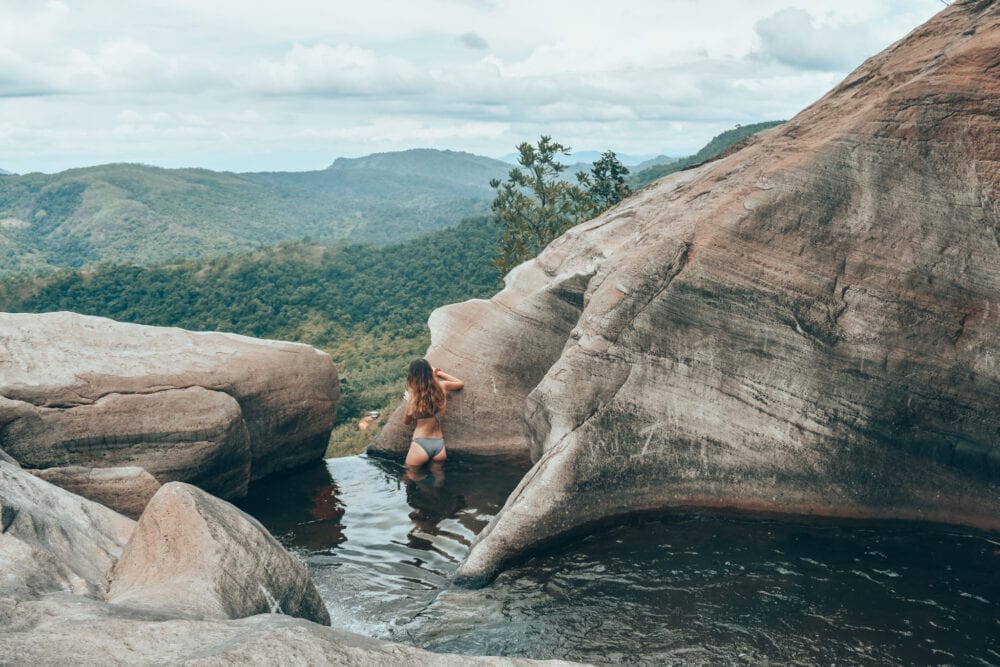 Ravana Falls and Cave
Ravana falls in Ella, perhaps the most well-known and easily accessible! It is straightforward to walk to from the roadside, and for this reason, it can get busy quickly. To make the most of Ravana Falls, head here early. 
The Secret Falls
These falls are not quite so secret anymore. However, they tend to be relatively quiet. This waterfall does not seem quite well-known as other famous falls such as Diyaluma and Rawana fall.
Therefore this waterfall is a great place to come and chill and really enjoy sunbathing on the rocks and soaking up the sun. 
Some of the locals use this waterfall for bathing, so it is worth being respectful if locals are washing. 
Ellawalla Waterfall
This waterfall is situated around 8km away from Wellawaya town hidden in the jungle. We didnt get chance to visit this waterfall ourselves but we heard is a great waterfall to go for a swim and relax in.
Dunhinda Falls
They are known as Sri Lanka's most beautiful waterfall. Around 5km from Badulla and around 27km from Ella itself. It might take around an hour to reach this stunning waterfall but it is so worth it. From the parking area it is around a 45 minute walk down. Again, it is worth sparing half a day if not longer to explore this beauty. There are a few stalls at the bottom so you can by snacks or drinks after the long hike down.
What else is there to do in Ella?
Ella is full of incredible things to do, check out our complete guide for the best things to do in Ella.
Where to stay in Ella
Our top Hotel in Ella
Set in 98 acres of stunning Tea plantations. This resort is designed to blend in with nature and a heavy focus on sustainability and simple elegance. 
Prices: Check out prices here.
check out our complete guide to the best Hotels in Ella for more.
Our top Airbnb in Ella
This Airbnb is just beautiful. Set a little distance from the centre of Ella but surrounded by jungle and greenery. The balcony is the perfect place to read a book and drink a cup of Sri Lankan tea. The hosts here also provide home-cooked meals that are just incredible, better than most restaurants.
Check out our complete guide to the best Ella Airbnbs for more.
How to get to Ella
The Train
If you are coming from Kandy or Nuwara Eliya you can catch the famous blue train. check out our guide to Ella for all the essential information for catching the train.
By Bus
You can also go by bus which is incredibly cheap and a viable alternative if the train is sold out.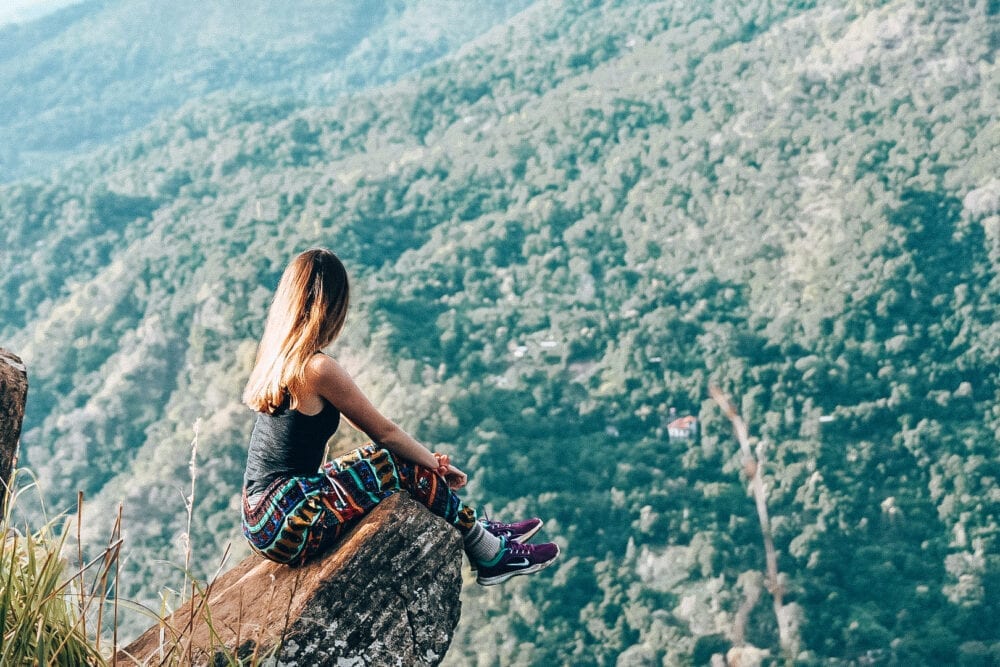 Where to after Ella
Beautiful Beaches…
From Ella you can head down south for the best beaches in all of Sri Lanka, we would recomend Hiritekiya bay or Mirissa.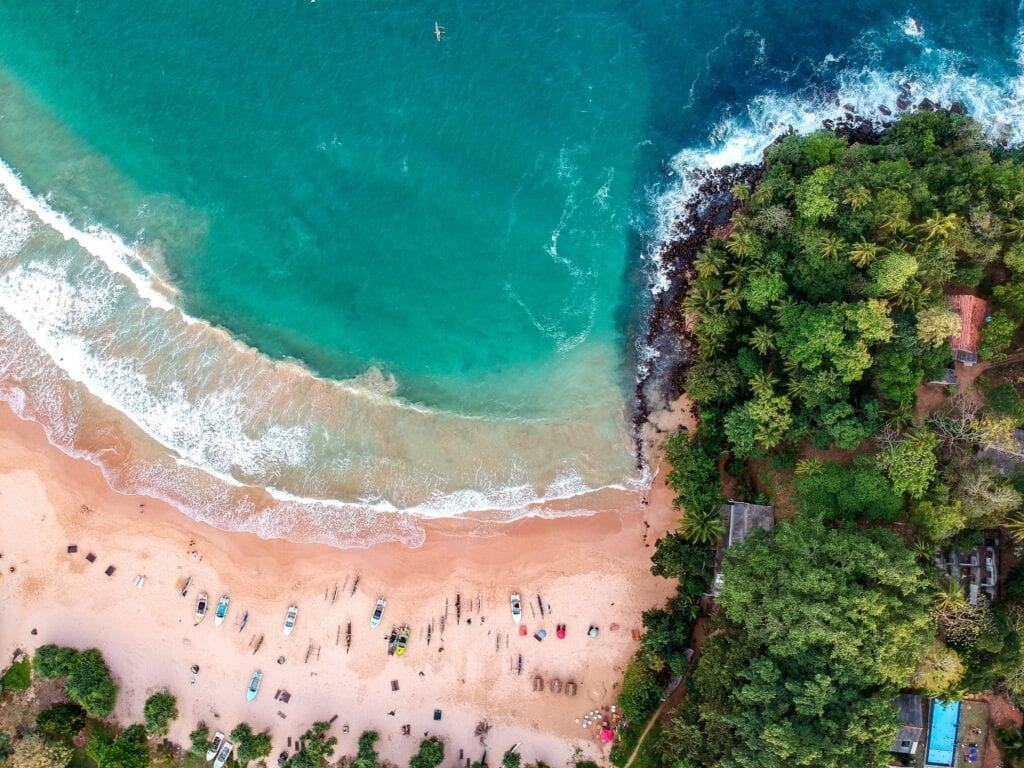 Tropical Wilderness and Safaris…
Head to Udawalwae after Ella if you wish to submerse yourself in nature and do incredible safari drives across the national parks here. Udawalwae is also home to a ethical elephant orphanage here where you can witness the workers feeding the baby elephants.
Summary of the best waterfalls in Ella, Sri Lanka.
Ella is full of such a variety of incredible waterfalls and things to do. Whether you head to Diyaluma for the day or Ravana for the early morning Ella is a great place to visit. We loved the short time we had here and will go back one day!
What's next?
Now that you know the best waterfalls in Ella, why not check out our other Ella Posts?
Or our Sri Lanka Guides: