This blog post contains affiliate links. As an AirBnB associate we may earn a small commission to fund our coffee drinking habit if you use these links to make a purchase. You will not be charged extra, and you'll keep us supplied with caffeine. It's a win for everyone, really. Check out our Disclosure policy for more.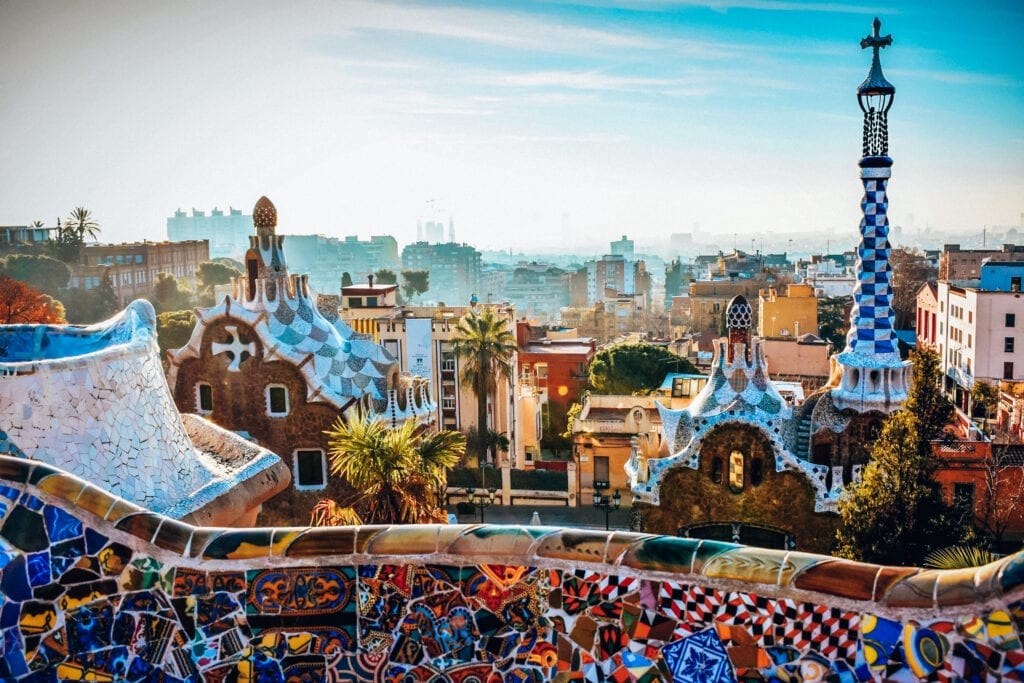 Barcelona is most likely not the first place that would come to mind when you think of a vegan capital. At first, we were worried that there would be very limited options for food. But, Barcelona is a hub of amazingly tasty and creative vegan spots. These are our favorite Barcelona Vegan Places to Eat.
BarCeloneta Sangria Bar
Category: Fully Vegan
Where is it?
Carrer de Sevilla 70, 08003 Barcelona.
What's the vibe?
Sangria and Vegan Burgers. Need I say more? We DREAM about this restaurant. Everything we have eaten here is absolutely divine, we love it here so much. They have vegan Tapas, vegan burgers, and Sangria. They also have amazing desserts that are completely raw. Above all, this is our favorite of all the Barcelona vegan places to eat we have been to.
What to order?
Sangria- Cleopatra
Tapas – Andalusian Squid rings (yes, vegan squid!) & Polenta Fingers
Desert- Tirawmisu
Interested? Check out their Website
Vegetalia
Category: Vegetarian with vegan options
Where is it?
RAVAL VEGETALIA – Pl/ Emili Vendrell 1 08001 Barcelona.
GOTIC VEGETALIA – C/ Escudellers 54 08002 Barcelona.
BORN VEGETALIA- Pl/ Fossar de les Moreres 08003 Barcelona.
What's the Vibe?
Super chilled laidback vibes, quirky decor and friendly staff. Located in the Gothic quarter, it is a good stop when exploring this part of town. We have eaten here on every trip and it doesn't disappoint!
What to Order?
Starter- Pan cot Tomate
Mains- Caprichosa Pizza or Lasana de Seitan
Desert- Carrot and Tofu Cake
For more information check out their Website
Chok- The chocolate kitchen
Category: Not vegan, but loads of options! Just make sure to ask who ever serves you and they will point out all of the options available to you.
Where is it?
Carrer del Carme, 3, 08001 Barcelona, Spain
What's the vibe?
Their slogan is 'Much more than chocolate, much more than pleasure', still not tempted? Chok offers a variety of pastries, cakes, cookies and so much more. All pastries are made fresh every day. Everything in this shop is perfect. This place is an Instagram dream. For instance, Imagine donut covered walls and over the top decorated cakes. As a result, every baked item is a piece of art,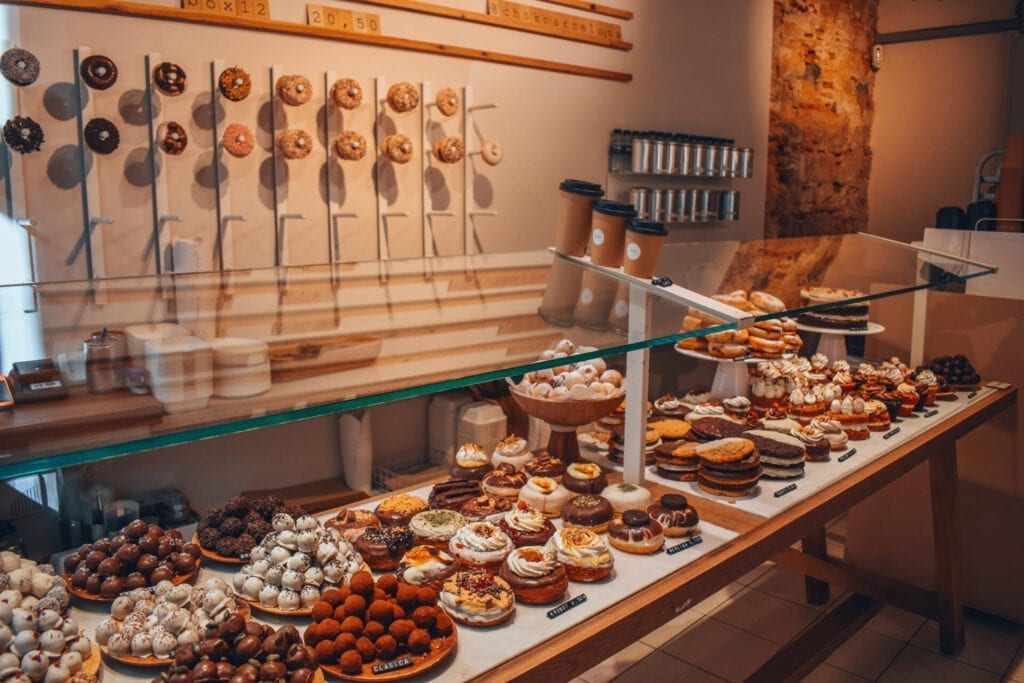 Note, most of there products are vegan but not everything. So, check with a member of staff before ordering.
What to order?
Chocolate filled cruffin (croissant and muffin), although everything here is so yummy!
For more details check out Chok's website.
Rasoterra Bistrot Vegetaria
Category: Fully Vegan
Where is it?
Carrer del Palau, 5, 08002 Barcelona, Spain
What's the vibe?
Recently converted to being fully vegan. This place screams elegance and coziness at the same time. They are part of the Barcelona slow food movement. Meaning their food has been produced during the current season and belongs to the local culture. Additionally, their production techniques do not harm the environment or people's health. They also pay food producers a fair price.
What to order?
Their menu changes with every season. Whatever you try it will be amazing!
For more information check out their website.
Going to Barcelona for a long weekend? Check out our Barcelona Travel Guide.
Veggie Garden
Category: Fully Vegan
Where is it?
Veggie Garden currently has three locations in Barcelona.
Gran Via de les Corts Catalanes, 602, 08007 Barcelona. 
Carrer primer de maig, 1-3, 08870. Sitges.
Carrer dels Àngels, 3, 08001 Barcelona.
What's the vibe?
Food from different cultures with a focus on Nepalese and European Mediterranean cuisine. They pride themselves on providing different textures and sensations different to other vegan restaurants. Above all, their portions are generous and affordable.
What to order?
Whatever you order you will be guaranteed a variety of flavors. But, our recommendations are below:
Mains: firstly, we would recommend the Nepali Luxury Thali. The flavors are so amazing and you won't leave hungry. Secondly, the Maxi wrap with guacamole and vegan cheese is also to die for!
Dessert: Apple Crumble
For more information check out their Website.
CatBarCAT– Vegan Beer and Burger Bar
Category: fully Vegan
Where is it?
Carrer de la Bòria, 17, 08003 Barcelona, Spain
Whats the vibe?
Vegan craft beer and burger bar! Super laid back and chill. Go here for good food, wacky surroundings and cat-themed decor. Also, this place is rated one of Barcelona's top vegan restaurants by Happy Cow it's a no brainer. However, they do not accept reservations so you have to turn up and try your luck.
What to order?
Burgers and beer!
For more information check out their website.
Teresa Carles Cocina Vegetariana
Category: Vegetarian with Vegan options
Where is it?
Carrer de Jovellanos, 2, 08001 Barcelona, Spain
What's the vibe?
This is the most classy establishment on the list. It's ideal for a romantic evening or date night. We would say this place is best suited for dinner. However, ensure you make a reservation if you want to go, as it's very popular.
What to order?
Mains: the 5 Layer Lasagne or the Jackfruit tacos.
Lastly, to find out more check out their website.
We hope you have enjoyed our list of Barcelona Vegan Places to Eat. Also, do you have a suggestion? We would love to know! Drop us a comment below…