This blog post contains affiliate links. As an AirBnB associate we may earn a small commission to fund our coffee drinking habit if you use these links to make a purchase. You will not be charged extra, and you'll keep us supplied with caffeine. It's a win for everyone, really. Check out our Disclosure policy for more.
Ravello, the most beautiful destination on the Amalfi coast (in our opinion anyway)! Ravello is full of beautiful villas and amazing things to do, no trip to the Amalfi Coast would be complete without experiencing this incredible town. Below are the best Ravello Airbnbs if you are lucky enough to to be planning a stay in Ravello. Whether you are looking for your own private villa or your own hot tub, we have options to suit everyone!
1. Modernized Hillside Apartment with Sea Views in Ravello
Why We Love it…
Extra-large private terrace with sun loungers and dining furniture. Fantastic views across the stunning Ravello valley and Amalfi Coast.
Things to consider
the hardest thing is trying to find an available date.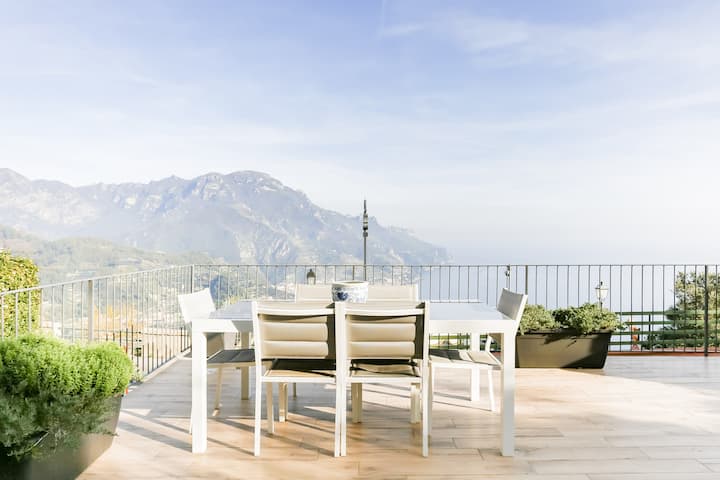 Pros of the place.
WHY WE LOVE IT…
Large private terrace with dining furniture and a place to lay in the sun. Beautiful views over Ravello and along the Amalfi coastline! Located within walking distance to the heart of Ravello.
3. Residenza Rosalia 2 with Sea View, Private Terraces and Air Conditioning
WHY WE LOVE IT…
A few hundred metres from restaurants, and Villa Rufolo which makes this the ultimate location in Ravello! This Airbnb has a great terrace with tables and chairs to sit and enjoy the views
WHY WE LOVE IT…
A little far out but so worth it. An absolutely stunning location in a 450 year old mill situated in the Ravello Valley
Bright and beautiful bedrooms, with access to the terrace from your bedroom door.
Things to consider
The building is situation a little way from Ravello and would need transport or bus to get there
You have to pay for parking €15 per day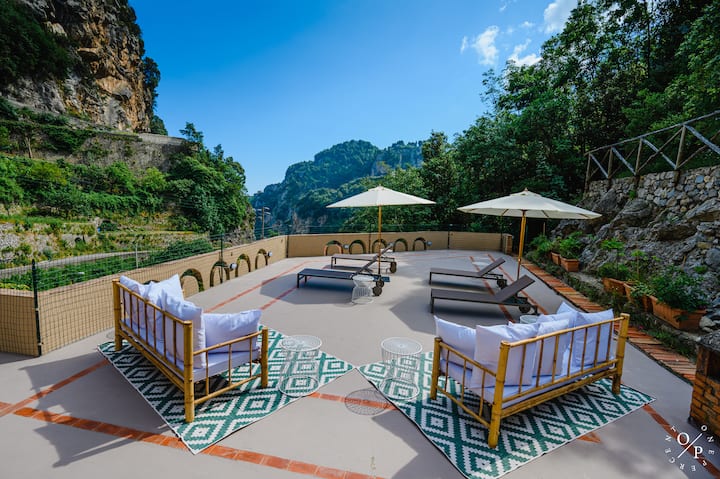 Enjoying our list of best Ravello Airbnbs? Planning a trip to Ravello? Check out our guide here.
WHY WE LOVE IT…
Huge garden with a hot overlooking the stunning Ravello landscape. Really central with only being five minutes away from the main square in Ravello.
Things to consider
The Hot Tub is available from end May till mid October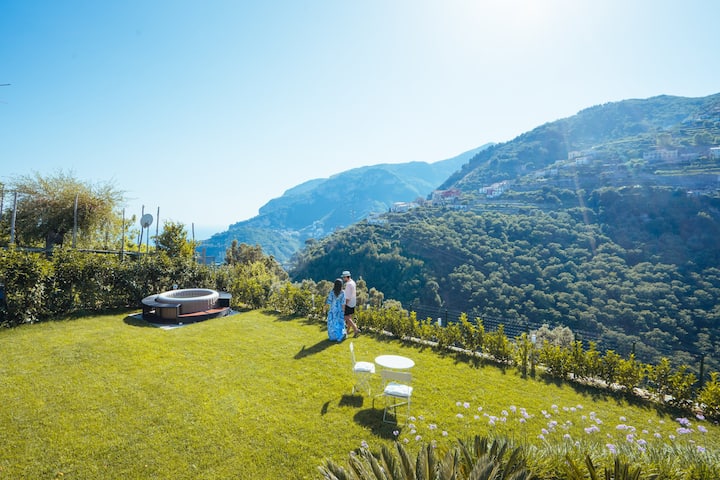 WHY WE LOVE IT…
Beautiful studio in the heart of Ravello! It is so easy to explore the whole of Ravello from this beautiful destination and take in all the Amalfi coastline has to offer!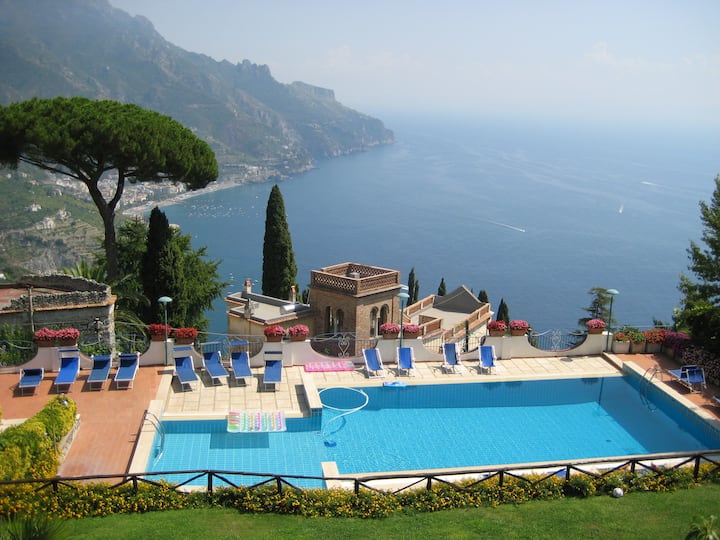 WHY WE LOVE IT…
Enjoy your private hot tub over looking the stunning Amalfi coast and beautiful Ravello
Climbing to the top of the staircase will take you up to your very own terrace extending the views across the valley.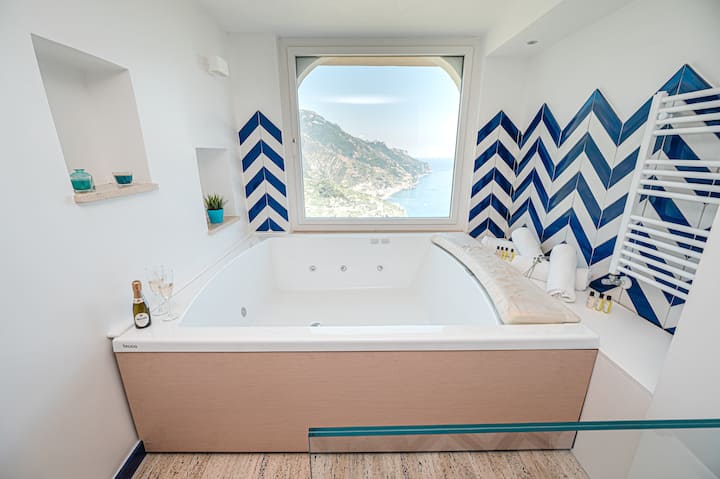 WHY WE LOVE IT…
This Airbnb has fantastic modern living space, a stunning terrace with views across Ravello and the Amalfi coast. This Airbnb also includes a beautiful pool with views. There is also parking for one car or moped, which is really great as parking can be expensive!
Things to consider
Not your own place this is a small bed and breakfast!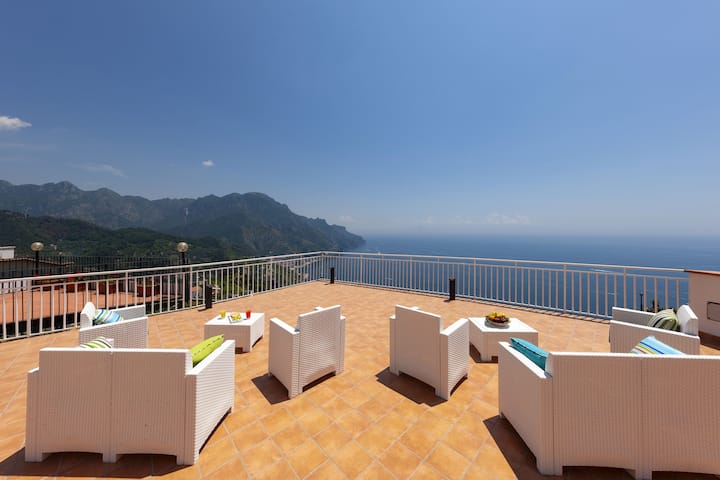 Well there you have it, the best Ravello Airbnbs! We hope you have found something useful and just know you will LOVE Ravello.
Tips for visiting Ravello
There are some things that you cannot miss out on when visiting Ravello! Check out our Ravello Travel Guide to see all the best things to do! But in the meantime highlights include:
Lunch at Villa Maria
Villa Rufolo
Villa Climbrone
The main square!
Check out our Ravello Guide for more information!