This blog post contains affiliate links. As an AirBnB associate we may earn a small commission to fund our coffee drinking habit if you use these links to make a purchase. You will not be charged extra, and you'll keep us supplied with caffeine. It's a win for everyone, really. Check out our Disclosure policy for more.
Often overlooked by it's bigger Neighbours Capri and Ischia, this Pastel coloured island offers a real Italian experience. Just off the coast of Naples Procida offers everything you want for an island getaway. Amazing views, beautiful sunsets, cobbled streets, coloured houses and steep cliffs, what more could you ask for?
This Procida Travel Guide is everything you need to know to make a memorable trip to this island!
How to get here
Naples
The best way to get here is from Naples Port and take the ferry. The island is only 30-40 minutes away from the main port and is very reasonably priced as it not a massive tourist destination.
Ischia
You can also get to Procida from Ischia island. The ferry is only 6 euros each way, so it can make for a nice day trip if you are staying in Ischia, or a great way to extend your trip.
Duration of Stay
1-3 nights is long enough to discover this little island! We met some people who visited for the day, but we feel you will only get to scrap this surface of what this island has to offer.
Important Things to Know
Although this island is not well known by foreign tourists, this is a popular weekend getaway for people living in Naples.
If you are planning to visit we highly recommend going on a weekday to truly experience this sleepy island. However, if this is not an option make sure to book everywhere you would like to eat in order to avoid disappointment. For example, we had not booked anywhere for a Saturday night and had to get takeaway pizza as every single restaurant in the Port was full.
Traveling around the Island
Procida is so small, but it is worthwhile hiring some form of transport for at least a day. We decided to go for a moped as it's our favorite form of travel, but you could also hire an E-bike. Although car hires are available the roads are so narrow we would advise against it.
Procida Sights to see
Terra Murata View Point
The highest point on the island at 90 meters. Terra Murata literally translates to 'Walled Land'. We loved coming here for sunset, but at any time you will be engrossed by the amazing views.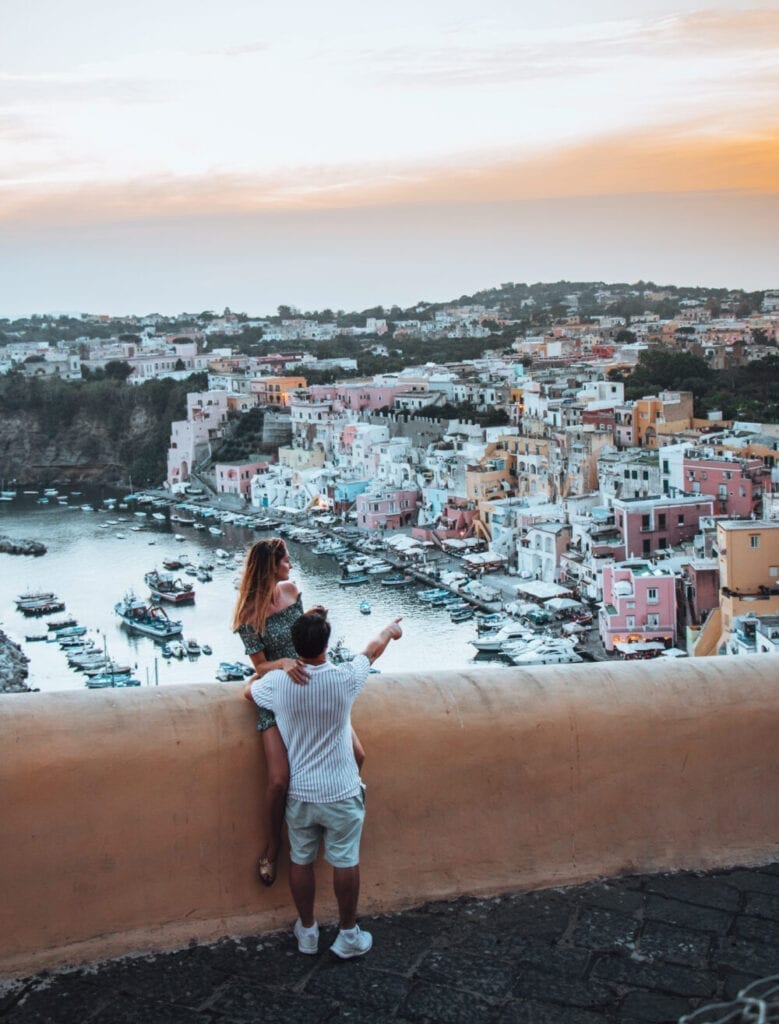 Terra Murtata- Village
Once you have taken in all that the view point over the port offers, you can explore the Terra Murata village itself. It has an abundance of narrow lanes, large cacti, cute traditional houses and amazing viewpoints.
At the centre of this area is one of the Islands most iconic buildings, Palazzo d'Avalos which throughout its fascinating history has been a Palace and a prison. In 1830 the building was converted into a prison, which was used for Political prisoners. This was then closed in 1988. They now offer tours of the ex-prison that looks really creepy. Due to COVID 19 we couldn't go but it looks really haunting!
Another thing you will notice in this part of the Island compared to other areas is the amount of cats! Back when this part of town was a prison, they brought cats to the island to control the pest problem, if you are any like us you can take your time to enjoy the feline company as you explore.
Sunset at Maresia Hotel
The Solarium at this hotel offers insane views over the sea, a captivating view of Ischia, and the most perfect destination to watch the sunset into the sea. We had mojitos and peach bellinis enjoyed the music and magical sunset. This spot is so romantic and the most perfect spot to enjoy the sunset.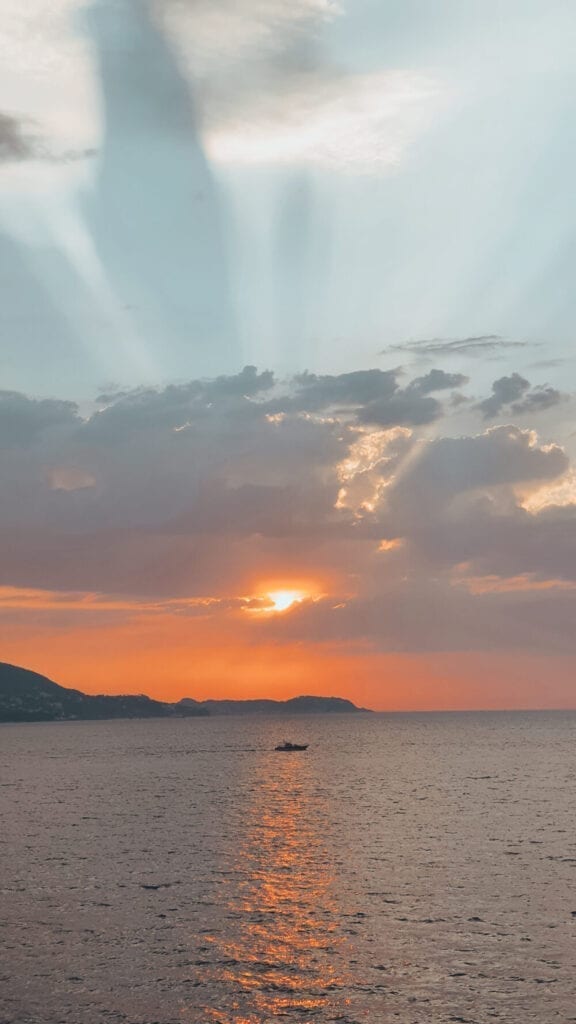 Check out their website here.
Corricella Port
Take the time just to immerse yourself in Local life in the Port. Every day we would walk up and down the port, sitting for coffee in the morning and people watching, gelato in the afternoons! This island is really about slowing down and enjoying the simple things so do as the locals do and enjoy the relaxed life in the port.
Sunrise at Terra Murtata port view point
We found this spot when wandering around Terra Murata Village one morning. The sunrise happens to be the most spectacular one we have ever seen. Watching the sun appear from the sea and showing off the ruggedness of the Italian mainland, this tiny plaza made for a perfect viewpoint!
There is also a local beagle that joined us the whole event and he was the sweetest sunrise companion.
Find the exact location here.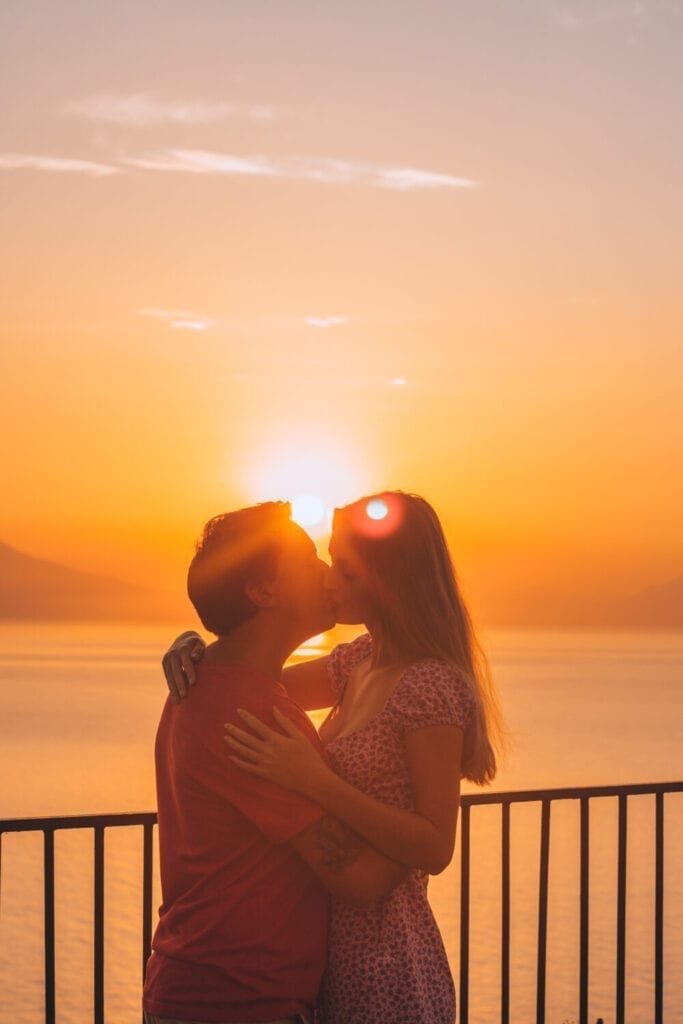 Things to do in Procida
Boat Tour of the Island
Placed in the harbour is a boat tour company that offer really reasonably priced tours of Procida. At only 25 Euros they offer a shared two hour tour of the island with two snorkel spots. They provide the opportunity to snorkel around the uninhabited island off of Procida that is now a protected marine site.
Procida Beaches
There are many beaches to enjoy in Procida. The great thing is compared to places in Italy the beaches remain relatively untouched by businesses so there is loads of room for towels! There are more beaches then in this list, but these are the ones we chose to visit.
Corricella port
We enjoyed the very small beach in the Corricella Port the most, but not for sunbathing, only for swimming and taking in the views!
Chiaiolella beach
With very few steps to the beach from the main road, it is the perfect spot to chill and admire Ischia and drink cocktails on the beach, combine with cocktails at Maresia Hotel and you have the perfect evening.
Chiaia beach
Easy to get to from the Corricella Port although there is alot of steps down to the beach!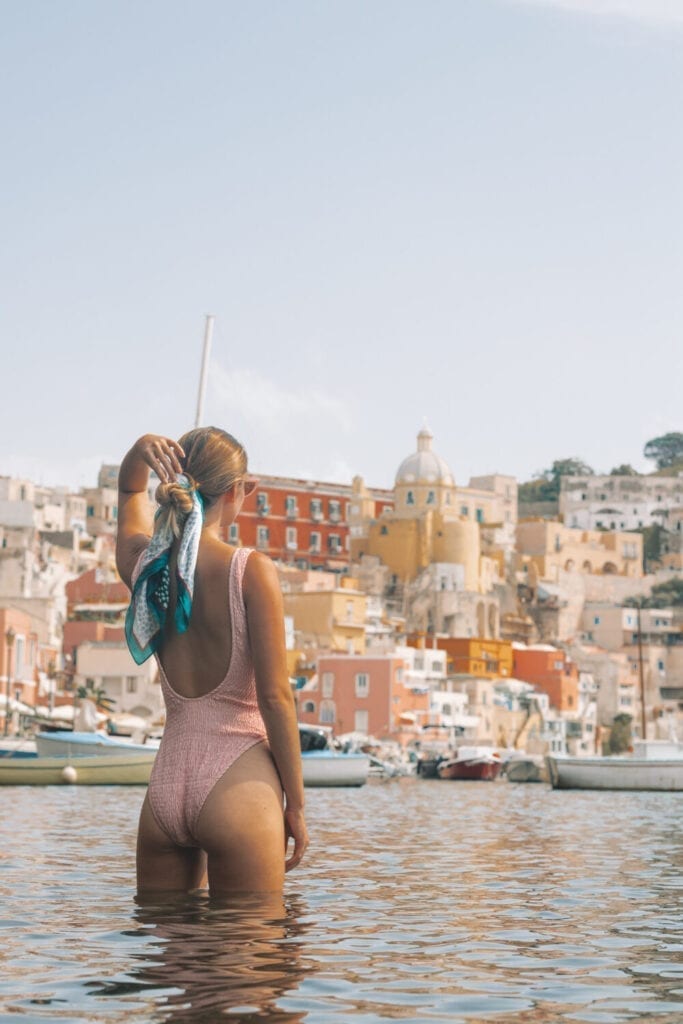 Explore other Areas of the Island
Take a day to explore other areas of the island. In the main port there are small cafes and cute shops you can look around, there are also many other little streets and villages that are nice to have a stroll around. As mentioned earlier, we would recommend hiring a moped and you can easily see everything within a day!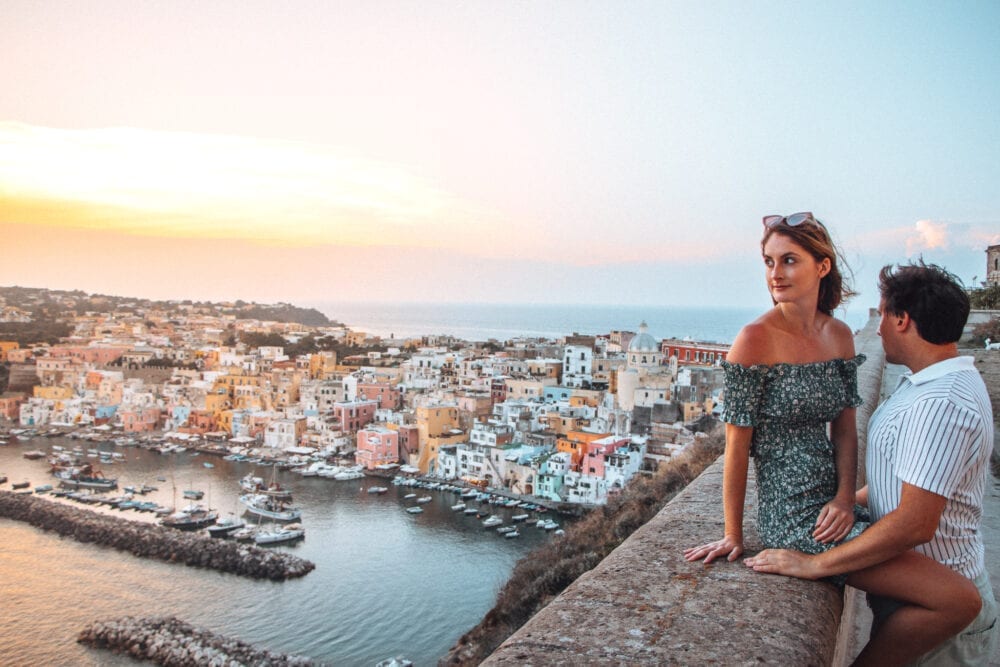 Travelling to Italy? Check out our other Italy blog posts here.
Places to Eat
La Lampara
The most glamourous place to eat in the port! Make sure you book ahead to get a good table as this place gets busy! One of the more expensive places in the island but totally worth it. The specialise in fresh fish, but offer pasta options if that is more your thing.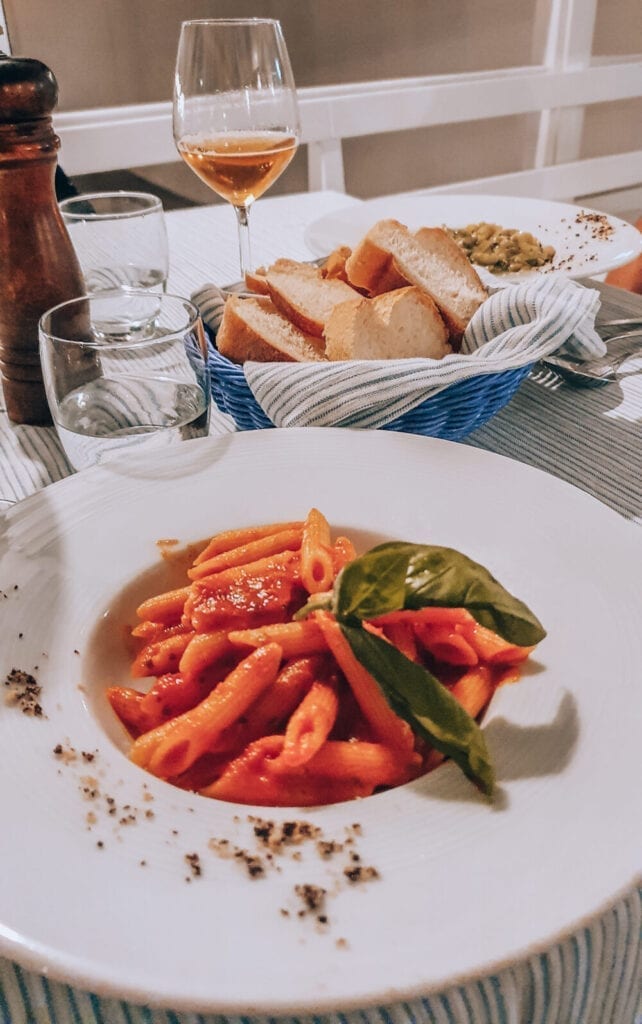 Check out La Lampara's hotel website here.
Restaurant Pizzeria Fuego
Reasonably priced Pizzeria in the port, with seats right on the sea edge and generous portions it will defiantly satisfy your pizza and good views craving!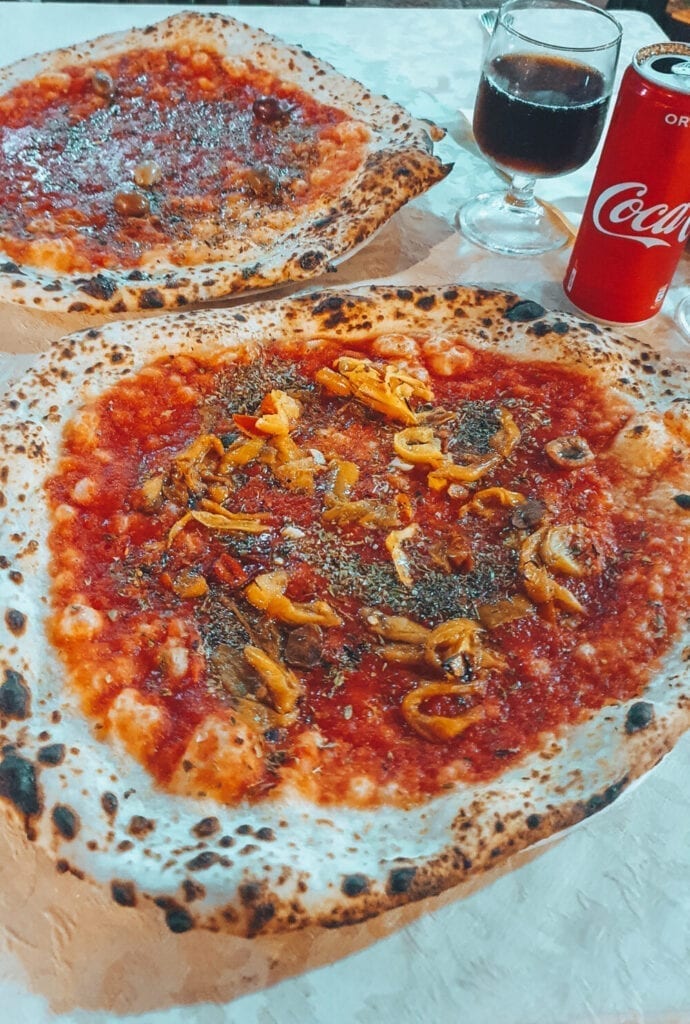 Fuego does not have an official website, but we were able to make reservations through their Facebook chat.
Chiaro di Luna Bar
This Gelato is locally made from produce in the owners garden! With really interesting flavours like Olive, Basil and Lemon to your standard double chocolate, this little bar is perfect for afternoon cocktails and gelato.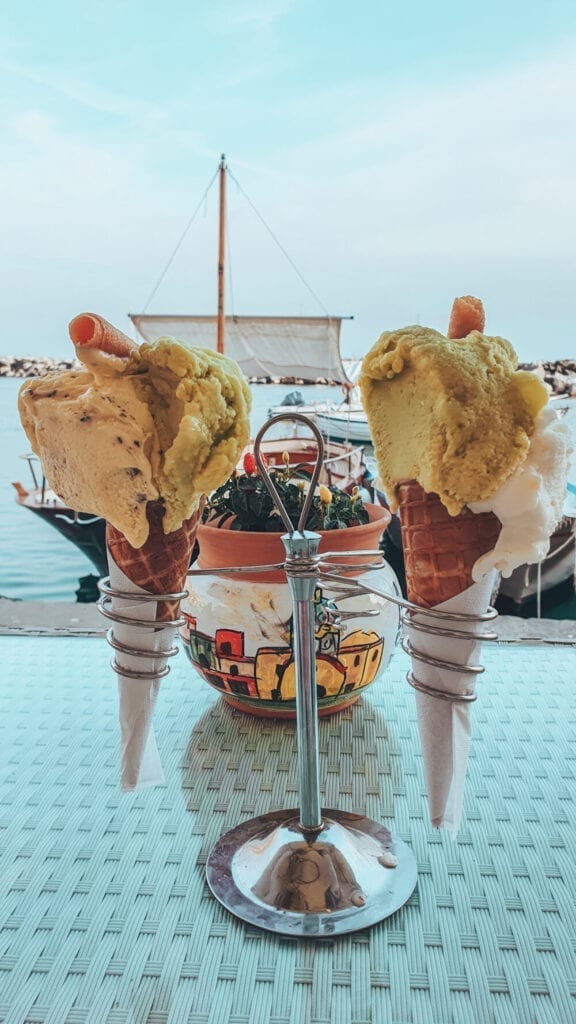 Where to stay in Procida
If you can stay in Corricella Port itself it makes for an amazing experience! Although, if this is not an option due to availability or the fact it is a little more expensive, Procida is so small it won't impact your stay too much!
We liked staying in the Port because everything is right on your doorstep and motorised vehicles are not permited in the port so it allows for a really peaceful stay!
Airbnb's in Procida Port
Casa Athina
If you have a wealthy budget and you would like to stay in the Iconic blue house in the Port, you can book this place through Airbnb. Find this place here.
Grazioso appartamento vista mare
We chose to stay in this cheaper Airbnb that still offered amazing access to all amenities and was nicely decorated. Find this place here.
Piscārĭa house
Beautifully decorated and cosy place right in the port. This stay has high reviews and is finished to a really high standard. Find this place here.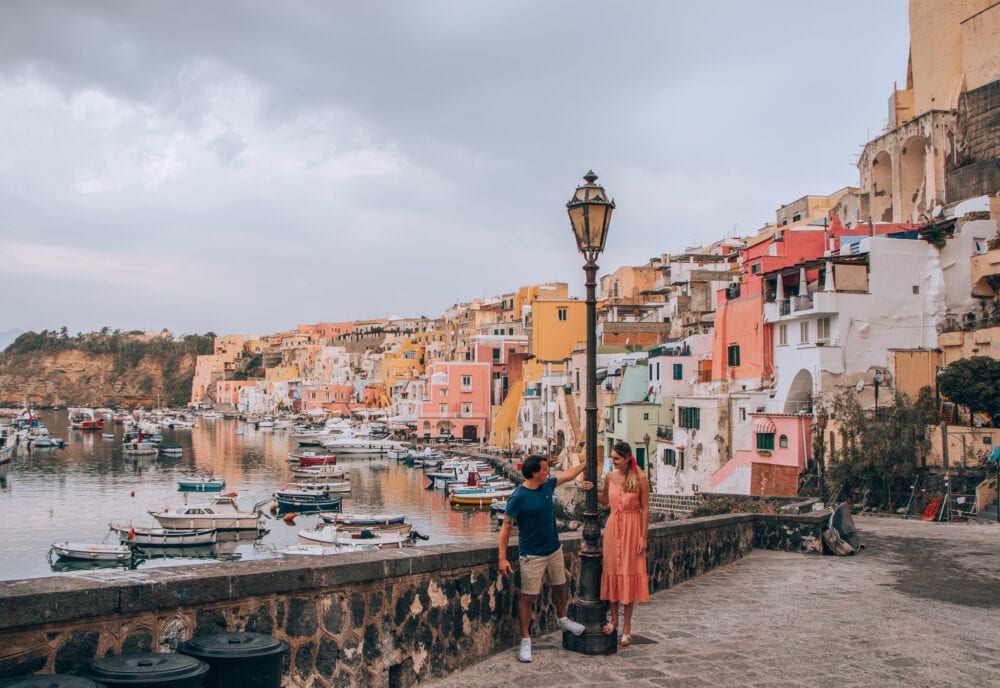 We hope you have enjoyed our Procida Travel Guide. If you decide to take a trip here we hope you love this pastel coloured island as much as we did.
What's next?
Check out all our Italy Blog posts here.