This blog post contains affiliate links. As an AirBnB associate we may earn a small commission to fund our coffee drinking habit if you use these links to make a purchase. You will not be charged extra, and you'll keep us supplied with caffeine. It's a win for everyone, really. Check out our Disclosure policy for more.
 Devon is such a beautiful part of England. This part of England is known for its UNESCO protected Jurassic coastline. Devon is stunning, full of rugged cliff faces, dramatic waterfalls, and excellent paths with insane views. We are lucky enough to visit Devon at least once a year to visit family, and we love it. Here is our guide to the best Devon Walks and Waterfalls.
National Trust – Lydford Gorge Walk and Waterfall
This walk is breathtaking; it offers The deepest river gorge in the South West, with a 30 m high waterfall. The path will take you down to the falls, through the gorge river, and then to Devil's Cauldron.
White lady waterfall
This waterfall is so powerful and beautiful, we were so surprised to find this in North Devon. There is something quite tropical about it. The waterfall is surrounded by dense green foliage and is set in a beautiful gorge creating the most dramatic backdrop.
River Lyd
Walking along the river itself is such a different experience from the waterfall. With calm parts and others so powerful, you can hear it before you even get near.
Devil's Cauldron
To walk from the White Lady Waterfall to the Cauldron is a must. As you approach, you will hear how powerful the water is.
The path up to the Devil's Cauldron is lovely too, with old arches amongst the trees; it's so stunning! The Cauldon itself is an incredible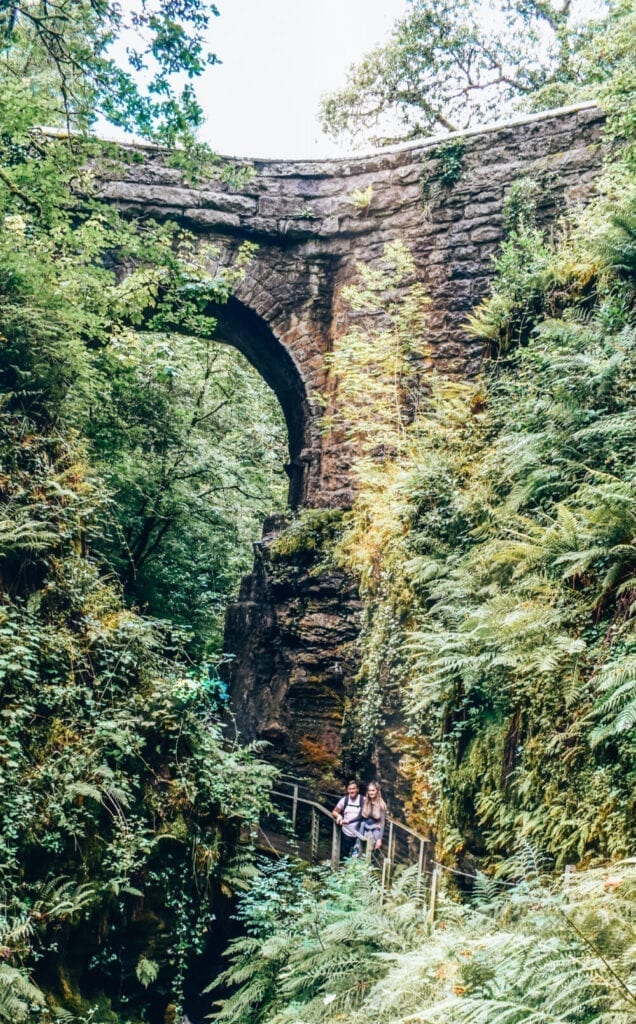 Prices
For further prices check out there price list.
Devon has some of the most beautiful beaches in England, check out our favourite ones here.
Devon Walks and Waterfalls: Speke's Mill Mouth
Hartland received the travellers' choice awards in 2020 for its consistently high reviews.
Parking: Free car park at Hartland Quay.
This trail is just beautiful. With such an impressive waterfall and the walk to it will take you past black beaches and remarkable rock formations. Start off at Harland Quay Cark park. From here, the waterfall is about a 20-minute walk. Although, we recommend allowing more time so you can take in the surroundings on the walk.
You will pass some unique places and sights on this path. The waterfall is only one part of what makes this walk so enjoyable. This path offers the most incredible out of all the Devon walks on this guide.
Looking for other things to do in Devon? Check out our guide to the top 10 things to do in Devon.
Devon Walks and Waterfalls: Coastal Walk in Ilfracombe
Ilfracombe is a small town in North Devon surrounded by cliffs. The coastal path in this village provides some incredible viewpoints over the coastline. This trail will take you through sheep fields, rugged hills, views of the village, and the sea spanning out to meet the clouds.
Watersmeet to Lynmouth Walk
This exciting trail takes in some of the best scenery this part of Exmoor has to offer. This walk is one of the most beautiful in Devon. Devon is full of cosy towns and villages. This walk allows you to explore the towns of Lynmouth and Lynton.
The Path
The walk will take you roughly 35 minutes. If you are looking for a longer route, check out this route which takes around 2 hours and 30 mins to walk. By taking the longer route, you will get to see much more.
Watersmeet
Watersmeet Falls itself is where two powerful water streams meet. In the Summer, the water is low enough that children can be seen playing in it. At other times of the year the water is so powerful. The river is beautiful and offers such a variety of different landscapes.
Lynmouth Town
Once you reach Lynmouth itself, it's an ideal village to have a wander around. We got some chips, drenched in vinegar and salt and sat in the harbour for our lunch. There are some lovely independent shops to have a look around before heading back to your car. We opted to take the cliff railway, a vertical railway, to the village's top before walking back.
How to get to the start point
By road
A39 signed Lynton/Lynmouth. Turn off down B3234 to Lynmouth. Postcode for Sat Nav: EX35 6ES.
Clovelly Waterfall
Clovelly is Perhaps the most beautiful town on the North Devon, England. This village is a cliff side steep cobbled village with views over the Bristol Channel. 
It's cobbled street leads down to the pub, harbour and sea at the bottom of the street. A town scatted with independent arts and crafts shops you could spend a whole day learning different crafts. It really makes for a beautiful village to explore and spent the day here. 
Note: You have to pay to enter and walk around the village. It will cost around £8 each. 
The Waterfall
From the harbour, you can walk across the beach and past the Lifeboat station to the waterfall in Clovelly.
The waterfall is especially beautiful after heavy rain. It offers stunning sea views and beautiful cascading water. Rumour has it that the cave behind the waterfall is where the legend tells that Merlin, the Arthurian magician, was born. This part of the beach is also especially nice for couples to come and spend quality time.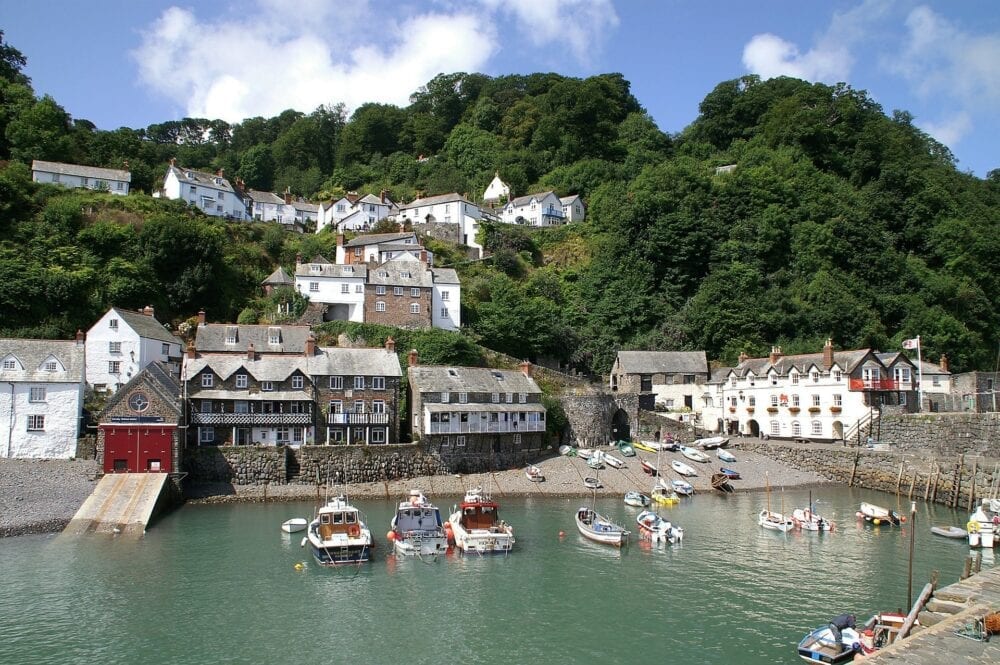 Canonteign Falls
This is a beautiful waterfall and is the tallest waterfall in Dartmoor National Park. The landscape of Dartmoor is believed to of been carved during the earth's last known ice age! The waterfall is surrounded by incredible lakes and trails. 
The gardens here are worth a visit. With a bee garden and 90 acres of ancient woodlands and meadows. 
Becky Falls
This list wouldn't be complete without the iconic Becky falls. Set in 50 acres of ancient woodland. With three different walks varying from easy to strenuous, there is something for everyone. Check out their website to read more about this magical place.
Explore Exmoor, climb Dunkery Beacon
The best views across the Exmoor landscape head to Dunkery Beacon. The walk is about 2.5 miles and will take around one and a half hours. This walk will guide you through farmland to the open moor and then eventually to the beacon itself.
This walk starts in Dunkery Gate car park. There is a well-trodden and easy to navigate trail that heads uphill to the summit. This beacon sits at the top of Dunkery hill. It is the highest point in Exmoor. On clear days it provides views over the beautiful moorland and the Bristol Channel. You might even be able to see the mountains and coast of south wales.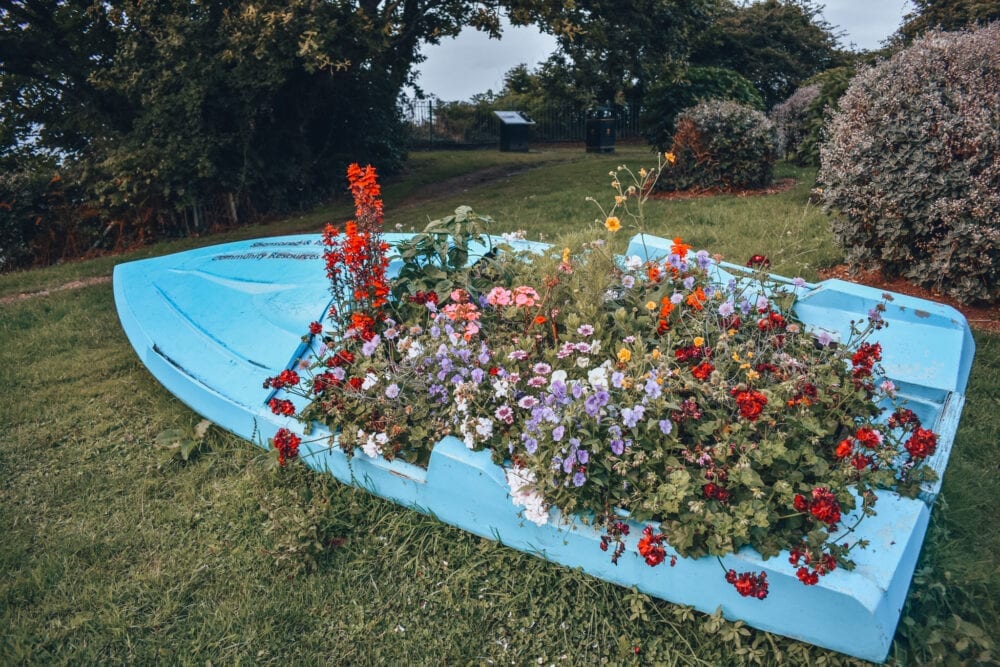 Barricane Beach Cafe – Sri Lankan Curry
This food and experience is the absolute highlight of our trip to Devon. Imagine the sun setting over the rugged shoreline, cuddled up in a blanket, eating the most delicious curry. Barricane beach itself is one of the most beautiful places in Devon.**
Devon has some of the most beautiful beaches in England. Check out our favourite ones here.
Barrciane beach cafe is a small beach cafe that serves the most authentic homemade Sri Lankan curry. Vegan options are always available.
We recommend getting there before sunset, taking some blankets and your own drink (we took Prosecco), and enjoy the evening and relax together. The curry is served on a first-come, first-served basis, so don't get there too late. The food is delicious, and the beach is so stunning and so truly Devon. Everything about this experience is beautiful.
How to get here
A little hard to find. The easiest way to get here is to park in the first Woolacombe Car Park. It's cheaper after 4 pm, at about £3. You can park along the road if you manage to get a spot, and it's free. From the cark park, walk to your right and along the cliffs, follow the path, and you will see an arrow to Barricane beach.
Additional Information
They are open from June to September, and curry is served from 5 pm until 7.30 every evening that the weather is dry. No cards are accepted here, so bring cash. 
Are you enjoying our guide to the best Devon walks and waterfalls? Check out our guide to vegan food in Devon here.
Summary of the best walks and waterfalls in Devon
We hope you enjoyed our guide to Devon walks and waterfalls. Devon is one of the most beautiful places in England. Whether you are looking to visit for a long weekend or a week, a visit to one of Devon's incredible waterfalls is a must. 
Do you have any questions? Please drop us a comment below!
What's next?