This blog post contains affiliate links. As an AirBnB associate we may earn a small commission to fund our coffee drinking habit if you use these links to make a purchase. You will not be charged extra, and you'll keep us supplied with caffeine. It's a win for everyone, really. Check out our Disclosure policy for more.
Florence is one of the most beautiful cities we have ever visited. Every corner is photogenic and we had so much fun creating photos here. In this guide, we show you our best Florence photo spots with exact links.
Florence Photo Spot #1 :Photo Automatica
These cute little photo booths are all around the city. For 2 euros you can get black and white film photos. It makes for a great souvenir! We liked this photo booth the most mainly because of the surrounding graffiti and neutral background. It is also down a fairly quiet road so you can take your time!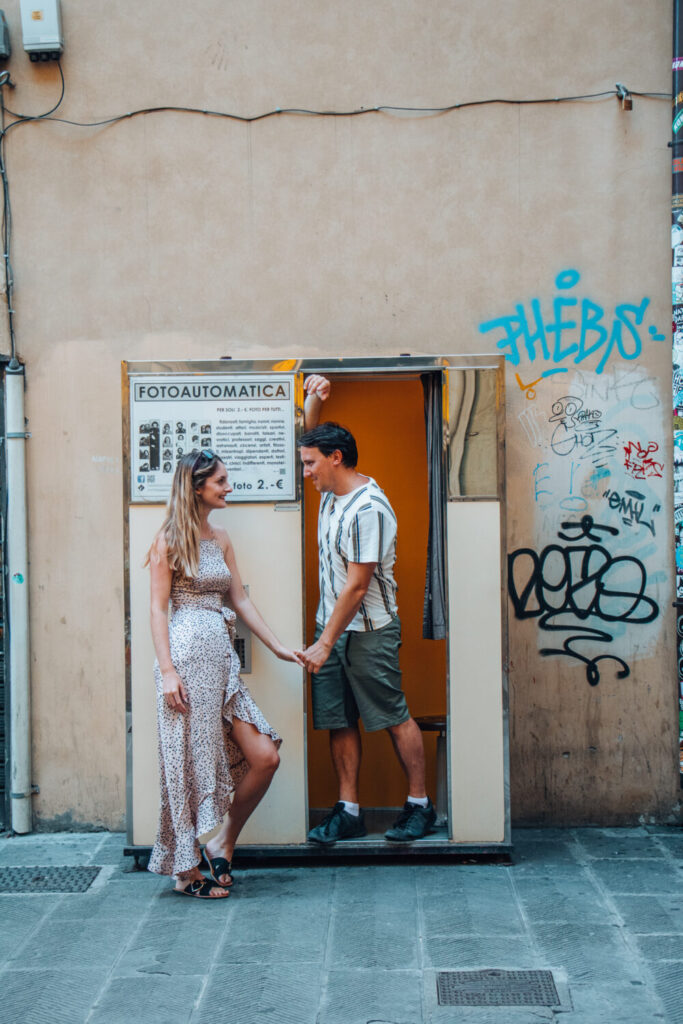 Florence Photo Spot #2: The Duomo and Cathedral
Easily the most beautiful and Iconic spot in the whole of Florence! With its pastel-colored marble and deep red and brown roof tiles.
The Plaza itself
Photo Tips:
shooting in the square itself can get really busy and it can make it hard to get a good shot, as with most popular places, get up early and shoot and you will find the square a lot quieter.
Consider: A lot of wedding shoots are done here early in the morning, be respectful of these special photos.
The Cathedral Viewpoint in the above Photo
To shoot at this awesome location you need to be staying within the building as it's only accessible to residents.
We stayed in a cute Airbnb right on the terrace and it was a truly great experience as well as a great photo location. Below we have included a list of AirBnB's that will get you access.
Check out the Airbnb's that will give you access to this terrace in our Florence Airbnb post.
Florence Photo Spot #3: Ponte Vecchio Bridge
A Photographers' dream! No trip to Florence is complete without some amazing photos of this landmark. To walk over the Ponte Vecchio bridge itself is beautiful, but to take photos we found it better to walk further up the river and use this viewpoint over the bridge.
Photo Tips
Get here for sunrise if you don't want crowds
Use the beautiful gothic lamp posts to help frame your picture.
Florence Photo Spot #4: The Other bridge
The bridge in front of the Vecchio bridge also makes for a great way to capture the bridge. The great thing about this location is that it is a lot less busy than the main bridge itself so makes capturing photos so much easier.

Florence Photo Spot #5: Michaelangelo plaza
Okay, so this spot is BUSY! Mainly for sunset, but it is crazy busy! We decided to get pictures down in front of the Plaza, this way we didn't have to worry about the crowds.
Florence Photo Spot #6: Rose Gardens
The Rose Gardens are so beautiful to walk around, and also provides a different viewpoint over the city compared to some other viewpoints. If you time it right all of the roses will be in bloom and make your photo even more incredible.
Photo Tips
Take pictures from the rose garden terrace you will see when you walk in, it makes for the perfect view point over the city!
Opening times and More Information
To find out more about the rose Gardens, check out our Florence Guide.
We hope you enjoyed our guide to the best Florence Photo Spots. Florence has so much to offer and its such a beautiful city in Italy, we know you will love it!
What's Next?
Check out our other Florence posts: