This blog post contains affiliate links. As an AirBnB associate we may earn a small commission to fund our coffee drinking habit if you use these links to make a purchase. You will not be charged extra, and you'll keep us supplied with caffeine. It's a win for everyone, really. Check out our Disclosure policy for more.
So you're thinking of heading to Nusa Lembongan? Great choice! After living in Bali for a few years, we can say, hands down, it is our favourite place! Now, on to the good stuff. Here is our guide to the best Hotels in Nusa Lembongan Like most places in Bali, there is something for everyone and every budget. 
Our Top Three
Does it matter if I stay on Nusa Lembongan or Nusa Ceinigan?
Travelling between the two islands is so quick it doesn't matter where you stay. Although it is worth noting, you can only travel around Nusa Ceningan by motorbike, so only visit here if you are comfortable riding a bike. 
If riding a bike isn't an option, or if you are excited about exploring on foot, we recommend Jungutbatu Beach. This area is our favourite place to stay, with the best coffee, beach and restaurants on your doorstep. The best hotels in Nusa Lembongan are also in this area, with this beach being the island's central hub. 
Hotels in Nusa Lembongan
If budget isn't a problem, this is the best place to stay on the island. The accommodation options are beautiful, with one-bedroom or two-bedroom villas only steps from the beach and the sea. It doesn't get better than this. Whilst yes, for Bali, accommodation is on the pricey side, it is also totally worth it.
Even if you don't stay here, the food menu is impressive for lunch and dinner and worth a visit.
Although you won't get priority compared to staying guests, we have headed here to take up a few beach beds during the day. Grab a coconut and sit on the sun beds. It's hard to imagine how it could get better than this. 
Are you heading to Lembongan for a special occasion? Indiana also offers a package for dining options. We have done this for a special occasion, and the price is worth it! Drop them a WhatsApp, and they will organise everything for you. With a magical toes-in-the-sand dining setting fit for any Pinterest post.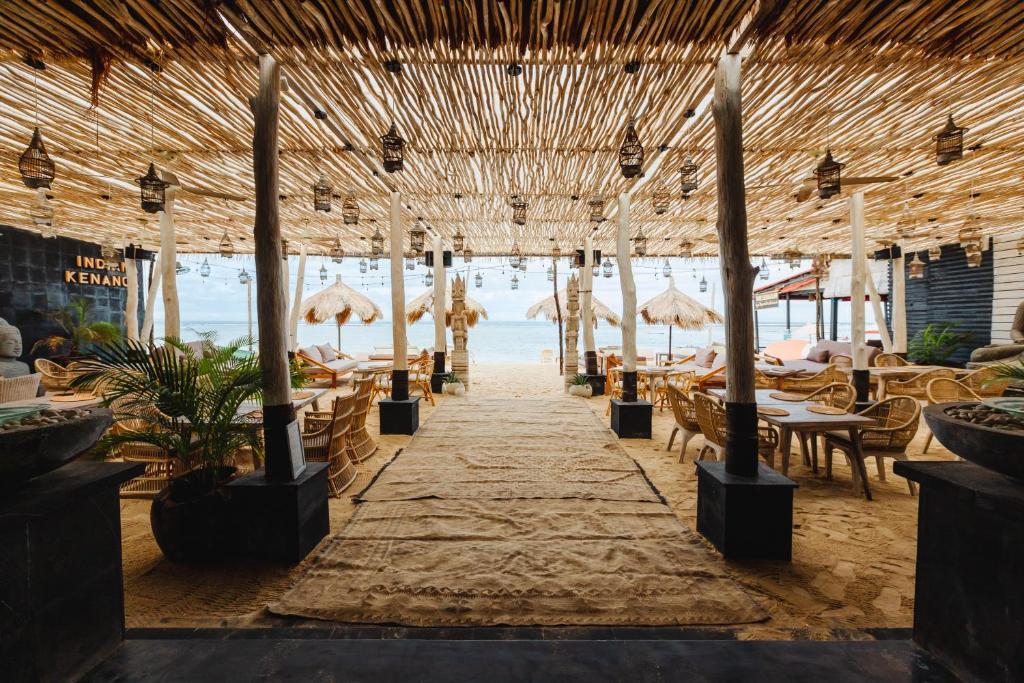 Pros
the best location in Lembongan 
Steps from the beach
Fantastic food and drink options 
Things to consider
one of the more expensive options 
Make sure to book in advance for availability 
The best coffee on the island! Okay, so a few places on the island serve great coffee, and tigerlillys is undoubtedly one of them. The accommodation options are also great. 
Tigerlilys have also recently optioned Tigerlilys beach bar, ideally located on the best beach in Lembongan. It is also near the harbour to grab breakfast before returning to Bali. 
Tigerlily accommodation varies from Deluxe double rooms with open-air bathrooms to gorgeous suites with a dedicated living room and a private terrace.
Pros 
Beautiful accommodation options
Amazing food and coffee options on site.
Things to consider
No direct beach access but only a short walk
Situated on Ceningan island, this place is something special! Whilst it might sit a little remote, some rooms offer incredible views over the blue lagoon. They offer one- or two-bed villas with private pools or sea views. Only an option if you can ride a moped, but worth it. 
The villas are also steps away from Klyf club. This club offers the best views of Blue Lagoon, an infinity pool, a restaurant and a cocktail bar. You might see a few turtles popping up for air whilst sipping on a cool coconut if you're lucky. 
Pros 
Amazing views of the blue lagoon 
Access to Klyf club 
Things to consider 
Only suitable for those who can ride a moped 
Not near the central hub in Lembongan, so a short drive away from the best food and restaurants 
Again another option for confident bike riders. It's a little off the beaten path. We mean that literally, the roads to get here are, well, let's say, an adventure. We should also mention that the infrastructure in Lembongan is continually improving, so this might not be the case for long. But what makes this place great is the views! A gorgeous infinity pool with the best sunrise views. This place is budget-friendly, and each room is its small bungalow with open-air bathrooms.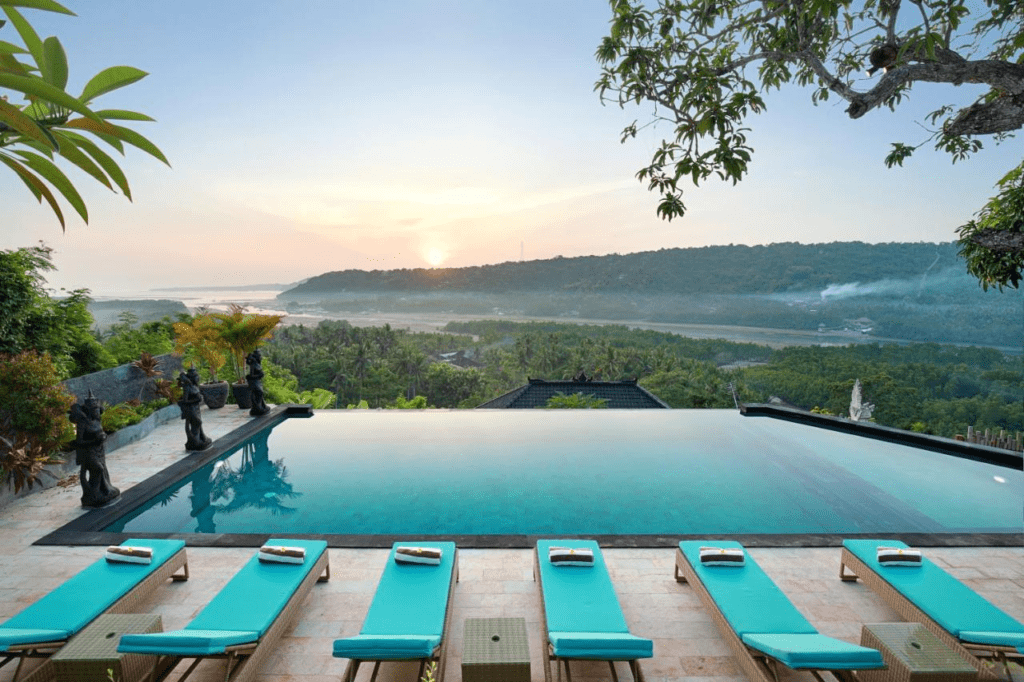 Pros
incredible sunrise view 
Gorgeous infinity pool 
Things to consider 
The road is a little hard to drive, with lots of potholes 
We have often stayed here when we fancy a cheap weekend away. This budget-friendly homestay has clean sheets, clean towels and good working aircon! The toilets are adequate. There is also a communal pool and sunbeds. The best thing about this homestay is the price and the perfect location. Right at the centre of the Jungutbatu Beach area, you can walk for coffee and food and to the prettiest beach on the island! What's not to love?
Pros 
Very budget friendly 
Great location
Things to consider 
Rooms and bathrooms are basic 
Villas
This villa is simply stunning! Located near Sandy bay, you can walk to the beach and sandy bay beach club. With a large pool and plenty of outdoor seating, there are plenty of spots to chill in the Bali sun. Great for any special occasion or large group looking for a perfect weekend away.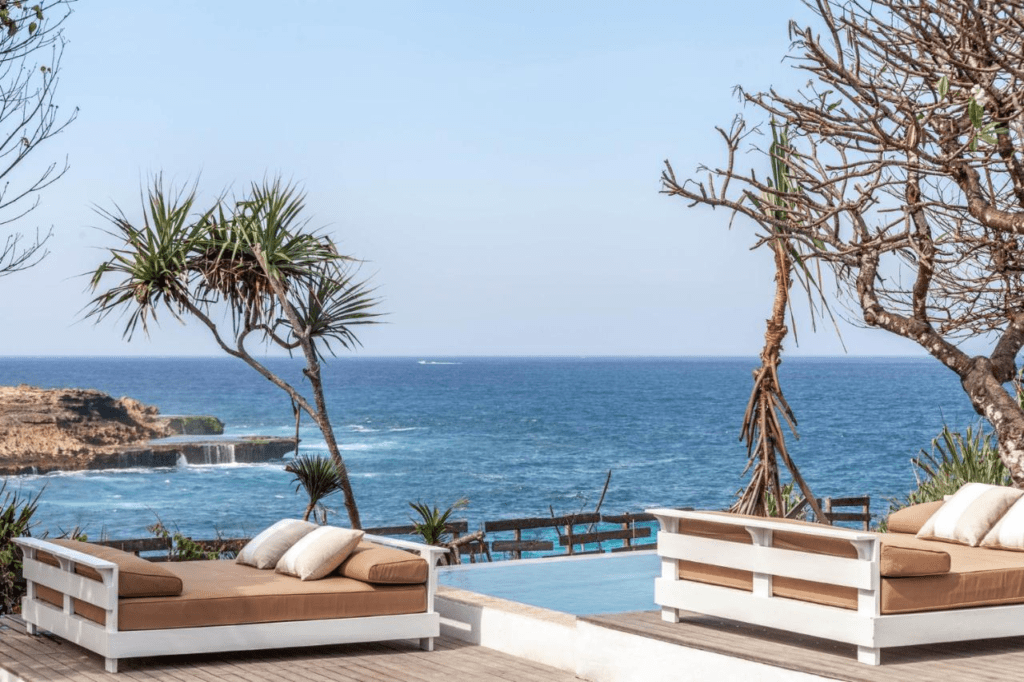 How to get to Nusa Lembongan 
From Bali 
Nusa Lembongan is only a 30-minute boat journey from Bali mainland. It departs from Sanur on the east coast. The journey can be a bit rough, so bring sea sickness tablets. 
Book your tickets on Penida go or message D'camel fast boat on WhatsApp. D'camel also offers a free hotel drop-off. 
Summary of the best hotels in Nusa Lembongan 
We hope you enjoyed our guide to the best accommodation in Nusa Lembongan. Whether you are to luxury or a cosy Homestay, this island has something for every budget and every type of traveller. 
Check out our other Bali Guides Here: