This blog post contains affiliate links. As an AirBnB associate we may earn a small commission to fund our coffee drinking habit if you use these links to make a purchase. You will not be charged extra, and you'll keep us supplied with caffeine. It's a win for everyone, really. Check out our Disclosure policy for more.
Where to stay in Kefalonia, The Best Towns, Hotels & Villas.
Planning a trip to Kefalonia but not sure where to stay? Don't worry we have got you! Kefalonia is full of so many beautiful towns and villages it can be hard to choose where to stay. Here is our complete guide to where to stay in Kefalonia.
Fiskardo
Fiskardo is a great place to stay in Kefalonia. It is situated on the north most part of Kefalonia. Fiskardo is a beautiful bay lined with pastel-coloured houses with contrasting shutters and restaurants and cocktail bars.
Fiskardo is a unique part of the island. Unlike many other parts of Kefalonia, it has preserved much of its Venetian architecture.
Fiskardo Bay was our favourite of all the Kefalonia towns, and we chose to stay a 10-minute drive from Fiskardo. For that reason, we would recommend staying as near to Fiskardo as you can. Alternatively, if budget isn't an issue stay in Fiskardo itself.
Pros and Cons of staying in Fiskardo
Pros
Access to incredible restaurants and cocktail bars
A truly stunning and unique part of Kefalonia
On the seafront with beautiful beaches
Near to Assos
Cons
A fair distance away from many tourist attractions such as the Melissani caves, Mount Anios and a few more.
Accommodation is expensive
The Best Hotels
Authentic Suites in Fiscardo (Archontiko): Archontiko is situated in one of Fiskardo bays most iconic buildings. Iconic for it's pink coloured walls and contrasting blue shutters. This converted mansion offers elegant rooms with beautiful views that will place you right in the heart of Fiskardo bay.
Fiscardo Bay Hotel: This resort is so well known for the hospitality of the staff who work here. Everyone is so kind and the owners will do everything they can to make your stay perfect. This resort offers a freshwater swimming pool, amazing views and really affordable prices. A stay here is sure to make your trip extra special.
The Best Airbnbs
Aelia Villa (just outside of Fiskardo) Check out the Airbnb we stayed in here. This Airbnb was incredible for sunset, and we loved sitting outside for dinner each night. Double doors open up from the master bedroom right onto the beautiful terrace. It was truly romantic. However, it is quite a distance from amenities. Personally, we wanted that but it might not be for you.
Top villa In Fiskardo with heated pool & hot tub. This Airbnb is nestled within acres of serene cypress trees with incredible views out to Ithaca and Lefkada. This villa is by far the most incredible in Fiskardo. Both beaches of Emblisi and Foki are only 10 minutes on foot. The Best thing about this Airbnb is that it is within walking distance of Fiskardo. However, it also allows you to escape to a peaceful villa protected from the noise of Fiskardo town.
Fiscardo waterfront luxury apart 3 (Paradise House): This Airbnb is perfect if you wish to be right in the heart of Fiskardo. Beautiful views and a private natural swimming pool, in front of you. This Airbnb is really incredible.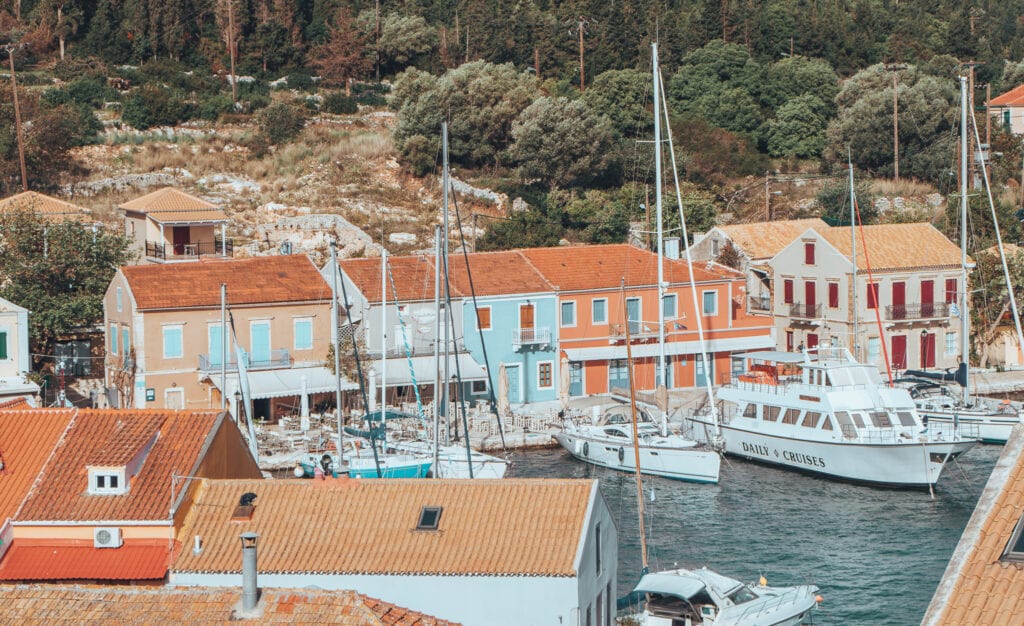 Assos is an incredible stunning part of Kefalonia and a magical place to stay. The village of Assos in Kefalonia is a charming village perched on the water's edge. The village is full of old Venetian ruins. Most notably, the ruins of an old Venetian castle that sit overlooking the serene village. Assos is made up of pebbled beaches, traditional buildings and colourful houses. It is a beautiful village with narrow alleys full of flowering foliage and old churches.
Staying in Assos will allow you too easily explore Argostoli and Fiskardo. Although we loved staying in Fiskardo we did have to drive awhile to reach the next town. Assos is a slightly more central location giving you access to a few more towns. Most importantly, it is near to incredible beaches like Mytros beach. It is also a great place for relaxing and taking in the sheer beauty of this part of Kefalonia island.
Pros and Cons of staying in Assos
Pros
Near to Mytros Beach
Easy to explore Fiskardo
Assos sits on the sea front and there are two beaches to chose from.
Cons
The Best Villas in Assos
Villa Agapi Luxury Villa Kefalonia Assos: This Airbnb is so stunning! It is so modern and offers some of the best views of Assos village. This villa has everything that you need for a memorable experience. Including a BBQ terrace, romantic setting, insane views, in addition to beautiful details inside the villa.
Villa Glaroni-Luxury Villa Kefalonia Assos: This villa has a beautiful swimming pool terrace with panoramic sea views over the Bay of Assos. Every room is full of incredible details and is simply stunning. This Airbnb has the most beautiful outdoor space perfect for the most romantic candlelit dinners on the terrace.
Villa Happiness: Perhaps the most romantic Airbnb on this list. It has an aura of unrivalled romance and tranquillity. It is the perfect place for couples seeking the perfect getaway.
Argostoli
Argostoli a great place to stay if you want somewhere a little more lively than the rest of Kefalonia. The town of Argostoli is the Captial of Kefalonia and a large port. The waterfront is full of lovely cafés and restaurants. Argostoli itself is busy and full of endearing streets, open squares and boutique shops.
This town is the best place for a buzzier night-life. Kefalonia is certainly not a party island, but if you are looking for something a little busier Kefalonia is for you. There are some awesome bars with amazing cocktails.
We stayed near Argostoli for one night in our week-long trip. We loved it and it made a nice contrast to the quiet villa we spent the rest of our time.
Although this is a busier town, it is only a short distance from some awesome sandy beaches, such as Makris Gialos Beach.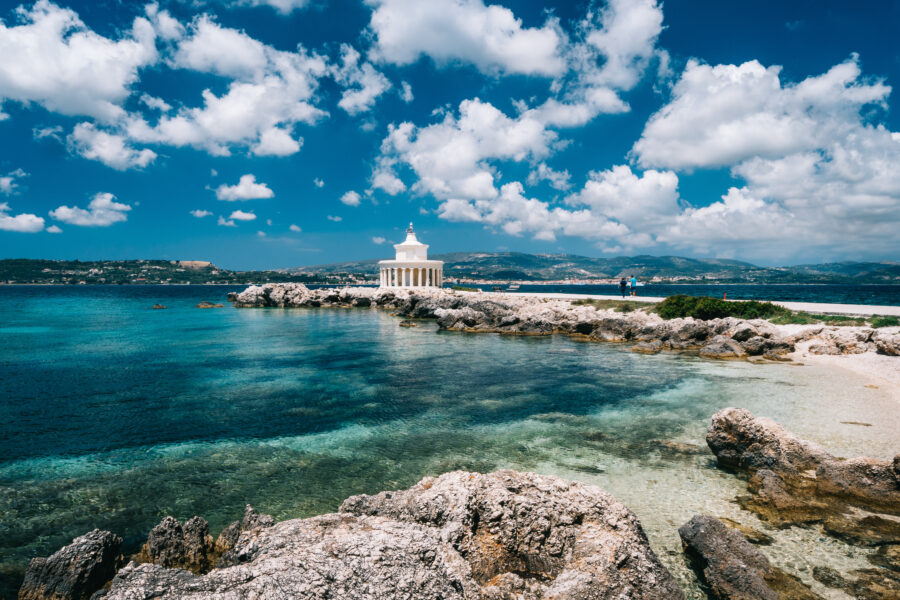 Pros and Cons of Argostoli
Pros
Busy and Buzzier atmosphere
Near to Sandy beaches
Access to so many restaurants and bars
On the sea front
Cons
Kefalonia's capital, so naturally you can expect this town to be quite busy.
Smaller accomodation options, further away from Argostoli your money will get you more room.
The Best Hotel
Tourist Boutique Hotel Argostoli: if you are wishing to stay in the heart of Argostoli this is the perfect place. Right on the waters edge and modern rooms. This hotel is near to eh beach famous for nesting turtles and near to the famous Lithostroto. A historic pedestrian walkway lined with cafes and shops.
Kefalonia Grand Hotel: Situated in one of the best areas in Argostoli. Access to the famous shopping quarter and right on the harbour front.
Aenos Hotel Argostoli: A beautiful hotel with everyting you need and amazing guest ratings!
The Best Villas
Villa Katia Kefalonia: A stone's throw from the beautiful Paliostafida beach. Complete with a private pool, garden and parking. This villa is simply stunning and so close to Argostoli yet in its own peaceful setting.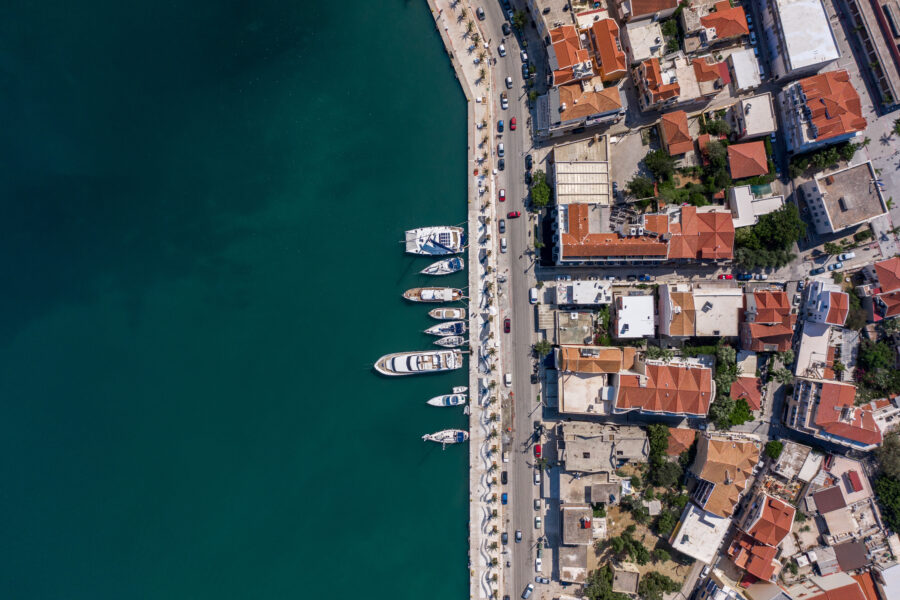 Agia Effimia
The town of Agia Effimia would be our third recommendation to stay. Firstly, It is closer to the town of Karavomylos which is full of amazing attractions and near to mount Anios. Secondly, Agia Effimia is a stunning former fishing village. It is an intimate and cosy bay with cute houses perched on the water's edge. An impressive town lined with cosy taverns and shops with a backdrop of rich green hills. In lower seasons the beaches here are completely empty. Lastly, Agia Effimia has our favourite restaurant in the whole of Kefalonia, Paradise beach bar. A lot of boat companies run tours to Ithaka from Agia Effimia. You are also quite central in Kefalonia so you can explore all of Kefalonia from this incredible town.
Pros and Cons of Agia Effimia
Pros
A beautiful town to stay in
Near to amazing attractions and beaches
Central location to explore the rest of Kefalonia
On the sea front
Cons
This town has quite a lot of large hotels, it could become busy at peak season
The Best Hotels
Gonatas Hotel: A hotel with basic but nice rooms. Access to the nearby beaches is what makes this hotel so great!
The Best villas
Green Leaf Cottage: This cottage is a cosy summer home that has a minimalistic style and rustic touches. The views from the terrace and beautiful
Palm Mansion: This beachfront villa is just breathtaking. With a private terrace, swimming pool and east access to the beach this villa is just perfect.
Remvi: A slightly higher up villa with amazing views but plenty of amenities.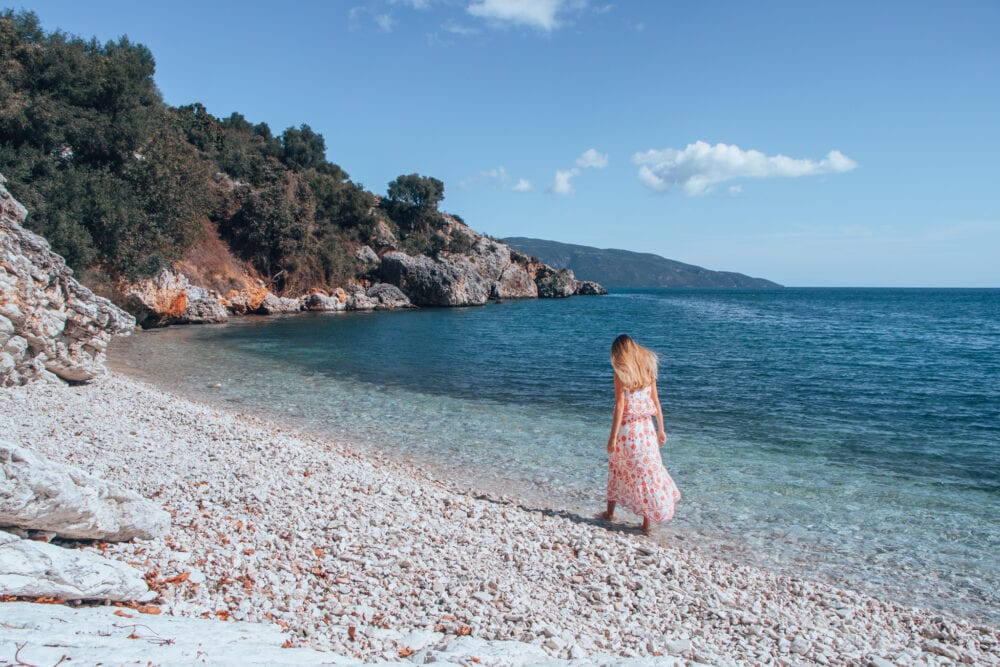 Karavomylos
Karavomylos is a peaceful fishing village on the east coast of Kefalonia island and it is an awesome place to explore Kefalonia island from.
Firstly, this town is only a stone's throw from Sami. Above all, we would choose to stay in Karavomylos over Sami. You get the best of both worlds in Karavomylos. You can enjoy all of the amenities of Sami, but in the setting of a quiet and cosy village.
Secondly, Karavomylos is home to the most breathtaking attractions on the island. Such as Melisaani Lake and Drogoraticave. In addition to those reasons, this town is fairly central, eliminating long drives to reach each end of the island. This town has a similar location to Agia Effimia, both are located in Sami Bay. Out of the two we personally preferred Agia Effimia. Although they are both fairly similar!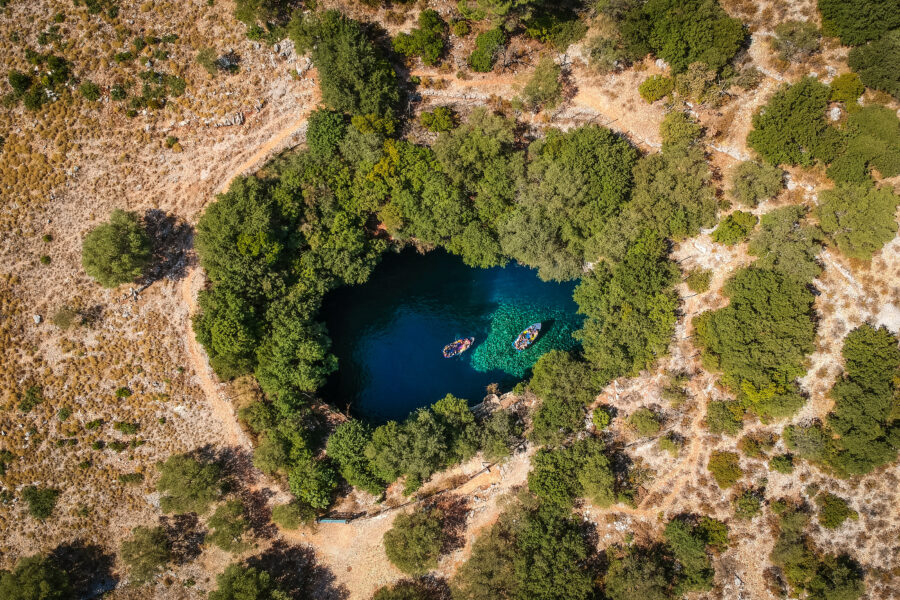 Pros and Cons of Karavomylos
Pros
Access to some of the best attractions in Kefalonia like melissani lake and Drogorati caves
Near to the amenities of Sami, but in a quieter village
Near to some incredible beaches like ____
Home to some beautiful hotels
Cons
A fairly commercialised part of Kefalonia
Because it is home to many tourist attractions it can get busy.
The Best Hotel
Ionian Emerald Resort: A stunning hotel and spa with first class treatment and beautiful amenties.
Meliti Waterfront Suites: A collection of private waterfront suites for the ultimate luxury escape.
Hotel Athina: Located near to the impeccable Antisami beach. Voted a perfect location and hotel for couples!
The Best Villas
Skala
Skala is the southernmost Kefalonia town. It is a village lined with tourist resorts. This town is home to two pretty spectacular beaches, Skala beach and Mounda Beach. The town of Skala is perfect if you are coming to Kefalonia for a beach holiday.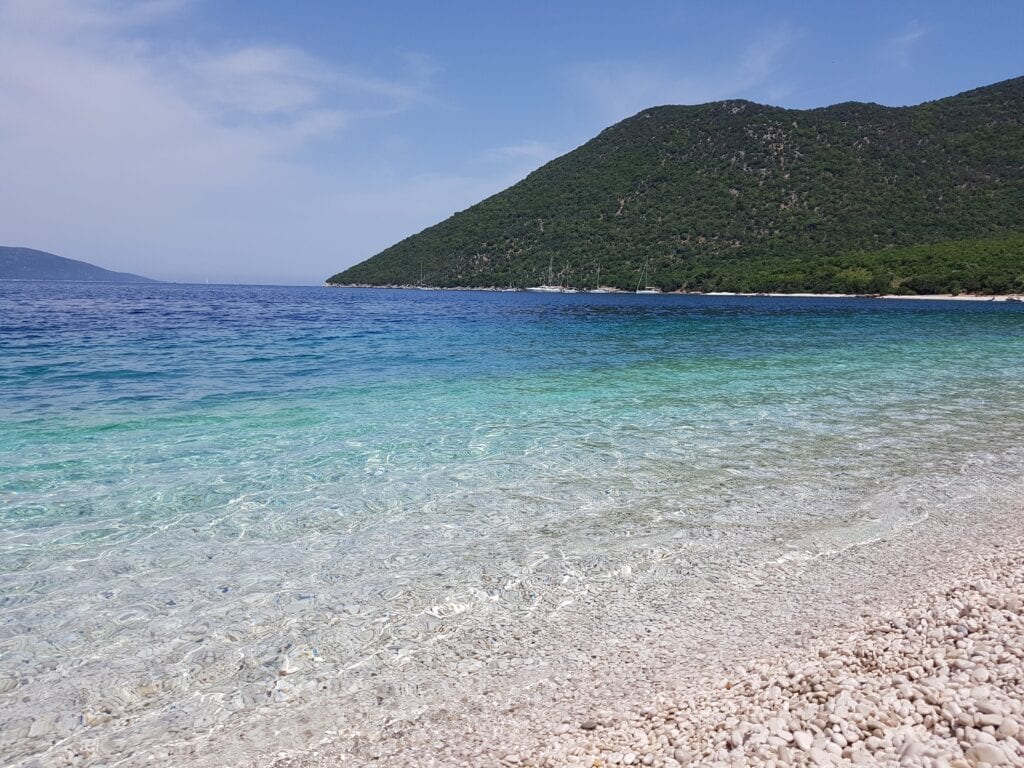 Pros and Cons of staying in Skala
Pros
Near to sandy beaches
Beautiful resorts and Villas
Perfect for a beach holiday
Cons
A fairly commercial part of Kefalonia island
In the southernmost part of Kefalonia, therefore, it can be hard to explore places like Fiskardo and Assos without Long drives.
The Best Hotel
Blue Jasmine: Another beautiful hotel with a lush green backdrop, aweinspring views and close to Skala Beaches.
Natalie's Hotel & Apartments: A stunning moden hotel with a clean minimalist feel. With studios and Apartments this hotel has everything you need from a weekend stay or longer.
The Best Villas
Beautiful Little Stone House
Efkalyptos Suite for two
Hotel Spotlight
Karavados Beach Hotel
If you are looking to stay somewhere a little more remote and peaceful, we would recommend Karavados beach hotel. This hotel is really incredible and gives you the perfect place for a holiday.
Hotel or Villa?
We personally wanted to stay in a Villa so we could have our own pool and our own space. One of our faviourite is buying local produce and cooking, so a villa is our personal choice. On the other hand, Kefalonia has some beautiful Hotels that are simply incredible. We really think it depends on how much time you are going to spend in your accomodation of choice. A Hotel is perfect for a week away, any longer we would strongly recomend staying in one of Kefalonia's incredible Villas.
How to get around Kefalonia island
One thing to bare in mind when looking for your accomodation is your mode of transport. If you are planning on hiring a car, which we highly recomend, make sure you have free parking. Hiring a car is the easiest way to explore the island. It is more suitable then a moped due to the rough terrain and the fact this island is quite large. You can hire one straight from the airport. It is worth noting there is no public transport from the Airport so hiring one straight from the Airport makes things alot easier.
Summary of where to stay in Kefalonia island
We hope you enjoyed our guide to where to stay in Kefalonia. Wherever you stay in Kefalonia, or if you chose to move around, this island has so much to offer! You will love every town in Kefalonia, the hardest part is chosing where to stay. We hope this guide has helped you to narrow your choice. If you have any questions leave us a comment and we will be happy to help.
What's Next?